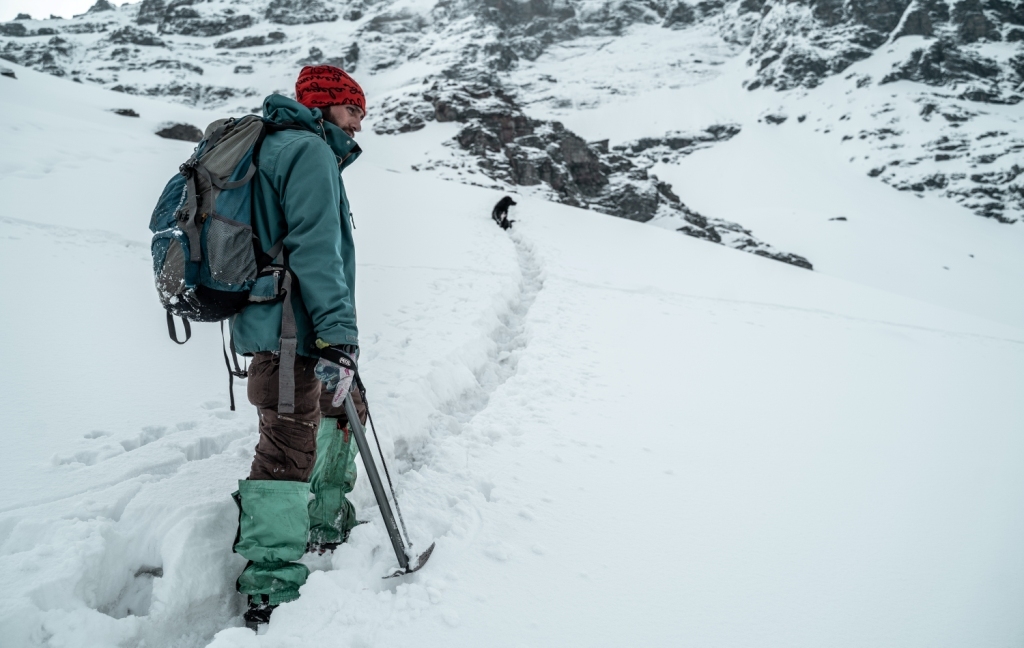 This article gives you a brief idea to dress up comfortably warm in a Himalayan trek without the hassle of carrying heavy clothing along with you. Also, the treks in the Himalayas are not easy, as compared to trekking somewhere else and compromising on these trek-essential clothing, surely makes your experience unpleasant. So, please make sure you prepare yourself good, so you can enjoy your stay in the Himalayas.
On a high altitude Himalayan trek, do not carry the regular heavy clothes with you. Specially, designed clothes that are light-weight, quick-dry and warm are available to serve the purpose.
Essential layering for a himalayan trek
Let's sum this up by starting from head to toe.
Headgear: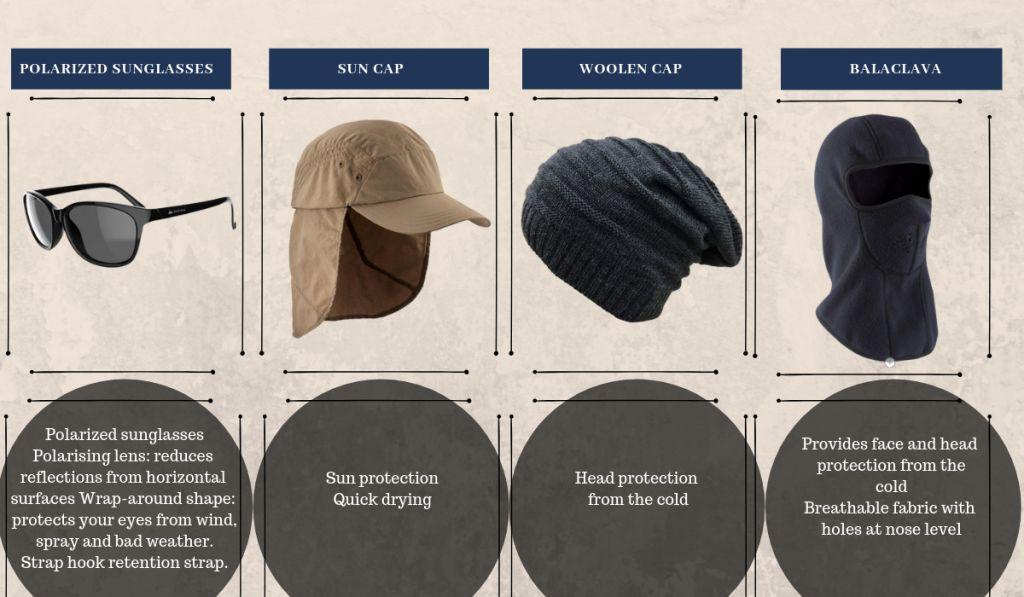 A pair of polarized sunglasses. Without this walking on the snow won't be allowed. And also, do carry a lace attached to your goggles, so you don't lose them in the snow. Protects you from Sun- blindness.
Balaclava/woollen cap: A warm cap to keep you warm on low temperatures.
Sun cap: Protects you from exposure to sunlight. The sun at high altitudes is harsh and while trekking you need to avoid direct exposure of the head to the sun.
Upper body: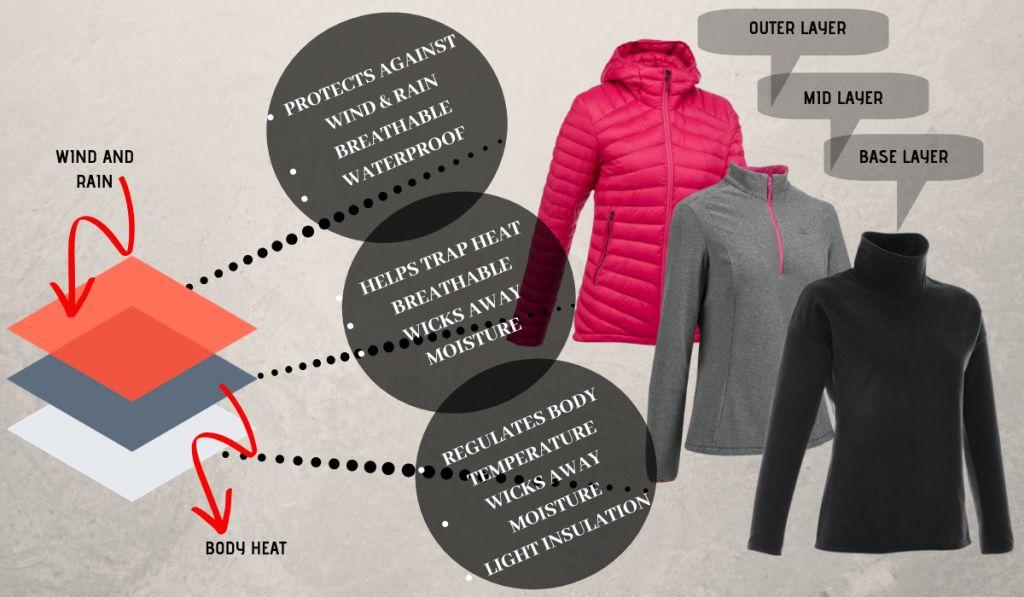 A warm inner thermal is a primary requirement: Keeps you warm, trapping your inner body heat. So, a good quality thermal is very essential.
A set of two to three t-shirts, preferably full-sleeves: Wearing two or three layers while trekking is enough. And at the campsite covering your body with thermal layer, t-shirt and then the fleece is very comfortable and recommended.
Down jacket: A not very thick down jacket serves the purpose of keeping you warm by guarding you against the chilling winds.
Fleece: A good fleece helps you keep warm, while you rest at your campsite.
Raincoat/poncho: Protects you against the rains, hails and snow.
Lower body: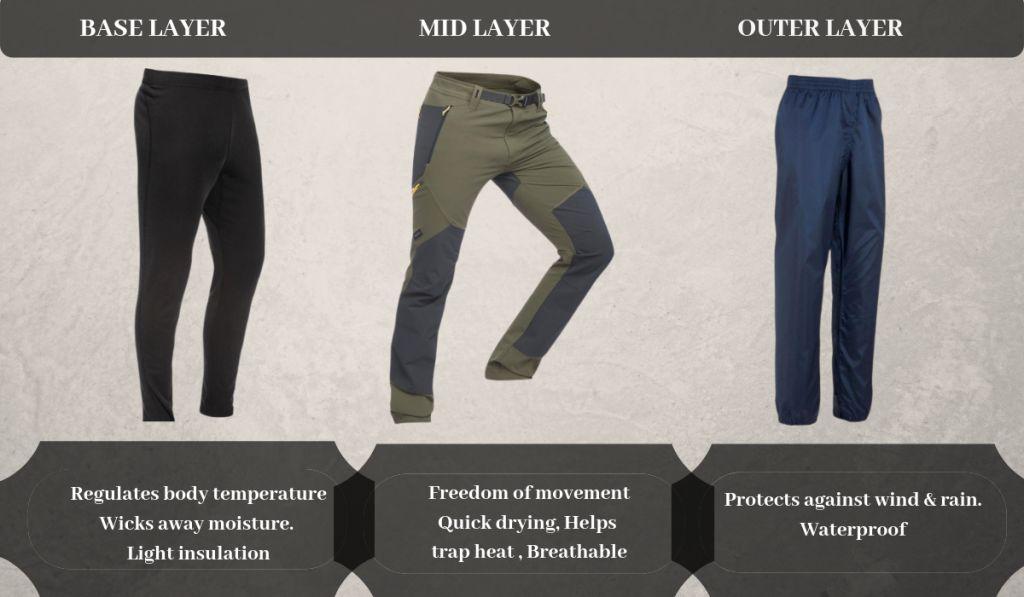 A warm inner thermal of good quality: Keeps you warm.
A warm lower: A comfortable lower makes your stay pleasant at the campsite.
Two pairs of quick-dry pants/ tights will be enough: Makes your trek easy, are light-weight and easy to carry.
Shoes and socks: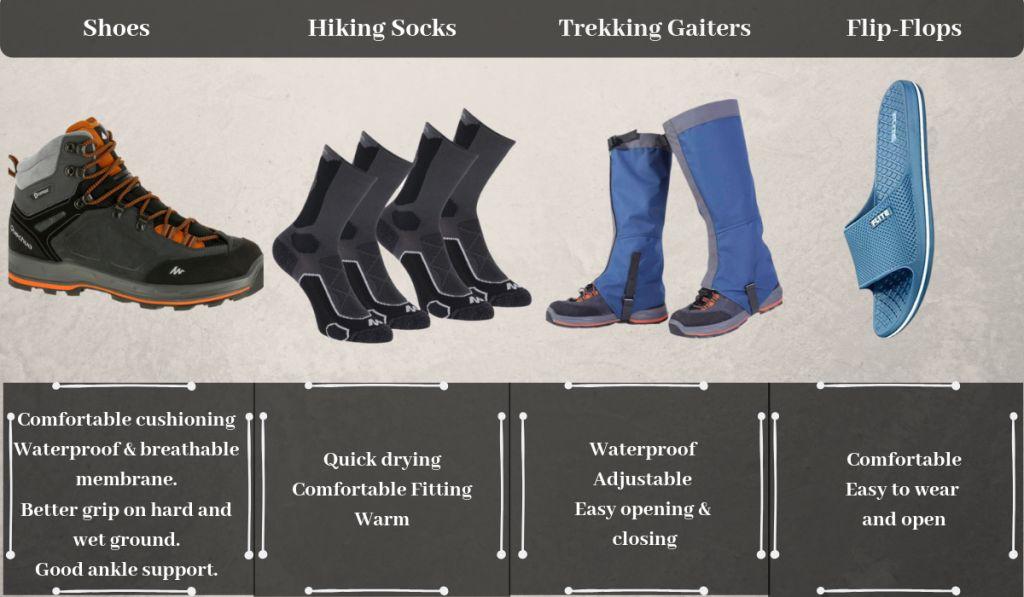 At least three to four pair of socks, preferably cotton.
A good pair of hiking/trekking shoes work fine, preferably high-ankle trekking shoes, so that you have an extra precaution in avoiding ankle-twist.
A pair of flip-flops.
Other trek-essential body gears include:
Synthetic hand gloves: Avoid woolen gloves as they get wet when you expose them to snow. You can add a fleece glove if you're more susceptible to cold.
The above list includes items that help you keep your trekking comfortable. There is always room for improvement. One can also include one or two more pairs according to one's need but remember this will also add weight to your bag. Also, enough pairs of undergarments are essential.