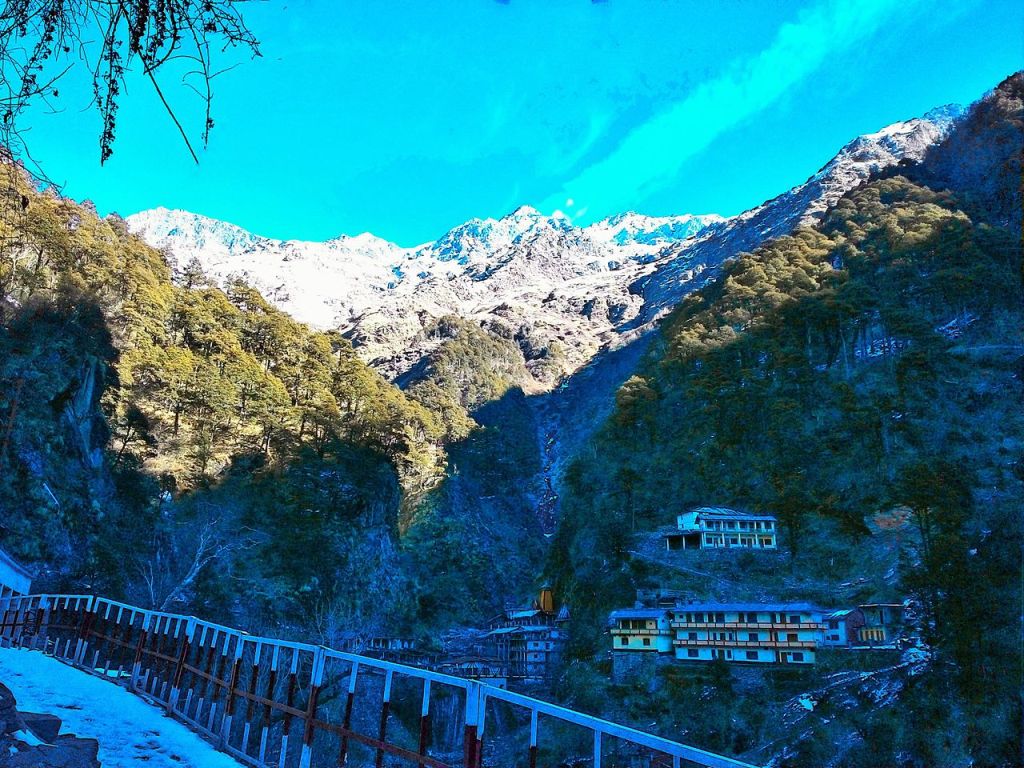 Yamunotri Temple under glacier
Uttarakhand is truly called Devbhoomi. Bestowed with a beauty so divine and rooted deep in spiritual mythology, Uttarakhand is a trekker's delight. The interesting topography of the region treats you to an unforgettable trekking experience; the mighty Himalayas overwhelm you with such an irresistible charm that you want to come back again asking for more. As truly said by John Muir, "You are not in the mountains, the mountains are in you".
Bali Pass is one such high altitude trek that enthrals trekkers with a diverse panorama of Uttarakhand terrain and offers everything that a trekker can dream of. Let's take a virtual tour of this less trodden trek-
Some facts
Region-Garhwal Himalayas, Uttarakhand
Maximum altitude-16,240 feet
Trek level-Difficult
Duration-10 days
Distance-64 km
Start Point-Sankri
End point-Janki Chatti
Best Season-May to June and September to October
Temperatures-20 degrees maximum to -5 degrees minimum
An overview of Bali Pass trek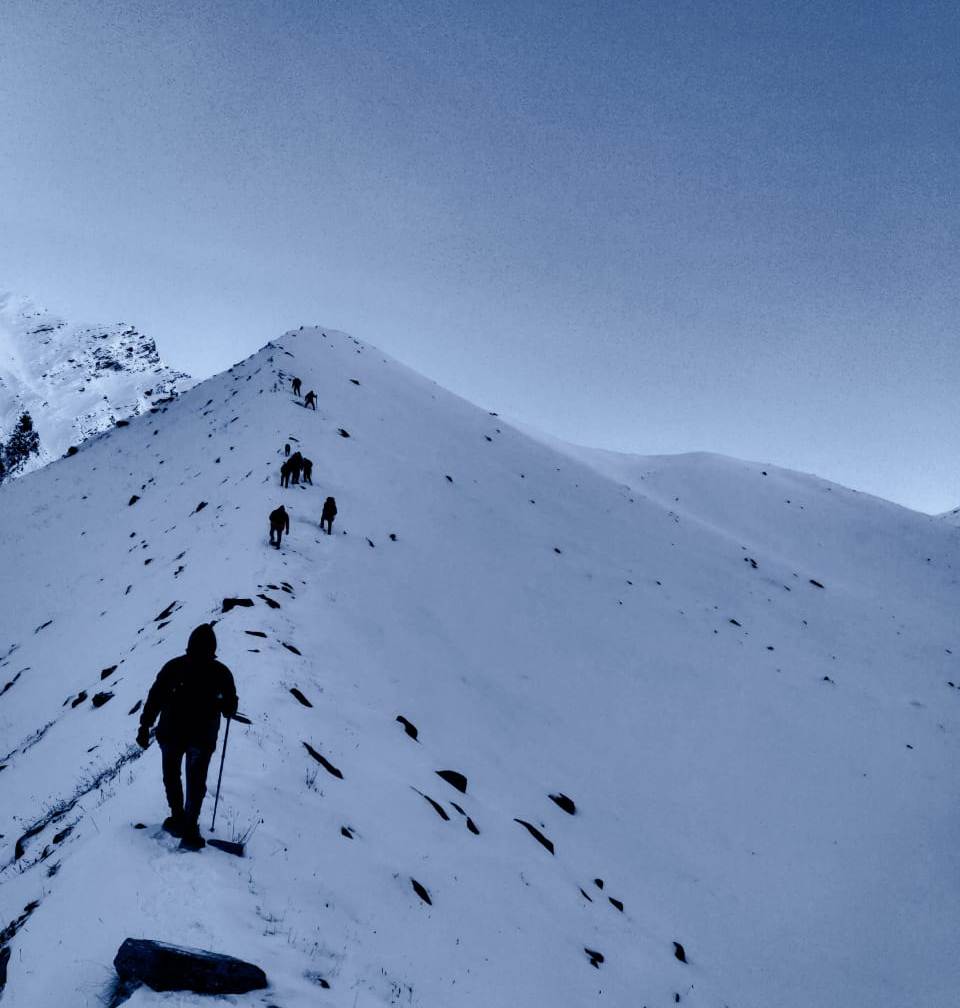 At an altitude of 16,240 feet, Bali pass is a high altitude trek that flatters you with the myriad facets of Himalayas. This adventurous trek connects Har Ki Dun valley with Yamunotri and treats you to the raw splendour of a Himalayan pass crossing. The trek journeys through treacherous trails with some steep ascents and descents and narrow paths. It takes you along Tons, Yamuna and Supin rivers, satiates your religious sentiments by taking you to the sacred Ruinsara Lake and Yamunotri shrine.
From hilly terrains to dense forests to lush meadows, colorful orchards, sacred lakes, and temples, this trek treats you to the stunning views of a majestic trio of Kala Nag, Bandarpoonch, and Swargarohini peaks. The route was popularised by Jack Gibson in the late 1940s, a teacher at Doon School.
The challenging terrain of the trek demands that you have a fit physique and good mental endurance; a previous trekking experience is a must and the trek is meant for seasoned trekkers.
Crowning Glories of Bali Pass
Sankri Village:

Sankri Village

Myriad wonders of nature en route Sankri from Dehradun leave you stunningly mesmerized. Perched at an altitude of 6,234 feet, Sankri village serves as the starting point for the trek. This pretty village nestled neatly in the higher ranges of Uttarakhand hills is soaked in magical serenity. It gives a quick peek of the primitive lifestyles led by the locals. The tiny hamlet of Sankri is located in Govind Ballabh National Park which houses a variety of flora and fauna.
Osla and Gangad Village:

Gangad Village

Travel back in time with the peculiar culture and beliefs of people of these quaint villages. Locals here believe that they are the ancestors of Kauravas and worship Duryodhana as their God. The temples have beautiful architecture and wood carvings. Their simplicity and magnanimous hospitality strike a unique chord; savour on the local delicacies and refreshing tea brimming with the aroma of their warmth.
Rivers:

Yamuna, Tons and Supin rivers add a bubbly charm to Bali pass trek. The trek starts in the Tons river valley and finishes in the Yamuna river valley.
Expansive meadows:

The alpine meadows of Devshu Bugyal hemmed by tall trees, and lofty mountains of Swargarohini and Kalanag standing tall in the background are the ultra selling points of this trek.
Views:

Unobstructed views of sacred Swargarohini, Kala Nag and Bandarpoonch from Bali Pass are distinct highlights of the trek.
Ruinsara Lake:

Nestled amidst the sacred Swargarohini mountain range and overlooking an expansive meadow, the breathtakingly beautiful Ruinsara Lake stirs your senses with its amazingly serene ambiance. It is believed that Pandavas frequented this region during their period of exile.
High altitude camping:

This is one of the few treks that treats you to camping at an altitude of 13,452 feet.
Yamunotri and Yamunotri Temple:

The Yamuna, the second most holy river of Hindus originates at Yamunotri.
Dedicated to Goddess Yamuna, Yamunotri Temple is the star attraction of Bali Pass trek. It is one of the four Chota Char Dhams.
Bali Pass:

Experience the thrill of steep ascent and swift maneuvers as you trail ahead of Odari to reach the majestic Bali Pass. The colossal peaks and frozen Saptarishi Kund is a treat to watch.
Short Itinerary
Duration-10 days
Locations covered-Dehradun-Sankri-Taluka-Osla-Har Ki Dun-Devshu Bugyal-Ruinsara Tal-Odari-Upper Dhamni-Bali Pass-Yamunotri-Janki Chatti-Dehradun
Day 1 -Dehradun to Sankri
Distance-210 km from Dehradun
Time taken-10 hours drive from Dehradun
Altitude-6,234 feet
Explore the tiny hamlet, know the local culture, enjoy the flora and fauna of Govind Ballabh Pant National park
Overnight stay at a guest house in Sankri
Day 2-Sankri to Taluka to Osla
Distance-12 km motorable road and 14 km trek
Time taken-1 hour drive from Sankri to Taluka and 6 to 7 hours trek
Altitude-8,000 feet
The scenic drive from Sankri to Taluka, trekking trail through dense forests of chestnut, walnut, and chinar and along Supin river, moderate gradient occasional ascents leading to Gangad village, enjoy the unique architecture of wood and stone houses at Gangad, cross the side stream, continue the ascent to reach Osla
Overnight camping at Osla
Day 3-Osla to Har ki Dun
Trek distance-14 km
Time taken-5 to 6 hours
Altitude-11,600 feet
Cross the giant bridge over Supin river, take an ascending trail of 4 km leading to a vast meadow, reach Kalkati Dhar, gradual climb leading to beautiful meadows of Har Ki Dun
Camping overnight beside the calm stream is pure bliss
Day 4-Har Ki Dun to Devshu Bugyal
Trek distance-14 km
Time taken-5 to 6 hours
Mostly downhill trail, revel in the beauty of this high altitude meadow aka "Nature's Own Garden", soak your senses in lovely grandeur of the meadow (called bugyal in local dialect) carpeted with green grass and seasonal flowers
Overnight camping
Day 5-Devshu Bugyal to Ruinsara Tal
Trek distance-16 km
Time taken-6 to 7 hours
Altitude-11,483 feet
Trek in the company of exotic Himalayan birds and animals, traverse through terraced mountain fields, green grasslands, coniferous forests leading to the sacred Ruinsara Tal
Overnight camping by the lakeside overlooking the colossal mountain peaks and dwarf rhododendrons is heavenly
Day 6-A day well spent at Ruinsara Lake
Explore and get familiarized with the scenic vista of the locale, take picture-perfect shots, visit nearby glaciers, valleys, and soak in nature's paradise
Get acclimatized to high altitude by spending a day in this region
A short trek to Kyarkoti which is the base camp for Kala Nag and Dumdar Kandi pass
Overnight camping near the lakeside surrounded by lush green foliage
Day 7-Ruinsara Tal to Odari
Trek distance-4 km
Time taken-4 hours
Altitude-13,451 feet
Camping at such an altitude is a unique highlight of this trek, enjoy this breathtaking camping location with Swargarohini peaks in the background, the enchanting valley below and the pass behind you.
Day 8-Base Camp to Upper Dhamni via Bali Pass
Trek distance-13 km
Time taken-8 to 10 hours
Altitude-16,240 feet
Trek on the moraine ridge and boulder, and then on the glacier with a steep ascent leading to snowy Bali Pass, enjoy the amazing views of the colossal mountain peaks of Swargarohini, Kala Nag and especially of Bandarpoonch peak, get a partial glimpse of the frozen Saptrishi Kund, take a tricky descent to an alpine cover and reach the base camp at Upper Dhamni
Overnight camping at base camp
Day 9-Upper Dhamni to Janki Chatti via Yamunotri
Trek distance-15 km
Time taken-8 hours
Altitude-7,874 feet
A descent through forest trail leading to sacred Yamunotri Temple and then to Janki Chatti
Visit the temple, take a holy dip in the hot and cold water springs of Surya Kund and Gouri Kund at Yamunotri, admire the tranquil ambiance of Yamuna river
Overnight stay at a guesthouse in Janki Chatti
Day 10-Departure from Janki Chatti to Dehradun
Distance-180 km
Time taken-7 hour drive
The final day of the trek, head back to Dehradun reminiscing the last 8 days spent in nature's bounty with a promise to come again.
How to reach
Rail- Take a train from Delhi to reach Dehradun and then head to Sankri by road (210 km, around 10 hours of drive).
Road- Drive to Sankri from Delhi (460 km, around 9 hours of drive) or drive from Dehradun to Sankri (210 km, around 10 hours of drive).
By air- Reach Dehradun by air (Jolly Grant Airport) and drive to Sankri (210 km, around 10 hours of drive).