Trek Essentials For A Himalayan Trek
There is a fine line between taking too much and too little, particularly considering that you have to equip yourself for all extremes of climatic conditions in the Himalayas.
The following list involves essential backpacking checklist for a high-altitude Himalayan trek.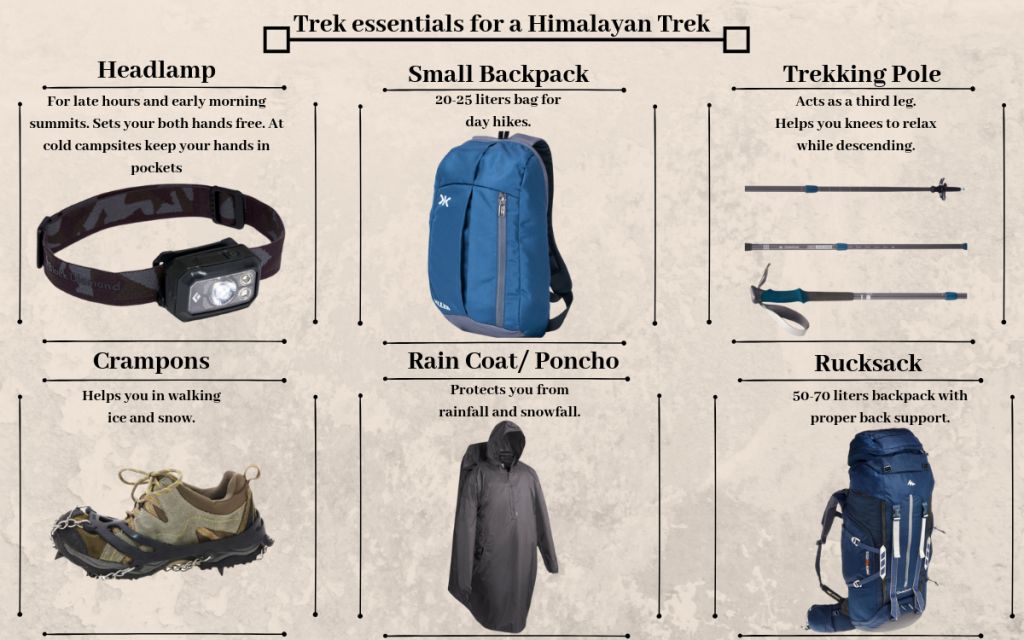 Rucksack
A 50 to 70 liters rucksack to carry your clothing etc. serves the purpose. Pack accordingly, so that you don't miss anything and also, that you don't stuff it with more than required, making it too heavy.
Small Backpack
To be carried along with you on the summit day. This day you are required to keep your items all back at the base camp and you only need to carry some snacks and water bottle.
Rain Coat /Poncho
A good quality poncho protects you from rainfall and snowfall and helps you keep dry.
Clothes
Dress accordingly, for the high altitude and low-temperature hills. Check a dedicated article on this, "How to dress up for a Himalayan trek".
Flip flops to offer rest to your feet
After walking for hours, with shoe tied-on, your feet need to be relaxed at the campsite. So, to walk in the campsite, keep a pair of comfortable slippers. You will realize their importance once you at the campsite after a long walk.
Hiking/trekking shoes
Good hiking/trekking shoes are your best friends in these long Himalayan treks. Preferably, high-ankle shoes give good support to your ankles and help you avoid ankle-twists.
Walking stick
It seems to be a tool for the old and the week, but in the hills, it helps your knees to relax while descending. Not necessarily a trekking pole, even a strong enough wooden stick works.
Headlamp
A headlamp or a hand-torch is used in the late hours in the campsite. A headlamp is preferred over hand-torch as it sets your both hands free, and now while walking you can use them to balance yourself or in case stumble on a stone and fall, you protect your fall with both hands. And in these cold campsites, you prefer to keep your hands in your pockets, rather guiding yourself with a hand-torch.
A pair of good quality polarised sun goggles (Highly recommended)
Entry into the snowline without polarised is prohibited. Trekking in the snow without polarised sunglasses even leads to snow-blindness. And also, don't forget to carry a lace attached to your goggles, so you don't lose them in the snow. The sunglasses protect your eyes against the glare, the bright sun casts on the white snow-fields. The glare is responsible for Sun-blindness, in which the victim losses eye-sight, initially temporary but if not given medical treatment on an urgent basis, it could impact more.
Sunscreen (preferably SPF>40)
One good quality sunscreen preferably SPF>40, will be very useful as the Sun in these high altitudes is harsh. Though skin tanning can't be avoided but can be reduced with the use of a Sunscreen.
Towel
A quick-dry towel is a must for your trek.
Water bottle
Drinking water throughout the trek, in small quantities even if not thirsty, is a very good trick to keep your body hydrated and hence avoid high altitude sickness. Throughout the trek, drinking water will be available in a few points only, so carry your water bottle along with you. Also, before filling your water bottles, ask your guide, whether the water source is suitable for drinking.
Snacks/ dry fruits
Our Menu includes regular meals and is tasty but just in case, you want some exclusive pampering for your taste buds, you can carry some Chocolates, dry fruits, etc along with you.
Soaps, toilet paper, and hand sanitizer
We will be using dry toilets at the campsites. So, toilet papers will be useful. Also, I should mention, you will find wet wipes very useful. But please, burry these papers along with the waste, as with wind they might get directed to your tents and spoil the look around of your campsite.
Mandatory Documents
Please carry the following documents and hand over to the trek leader at the base camp.
Original and photocopy of government photo identity card- (driving license, voters ID, etc.). Pan card won't work as they don't have your address.
Disclaimer (to be filled by the trekker). A copy is mailed to you.
Medical certificate (to be filled by a doctor). A copy is mailed to you.