Sarmoli: A Village In Munsiyari that Runs its own Instagram Page
Traveling and exploring new places is one of the best hobbies and activities one can divulge in to make the best use of leisure time. There are many eye-inspiring places that capture nature's beauty in the most perfect way. One such place is Sarmoli village in Munsiyari Uttarakhand. Sarmoli is a tiny village situated in the town of Munsiyari in Uttarakhand and is famous for having its own Instagram channel known as @voiceofamunsiyari. Sarmoli is well known for its rich culture and heritage and serves as the pathway for many short adventure treks. Sarmoli is famous for its unique tourism and the balance made between conservation and day to day livings.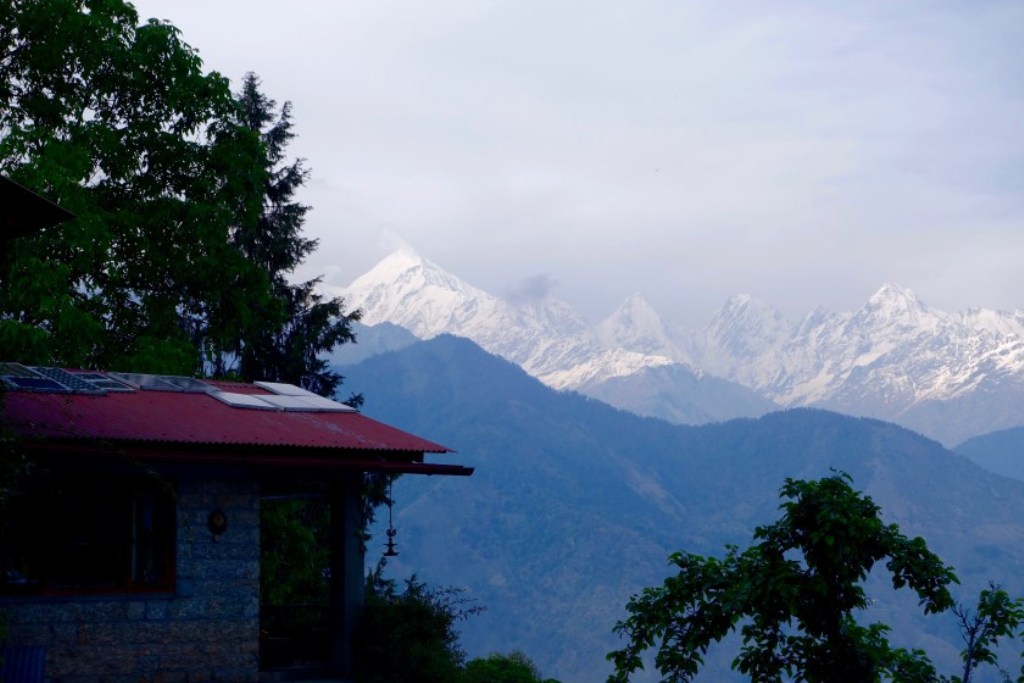 Image Source: Shooting Star
Sarmoli's unique tourism initiative lets you enjoy the daily life of the village closely and also let you take part in local crop plantation like rajma or sweet potatoes on different seasons. It has rich rich flora and fauna attracting every single visitor, Sarmoli village has successfully caught the attention of the world and had visitors from 18 different countries. You must have known already about the jaw-dropping beauty of snow-capped hills in Munsiyari. The sheer view of this town, lying between the Panchachuli peak and Rajrambha, is exquisite!
Munsiyari Uttarakhand is a hill station located at the base of the beautiful Himalayan ranges. It lies in the Pithoragarh district in Uttarakhand at an altitude of 7,200 feet. The biggest charm of Munsiyari is Sarmoli. The homestay at Sarmoli comes with an immense difference. It is scenic, freshly, peaceful, and strangely calm that welcomes you with the warmth of being at home! Sarmoli village has seen a number of developments for years making it widely known for rural tourism worldwide.
The attraction of Homestays at Sarmoli
Sarmoli homestays offer many eye-catching sites and attractions, the best respite from the mundane city-life! The village was officially adopted by a fellow traveler and mountaineer, Mallika Virdi along with her husband two decades back. She settled in this village, escaping from the cacophony of cities to the quiet village. Sarmoli Uttarakhand offers 25 home-stays to the tourists, giving them a sneak peek of the everyday village life amongst the locals. In the homestay at Sarmoli, the tourists stay with the family in one of their rooms. They eat homemade native food and merge completely in the native culture and style. Sarmoli village Munsiyari abounds in splendid greenery, laden with snow-capped Deodar trees, a retreat you can't afford to miss!
What to do in Sarmoli?
Sarmoli village has a number of attractions and a trail of ongoing activities that won't bore you throughout the year. It includes a long marathon run- Himal Kalasutra Festival in the springtime, taking everyone by awe! The marathon run festival is famous only in Sarmoli Munsiyari and lasts for over a week. What makes it interesting are the locals running vigorously on a 20km stretch at an altitude of 8000 feet. Isn't it thrilling to witness? During this festival, there are other events too like mini-marathon and bird watching. Besides, there are other festivals too, like the Butterfly and Moth festival and Forest fairs. Sarmoli village is the first village in India to actually have a running Instagram channel. The channel is vibrant with stories of travelers, trekkers, and locals about their experience of living in this paradise.
Flora and Fauna at Sarmoli
Sarmoli also abounds in a variety of flora and fauna which will soak you entirely in nature's lap. You can see birds like Green pigeon with a wedged tail and the female grey bush chat flocking across the entire year. You can encounter a number of endangered birds and species in Sarmoli Munsiyari. The Laughing thrush, jungle cat are notably few of them to spot here. One can witness the musk deer by trekking to Thamari Kund, another breathtaking place in Sarmoli. You can have a spectacular view of the ice-capped peaks and meadows in Sarmoli village. Besides, you can also have a wide view of the mountains by trekking to the Khaliya top. It is at an altitude of 11,500 and has many meadows and snow-covered peaks along the way. These two treks are relatively easy, with women hiking guides and fellow trekkers.
The Homestays helping in Sarmoli's development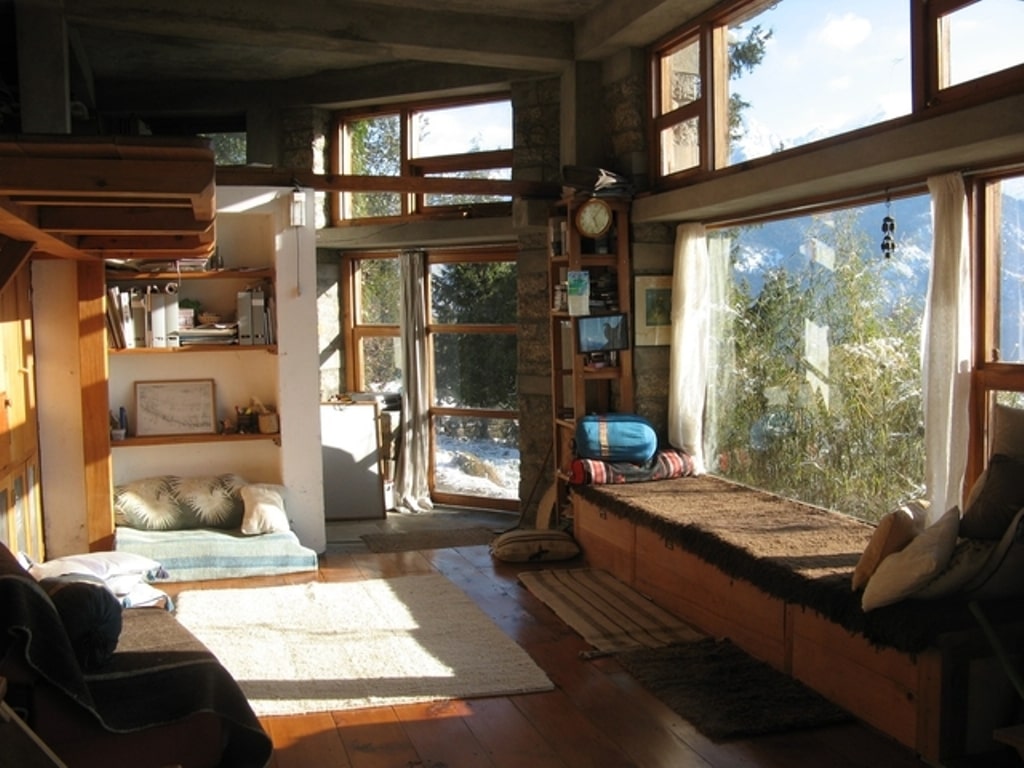 Image Source: Munsiyari
The homestay at Sarmoli offers one a kaleidoscope of opportunities and learning. There are around 15 homestays which are very cheap and cost around 1000-2000 rupees per day.
How did they help in development? homestay at Sarmoli brought a halt to the major crisis faced by the hill village that is migration, it kept the villagers in check by providing job opportunities. Moreover what fascinates more about them is that they are mostly run by women who balance nature and modernization beautifully.
By living with the locals, you can learn to cook, make bamboo artifacts, weave wool, or grow food with the farmers. The majestic beauty of Sarmoli village Munsiyari is irresistible. Besides, the snow-capped peaks and meadows, there are a number of temples and waterfalls to witness as well. The homestay culture in Sarmoli Munsiyari has profoundly helped in uplifting the livelihood of the natives and fellow women guides. In the form of the trekking adventures and homestays by tourists, the villagers are able to sustain their life and become economically stable. The homestays have contributed a lot in making Sarmoli a famous tourist destination in India and outside as well.
How to reach Sarmoli?
By Road
The easiest route to reach this beautiful village of Sarmoli in Munsiyari Uttarakhand is from Kathgodam, Haldwani by road. It is approximately 280 km away and the best route is the Almora-Berinag road. You can also take a direct bus from Haldwani to reach Pithoragarh from where you can reach Munsiyari by a shared taxi.
By air
The nearest airport from Munsiyari is the Pantnagar airport. There are many flights from major cities especially New Delhi to Pantnagar. There are four round flights from New Delhi to Pantnagar per week. After that, reach Pithoragarh by road. Then, take a shared jeep or taxi from Pithoragarh to reach Munsiyari which is just a few kilometers away.
By train
The two nearest railway stations from Sarmoli are the Kathgodam and Tanakpur Railway Stations. The stations are well connected to major cities like Kolkata, Patna, Lucknow, New Delhi, etc. After reaching the railway station, you can easily get any public transport like jeeps and shared taxis to reach Munsiyari.
Best time to reach Sarmoli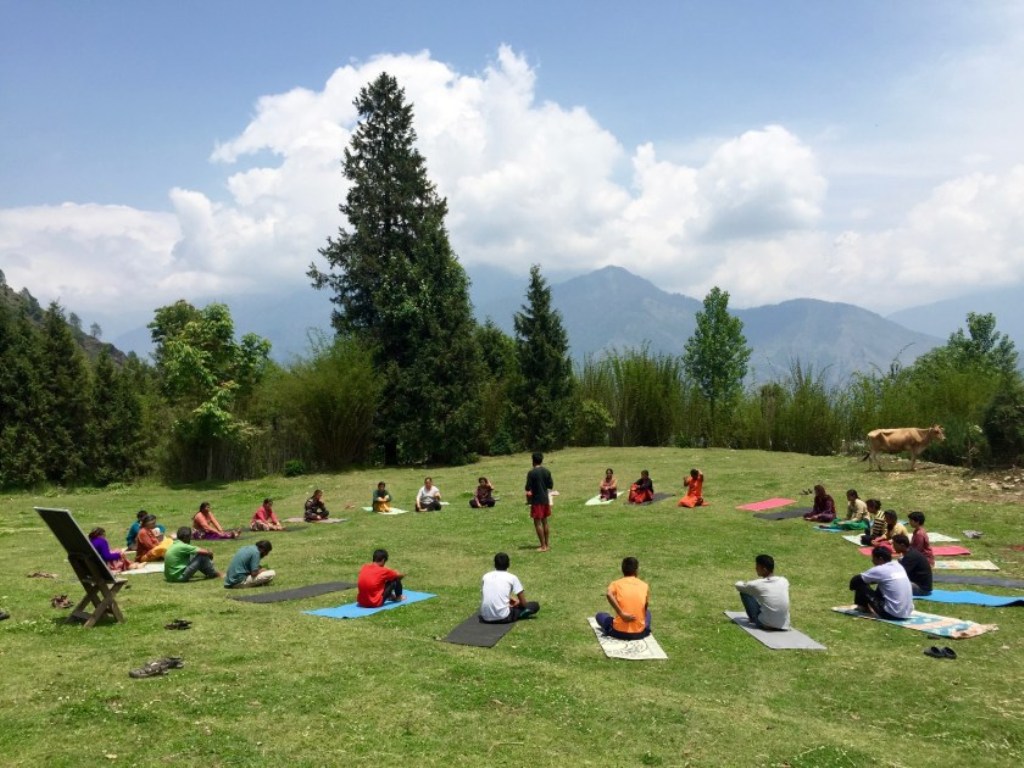 Image Source: Shooting Star
Probably the best times to visit this miniature paradise on earth are between March to June, September to October and November to February. Owing to the high altitude, the weather at Sarmoli varies from pleasant to cold throughout the year. Here, the summers start from March and end in June, winter months are from November onwards. If you are lucky, you may see an eye-catching view of snowfall and the snow-capped mountains. It is the typical characteristic of weather in Munsiyari as well. If you can't stand very cold weather, it is better to visit Sarmoli in May and June during the summers. Avoid going during the months of July and August as there are many landslides during the monsoons.
Treks from Sarmoli
Besides the wonderful village culture, hilltops, and weekly festivals in Sarmoli, if you are an adventure-loving person, there are plenty of trekking places in Sarmoli. There are many popular treks from Sarmoli like the Nanda Devi east base camp, Khaliya top trek, Masar Kund, etc. These trekking spots offer some magnificent views to capture. Let us quickly glide into the popular short and long treks that fascinate visitors from across the world.
Short treks:
1.Dhandhar Ridge
The Dhandhar Ridge trek is another famous short trek from Sarmoli which offers a holistic 360 degree of the mountains around, the meadows, and the Gori River. One of the major attractions in this trek is the temple on top of the ridge that captivates the fellow trekkers.
2.Khaliya Top Trek
The Munsiyari Khaliya Top trek is one of the most famous treks in Sarmoli Munsiyari and is best to visit during the winter season. It is situated at an altitude of 3500 meters and has a plethora of flora and fauna giving a breathtaking view of nature. It has around 2200 flowering plants, 36 mammals, and 326 bird species recorded to date. If you are lucky enough, you can spot rare species like Ghurar, Bharal, and Kakar. The difficulty rate of Khaliya top trek is moderate and needs little expertise in the trekking. It is a 4 km long trekking trail and takes 4 days to reach the Zero Point (4000m) or the Khaliya Top. On reaching the top, one can encounter the snow-capped peaks of Rajrambha, Hardeol, Nanda Devi, Nanda Kot, and Panchachuli. And yes! You can't forget the glorious sunsets marked with golden hue visible from the Khaliya top trek!
3.Maheshwari trek
The Maheshwari Kund, also called Messar Kund is a beautiful lake in Munsiyari which holds a valuable Hindu legend. The folklore of a Yaksha falling in love with the daughter of the village Sarpanch is very famous here. Upon disapproval by the village head or Sarpanch, the Yaksha cursed the entire village and Kund of drought. The Maheshwari Kund is located just a few kilometers away from Munsiyari Uttarakhand. It is located at an altitude of 2450 meters and the trekking trail covers a distance of 1.5 km to reach the end for which it takes only 45 minutes.
4.Nanda Devi Temple trek
The Nanda Devi Trek is located around the region of Nanda Devi National Park which is a UNESCO declared World Heritage Site. It is also known as the Nanda Devi temple trek and it takes around 3-4 hours from the ITBP Dhandhar Ridge. You can reach the Nanda Devi temple after 3 kilometers of trekking. It is one of the popular Hindu temples famous in Munsiyari Uttarakhand and offers many beautiful views of the hills across.
Long treks
1.Nanda Devi East Basecamp Trek
The Nanda Devi is the second highest mountain peak in India and captures the Himalayan beauty. The Nanda Devi basecamp is situated on the eastern side of this peak in Munsiyari Uttarakhand and is a common site of trekking. It is a 15km long trek at an altitude of 13,123 feet and takes 9 to 12 days to complete. The level of this trek is difficult and requires previous trekking experience, one can admire the view of Nanda Devi and Nanda Devi East peaks.
2.Milam Glacier Trek
The Milam Glacier is the largest glacier situated in the Kumaon region, occupying an area of 37 square kilometers. This 16km long glacier is a famous place for trekking from Munsiyari and it takes 8 days to complete this trek. If you like challenging treks and have quite some time reserved for Sarmoli village, you should go trekking in Milam Glacier. The Milam Glacier is a difficult and tiring trek, but it's worth the challenge. On reaching the top, you can visualize the eye-catching peaks of Deo Dhamla (6,637km), Mangraon (6,568km), and Hardeol (7,150km)
If there's a traveling bug inside you and you fancy escaping to nature, snow-covered hills and valleys, Sarmoli in Munsiyari Uttarakhand will be your respite. There are abundant of things to do when you reach here. Be it trekking to the hilltops, getting indulged with the locals and their life, enjoying village food, going in short and long treks, or just capturing the eye-soothing natural beauty. There is a lot for one to do and relish in the village culture on a weekend trip to Sarmoli village Munsiyari nestled in the Himalayan Ranges. So quickly look for your bag pack and release yourself in this alluring village of Sarmoli!