short-treks-in-uttarakhand-for-beginners
If you're someone who perpetually finds themselves wanting to get lost in the mountains, no place is better suited for you than the bewitching Uttarakhand. It is a place of wonder and beauty offered with a sliver of danger. Located at the foothills of the imposing and gorgeous Himalayas, this northern state of India, Uttarakhand is a place of diverse attractions. Home to India's most prominent pilgrimage sites, the world capital of yoga – Rishikesh, a skiing paradise and adventurous trekking routes, Uttarkhand is a traveller's heaven.
And while there is always much to do in Uttarakhand, its scenic landscapes never seem to leave you be, it is everywhere you look; dense green forests, vast expanses of valleys, giant clouds scattered across turquoise blue skies, meandering roads leading to quaint villages on hilltops and serpentine rivers keeping you company wherever you go. But having grown up in India, we are well aware of Uttarakhand's apparent beauty, what remains elusive to most of us though, is that only a trekker has experienced the true unfiltered grandeur of Uttarakhand. Packed with numerous short and easy treks that lead to the grandest locales, trekking in Uttarakhand unlocks a whole new kind of world.
Here are some short treks in Uttarakhand
Binsar Trek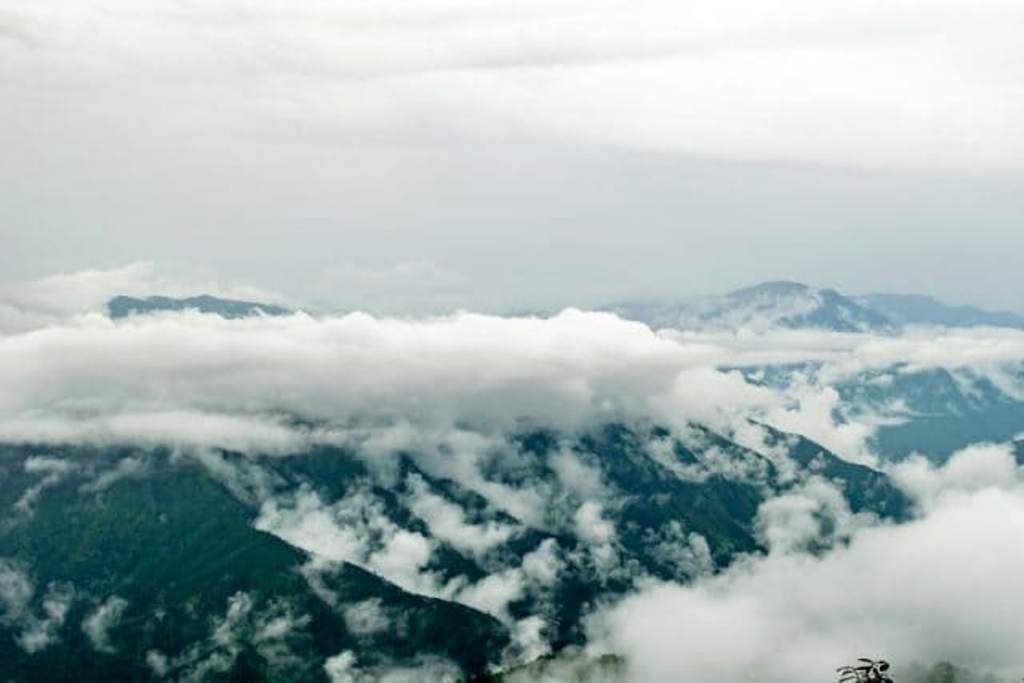 Image Source: Oyo
Searching for the quintessential short weekend trek in Uttarakhand which will not only let the adventurer in you shine through but also ensure that you have the energy to turn up for work the following Monday, can be quite tricky. But you'll find that Binsar Trek checks all the boxes. The 22 km trek promises to be one of a kind from the very outset of the journey, with its inception from the Binsar wildlife sanctuary. On the first day of this two-day trek, the trail takes you to Dhaulchina through what feels like otherworldly realms as you cross moss-coloured pine forests, rivulets of sapphire waters, flourishing blossoms and open fields dotted in wildflowers.
At Dhaulchina you get the opportunity to set up camp amidst the dense forest, surrounded by snowy mountain peaks, as you share your stories around the campfire and wake up to the melody of nature and a captivating sunrise before continuing your trek to the Jageshwar temple. Revel in the glory of the ever astonishing Jageshwar temple constructed of intricate and ornate stone architecture and enjoy the mesmerizing scenic beauty of the mountains before finally concluding your epic trip. With a trail that leads through mountain valleys against the backdrop of the imposing Himalayas, a sneak peek into the local's lives, and the splendour of 9th century AD shrines, Binsar is bound to be an indelible experience.
Deoban Trek
One of the best short treks of Uttarakhand, the name Deoban comes from "Deo", short for Deodar trees and "Ban" meaning forests. Keeping up with its name, the 20 km Deoban Trek is predominantly covered in Deodar trees and makes for a magnificent sight rather than being redundant. But that is not the Deoban Trek's speciality, its unique selling point is that while on the trail you get to witness 55 stunning peaks! Yes, 55! No trek could provide a better view of the mountains.
The trek begins at Dehradun with a dizzying uphill ride to Koti, past rain forests, and vast expanses of downhill terrace farming, from where you begin your uphill climb to your campsite, the picturesque Saraswati. After spending a night below the starry sky, you continue your ascent to the Vyas Point wherefrom you get panoramic views of the Himalayas. The trail is covered in rich vegetation during the summer months while it stays snowy in winter; you may choose any season of your liking. The Deoban trek is tailor-made for ones who want to do more on weekends than to laze around in their home.
Kugina Pass Trek
For those who love traversing through the unknown and less explored lands, it doesn't get better than Kugina Pass. This virgin trail makes for the one of best beginner treks in Uttarakhand with only a day spent on the trek. The trail begins with a drive from Lohajung to Wan and you begin your ascent from a small stream and a tiny bridge. Crossing this little bridge you begin your ascent to the valley of Kugina through oak and rhododendron forests, water points, and charming little resting spots carefully constructed for travel enthusiasts, much like you.
A little way into the trail, depending on the season you will find yourself in a winter wonderland with your eyes catching only powdery snow wherever you look, with the staggering mountains in the backdrop. As you reach the pass, 15 mountain peaks come together to greet you in all their glory. The location is so awe-worthy that it almost feels unbelievable that it only takes a few hours of simple hike to reach it.
Ajan Top Trek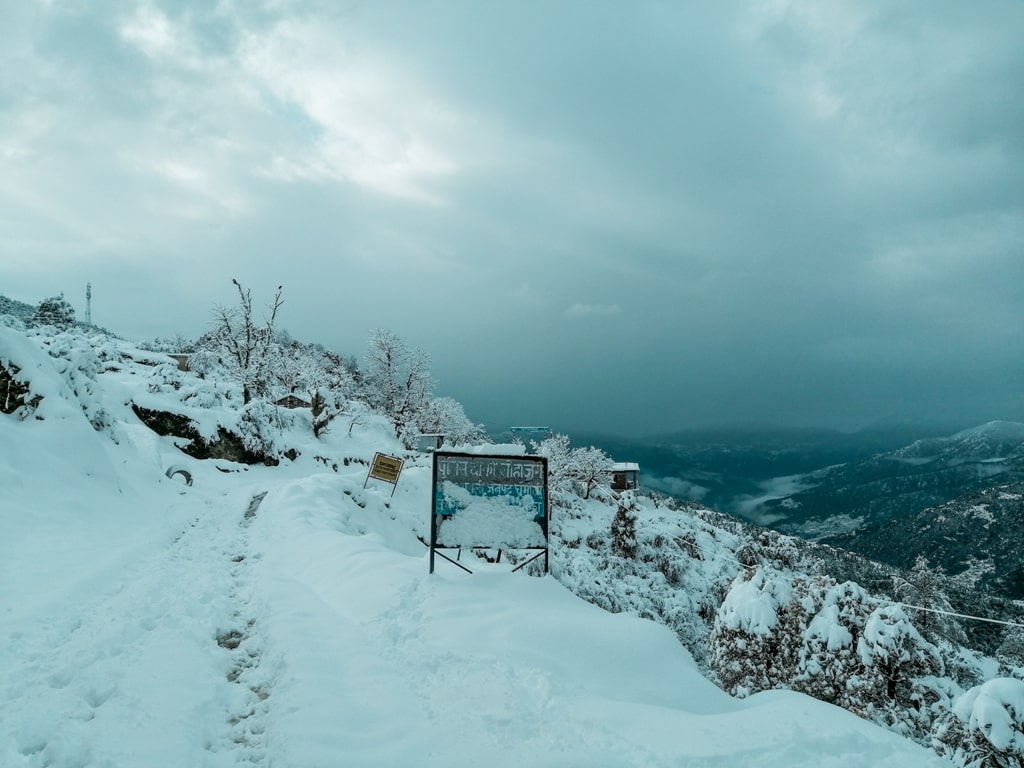 Whether you are a novice trekker who is looking to get their first real taste of trekking, planning a small, fun excursion, or an expert trekker looking to acclimatize yourself; the Ajan Top serves all the aforementioned purposes. With its inception from the Lohajung village, the ascent is only 2.35 km which takes you along vast meadows, charming hamlets and rhododendron, and oak forests.
While the trail is mostly rock, cement, and muddy during summer, in winter you will be travelling through knee-deep snow. A while on the trail and you're greeted with the Mt. Trishul's snowy peak and fields cloaked in green and mustard colours. As you continue your journey uphill, the tree line recedes giving away to a clearing wherefrom you get a 180 view of 15 snow cloaked mountain peaks shimmering in the sunlight and a modest Ajan temple.
Nag Tibba Trek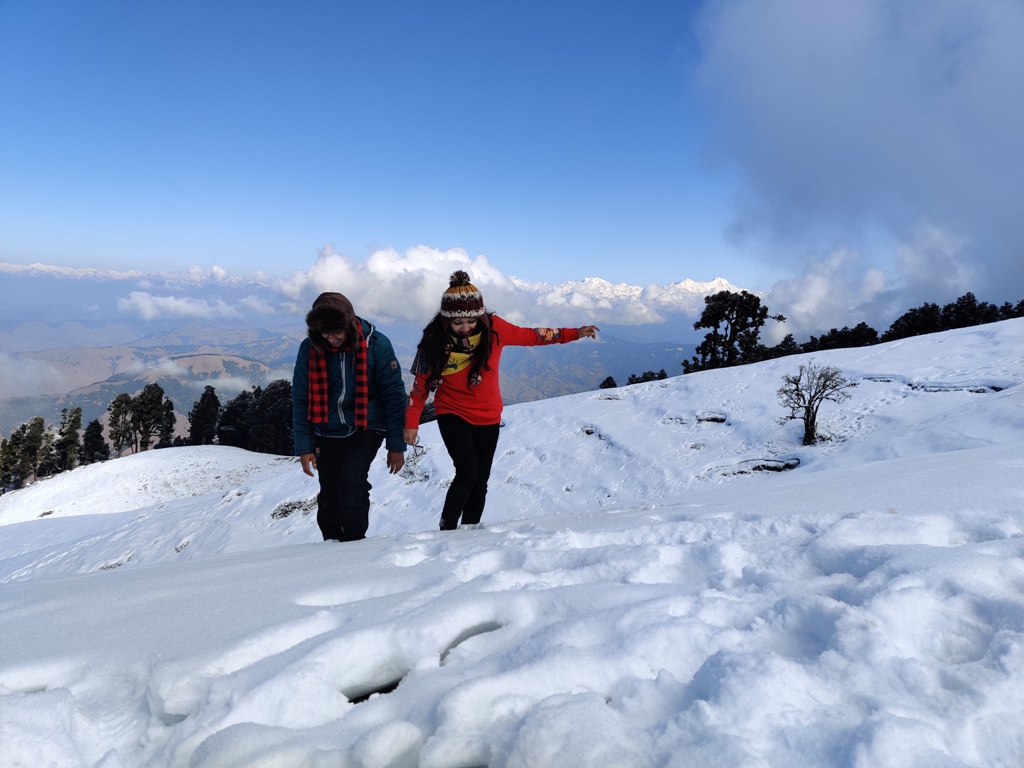 Looking for a short and easy trek that will whisk you away on a journey you will never forget? That's Nag Tibba Trek for you! Easily one of the best short weekend treks of Uttarakhand, the trek lasts only for two days and one night and yet stays etched in your memory forever.
The journey begins with a 4-hour drive from the city of Dehradun to the picturesque village of Panthwari, the starting point of your trek. The road journey in itself is a grand affair and gives you the perfect sneak peek of the beauty and grandeur that awaits you, as the drive takes you via the evergreen hills of Mussoorie, the gorgeous Kempty Falls and over steel blue waters as you cross the Yamuna Bridge. On day 1, you begin your trek from Panthwari and conclude for the day at Nag Temple. On day 2, you continue your ascent to the Nag Tibba summit, the Serpent's Peak which lies at a staggering height of 3022 m wherefrom you can witness the Srikanth, Swargarohini, Gangotri, Bandarpoonch, Kalanag, Kedarnath and Changabang ranges and the evergreen Doon valley in all their glory.
The trail to the top is a memorable one as it takes you through lush green forests of oak and conifers, verdant valleys scattered in bright rhododendrons and wildflowers, hushed villages and the stunning imagery of the Garhwal ranges in the backdrop. To ensure you get the best of the trek, the trip downhill is traversed via a different route altogether, so you get to experience views which you haven't been privy to before. The weather at Nag Tibba is agreeable round the year so if you're one for impulsive decisions, go for the Nag Tibba Trek. The thrill associated with the journey is sure to astound every adventure enthusiast and the bounties of the land will keep the nature lovers enraptured.
Gurso Bugyal Trek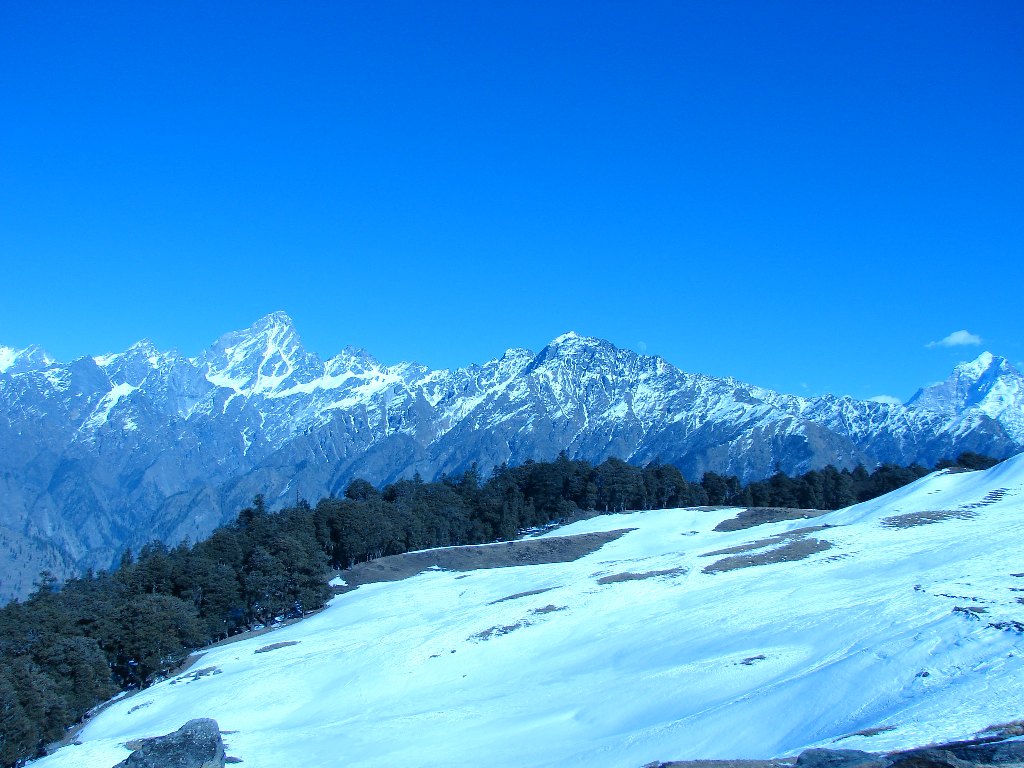 Image Source: Flickr
The name Auli is enough to pique anyone's interest. This heaven on earth is doused in the aroma of adventure and promises to be an experience of a lifetime especially when you add a trek to the offbeat and gorgeous trek to the mystical Gurso Bugyal to your itinerary.
A 3 km uphill journey through boundless valleys and views of towering mountains of the Nanda Devi, Trishul, and Dron Parvat, the trail soon lands you in the mystical land of Gurso Bugyal. The panoramic views of these striking mountains while walking along nature trails listening to its faint music makes for a mesmerizing affair.
Within the vicinity lies Chattrakhund, a pristine, sapphire coloured lake of crystal blue water. It also makes for an ideal picnic spot in the gorgeous meadow, right in the comforts of Mother Nature. Rising at a level of 3056m above sea level, during the spring season, Gurso Bugyal is dressed up in lush greenery as far as your eyes can see.
Another important attraction not to be missed is the Auli Artificial Lake, one of the highest man-made lakes in the world. The lake was specially developed by the Indian government to produce artificial snow perennially. This placid icy lake against the backdrop of gigantic hills is a thing of beauty that no pictures can do justice to. It is best experienced in person.
Kwani Bugyal Trek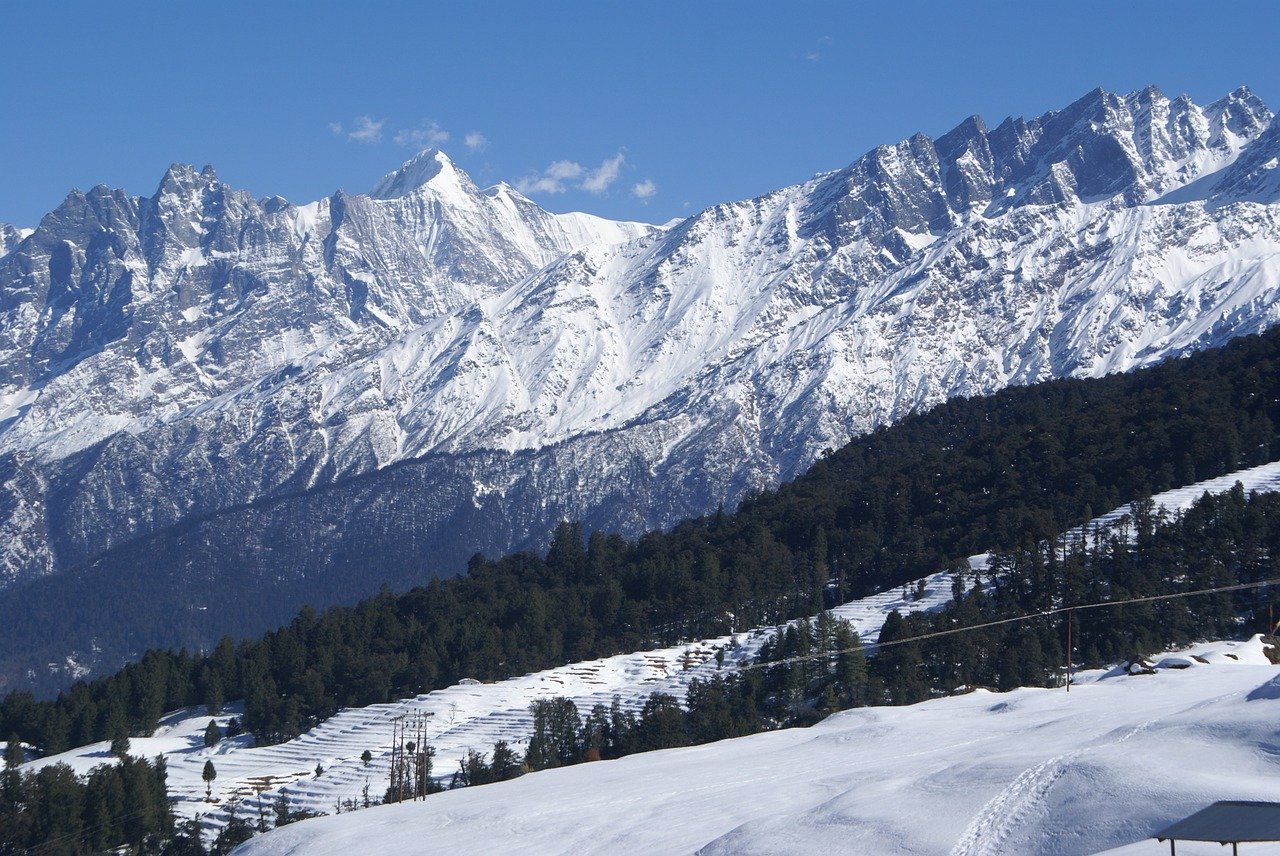 A little ways from Auli's Gurso Bugyal lies the equally gorgeous, if not more, Kwani Bugyal. Located at an altitude of 3380 m, this destination is creating quite a stir among trekkers owing to its mesmerizing views of the misty mountains of Nanda Devi and Dunagiri. To get to Kwani, one has to follow the same trail as one would do to reach Gurso Bugyal before finally climbing 12 km to Kwani.
The gorgeous destination's beauty is further enhanced by the surrounding oak and coniferous trees. If one desires, they may set up camp here to spend the night amid mountains, experiencing something only a mere few mortals have been fortunate enough to. The sunrise at dawn is sure to take your breath away. This area is only open from June to September as Kwani Bugyal is its most beautiful self around this time of the year while being covered carpeted in snow through the other months.
Thamri Kund Trek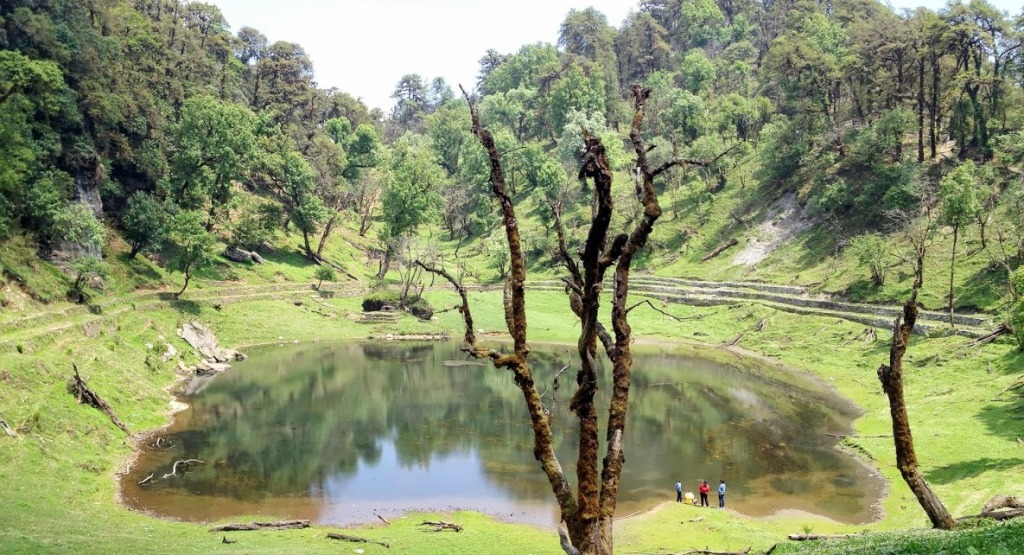 When we think of the word "trek" our mind automatically wanders to the mountains. But a trek is never just about the mountains, a trek is made beautiful because of the sights you discover on your way to the top. What if there was such a sight that could equal climbing to a mountain peak? Don't believe something like this can exist? Thamri Kund is a living example of such a destination.
Located in Munsiyari, Uttarakhand, and nestled amidst a lush green forest, lies Thamri, a natural emerald green lake with placid waters exuding a sort of calmness and beauty that can be found scarcely. The people who live nearby believe it to be a sacred river that bestows the hamlets near it with rainfall. If you're lucky enough you might also witness musk deer at the lake quenching their thirst.
From the lake's vantage point you can also spot the snow-clad Panchachuli peaks. In summer it is dressed in the summer colours of green and mustard but in winter it turns icy white, a whole different kind of beauty. Whichever season you decide to visit this magnificent lake, it will be a sight for the sore eyes. Let alone 3 km one could walk miles to witness such beauty.
Bhadraj Hill Trek
The ultimate trek for beginners in Uttarakhand the journey to Bhadraj Hills can be accomplished simply within two days. Located in Mussoorie, the trek to the Bhadraj hilltop begins at Library End, which is a beautiful locale in itself with ornate Victorian buildings and continues on 6 km before reaching the vast meadow of Cloud's end, a place which truly stands by its name. From the Cloud's End, it is another 7.5 km to the lofty Bhadraj Hill.
The initial trail is so well constructed that it almost gives off the vibe of a foreign land but soon the terrain becomes a little tricky as it shifts to roads made of rock and mortar. But the vast grasslands offering great views of the Bandarpoonch and Swargarohini ranges, the dense Bhadraj forest, and the promise of arresting visuals from the hilltop and a visit to the Bhadraj Temple makes the journey feel almost too easy. A view at the summit of Bhadraj Hill is enough to ensure any beginner trekker to swear their lives to trekking forever.
Tara Kund Lake Trek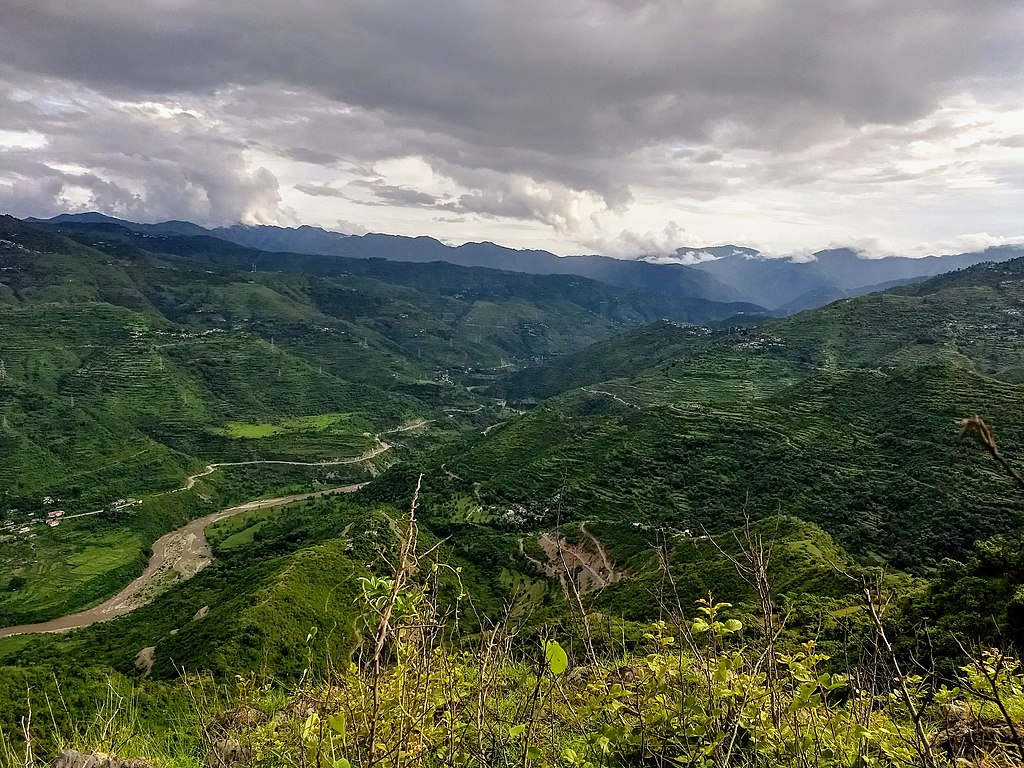 Mankind has so polluted the Earth that a lake as untouched and unfiltered like Tara Kund almost feels an anomaly. Located in the Kamargarh village of Pauri Garhwal district, Uttarakhand, the Tara Kund Lake is found sitting pretty at an altitude of 2,200 m above sea level. Surrounded by lush greenery, vibrant wildflowers, and flourishing blossoms, this small pristine lake is a treat for the eyes. To further exemplify the lake's beauty, one can also appreciate the beauty of the snow-topped peaks of the Himalayas sitting by the lakeside.
In the vicinity lies a Ma Parvati temple which becomes a hotspot for devout Hindu locals during the Teej festival. The serene lakeside graciously welcomes the locals as they pay their homage to the temple deity. To set out on this rather short trek of Uttarakhand and experience the ravishing beauty of the lake, you begin your journey from Pauri and drive 44 km to Padani wherefrom you trek merely 5 km on easy terrain to reach the picturesque lake.
Doodhatoli Trek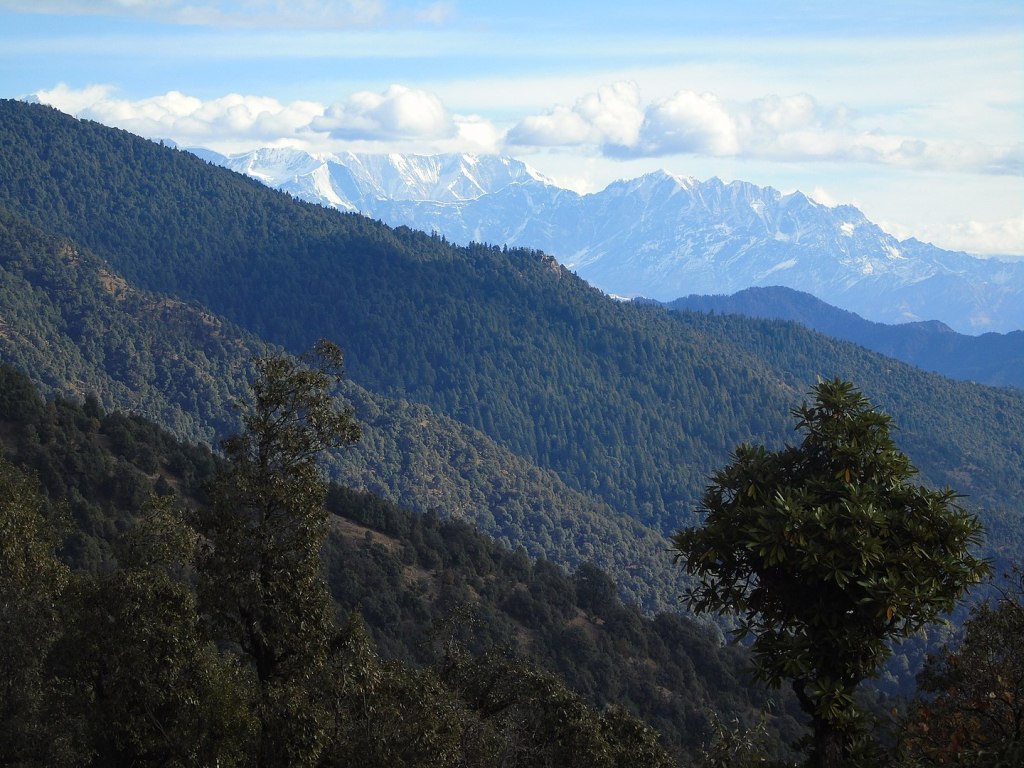 Perched at an elevation of 3100 m, Doodhatoli is one of the best treks that Uttarakhand has to offer. This popular mountain range is well frequented by adventure lovers owing to its gorgeous untouched virgin beauty. Vast expanses of evergreen meadows, enchanting forests of pine, maple and chestnut, trees with branches laden in strawberries, blackcurrant and gooseberry, fogs that envelope you in their mistiness, mountains so close you could almost reach out and touch them and the Himalayan rare birds chirping and singing to their heart's content, Doodhatli can indulge the explorer in everybody.
The trek to Doodhatoli begins at Thalisan in the Pauri Garhwal district of Uttarakhand, from where the trail leads you through an intricate network of gentles slopes; sometimes uphill while others downhill. You reach your destination of Doodhatoli after trekking for 24-27 km. The shorter route is of 10-12 km and is mostly traversed by expert trekkers owing to its tricky terrain and confusing route. The area is most popular between the summer months of March and April when the climate is comfortable and the land is enveloped in lush greenery as far as your eyes can see.
Garud Chatti and Phool Chatti Waterfall Trek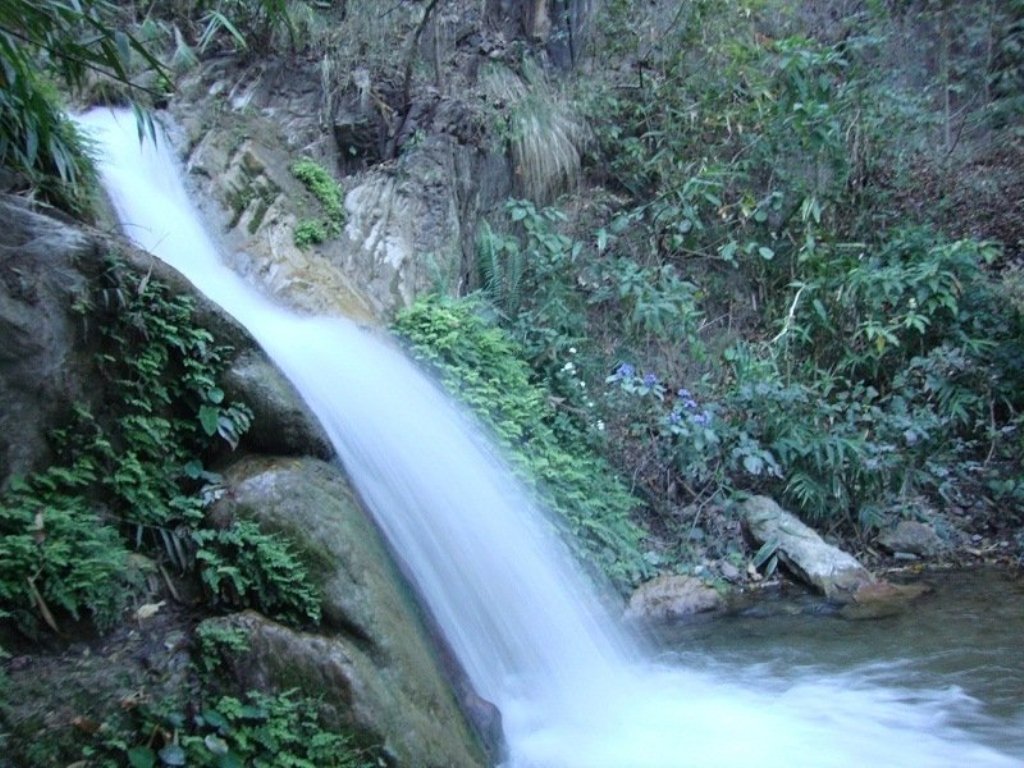 Image Source: Trawell
To end this wholesome list on a winning note, we have included one of the most tempting and best trekking routes in Uttarakhand for beginners. How would you like to wash away all the tiredness of your trekking expedition by showering under a waterfall? Sounds fun? We promise you, it's much more enjoyable than you can probably imagine. Located in Rishikesh, Uttarakhand, Garud Chatti Waterfall beckons people from all over the world to enjoy splashing around in its cool water. The inception of the trekking route to the famed waterfall lies 3 km from Lakshman Jhula on Neelkanth Mandir Road and begins near an ancient temple of Garuda, hereon you trek only 1.5 km to reach the cascading waterfall.
Another 3 km from the Garud Chatti is the equally beautiful Phool Chatti Waterfall. If you want a little seclusion, you might want to opt for the latter. The waterfalls are best visited during the monsoon season when the water flows in from 7 different levels. Garud Chatti and Phool Chatti Waterfall make for the perfect place to laze around with your friends after an exhilarating trek.