Snuggled at a pinnacle of 15,000 ft above sea level, the Spiti Valley is known to be a splendid, panoramic location for a trip by road. The beauty of this road trip has to be seen to be believed. It snakes through mystifying spots far beyond the hustle bustle of the city. It is not just a mere journey but a deep experience where you can enhance your mind and soul mentally and spiritually.
Spiti is a cold desert mountain, tucked away in the north-eastern region of Himachal Pradesh. Spiti, also known as "middle land", is a trans-Himalayan terrain which falls between India and Tibet. Nature's wonder can be best explained through the Spiti valley road trip. The trip is rather challenging as it courses through the treacherous curves, dangerous alleys and tricky terrains. The scenery throughout the trip is drop-dead gorgeous and calls for a life-changing experience.

Spiti Valley is very famous for tranquil villages, quaint meadows, oldest monasteries, pristine rivers and the most beauteous landscapes of all. Undertaking a road trip through the stark landscapes of Spiti is a wholesome escapade. It blesses the tourists with unmatched views of the towering sierras and sparkling glaciers. It offers an added opportunity to explore the rich cultural heritage of the villages bordering Spiti.
The Gateway of Spiti, Kunzum La, welcomes you with the fluttering of prayer flags in the heaving mountains. This Pass offers unhindered magical views of the Chandra Bhaga mountain and the second largest glacier, Bara Shigri. This road trip is an amalgamation of divine lakes, holy rivers, Buddhist monasteries, hot Sulphur showers and the majestic snow-clad peaks. The views from the lakes and rivers are heartwarming and enthralling. It will be really worthwhile if you spend one or two nights in the monasteries to experience the rich Buddhist culture. This beguiling Spiti valley is gem of nature, still unspoilt and unalloyed.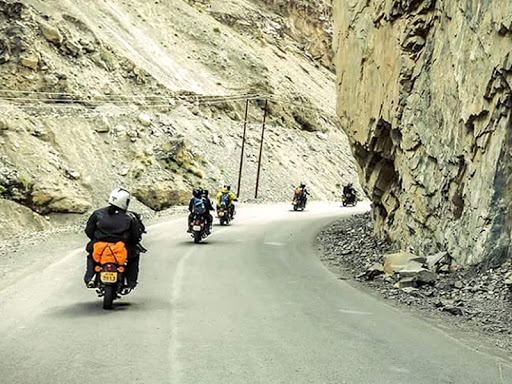 MotorBike Route To Spiti Valley
On your route to Spiti Valley, you will find various picturesque spots of sightseeing which will compel you to stop and stare.
While coming to Shimla from Delhi, you can visit the Sutlej valley and spend some time taking snaps across the Sutlej river.
Sangla village and Chitkul village are some of the most beautiful and tranquil villages. These villages are some of the wonderful places in itself.
While travelling in this route to Spiti valley, you can bask in the beauty of the tall pine trees situated near the Baspa river. It is highly recommended that you visit the Mata Mandir which also falls in this route. Viewing the Kinnaur Kailash peaks and the apple orchards from Kalpa is just a heavenly feeling.
You should plan a stopover at Kaza where you can entertain yourself with their sumptuous local food and their traditional market. The view from the market of Kaza is unparallel.
While travelling towards Hikkim, you should stop at the world's biggest post office to soak in the virgin beauty of the landscapes in Hikkim.
Moving towards Langza, your eyes will get hooked in the extra-terrestrial beauty of the snow-clad peaks and the green meadows. You will also get to see the largest Buddha statue in Langza.
The most awaited place in Spiti valley is the famous Chandratal Lake. You can stop near the Chandrabha ranges to get a clear view of this marvelous Moon Lake.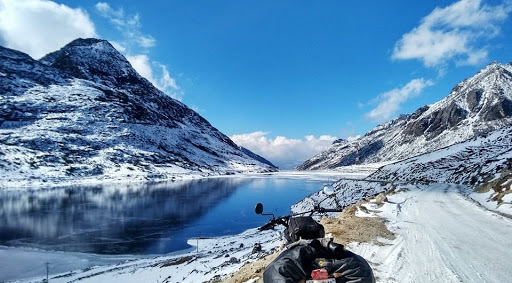 Best Time For Spiti Valley Road Trip
Spiti valley in summer is quite pleasant and clear. The days are sunny and bright which provide the travelers with clear views of the picturesque landscapes. This is the time when the winter snow starts to break and melt after the excessively chilled winter season. During the summer months Chandratal Lake is a view to be held. The crystal clear lake is decked up in the shades of blue and green reflecting the magnificent imposing brown mountains. The travelers who want to avoid the crowd and spend vacations in seclusion will find the month of April to be the perfect time to visit Spiti as Manali route opens in June. The best time to visit Spiti is during June as most of the roads for sightseeing open up and the weather is much more pleasing and comfortable. The summer months start from April and stays upto June. The temperature during the day stays in between 150C to 160C and at night it drops down to 60C.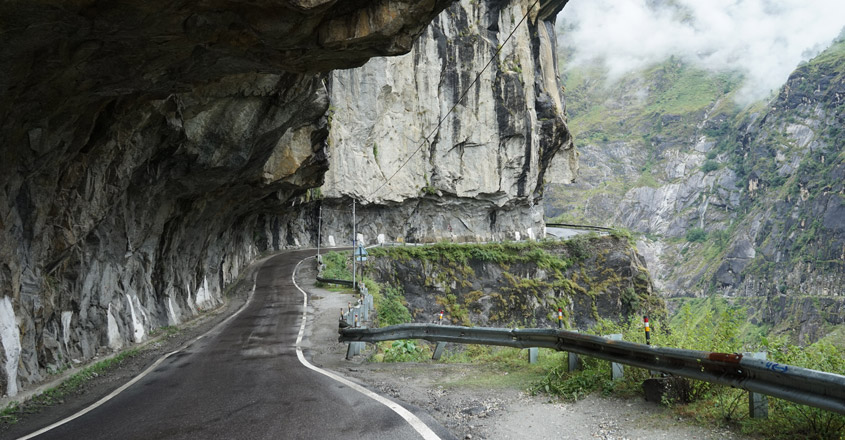 Why To Travel To Spiti Via Shimla?
Acclimatization forms a major issue while travelling in the high altitude region. If you travel via Manali to Spiti, you are likely to suffer from Acute Mountain Sickness (AMS) due to the sudden change of altitude. It is very difficult to adapt your body to the sudden change in the altitude of Kunzam Pass or Kaza. However, if you reach Spiti valley via Shimla you will have a very comfortable journey as the roads provide gradual ascents. You can enjoy the majestic ranges en-route Spiti valley without having to fear about AMS during your journey via Shimla.
If you travel to Spiti via Manali, you will have to cross the ever messy Rohtang Pass. It will be really irritating while you get stuck in the traffic jam which lasts for long hours. The high spirit of the journey gets dampened altogether. It is mostly advised to travel via Shimla to enjoy a smooth, safe and happy journey.
Visiting Spiti valley via Manali can be really tiresome when you are asked to arrange for the permits. Getting hold of these permits can be really frustrating and it can compel you to change your drive plans. But if you are travelling through Shimla, you will not require any permits for Rohtang Pass. This makes your adventurous journey plan to Spiti smooth and hassle free.
If you travel to Spiti valley via Manali, you will come across the Kunzum Pass which opens up only in the month of June. During the winters, it remains heavily covered with snow which needs to be cut through to make way for Spiti. This snow clearance procedure commences from the end of March approximately. This route again closes in the month of October due to the high risks of snowfall. However, if you travel from Shimla, your journey will a lot smoother and comfortable. This route remains open almost all the year round even in the winters. Only if there are chances of heavy snowfall, the route shuts down just for a few days.
Last but not the least, travelling to Spiti via Shimla can offer you with some of the most picturesque landscapes with the imposing Kinnaur Kailash in the background. The beauty of this route is unmatched and beyond articulation.
Difficulty And Duration Of The Trip
This trip takes about 9 days to cover. The weather of this location is very harsh and hostile. The Spiti valley receives only 250 days of sunshine in a year and therefore winter in Spiti is pretty severe. As the altitude increases, the oxygen level becomes thinner making it extremely difficult to carry on. The roads throughout the trip are very dangerous and calls for good prior experiences and utmost endurance. Acute Mountain Sickness (AMS), a severe health condition is very common in this adventure. The most common symptoms of this disease are disturbed sleep, nausea, headache, breathlessness, lack of energy, etc. You have to take rest at every point so that you can adjust your body conditions to this unrelenting weather. Acclimatization is very important in this trip so that you can do away with this mountain sickness.
What To Pack For A Spiti Valley Road Trip?
You have to carry good quality windcheaters for the unpredictable weather conditions. If you are planning on a winter road trip then you have to put many layers to keep from the cold.
Woolen socks and thermal inners are an absolute necessary.
Carry light woolen clothes for the summers. Regular trousers and jeans are very useful during this time just like the light windproof jackets.
Carry good quality insulated boots for the winter trip.
Try to carry gumboots in case it rains or snows.
Carry sunglasses and caps for the summer trip.
Carry first-aid kits, bug sprays, flash lights, water bottles, power banks for a safe and enjoyable road trip.
Day To Day Itinerary for Spiti Valley Road Trip
DAY 1: Delhi to Shimla
Early start from Delhi in the morning at around 6:45 a.m.
Altitude- 2276 m
343.7 km drive
10 hours of travelling by bus or car.
Accommodation in hotels.
The journey commences with a long drive from Delhi to Shimla by a bus. The drive will take you through various scenic landscapes when the mountains will be clear and distinct. Reaching Shimla, you have to stay overnight after the tiresome journey, indulging in some winter shopping in the Shimla Mall. You can also choose to stay in Narkanda to avoid the crowd in Shimla.
DAY 2: Shimla/Narkanda to Chitkul
Early start in the morning at around 7 a.m.
Altitude gain from 2276 m to 3450 m.
243.7 km drive.
7 to 8 hours of travelling.
Accommodation in guest houses in Chitkul.
You will have to start early from Narkanda to reach the picturesque town of Chitkul which will take about 8 hours to reach in a tempo traveller. To reach Chitkul from Narkanda you have to cross Karcham via Jeori and Rampur. On the way to Chitkul, you will come across a very scenic and famous tourist spot, Sangla, which is just 20 kms away. The Sangla valley is remarkably beautiful with the presence of snow-covered mountains and meadows. The roads today are easy to navigate and comfortable.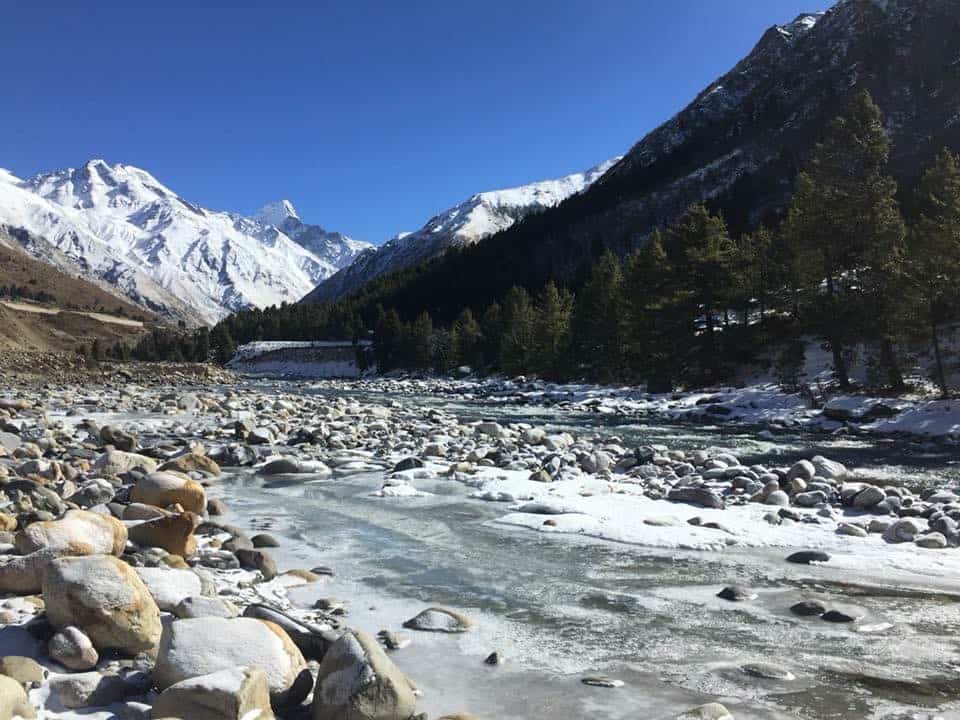 DAY 3: Chitkul to Kalpa
Start in the day at around 9 a.m.
Altitude descent to 2960 m.
61.2 km drive.
3 hours of travelling.
Accommodation in hotels.
This part of the journey will be short and relaxing. Kalpa is 65 kms away from Chitkul which will take 3 or 4 hours to reach. To reach Kalpa, you need to journey back to Karcham and take the highway till Reckong Peo. The journey is a bit difficult with some gradual steep ascents. This quaint village of Himachal Pradesh is a tourists' paradise. You will find the Sutlej river flowing down the majestic Himalayas and passing through the rocky terrain of Kinnaur. Staying overnight in Kalpa under the moonlit sky with the imposing Kinnaur Kailash mountains in the backdrop is real bliss.
DAY 4: Kalpa to Nako or Tabo
Start in the day at around 9 a.m.
Altitude gain from 2960 m to 3662 m.
99.0 km drive.
3 hours of travelling.
Accommodation in hotels.
This journey is also not that long. The road between Kalpa and Nako never remains in a good state and is quite difficult to negotiate. Nako is a beautiful lush green village where you can visit the Nako Lake, Nako monastery and Lipa-Asrang Sanctuary. This village is a peaceful haven where you can stay overnight spotting some exotic animals, trees and flowers. You can also choose to stay in Tabo but Nako is much more scenic than Tabo.
DAY 5: Nako to Kaza
Start in the day at 9 a.m.
Altitude gain from 3662 m to 3800 m.
111.1 km drive.
3 hours of travelling.
Accommodation in hotels.
The road from Nako to Kaza is very beautiful and relishing. The beauteous landscapes throughout the way keep you entertained and jovial. Nature photography is quite common in this route. You will have plenty of time for sightseeing and you will truly appreciate the scenic beauty around you. On your way to Kaza, you will have to cross the tranquil Dhankar village. If you want you can stop at Dhankar and visit the old monasteries here.
DAY 6: Resting Day at Kaza
Spend the whole day in Kaza.
Accommodation in hotels.
It will be a sheer miss if you do not spend a night in Kaza. Staying here, you can explore the villages of Komik, Kibber, Hikkim, Langza, Chicham and Tashigong and get a hang of the daily life of the locals and their culture. In Kaza, the famous Kye Monastery will be an unforgettable visit as it is the oldest and largest monastery in Spiti. Animal lovers can visit the Kibber Wildlife Sanctuary and enjoy the presence of the exotic wildlife there. The impeccable charm of Kaza will provide you with inner fulfillment and rejuvenation.
DAY 7: Kaza to Chandratal
Try to start very early in the morning at around 3 a.m.
Altitude gain from 3800 m to 4250 m.
The distance between Kaza and Chandratal is 51.3 km
First, drive till Losar and then climb up to Kunzum Pass Top.
Accommodation in the camps.
The prime attraction of the Spiti Valley road trip is the Chandratal Lake. The roads starting from Kaza is not well paved. It is very difficult for a car to maneuver this bumpy path. After this fatiguing journey to Chandratal, an overnight stay can make up for this suffering. The glimpses and views from the lake are serendipitously beautiful. It is highly recommended to watch the sunrise from the Lake. The sunrise is stunning from the Lake side: particularly the beautiful reflection of the golden snow-capped mountains in the crystal clear Lake water. The myriad of colours during the sunrise embellishing the landscapes speaks of nonpareil beauty. The enchanting engrossing beauty of this Lake will urge you to never leave the place and stay here forever.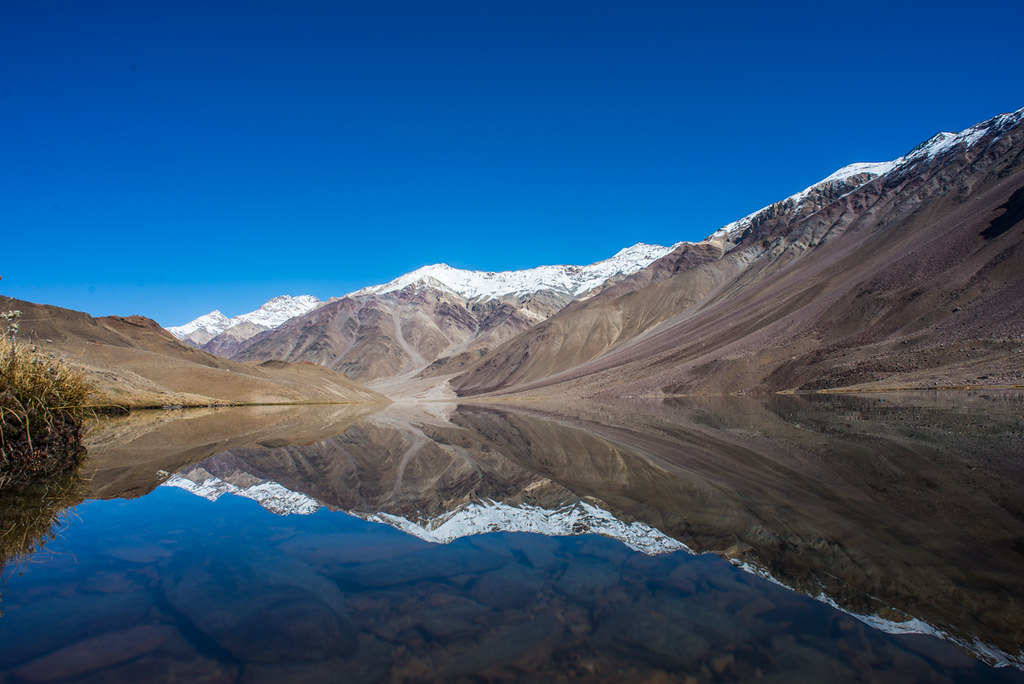 Chandratal Lake
DAY 8: Chandratal to Manali
Start early in the morning at around 7 a.m.
Altitude: 4250 m to 2050 m.
The distance between Chandratal and Manali is around 250 m.
First, drive till Gramphoo and climb up to Rotang Pass and then drive back to Manali.
Accommodation in the hotels.
Next morning, after your overnight stay at Chandratal, you have to drive back till the diversion point near Batal. The entire stretch till Gramphoo is filled with water crossings and huge boulders. Reaching Gramphoo, you have to trek up to Rotang Pass and then take a cab back to Manali.
DAY 9: Manali to Delhi
Start early in the morning at around 7 a.m.
Altitude: 2050 m to 216 m.
533.2 km drive.
12 hours of travelling.
You will be dropped at Delhi station by Moxtain.
This will mark the end of this road trip. From Manali, you can take a bus or cab to Delhi which will again take about 12 to 13 hours to reach.
Note: Woolen and proper warm clothes should be a constant companion in all the seasons for the Spiti Valley Road Trip.