15 Best Short Treks in Himachal Pradesh
The great writer Rudyard Kipling once described Himachal Pradesh as, "Surely, the Gods live here…" The transfixing beauty of this Himalayan state in North India has charmed many a soul since time immemorial. From holy abodes to quaint hamlets, gurgling brooks to glacial lakes, lush green pastures to snow-crowned peaks – there is no dearth of serenity in this place. But perhaps the biggest legacy of Himachal Pradesh is the numerous trekking trails that allow the wanderers to explore its beauty and seek refuge amidst the wilderness.
Himachal Pradesh is home to some of the most iconic treks in Western Himalayas, like Deo Tibba Trek and Hampta Pass Trek. You don't need to worry if you cannot afford to take a long time off; or if you are an amateur trekker just starting out. Himachal Pradesh has a trail for everyone out there who answers to the call of the mountains. There are a number of short treks in Himachal Pradesh that are mesmerizing. While treks to Patalsu Peak, Lamadugh Peak, and Beas Kund are great options from Manali, the hill stations of Dharamshala and McLeodganj have other stunning destinations like Triund Hill, Bhagsu Nag, and Kareri Lake. In the month of March, the Hampta Pass trek, Kareri Lake trek are visited by most of the trekkers.
Here are some of the best short treks in Himachal that you can take over the weekend to rejuvenate yourself. Read on to find out the details and description of 15 most beautiful short treks in Himachal and what you can expect from them.
1.Patalsu Trek
Duration: 4 days
Difficulty: Easy to Moderate
Altitude: 13,944ft
Start and endpoint: Solang Nallah, Manali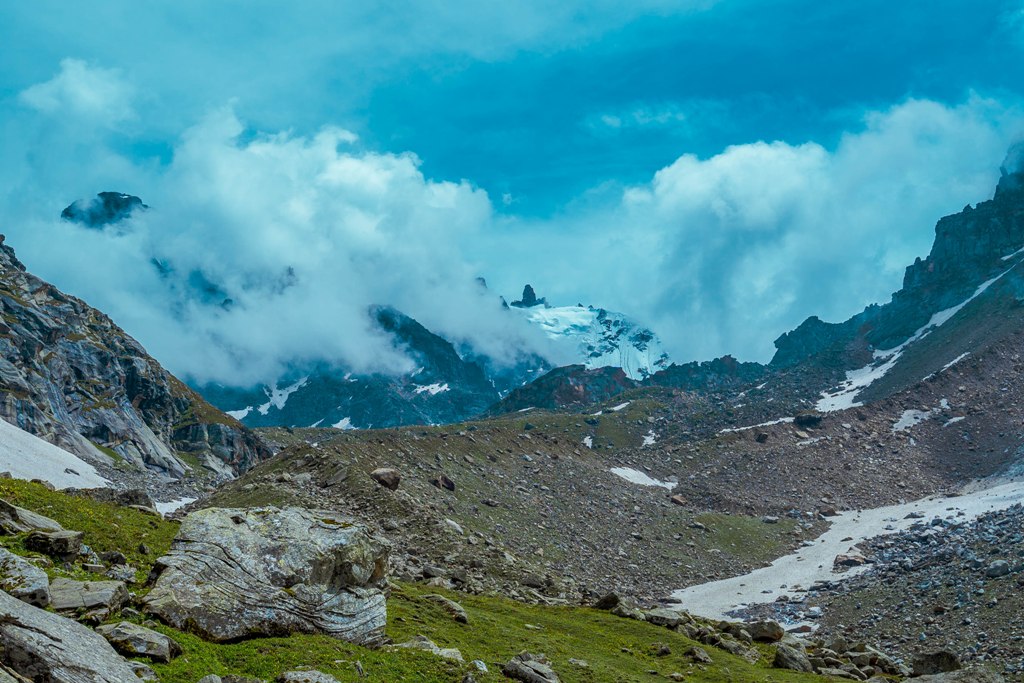 Like many amazing treks of Himachal Pradesh, Patalsu Peak trek starts from Solang Nallah near the beautiful town of Manali. The trail goes through open alpine grasslands, narrow ridges, moraine paths, and then it traverses through some dense forests of oak and pine before taking you to the peak of Mount Patalsu at 4,250 metres. On your way, you can expect to have some interesting bird-watching experience and spot species like monals and pheasants.
On the first day, you will drive from Manali to Solang Valley which is 14 km away and trek to Solang Village. The next day, you will reach the beautiful open meadow of Shagadugh, where you will camp for the second night. The third day, start your journey a little early in the morning and reach the captivating Patalsu peak sometime in the afternoon. From the peak, you can get a panoramic view of the Kullu valley and the peaks of Hanuman Tibba and Friendship peak towering above others. Come back to Shagadugh to camp for the night and make your way down to Manali via Solang the next day. The trek is a moderate one with 4-5 hours climb every day, but the experience comes as a rewarding one. Expect beautiful wilderness full of pine trees and fresh blossoms, especially in Shagadung clearing.
2.Triund Trek
Duration: 2 days
Difficulty: Easy to Moderate
Altitude: 9,350 ft
Start and endpoint: McLeodganj or Dharamkot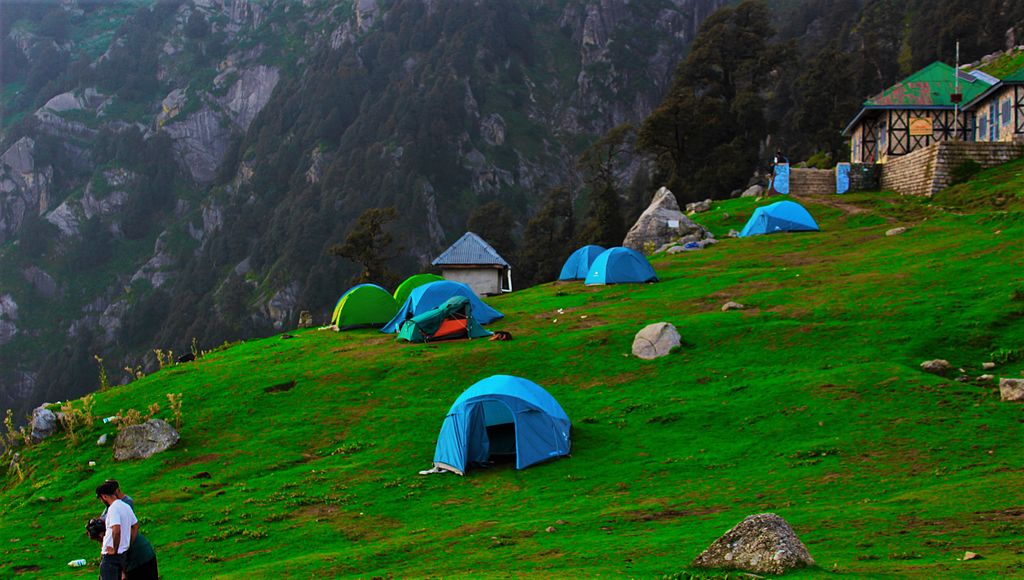 Triund trek is largely popular as a trek for beginners in Himachal Pradesh.This is one of the most enigmatic 2 days trek in Himachal. With awe-inspiring views of Dhauladhar range on one side and the beautiful Kangra Valley on another, Triund trek starts from McLeodganj and follows a mesmerising trail. Walk up till the first checkpoint at Gallu Devi Temple which is pretty plain and mundane, but after that starts the stretch of forest. You can offer prayers at the shrine as you pass by it for the successful and safe completion of your journey. The route to the hilltop is simple and easy and takes only 3-4 hours a side even for beginners.
The first 5 kilometres till Bhagsu Nag follows a terrain comfortable enough, dotted with small shops and cafes on the way. There is a popular one called Magic View Café from where you can get the best view of Dhauladhar ranges and Kangra Valley. At Bhagsu Nag, you will come across an ancient temple of Bhagsu Nag – a local snake deity – and a waterfall by the same name. After that, it gets a bit steep till the summit but not too much. Try to reach the hilltop before sunset, the view looks absolutely enthralling from up there. Enjoy overnight camping and bonfire at Triund under the open starlit sky surrounded by the mighty peaks before climbing your way down the next day. Before that, but make sure to wake up early to enjoy a stunning sunrise from behind the mountain peaks.
3.Kareri Lake Trek
Duration: 6-7 hours
Difficulty: Easy to Moderate
Altitude: 9,626 ft
Start and endpoint: Dharamshala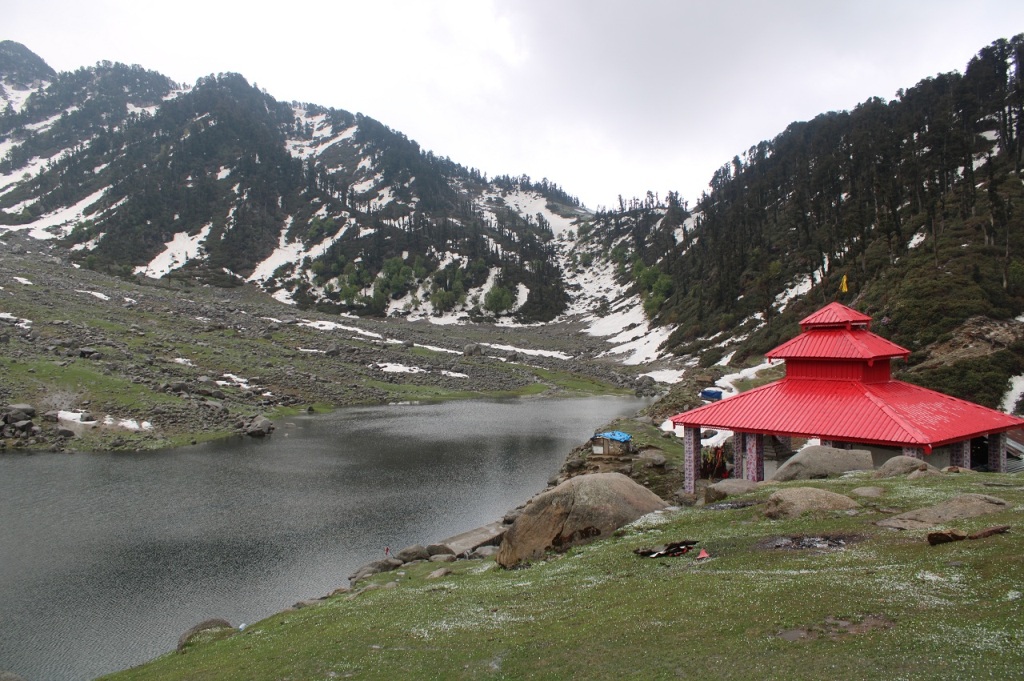 All you need is a long weekend to complete this stupendous offbeat trek in the Kangra district of Himachal Pradesh. This is one of the best weekend treks in Himachal.For this getaway to the glacial Kareri Lake formed by the water streams gushing down from the Minkiani Peak, you have to reach the lovely town of Dharamshala. From there, you will have to walk around 25 km to Kareri Village and then 6 km more to Liyoti Village amidst the local Gaddi Tribe for night stay. The next day, walk through the forests of oak, pine, and rhododendron, and climb steep ascents along Kareri Nallah and Nyund Nallah streams to reach Reoti village campsite. From there, it will take a few alpine fields and wooden bridges across rivulets to reach the mountainous Kareri Lake in Minkiani Pass. It stands amidst absolute emptiness like a still mirror glass reflecting the beauty of nature around.
Take a glance at the ancient Shiva Temple that stands at the top of the peak overlooking the lake like a protector. After a night's stay in a tent, come back down to Kareri Village the next day and drive back to Dharamshala.
4.Kheerganga Trek
Duration: 2 days
Difficulty: Easy
Altitude: 13,000 ft
Start and endpoint: Barshaini village via Kasol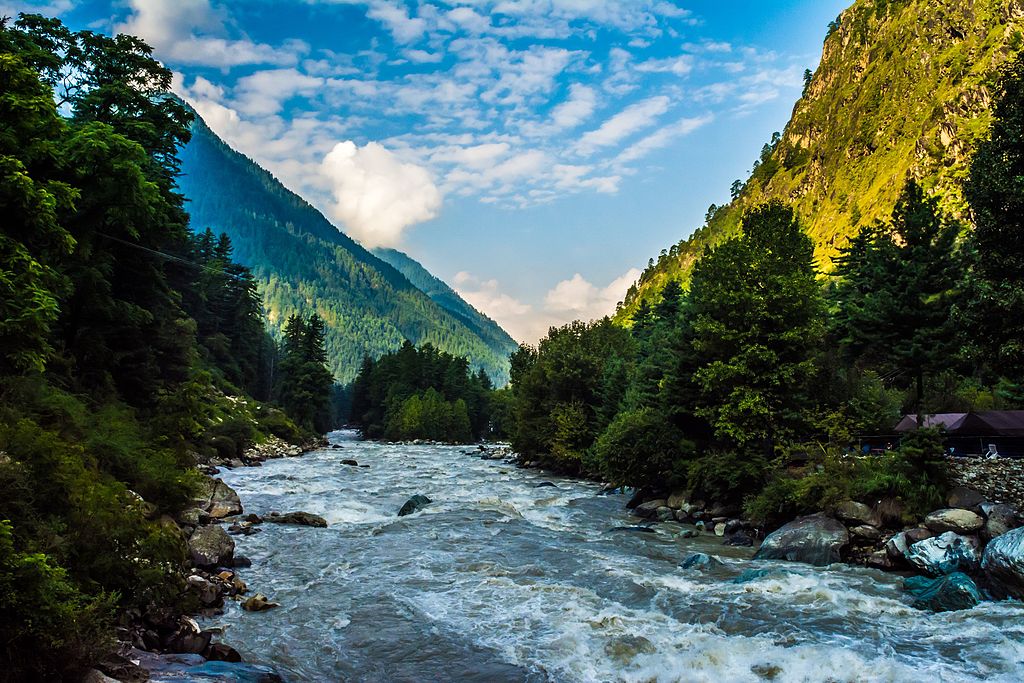 Kheerganga, a relishing 2 days trek in Himachal is one of the most sought-after trek routes from Kasol in the beautiful Parvati Valley. This is one of the most beautiful weekend treks in Himachal. A site of spirituality, in essence, Kheerganga and the trail leading up to it is studded with immense natural beauty. You can reach Barshaini, basecamp of kheerganga trek, on a bus or a cab from Kasol or Manikaran or direct from Bhuntar airport – whichever suits you best. From there, it is an 11-12 km easy trek uphill. It can be covered in 5-6 hours easily, even after taking short breaks for meal and rest in the middle at the few local cafes with colourful roofs dotting the trail.
You will cross the small village of Nakthan and a Shiva shrine at Rudranag Temple on your way. You can stop at these spots either on your way up or your way down. You will also come across sprawling green pastures over rugged cliffs intercepted by gurgling hot springs. At the summit of Kheerganga, there is a natural hot water pool called Parvati Kund, where trekkers can take a dip and rejuvenate themselves after the tiring journey. Set up a tent at Kheerganga to stay overnight and enjoy the starry night. Retrace your steps back to Barshaini the next day and take a bus to Kasol.
5.Prashar Lake Trek
Duration: 2 days
Difficulty: Easy
Altitude: 8,960 ft
Start and endpoint: Baggi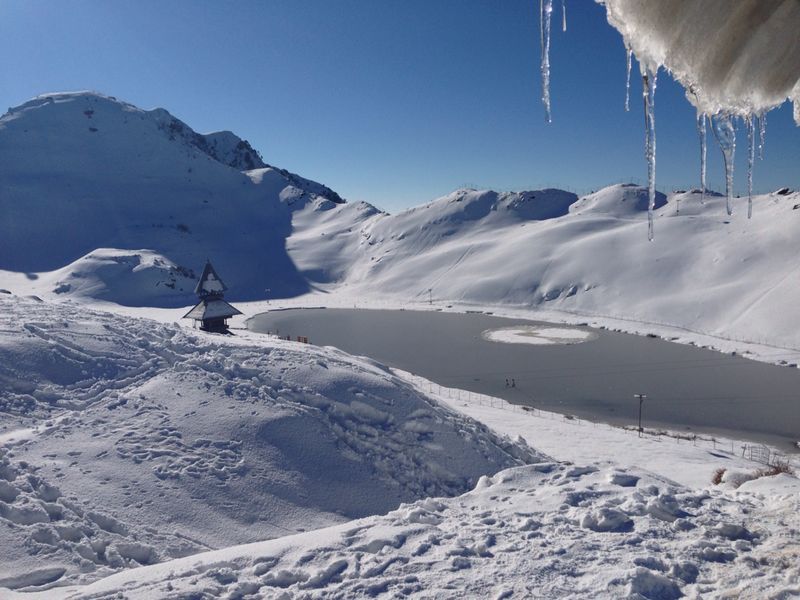 This is one of the best short treks in Himachal, perfectly suitable for all the beginners. This 2 days trek in Himachal will be an experience to cherish.There are two routes to Prashar Lake – one is via Baggi Village and another via Jwalapur Village. On the first day, reach Panarsa early in the morning and get ready for the day's trek ahead. Head towards Jwalapur village in a cab for 25 km and enjoy the beautiful scenery on the road. From the village, start walking through small Himachali villages with open vistas of Dhauladhar, Kinnaur, and Pirpanjal ranges on all sides. The road quickly gives into thick forests which get quieter as you go deeper. You will reach the stunning Prashar Lake after 4-5 hours of walking.
Beside the sparkling blue lake stands the local temple of Sage Prashar exhibiting beautiful local architecture. According to legend, this is where the Rishi used to meditate in the Vedic age, and that is why the lake and the temple are considered sacred. The entire view creates the most picturesque frame to capture in your memory and your camera. Sunsets and sunrises present magnificent sceneries in the region, painting the sky in bright pink and warm golden hues at dusk and dawn. Spend the night and get a camera ready at dawn to capture the beauty of a mountainous sunrise before heading back to Panarsa.
6.Beas Kund Trek
Duration: 3 days
Difficulty: Easy to Moderate
Altitude: 12,772 ft
Start and end point: Dhundi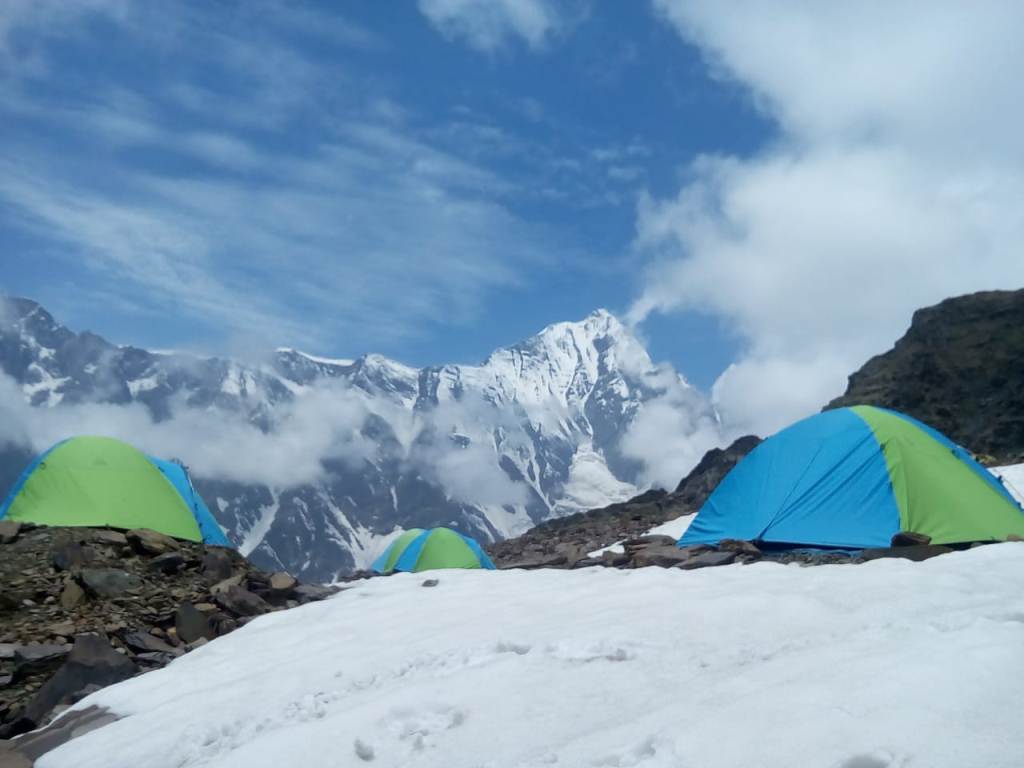 Beas Kund is a pristine emerald glacial lake from where the River Beas originates. It is believed to be the bathing place of Sage Veda Vyas while he meditated and dictated the Hindu epic Mahabharata.
The Beas Kund trek starts from Dhundi and take you through the mesmerizing grasslands, filled with blooming wildflowers and grazing cattle. The campsite for the first day is at Dhundi on the green slopes by the bank of Beas. The next day, walk through the ancient forests of Deodar, pine, and maple, which have stood here for ages. The silence of the woods is mesmerising, except for the occasional cicadas. By the time you reach the lake, the trees disappear to make way for bare mountain boulders and patches of snow on them.
The lake itself is a magnificent body in sparkling blue with vibrant flowers growing in the grasslands around. Views of peaks like Hanuman Tibba, Seven Sisters, and Friendship Peak will accompany you on the way up. After soaking in the beauty of the summit, continue hiking to Bakarthach for another 4-5 hours through rocks and boulders, and then make your way back to Dhundi. Next day, walk down to Solang Nallah to complete your trek.
7.Lamadugh Trek
Duration: 1 day
Difficulty: Easy
Altitude: 9,900 ft
Start and endpoint: Manu Temple, Old Manali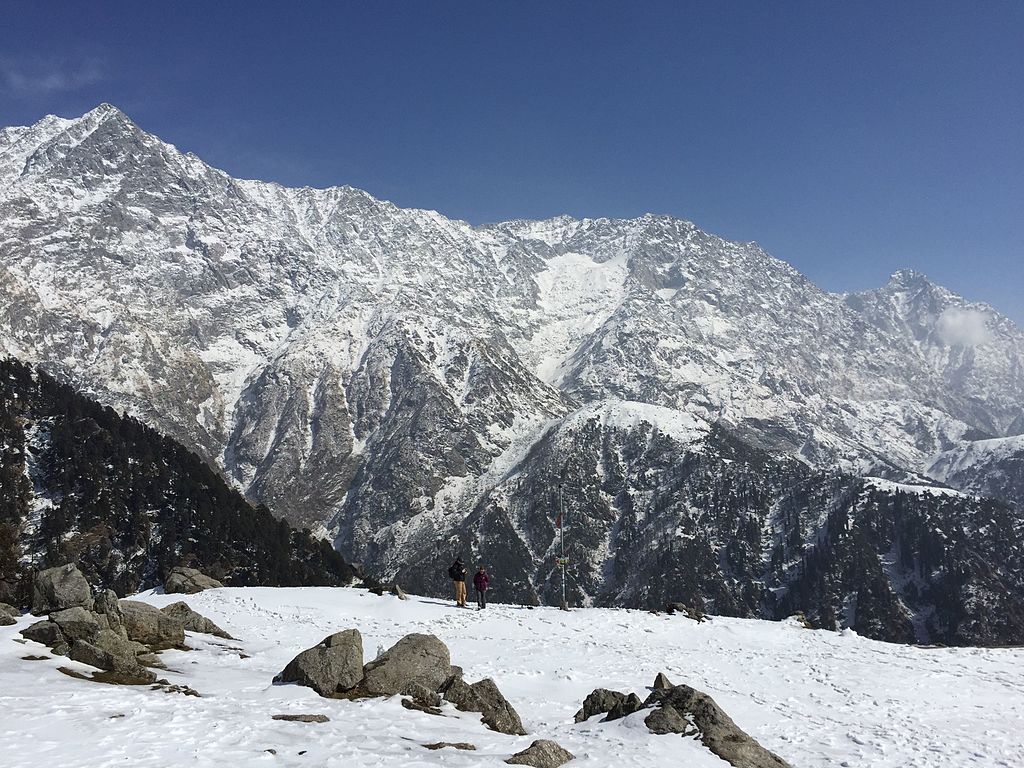 Among the many gems of really short treks in Himachal Pradesh, the trail to Lamadugh is one of the very best. This 1 day trek in Himachal will rejuvenate your soul and make you feel on top of the world. You set out from the ancient Manu Temple in Manali in the morning after breakfast. Like any other Himalayan trek, tall trees and alpine meadows accompany you on the journey to the top.
The journey to the flowery summit of Lamadugh is of 7-8 hours only, at the end of which you will be treated with an excellent view of Hanuman Tibba, Deo Tibba, and Indrasan Peaks, as well as Bara Shigri Glacier. To enter the final patch of land, you will have to walk horizontally along a ridge as the path opens up to the lush meadow with only a couple of huts and thousands of blossoms.
8.Vashisht Jogini Waterfall
Duration: 1 day
Difficulty: Easy
Altitude: 6,730 ft
Start and endpoint: Manali Bus Stand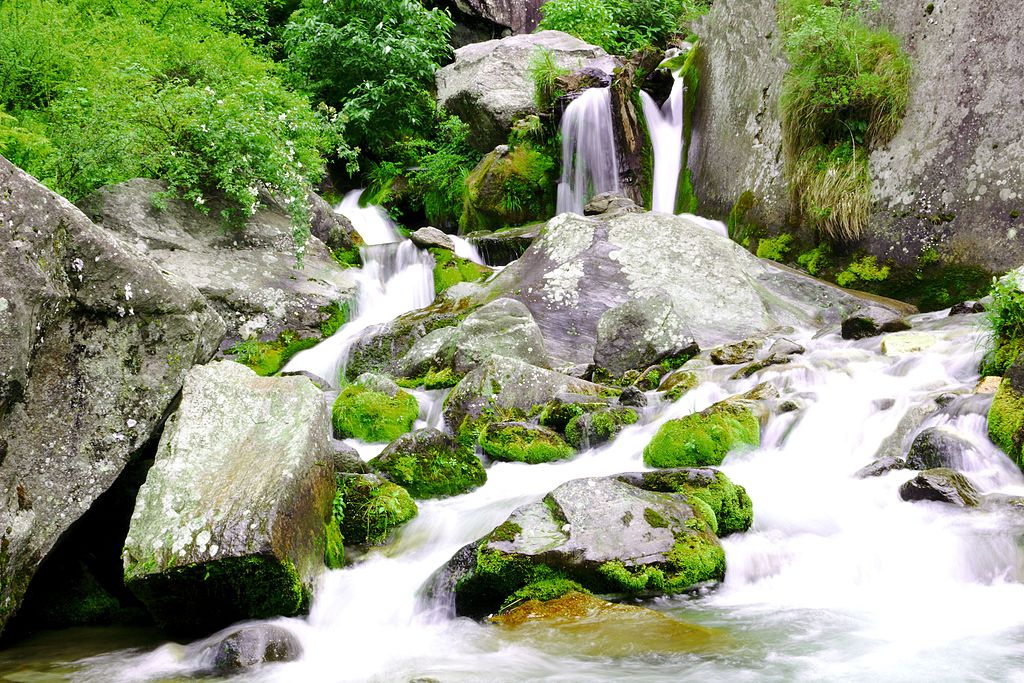 The trek to the Jogini Falls near Vashisht Temple close to Manali is one of the easiest one-day treks to do in Himachal. If you are staying in Manali, you can start walking from your place of the accommodation itself. From Manali Bus Stand, start walking towards the Vashisht Temple up north, which will be around 4 km from there. You can stop to pay obeisance to the deities at the temple and then walk around 4 more km through apple orchards and pine trees to reach the Jogini Falls. The stream of water cascades from a height of 160 ft through multiple levels and forms a pool below where visitors often take the plunge. The trek is short but an extremely scenic one. It makes a perfect one-day venture for beginners and experienced trekkers alike.
9.Khar Myundari Trek
Duration: 2 days
Difficulty: Easy
Altitude: 11,200 ft
Start and endpoint: Setan via Manali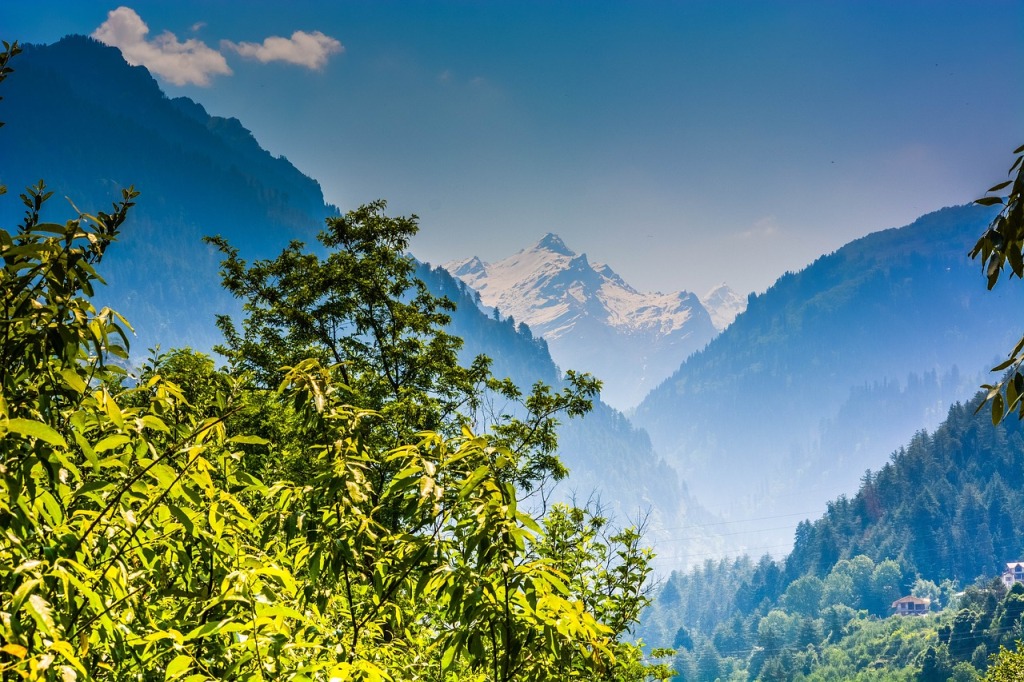 The starting point of the trek to Khar Myundari is at Setan, which is an hour's drive away from Manali Bus Stand. The trail follows a beautiful streamside, through the thick growth of pine and deodar forests at large. You will also come across apple trees along the way.
The site of Khar Myundari is located by a small alpine lake which sets the perfect background for relaxation and picture sessions. The campsite at Khar Myundari offers a strikingly impressive view of the Kullu Valley. The next day, after breakfast, you can make your way back to Manali for further trips.
10.Bhagsu Nag Trek
Duration: 1 day
Difficulty: Easy
Altitude: 7,000 ft
Start and endpoint: McLeodganj, Dharamshala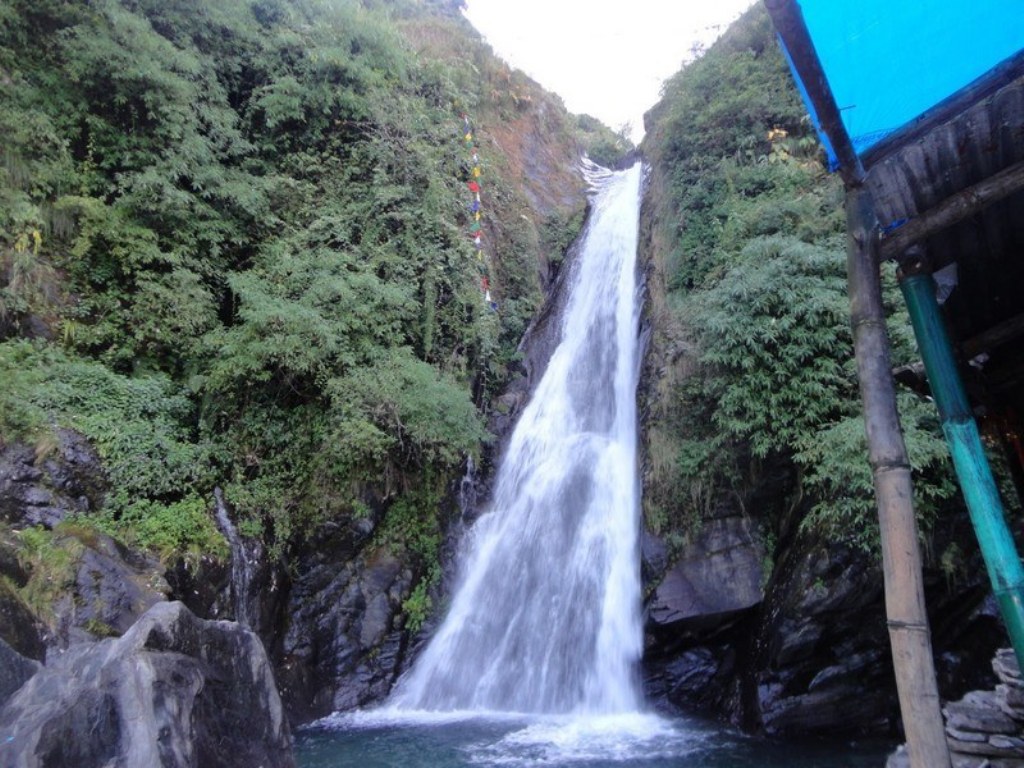 Picture Credit: Flickr
Bhagsu Nag is a small village located to the east of McLeodganj and famous for the majestic waterfalls of the same name. This is one of the most memorable solo treks in Himachal. The trail is very common among tourists of all ages who come to visit McLeodganj or Dharamshala, especially in the summers.
Both the village and the falls get their name from a local legend involving a battle between King Bhagsu and the Snake God, Naga. The trek to the Bhagsu Nag waterfalls and the ancient temple is a simple and easy one, complete with small cafes and handicraft shops for your refreshment. Once you reach the top and get your photographs clicked, you can either come down following the same path or get started for the Triund Trek.
11.Churdhar Peak Trek
Duration: 2 days
Difficulty: Difficult
Altitude: 11,965 ft
Start and endpoint: Nohradhar via Solan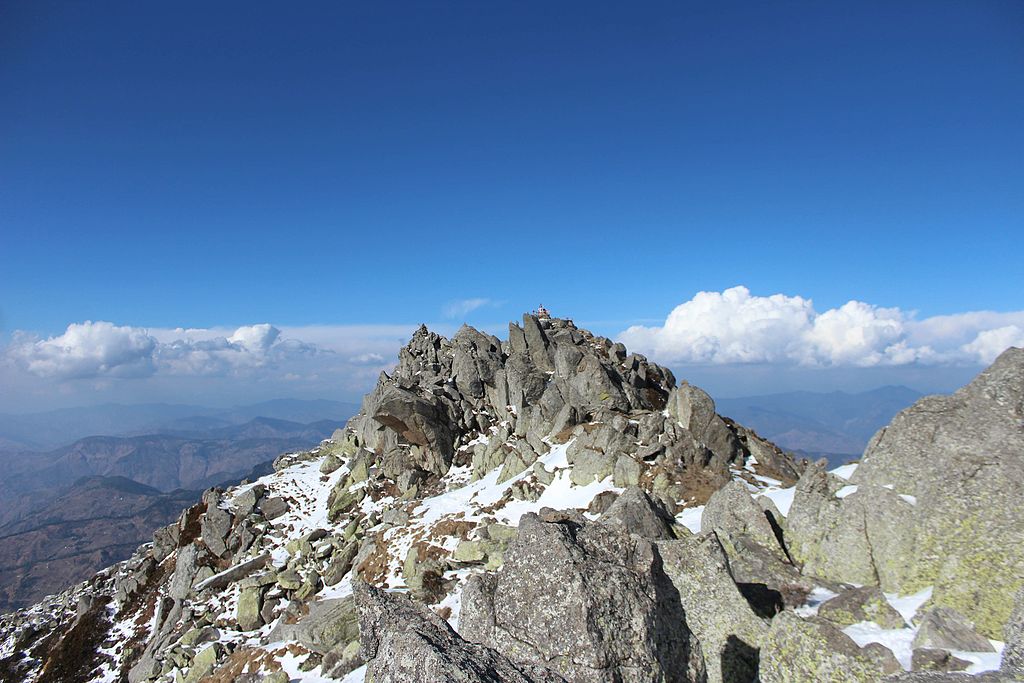 Located in the Sirmour district of Himachal, Churdhar peak is the highest point in the Outer Himalayan Range, with an elevation of 12,000 ft. This 2 days trek in Himachal is one of the most popular one. The moniker translates to 'Bangles of Snow Ridges' – a nod to its resemblance with stacks of snow-covered steps. With a giant statue of Lord Shiva at the top enshrined in Shirgul Devta Temple, the peak has great religious significance to the locals, but it also has immense geographical importance.
Due to its great vantage point, George Everest, the Surveyor-General of British India (1830-1843) and the inspiration behind the naming of Mount Everest, used Churdhar Peak to make sightings and astronomical measuring of several Himalayan peaks during his tenure. The trek to Churdhar Peak can be done either from Nohradhar via Solan or Sarahan in Chaupal district. You have to walk through thick conifer forests and Gujjar pasture lands within the Churdhar Sanctuary. The last hour of the trek is very steep and covered in moraine, but you will be rewarded in the end with a brilliant view of the surroundings.
On a clear day, you can see as far as Kedarnath, Badrinath, Shimla, Chail, Kufri, Kasauli, and even parts of Sutlej River and Gangetic Basin.
12.Karol Tibba Trek
Duration: 1 day
Difficulty: Easy to Moderate
Altitude: 6,900 ft
Start and endpoint: Chambaghat via Solan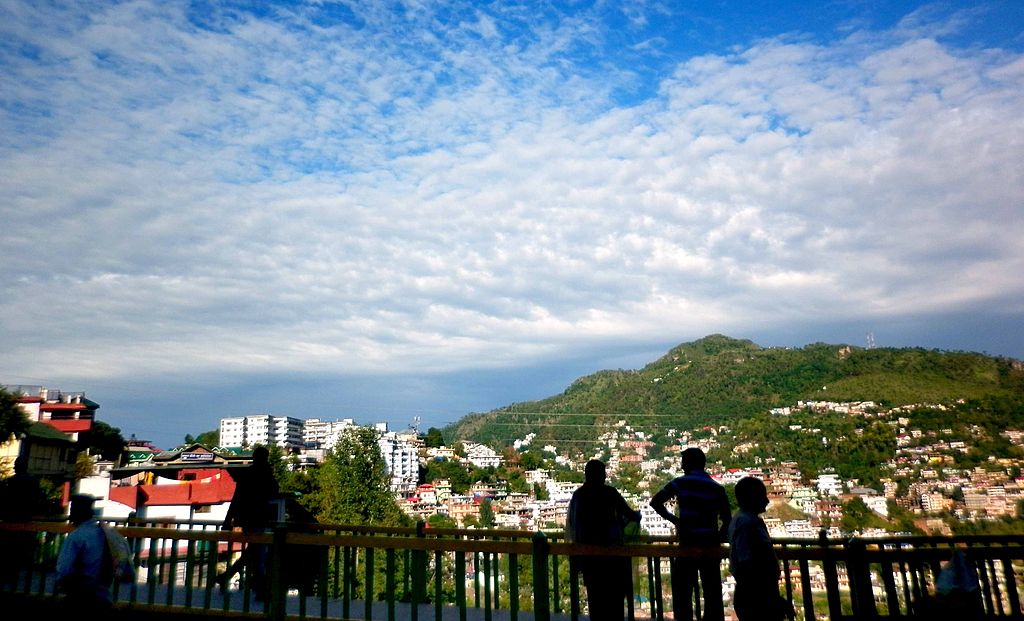 A shining jewel among the many easy to moderate treks in Himachal is the Karol Tibba Trek. The majestic peak towers above the town of Solan and attracts throngs of trekkers and adventure seekers every year. The trail commences from Chambaghat near Solan which is 25 km away from Kasauli. The route starts off with man-made brick roads, leads to grasslands, and gives way to a steep terrain through dense forests of deodar and pine.
As an icing on the cake, you will get to explore the first couple of hundred metres of the 25-km long Pandava Cave, believed to be the oldest and longest cave in the Himalayas. As per legends, this is the cave the Pandava brothers used to escape the burning Jatugriha. At the end of the walkthrough flourishing endemic flora, you will find yourself amidst the best sceneries Himachal has to offer. Expect to enjoy scintillating views of Solan, Shimla, and Churdhar Peak from the summit.
13.Hatu peak Trek
Duration: 1 day
Difficulty: Easy
Altitude: 11,150 ft
Start and endpoint: Narkhanda via Shimla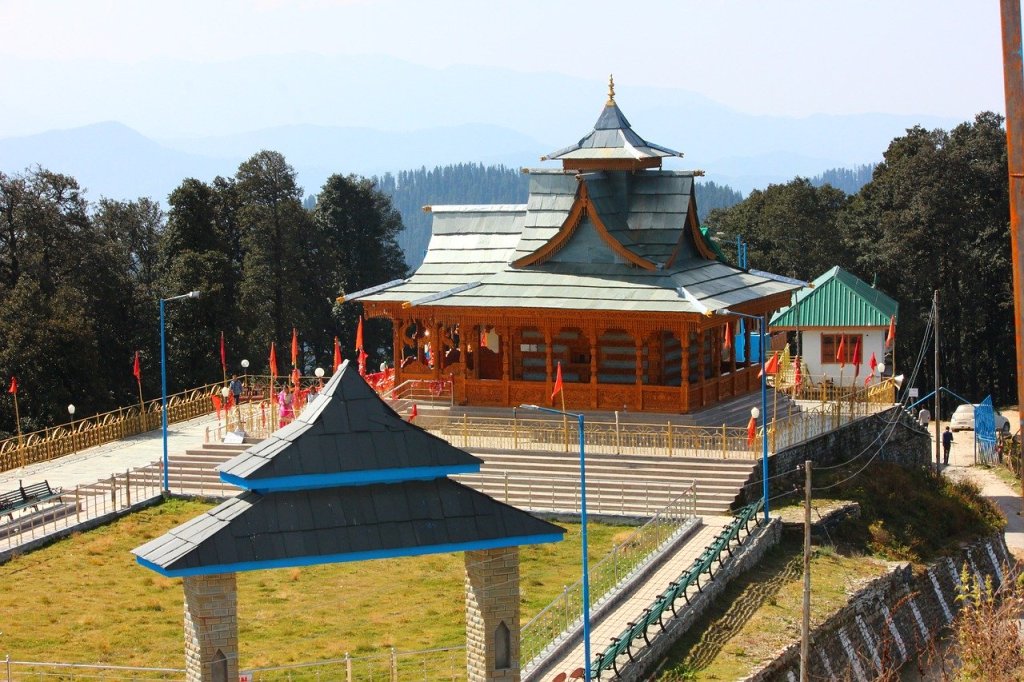 Among the lesser-known but beautiful trails for trekking in Himachal, one is certainly the journey to Hatu Peak, a 1 day trek in Himachal. Surrounded by blankets of cedars, pines, firs, spruces, and deodars, and occasionally dotted with apple orchards, Hatu Peak is the second-highest in the entire district of Shimla.
The trek begins at Narkhanda, 63 km away from Shimla city, and therefore a perfect weekend getaway for the trek lovers. The 7-km uphill walk ends at Hatu Mata Temple at the top, dedicated to Queen Mandodari, wife of King Ravana from Ramayana. On your way, you will be greeted with the rustic beauty of the everyday Himachali life in the Gujjar settlements and grazing fields.
14.Shali Tibba trek
Duration: 1 day
Difficulty: Easy
Altitude: 9,425 ft
Start and endpoint: Khatnol via Shimla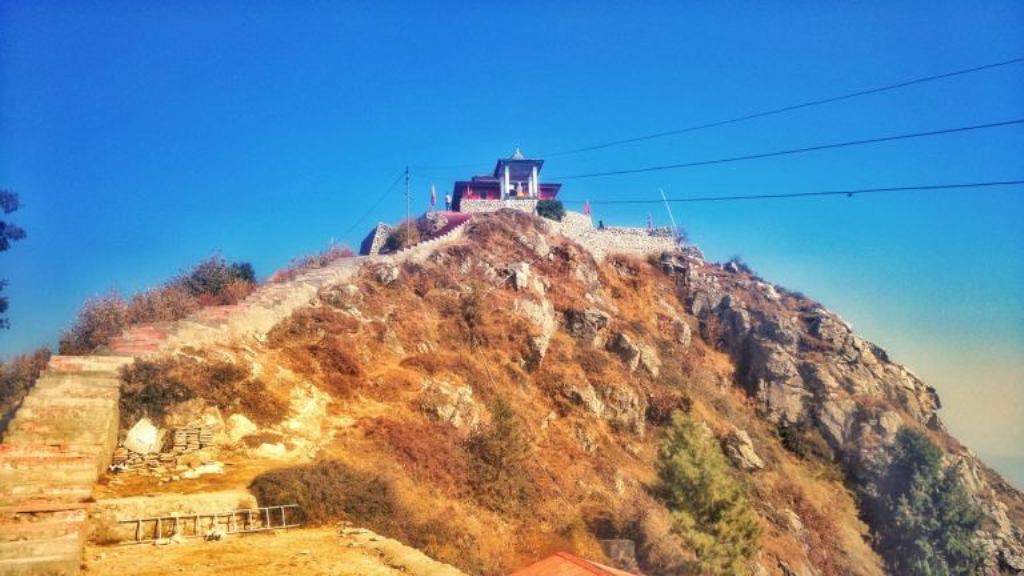 Image Credit: Being Himalayan
Shali Tibba is an extremely underrated trekking experience, given how it offers a 360-degree viewing experience from its summit. The trek begins from Khatnol located at a 45-km drive away from Shimla, and then leads through beautiful woods of blue pine and cedar. At the top of Shali Tibba stands an old temple dedicated to Goddess Kali, founded by the Raja of Faridkot in 1936.
On a day with a clear sky, almost the entire span of Himachal Himalayas can be seen from the Shali Tibba summit – the peaks of Kullu, Lahaul, Spiti, Chaupal, Sirmour, and even Kinnaur if you are lucky. A panorama click on the best DSLR camera will still fail to justify the absolute beauty of the view.
15.Moji Dugh Trek
Duration: 2 days
Difficulty: Easy
Altitude: 10,500 ft
Start and endpoint: Kulang village via Manali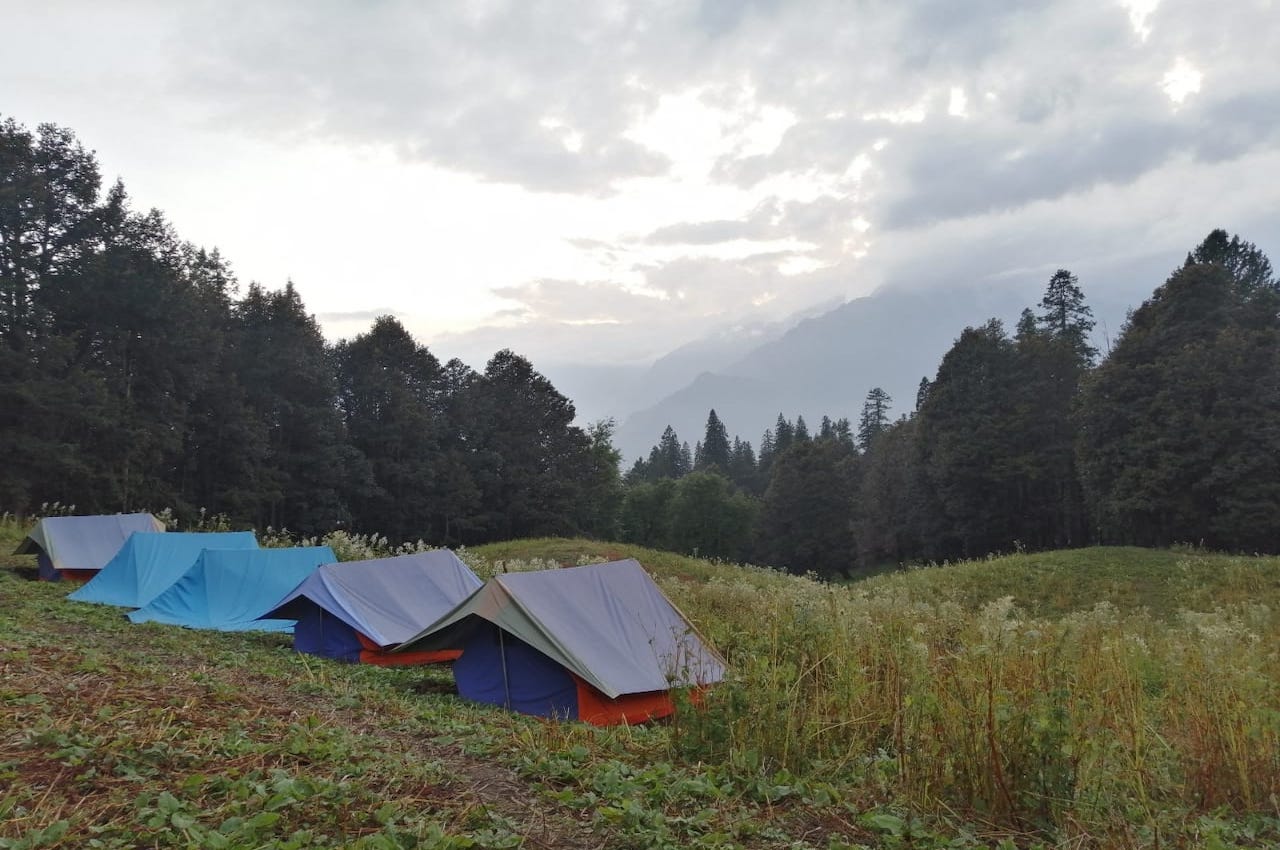 Moji Dugh is a perfect beginner's trek near Manali that newbies to trekking can indulge in. It is usually an important campsite for the longer trek to Bhrigu Lake, but trekking to Moji Dugh itself can be a great weekend adventure. The walk starts from the village of Kulang located 20 minutes away from Ram Bagh Chowk in Manali. After following a trail of moderate gradient through pines, oaks, and deodars, you will reach the destination of a lush glade that is snow-white during winter but covered in an abundance of vivid wildflowers during spring and summer. Spend the night under a starlit sky and come downhill the next day following the trail via Vashisht – another popular trek destination in Himachal.
There is no dearth of opportunities when it comes to trekking in India, especially in the Himalayan circuits. But hidden between the bigger, more renowned trails are a few such gems which still hold on to the pristine beauty of the mountains, untarnished by growing footfalls.
Next time you are in Himachal Pradesh, find yourself a couple of days to take the road less travelled and explore some of these gorgeous trails Himalayas have to offer.