Hampta Pass Chandratal Trek in Manali
Hampta Pass Chandratal Lake Trek is considered one of the easiest and adventurous treks of Himachal Pradesh. Hampta pass is situated on the easternmost part on the Pir Panjal range. It divides the valleys of Lahoul, Spiti, and Kullu. Situated at the altitude of 14010 ft, this trek does not fail to give you the goosebumps. It is accessible for five months- Mid June to October. Mid- July to the end of August can be regarded as the best time to visit Hampta Pass.
The mighty Dhauladhar ranges, Pir Panjal range, and the mountains of Lahaul and Spiti are your constant companions in this trek. The view of Deo Tibba, Mount Indrasen, and several glaciers is absolutely stunning from Hampta Pass crossing.
Hampta Pass Chandratal lake trek is a combination of two exhilarating experiences. The first one is the crossing of Hampta Pass to Lahaul through the narrow corridor. The second one is the magnificent view of Chandratal Lake after the road drive from Chhatru campsite.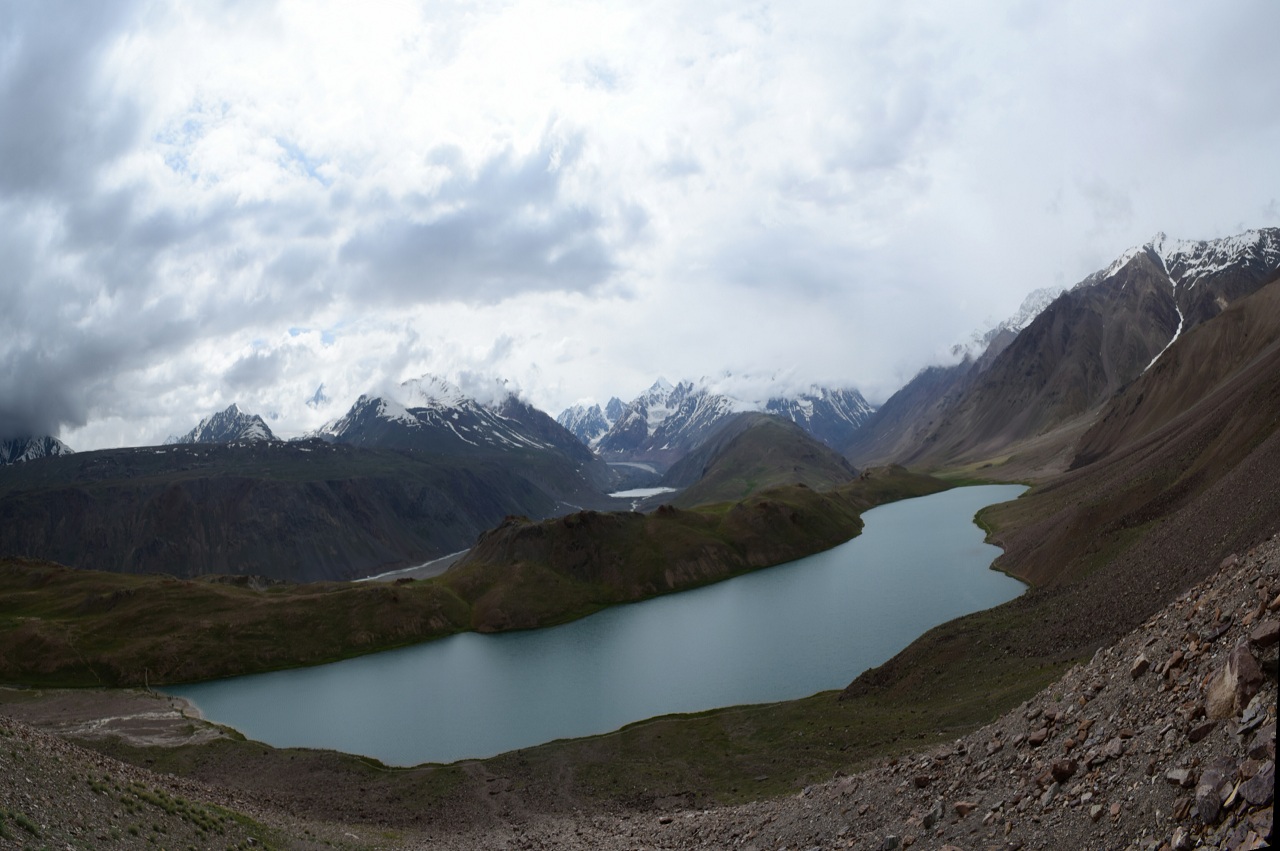 The name " Chandra Taal" meaning Lake of the Moon comes from the lake's crescent shape. Regarded as one of the two high- altitude wetlands of India, the legend has it that Chandratal lake is the same place from where Lord Indra's chariot picked up Yudhishthira (eldest brother of the Pandavas) for his ride towards heaven.
The junction of 3 trails Hampta Pass, Spiti, and Rohtang Pass leads you to the height of 14100 ft, which is what this trek makes you experience. Including Chandratal Lake in the Hampta pass trek is an intelligent and smart choice as the whole trek holistically becomes a mixture of different types of terrains. From grasslands to pastures to meadows, a beautiful water body can make it a marvelous experience.
You will witness barren type desert when you will be crossing Hampta Pass to Lahaul. In sheer contrast to that, you would have trekked through the green valley of Kullu on the other side, meadows with animals grazing. The pastures wrapped with clouds reflecting their reflection in the stream of water running down. The final cherry is when one reaches Chandratal Lake. This lake is surrounded by snow-clad mountains and with every sunrise and sunset, the beauty of this untouched water body shows magnificent reflections. From emerald green to light blue to hot red with variations of orange, this lake takes your breath away. This trek is a package of every scenic beauty you want to come across in five days of trekking.
During the crossing, one can hear one's rhythmic heartbeat. Dark brown walls on both sides and white snow underneath you, the pass becomes a memory to cherish forever
Quick Facts about Hampta Pass Trek
Duration: 4 Nights, 5 Days
Pick up point: Manali
Altitude: 14010 ft
Base Camp: Chika
Distance: 28 km
Best Time: Mid June- Mid October
Low Temp: 0 degrees Celsius C to 7 degrees Celsius
High Temp: 13 degrees Celsius to 18 degrees Celsius
Grade: Easy to Moderate
Last ATM: At Manali. After crossing the place, no ATMs would be available. Cash is recommended.
How to Reach?
From Delhi
Manali is quite well connected with Delhi. The distance between Delhi and Manali is around 550 km. An overnight bus journey of 12-14 hours (without traffic) welcomes you to Manali. An evening bus around 4 p.m. is best recommended. Both government and private Volvo buses are facilitated for the journey. The last government bus takes around 8:30 at ISBT Kashmere Gate.
From Chandigarh
Buses are easily available from the Chandigarh bus stand. The distance between Chandigarh and Manali is 310 km. The time taken will be 8 hours to reach Manali by bus.
From Dehradun
The distance between Dehradun to Manali is 447 km by road. There is approximately only one direct bus between Manali and Dehradun. The bus is the State Transport Bus. The minimum time a bus takes to reach Manali is 9h 39m.
There is no direct train between Manali and Dehradun.
From Haridwar
The distance between Manali to Haridwar is 481 km by road. There is 1 direct bus between Manali to Haridwar which takes approx 10h 52m.
Through railways, it will take you 14h 13 m to reach Manali from Haridwar. (There are no direct train from Haridwar to Manali)
By Train:
The nearest railway from Manali is Joginder Nagar rail junction. It is almost 143.7 km from Manali. It will take about 4 hours 39 minutes via road to reach there.
By Air:
The nearest airport is Kullu Manali Airport, Bhuntar. Manali is 52 km away from this airport. Flights are easily accessible to Bhuntar. One just has to take a direct bus or cab to reach Manali.
The airport has direct flights to and from Chandigarh, Delhi, and Shimla. Even Mumbai, Chennai are well interconnected with this airport providing comfortable experience to the passengers.
Best Time to visit
Hampta Pass Trek is open for five months, between Mid-June to Mid-October. However, please do check if the motorable Rohtang Pass is open because it is the only exit of the trek.
The experience of the trek varies across the months. One can expect snow in abundance from Balu Ka Gera onwards till the pass in June. Even Shea Goru could have snow. The snow is in good height and the reason could be the narrow valley and the dearth of sunlight on these places.
In July, one expects to find snow on higher reaches of the pass. On the lower level, it starts to melt and the monsoon approaches. Flowers bloom in their full spirit and trekkers often witness the sea of flowerbeds on Kullu side while trekking through Rani Nallah especially.
Monsoon shower with often clouded enveloped skies makes the beautiful treks. By September, autumn starts to make its way for clear skies making it a different trekking experience.
How difficult is Hampta Pass Chandratal Trek?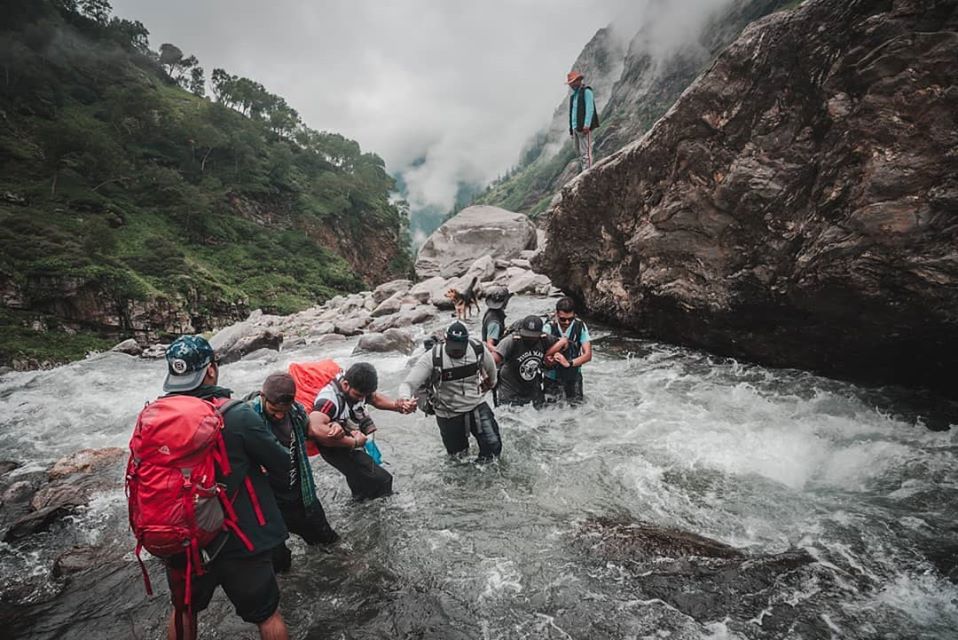 Hampta Pass in Manali is a trek that a beginner can also opt for. The difficulty level ranges from easy to moderate. In comparison to other treks of elevation, this one is fairly easy. It has a few steeps ascends and descends which needs to be minded carefully.
The stream crossing on the way to Balu ka Ghera on the second day can prove to be a tad bit difficult. Trek Leader's instructions can help you navigate the stream crossing.
The pass crossing is quite adventurous as there will be several crossing of ledges to climb the pass, however, there will always be uncertainty whether you have reached the pass or not.
The corridor passage is wide for some length of distance. However, there will come a time when it will drop exponentially and the passage will feel like hanging in the air between two valleys. For once, the sweat feels for real and danger quite near. The only time when one gets adrenaline rush. It is a whole crossing for 9 hours; otherwise, for the rest of the part, it is quite easy.
Hampta Pass does not have any challenging or treacherous terrains. One with good fitness can have a pleasant and successful experience.
Is Hampta Pass Safe? How?
Yes, Hampta Pass is a safe trek. You should be well-equipped, physically fit carrying all the essential trekking gears. It is also possible that you can be hit by AMS- Acute Mountain Sickness as you would have climbed 14,065 ft on Hampta Pass. With proper rest and acclimatization (adjustment to the change in altitude and environment), AMS can be overcome.
Since the terrain will be relaxing with its beautiful sceneries. It would be recommended to tag along with an experienced trekker or a guide as one can get lost in its landscapes. The seasoned trekkers who have climbed much higher altitudes can navigate with the map and the compass more efficiently. It is not recommended to trek on one's own or even as a group that does not have much trekking experience.
Frequently asked questions about Hampta Pass Chandratal trek 1.Symptoms of AMS on Hampta Pass Trek
Acute Mountain Sickness can happen to a seasoned trekker or a beginner. It happens because when you climb too high, too soon, the body is unable to adjust to the difference in pressure and reacts towards it.
Even a person who is fit can develop its symptoms. We start from 9000 ft and climb more than 1000 ft per day taking you to the height of 14000 ft by the third day.
The best way to handle this is by camping at Chika camp instead by staying at Manali ( 6,700 ft)
Under no circumstances, you should hide your AMS symptoms. Trekker should realize that health is more important than anything else. Increasing AMS symptoms pose a greater danger. Crossing the pass becomes more difficult as exiting from the other side becomes time-consuming and dangerous.
The symptoms could be noticed while descending from the pass on the other side. Head to Chhatru immediately. Also, in case of a medical emergency, Mission Hospital in Manali is the closest one to Hampta Pass.
2.How to go from Hampta pass to Chandratal
After crossing Hampta pass, you will camp at Chhatru. From Chhatru campsite, it is a 2-3 hour muddy drive to Chandratal. Trekkers usually on reaching Chhatru, head towards the lake after lunch, and return by the night.
The lake is a prominent high-altitude wetland of India. It has a similar landscape of Ladakh as the lake is located in the Spiti part of Lahaul. And the district is Spiti of Himachal Pradesh.
Chandratal is accessible after late June as the large blocks of snow have melted.
One needs to access the whole situation as landslides can be challenging with the rains when taking the trek in the month of the latter part of June and July due to monsoons.
3. How long is Hampta Pass Trek
As the trek starts from Jobra, the Hampta Pass trek is 28 km in distance till Chhatru. We cover this distance in four days to reach the height of 14000 ft to reach the Spiti side to camp at Shea Goru.
After reaching Chaatru, one can even drive to Chandratal if it is accessible by road.
4. Hampta Pass to Spiti Valley.
Hampta Pass is a corridor between Lahaul Valley from Kullu Valley. Through Hampta pass, you travel to Spiti Valley. Situated at the height of 4270 meters above the sea level, it is well known with another name: "Middle Land". It is the connection between Tibet and India. It has the highest motorable villages in Asia.
The local population follows a combination of Hinduism and Tibetan Buddhism.
It is on the third day of your trekking when you will reach Spiti Valley after crossing the Hampta Pass.
Hampta Pass and Chandratal lake Trek Itinerary
Day 1: Reach and trek to Chika via Jobra.
The trekkers are to reach Manali on their own and the time schedule is coordinated. From Manali, transportation is done by us.
Attitude gain is 6,726 ft (Manali) to 9,800 ft (Jobra ) to Chika (11,100 ft)
Drive to Jobra takes 2 hours covering a distance of 16 km. From Jobra, the trek starts. It is a 2 km trek from Jobra to Chika.
In the journey, one witness Rani Nallah which is breathtaking. Forests of maple, pine trees, lush green canopies make your day.
We head towards Chika which takes 2-3 hours. The first-day trek is quite easy. Beautiful grasslands and lush green meadows are the delights of the day.
You will be staying in tents during the night and food will be provided.
Day 2- Trek to Balu ka Ghera.
The distance of approximately 9 km is covered in 5-6 hours to reach an altitude of 12,411 ft that is Balu Ka Ghera.
You leave for the trek after breakfast. The viewpoint opposite Rani Nalla is magnificent. The vegetation includes Rhododendrons and Birch trees, colorful in its capacity, and contrasting to the plain meadows and pastures you have left behind.
The trek around this day involves a gradual ascent. Several meadows and beautiful flat, plain trails would lead you to your destination- Balu ka Ghera. The sound of the river accompanies you in your trekking adventures, providing slow, rhythmic music as you ascent your trail. You will come across sand depositions around the area, streams of water originating, and waterfalls emerging from the high rocky cliff. Snacks and lunch are facilitated at the midpoint.
You witness amazing Dhauladhar ranges, one of which is Bandarpunch peak. Several mountain peaks reach towards the sky. The team stays and dines at the amazing camping site at Bhalu ka Ghera. Accommodation and food are done at camping sites.
Day 3- Trek from Bhalu ka Ghera via Hampta Pass to Shea Goru
On your third day, you climb almost 1500 ft to reach Shea Goru.
The trek team starts after their breakfast. You cover 7 km in 6 hours of trekking. The ascent from Balu ka Ghera might take your breath away. You will come across a water body which might resemble like a beautiful lake. You will circle around it to continue the trail. As you continue, you will encounter two ridges and you will climb rapidly. After your second ridge, you will take a U-turn to the left, which will be a gateway to the Hampta Pass. You will be witnessing Mt Indrasan peak as you will be beholding the view before your eyes. Behind this mighty mountain, you will look to Dev Tibba, meaning God's abode.
As the team reaches its first high altitude range of 12,254 ft while crossing the pass, the brilliant views of Chandra valley and the contrasting imagery of Lahaul and Spiti with Kullu brings the adrenaline rush. Then there is a downhill journey to Shea Goru, from Hampta Pass reaching the altitude of 14,035 ft.
Descent from the pass as the weather changes quite quickly over there.
Day 4- Trek from Shera Goru to Chhatru and then to Chandratal
The altitude gain is 13,943 ft from 12,303 ft. Chhatru is located on the same side of Shera Goru, on the banks of Chandra river.
The trek starts quite early, as you need to cross the stream. It is important to cross it early in the morning as the temperature is low and the current is slow. It takes 4-5 hours to reach Chhatru, which is the merging point of paths coming down from Rohtang Pass, Lahaul, Spiti, and Hampta Pass.
After crossing the stream, the trek is quite easy. There are grasslands and boulders in your way and it is a peaceful journey as you are past the challenging part of the trek.
You will be crossing one fragile stream crossing and a plane tour along the Chandrabhaga River. You reach Chhatru and take some rest.
From Chhatru, you drive to Chandratal and return to Chhatru campsite by the evening. Accommodation and food are served in tents.
Day 5: From Chhatru to Manali
You have your breakfast at Chattru campsite and transport is arranged accordingly.
We drive back to Manali via Rohtang Pass. It is a journey of 85 km and can take seven hours as per the weather and road conditions. There is a halt for lunch (does not include in the package cost) and after reaching Manali, trekkers can travel depending upon their own plans.