Jogini Waterfall and Vashist temple: One Day Hike Near Manali
What floats before your eyes when someone says "Himachal Pradesh"?
Views of Snow-capped mountains piercing the blue sky in the distance, gushing streams of glacier-fed rivers, rolling green meadows, and horses. You will also spot sheep grazing there lazily, deep awe-inspiring gorges, thick alpine forests, placid mountain lakes with dazzling landscapes around. These are pictures that pop up in our mind when we hear the name of this north Indian state.
But Himachal Pradesh is way more than that. The state has a rich cultural heritage that can be seen in its vibrant festivities. Apart from being a tourist destination,you find the pilgrimages, and spiritually significant places, temples, monasteries, churches, gurudwaras that attract pilgrims and spiritual seekers of different faiths throughout the year.
Home to famous hill station Shimla, summer vacation destination Kullu-Manali, jaw-dropping beautiful valleys of Kinnaur, Kangra, Lahaul, Spiti, Himachal Pradesh draws tourists not just from India but also from abroad.
Also Check: Trekking in Manali: 10 best treks in Manali
A heaven for adventure sports enthusiasts, Himachal Pradesh's fast-flowing river systems offer various sports like river rafting, skiing in snow-laden slopes of Kufri, paragliding in Bir-Billing in Kangra. Trekking in the treacherous trails of Pin Parvati Pass, Beas Kund, Hampta Pass will be a once-in-a-lifetime experience for you.
Keeping aside those famous and arduous trek routes of Himachal, there are many relatively easy and gentle treks scattered throughout the state. Trekking to the Jogini waterfall from Manali via Vashisht temple is one of those treks that can surely qualify as the title of the best short trek in Himachal.
Quick Glance of Jogini Waterfall
Trek Level – Beginner
Height – 7,850 ft
Trek Distance – 3km from Vashisht temple
Time taken - 1-2 hours from Bahang and 4-6 hours from Vashisht temple
Starting point and ending point – Vashisht temple or Bahang base camp
Route - Manali- Vashisht Temple- Jogini Waterfall
Nearest Airport – Kullu Manali Airport
Minimum apt age – 10 years
Best time – Summer
Jogini Waterfall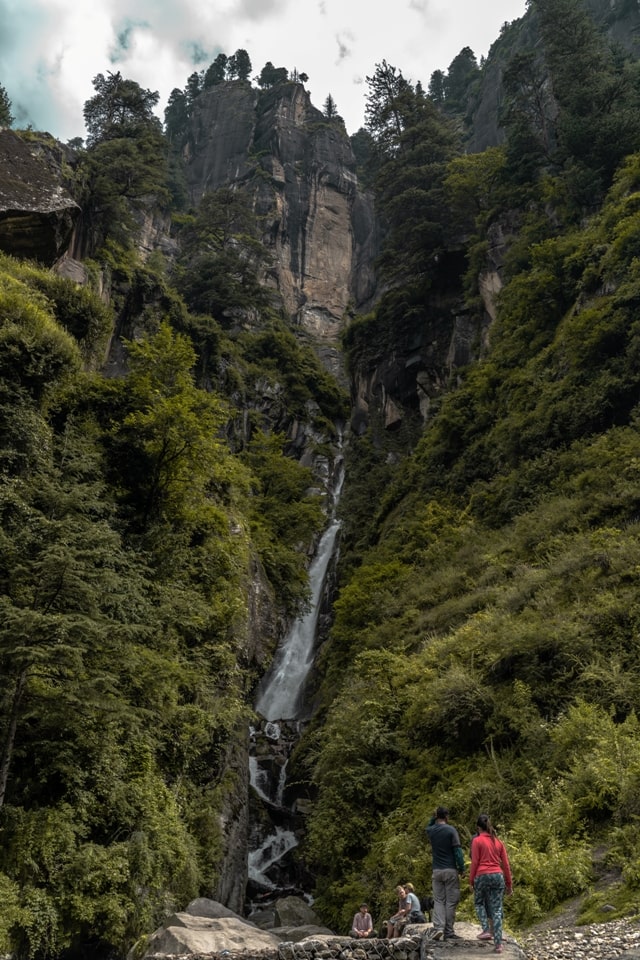 This is a beautiful waterfall whose beauty you will cherish for a lifetime. The Jogini waterfall trek distance is only 3 km away from the Vashisht temple near Manali. On the outskirts of Vashisht village, a small stream jumps off from a cliff and forms this amazing waterfall. The stream then flows down to join Beas river near Kullu Valley. Jogini waterfall height from sea level is around 150 ft.
Besides the apparent natural beauty of the waterfall, the place is of religious importance too. The temple of the village goddess Jogini Mata is located at the base of the waterfall. Locals visit the temple for Mundan(Chudakaran) and on some other occasions.
Climbing the rock cliff to reach the top of Jogini Waterfall is quite thrilling and takes merely 15 minutes. But if you don't want to trek anymore then taking a dip in the water pool or just gazing at the grandeur of the waterfall and surrounding nature may give you immense pleasure.
Vashisht Temple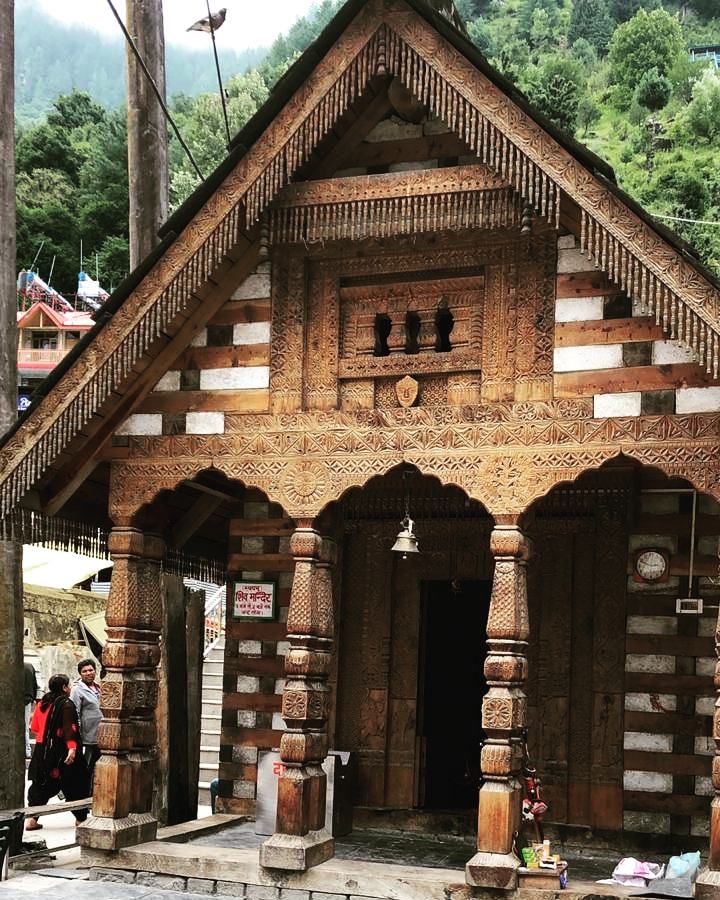 6 km away from Manali, there is a local attraction which is a temple dedicated to sage Vashisht and the village where the temple is located is named after this sage in his honor.
In the temple, you will find intricate wood curvings at the walls and pillars. The charming traditional Himachali architecture of the temple will compel you to open your camera shutter and indulge in taking a few clicks.
Near the Vashisht temple, there is a sulfur enriched hot water spring that is said to have miraculous power of healing skin diseases and infections. The spring has separate areas for men and women to ensure comfortable dip into the hot water.
Mythological Background
Vashisht temple is said to be 4000 years old. The great sage Vashisht was one of the saptarishis(seven sages) and was Kulguru of Lord Rama.
Rishi Vashisht's children were killed by Vashisht's archenemy rishi Vishwamitra. Blinded by grief sage Vashisht came here and went to commit suicide by drowning in the river Beas. But the river was not able to drown the great sage due to his yogic power. Sage Vashisht began meditating and spent some days here.
The river was thus named 'Bipasha' which means to free oneself from bondage and the name Bipasha has been converted into Beas over time.
Adjacent to the temple there is another stone temple of Lord Rama and the hot spring is said to be created by Lakshmana, brother of Lord Rama.
On the other hand, the Jogini waterfall is believed to be the place where 'Joginis', daughters of Lord Indra used to take baths. The sacred Jogini Mata temple at the foot of the waterfall is revered as Shakti Peeth.
Best Time to Visit Jogini Waterfall trek
The best time to visit the Jogini waterfall is in summer especially from March to May. Some people take the tour of this waterfall and Vashisht temple in winter also. Jogini waterfall in winter from October to February would be the best time to go for this one-day trek.
Manali is best visited between October and June. During this time period, the tourist can soak in the divine beauty of the vibrant, multicolored flowers which are in full bloom with temperatures varying from 10 to 25 degrees Celsius. The months of December to February are ideal for snowfall in Manali. With subzero temperatures, Manali transforms into a winter wonderland with its snow-covered environs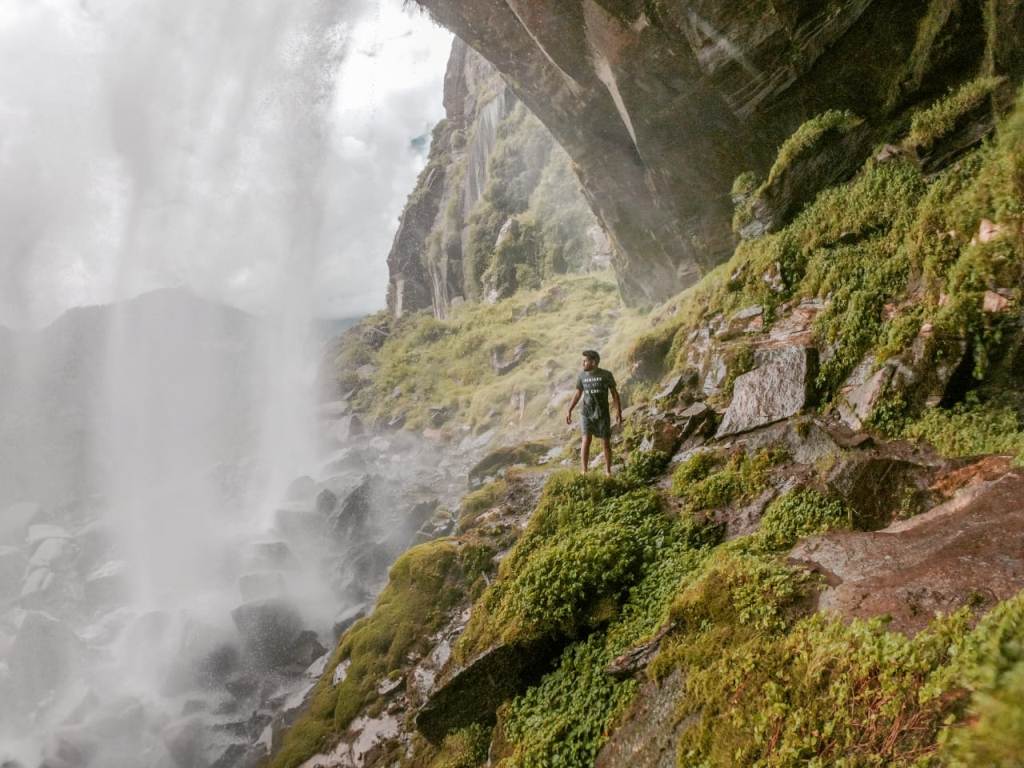 During monsoon, from July to mid-September the region is subjected to heavy rainfall. The amount of rainfall sometimes reaches up to around 200 mm. In this season frequent landslide makes hiking and trekking activity dangerous. So, try to avoid this time of the year for your trip.
How to reach Jogini waterfall via Vashisht temple
Major cities to Manali
Manali is connected with the major cities of India by Train, Bus, Flight, and by road. The nearest airport from Manali is Bhuntar and it is 50 km away from the township. Jogini Falls from Manali is just 13 minutes away.
Joginder Nagar, Chandigarh, and Ambala are the nearest rail station but most of the trains from all over India halt in Chandigarh and Ambala station.
Buses and taxis are also available from North Indian cities to Manali.
Manali to Vashisht temple
Vashisht temple is in Vashisht village which is 6 km away from Manali. From Manali Private cab, auto rikshaws are available easily that go directly to the temple. You can reach the temple by foot taking Leh Manali Highway and it takes nearly 45 min.
From Vashisht temple to Jogini falls
From Vashisht temple the only way to reach Jogini waterfall is by trekking along a narrow trail through the woods.
What you can expect en route?
Vashisht temple has a parking area where you can park your two-wheeler and then start your journey to Jogini falls.
There are 2 different routes; one is easy; generally, tourists with families follow this path and the other one is a bit difficult uphill trek which takes you nearer to the commencement of the falls.
The easier trail starts from the alleyway adjacent to the Vashisht temple that goes through Himachali houses, shops of Vashisht village. Crossing the village, you will see billboards pointing the way towards the falls. You can ask any locals who are often seen along this path, to show you the way to the Jogini falls. Leaving the village behind, you will start trekking along the trail through tall pine and deodar forests.
Along this trail, Beas river and other small mountain streams accompany you on one side and on the other side you are greeted with apple orchards, pine forests, and greenery that will uplift your mood and pass a serene vibe. View of snow-covered mountains in the backdrop of rivers can be seen all time during the trek. In this way, you can reach the waterfall in 4 to 6 hours and it depends on whether you choose to walk at a brisk or leisurely pace.
The difficult route to the waterfall has no clearly defined trail rather, you will have to climb a slippery rock wall where the Jogini waterfall will be on your one side and deep gorge on the other. This path is indeed very risky and for those who are expert in trekking or rock climbing. But the experience you will have is worth the risk and hard work. This way will take you there in 1 to 1.5 hours.
There are some cafes and restaurants within 2km of the waterfall that offer authentic Himachali and Indian cuisines. These are the best places if you want to stop and relax in between the trek.
Jogini waterfall Weather and Temperature
The climate of the area is mild and warm. In summer rainfall is seen frequently but in the winter there is not a great deal of it.
In winter, the average temperature remains 5-7 degrees Celsius and sometimes goes down up to 0.8 degrees Celsius. But in summer the weather is comfortable, and the sky remains clear most of the time. The temperature fluctuates between 21 to 27 degrees in summer.
One day hike- Jogini Waterfall trek Itinerary
Get hold of a taxi from Manali to reach the Vashisht temple.
From the Vashisht temple, it is a 3 km trek to Jogini waterfalls.
The trek from Bahang will take about 1 to 2 hours and from Vashisht temple it will take about 4 to 6 hours.
The trek from Vashisht temple will take you through small streams, apple orchards and pine trees.
Reach Jogini waterfalls and explore its beauty. Relax for some time there. The trekkers can also take a dip in the pool which has been formed by the waterfall.