River Rafting In Manali: Rafting In Himachal 2023
Dreaming of an adventurous river expedition that is a boon both for amateurs as well as seasoned enthusiasts?
Any guesses guys? This recreational sport takes you on a wavy cascade in different grades of rough water in an inflatable raft. Yes, you got it right! Of course, it is river rafting, also called white water rafting.
River rafting is mostly done on a river and involves some level of risk.
Among so many places that offer river rafting in India, Manali is certainly one of the best. Rafting in Manali is one of the most thrilling and adrenaline-pumping experiences that one can embark on in the beautiful Himalayan locale.
River rafting in Manali is done in the Beas River; it offers enthralling rapids of Grade 1, 2, and Grade 3 intensity. As you maneuver your raft in the bubbly waters of Beas river, the spectacular scenery on either side of the river holds you in awe.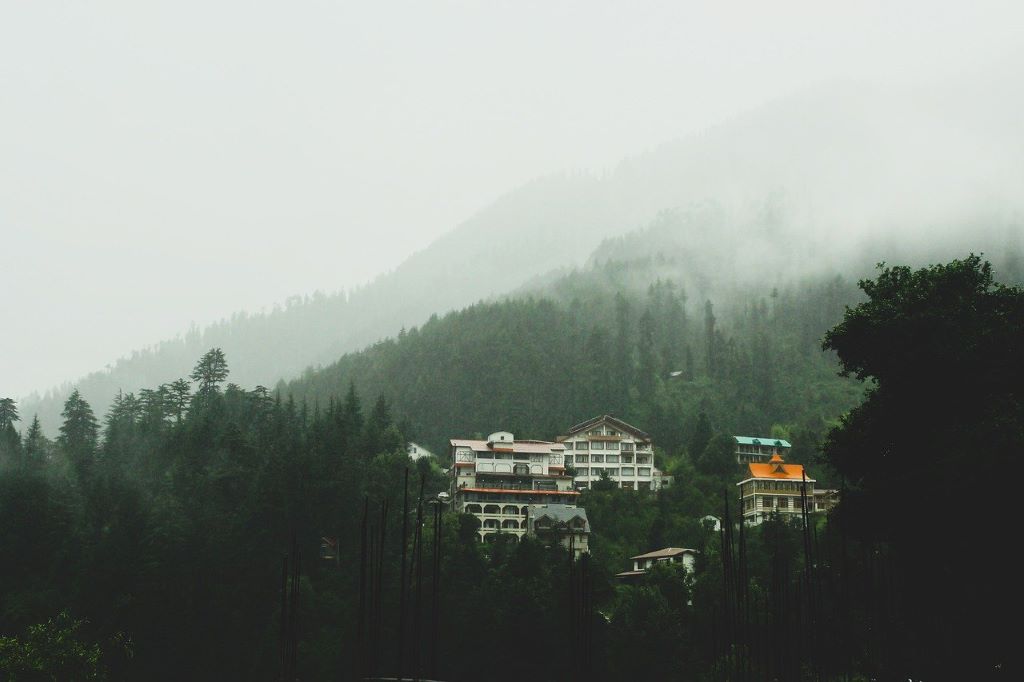 River rafting in Beas river is perfect for newbies and also offers a golden chance to those who want challenging exploits. This is because Manali happens to be one of the safest river rafting zones; skilled rafting guides accompany you on your water escapade throughout.
Also Check: Trekking in Manali
Manali river rafting location
The idyllic river rafting section of 20 km in Manali commences from Manaki till Jhiri, near Bajaura, in the Kullu district. This stretch en-route Manali from Bhuntar is one of the best rafting stretches in India.
The other rafting stretch of 14 km in Manali begins from Pirdi and goes all the way down towards Jhiri.
The best time for river rafting in Manali
The best time for river rafting in Manali is throughout the year barring a few months. Activities of river rafting are restricted only in the extreme winter months and during the monsoon season.
Usually, the heavy rainfall restricts the river rafting activity in July, August, and September. However, it resumes by October till early February.
The rafting activity usually starts at 10 a.m. and takes around one and a half hours. The whole rafting expedition mainly comprises rapids of grades II and III.
The region also has dedicated water stretches that offer river rafting in the Beas for beginners. The water sports center at Pirdi offers a variety of adventure activities and courses in rafting, canoeing, and kayaking.
So, are you game for a water adventure at Manali? Let's explore what makes Manali such a hot favorite among the rafting community.
Why choose Manali for river rafting?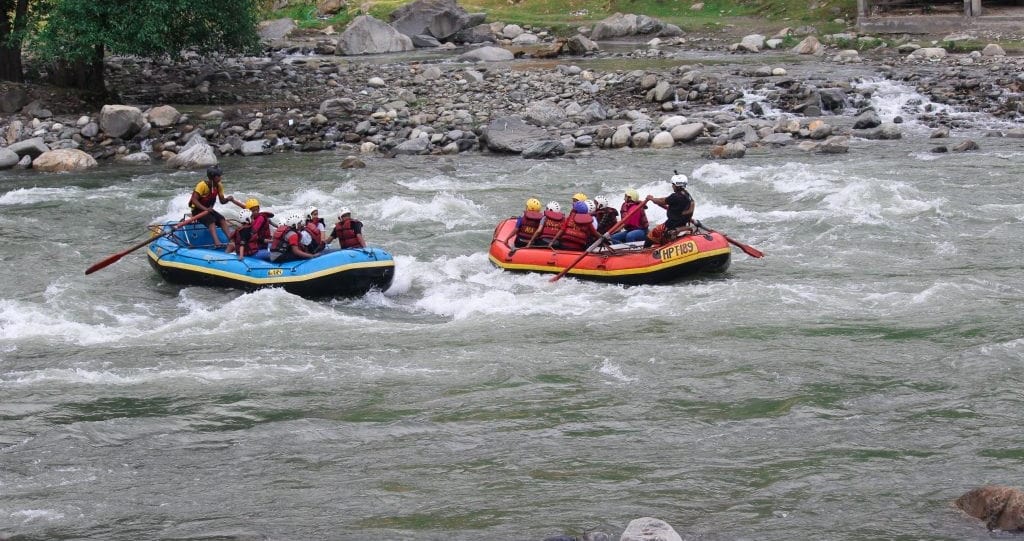 The state of Himachal Pradesh has four rivers that offer river rafting- Beas, Sutlej, Chenab, and Ravi.
Among these rivers, the Beas River has a varying gradient that stretches over 20 km and offers the most ideal waters for rafting in North India. Beas River originates at Rohtang Pass and flows down till Kullu Valley; the entire stretch from Manali to Bhuntar gushes with various water activities, among which river rafting is the most important sport.
Also Check: River Rafting in India
Difference between White water rafting vs river rafting
White water and river water are the same. The river water becomes aerated because of the rapid current and appears white, hence the name white water. White water has a bubbly and unstable current in different degrees of rough water.
White water rafting is rafting done in frothy and turbulent waters just like in rapids. White water rafting is more dangerous yet exciting for rafters. Usually, grade 3 and higher grades are classified as white waters. White water rafting is a sure shot hit with adventure junkies as thrilling drops give you a wild ride in bumpy rapids.
River rafting is a more of a calmer float in the waters that are not so bumpy and frothy. River rafting is usually done in grades 1 or 2 that offer a tranquil pace of river rafting and treat you to the beauty of nature at its best.
Safety measures for river rafting
One should keep in mind the following safety measures while embarking on river rafting-
Participate in rafting along with a bunch of teammates, never go alone on the rafting expedition.
Always go rafting during the daytime. Never venture into this water sport in the dark.
Go river rafting under the guidance of experts.
Avoid drinking water from the river or indulging in any other silly games.
Always wear necessary accessories like the helmet and life vest.
Wear waterproof footwear.
One may get tempted to indulge in the rafting expedition. However, it is best to seek some details before you take part in the thrilling water sport.
How dangerous is river rafting?
River rafting is a fun-filled adventure pursuit that will have your spirits soaring. If you think that the risk of injury or fatality is zero, then we are sorry to state that rafting is slightly dangerous.
There is a slight risk involved but if you follow proper instructions and guidelines, the risks can be minimal.
Statistically, white river rafting has fewer accidents each year compared to bicycling or even recreational swimming.
However, it is best to take the help of trained professionals while embarking on this adventurous sport.
Is rafting safe for non-swimmers?
River rafting is not the usual river voyage and therefore, needs expert and instructive guidance. It is highly recommended that you participate in this scintillating adventure, especially in rapids of grade 3 and higher, if you know swimming.
However, the quaint rapids of grades 1 and 2 are good even for non-swimmers. As mentioned earlier, one should indulge in this expedition under the guidance of experts.
Tips to keep in mind for river rafting
Always wear a helmet and life jacket throughout your rafting activity.
Hold the paddle firm and tight.
Carry extra pairs of clothes, floaters, and towels.
Always wear comfortable clothing.
Things to carry for Rafting
Certain items are essential to make your rafting experience a success. You must not worry as all your belongings will be kept safely in a rucksack. Here is a quick look at what all you are allowed to carry. However, it is in your best interest that you pack light.
Personal medicines
ID proof
Water bottle
Camera
Waist pouch
Footwear
Clothes
Swiss knife
Conclusion
If you are a lover of outdoor water sports, river rafting must be on top of your list. While river rafting in Manali takes you on a calm path to rejuvenation, a white-water rafting trip provides you an electrifying and joyous water ride.With the right attitude and spirit, rafting can be the best adventure for you. Go for it this summer!