Deoban Chakrata, wow! Somehow the name itself is so alluring. Having visited Dehradun umpteen times during my growing years, I am quite familiar with the names Deoband, Tapovan, Anand Van, and Deoban.
While Deoband is a small town in district Saharanpur, Tapovan and Anand Van are lush green covers in the heart of Dehradun.
But, what about Deoban? Well, the name Deoban is a combination of Deo meaning Deodar, and Ban translating to forest. Therefore, Deoban literally means Deodar forest. And true to it's name, the entire Deoban trekking trail is dominated by Deodar trees, which is quite a rare sight in Uttarakhand.
So, if you are seeking an escapade amidst the wilderness of Uttarakhand then Deoban Chakrata Trek is your ideal bet. It is also called the Deoban Trek.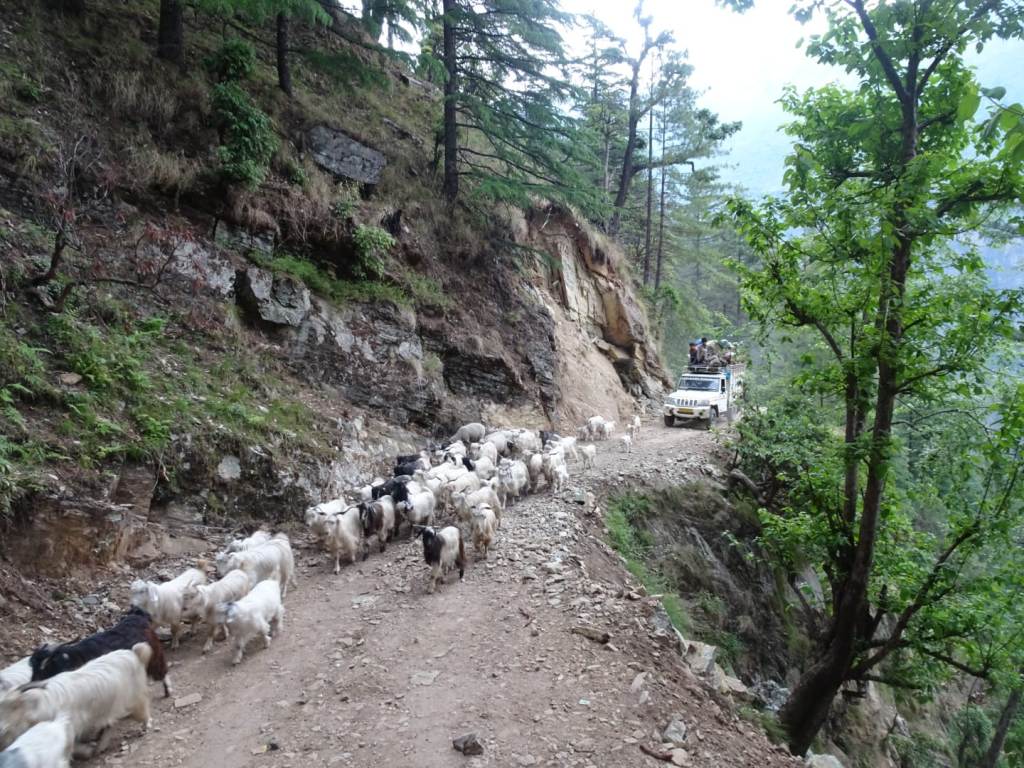 About Deoban Trek
Among the many treks near Dehradun, one of the most opulent treks is the Deoban Weekend Trek. This rare expedition flatters the trekkers with some amazing Garhwal mountains and the wild beauty of Uttarakhand. But what makes this trek so popular?
Well, it is the proximity of Deoban Chakrata Trek, the trek is just a few hours from Delhi. No wonder, backpackers, hikers, and trekkers love flocking this trek route for a quick unwind!
Within two days, one scales an altitude of almost 9,300 feet while relishing the views of mammoth Himalayan ranges such as Mt Srikanth, Mt Bandarpoonch, Mt Swargarohini, the Gangotri massif, Mt Nanda Ghunti, and also Nanda Devi. For the unversed, Nanda Devi is the tallest mountain in India that lies entirely in India. And can you imagine that on a bright sunny day, you catch glimpses of 55 Himalayan mountains, that's a coliseum of grandiose ranges!
The Deoban Trek snakes through the forested trail flanked by the mighty Deodar trees. While traversing the trek route, the sunlight peeks through the lush canopy and creates a unique mishmash of shadows on the trail. This picture-perfect panorama makes for a hit Instagram story.
Deoban Trek Route with attractions
Mountain views-On a clear sunlit day, Deoban Chakrata Trek offer astonishing views of almost 55 mountains from its highest point. This amphitheater of Himalayan giants is the most exclusive gem of the Deoban Trek as one rarely spots so many mountain-ranges even on a 7-day trek, let alone a 2-day trek.
Deodar trees-Usually in other treks, except the ones in Kashmir, the trekking trails have a mix of mountain trees. But, Deoban Trek is highlighted with Deodar trees with sporadic pines and oaks; you journey through an entire trail of the incredible Deodar trees. Most of the divine Deodar trees are as old as 600 years.
Chakrata- This epic cantonment town of the British era still retains its colonial appeal. For historians and lovers of British architecture, the vintage charm of Chakrata is a pivotal point of attraction. Chakrata lies between the Tons and Yamuna rivers; it also has the famous Tiger Falls, some ancient caves, and templesthat boast connection with the Mahabharata.
Deoban Trek Distance
The total distance is 193 km. This includes both the driving and trekking distance. The 90 km scenic drive from Dehradun to Lokhandi village in Chakrata forested area takes around 4 hours. The beautiful road trip enamors you with the lush Himalayan vegetation, Yamuna river at Kalsi, and silver-cascading waterfalls.
Deoban Trek Itinerary
Day 1:
The main attractions of Day-1 are flourishing Deodar trees, Chakrata Falls, peaceful Mohna village, and panoramic Saraswati campsite.
Once you reach Chakrata, the trek starts from Lokhandi village (basecamp of the trek), in Forest Chowki. The trek begins on a tar road followed by a bridle path bedecked with Deodar trees. On the first day of the trek, you cover a distance of 6 km in 4 hours to reach the Saraswati campsite. En route you pass the famous Chakrata Falls, a spur of mountain ranges, and finally the quaint hamlet of Mohna. The trek is fairly easy except for a short part when the trail gets a bit steeper before paving way for the campsite. The picturesque campsite of Saraswati sits pretty by village Mohna and is encompassed by tall fir and pine trees. You stay overnight in the camps here.
Day 2:
The main attractions of Day-2 are dense alpine forests, fauna of the region, and the spellbinding canvas of mountain ranges from Vyas Shikhar.
You start early after feasting on a splendid breakfast. Remember to carry enough water as there is hardly any water source on the route. You hike a 7 km distance in 4 hours traversing through the forest of rhododendrons, oak, and pines. The beautiful vista of the dense forest amazes you throughout your trekking trail. The trekking gradient is initially steep but reduces moderately further into the trek. The highest point, Vyas Shikhar at 9,300 feet awes you with the mesmeric views of Himalayan mammoths. After spending a few memorable hours here, you descend to Chakrata and finally drive back to Dehradun. It takes 4 hours to cover the 90 km drive to Dehradun.
Quick Facts of the Deoban Chakrata Trek
Duration:2 Days and 1 night
Distance:193 km total back and forth (Includes 90+90 km Drive to Chakrata from Dehradun, and 6+7 km Trekking distance)
Time:16 hours total back-and-forth (includes 4+4 hours' Drive to Chakrata from Dehradun, and 4+4 hours of Trekking time)
Maximum Altitude:9,800 feet
Trek Grade: Easy to moderate
Start and end of the trek- Lokhandi village, Chakrata
Best Months: Throughout the year except for winters and monsoons
Temperatures: 25°C Max/ 10°C Min in the summer months & 10°C Max/ -5°C Min in the winter months.
Focal points of the trek route: Uttarakhand topography, Flora & fauna especially unending Deodar forests, Mountains & Peaks, Mountain Rivers, and Local culture.
How to Reach Deoban
Deoban Trek commences from Lokhandi village in Chakrata. One can reach Lokhandi village from Dehradun within a drive of 4 hours.It is easy to reach Dehradun from Delhi by rail, road, or flight.
By rail-
The best way to reach Dehradun from Delhi is by train. Nanda Devi Express, DDN Jan Shatabdi, Dehradun Express, and Mussoorie Express are some popular trains that run between the two cities. The train journey takes almost 6 hours.
By road-
Many cabs, taxis, private, and government bus services run between Delhi and Dehradun. It takes around 6.5 hours to reach Dehradun from Delhi by road.
By flight-
IndiGo, SpiceJet, GoAir, and Air India are some major flight operators between the two cities. It takes almost an hour to reach Dehradun from New Delhi by air.
One can also reach Deoban (Chakrata) from Rishikesh, Chandigarh, and Haridwar. The best option to reach Chakrata from Rishikesh is by road and it takes almost 4.5 hours by cabs, taxis, or bus. From Haridwar, it takes 5 hours to reach Chakrata by cabs, taxis, or bus.
If travelling from Chandigarh, you can reach Chakrata by road and it takes almost5.5 hours by cabs, taxis, or bus. Or, you can take a train from Chandigarh till Dehradun, and then reach Chakrata by road from Dehradun.
Best Time to visit Deoban and Deoban Weather & Deoban temperature
One can visit Deoban all year round. However, the best months to embark on Deoban Weekend Trek are between April to June (spring and summer) and September to November (fall). Deoban Chakrata temperature remains salubrious in these months and is ideal for comfortable outdoor activities. The views are great against the backdrop of crystal-clear skies.
The peak winter months from December to February are frigid cold with temperatures falling below 0°. Sometimes, the trails are still covered with snow until March. The monsoon months of July and August experience heavy rainfall and should therefore be avoided.
Conclusion:
If you are tired of routine city life and seeking a quiet solace amidst nature then go for Deoban Uttarakhand trek. This alpine expedition willgratify all your mountainous passions in less time and with less effort!