Places to Visit Near Lohajung
A miniature village in Uttarkhand, but a gateway for many adventurous treks, Lohajung is situated at an altitude of 2330m in the Chamoli district of Garhwal. It is well connected with most of the towns and places of Uttarakhand. Thus being a trailhead for the most famous treks like Brahmatal, Roopkund, and many more. This village carries immense importance among tourists. The best part of the village is its sunrise and sunset which carry its own definition of delight.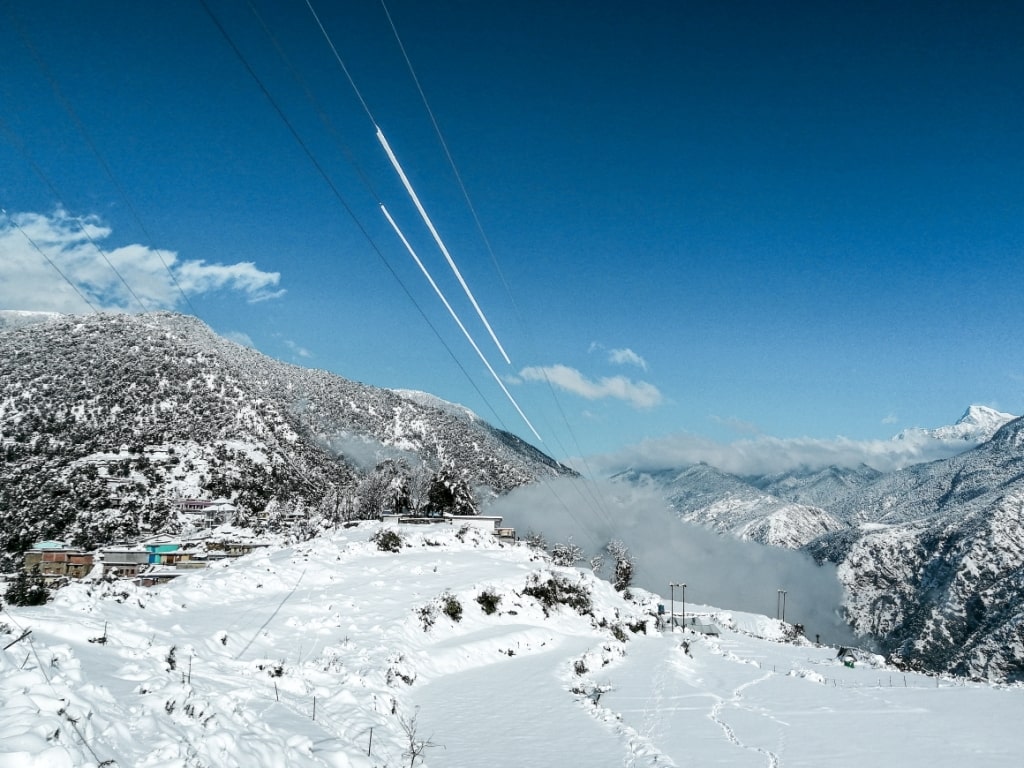 One can see the glimpses of many valleys like the Didina Valley. Not only you will discover enchanting forests with oak and deodar but also various stream crossings with frozen icy water. It is the best place to spend quality time and is a perfect one-day resting spot. The village is also known for its simplicity and quietness. It is an agricultural area with colorful crops all around. It is rich in all types of medicinal plants demanded by the pharmacies. Then, it is also known for its facilities provided like restaurants, guest houses, markets, etc for the tourists and visitors all year.
According to the local people's sayings, Devi Gauri fought with the Asur Lohasur and defeated him at the place where Lohajung is today. That is the reason why it was started to be known as LOHAJUNG. While others consider that due to the heavy rainfall occurring in the village which is used to create rust on the metallic objects, thus the name Lohajung, in short Loha - metallic objects and Jung - rust.
Quick Facts about Lohajung
Altitude- 2330 m
Region- Garhwal Himalayas, Uttarakhand.
Nearest Railway Station- Kathgodam Railway Station or Haridwar Railway Junction.
Nearest Airport- Pantnagar Airport, 277 km
Best time to visit- Throughout the year
Temperature- Summers: 24- 16 degrees in the day and 9 to -1 degrees in the night. Winters: 15- 6 degrees in the day and -28 to 0 degrees in the night.
Mobile networks- Mobile connectivity available.
Activities- Trekking, Camping, Photography.
ATM- No ATM machines in the village. Nearest ATM machine is in Dewal around 25 km from the place.
Places near Lohajung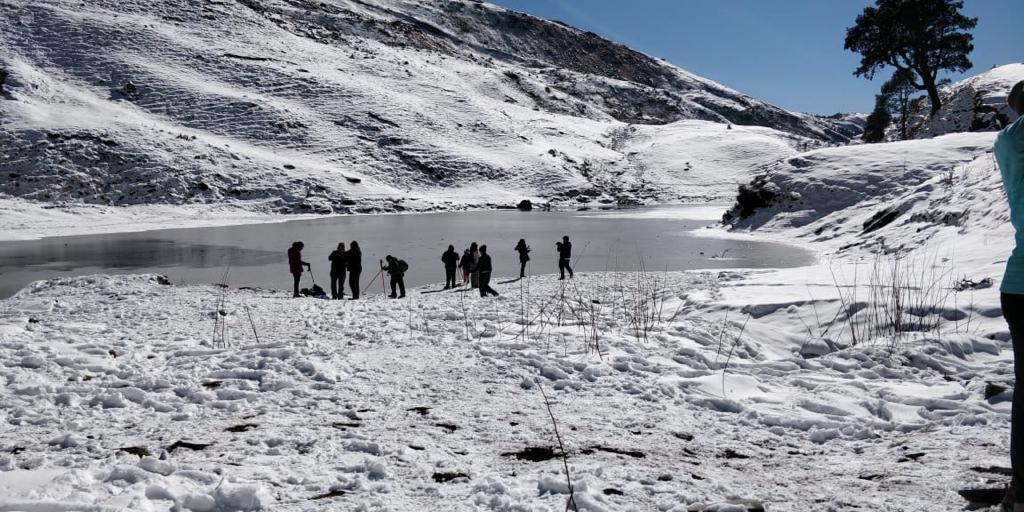 Brahmatal Lake
Although it is a small village it is a complete package of entertainment due to the many impressive tourist spots around the place.
Wan Village
Located at a 2400 m altitude, Wan is a quiet village in Chamoli with untouched beauty and greenery which is hardly 15 km from Lohajung. It is also a base camp for treks like Bedni Bughyal and Roopkund. The road to reach here moves along the edges of the hills. For a person who is very fond of nature, it is the best place for sightseeing the pious greenery of the place. There are 3 water streams along the road till reaching Wan. But once you reach, the place has accommodation for its tourists to spend the night. But if you want to stay closer to nature, try camping in tents in the village.
Roopkund
Also called a mystery lake, Roopkund is noted for the views of Trident peak Trishul -7122 m. The outlandish things like horse bones and human remains are often spotted there. You will get an exalted view of Trishul, Ronti, Chaukhamba, and Ghunti.
Ronti Saddle
Being a new trekking hub, Ronti Saddle is still an undiscovered yet startling place for the tourists. Located 30 km from Lohajung, it offers the best views from the Nanda Ghunti. It is the best place from which the Trishuli mountain range glimpses can be viewed.
Ajan Top
Ajan Top is a short and easy trek that can be completed in one day. You will get a 180 degrees view of Mrightuni, Tharkot, and Nanda Ghunti. There is an Ajan Temple also in the center. You can reach here bypassing mini villages and the forest area. Don't miss the sunset if you visit the Ajan Top!
Meadows of Ali and Bedni Bugyal
The nomadic meadows of the place will astonish you in several ways. Ali and Bedni Bugyal is around 19-20 km away from Lohajung and lies on the border of Kumaon and Garhwal. You will experience velvet grassland all around with dense forests with deodar and oak trees to the maximum. It is also one of the most religious places of Uttarakhand. You will discover a lot of snow-covered peaks here. You must try to avoid trekking here in monsoons as it involves a slight risk due to the sloppy area.
Brahmatal
Only14 km from Lohajung, Brahmatal is called the Lake of Brahma himself. People say that Lord Brahma meditated here for thousands of years. It is indeed the best tourist spot where you can experience and capture the views of the Himalayas. If visiting the place in winters, you will see the place covered with snow sheets allover. Camping in tents is the only option available for staying, which is one of the best experiences for all adventure seekers.
Chhibila and Kulling Village
3 km from Lohajung, on the eastern side, you will find a beautiful village Chhibila. Just like Wan, it is an agricultural place with down to earth people living there, you can definitely visit the place for photography sessions. On the other hand, Kulling is again a small village, 5 km from Didna, having whitewashed houses alongside the slopes. Most of the villagers serve as guides or porters for the Roopkund to earn their daily bread.
Best Time to Visit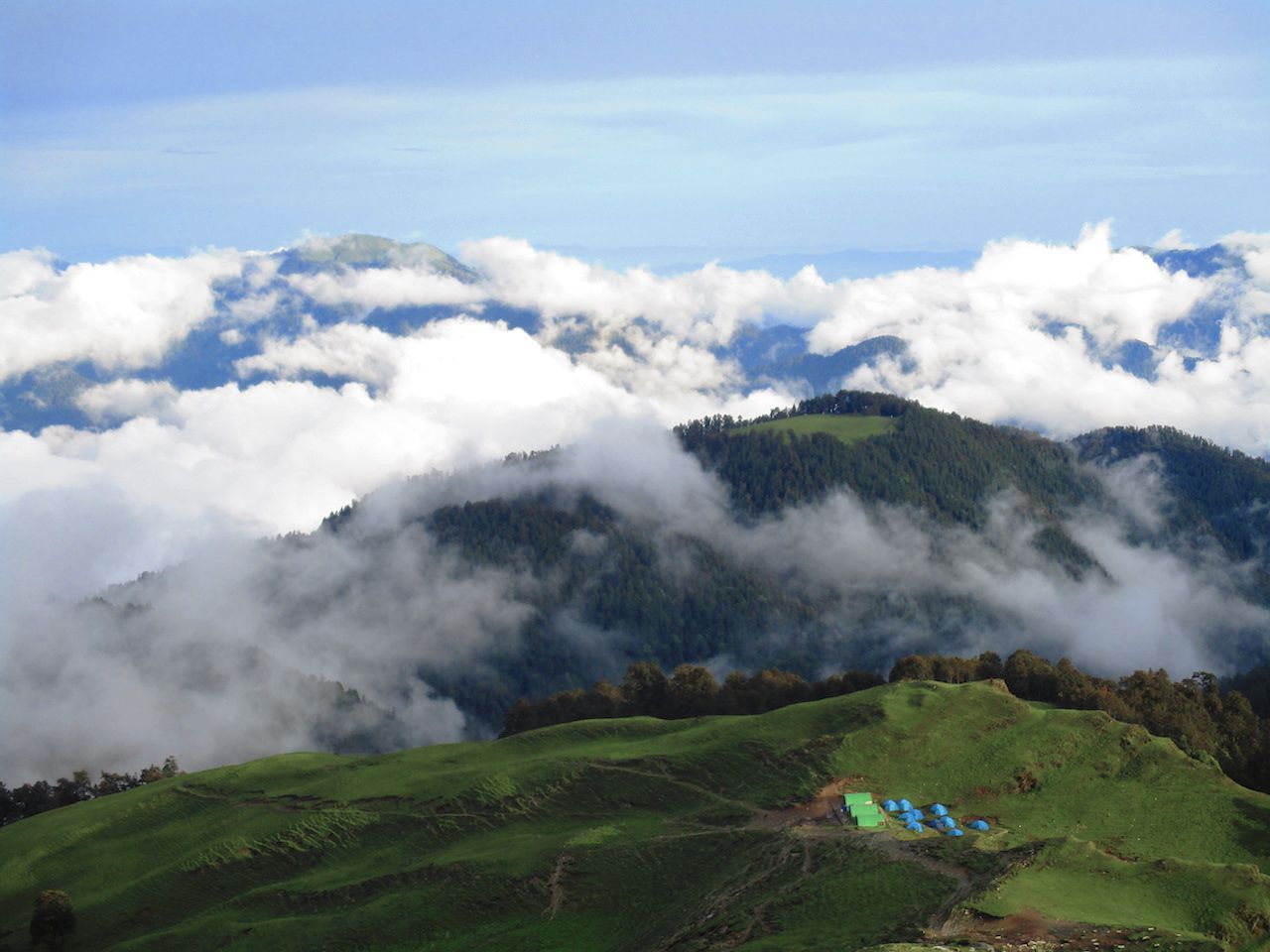 Ali Bedni Bugyal
The weather remains remarkable the entire year, with the village covered with a white sheet of sparkling snow in the wintertime and a tropical climate in the summer seasons. Trekkers usually plan their trip according to the temperature of the place which suits them the most. The best time to visit Lohajung is March to June if a person wants to enjoy the chilled weather and cool breeze but if you want to experience heavy snowfall you must visit in September to November.
How to Reach Lohajung
One can reach Lohajung by Flight, Road, or Train from Delhi, Kathgodam, Haridwar, and Dehradun.
Delhi to Lohajung
Distance: 503 Km.
Bus Routes:
It is more feasible to avoid a direct bus. Instead, one should take a Delhi-Haldwani 8:30 am Bus and then change it to Haldwani- Lohajung bus. If you are taking an auto from Haldwani to Kathgodam the fare will be only Rs 70-80. Otherwise, you can get direct morning buses of Delhi- Deval - Lohajung but it will be a tiring ride. Apart from that, there are many private buses from Delhi ISBT to Kathgodam.
Train Routes:
Anand Vihar Kathgodam Shatabdi Express: A train from Delhi to Kathgodam. Arrival is 11:45 am. Fare is around 900 INR.
Uttaranchal Sampark Kranti Express: A train from Delhi to Kathgodam. Arrival is 10:40 pm. Fare is around 200-500 INR.
RANIKHET Express: A train from Delhi to Kathgodam. The arrival is 5 in the morning. Fare is around 200-1100 INR.
Air Routes
From Delhi to Pantnagar Airport the fares will be around 4300 INR and the time taken will be approximately 2 hours 40 minutes.
Rishikesh to Lohajung
Distance: 259 Km.
Bus Routes:
A direct bus from Rishikesh ISBT to Lohajung is available which leaves at 5 am. The fare of buses will vary from 480 to 700 INR. By taxi, it will take around 8hours 35 minutes to reach and the fare should be approximately INR 6000 - 6500.
Train Routes:
Since there is no railway station in Lohajung, Kathgodam is the nearest railway station. There are no direct trains from Rishikesh to Lohajung. But there is a Jan Shatabdi from Haridwar Junction to Kathgodam at 5:20 pm which reaches at 11:35 pm. The AC ticket costs 510 INR and the non-AC costs 160 INR.
The distance of Lohajung from major points like Dehradun, Rishikesh, Nainital, Karanprayag:
Dehradun - Lohajung: 306 Km ( 9 hours and 45 minutes )
Karnaprayag - Lohajung: 87 Kms ( 3 hours )
Rishikesh - Lohajung: 259 Kms ( 8 hours 35 minutes )
Nainital - Lohajung: 200 Kms ( 6 hours 50 minutes )
Haldwani - Lohajung: 223 Kms ( 7 hours 32 minutes )
Activities in Lohajung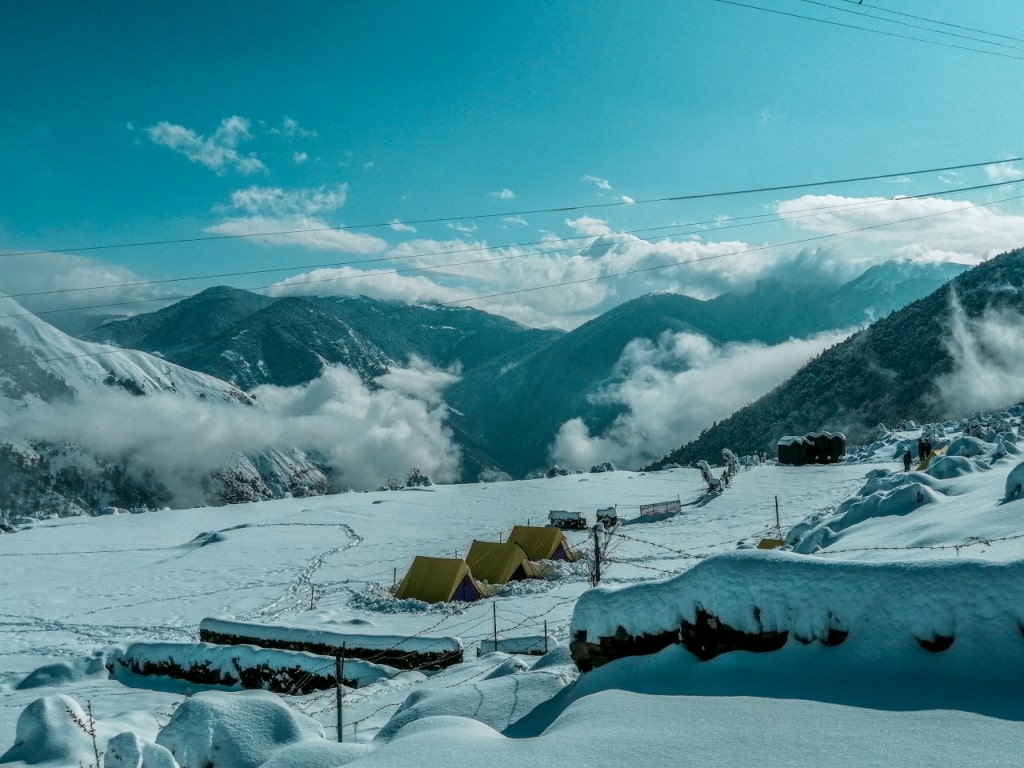 Camping at Lohajung
Camping/Trekking:
It is the perfect place for camping and trekking, due to the high altitudes and chilled atmosphere. The scenic beauty of the place makes it the ideal option for camping and remaining close to nature. All the famous places like Jatropani peak trek, Roopkund, Homkund Lake, Ronti Saddle are connected to Lohajung which makes it the most favorable place for trekking.
Village traverse:
People often get bored with staying in crowded city areas. For a break, they always prefer to stay close to villages and enjoy the peaceful humble welcoming of the town and village areas. And what will be better if the village is a base camp of so many famous treks!
Resting house:
Being a base camp, travelers often spend their nights resting in this village. Also, guest houses and restaurants are available in the place for the convenience of the trekkers.
Wildlife/ Nature Photography:
If you are a wildlife or nature photographer, this is the place you will be satisfied with. Whether you talk about the colorful Cholai crops in the Lohajung or the green-yellow mustard fields in the Chhibila village, you can take wondrous shots here. The fields and the meadows are the classic areas for photoshoots.
CONCLUSION:
Lohajung is a small village but the best one for trekkers. The facilities are amazing plus the local people are very helpful over there. Be it Ajan, Jatropani, Roopkund, Brahmatal, Ali, or Bedni, Lohajung is the engine to all the above compartments. Everything here is synchronized and will add zest to your trip! If you want adventure in your life right now, come start your trek with Lohajung!