Nature can be unpredictable. It will always throw various surprises when you experience it in person. It is these very surprises that will make the experience and your adventure in the mountains more memorable.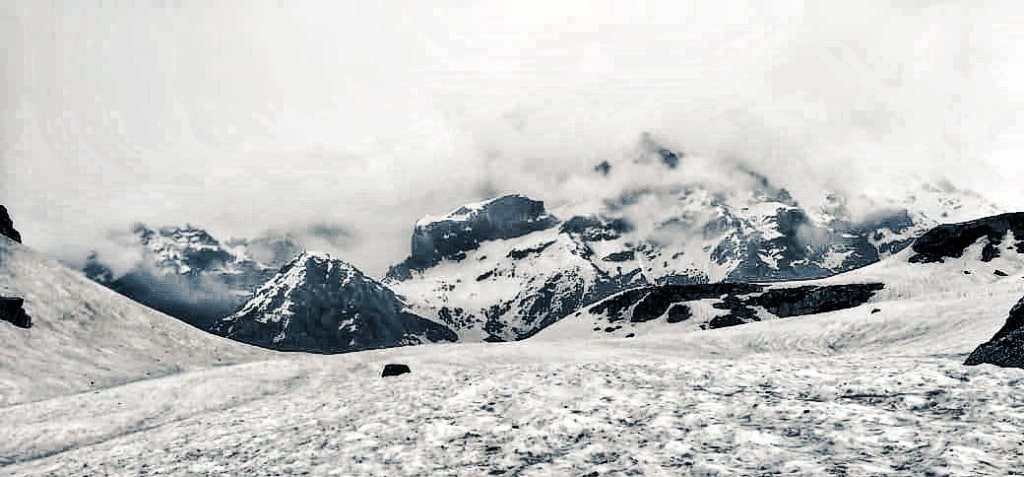 The Himalayas, the snow-clad peaks have always fascinated me. Being a Bangalorean, I have trekked in the Western Ghats with its thick forest, lush green misty hills, and the slippery terrains, but I was not sure of trekking in the Himalayas. I experienced my first short trek to Jogini falls in 2017 during our visit to Manali. Later when I searched for treks I wished I could one-day trek Hampta pass and visit the beautiful Chandratal lake.
My dream came true when I booked the Hampta pass trek during 2019. This was my first trek in Himachal Pradesh. I had my virtual experience of Hampta Pass through many youtube videos, especially the July treks. This gave me a rough idea of the trek and when I spoke to Moxtain, they assured me I could easily complete the trek. I started preparing for the trek immediately as I felt this will ensure a pain-free trekking experience. I used to walk every day for at least half an hour and climb two-storied steps, 10 times. I also used to walk on weekends in Lalbagh (a 25 acres garden in Bangalore) covering 9km in less than 2 hours. Apart from this, I practised yoga 5 days a week.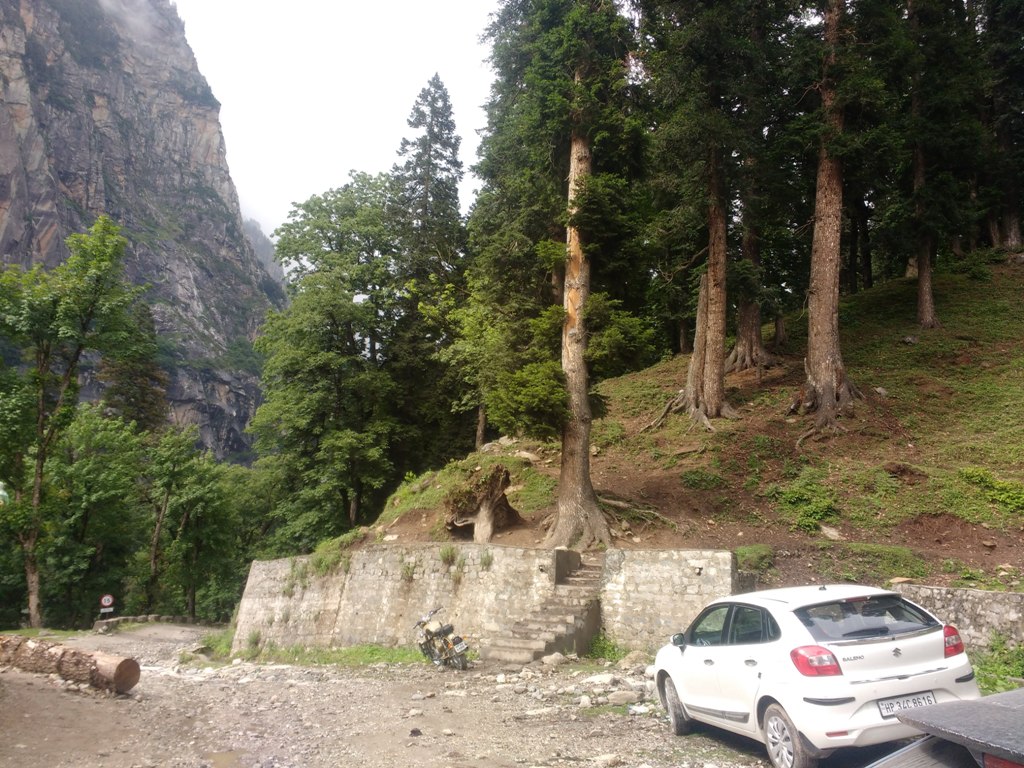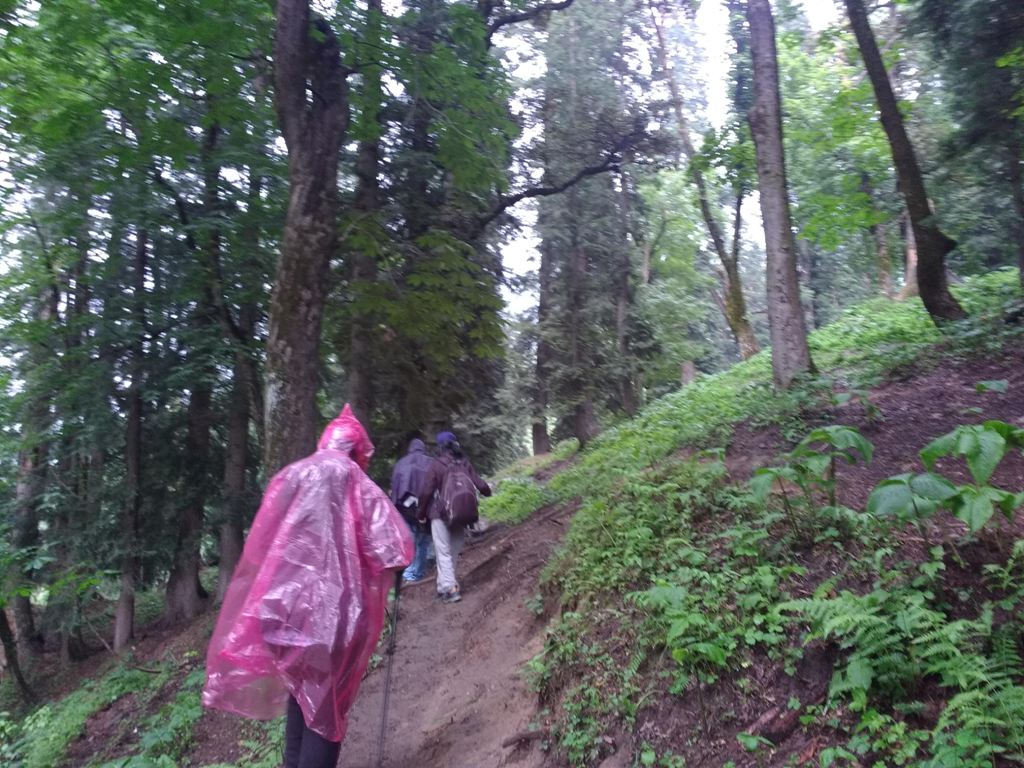 Hampta pass is a crossover trek from lush green Kullu valley to barren Spiti valley. I along with other two family members, started our journey from Bangalore and reached the beautiful town of Manali one day in advance. A WhatsApp group was formed by the organizer and we were able to connect with the other group members. Our group consisted of three members from Ahmedabad, two couples from Indore, a big group from Delhi, apart from my family from Bengaluru. We assembled in front of the Nehru park and were briefed by our trek leader, Mr. Pankaj about the trek and dos and don'ts. The whole group was aged less than 30 except me and my husband (50+) and some of the first-time trekkers felt more confident after meeting us. We started our journey from Manali to Jobra in a vehicle and the view was beautiful with a winding road and plenty of hairpin bends. We gained height very quickly and reached our trek starting point near a small tea stall. We had decided to offload our luggage to be carried by mules, but most of the youngsters preferred to carry their luggage.
We began our trek to Chikka camp and it started raining. Our rain gear was out and in use as we slowly hiked amidst the tall trees, crossing small streams and paths created by the roots of the trees.
As we progressed the picture-perfect scenes started to unfold and to our surprise, we even had snow patches nearby though it was July.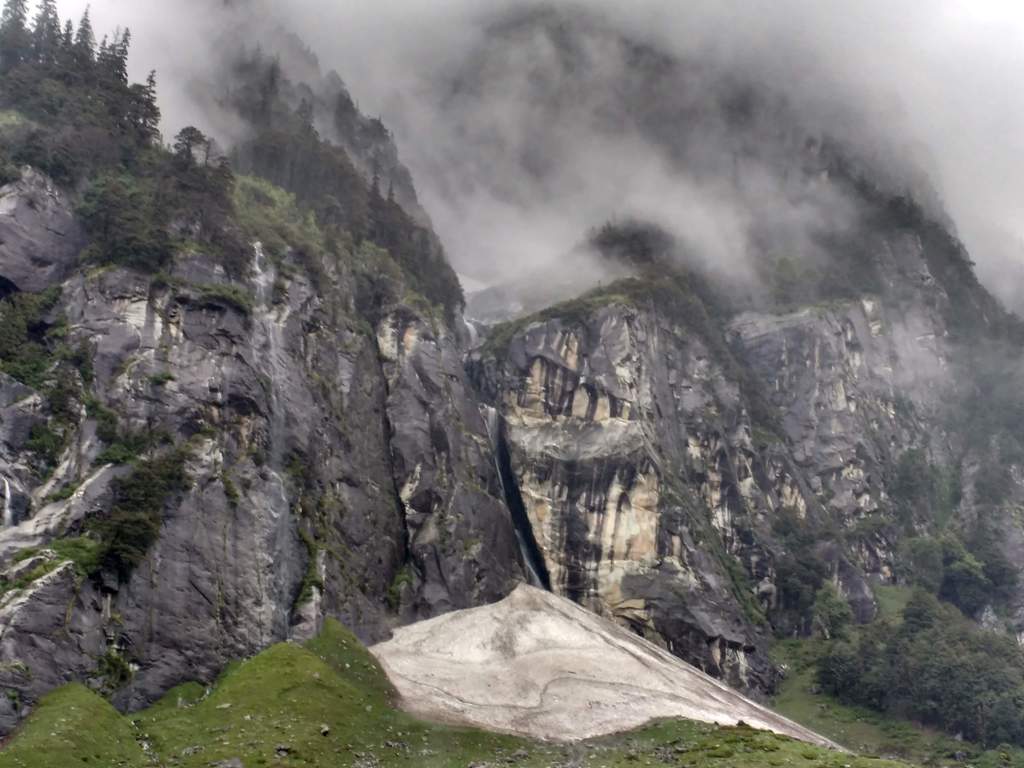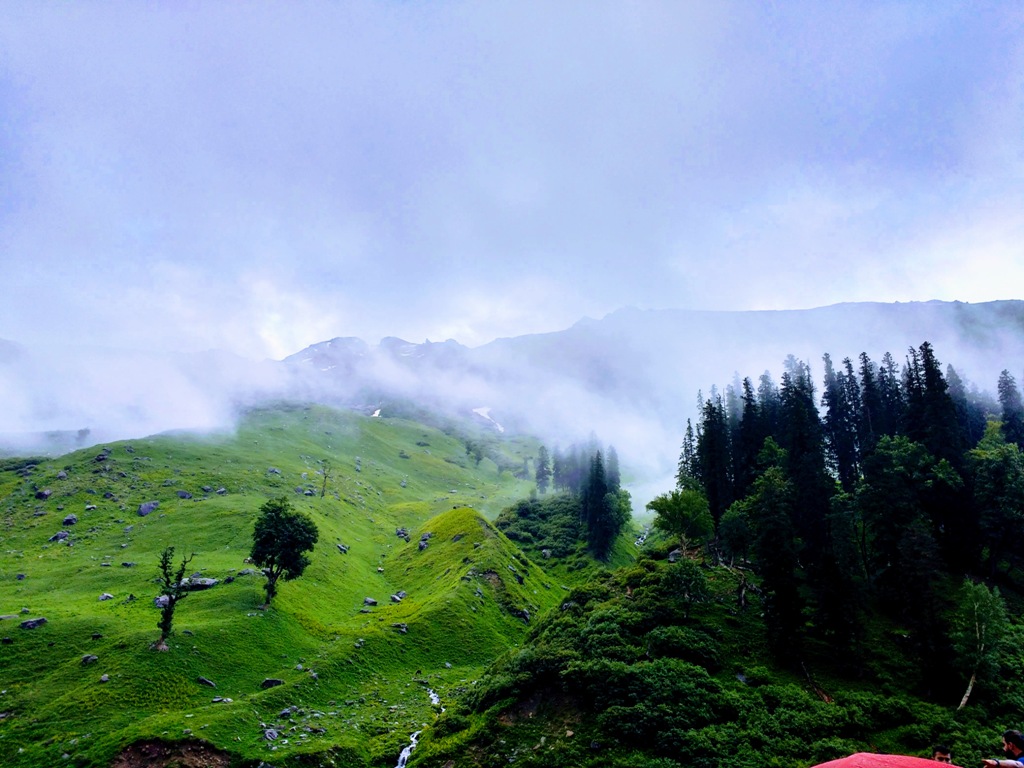 We walked along the river in the valley to reach our beautiful campsite. The pictures, though reveal some of its beauty, you had to be there to enjoy the sounds of nature. During dinner, our trek leader briefed us about the upcoming days' trek and also introduced Mr.Keshav and Mr.Hari, our trek guides.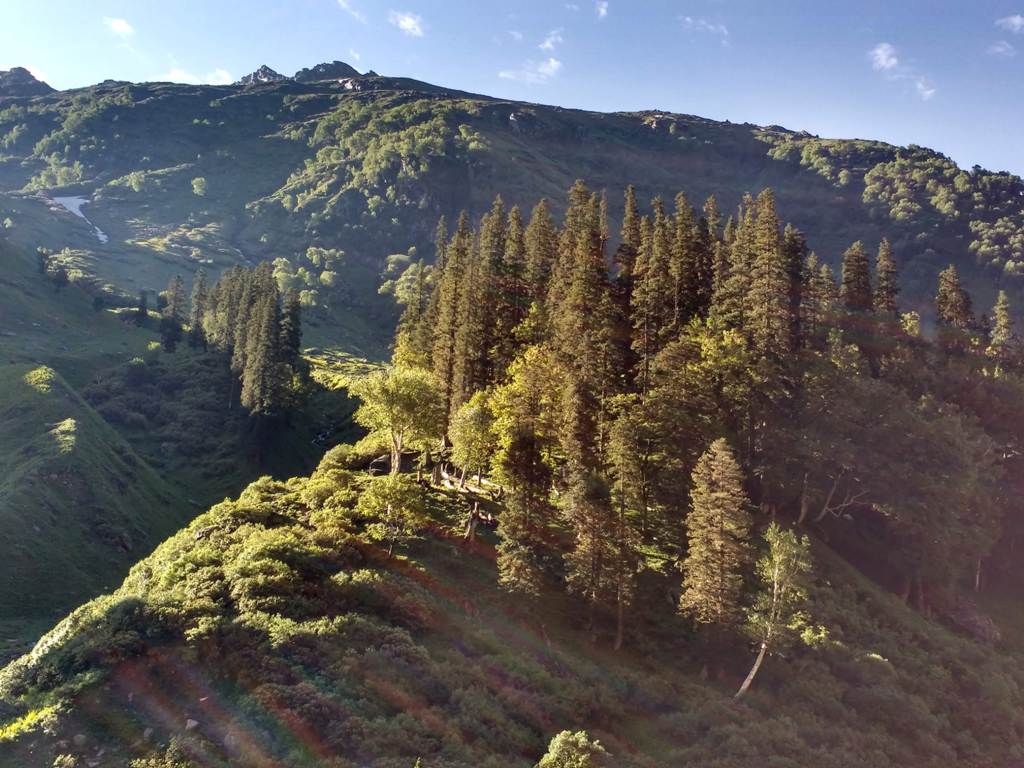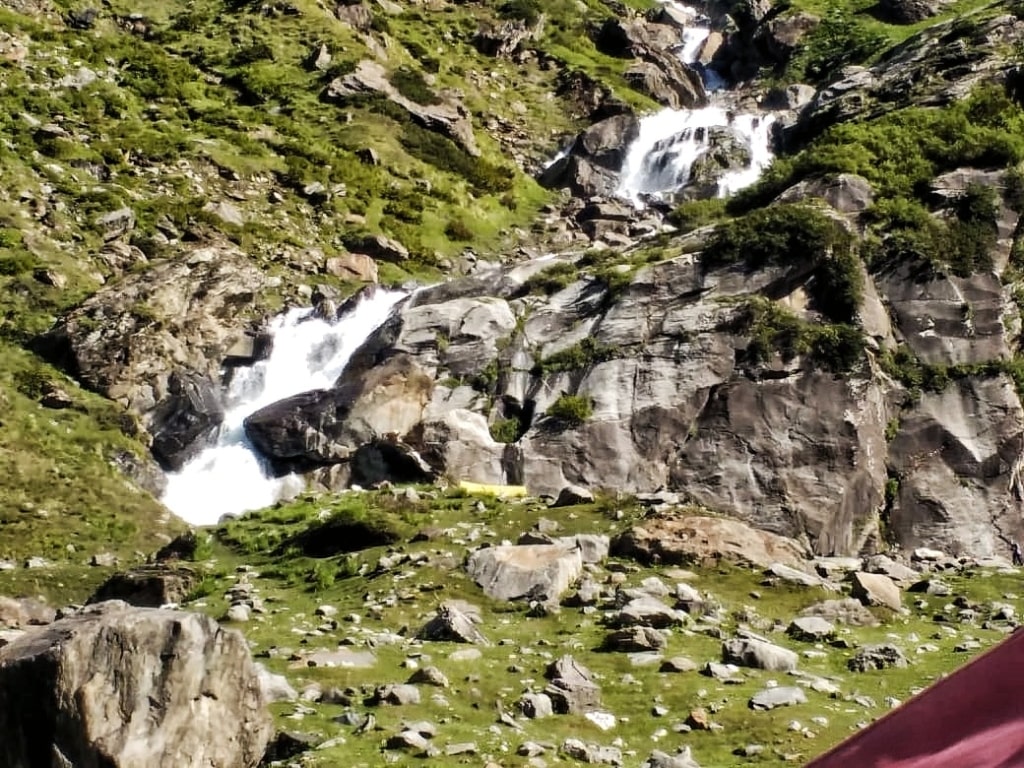 The next morning, after breakfast and clicking pictures of the landscape, we started our trek along the river. Climbing boulders and watching the river flowing below the ice was truly a sight to behold. Initially, I suppose the guides were very concerned about me, and Mr.Keshav was always behind me expecting me to ask for help while climbing big boulders.
The adventurous part of today's trek was, of course, the river crossing. It's always advisable to start early from your campsite in the morning so that the water level is low, preferably below the knee. Since we started a little late, we reached there almost afternoon and the water was almost waist-deep at some points, making it more adventurous in the ice-cold water. I was screaming in pain due to a cramp-like feeling in my leg which disappeared as soon as I came out of water.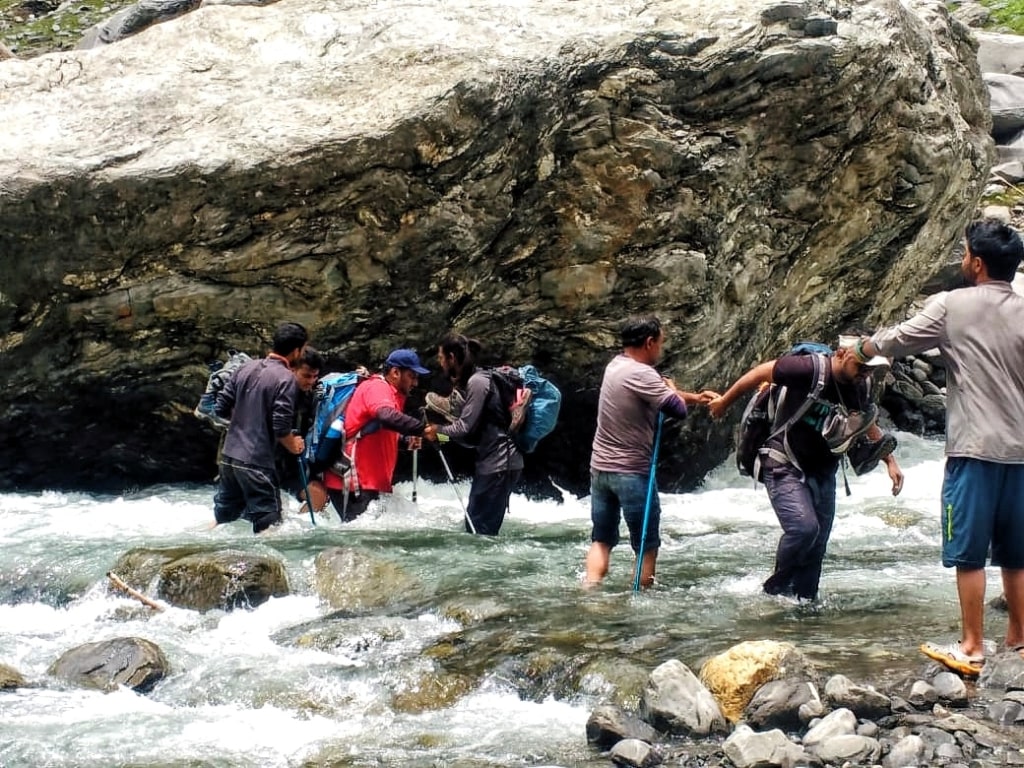 There is a tea shop right next to the crossing where we ate our packed lunch and had a hot cup of tea. I carried with me a flask of hot water which I sipped frequently making the journey less tiresome as hydration was well taken care of.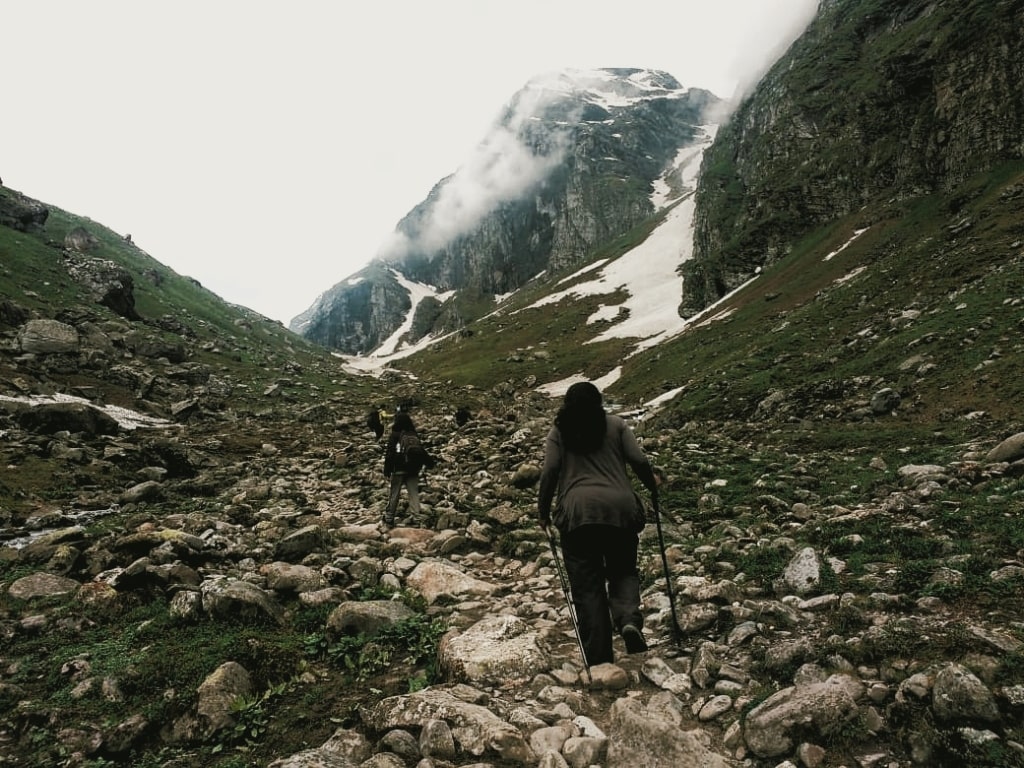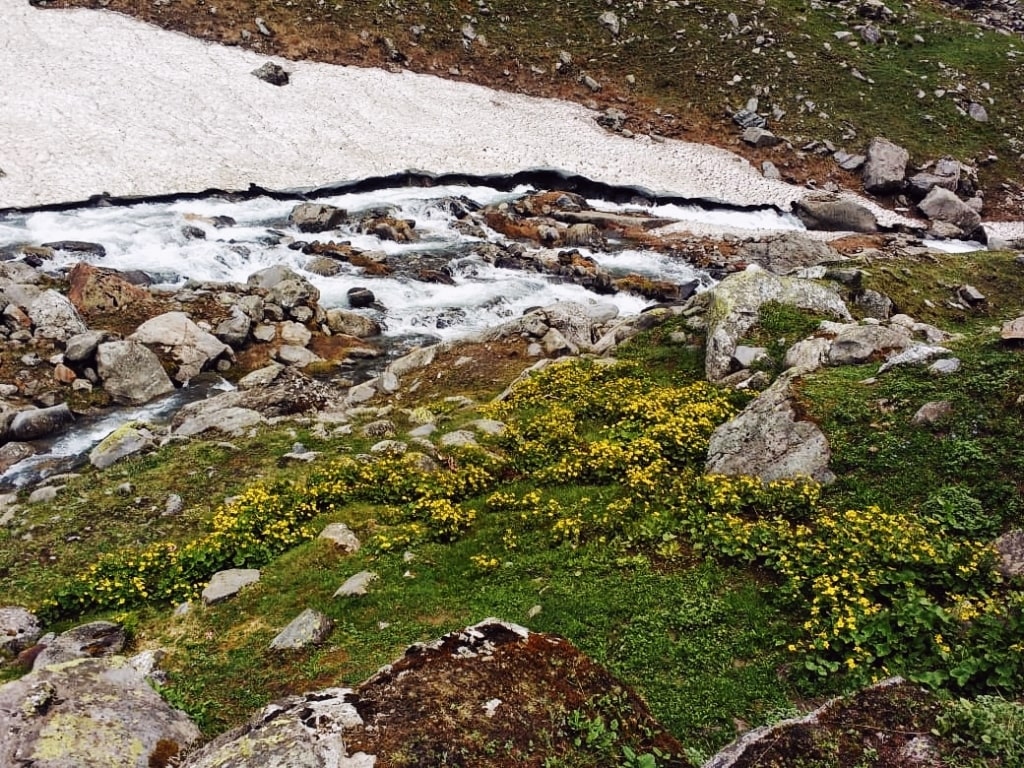 The landscape changed frequently from green with colourful wildflowers to a boulder section and then hard snow. As we were nearing our next camping site, Balu-ka-Ghera, the skies opened up and it started raining making our task of reaching the camp even more difficult.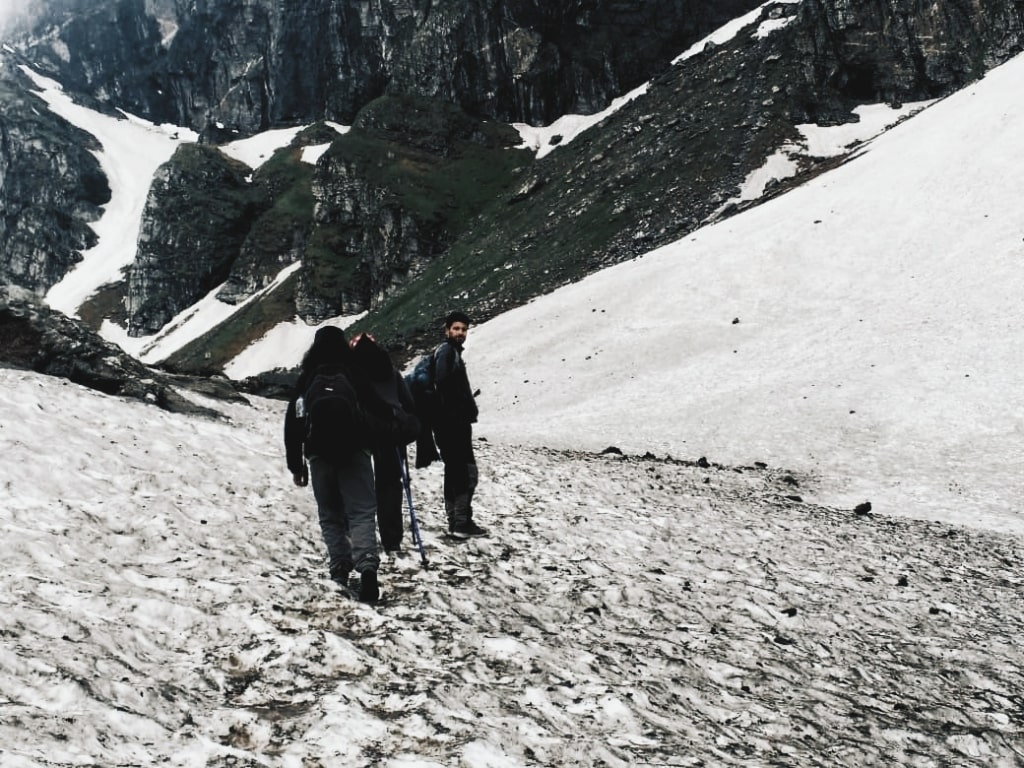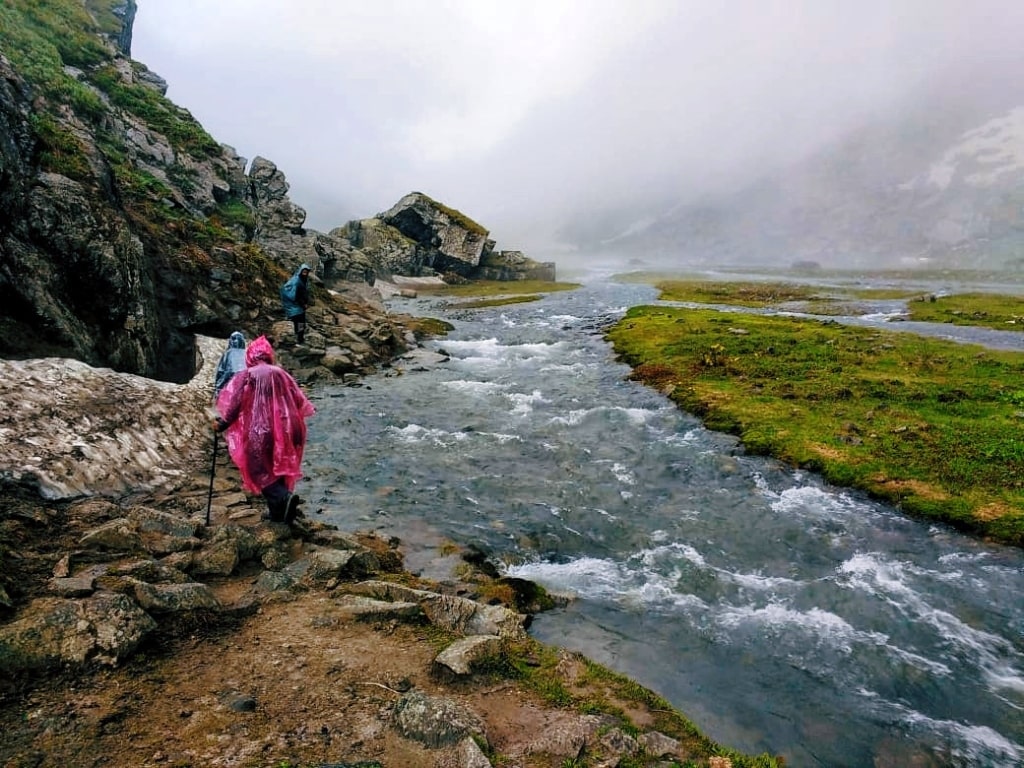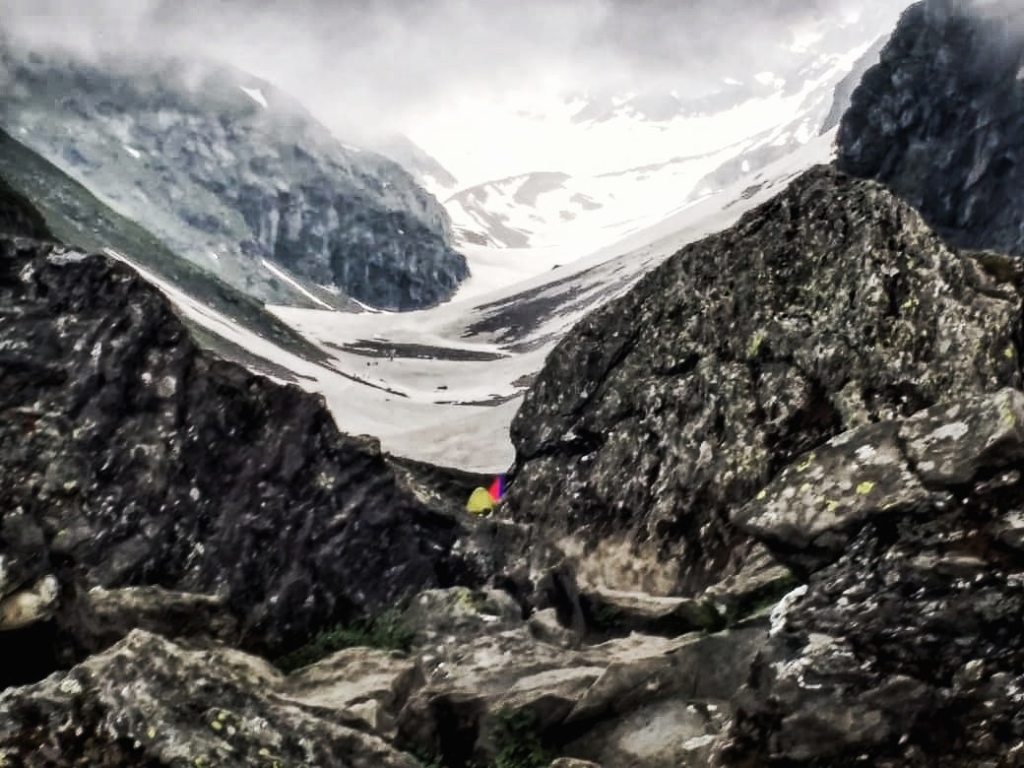 That was a glimpse of Hampta pass and the route for the next day just before reaching our camp.
Since it rained heavily the whole day, I was not able to capture any pictures of the campsite. But it was an interesting place just beside the river and water all over and the snow-covered path ahead. After the rain had stopped, we had an acclimatization walk up the mountain. Though all of us were reluctant due to strenuous walk the whole day, it was very much necessary as we had gained considerable height. We had a briefing by our trek leader about the next day's trek and the proper way to wear the microspikes as it was going to be a complete snow trek from Balu-ka-Gera to Sheagoru. He also checked our oxygen saturation level and advised us to inform the slightest discomfort in breathing. Later we had soup and dinner and went early to bed as we had to start very early the next day.
The next morning, we started early after breakfast after collecting our packed lunch so that we cross Hampta pass before the afternoon and start descending before it starts to rain. I was expecting snow only as we near the pass since all the videos and the blogs mentioned snow only at the top during July. This was a completely different experience as we had started to walk on snow even before we reached the second campsite. I was told that there was a record snowfall during the January and February months of 2019 resulting in the change of landscape. I was expecting to see lots of wildflowers similar to that of the Valley Of Flowers in Uttarakhand but could spot only a few patches due to the heavy snow-covered path.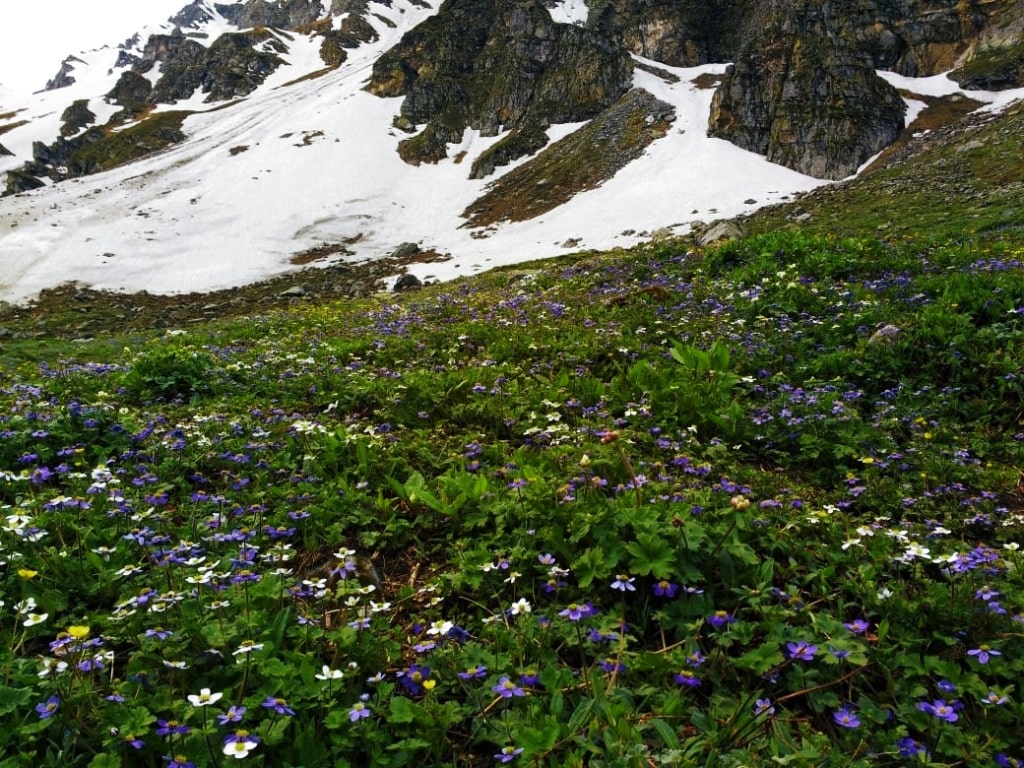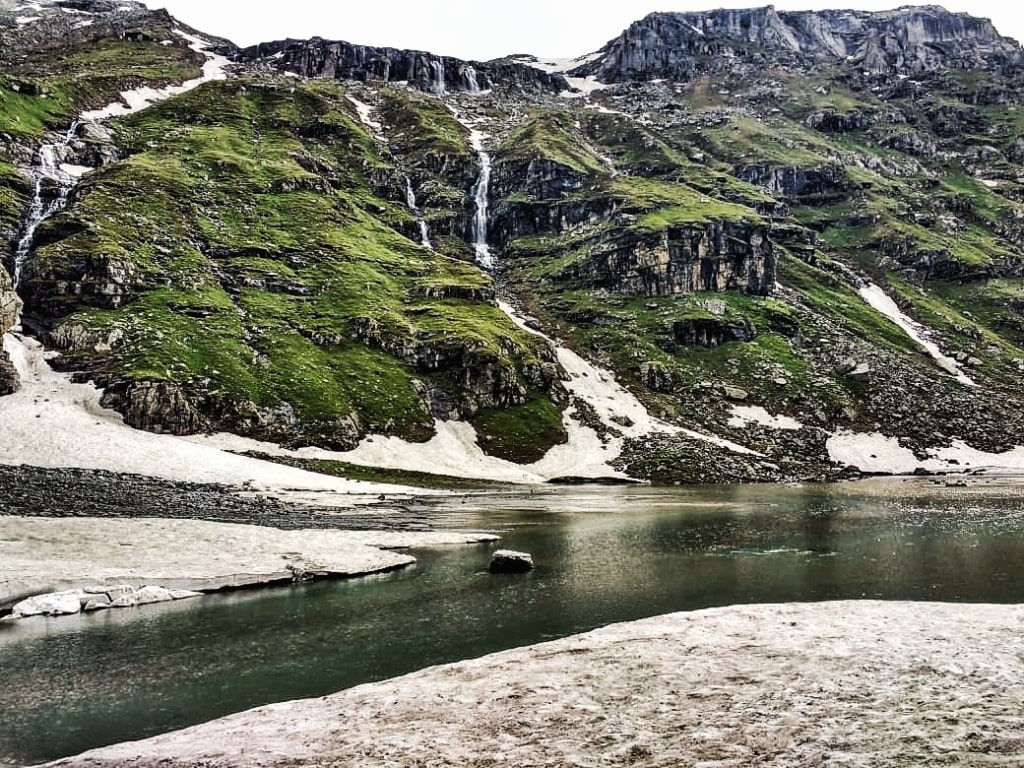 We trekked towards Hampta pass unable to spot the river which flowed beneath the thick ice. There was a beautiful lake where we rested and waited for the rest of the group to join. Some members were finding it difficult due to reduced oxygen levels and the trek on snow.
There were some boulder sections at the beginning and the last water point of the day where we were asked to fill sufficient water for the full day trek.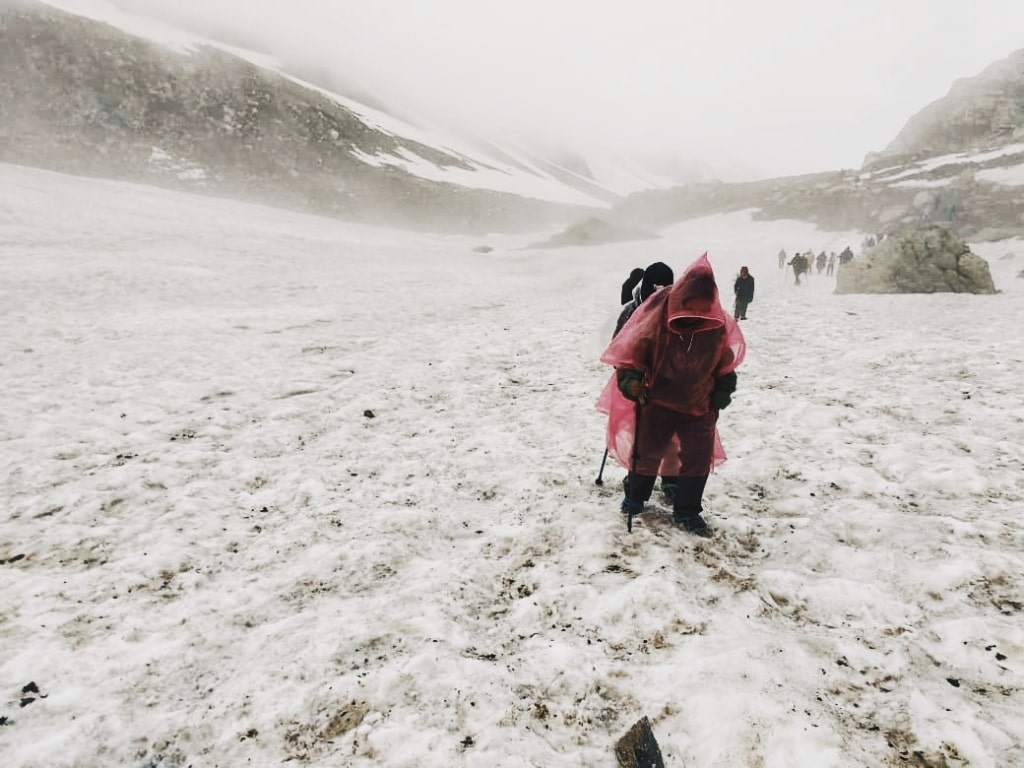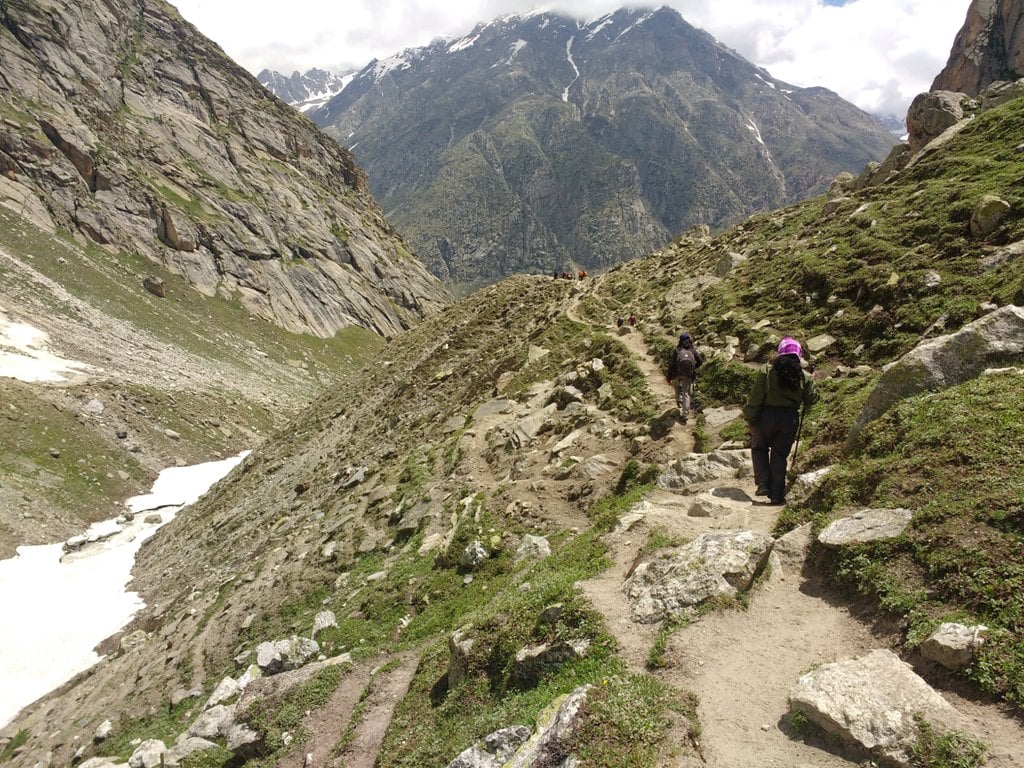 It started raining as we were walking towards the pass making our walk even more adventurous. The rainwater falling on the snow condensed to form round beads and made the walk even more challenging. I used to pause for every step and search for the path as the visibility had reduced, even missed the trail sometimes, and realized it when I stepped on soft snow. Finally, a part of our group was able to reach the top of Hampta pass by afternoon. We celebrated having accomplished our mission and we tried to eat our lunch but could not finish it as we were all exhausted. After spending some time at the pass we started to move towards the point where we started our descent which was the more adventurous part.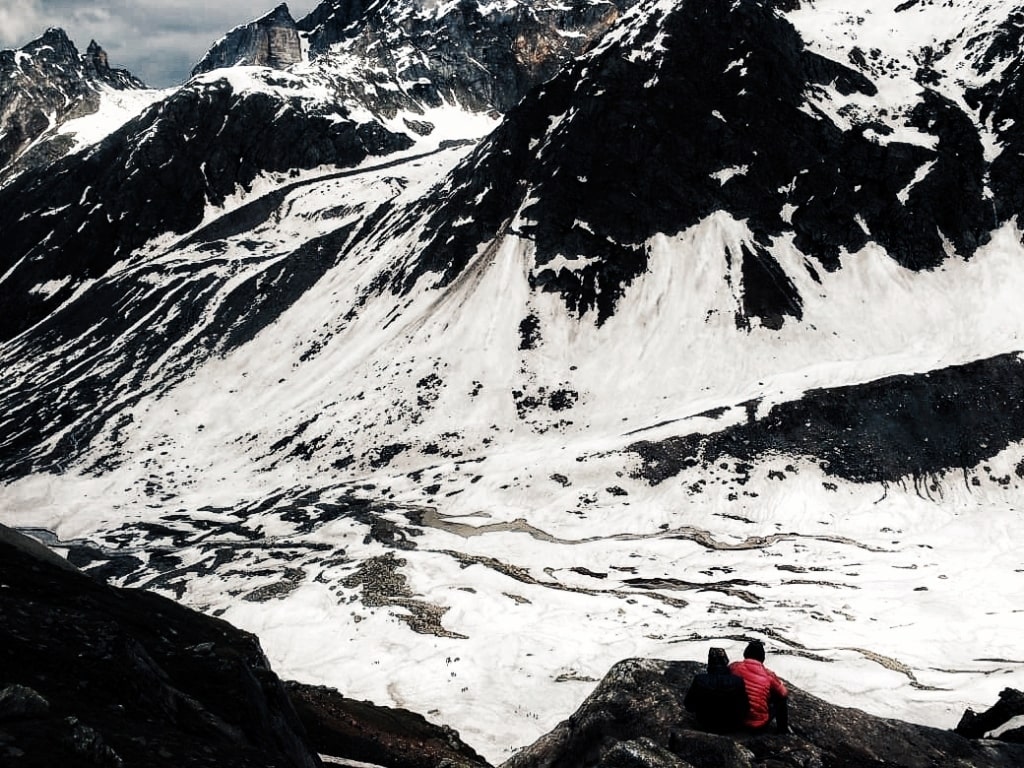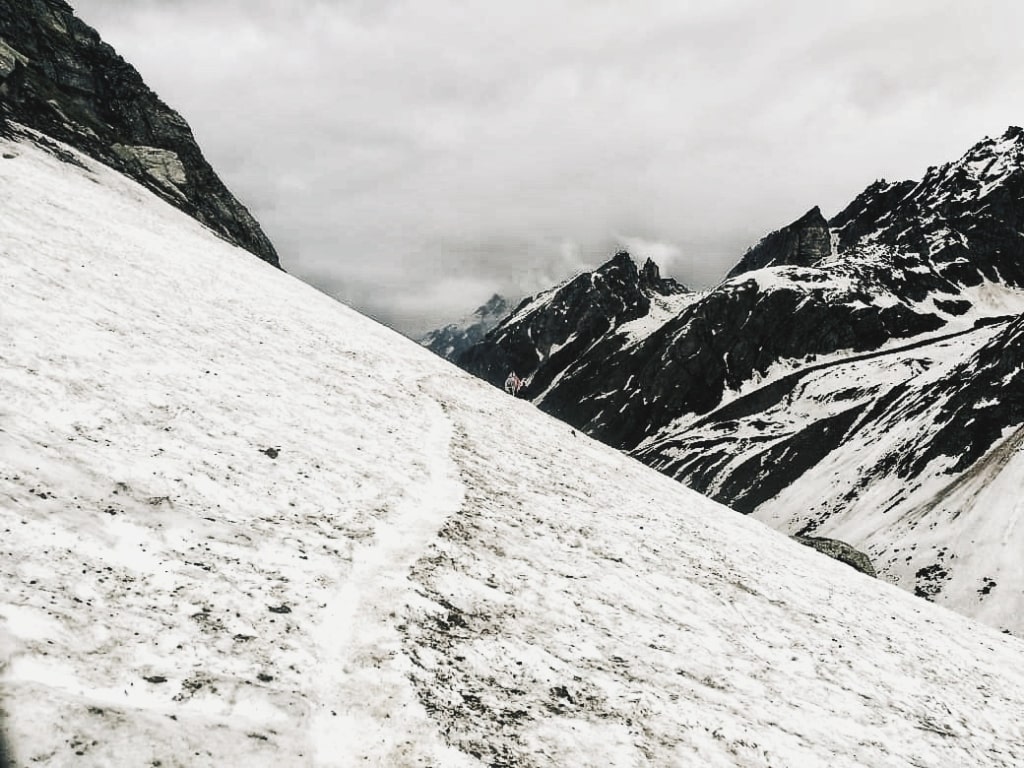 We started, first holding a rope for about 30ft, and then it was a continuous steep descent. At places, we needed to sit and use both hands. I could not capture any pictures at this stretch as my hands were very dirty. It took about half an hour to reach the point where we had to slide down the ice. All the youngsters, including my daughter, were excited except myself and my husband as there was a dangerous dip in the middle of the slide. Looking at everyone's enthusiasm, I also decided to take the slide, but couldn't control the speed and tried to slow down, which turned out to be too sudden and launched me out of the path of the slide. Fortunately, I landed on the soft snow with no harm and I returned to the slide to continue my half-done job. After that, we had to trek in the snow again for about half a kilometer to our campsite. Here there was fresh snow and we enjoyed learning how to walk on soft snow too, by sliding while keeping our balance. We also found that following the mule poo was the best method to keep track of a snow trail!
The Sheagoru campsite was surrounded by snow and the river flowing nearby was half frozen. I tried helping the cooks prepare dinner once we reached our campsite. As can be expected, being in the kitchen was more comfortable, as that was the warmest place.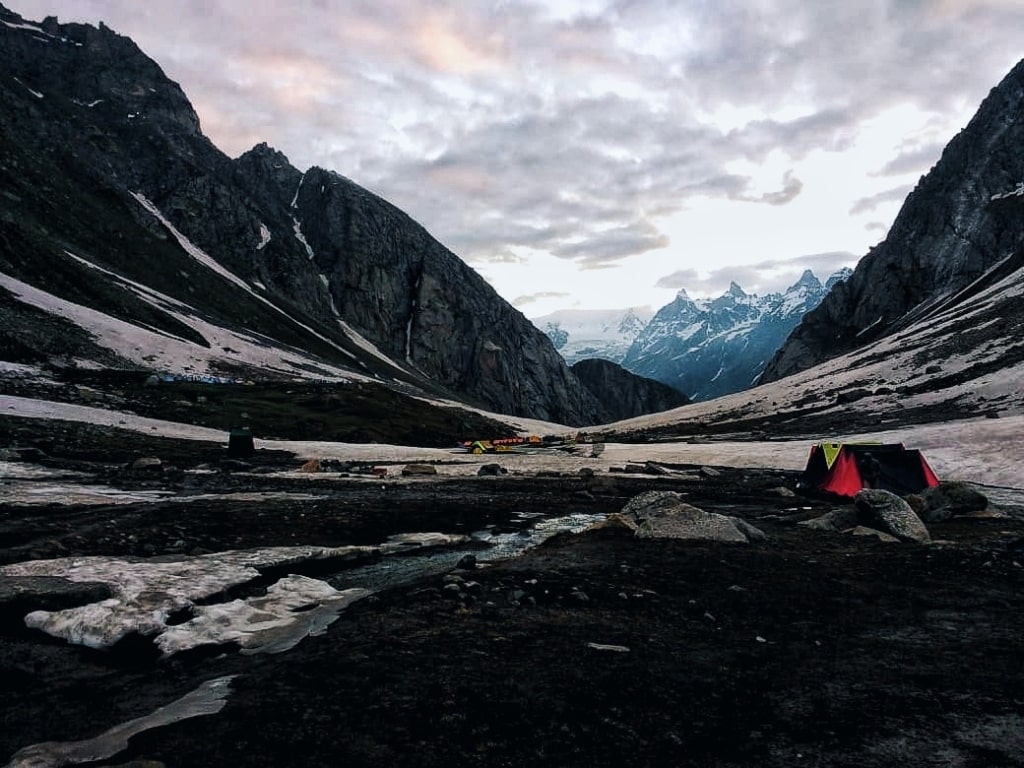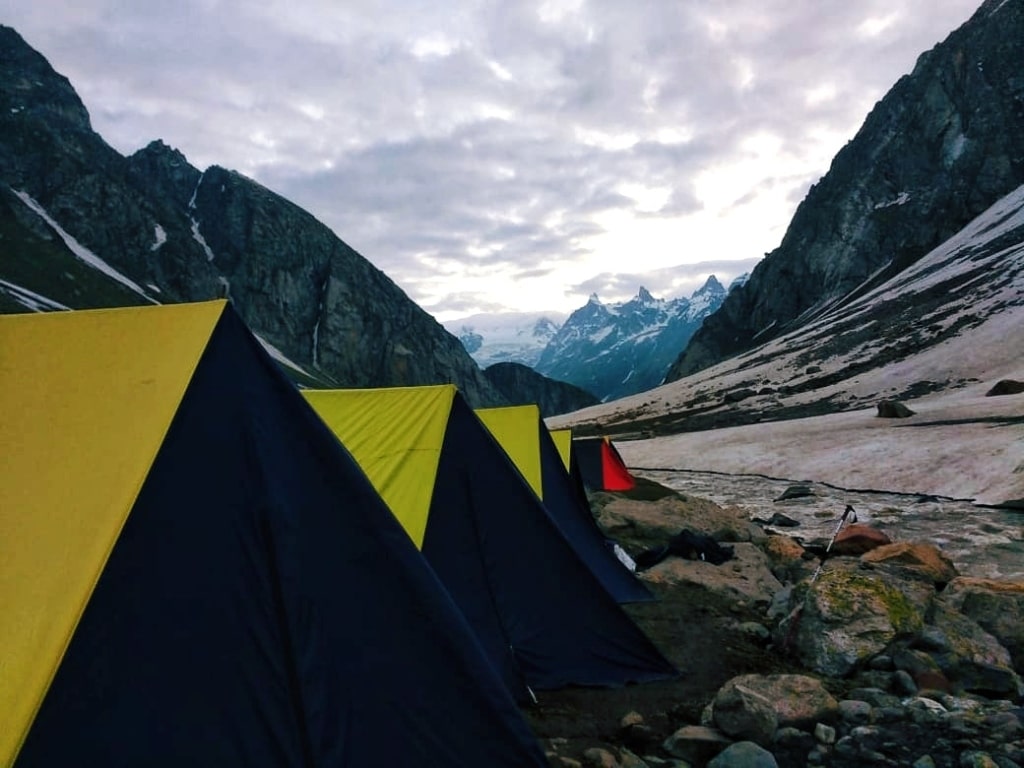 The next day, we had to start early after breakfast but were delayed as our trek leader, guides and some of the trekkers had reached the campsite quite late the previous night. We started around 9 am walking on hard snow for about a kilometer. I was thinking that we need to cross the chilled water again but to my surprise, we were on the other side of the river without ever stepping into it! We then found out that we had crossed the river at a place where it was completely frozen unaware of it all.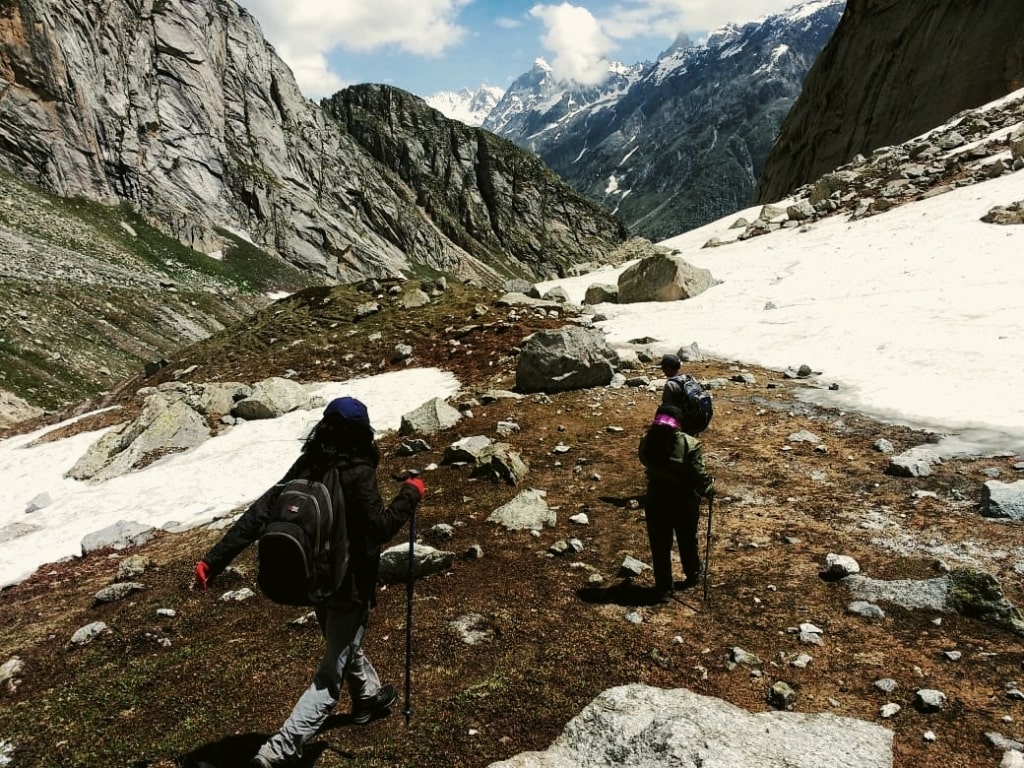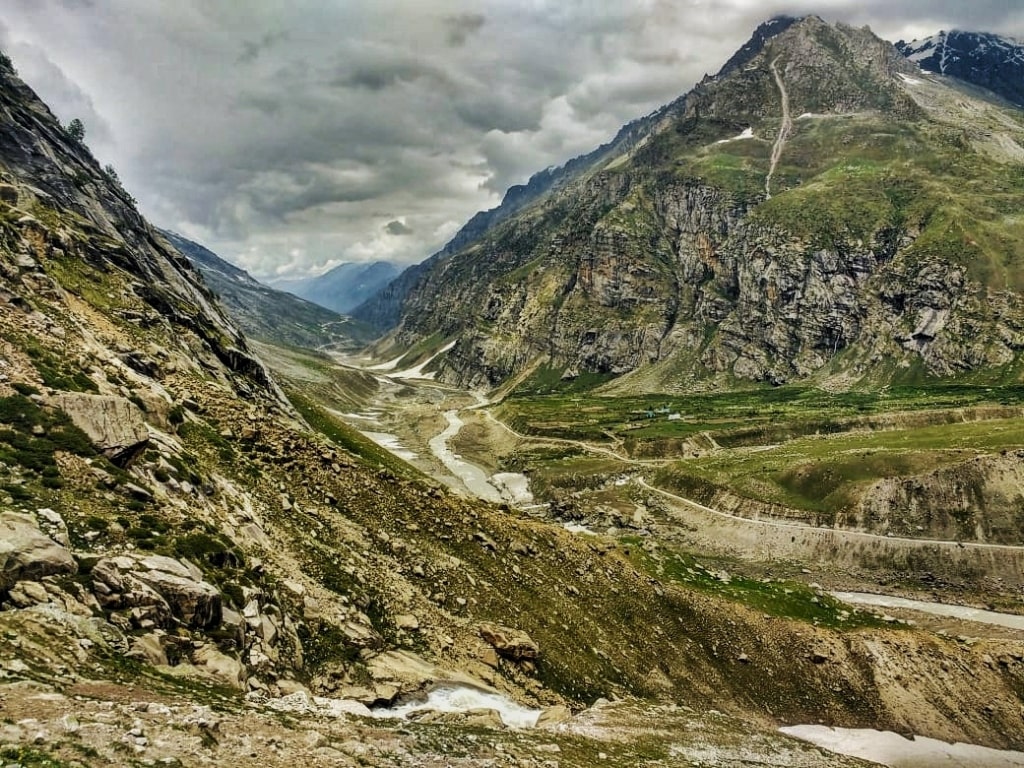 Later the walk was more or less comfortable except for a few steep descents. We had to cross the snow-bridge before reaching Chataru which was a little scary. We could see boulders falling from above and the river flowing in full force below. We reached Chataru around 2 pm and had our share of Rajma Chawal which tasted incredible especially since we were tired. We were told that it was too risky to start the journey to Chandratal so late and hence decided to go for the same early morning the next day. Since we had time to spare for the day, my daughter sketched a wildflower that she found there.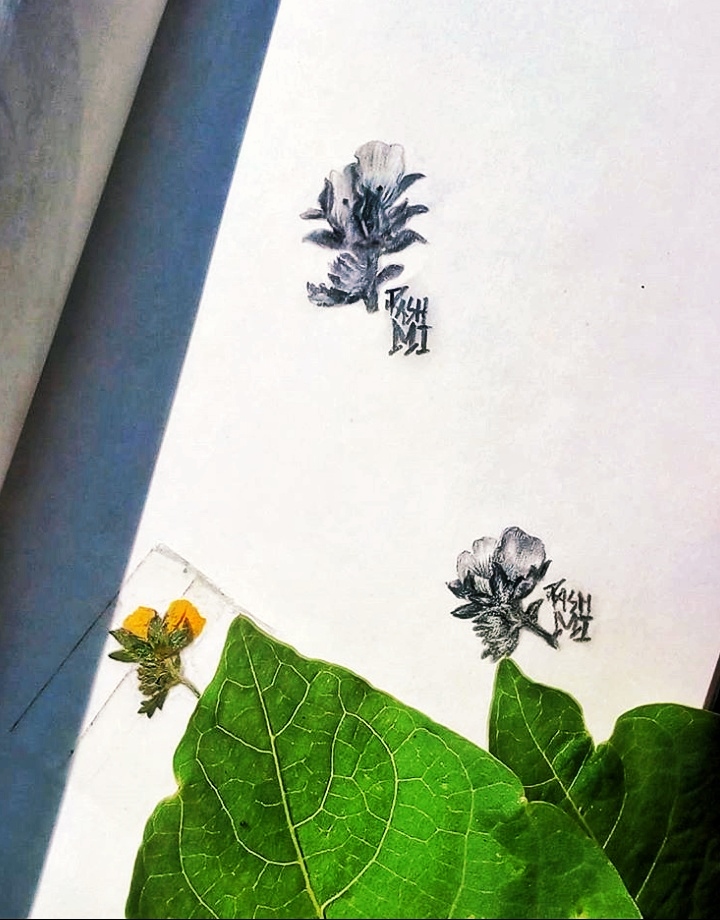 We started our journey to Chandratal the next day around 4 am in a four-wheel-drive vehicle. The best part of this visit was the road itself!
We could watch a lot of young bikers along this road and they were driving almost under the waterfalls found along the way. The advantage with starting early in the morning was there was less water on the road which meant fewer chances of getting stuck. The landscape was completely different from what I had seen all these years. Spiti valley receives very less rain and not much greenery, but the mountains by itself were magnificent. We stopped at the iconic Chacha-Chachi tea stall, had some tea, and continued towards Chandratal.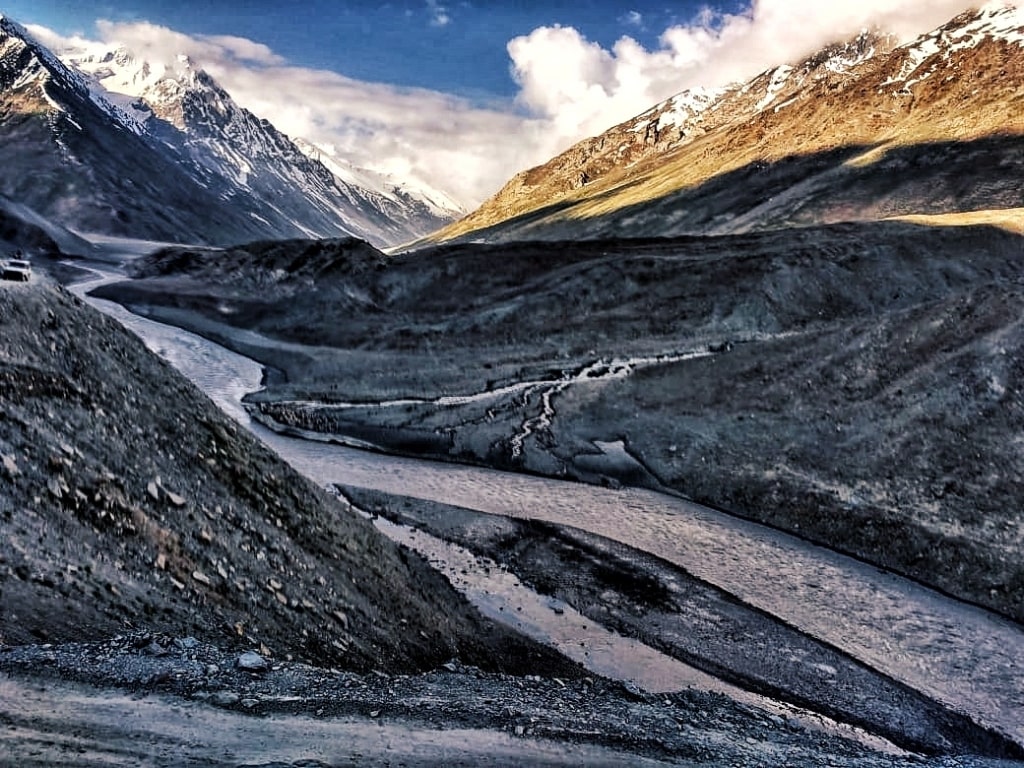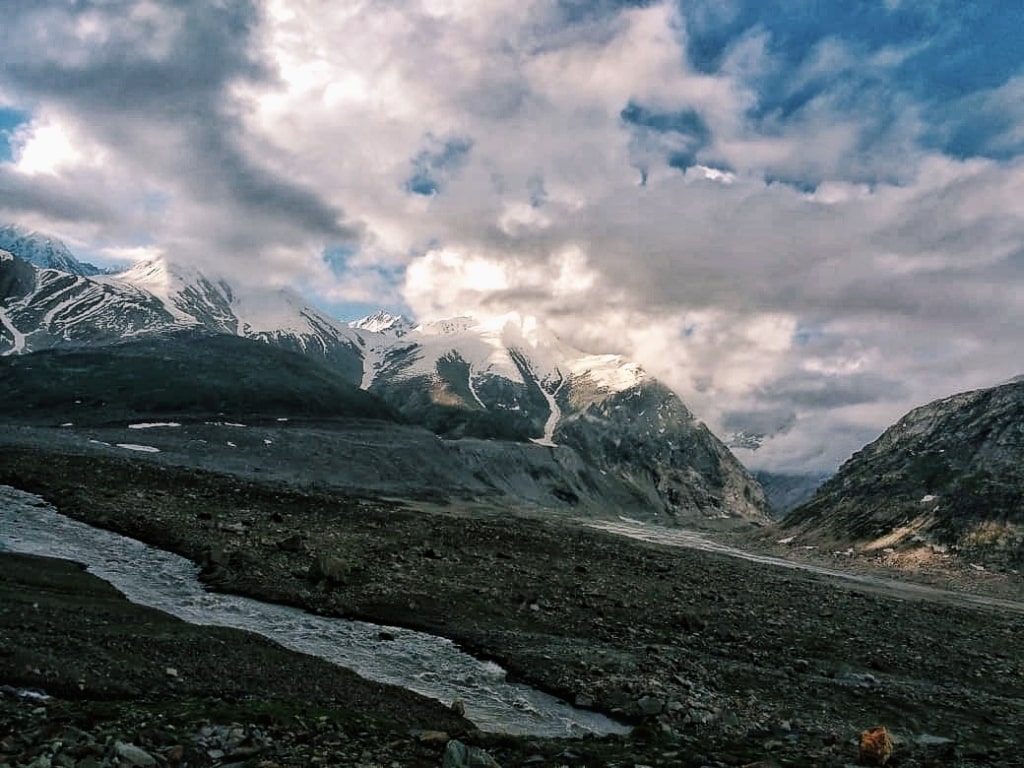 We were again gaining considerable height today as it was situated at 14,000 feet. We could sense the air becoming thinner as we reached the mesmerizing moon shaped lake. The water was still and the surrounding mountains were reflected perfectly in the water. What a sight to behold!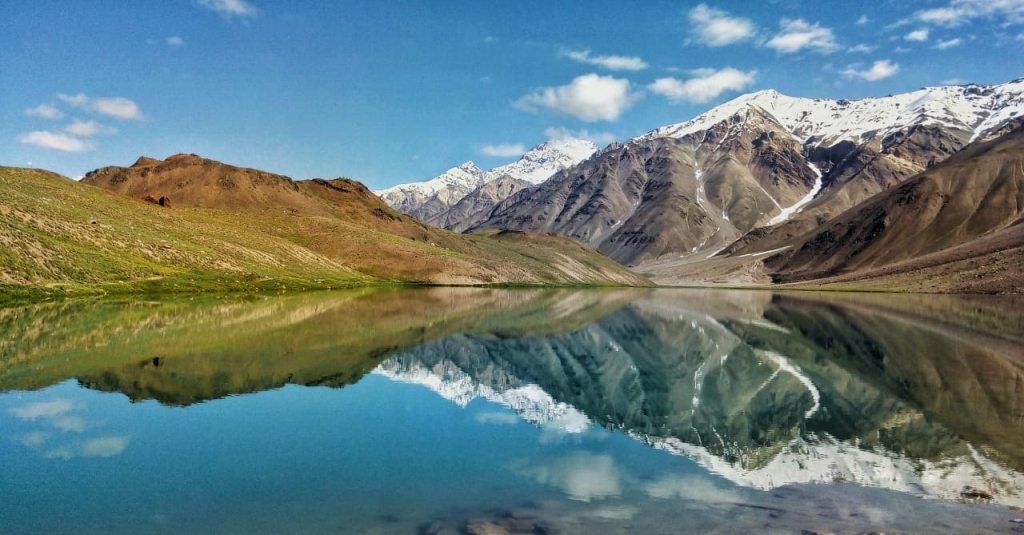 We spent some time clicking pictures and taking in the beauty of the surrounding mountains.
We started our journey back to Manali with a heavy heart as the time spent all these five days was now only going to be a memory captured in our hearts and cameras.
The best part of visiting Manali during July is that there is a variety of local fruits available which I picked from the market. We spent one more day in Manali, trekked to Vashist Kund, and on our way saw trees laden with apples, pears, plums, and peaches.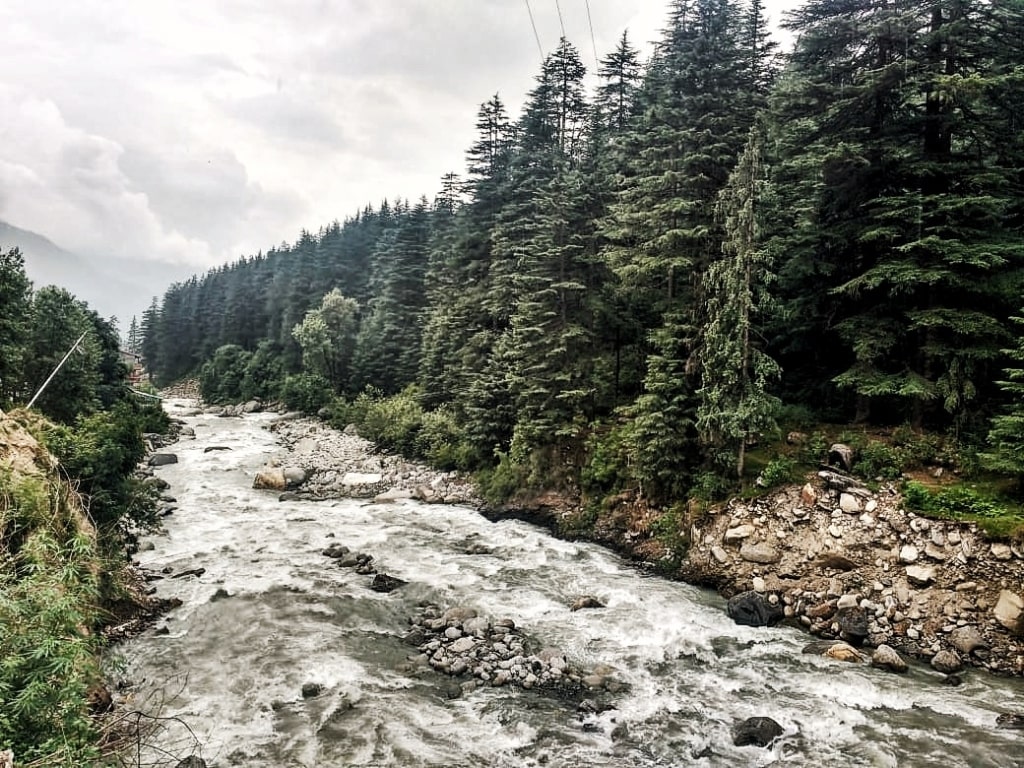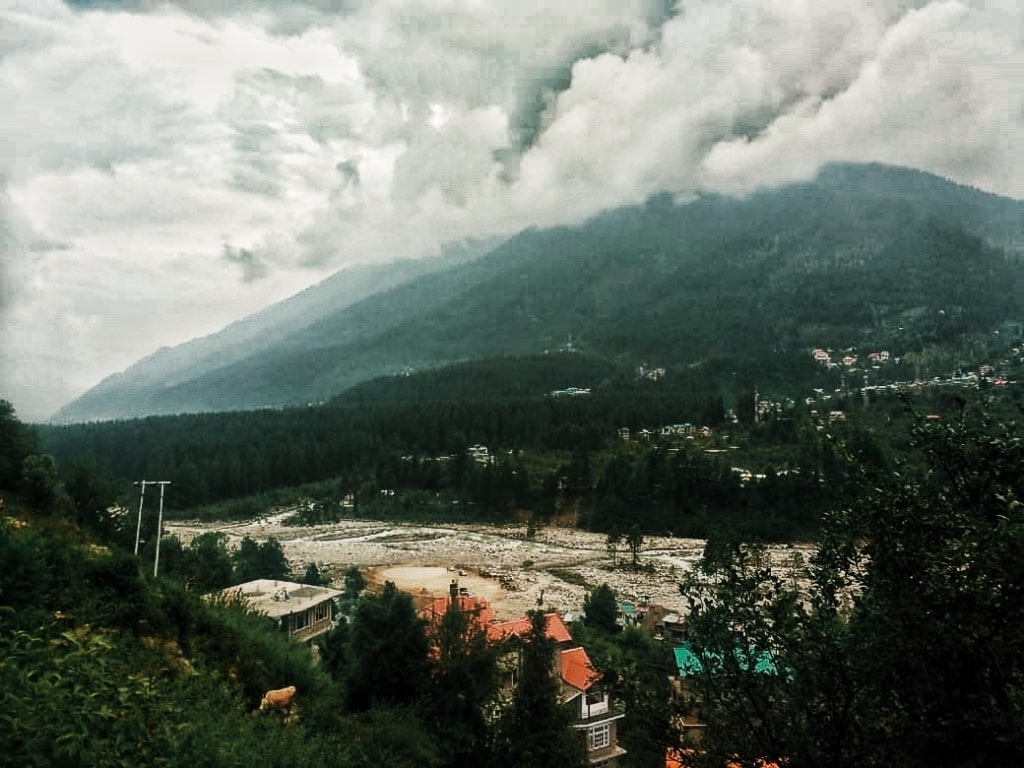 We started on our way back to Delhi that night and returned the next day to Bengaluru, already discussing our next trip!!!
Book Now
Written by Sudha on 25-Sep-2020