Thinking of a small weekend trip or hiking and trekking activities in the lap of nature?
Witnessing the birth of a famous mountain river, its journey, and mythology along the way? Undoubtedly, Beas Kund Trek in Manali will fit your plan because it usually takes two day more than the traditional weekend duration (4 days). It offers abundant natural beauty to feed your eyes and revitalize your soul.
Beas River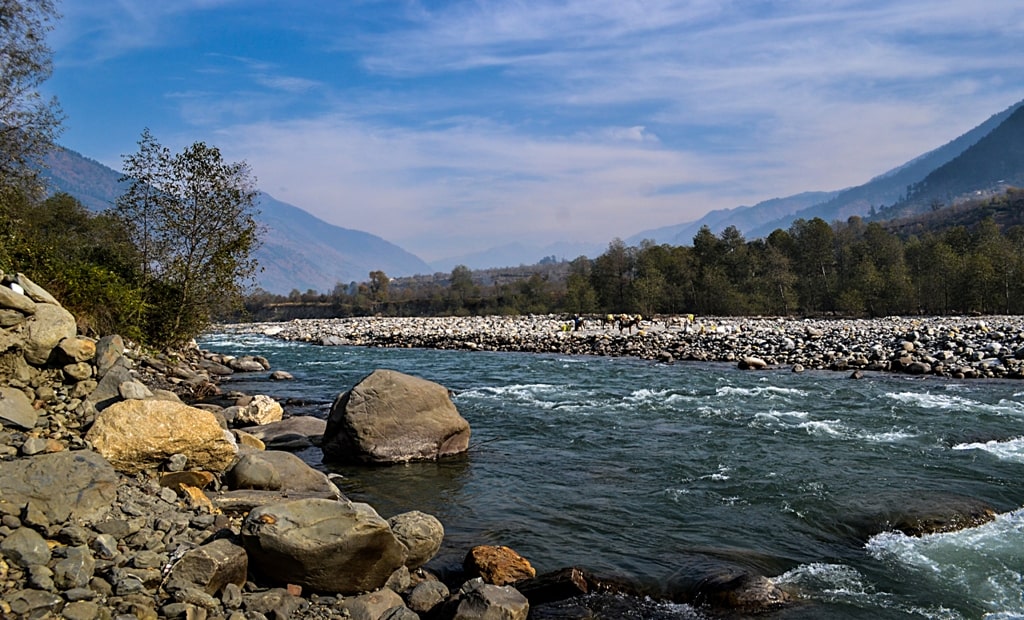 Beas, a river sacred to the local hilly people originates from the eastern slopes of the Rohtang La or the Rohtang Pass in the Pir Panjal Range of the Himalayas. The river flows from an altitude of 12772 ft. Beas Kund in Manali is the source of the principal stream among many other mountain streams that merges together to flow as the Beas river. The mountain streams from different sources join in Palachan village, in the north of Manali, and form Beas river.
This 470 km long river flows through Himachal Pradesh and Punjab and merges with river Sutlej at Harike in Punjab before entering Pakistan. The river has its ancient name "Arjiki" in the Vedas. It is believed to be named "Beas" after the great sage Ved Vyas who was the writer of the famous Indian epic Mahabharata. Beas is very important to the economy of Himachal Pradesh as many tourist destinations like Manali, Kullu, and Kangra valley have flourished along the bank of this river.
Beas Kund Manali: Trek to the birthplace of the river Beas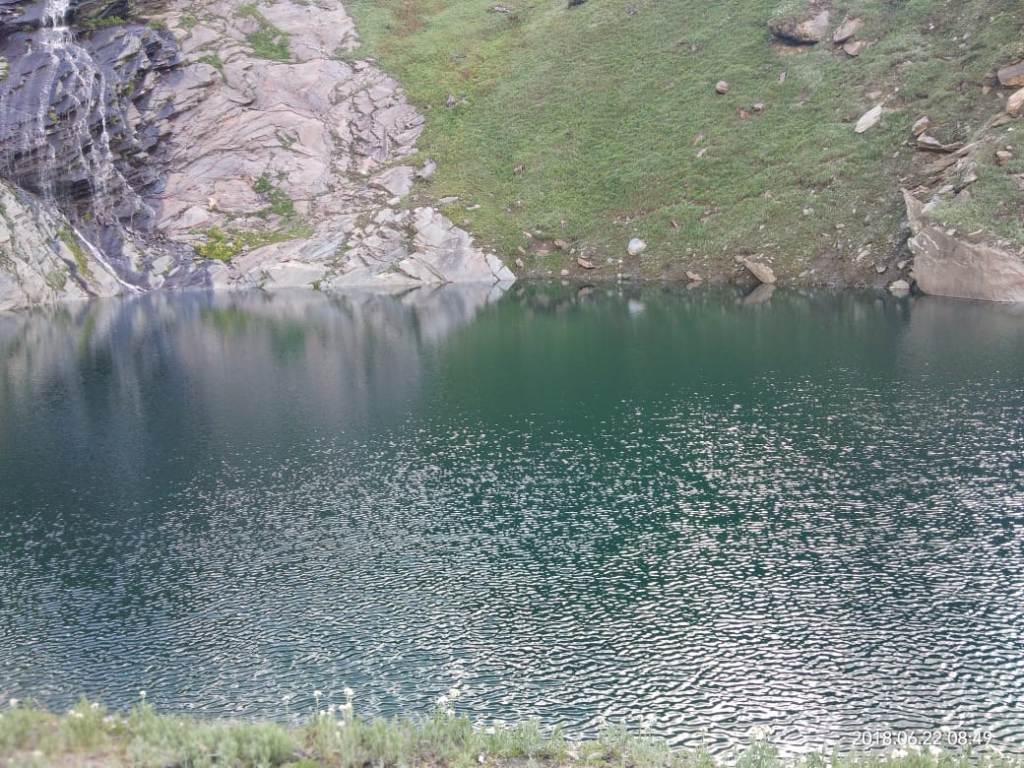 Beas Kund, a pristine lake tucked up to the lap of Dhauladhar range of Himachal Pradesh is 3km away from Bakar Thatch meadows. Trek to the Beas Kund from Manali is stunning for the view of the snow-clad mountain peak, lush green Bakar Thatch meadow, huge glacier, serene Himachali villages. On the way, you will visit Solang Valley, famous for adventure sports like paragliding, parachuting, etc.
Location Of Beas Kund
The Beas Kund in Manali at the height of 12772 ft is very popular among trekkers. Pir Panjal mountain range, Friendship peak, Hanuman Tibba, Sheti Dhar peak are neighboring this beautiful alpine lake. Beas Kund distance from Manali is roughly 17km. Beas Kund trek in manali is easy and beginner-friendly.
Mythology related to Beas Kund
Like so many places in the Himalayas, Beas Kund is also mentioned in Hindu mythology.
Legend says once rishi Vashisht after losing his son Shakti went to suicide by jumping into the Beas River. But the river refused to let him die by drowning in its water. Sage Vashist was overwhelmed by this event and started to live on the shore of Beas Kund.
The great sage and writer of the Mahabharata Rishi Vyas used to take bath in this lake and practice meditation daily at its bank. That's why the Beas Kund Lake is considered as very sacred.
Best Time to Visit
Beas Kund remains under several feet of thick snow sheet during winters, especially from December to February. So it's better to avoid trekking in this region in winter. From May to July, these three months are the best time to venture out to the trails of Beas Kund.
From August to September one should stay clear of the trail to Beas Kund in Manali because of heavy rainfall. As this often leads to landslide and overflowing rivers. Still, this trek can be done in monsoon with proper planning and prior experience of trekking during rains.
During March and April, waist-deep snow covers the trail and visibility is very less. Trekking is much more difficult during this time and you should have snow gears to trek.
Reaching base for the Beas Kund
The base camp for this trek is in Dhundi. To reach Dhundi you have to come via Manali.
How to reach Manali by road
From Delhi, you can book a bus for Manali. The distance from Delhi to Manali by road is around 550 km and it takes around 12 to 14 hours.
Chandigarh is 307 km from Manali by road. One of the best ways to reach Manali from Chandigarh is by bus. There are many direct buses and the time taken by bus is usually more or less 7 hours. If you want to save time then take a cab from Chandigarh to Mandi and then take a bus from Mandi to Manali.
Seat bookings on buses can be done prior to your trek through some booking apps.
How to reach Manali by air
The nearest airport is Kullu-Manali airport in Bhuntar. Manali is approximately 50kms away from Bhuntar. Cabs and taxis are available from the airport for Manali.
How to reach Manali by train
Joginder Nagar Railway Station is the closest railway station from Manali. But the main cities of India like Delhi, Mumbai, Kolkata are well connected with Chandigarh and Ambala station. From all these stations taxi services is available to Manali.
From Bangalore, YPR Sampark kranti Express is available. From Kolkata, Kalka mail runs to Chandigarh. From Ahmedabad, you can reach Chandigarh by CDG BDTS SF express. Chandigarh express runs from Indore to Chandigarh railway station.
Now from Manali book a taxi or ride a bus from Manali Bus stand to Solang Nallah, which is 12kms away from Manali town. Solang Nallah is a beautiful place with a picturesque landscape. Many popular treks commences from here.
From Solang Nallah you can either walk to Dhundi which is somewhat 8 km away or hitchhike using the vehicles running on the road.
Beas Kund Manali Trek route and What to look out for
Beas Kund Trek commences from Manali town. Crossing through Solang Nallah and Dhundi the trail goes to Bakarthatch Meadows and then reaches Beas Kund.
Manali
This famous hill station is a favorite among tourists and trekkers. The reason being a lot of trekking expeditions start from this British era settlement.
If you want to stay a day or two and scout around the town then there are a lot of places to explore. To get the spiritual and powerful positive vibe you can visit Hidimba Devi temple, Manikaran Gurudwara, Manu temple, and Jogini waterfall. Himalayan National Park, Van Vihar, Beas River are some places rich in the natural beauty around Manali.
Old Manali town itself is very famous as a tourist attraction for vintage style houses and shops.
Solang Nallah
It is a small valley located at the height of 8400ft and a distance of 14km in the north-west of Manali. Solang is known for its snow activities and sports. During winter tourists flock here to enjoy the adrenaline rush of adventure snow sports. Skiing is the main fun sport that the snow-clad valley offers in winter.
During summer when the snow melts, zorbing, horse riding, paragliding, parachuting takes place. You can take the ropeway service. You get to enjoy the scenery around from a significant height above the ground.
The trekking and hiking for Beas Kund trek is started from this place or Dhundi. There is a well-built road from Solang to Dhundi. Some trekkers cover this road by foot while some drive to Dhundi and from there starts trekking.
If you have the plan to drive to Dhundhi then consider hitchhiking on many vehicles heading towards the construction site of the Rohtang tunnel next to Dhundi. For this construction, there is a strict restriction for private and public cars running on this road.
Dhundi
The small hamlet of Dhundi is 8km in the north-west of Solang Valley. It is the last village in the Solang valley. It is where the Beas river and its first tributary meet.
From Dhundi onwards the green meadow part of this trek starts which stretches up to the Bakarthatch area.
While in Dhundi if you have enough time to explore the surrounding then the weather observatory is a good option.
The way from Dhundi to Bakarthatch
The journey of approximately 4km from Dhundi to Bakarthatch is along a well-trodden trail with the Beas river giving you company on the left side. On the right side, the variety of flowers and their gamut of colors will cheer your mood up.
In the way, you have to cross the Beas river a few times. Crossing the mountain streams flowing full-fledged can be risky and tricky. Maintain your balance and step foot ahead only when you have a full grip on the rock underneath your shoe. Seek help from fellow trekkers if you feel nervous.
Along the way, you will see plenty of Bhoj Patra or Birch trees, a high elevation alpine tree. Its bark was used to write in ancient times. The Bhoj Patra meadows come to an end which is where the trail takes a right turn. Hike for the next half an hour and you will reach Bakarthatch.
Some mountain peaks like Indrasen, Deo Tibba, Friendship peak, Hanuman Tibba are visible during this part of the Beas Kund Trek Manali.
Bakarthatch
Bakarthatch is a green velvety meadow at a staggering altitude of 10,800ft. Shepherds are often seen grazing cattle and livestock. In the Gaddi community or Shepherds dialect "Thatch" means meadow. It is one of the camping sites in Beas Kund Trek in Manali.
The meadow from Dhundi to Bakarthatch is covered with sightings of rare and exotic types of Himalayan flowers like Rhododendron, Marsh Marigold, Himalayan Thistle, wild rose to name a few.
The destination- Beas Kund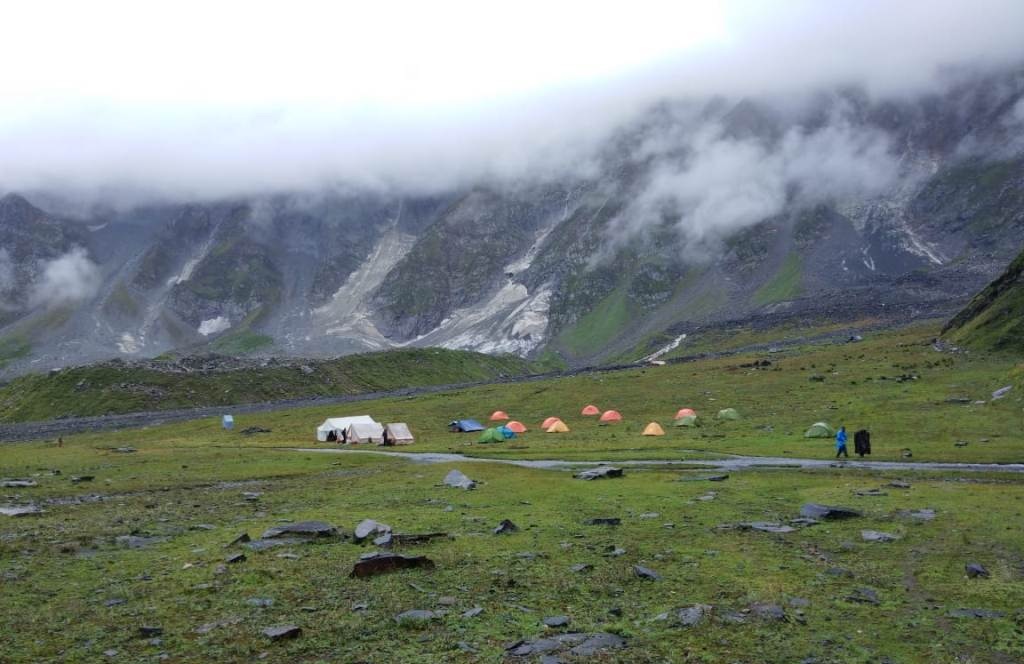 From Bakarthatch the last part of Beas Kund Trek Manali begins with hiking in flatland. But soon after you reach near the boulder field the trail becomes steeper. You have to cross the raging Beas river stepping through boulders a few times.
The cairns (many stones balanced one upon another) are very common on boulder surfaces in this region. These cairns point the right path when visibility reduces due to rain or fog.
After hiking for about 15 minutes you will start descending and step foot into Beas Kund Valley. Beas Kund glacier is visible even before you reach here- right from the Dhundi to Bakarthatch trail. There is no slope in this valley and quite a few mountain streams are gushing down through the flat valley.
Trekking a little more in the valley and you will reach a place from where you will see the first glimpse of the Beas Kund.
The fatigue of covering Manali to Beas Kund distance by trekking will fade away when you dip your feet in the ice-cold water of the holy lake.
Tips for the trek
Carry some refillable water bottles because on the way you come across a lot of clear water streams.
Carry raincoats, waterproof bags, and plastic bags, especially in the monsoon season.
The temperature often fluctuates in this area so carry enough warm clothes. Also, carry essential medicines.
Carry some light snacks, energy bars to munch between meals. Food is available on every campsite and is vegetarian. No non-veg food item except egg is provided during the trek.
In the higher altitudes that you will be climbing in this trek, the sun shines brighter so do not forget to take sunscreen, sunglasses, and caps.
Carry a separate plastic bag to carry all your plastic and non-biodegradable wastes. As trekkers, we should maintain the sanctity and cleanliness of the mountain.
Conclusion
Beas Kund Trek is a famous, beginner-friendly trek. With a bit more preparations, caution, and guidance it can be done even in monsoon.
Also, Manali to Beas Kund distance can be covered within four days and there is no need to take time out for a long vacation from your busy schedule. So, it's an easy, beginner-friendly, short trek with magnificent views. The landscapes and the trail are decorated with beautiful and rare kinds of flora and fauna. What else do you need more?
So, take some time, pack your bag, and head towards Beas Kund from Manali. In this post, I have given every detail of the relevant information that you need for planning and on the way.
So, wish you good luck and bon voyage!