Kheerganga: A Popular Trek starting From The Mini Israel, Kasol
KASOL, MANALI: A SOULFUL DESTINATION
Kasol, a beautiful village in Himachal Pradesh is situated in the Parvati valley, on the banks of the pristine Parvati River, placed between Bhuntar and Manikaran. Its salubrious weather and the immaculate environment leave an awe-inspiring impact on the travellers. Kasol remains extremely crowded during the summer season. It is very famous for its Israeli cuisines. Kasol offers a wide range of weed, hash, and marijuana also.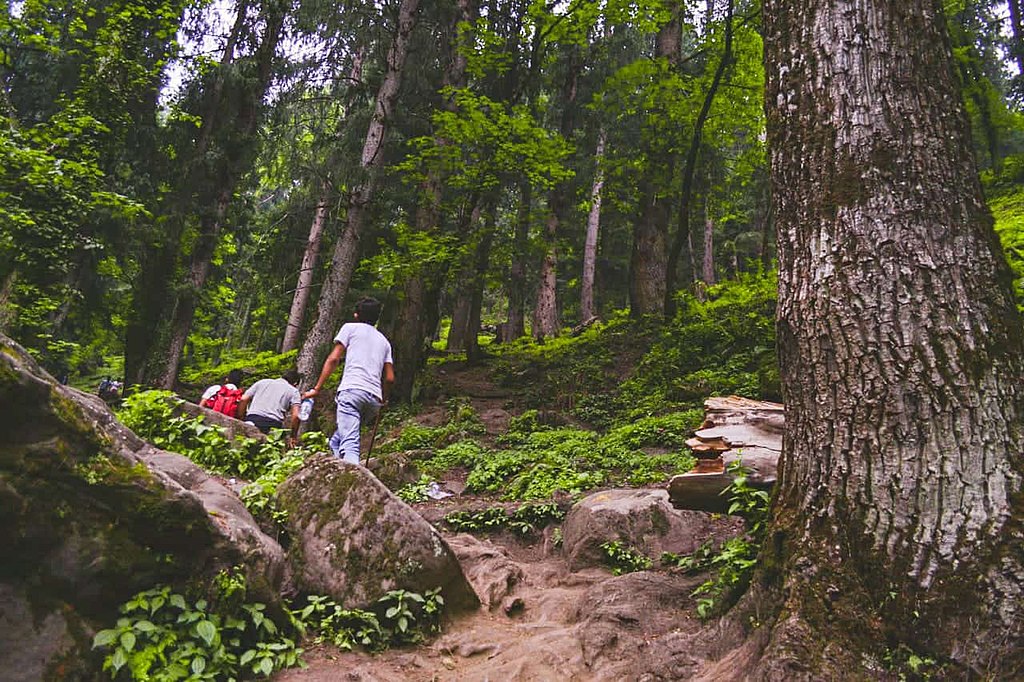 Kasol is a quaint settlement falling under the district of Kullu. The Parvati River adds to the enchanting view of the serene village. Kasol village is located at a distance of about 40 km from the popular hill station Kullu, and about 228.8 km from the capital city of Himachal, Shimla.
KHEERGANGA MYTHOLOGY
Kheerganga is rendered as the most popular trek starting from Kasol. It is perched at an elevation of 2960m from the sea level. Kheerganga is a small picturesque village ringed with innumerable mountain ranges. Kheerganga, as we can decipher from the name, talks about the religious Ganga river whose colour resembles that of Kheer(a popular Indian dessert made from milk). This name has originated from its white, milky complexioned waters flowing continuously all day in its entirety, into the Parvati valley from all sides and edges of the mountains. The history of Kheerganga is rich and has a profound religious significance. It was believed that Lord Shiva meditated here, in this village for years. It is religiously important for both Hindus and Sikhs.
There is more to the history of Kheerganga. Kartikeya, brother of Lord Ganesha was also known to meditate and pray in Kheerganga after losing to Lord Ganesha. Parvati, while visiting her son, wanted to cook rice pudding. Due to the presence of the hot water spring, legends have it that Parvati cooked in that natural hot water itself. Keeping in mind this event of mythological importance, the name Kheerganga was assigned to this pious, mystical tourist spot.
KHEER GANGA KASOL: THE UNIQUE DESTINATION
Kheerganga Kasol encompasses the woods, the lush green and dense forests, quaint valleys, and a natural hot water spring. Kasol Kheerganga is a perfect treat to the passionate trekkers and nature lovers who are always on the lookout for adventures. There are many places open for trekking there but Kheerganga trek stands out for its uniqueness.The main catch of this trek is that it be done in one single day if left early.
The Kheerganga trek is simple to moderate in difficulty and it can be undertaken by beginners too. The Kheerganga trip is one of the most stunning and scenic hikes in the Himalayas, and it is on most people's bucket lists.
Starting Point Of The Trek: KASOL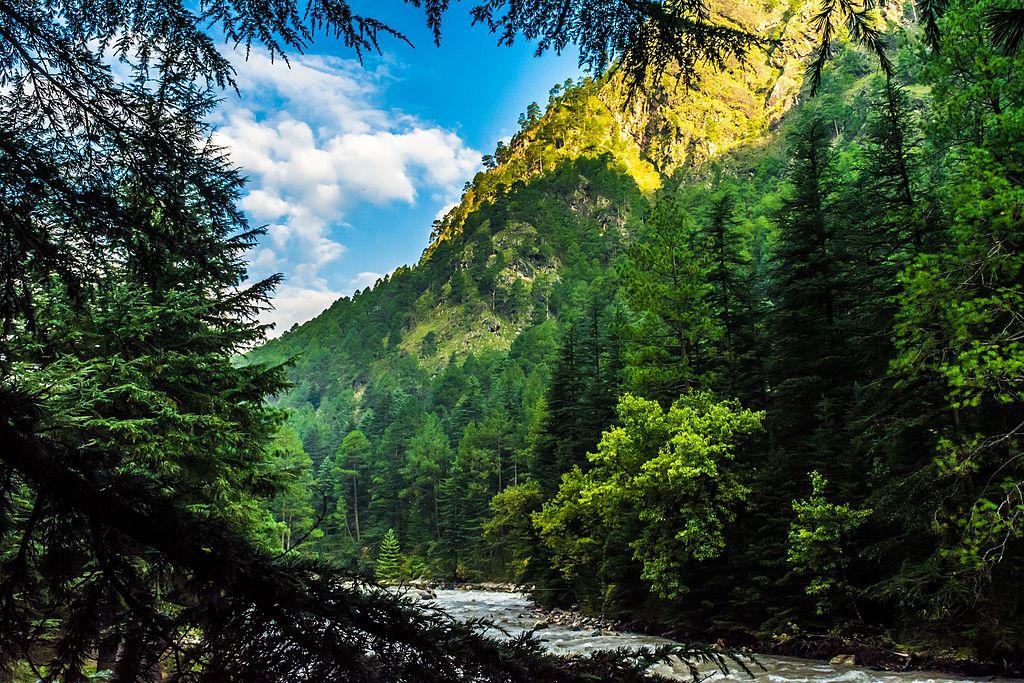 Kasol paves the way for a number of treks to Tosh, Chalal, Kheerganga, emerging as a gateway. The Kheerganga Trek commences from Kasol. The distance between Kasol and Kheerganga is about 22kms which takes about an hour to reach. The Kheerganga trek distance in total is around 12 to 13 km. Its scenic view includes a wide variety of mystic pathways, stunning terrains, snow-capped peaks, lush green landscape, and much more. The enchanting rivers, majestic mountain peaks, beautiful valleys, elegant hot springs, the Kheerganga trek has it all to make it worth trekking."
THE KHEERGANGA TREK:
From Kasol, you need to reach Barshaini, another small village where the Parvati and Tosh rivers meet, which forms the base camp to start off your trek. Everything around here is quite affordable and cost-effective. Kheerganga from here is an 11 to 12 km trek which ideally takes 4 to 5 hours to complete.
On this 12km trek, one gets to see old traditional villages, numerous enchanting waterfalls, the best among them being the serpent-shaped waterfall of Rudra Nag. This trek also includes the ever beautiful landscapes along with widespread, extraordinary vistas of the Himalayas.
THE SERENITY OF KHEERGANGA:
This trek also consists of an important tourist spot, the Shiv Temple. Watching the sunset above the line of the horizon, and noticing how the colour of the rocks change after the Kheerganga trek, is the most splendid experience one can ever have in his/her lifetime.
There is also another trek to the Pin Parvati Pass from Kheerganga. Situated at a distance of 37.2 km, the Pin Parvati Pass poses a thrilling and exciting challenge to the trekkers. The sense of achievement after traversing a 17,457 ft pass is something that will forever remain etched in one's soul. The Pin Valley National Park is famous specifically for the rare snow leopards and other wildlife too.
The Kheerganga trek also gives you an opportunity to garner facts about the interesting cultures of the village people. It is deemed as the perfect place for photography. The glimpses of snow-capped mountains are worth capturing and filming. At the end of the trek, at an altitude of 13000 feet, the mystical hot spring is introduced. Free from the city-life hustles, urban nuisances, and sedentary, monotonous lifestyle, one can delve into the intoxicating beauty of the hot spring, surrounded by mountains.
Taking a dip into these hot springs, washes away all the tiredness of the trek, thereby rejuvenating one's heart, mind, and soul. It also works as a natural medical aid to patients suffering from arthritis and several other mental and physical illnesses. It also provides warmth and comfort against the excessively cold weather.
While descending from Kheerganga, one must surely visit the villages of Kalga and Pulga and be in dialogue with the local people, thereby getting to learn about their way of living, their occupations, cultures, and festivals.
CAMPING AT KASOL, KHEERGANGA: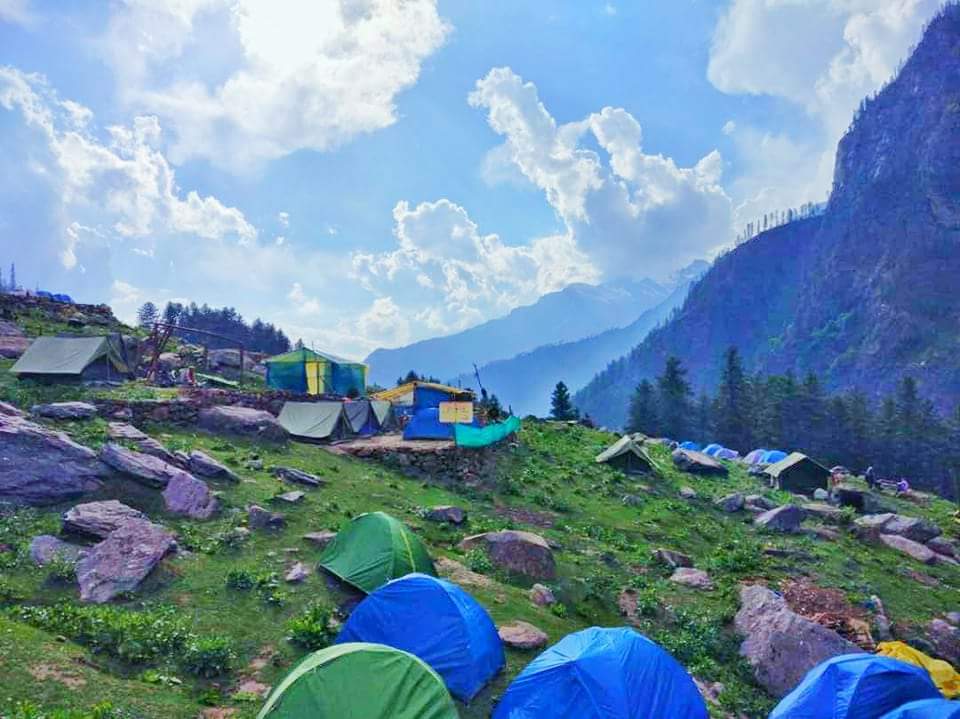 Camping has always been a tradition in Kasol. Known as the "Amsterdam of India", Kasol provides a deep insight into one's inner self and awakens the passion for adventures. The timeless beauty of nature makes this place a traveler's delight. Camping in Kheerganga for a night can be one of the best treats to the travellers and trekkers.
The price of camping in Kasol varies on different grounds which are based on certain factors, namely; duration of stay, season, adventurous activities, and the camping sites chosen. The price of camping sites starts from INR 800 and it can shoot up to INR 3000 to INR 4000, depending on the above-mentioned factors. Camping in Kheerganga for a night can be one of the best treats to the travelers and trekkers.
In all probability, the trekkers might be up all night gazing at the glorious star-lit night sky. The large, extended vistas of the snow-capped mountains across the Parvati valley from the camping site is delightful to watch.
Camping one night in Kheerganga also provides you with sumptuous dinners which are extremely needed after the strenuous 5 hours trek. With some hours of rest, you will be again charged up to carry on with your trek downwards to Barshaini. While trekking with Moxtain your meals and stay is taken care of by us, to give you the best experience of this easy grade short trek in Himachal Pradesh.
THE BEST TIME TO VISIT KASOL KHEERGANGA:
The trek to Kheerganga and camping at Kasol are best done between April to June and September to October. One must avoid the monsoon season completely, as it becomes muddy and slippery which can be extremely perilous for a trek. This monsoon season is also prone to a number of landslides, thereby leading to road blockages. The temperature from April to June ranges between 13 degrees Celsius to 37 degrees Celsius and the weather is pleasant at its best.
The temperature from November to February is quite low, ranging between 3 degrees Celsius to 10 degrees Celsius, and is mostly unfavorable for treks. Most of the roads become inaccessible and therefore it is restricted to trek during this time frame. However, during summers lots of parties and music festivals are conducted, making it the perfect destination for the tourists who are music lovers.The Kasol Kheerganga trek in December remains opens even amidst harsh weather conditions. You will only find it otherwise if the trails experience severe snowfall.
HOW TO REACH KASOL?
BY ROAD:

The distance between Delhi and Bhuntar is 484.5km which takes 12 hours to reach. The most convenient way is, one can take a Volvo bus from Kashmere Gate, Delhi for Bhuntar and then avail a local bus to Barshaini which is nearest to Kheerganga. The fare of the Volvo bus starts from INR 800, ranging up to INR 1200, or thereabout. It is advisable to book the tickets early as that saves a lot of time.

From Chandigarh, you can board a bus to Manikaran which takes about 8 hours to reach. The fare of this route by bus ranges between INR 390 to INR 1100. From Manikaran, you need to take a taxi to Kasol which will take about 30 minutes to reach and will cost you another INR 200. From Kasol, you can take a taxi to Barshaini, its 1-hour drive.

From Ahmedabad, you can take a bus to Gurugram which will take you about 13 hours to reach. This will cost you around INR 2500. Then again, you have to take a bus from Gurugram to Chandigarh which will take you 5 hours to reach and it will cost you another INR 1250. Then from Chandigarh, you can take a bus to Manikaran and then a taxi to Kasol as mentioned above. From Kasol, you can book a taxi to Barshaini the drive is for about 1 hour.

From Manali, you can take a bus to Kasol from the bus stand on Mall road. The drive will take around 5 hours. From Kasol, you can book a taxi to Barshaini.

BY RAIL:

The smoothest way to reach Kasol by train would be to book Dauladhar Express from Delhi to Pathankot railway station. The train fare per head would be INR 1,260 (AC- 3 tier), 1,760 (AC- 2 tier), INR 2,165 (AC 1st). The driving distance between Pathankot and Kasol is approximately 294km. It takes around 5-6 hours by bus which would cost you another INR 221. From Kasol, it will take another 1 hour to reach Barshaini by car, which is closest to Kheerganga. The fare is expected to be around INR 310-INR 380. The nearest railway station to Kheerganga is Joginder Nagar Railway station.

From Ahmedabad Jn, you can take a train to Chandigarh which will take about 23 hours via Vadodara Jn. The train fare per head is INR 1365 (AC- 3 tier) and INR 1965 (AC- 2 tier). Then from Chandigarh, you can take a bus to Manikaran and then a taxi to Kasol as mentioned above. From Kasol, you can book a taxi to Barshaini as mentioned above.

BY AIR:

By air, you need to first reach Bhuntar Airport. The flight fare from Delhi to Bhuntar (one way) is INR 2,380 (Indigo). From Bhuntar airport, you need to book a cab to Barshaini, which would take another 2-3 hours by car via Manikaran road. The cab will charge you INR 850-INR 1,100 approximately.
TREK ROUTES TO KHEERGANGA: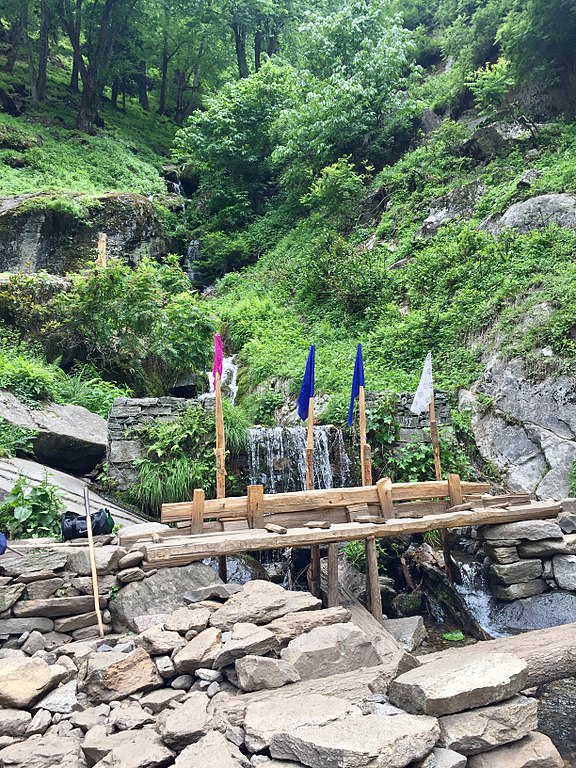 VIA KALGA VILLAGE:
The Bridge at Barshaini works as the junction point. Take a right turn from the bridge and trek up to the Kalga Village. This route is enclosed with dense forests and is steep and undulating. It takes a bit longer to reach Kheerganga by this route, but it offers a calm and serene atmosphere. This route is not known to many, so it is advisable to take along a local tour guide.
VIA NAKTHAN VILLAGE:
Take a left turn from the Bridge at Barshaini, which goes to the Nakthan Village. It is the most preferred route and the easiest one. It takes around 3-4 hours to reach Kheerganga by this route depending on walking speed. This is a well-marked route and it falls on the left side of the Parvati River.
VIA TOSH VILLAGE:
There is another trekking path to Kheerganga from the Tosh Village. The Kheerganga trek distance from Tosh is around 7 km. This route is mainly taken by those tourists who reside in Tosh. This route coincides with the 2nd route near Nakthan Village.
A BRIEF ITINERARY FOR KASOL KHEERGANGA TREK:
DAY 1:
From Kasol, you can take a bus or book a taxi to Barshaini. The drive is for about 1 hour. From Barshaini, it is a 12 km trek to Kheerganga, which will ideally take 5 hours to reach depending on the walking speed of the trekkers. During the trek, you can explore the surreal beauty of the Parvati valley and visit the Rudranag temple. The best and exciting part of the trek is when you get to take a dip in the natural hot water spring. You will surely relish this experience. After the trek, you will have the opportunity to camp under the star-lit night sky.
DAY 2:
With yesterday's relishing experience in mind, today you need to descend downhill. It is again a 12 km trek. You have to be careful while trekking downwards as it can be slippery due to the previous night's unpredicted rainfall. After another 5 hours of trek, when you reach Barshaini, you can take rest and have your lunch and relax. Then, take a cab or bus again from Barshaini to Kasol.
If you are looking for a pious, pilgrimage destination along with enthralling and surreal scenic beauty of the sacred natural hot water spring surrounded by gigantic and sweeping mountain ranges, free from casual crowds, then Kasol Kheerganga it is! Visit this heaven on earth, nature's paradise, and feed the aesthetic, nature-loving part of your inner soul.