best-time-to-visit-kedarkantha-trek
One of the most popular winter treks in Uttarakhand, Kedarkantha Trek is a delight, both for seasoned trekkers as well as amateurs. With its feet touching the beautiful and rustic village of Sankri, about 7 hours away from Dehradun, Kedarkantha sits firmly at a height of 12,500 feet. Despite its (staggering) height, the trail is a fairly easy one and can be accomplished even by beginners.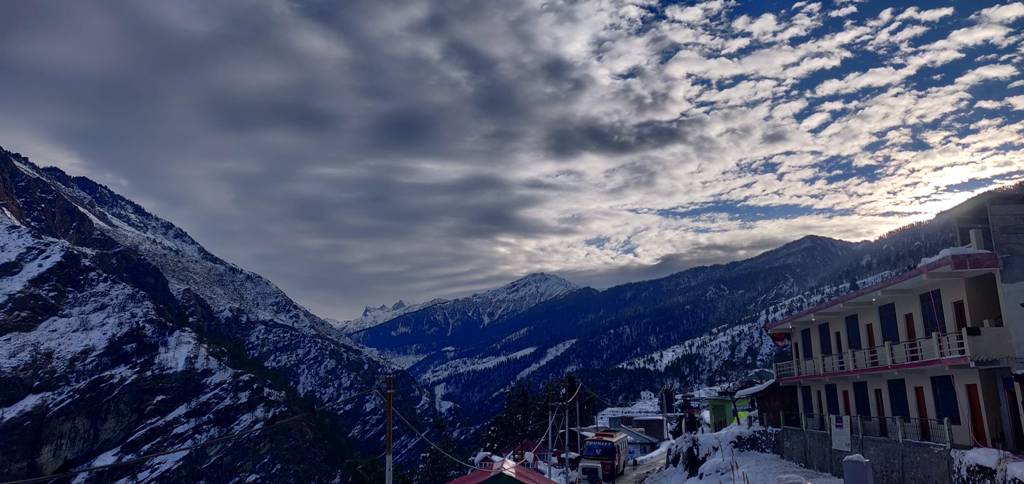 Sankri village covered with snow
Sankri is the base camp from where the trek begins and ends. This village is rich in culture and art which is evident from the intricately carved wooden temples in the region.Purola near the village of Sankri has the last available ATM on the route. Spanned over 6 days, this trek is one of the most rewarding and delightful trails that Garhwal Himalayas offer. Stretched over about 20 km, the trek takes you on an exhilarating journey of rough terrains, dense forests, and remote villages dotted with crystal clear Himalayan lakes scattered along the trail. The gradient is also quite navigable with easy ascends and descends.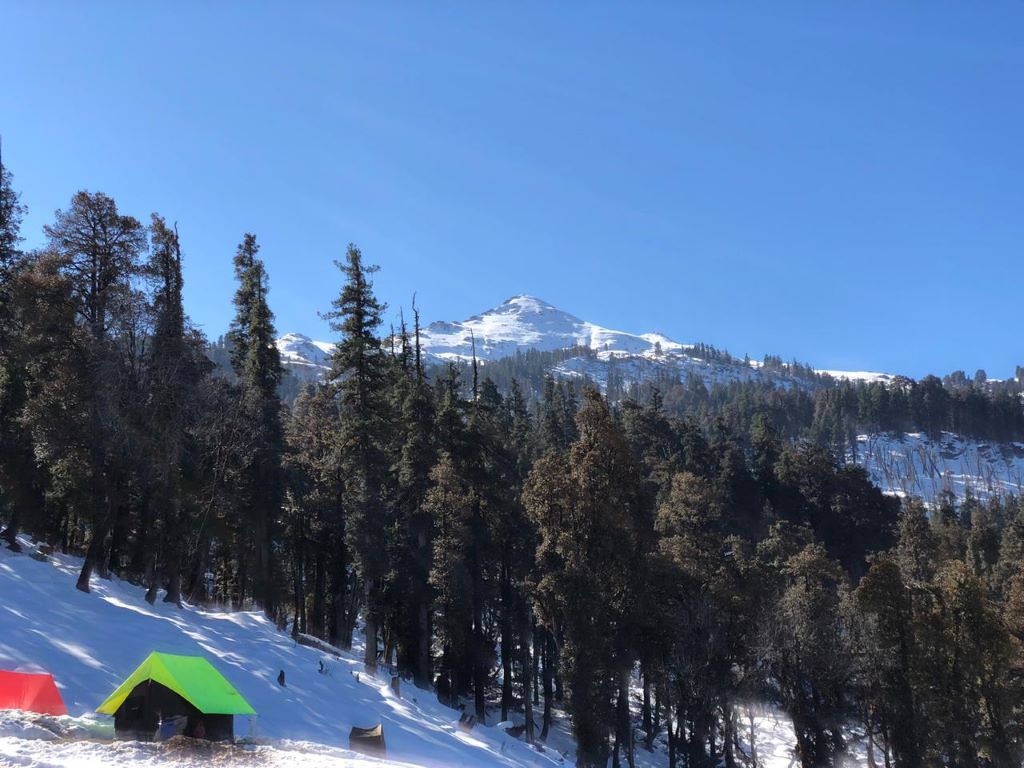 Adorned with a snowy blanket in winters and its rich pine forests, Kedarkantha is one of the most alluring summit treks, especially for beginners. Kedarkantha treats its trekkers with majestic views of the mighty Himalayas. Located inside Govind Wildlife Sanctuary, one can also experience nature in its full glory. With hundreds of bird species, it is a bird watcher's dream destination. Many rare species of flora and fauna can be seen at this Sanctuary. It's famous for Himalayan Black bear, Snow leopard, the gold Eagle and Himalayan Snowcrow and many others.It also features the highest zip line in Uttarakhand.
The next stop comes at Juda ka Talab, a naturally formed lake surrounded by the dense and diverse forest. Along with oak, pine and deodar forests many more varieties of coniferous trees and shrubs are visible. The lake can completely freeze during the winters and can be visited in all seasons. While this region is covered in green forests and vegetation in summers, one may expect to find snow till mid-April.
A square arrangement of stones with a trident pointing towards the sky marks the summit of Kedarkantha from where one can not only view the majestic beauty of the Uttarakhand ranges but also the Gangotri and Yamunotri ranges along with the Chanshil Pass and Kinnaur Kailash ranges.
Brief details about Kedarkantha Trek
6 Days / 5 Nights
4 Days - Trekking
2 Days - Travelling
Dehradun to Sankri (basecamp) & back

210kms. - Travel distance
Government / Local buses or sharing cabs
20 kms. - Trekking Distance

Trek cost depends on following factors -

Season
Group Size
Service offered by Company
Start point (Dehradun/ Sankri)
Duration: 6 days
Trek distance: 20 km
Difficulty Level: Easy to Moderate
Altitude: 12500 ft
Start and End Point: Sankri
Base Camp: Sankri
Nearest Railway Station: Dehradun
Nearest Airport: Jolly Grant Airport, Dehradun
Last ATM: Purola near Sankri has the last ATM
Route: Sankri – Juda ka Talab – Kedarkantha Base camp – Kedarkantha peak – Hargaon – Sankri
Best time to visit Kedarkantha Trek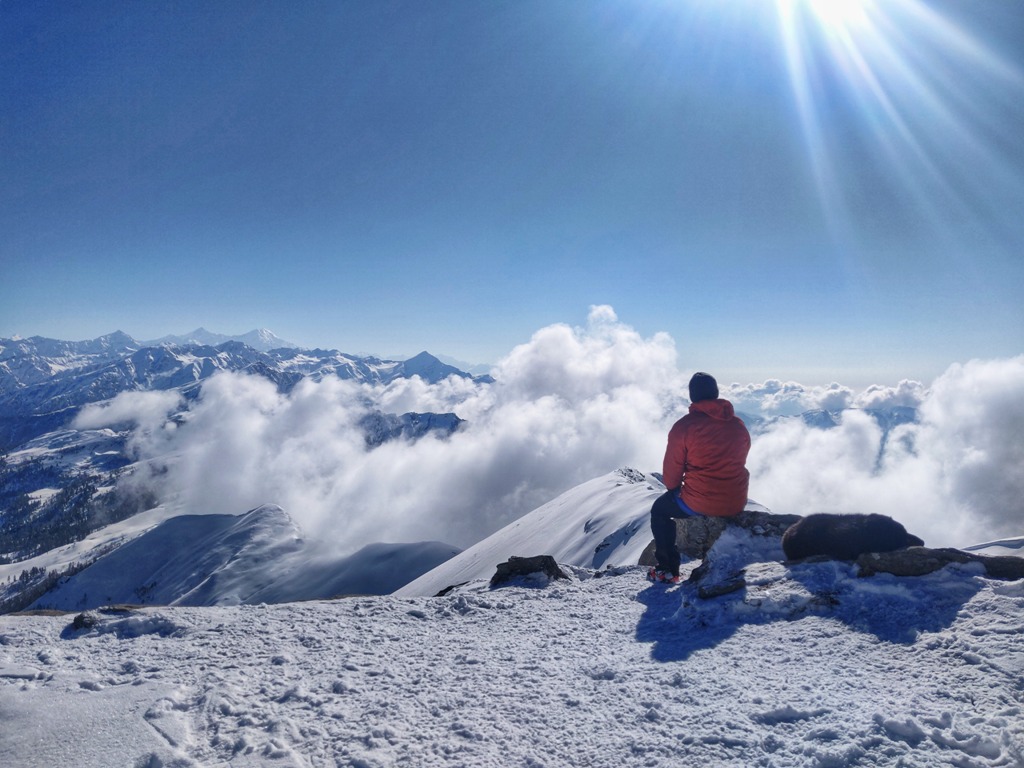 Himalayan Massif View from Kedarkantha Summit
Kedarkantha Trek is a year-round destination barring the wet season of monsoon. However, spring and summer are perfect if you want to trek in pleasant weather conditions. Winter on the other hand adds the challenge for all those who want it to be more adventurous. In fact, Kedarkantha gets most of its footfalls between the months of December and March, which is the best time to visit Kedarkantha Trek.
The spring season lets the trekkers peek into its picturesque views embellished by its clear skies, lush green pine forests and its fragrant wildflowers. This is undoubtedly the best time to visit Kedarkantha, and it extends well into summer. You can view the flowers contrasting with melting snow at higher altitudes and lush green pastures at lower ones.
Spring and summer bring with it new life and the bare tree branches bursts into life all over again. The long trail traversing the forests and clearings retain patches of snow left behind by the heavy snowfall of winter. Autumn feels like nostalgia with its green forests turning into auburn hues of dry leaves.
Although summer, spring, and autumn boast of unmatched beauty, the winter season takes away the prize and also manages to attract the maximum number of trekkers. The panoramic view of the stunning snow-capped peaks is a pull anyway. As icing on the cake, you have the snow-laden pine forests, frozen mountain lakes, the snowy slopes, and the most enchanting trekking experience to keep you constant company. Gazing at the star-studded sky on a clear wintry night is as memorable as watching the film Titanic, no less.
Kedarkantha Trek during the Peak Seasons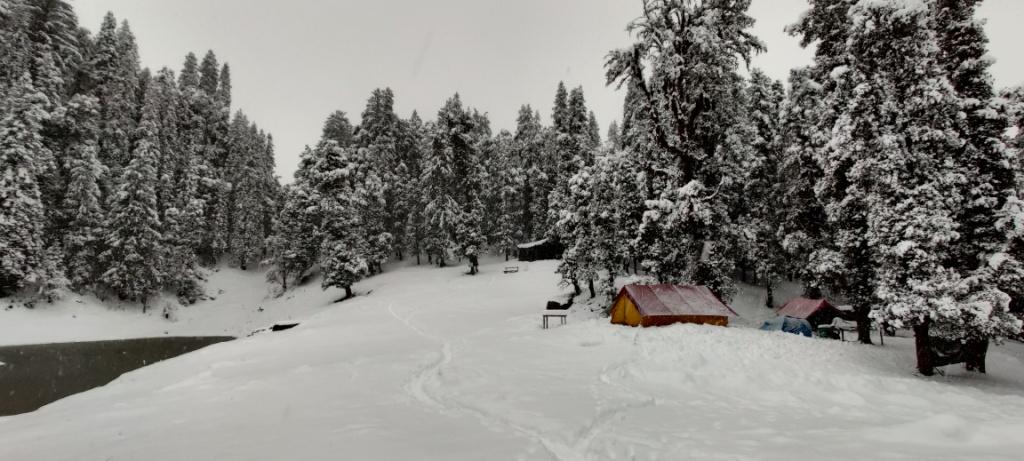 Campsite at Juda ka Talab
A)Kedarkantha Trek in November and in December
November ushers in the chill at Kedarkantha. And by the time December rolls in, it gets really cold. Winter is harsh in Kedarkantha when the temperature falls below 0 degrees after nightfall. The Kedarkantha temperature in December ranges from 0 degrees to minus 10 degrees Celsius after sunset. Snowfall and frost is a common occurrence, and you can expect fresh layers of sleet and slush underneath your boots.
The temperature remains at 8-10 degrees Celsius during the daytime, but nights in particular experience constant sub-zero levels. It can also get occasionally windy. You should be carrying proper winter clothes as well as adequate trekking gear as a cushion against snow.
B)Kedarkantha trek in January till March
The average temperature in Kedarkantha varies between 8 degrees to 22 degrees Celsius during the day time. At night, the Kedarkantha temperature in January and the Kedarkantha temperature in February falls further to sub-zero levels. Winter stretches well February and March.
The temperature eases up in April as spring sets in. New leaves grow on the bare tree branches and the barren forests get colourfull after the harsh winter months though patches of snow can be noticed sometimes till the last week of April.
Risks and Difficulties of trekking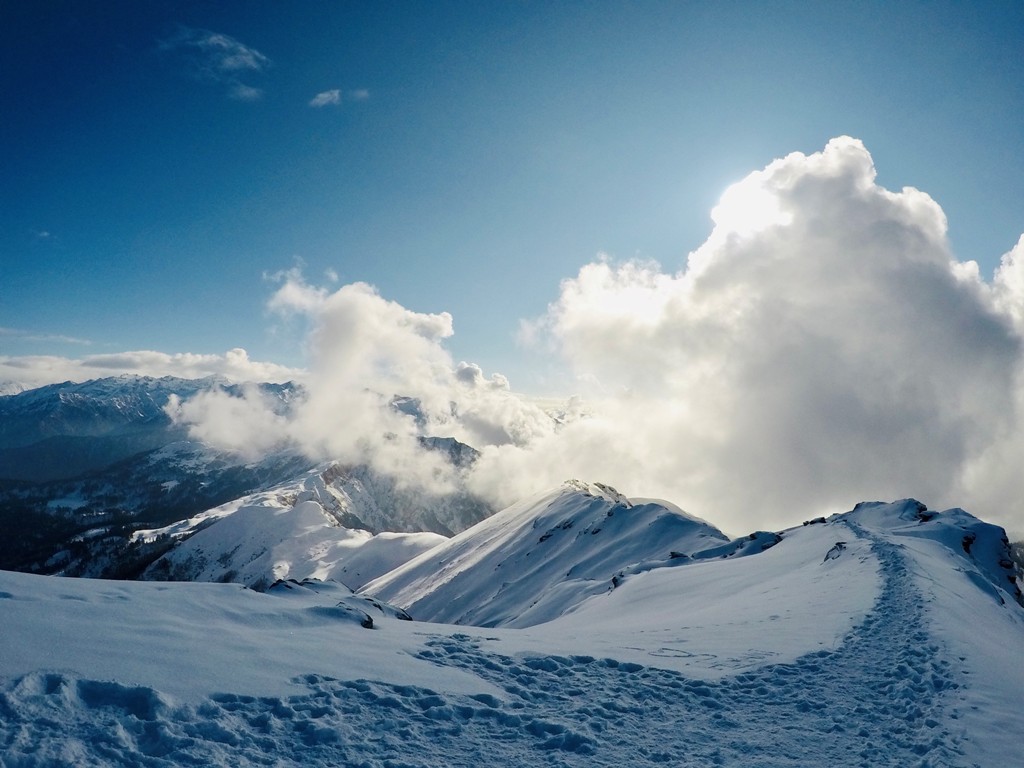 Kedarkantha Summit Ridge
Kedarkantha is a unique Himalayan trek, which offers a risk-free, easy to moderate trekking experience despite a whopping 12,500 ft altitude.
Altitude Gain
At Kedarkantha Trek, you gain the full altitude of 12,500 ft starting at around 6,500 ft at Sankri. It means you climb around 6,000 ft over the four days of the itinerary kept for the ascent, that is 1,500 ft on an average per day. The ascent of this peak is gradual and steady; thus it's well suited for beginners and younger trekkers.
Kedarkantha offers a riskless, comfortable pace in that respect. This also helps those who suffer from altitude sickness to gradually get accustomed to the increasing height and not rush into it. It is important to keep oneself hydrated to keep height sickness at bay. Also carry a trekking pole with you to reduce stress on the legs, save energy, and increase balance.
Terrain and Trail
Monsoons are very tricky in the Himalayas. Landslides and fatal accidents are not uncommon in the rainy season. Hence, trekking is not recommended at this time. Moreover, the months of July and August are closed for trekking as those are the peak rainy months in Uttarakhand. The trek is accessible for 10 months of the year which covers the summer season, autumn, spring, and winter.
But for the months the trek is open, the kedarkantha trek is safe and the trail is easy to cover. For the most parts, the trail goes through a forest floor covered with dry fallen leaves. The end part of the trek is covered in thick snow from December to April. Otherwise, you will find grassy knolls and gravels. The trail is friendly and well-marked all the way to the top. The descending trail is spectacularly beautiful, leading to several small clearings before arriving at the Hargaon base camp, which offers enchanting views of the surrounding mountains.
So even for beginners, it will not be a difficult task. However, it is suggested that you take the help of a guide and stick with your team. The Kedarkantha trek trail is simple but long, and there are absolutely no resources around if you are alone and face an emergency.
Gears
Even during winter times, the trek can be easily completed, albeit with certain challenges pertaining to weather and climate. Remember that micro-spikes and gaiters are essential during winter to scale the trek trail. They are provided to you by us at Moxtain. You will obviously face snow and ice, but they have not proven to be much of a risk to trekkers over the years. If you have the right gear and the strength of mind, reaching the summit should not be a problem. Kedarkantha is an easy trek in summer, perfect even for the amateurs.
How to Reach Kedarkantha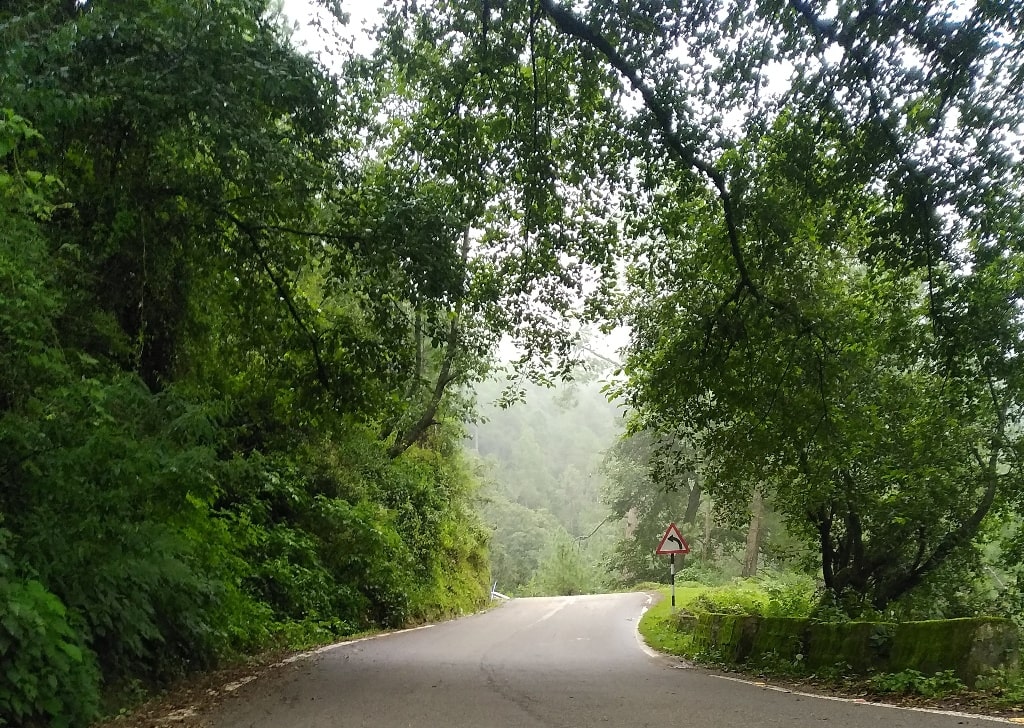 Unforgettable Drive to the Base, Sankri
To reach Sankri, the base camp, and the starting point for the Kedarkantha trek you can follow the guidelines listed below.
A) From Dehradun to Sankri
Sankri is a small Himalayan hamlet. It has no railhead or airport catering to the town, so the only way to reach Sankri from Dehradun is by road. Jolly Grant airport is the nearest airport to Sankri, which is in Dehradun itself.
Sankri is around 200 km from Dehradun and it usually takes 9-10 hours to reach by road. One can choose between a semi-deluxe, deluxe, or AC Volvo bus as per requirement. Buses are available from the Prince Chowk Bus Stand opposite GP Grand Hotel near Dehradun railway station every morning at 5 and 7 AM. The timing of the bus is subject to change, therefore check the schedule beforehand.
Another option is to take an indirect bus to Mori or Purola from Dehradun and then hire a taxi from there.
Shared taxis are a great option if you want to travel comfortably. They leave from near the railway station area at 7:30 AM and take around 8 hours to reach. You can also hire private cabs. They will cost a lot more but will take you right near your basecamp accommodation in much less time.
B) From Delhi to Sankri
There are several options to go from Delhi to Sankri. However, most of them involve Dehradun as a stop in the middle.
By Train
Dehradun is the nearest railhead to Sankri. To reach Sankri from Delhi, one has to take a train from Delhi to Dehradun. There are several trains that run the distance, such as Dehradun Express, Jan Shatabdi Express, Uttaranchal Express, Ujjaini Express, and Nanda Devi Express. The last one is the fastest, taking only 6 hours overnight, while the travel time of the rest ranges from 7 to 10 hours. From Dehradun, there are buses and cabs to reach Sankri well in time.
By Flight
Several flights are available every day from Delhi to Dehradun's Jolly Grant Airport, which is nearest to Sankri. Direct flight takes 45 minutes to an hour to Dehradun from Delhi.
Apart from that, one can also take a 50-minute flight from Delhi to Chandigarh, a 1-hour 25-minute flight to Shimla, or a 1-hour 20-minute flight to Kullu and then drive down to Sankri from there by road. Sankri is easily reachable from all of these places by road, the traveling time ranging from 5 to 7 hours depending on which route one chooses to take.
By Road
Several buses are available from Delhi ISBT Gate to Rohru which is around 90 km from Sankri. The bus ride from Delhi to Rohru will take about 13-14 hours and cover 438 km distance, after which one can hire a taxi to Sankri. Rohru to Sankri will take 3 hours or so. Alternatively, one can drive all the way up to Sankri in a private cab or hire a local one from Dehradun.