trek-essential-and-renting-them
It is a human tendency to challenge oneself. One can regard trekking in a similar vein to come out of the monotony of everyday life. When one finds oneself in an environment that is not back with the facilities of modern-day life, renting gears comes as an affordable choice.
It will depend upon your choice of the trek and its route to decide the essential gears. Here is a list of the essential gears one needs to have and the extra essentials if one decides to go for a specific kind of a trek.
Also Check: Winter trekking tips
Some of the Essential Gear required on Trekking
1)The Backpack or the Trekking Bag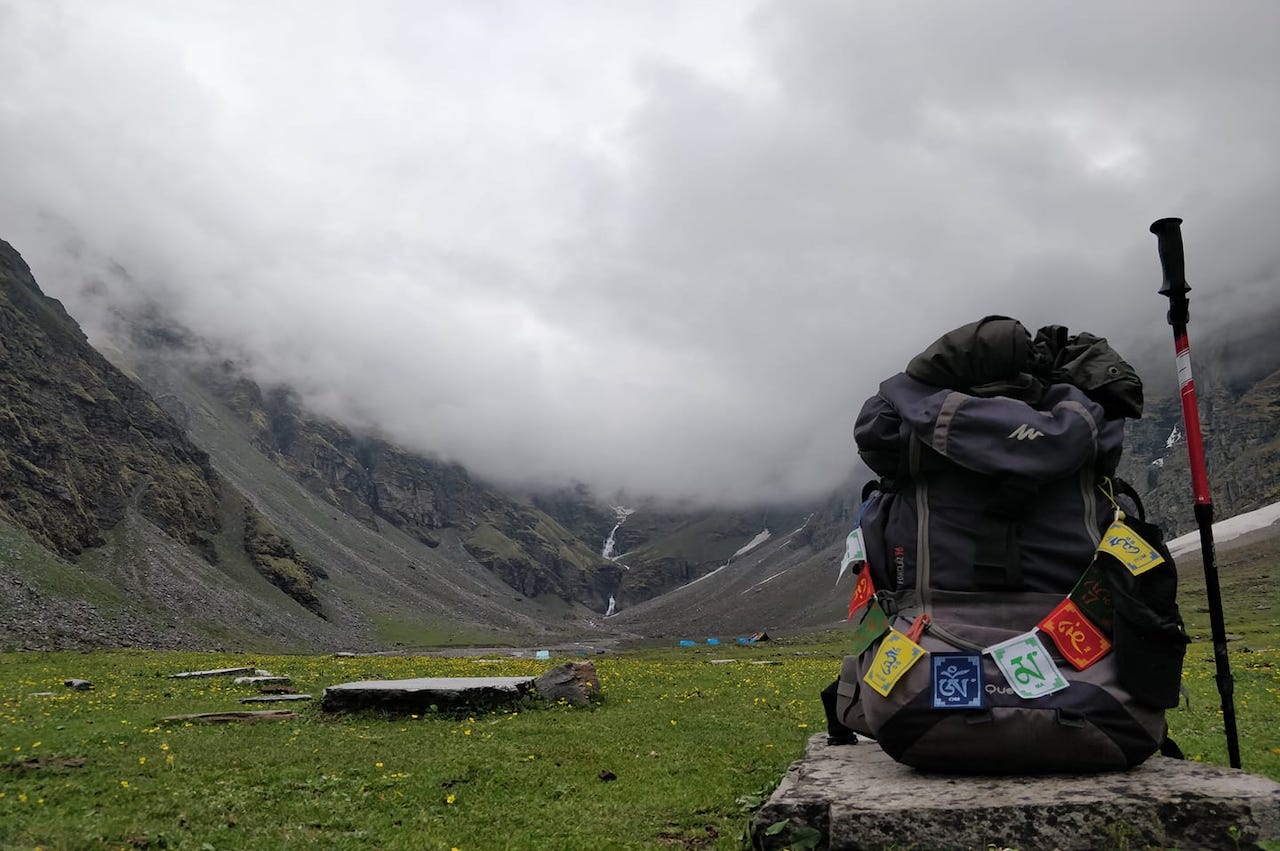 Your backpack will be your lifeguard because it will be carrying your essentials when you will need them the most. You cannot compromise on the quality and the quantity depending upon the level of the trek you are heading to. However, that does not mean that a backpack dents your purse, leaving you with insufficient funds for the rest of the gears or the trek. Either renting or purchasing them from Decathlon at heavy discounts can be a good choice for your pocket.
So, you need to assure yourself what kind of day trekking you will be doing? Will it be a single day, multi-day or extended day treks without any halts?
Single-day trek- It is one of those treks where you have the choice to halt or sojourn at some restaurant or motel in your way. This one should require a trek bag varying between 20-30 liters.
Also Check: Short Treks in Himachal Pradesh
Multi-day Trek- The capacity of the trekking bag would vary depending on the length of your multi-day trek. If it is a 3-4 days weekend trek, you might require a trek bag that could carry between 40-50 liters.
Also Check: Toughest Treks in India
If your trekking plans can stretch about eight days, you might require a 70 liter or above the capacity bag.
This trek might include days of trekking without any halt to any motel or restaurants. A raw trek like that of Gangotri or to the Kedarkantha can be included in it. This one must include necessaries of sleep equipment to heavy stuff like trekking or snow boots to multiple clothing accessories like woolens and waterproof jackets.
Other than this, one should keep in mind other questions as well.
Will you be carrying any other stuff or equipment other than your trek bag? Are you having any kids or small children whom you might have to carry on yourself?
Is the backpack or trek bag suitable for your standing posture and the spinal cord? Or does it feel uncomfortable? Can you walk easily and feel at ease?
2)Trekking Shoes: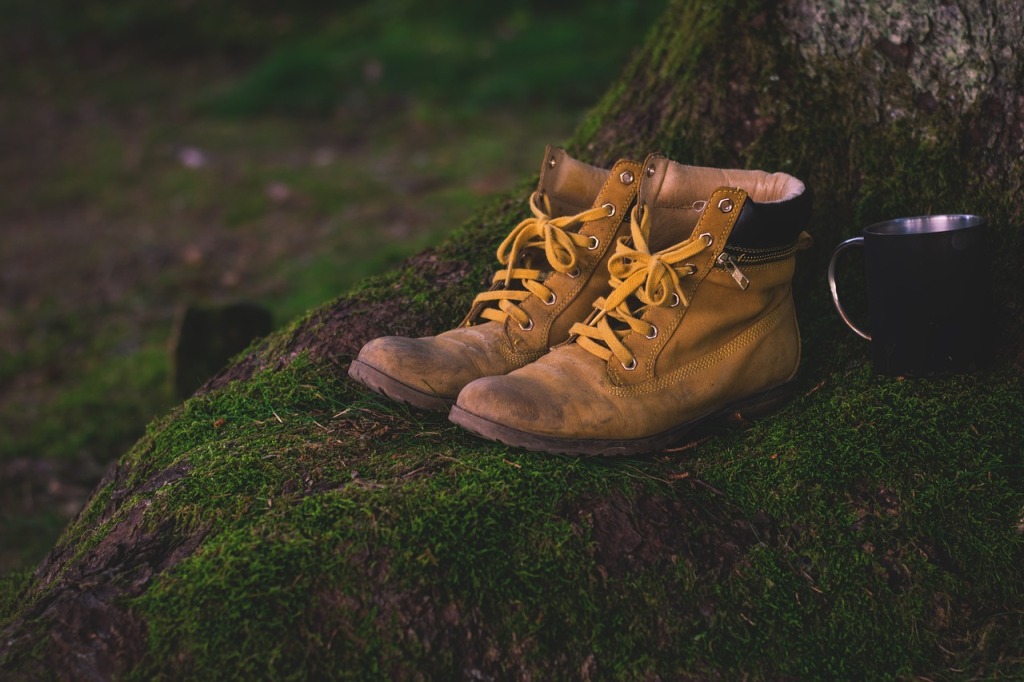 Now, when we are talking about trekking shoes, you have to keep several factors in mind and the most important one before you go on purchasing, ask yourself this question-
Does your trekking experience require an essential gear for your boots?
The question becomes important because one needs to understand the kind of terrain, duration, and feasibility before a trekker decides to go for one of the most meaningful experiences of his life.
For example: If you are having a snow trek which will involve walking on ice, you might need a pair of crampons. With the choice of crampons, you would have to prefer a specific kind of Boots- B1, B2, or B3 depending upon your terrain.
B1 boots are suitable for general winter mountaineering and they are shaped as such that they are suitable for only crampon type C1.
B2 boots are all-weather boots. They are more aggressive and stiffer in terms of function as compared to B1 as the terrain becomes tougher and daunting.
B3 boots also named as technical boots are quite rigid and not suitable for a long day's hiking because of its weight and heaviness.
Other than this, one needs to keep in mind the type of shoes one must have according to the weather and terrain.
What do you need for an easy trek?
Well, an easy trek is one that might involve walking on roads or definite paths of gravel and stone. For that, your feet require a built-in cushioning from inside, ankle support, good traction from the soles in case of slippery grounds, and a cushy sole to ease walking for a long duration.
An expedition trek would require different requirements. Since this expedition would be experiencing different types of terrains in one go, Vibram sole would be an excellent choice. These provide excellent traction on the widest range of surfaces, with a high degree of abrasion resistance. Along with EVA midsole, it provides stiffness and stability to the shoes.
Other than this, make sure your shoes are waterproof. We don't want to spoil a panoramic view with itching feet because you forgot that your boots were not waterproof!
3)Sleeping Equipment
Sleeping Bag
A sleeping bag protects you from the cold environment, saves you from any cold-related weather injuries. It also helps you have a good night's sleep. While trekking or hiking, the right sleep system helps you in a lot of ways.
Faster physical and exertion recovery faced through hiking.
A good amount of sleep leads to temperature regulation, a steady immune system, and a good appetite.
Helps you experience your trekking experience with ease.
We will be exploring three angles to figure out the sleeping bag that fits your requirement.
1)Choosing the sleeping bag's temperature rating:
Most technical sleeping bags follow the European Standard EN13537 to communicate their temperature ratings.
There are three unique temperature categories. While you are purchasing a sleeping bag, see at what temperature the sleeping bag is based on.
T Comfort- Comfort is based on a 'standard' adult woman having a comfortable night's sleep. With one layer of clothing, the woman is able to sleep comfortably.
T Limit (also known as the lower limit of the transition range)- It is based on the lowest temperature at which a standard "adult" male is able to have a comfortable night's sleep. The man is wearing at least one piece of the base layer in a curled up position to keep oneself warm.
T Extreme (also known as the lower limit of the risk range)- It is a survival- only rating for a 'standard' adult woman. This is an extreme survival rating only. One should not in any condition rely on this for general use. It can be used for a limited amount of time and a person can get seriously harmed.
So, you will choose a sleeping bag based on the temperature that you will experience, and that temperature will come in the "T Comfort" stage.
Always base it on the coldest temperature that you will be experiencing.
It is better to feel warmer rather than colder. If the minimum temperature is 5 degrees Celsius, then go for zero degrees Celsius in the T Comfort stage.
2. Which is the best shape?
There are different shapes in which they come along with their varying benefits.
Mummy shaped- This one is narrow at the feet, tighter around the body leaving less space around your body. You won't have to work to make it warmer. You will stay warmer for longer. It also has a hood to keep your head warm with heat.

Summarizing the features- it has maximum insulation, and minimum volume and weight.

Semi rectangular- It is best for those trekkers who need more space for their legs or move around in their sleep. These bags have a tapered cut that provides efficient heat retention. One can open it and use it as a blanket in warmer conditions as well.

It has more legroom and usable as a blanket.

Rectangular shapes- These have the abundant and same amount of space on the shoulder level as it is on the foot level. It makes a good choice if you have to go for warmer climates, car camping or would be sharing it with someone else.

The basic feature is that it can be better in warmer climates and provides abundant space.
Please take care that your height matches that of the sleeping bag. At least add 25-30 cm on top of your height, so that it is comfortable.
3 How to choose a sleeping bag fill?
The best types for sleeping bag fill can work for many occasions.:
Multi-day treks
Cold camping situations
Alpine adventures
Down Fill
Pros- It is quite easy to carry in a bag pack. It is a good investment as it is able to sustain for a decade. It is lightweight. It offers a considerable amount of warmth as down is the light, fluffy undercoating beneath the feathers of waterfowl.
Cons- It is less water-resistant. Please do look for a down sleeping bag that can shed water quickly. It is expensive but worth the one-time investment.
Synthetic Fill
Pros- These are less affected by moisture or damp conditions. It can provide you a high thermal temperature even when damp. It is easy to take care of and wash it.
Cons- These are heavier and can add extra grams to your bag pack.
Sleeping Mattress:
If you have a sleeping bag, what is the use of a mattress? The use is important. Mattresses are often neglected which should not be the case. Mattresses provide an important layer of trapped air. That trapped air acts as insulation between your body and the ground. It does not allow heat to escape, hence protecting your body temperature.
The question which will pop in your head - Why do we require a mattress when we have a sleeping bag? We need it because the weight of our body will compress the sleeping bag under it, which will become ineffective to protect us from the cold.
There are three kinds of mattresses:
1)Closed Foam-

These are used in making yoga mats. The air remains permanently trapped due to the fixed cells

2)Open Cell Foam-

Light and highly compressible, this type of mattress does not take much space in your bag. It traps air and provides insulation.

3)Air Mattresses –

These are the most expensive mattresses. Air has to be blown into them which get into the cell, thus providing the insulation. Light, comfortable, and easy to carry about-an ideal choice for professional trekking.
Also, when you are choosing your mattress, look for R Rating. R stands for Resistance to conductivity. A higher R indicates better insulation and vice versa.
For medium altitude treks- a 2.5 R is good enough to save you from cold.
On snow treks, an R value> 3 must be necessary to keep you warm and maintain your body temperature.
When you are going for treks on glaciers and extreme temperature- R value greater than 4 is recommended.
4)Trekking Poles-
It is a myth constructed by the popular opinion that the trekking poles are used by those who have physical difficulties or constraints. A person with perfect physical fitness can also opt for these.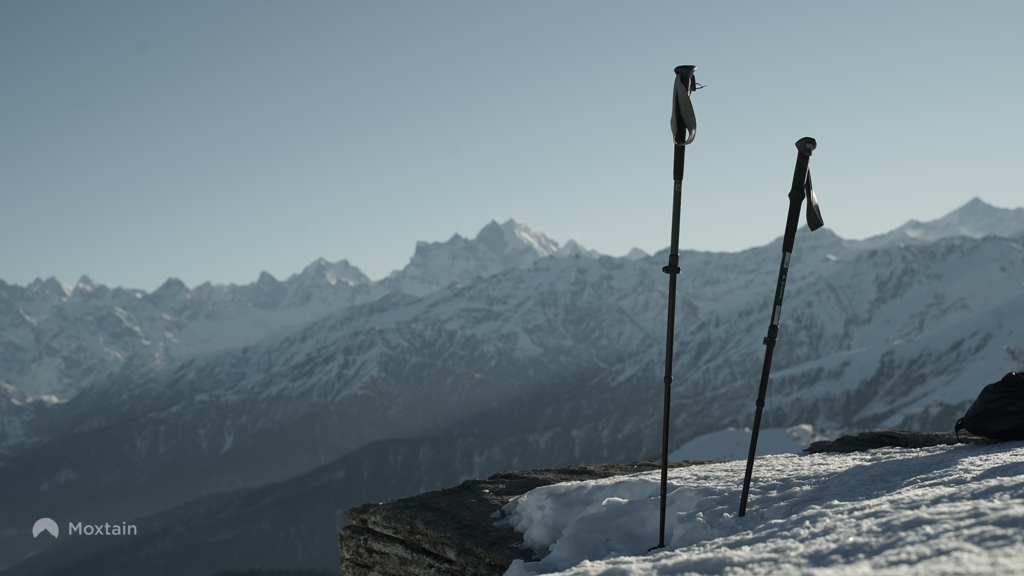 The Trekking poles help maintain a position, eliminating the pain you can have after or during the trek. It helps to tone and build muscles on your upper part of your body, making your trek a perfect fitness exercise along with recreation.
Here is a list of packing one should go with oneself-
Two-three pairs of woolen socks and three pairs of cotton socks.
Pair of polypro socks
One jacket
One down vest
Woolen gloves
One down sweater
Woolen hat / Sun hat or cap
One light woolen/fleece sweater
Bottoms and pants
A pair of sunglasses/ glacier glasses (depending upon the trek)
Pair of polarizing sun-glasses (to be comfortable and to avoid potential snow-blindness)
Additional winter clothing comments
The outer jacket should be warm, down jacket is highly recommended during the winter season
Bring a pair of warm winter trousers, in addition to the hiking trousers
Bring at least one windproof layer of clothes, helping to reduce any chill factor influence
Snow gaiters
DIY CAMPING
Tent
Stove and fuel
Cooking, eating and drinking utensils
Sleeping mat
Food and water (for the very remote trekking areas)
Does Moxtain provide trekking gears on rent?
Moxtain provides sleeping bags, sleeping mattresses, kitchen equipment, utensils, and crampons and tents in which 2 or 3 persons can sleep. These are included in the package.
Moxtain provides shoes, trek bags, poles, and ponchos. Here is a small list of their detailed features.
1)Quechua Trek100 shoes only at INR 499/- for the entire trek-
These shoes are suitable for off-the-beaten tracks for trekking in forests, slippery roads, and treacherous regions. The model differs from non-waterproof to waterproof with a hike in the price. The initial starting range of these shoes starts from 1400 and can soar to INR 5000. It is well provided with cushioning from a 6mm EVA pad. It has a synthetic stone guard that protects the front from stones and is quite light in weight.
2)Forclaz 60 Litre backpack only at INR 499/- for the entire trek-
It has a pad-lockable zip to protect the contents of the bags. The zips have suitcase zipping features making it quite easy to open and close. The capacity of the bag is 60 L and weighs around 2.2. kg. It is abundant with waist, arm straps along with bottom and top straps making it easy for transportation. It can cost you around 3500/- as it is the starting rate.
3) Lightweight trekking pole only at INR 199/- for the entire trek
The starting cost of this pole is INR 700 and can soar exorbitantly high. It has a soft foam handle, with an adjustable wrist strap. It weighs 230 g/ pole and has a very simple push-pin system. It can be adjusted accordingly. It is compactly designed with great durability features.
4) Waterproof hiking poncho only at INR 149/- for the entire trek
It has a waterproof coating and has taped seams. It is provided with a long, high neck with the hood. It is replete with pockets, making it self sufficient without backpacks as one can store one's mobile in the shoulder pocket. It has ventilation panels which help reduce condensation.
It has quite a flexible approach at its base as there are no constraints in movement. Quite lightweight, it makes for a perfect day saver. For men's poncho, it costs INR 3500, and for women, it costs around INR 2500.
Why Moxtain refrain from renting Jackets and Gloves?
As we have mentioned the trekking equipments above, there can be several problems and maintenance issues we need to understand if we happen to rent them all.
We refrain from renting sweaters, jackets, waterproof vests because as a Travel company and in our interactions with customers have brought into notice dithering comfort regarding used clothing materials.
Rarely, our customers are interested in wearing clothes used by former customers due to personal and hygienic reasons.
If you also look to our even basic trek, it takes place at an altitude of around at least 2500m. It would not be probable and practical to rent jackets, sweaters, or vests. One has to make sure about cleaning and drying which requires a lot of maintenance.
Also, we need to understand that temperatures drop to 0 degrees Celsius as well. A week can go and the jackets can still not be up for use. Hence, with the discretion and management sense, we refrain from giving rentals of clothing stuff.
Benefits of Renting Gears
Increases Affordability for the choice of treks
We understand that buying a trek bag alone can dent your purse. If you are looking for an extended trek, one needs other important stuff like vests, waterproof jackets, and specific types of socks. If trekking is your once in a lifetime stint, renting trek bags would save a lot of money.
Guidance regarding boots and the trek
If you are going for a snow trek, one has to purchase a pair of crampons as well. Crampons can cost 4-5k alone (basic ones).
The boots differ along with the terrain and the type of crampon. Hence, one can get full guidance regarding what to rent and with its holistic use in the trek as well. Moxtain provides shoes, snow boots along with crampons.
Reduce the cost for a one-time use of Equipment
The use of trekking poles can be one time as per the trek. It may or may not be useful depending upon the choice of your treks.
Hence, as a one- time investment in poles might make you feel doing an unnecessary purchase. It becomes better if you just rent these rather than buying the stuff in the hope that you might use it in the future.