Top Five Winter Treks In Uttarakhand
Let's find some beautiful place to get lost...
...because it feels good to be lost in the right direction.
Uttarakhand
The state of Uttarakhand located in the northern part of India is a travellers delight. Rooted in a typical culture, magical mythology, scenic landscapes, ancient pilgrimage sites and rich colonial past, it offers a variety to adventure seekers looking for an escapade in the lofty mountains.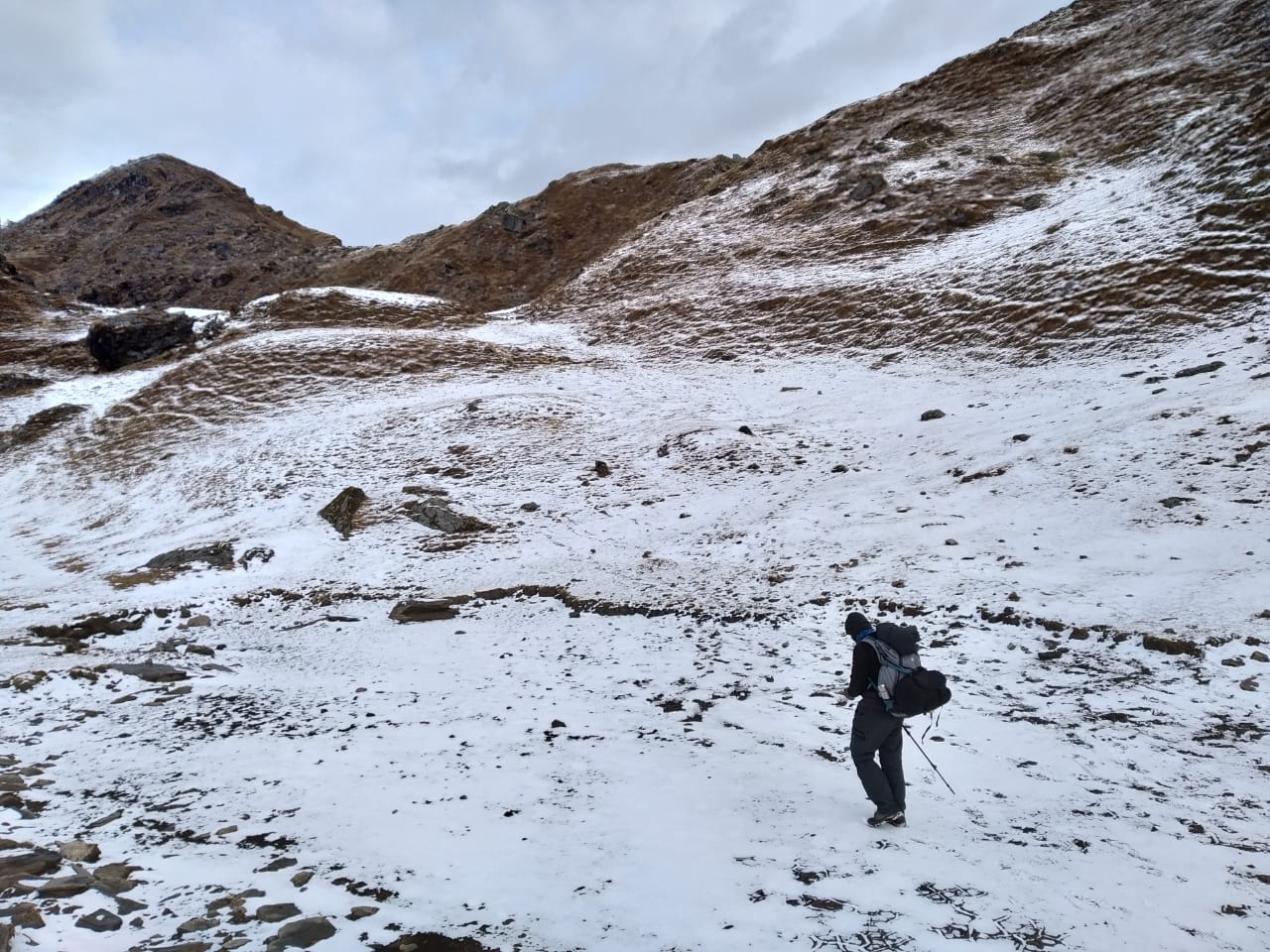 The salubrious climate of this state makes it the crowning glory among all the trekking locales in India and all over the world. While summer offers some of the most spectacular vistas with velvet grass, lush forests, expansive meadows, blooming wild flowers and rugged terrains, winter casts a magical spell on your senses. From snow-covered peaks that attract you to the gentle caress of the chilly winds and mesmerizing spectacle of frozen glacial lakes, winter treks in Uttarakhand is an experience of a lifetime.
Here are the top five winter treks in Uttarakhand
Nestled amidst a ridge in the Himalayan range at an altitude of 3,400 meters, Brahmatal or the Lake of Lord Brahma, derived its name after Lord Brahma meditated here for several years.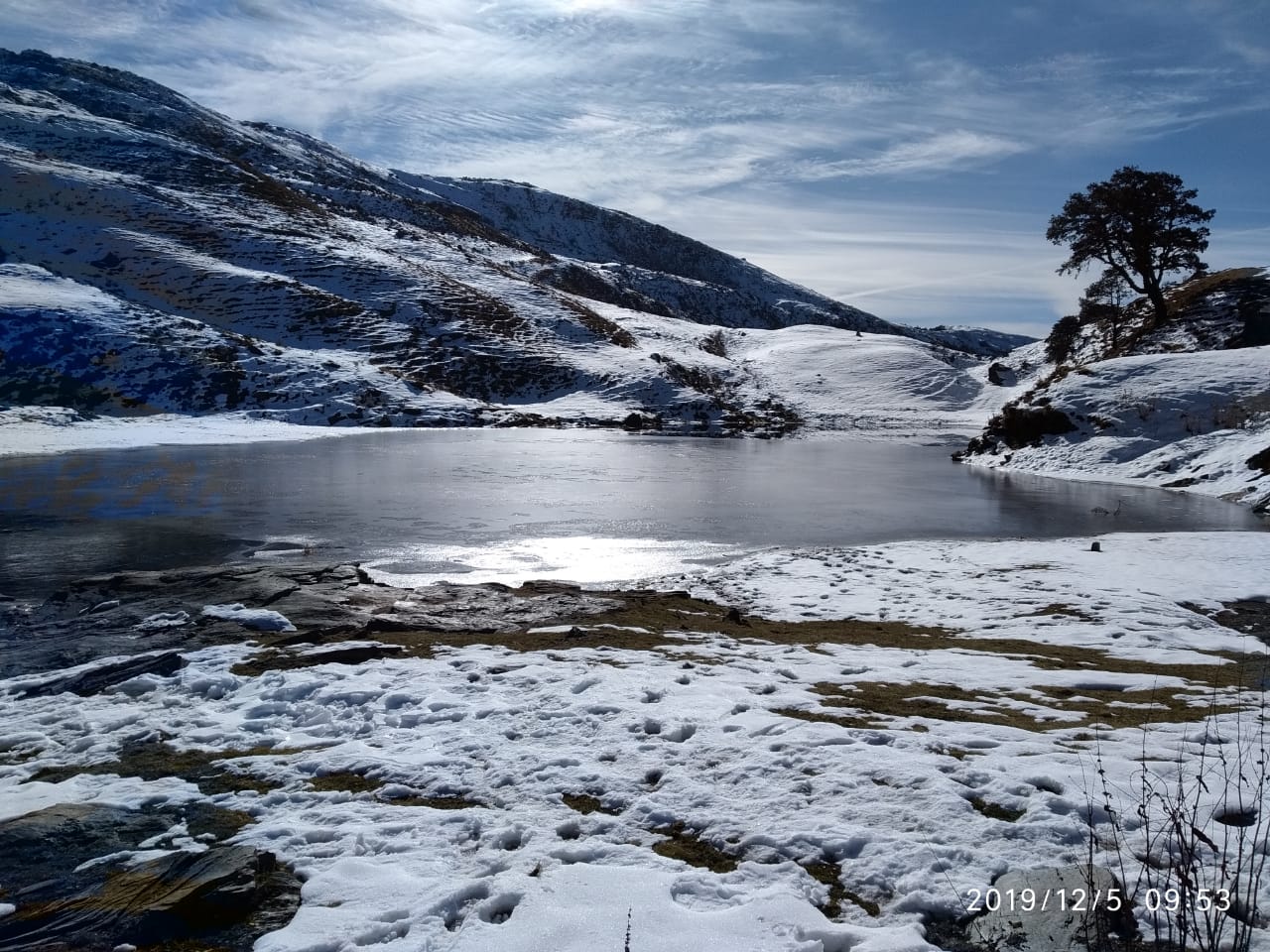 Brahmatal, being true to its name takes you to a heavenly journey of snow-covered valleys stretching across the horizon, icy trails against clear azure skies, frozen streams glimmering in the sun and snow-laden forests of mighty oak trees. Majestic Himalayas with Mt. Trishul and Nanda Ghunti provide a perfect backdrop to this idyllic route. Stretched at a length of 30 kms., this scenic trek takes 4 days from Lohajung which is the base camp for the Brahmatal trek. The ultra selling point of this easy to moderate trek is the front-seat view of the lofty Himalayan peaks which rise above 7,000 meters.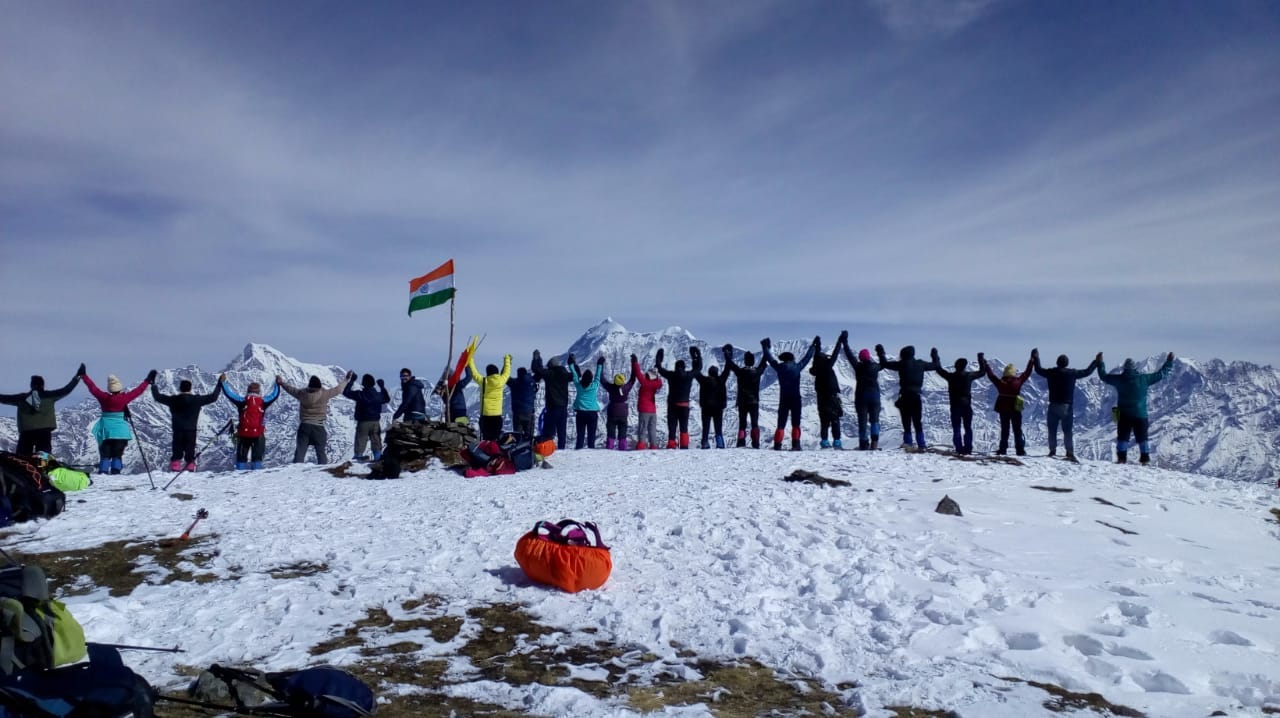 This trek is interesting for the fact that it offers different routes for the onward and backward journeys. Trekkers revel in the beauty of fresh panorama throughout the trekking route.
Region: Kumaoun Himalayas
Highest Altitude: 12,100ft
Trekking distance: 30Km
Trek duration: 6 days
Difficulty Level: Easy to Moderate
Base Camp: Lohajung
Best time to visit: November to April
This moderate to difficult trek passes through Govind National Park finding its way along the sheath of snow, remotely exquisite trails, quaint Garhwal villages, and snowy peaks all around.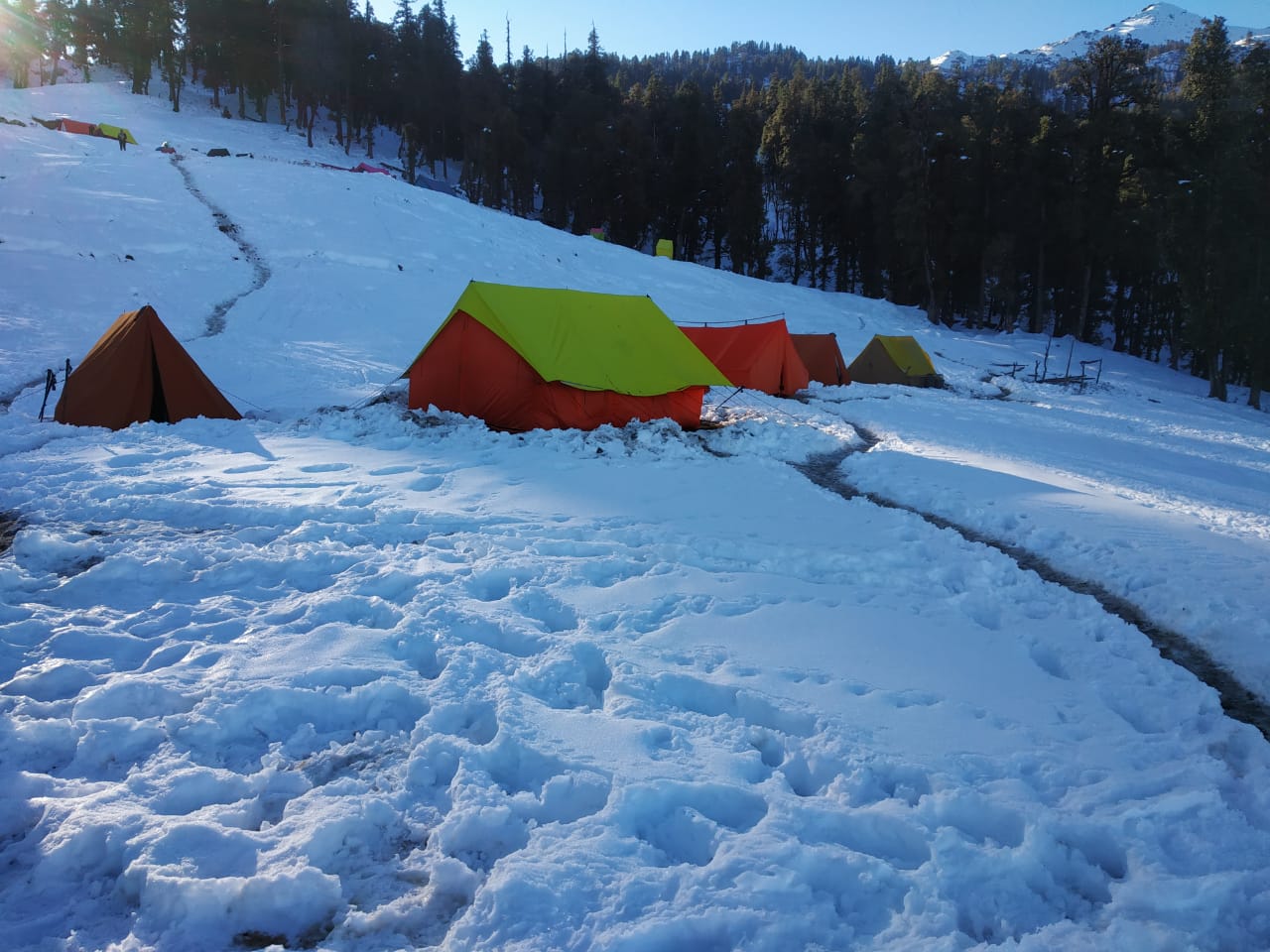 It takes 6 days to cover the 20 km. trek. Which takes you through pine and oak forests scattered with snow giving way to a white blanket of snow-covered highlands in all directions. As you move along the trail, it takes you along gentle slopes and slight elevations as if on a roller-coaster joyride, leading to the summit point, at an altitude of 3,810 meters.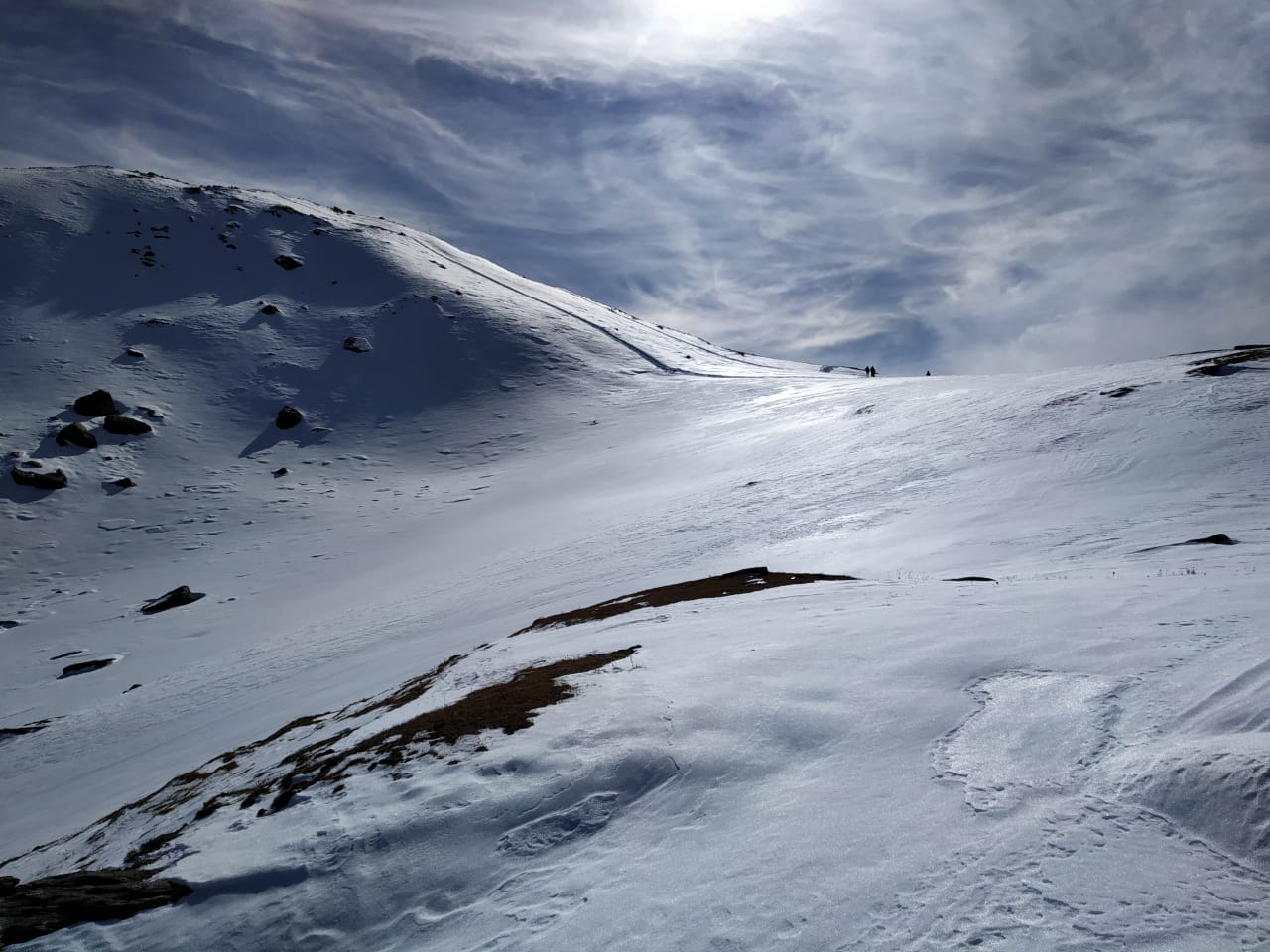 The trek is highlighted by the prettiest villages nestled in the most picturesque settings. Be it Sankri Village shrouded in a blanket of snow or a gentle climb leading to Saud Village, each is uniquely exquisite and stunning in its landscape. With innocent locals, mostly women and children walking along the village trail, you get a chance to chit-chat with them and take a sneak peek of their lives. 'Juda Ka Talab', the glacial mountain lake surrounded by mighty oak and countless pine trees is a camping site that leaves you dumbstruck with its scenic landscape. According to Hindu mythology, water droplets from Lord Shiva's hair formed this high altitude lake which is completely frozen in winters.
Kedarkantha trek offers a spectacular 360 degrees view of numerous mountains like the Dhauladhar Range and Swargarohini and Banderpoonch peaks. The view is surreal as if touching the azure sky from a mountain top.
Region: Garhwal Himalayas
Highest Altitude: 12,500ft
Trekking distance: 20Km
Trek duration: 6 days
Difficulty Level: Moderate to Difficult
Base Camp: Sankri
Best time to visit: November to April
Also known as Lord Curzon Trail, Kuari Pass was popularized by Lord Curzon, the viceroy of India who first explored this trail in 1905. This classic winter trek begins at Auli and takes you through a snowy winter land with snow-covered meadows and frozen lakes in a span of 6 days, with an average elevation of 3,800 metres.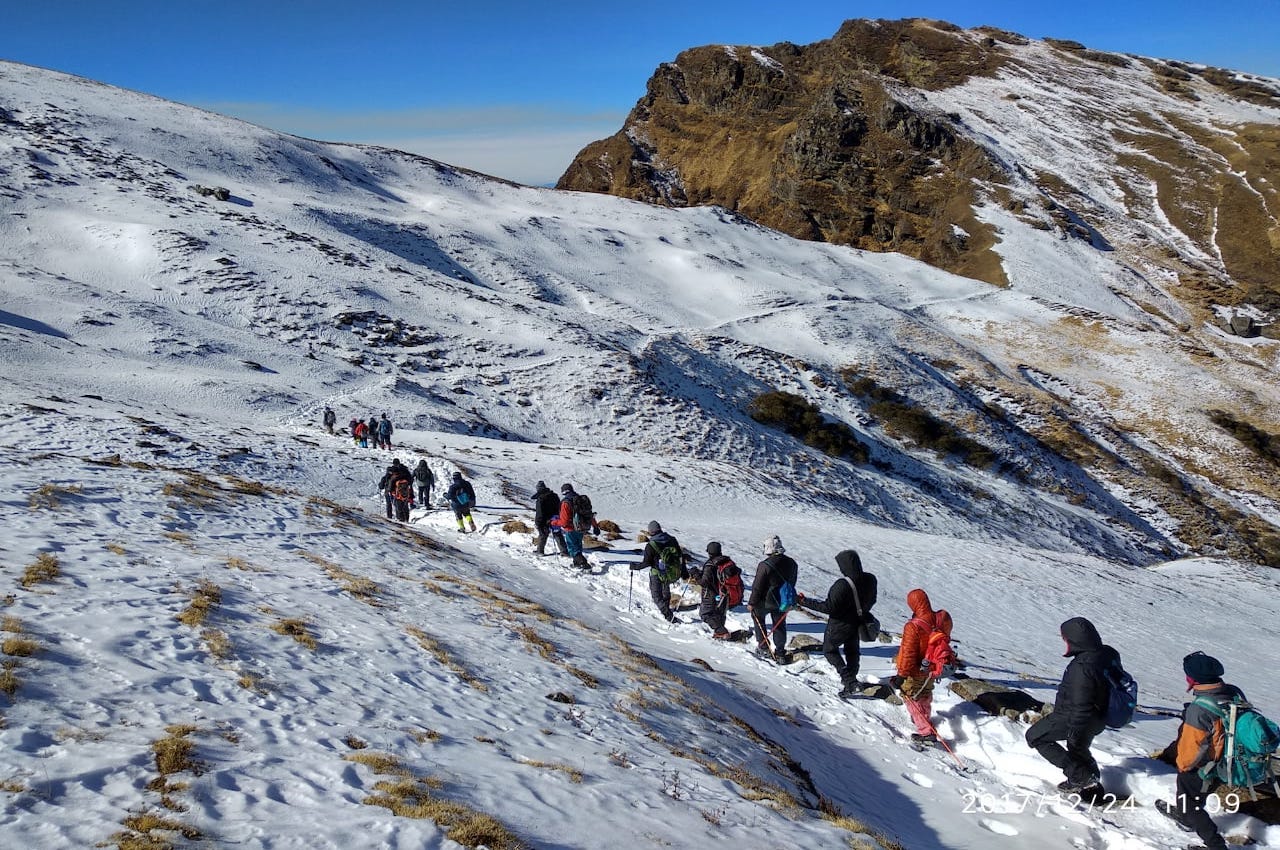 At an altitude of 4,264 metres, Kuari Top showcases an impressive skyline of colossal Himalayan peaks from close quarters. The divine peak of Nanda Devi glimmering in the snow is the ultra selling point of this trek.
At an altitude of 4,264 metres, Kuari Top showcases an impressive skyline of colossal Himalayan peaks from close quarters. The divine peak of Nanda Devi glimmering in the snow is the ultra selling point of this trek.
Just like the Kedarkantha trek, Kuari Pass trek flatters you with campsites set in amazing landscapes that leave you spellbound. Chitrakantha campsite is surrounded by forests trees so tall that the mountains lie hidden behind the trees.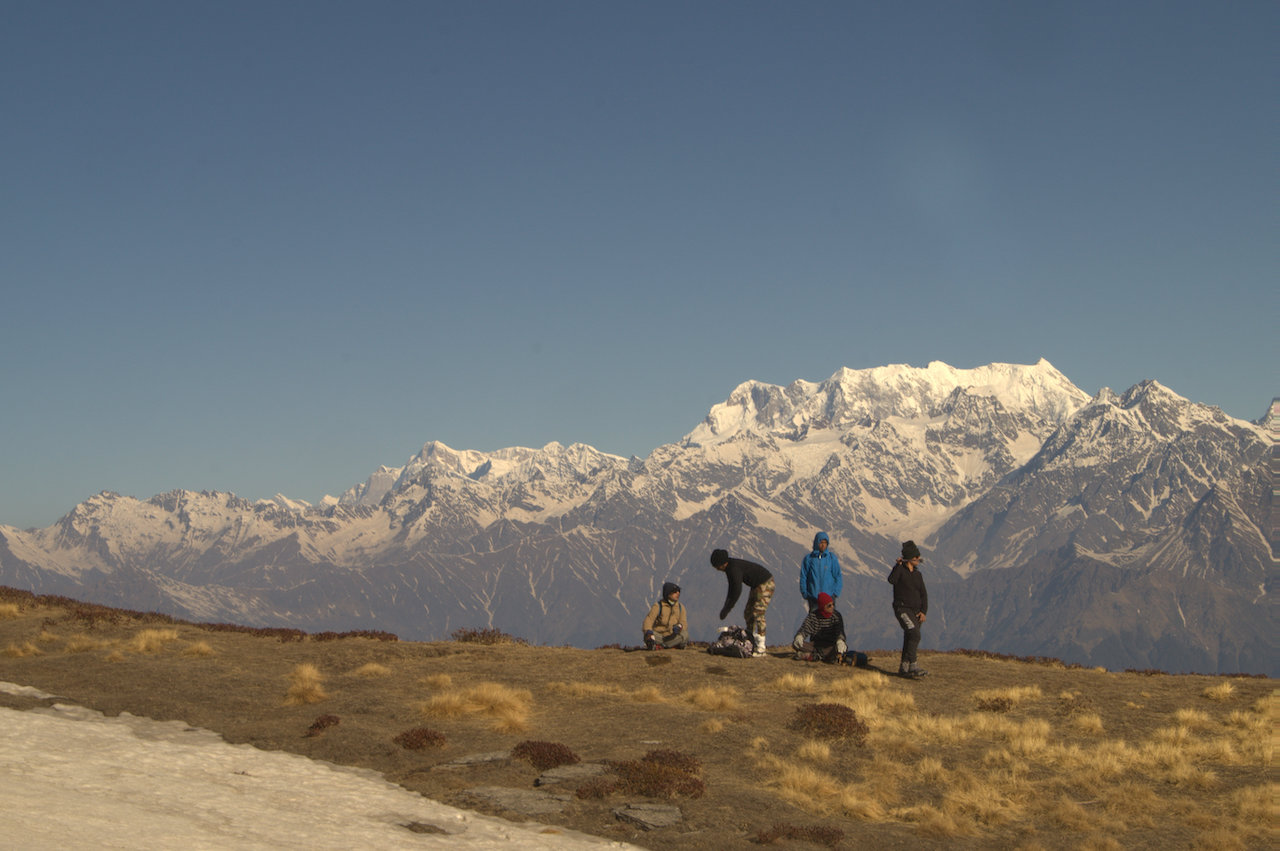 Chaukambha massif as seen on the way to Kuari Pass.
Khullara campsite, synonymous with its name boasts of a vast ground with Hathi Godha and Dronagiri Mountains serving as jewels in its bedecked crown. Pine and coniferous forests add a scenic backdrop to this vast open ground. A perennial water stream running at Khullara is another highlight of this place. Kuari Pass amazes you with a night sky sprinkled with silver stars so shiny that it seems that you are visiting a planetarium. Mesmerizing 360 degrees views of the sacred Nanda Devi, fabled Dronagiri, Changabang, Mukut Parbat, Hathi Ghoda Nanda Ghunti and Rishi Pahad, glimmering in pristine snow enchant you from the first day of your trek as the trail moves all along the mountainside.
Region: Garhwal Himalayas
Highest Altitude: 11,000ft
Trekking distance: 30Km
Trek duration: 6 days
Difficulty Level: Moderate to Difficult
Base Camp: Joshimath
Best time to visit: December to April
Undertake this short yet rejuvenating trek to bask in the glory of Chopta, Deoriatal Lake and Chandrashila Peak. This moderately easy trek takes 6 days to cover a 30 km distance that goes along the dense forests of maple, rhododendron and oak trees, sacred temples and snow-clad mountain peaks of Chaukhamba, Bandarpoonch, Kedar, Trishul, Nanda Devi and Chandrashila.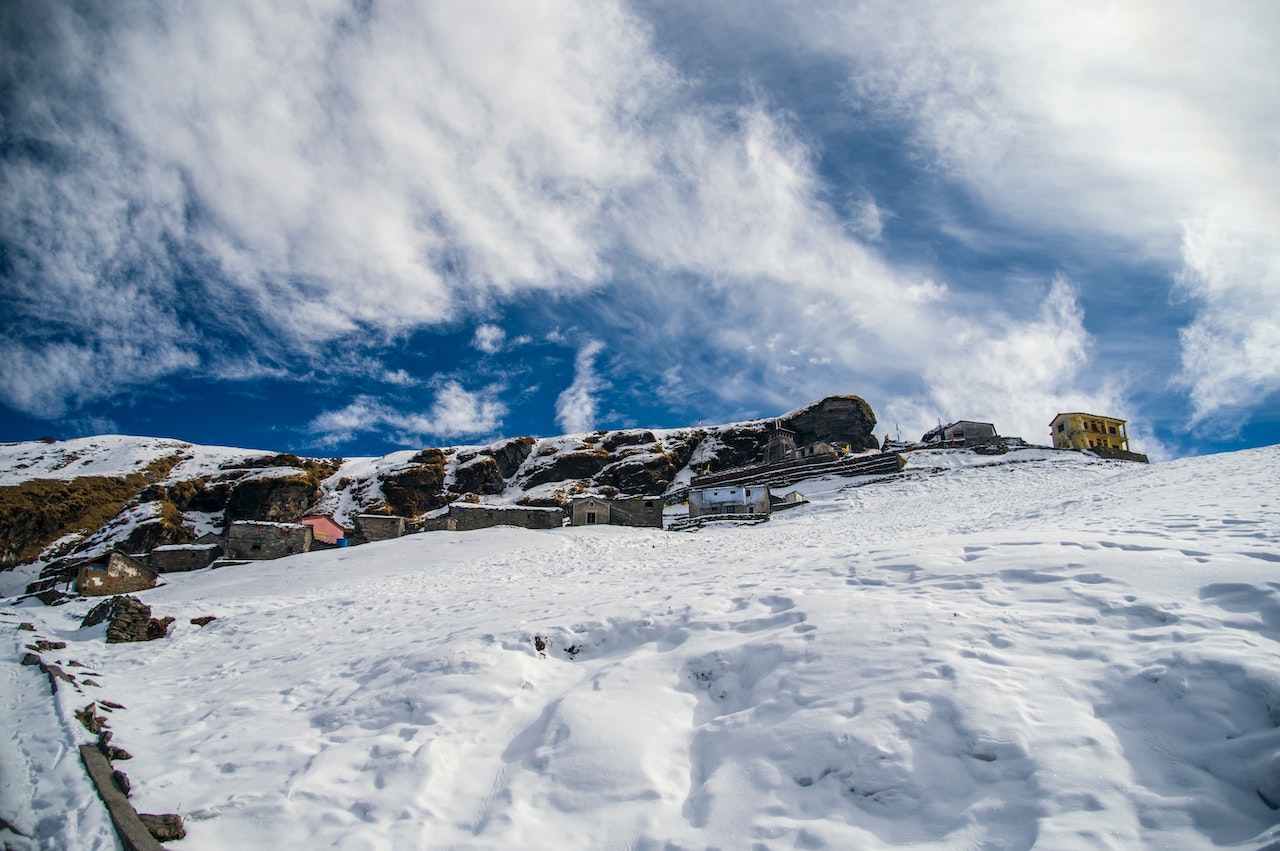 This easy trek commences at Sari and trails to Deoriatal Lake, a translucent glacial lake perched at the mountain top and surrounded by Chaukhamba, Neelkantha, Bandarpoonch and Kedar Range. The gorgeous emerald lake flatters the visitors with the reflections of snow-clad mountain peaks on its crystal clear waters. An overnight stay at Deoriatal is recommended as you may get a golden opportunity to spot some animals on the icy shores in the morning. You also get a chance to witness the spectacular sunset view from Chaukhamba mountains and bask in the moonlight under the star-lit sky.
Chopta aka "Mini Switzerland of Uttarakhand", enthralls you with a jaw-dropping scene of a virgin landscape. This unexplored hamlet with a serene environment is an ideal ground for meditation and yoga activities. With an impressive forest line, Chopta houses a myriad species of birds and attracts bird watchers from all over the world.
Tungnath, the highest temple of Lord Shiva is one of the top attractions of this awesome trek. This steep yet easy trek of 4 km from Chopta, through snow, drifted forests and elevated snow mounds are sheer bliss. Perched at an altitude of 3,680 meters, Tungnath temple boasts of artistic architecture and is home to the tallest Shiva Shrine.
During winters, the deity of Tungnath is shifted to its winter seat at Makkumath.
Chandrashila peak at an altitude of 3,900 meters is the highest point while going to Tungnath temple. Revel in the pristine beauty of snow-clad majestic Bandarpoonch, Kedar and Chaukhamba peaks from close quarters once you reach the summit of Chandrashila. Golden-breasted eagles can also be spotted here.
Region: Garhwal Himalayas
Highest Altitude: 13,500ft
Trekking distance: 15Km
Trek duration: 4 days
Difficulty Level: Moderate to Difficult
Base Camp: Sari
Best time to visit: November to March
Nag Tibba or Serpent's Peak near Mussoorie offers an exciting, most wholesome and gentle trekking experience for amateurs as well as seasoned trekkers. At an altitude of 3,050 meters, Nag Tibba summit is the highest point in the Nag Tibba range of Garhwal mountains. Nag Tibba trek can be done throughout the year; its gentle terrain without any long stretches of steep climbs makes it one of the easiest winter treks in Uttarakhand.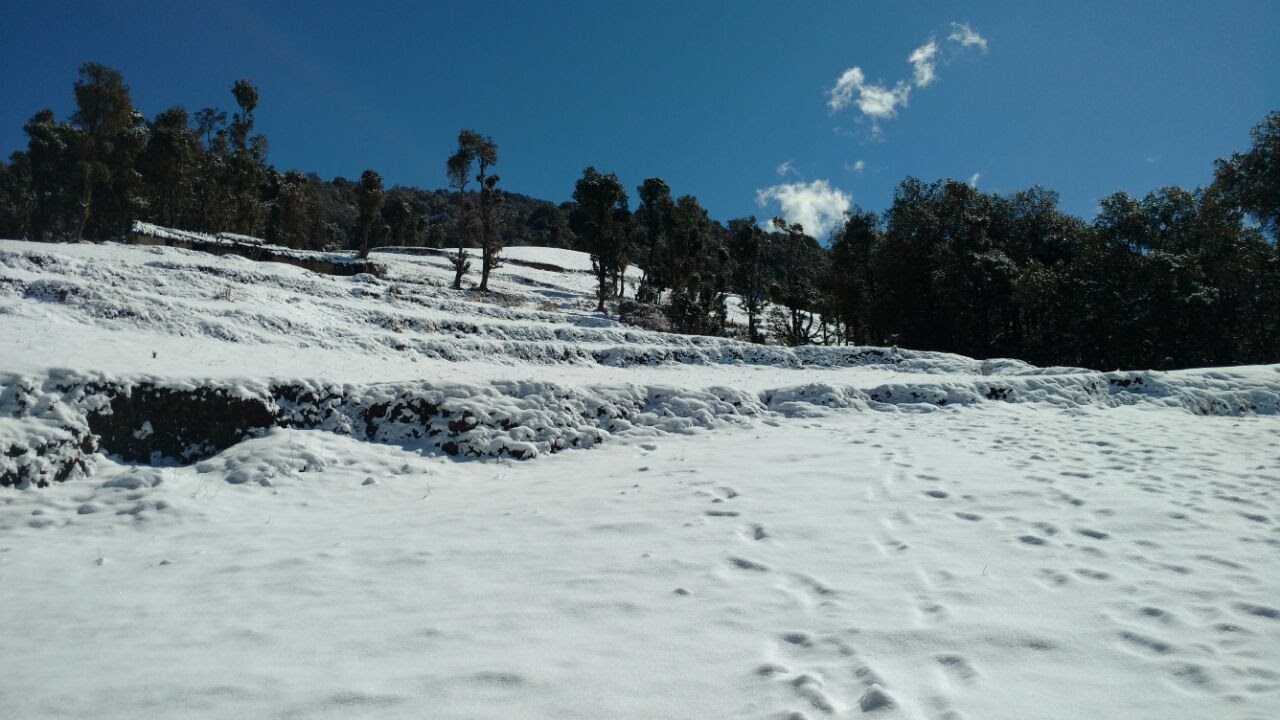 It takes 2-5 days to cover this trek depending upon the route taken. This ideal winter trek commences at Pantwari and takes around 7 hours to cover a distance of 10 km from Pantwari to Nag Tibba base camp. The trek journeys along snow-clad ridges, snow drifted forests, ankle-deep patches of snow and small hutments close to a mountain stream. All along the trek, you feast on an awe-inspiring spectacle of some of the highest Himalayan peaks. The trek astounds you with the most scintillating sunsets that light up the mountain peaks in myriad hues of red and orange.
Once you reach the Nag Tibba summit, huge mountain paks covered in snow welcome you. Soak in the stunning beauty of the Himalayan peaks of Swargarohini, Bandarpoonch, Kedarnath, Chanabang, Gangotri, and Kalanag on one side and revel in the scenic landscape of Doon Valley on the other side.
Experience heaven while still alive...wander through Himalayan paradise, rejoice winter like never before and soak in the scenic beauty of these winter trails because "It is not the mountains we conquer, but ourselves".
Region: Garhwal Himalayas
Highest Altitude: 9,915 ft
Trekking distance: 16Km
Trek duration: 2 days
Difficulty Level: Easy
Base Camp: Pantwari
Best time to visit: November to Januaray