Let your journey of thousand miles begin with a single step-
Lao Tzu
Take a leap into the lap of nature and discover a new you. Uttarakhand prides itself with some amazing trails set against the backdrop of breathtaking Himalayan Mountain Peaks. From the sacred Nanda Devi to the mighty Chaukhamha to awe-inspiring Nilkanth, Kamet, Hathi Ghoda, Kedarnath, Trishul, Mount Swargrohini and Bandarpoonch ranges, you revel in the beauty of incredibly beautiful mountains.
Kedarkantha and Brahmatal are the Kohinoors in Uttarakhand's bejewelled crown. Let's take a virtual tour of these beautiful locales that offer excellent trekking opportunities all the year-round.
Kedarkantha Vs Brahmatal
Trek Details
Kedarkantha
Brahmatal
Altitude
12500ft
12100ft
Base
Sankri
Lohajung
Best Time
All season(except monsoon)
Winter
Trek Type
Summit(Peak)
Glacial Lake
Scenic Spots

Juda ka Talab
Govind Wildlife Sanctuary
Kalanag or Black peak

Bekaltal Lake
Brahmatal Lake
Mount Trishul

Days
6
6
Difficulty Level
Easy to Moderate
Easy to Moderate
Trek Cost
6999 INR
6999 INR
Booking Links
Kedarkantha
Brahmatal
Also Check: Har ki Dun vs Kedarkantha Trek
Crowning Glories of Kedarkantha trek and Brahmatal trek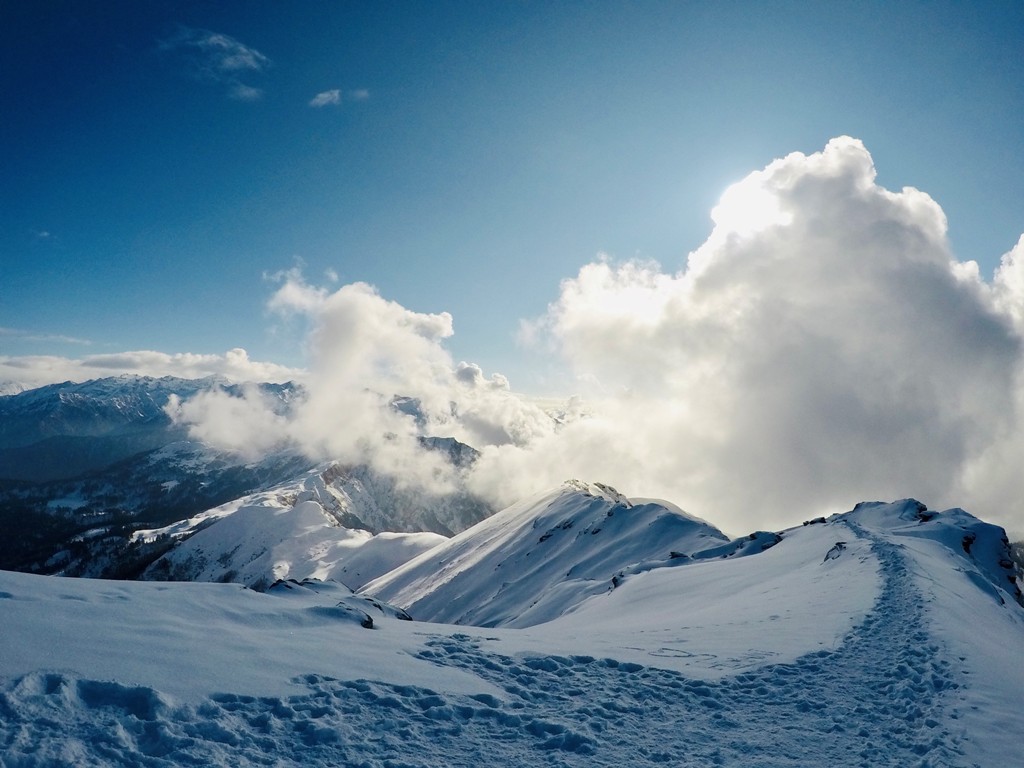 Mountain Ranges
Kedarkantha trek treats you to 360-degree views of DhaulaDhar ranges and to a scintillating panorama of Swargarohini and Bandarpoonch peaks. Brahmatal trek captivates you with high Himalayan ranges of Mrigthuni, Trishul, Bethartoli, and Nandaghunti on one side and majestic Chaukhamba, Nilkanth, Kamet and Hathi Ghoda on the other side.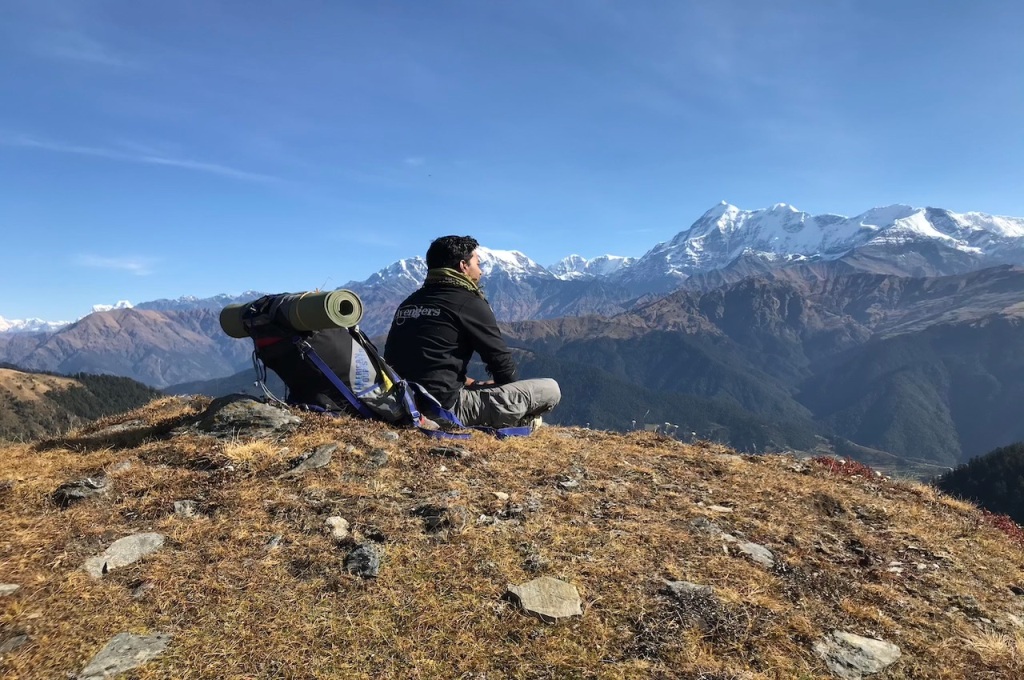 Brahmatal trek gives a front-seat view of magnificent Himalayan peaks Mt Chaukhamba, Mt Neelkanth, Mt Hathi Ghoda that rise above 7,000 meters. While Trishul and Nanda Ghunti are towards your right.
Natural Beauty
Kedarkantha trek trails through lush green forests, pretty campsites, and expansive meadows that offer a mesmerizing vista of verdant greens in summer and pristine snowy landscape during winters. This classic trek journeys through Govind National Park and you revel in the beauty of a myriad variety of flora and fauna. Small hutments on mountain slopes paint a picturesque backdrop of this entire trek.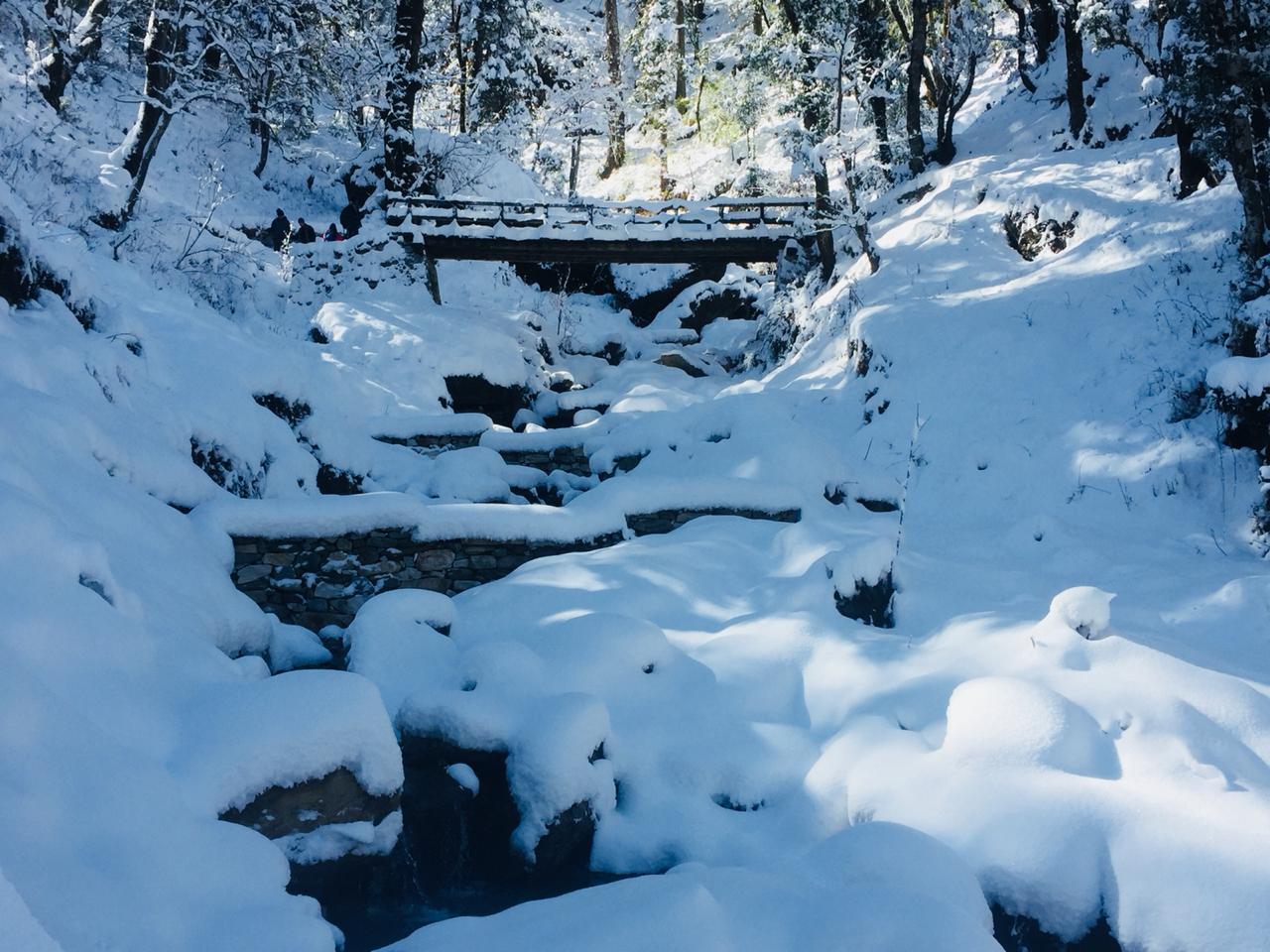 The trek to Brahmatal enchants you with clear azure blue skies, never-ending ridges, dense meadows called "bugyals" in the local dialect, colossal mountain peaks, scenic ridges, cascading waterfalls, and high altitude lakes. The trek through alpine bugyals and forests of fir, oak and rhododendron mesmerizes you with a panorama which is unique to each season. Summers offer an expanse of verdant greens whereas the snow-drifted trees and vast stretches of snow during winters flatter you with a frosty ambiance.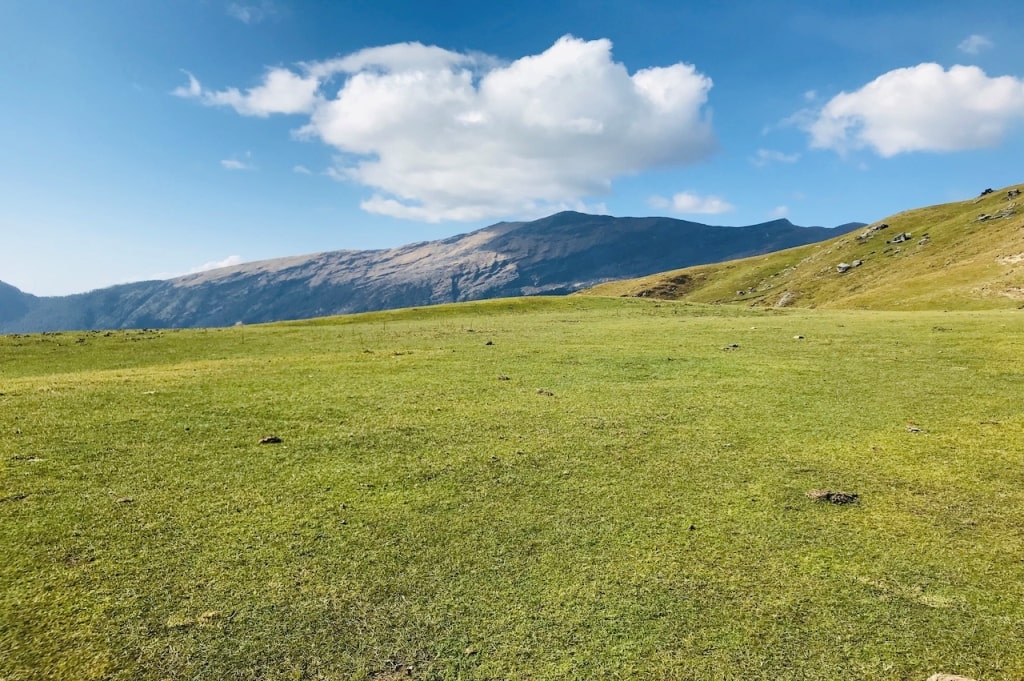 Local Villages
While on Kedarkantha trek, you explore tiny local villages; some brimming with activity whereas others shrouded in awkward solitude and peaceful serenity.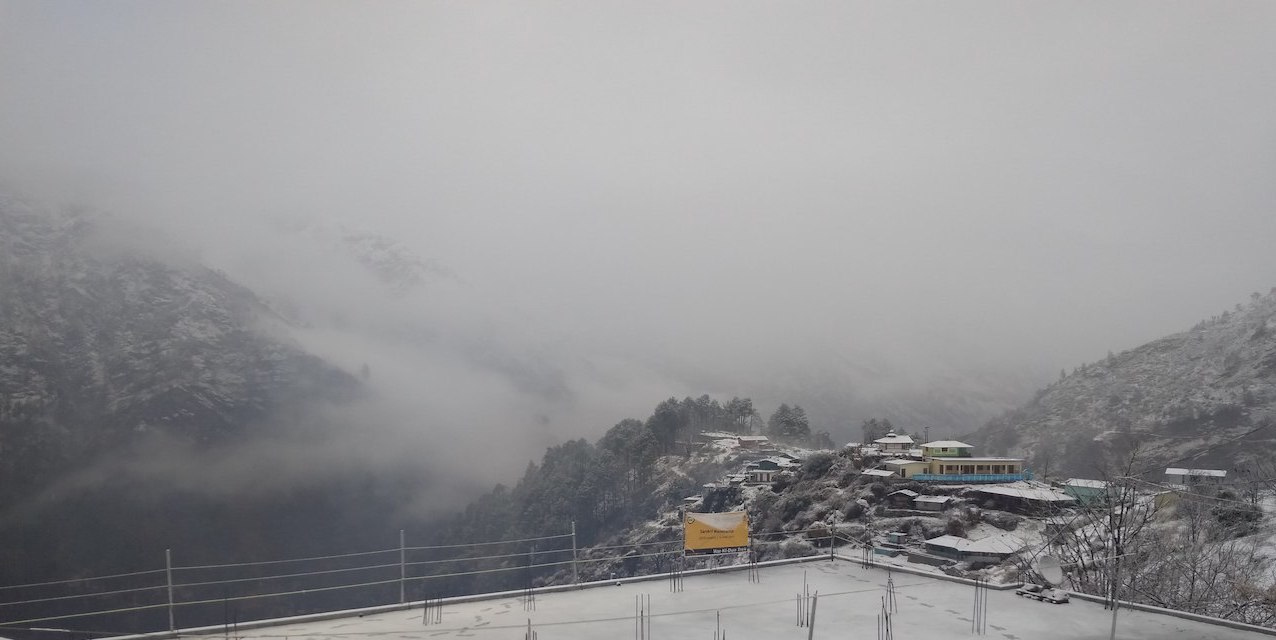 Sankri Village
Sankri is one such village which serves as the base camp for many treks. Situated in the valley of Tons river, this scenic hamlet is a hub of activity during the trekking season. Blessed with expansive grounds, the backdrop of Swargarohini peaks and view of the impressive Himalayan skyline, Sankri is a trekkers delight. Saud village takes you back in time. You get a chance to sneak a peak into the simple life of locals who still lead the most primitive lifestyles. Watching women and children carrying dried leaves and flocking herds of cattle gives you a pleasant change from the hush-hush life of a city.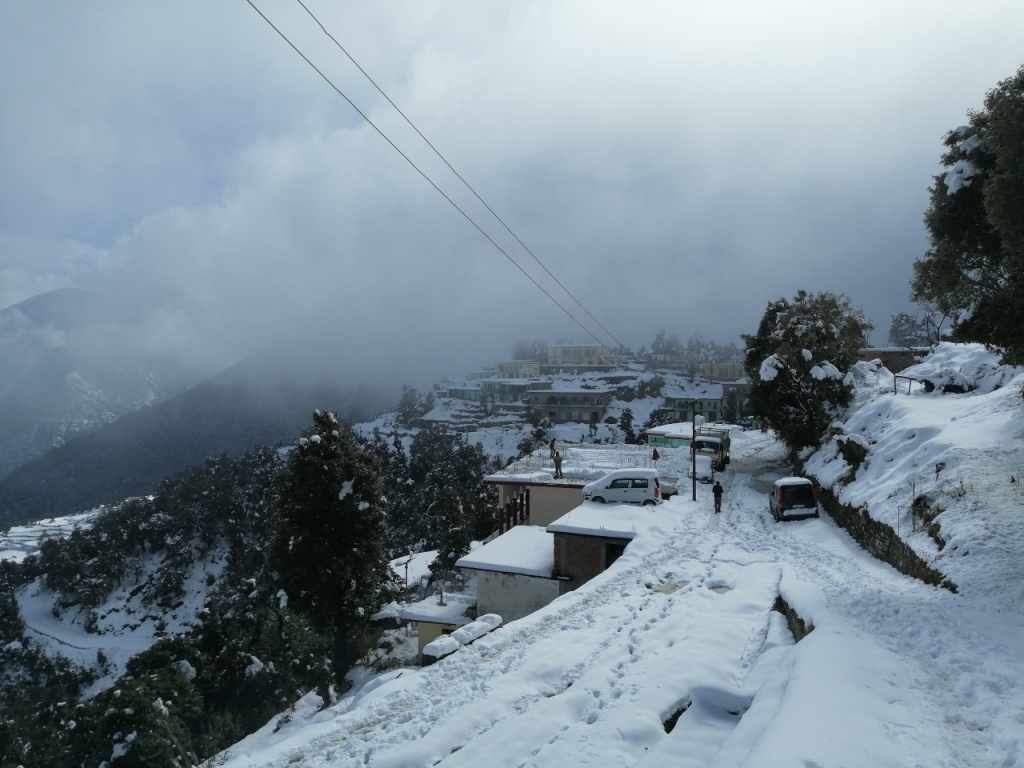 The base camp for Brahmatal trek is at Lohajung, a tiny village which flatters you with magical views of mountain peaks almost touching the clouds. The village is deeply rooted in mythology; it is believed that Goddess Parvati had a war with demon Lohasur here, hence the name Lohajung (war with Lohasur).
Scenic Lakes
Juda Ka Talab, the glacial mountain lake, located at an altitude of 2,700 meters is the highlight of the Kedarkantha trek. This lake surrounded by mighty oak and countless pine trees captivates you with a beauty so surreal that you are left spellbound for a couple of seconds. The reflection of trees and mountain peaks on crystal clear waters of the lake is a scene taken from the calendar. According to Hindu mythology, the lake has its origins in the water droplets that fell from Lord Shiva's hair. A lake was formed where water from Lord Shiva's hair fell on the ground.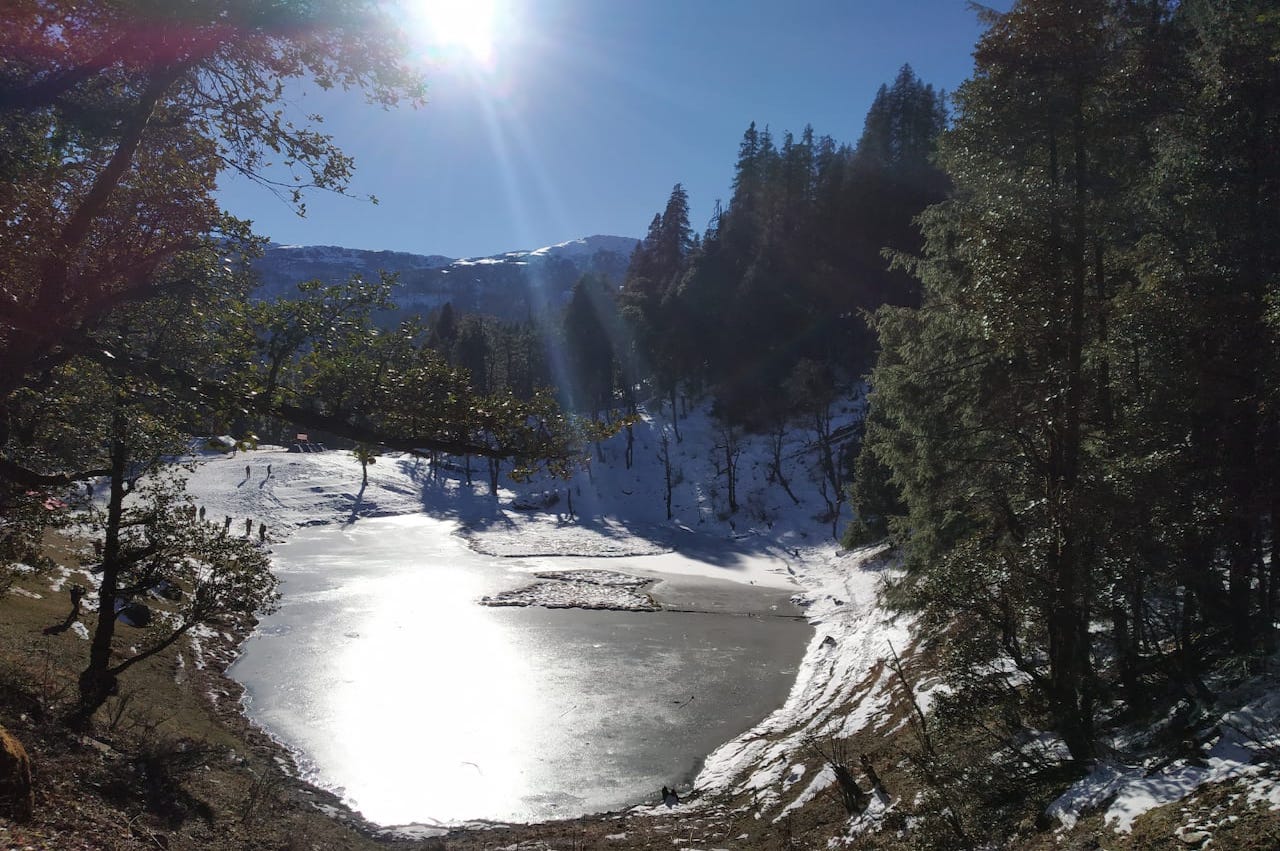 Juda Ka Talab
Brahmatal, as the name says, is a lake dedicated to Lord Brahma and is the major highlight of the Brahmatal trek. It is believed that Lord Brahma meditated here many years ago. The lake is perched at an altitude of 3,400 meters. The scenic beauty of the lake leaves you awestruck; whether it is deep blue waters during summers or its frozen glory in winters, each season showcases a panorama which is absolutely unique and spectacular. A lone tree overlooking the lake perfectly complements the solitude of the place.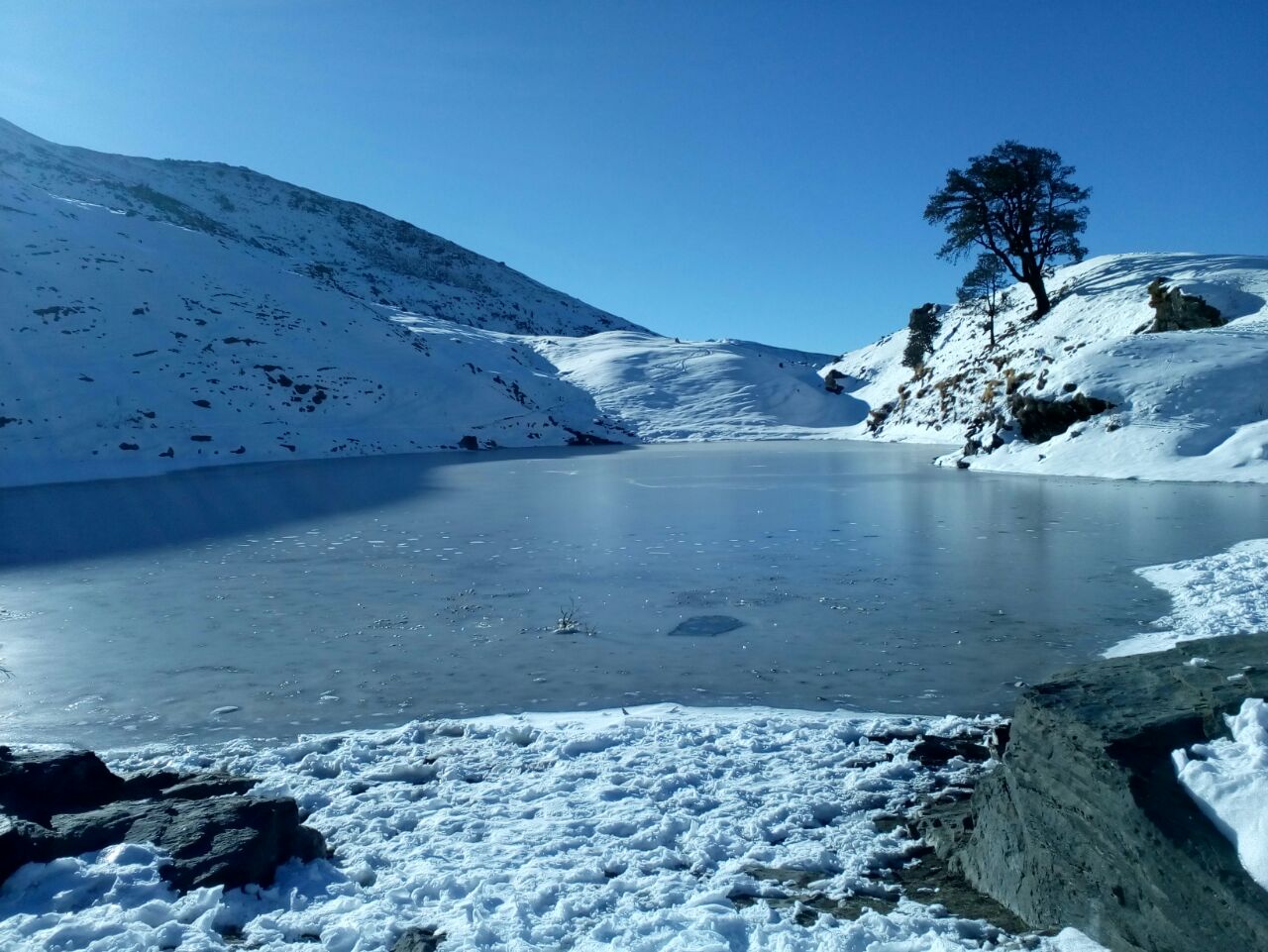 Brahmatal Lake
Bekaltal, the stunningly calm lake cocooned by thick oak trees is another highlight of the Brahmatal trek. This lake is dedicated to Lord Nag Devta.
Campsites
Campsite near "Juda Ka Talab", surrounded by thick tall trees and spectacular mountain slopes is the prettiest camping site. The sunlight seeps through the thicket of trees and weaves a spectacular array of designs on the forest ground. Watching the sunrise and sunset behind the majestic peaks is an experience of a lifetime; the sun rays cast amazing hues of orange and red on the mountain peaks.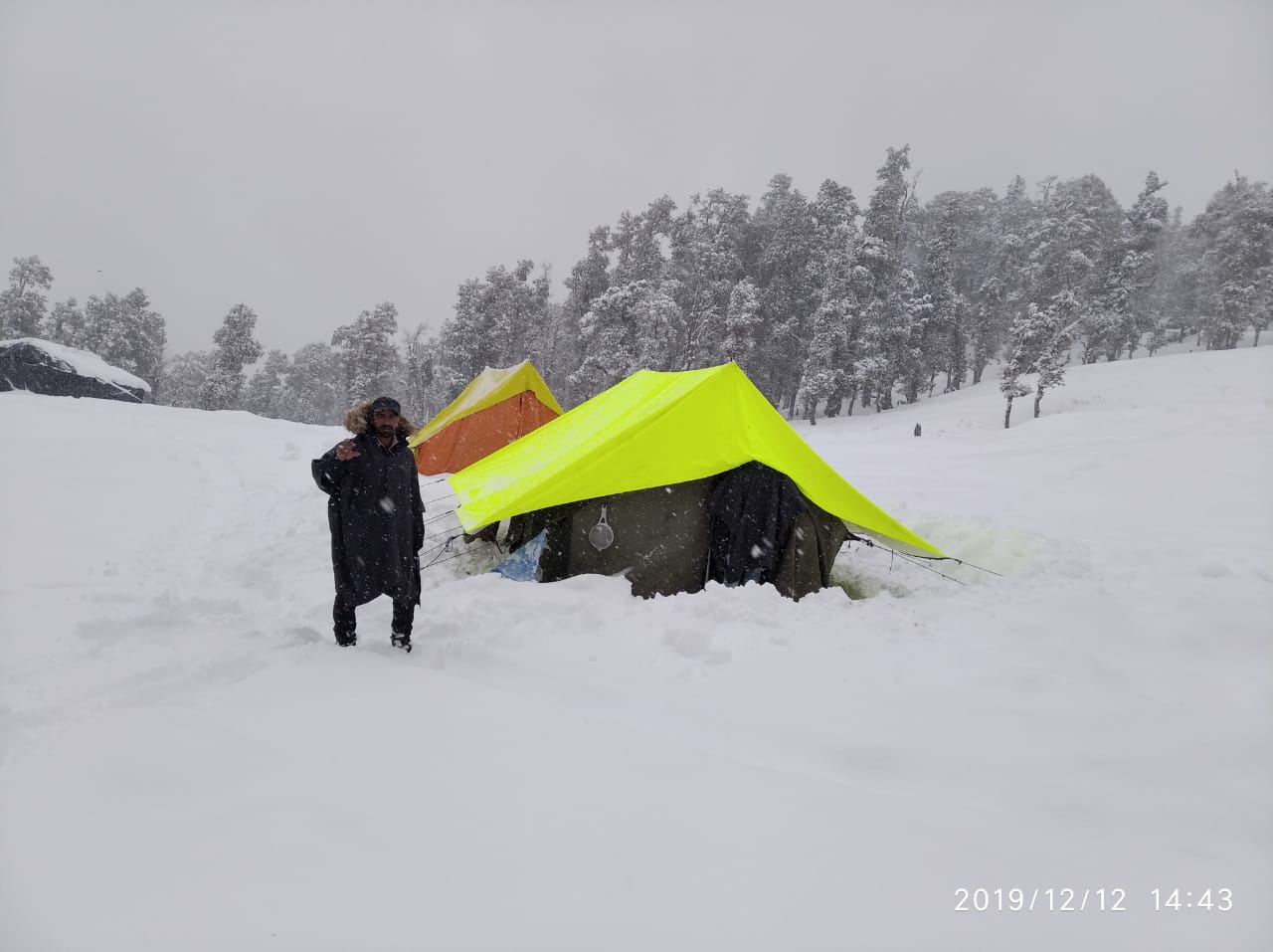 The Brahmatal campsite, 500 metres away from Brahmatal Lake treats you with stunning sunrise and awesome sunsets reflecting an amazing kaleidoscope of fiery red and orange hues on a snow-capped mountain peaks. The night sky here is a haven for stargazers. One can spend the entire night gazing at the blanket of stars which are strewn all across the sky.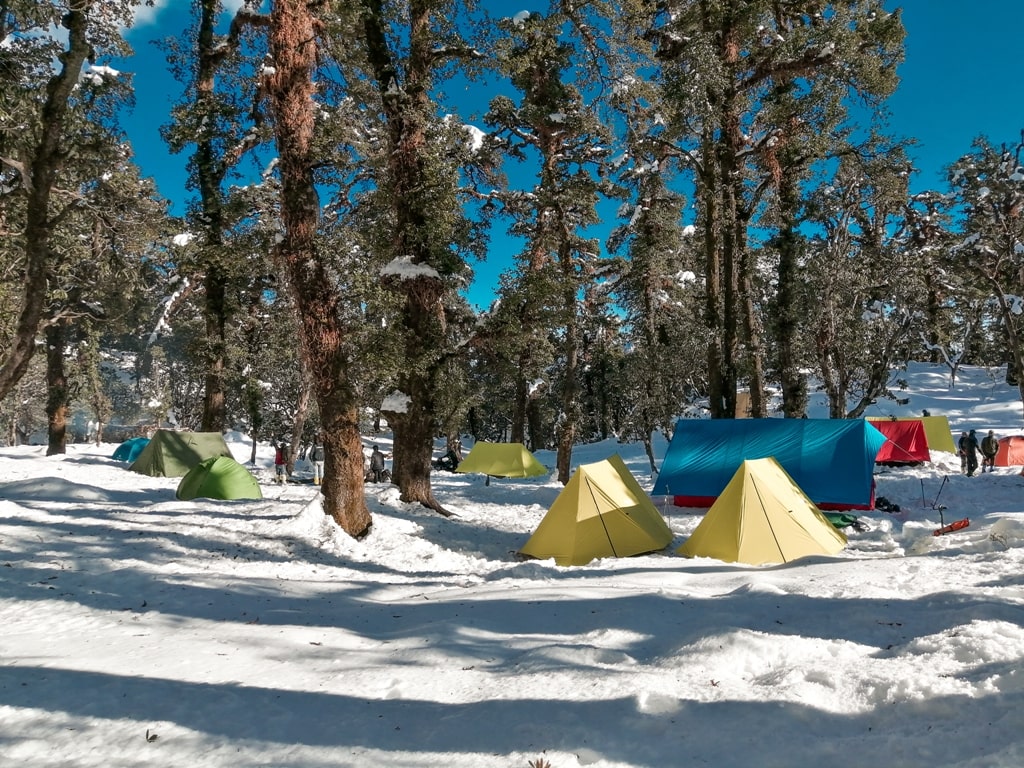 &nbsp:
Summit Points
Another highlight of the trek is the adventurous trek to Kedarkantha summit where you are at an eye-level with all the summits and feel as if you are touching the sky. Black Peak, also called Kalanag, is the highest peak in the Bandarpoonch mountain range and one gets a clear view of this peak from the Kedarkantha summit.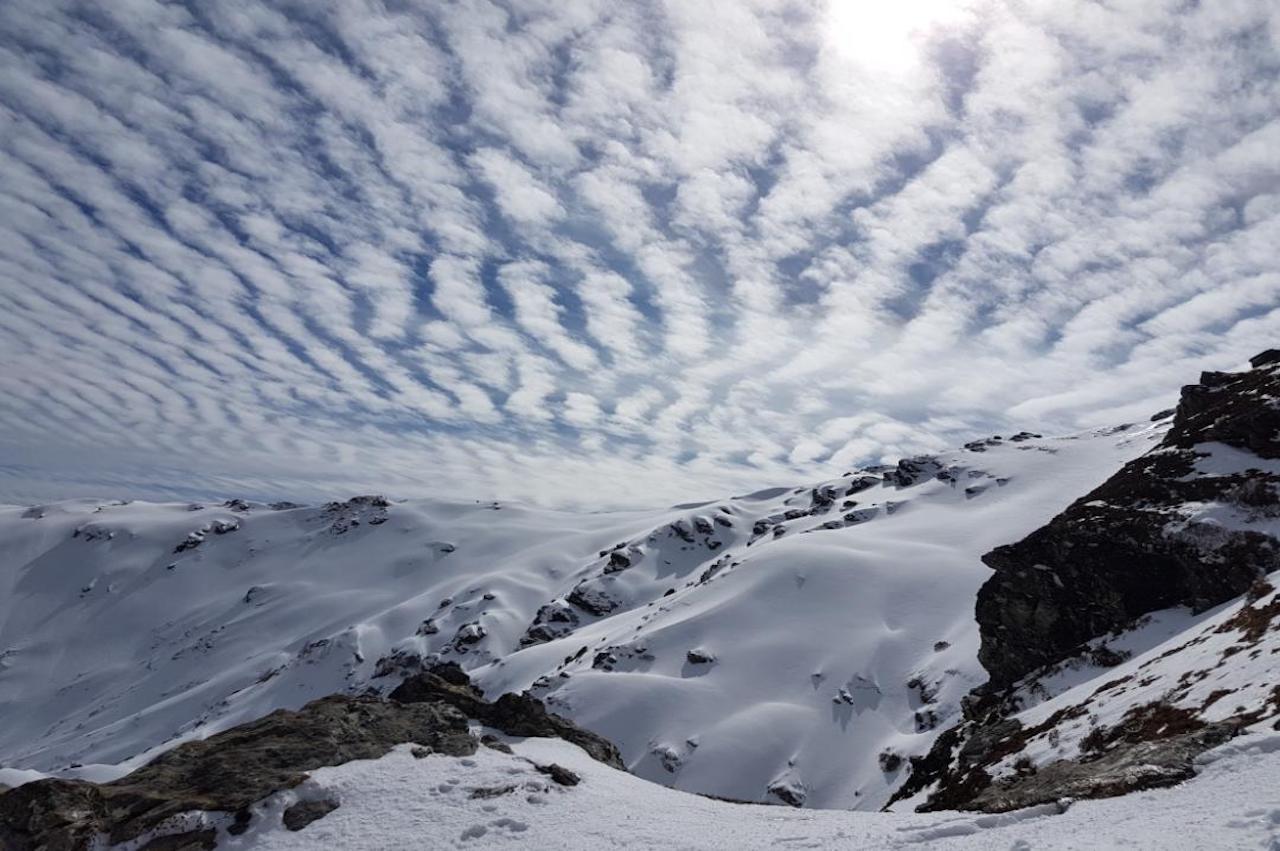 Brahmatal peak, located at 3,734 metres is another pinnacle of this trek. It offers a scintillating spectacle of Himalayan peaks from close proximity, especially of Mount Trishul and Nandaghunti.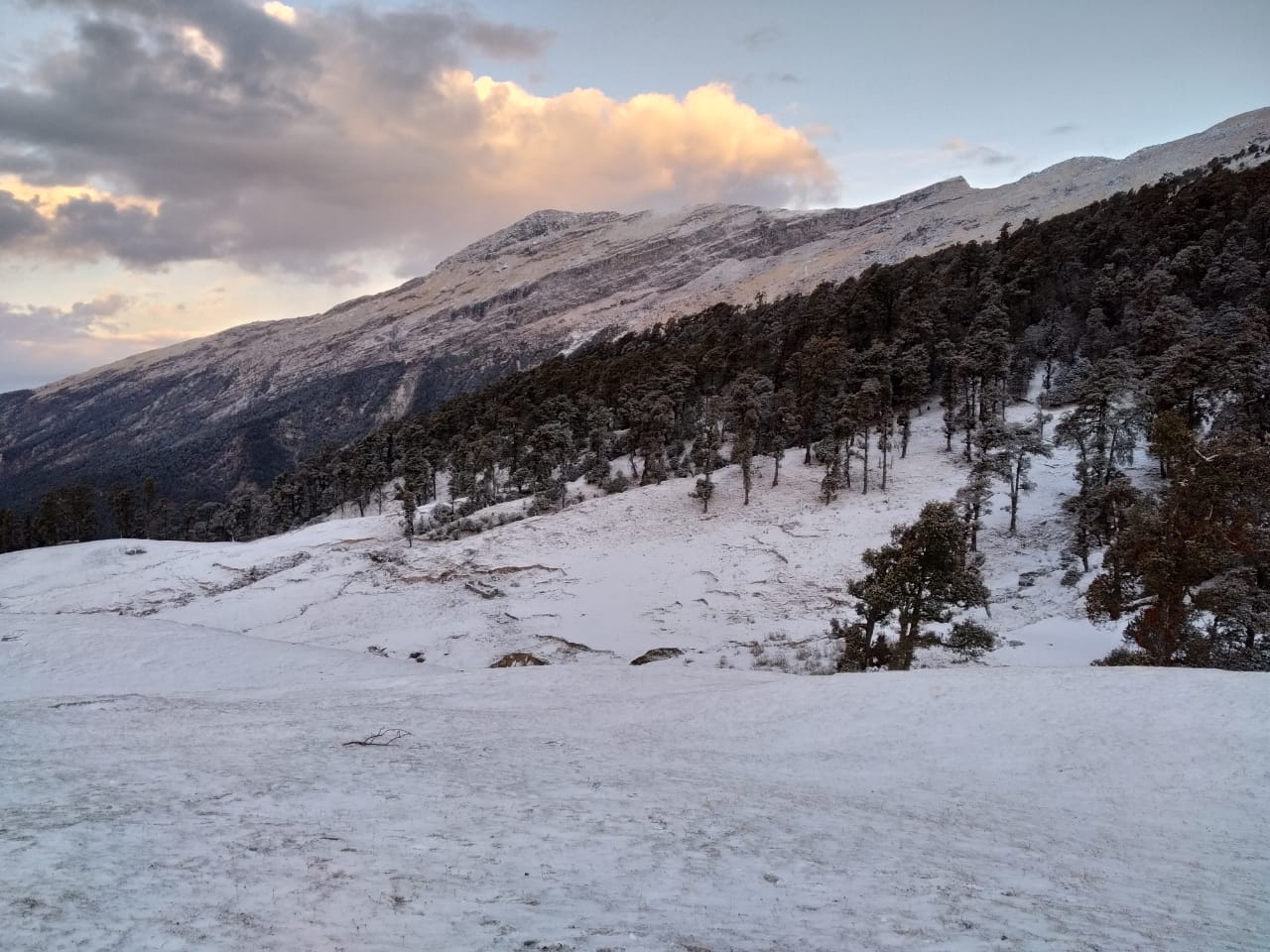 Some Locales
While descending from the Kedarkantha summit, you reach Hargaon. Revel in some adventure while you make your way cautiously through a steep trail in summers or slide down the snow during winters. You can set up a camp here and relax for the night.
Jhandi top, a locale on Brahmatal trek, bestows upon you some amazing views of tall trees and treats you to some splendid species of birds. It is a mecca for trekkers seeking some adventure. Chota Jhandidar and Bada Jhandidar trails on a mountain ridge flatter you with magnificent valley views on both sides, while undertaking the Brahmatal trek.
Whether Kedarkantha or Brahmatal, these splendid treks re-energize your soul, rejuvenate your senses and help you experience the fairy tale magic of Himalayan mountains.