Different Flavors Of Har Ki Dun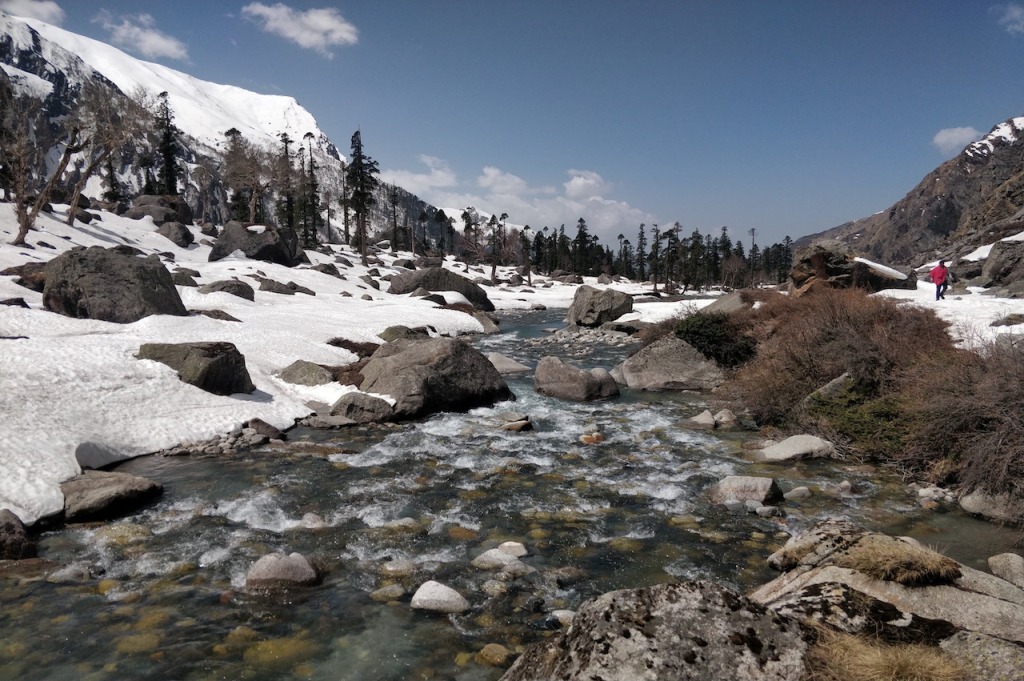 Har Ki Dun that literally translates to "Valley Of Gods", is a paradise on earth. Blessed with natural beauty so surreal, Har Ki Dun stuns trekkers with a panorama which is unique to each season. From an expanse of a virgin snowy landscape in winters to a kaleidoscope of vibrant hues in spring to an amazing vista of verdant greens in summer, hovering clouds in monsoons and a stunning spectacle of colors in autumn, Har Ki Dun offers an irresistible seasonal platter to its trekkers.
Let us explore the myriad hues of Har ki Dun in different seasons
Har ki Dun in Winter season-November-March
Winter season in Har Ki Dun which begins in November and ends in March flatters you with scenic backdrops of colossal mountain ranges of Swargarohini, Kala Nag and Bandarpoonch, glacial mountain lakes, vast expanses of frozen meadows and snow drifted alpine forests.
All through the trek, you are welcomed by the fairy-tale ambiance of snow-capped trails, glimmering snow, frozen waterfalls, and scintillating peaks.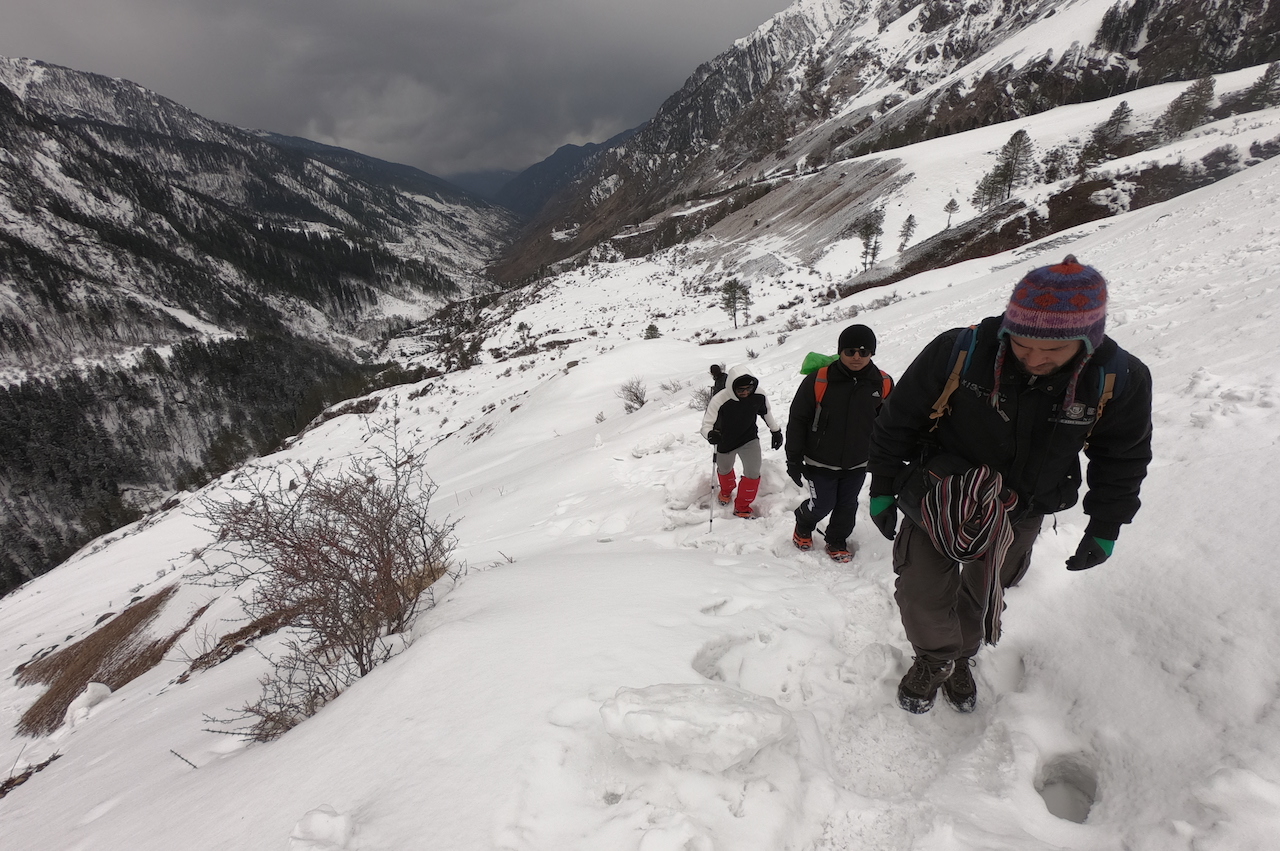 The temperatures from November to March vary between minus 11 degrees to plus 13 degrees (minimum and maximum respectively), with December and January being the coldest months. Temperatures in January and December fluctuate between minus 11 to plus 9 degrees (minimum and maximum).
The weather remains pleasant during the day and temperatures fall drastically in the night time. If the skies are clear enough then you may get a chance to gaze at the night sky which showers moonlight on mountain peaks.
Due to its easy to moderate terrain, Har Ki Dun is not a difficult trek to undertake in the winter season. The harsh cold is no hindrance and Har ki Dun is swarmed with trekkers in winters.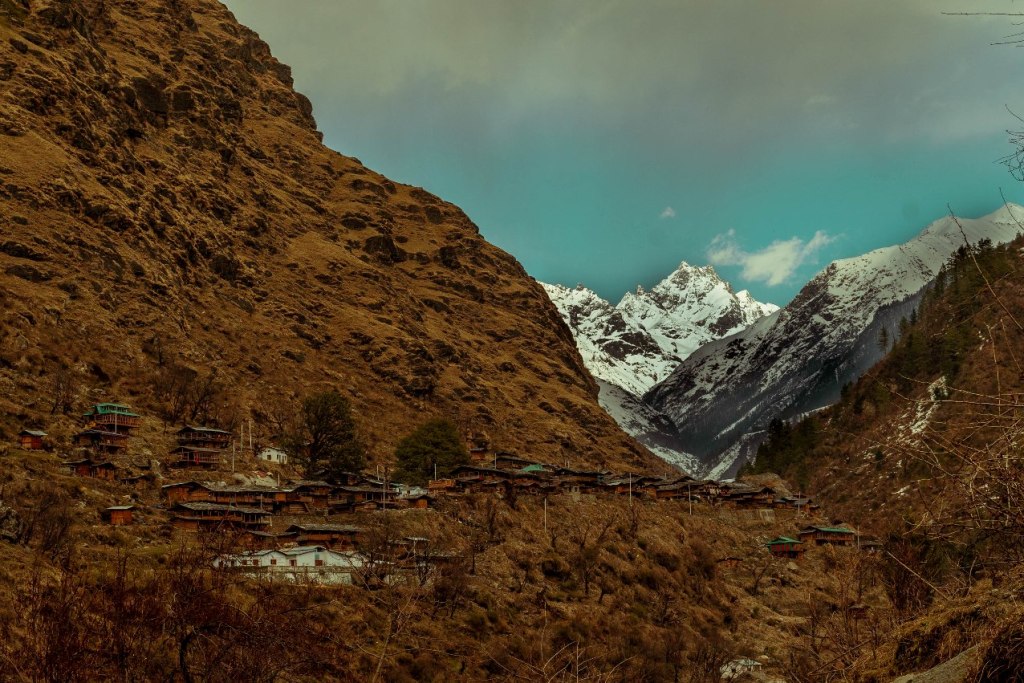 Gangad Village
Bedecked with heaps of snow, quaint villages of Sankri, Taluka, Osla, Gangad, and Seema look ethereal in winters. Some bustle with activity while others are enveloped quietly in a blanket of snow. The slopes of tiny huts resplendent with snow bathe in gold and orange at dawn and dusk.
Maninda Tal and majestic Jaundhar glacier are beautiful lakes that bestow upon you serenity and peace with their calm ambiance. Depending upon the severity of winter and the amount of snowfall received, the trekking route to Maninda Tal and Jaundhar glacier may be closed during winters.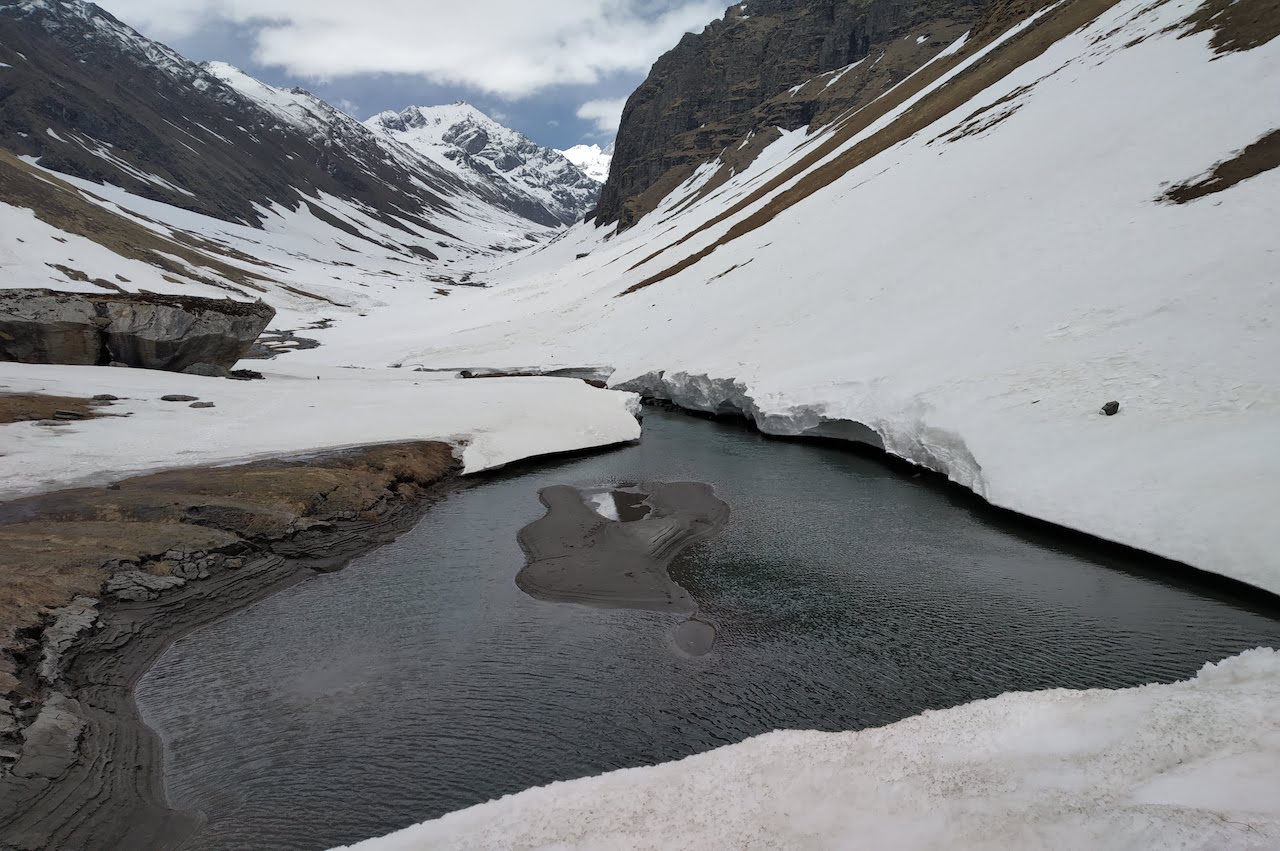 Maninda Tal
Suitable clothing
3-layered clothing is a must to keep you warm so that you are able to revel in the beauty of the season. An innerwear (thermal) topped by a double layer winter jacket with fleece lining or down filling, and finally a waterproof jacket or windcheater with a hood as an outer layer, will help you brace the harsh winter. Windproof and waterproof track pants are essential for high altitude winter trek.
A woollen skull cap, water-proof gloves, and a woollen scarf do the trick to prevent any wind chill. A pair of sunglasses with UV protection helps you protect against the bright winter sun.
Good quality snow boots lined with fleece are mandatory to help you tread through snow easily.
Har ki Dun in Spring and Summer Seasons-April to June
One of the best seasons to undertake Har Ki Dun trek is spring, in the month of April. Melting snow paves way for fresh grass, the trails are lined with blooming flowers and morning light casts a magical glow on the mountains.
The sleepy villages wake up from hibernation of harsh winters and zoom back to life.
The month of May offers a beautiful amalgamation of spring and summer; the weather is most pleasant, neither too cold nor too hot. The temperatures in April and May vary between minus 5 to plus 20 degrees.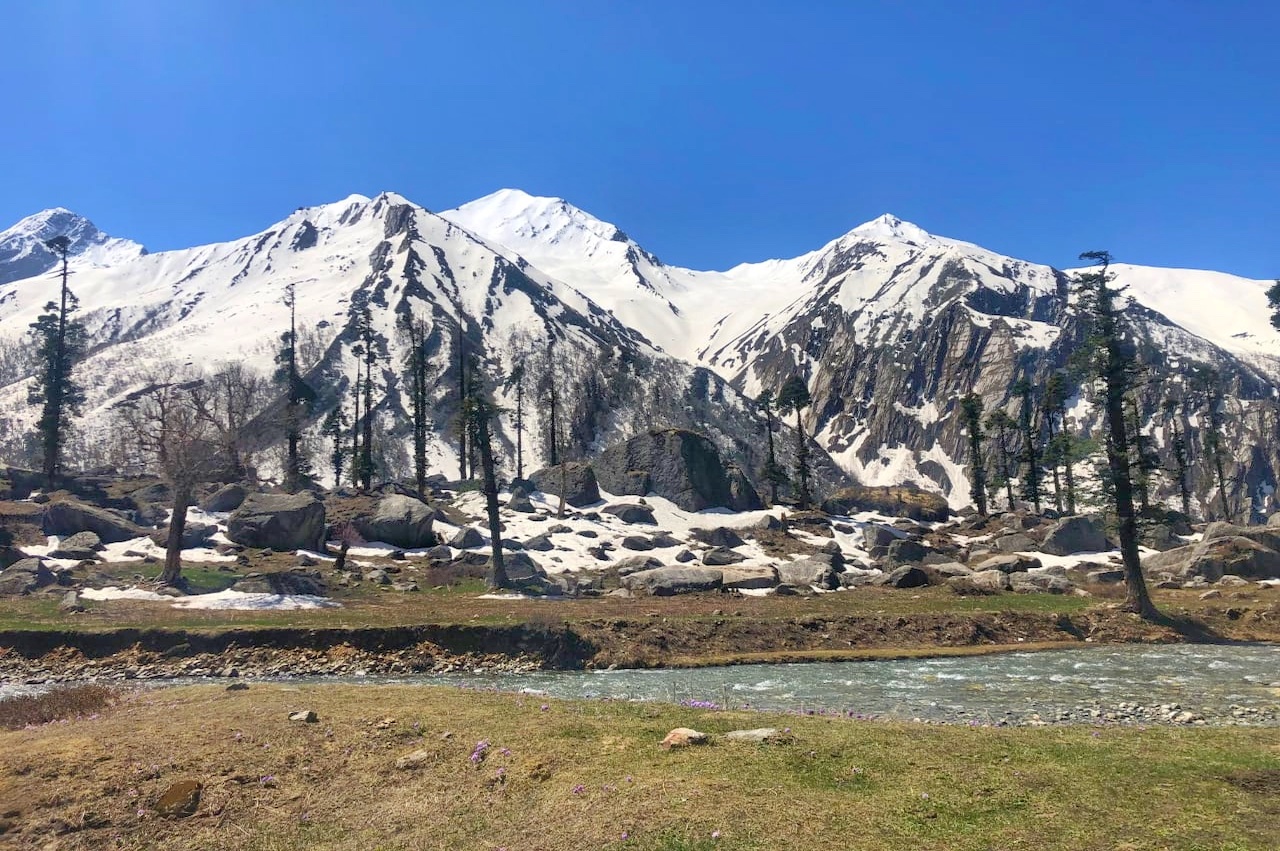 June flatters with a riot of colors that infuse vibrancy in your trek. Lush green meadows welcome you into an embrace of freshness and sparkle. Variety of flora and fauna, glossy green forests, meadows, ancient villages, and moraine ridges present stunning views. This season is best for bird-watching; it is believed that the area is home to around 250 species of birds. From colorful Himalayan monal, the state bird of Uttarakhand to golden-breasted eagle to Himalayan quail, black bulbul and Griffon vulture, Govind Ballabh Pant National Park in Har ki Dun trek treats you to beautiful and rare species of birds.
June is pleasant and clear with temperatures between plus 5 to plus 19 degrees. Clear skies feast you with beautiful starry skies during the night and you are treated to an amazing array of luminous galaxies.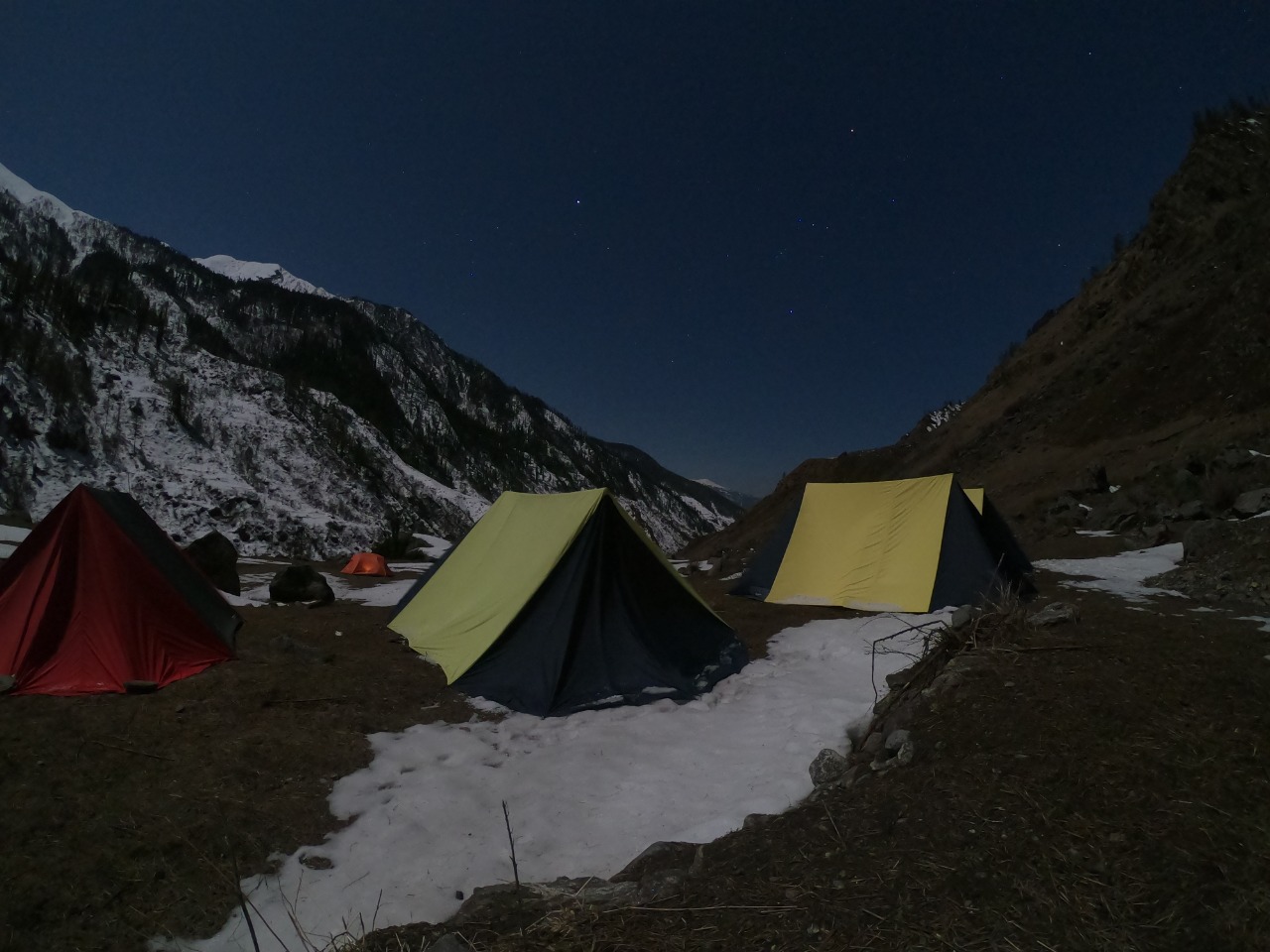 Suitable clothing
Comfortable quick-dry shirt and track pants
Light jacket
Wide-brimmed sun-cap and UV protection sunglasses to protect against the harsh sun
Good quality shoes with a rubber sole and mid-sole cushioning and ankle support
Har ki Dun in Monsoon season-July to August
July and August bring rain in Har Ki Dun. While July has cloudy weather with intermittent rains, August receives heavy rainfall. Monsoon showers a glow of novelty on mountains that are covered with fresh greenery. Dark clouds, small waterfalls, bubbling rivers amidst pitter-patter of rain make Har ki Dun dreamy heaven in monsoons. The temperature in July and August varies between plus 6 degrees to plus 20 degrees. However, many times Govind Ballabh National Park bans tourists during monsoons, so trekking is closed.
Suitable clothing
Waterproof jacket
Light woollen clothes
Quick-dry shirts
Raincoat and waterproof track pants
Good grip waterproof shoes for the slippery path
Har ki Dun in Fall season-September and October
Witness a beautiful fusion of monsoon and summer in the month of September. This month provides a perfect background and beautiful lighting for photography enthusiasts. Weather is the pleasant best except for sporadic rains. Temperatures vary between plus 2 degrees to plus 19 degrees in September.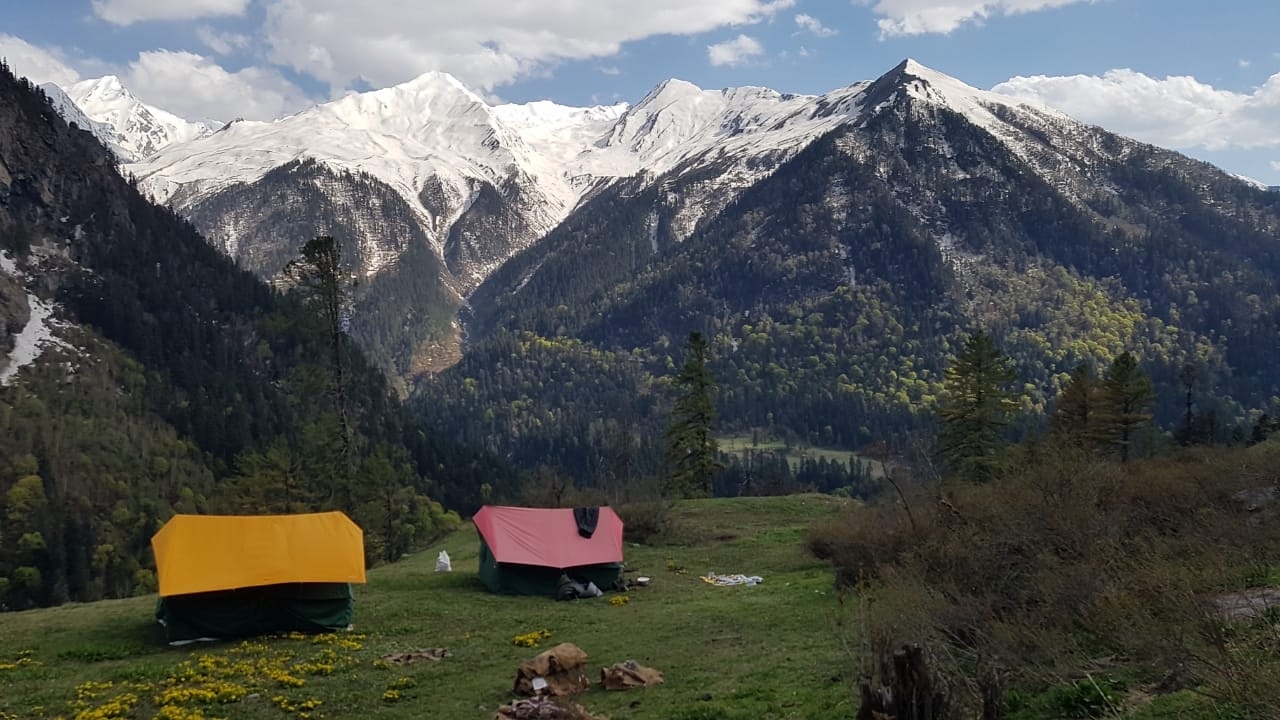 October boasts of spectacular fall colors that treat you to an incredible landscape of red, green, orange and golden foliage and you may even witness an early snowfall, if lucky.
Alpenglow on clear skies is the best play of light which is rarely witnessed in winters.
Temperature begins to fall but is still bearable and varies between minus 1 to plus 13 degrees. If you are seeking solitude, looking for a comfortable trek and want to soak in autumn colors, then fall season is your best bet. There is comparatively less crowd of trekkers in autumn than in winters.
Suitable clothing
Carry warm clothes
Raincoat and waterproof jacket
Good grip shoes for the slippery path
Har ki Dun is a beautiful all season trek; it is entirely up to you to choose the season that best flatters your senses and rejuvenates you with its flavor.