Best Himalayan Treks for Beginners in India
The majestic Himalayas is made up of dramatic topography, surreal valleys, and extensive cold deserts that stretch over miles and offers you to discover the greatness of mountains while enjoying the multicultural aspects of Indian Himalayan. From snow-capped mountain peaks to the spiritual pilgrimage. Trekking through the evergreen meadows, alpine lakes coming across tiny streams, and brooks along your way and experiencing the wildlife of mountains is an unforgettable experience.
If you are a beginner the idea of trekking on the Himalayas might sound a little bit intimidating to you but hidden in the ranges there are huge numbers of alluring trails that appeal to beginners. So if you are a newbie or an amateur trekker you still have numerous options. There are not just one but ten trails that will let you experience the thrill of mountain climbing.
Maximum Altitude: 12,500 ft
Duration: 6 days
Difficulty level: Easy-Moderate
Best season: Dec-April
tarting/ending point: Sankri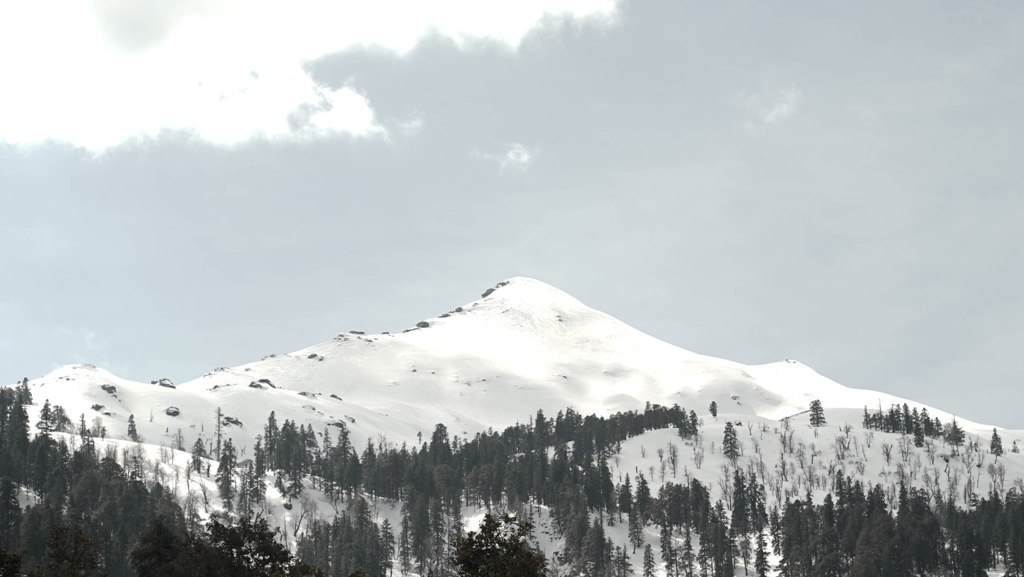 Kedarkantha is one of the most sought winter treks which lies in the snow delight of Uttrakhand. The literal translation of Kedarkantha is Throat of Lord Shiva, legend says that Lord Shiva once meditated here, according to Hindu mythology Juda Ka Talab which is one of the famous and alluring campsites of this trek was formed from the water droplets that fell from Lord Shiva's hair. Apart from its mythological history, this trek has endearing settings, loveliest campsites, jaw-dropping glimpse of mountains with landscape unique to every season.
It takes you through sparkly snowy paths, charming quaint villages, with vast stretched meadows along with exotic floras and snow-covered pine forest. This trek gives beginners an opportunity to experience the thrill of summit climb, due to its relatively easy trail.
Maximum Altitude: 14,010 ft
Duration: 5 days
Difficulty level: easy-moderate
Best season: June - October
Starting/ending point: Manali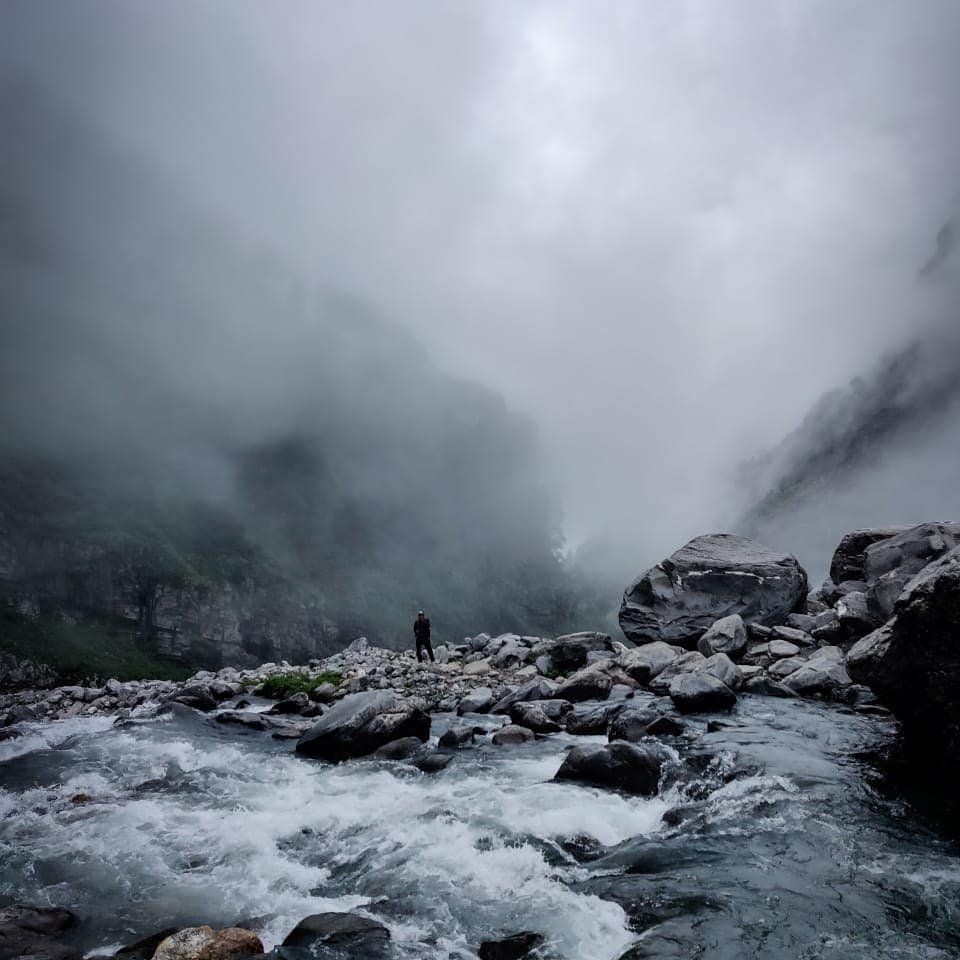 Hampta pass is the most popular pass crossing trek you can do on the Himalayas. Hampta pass is a dramatic crossover of lush green Kullu valley and barren landscape of Lahaul. This amazing trek is located on the pristine mountains of Himachal Pradesh.
This trek is considered one of the easiest and convenient of all treks in Himachal Pradesh, someone without any experience can also do this trek with little guidance. According to Mahabharata, this trek route was travelled by Pandavas in quest of heaven, which makes this trek even more exciting.
Maximum Altitude: 14,010 ft
Duration: days
Difficulty level: Easy
Best season: July - September
Starting/ending point: Joshimath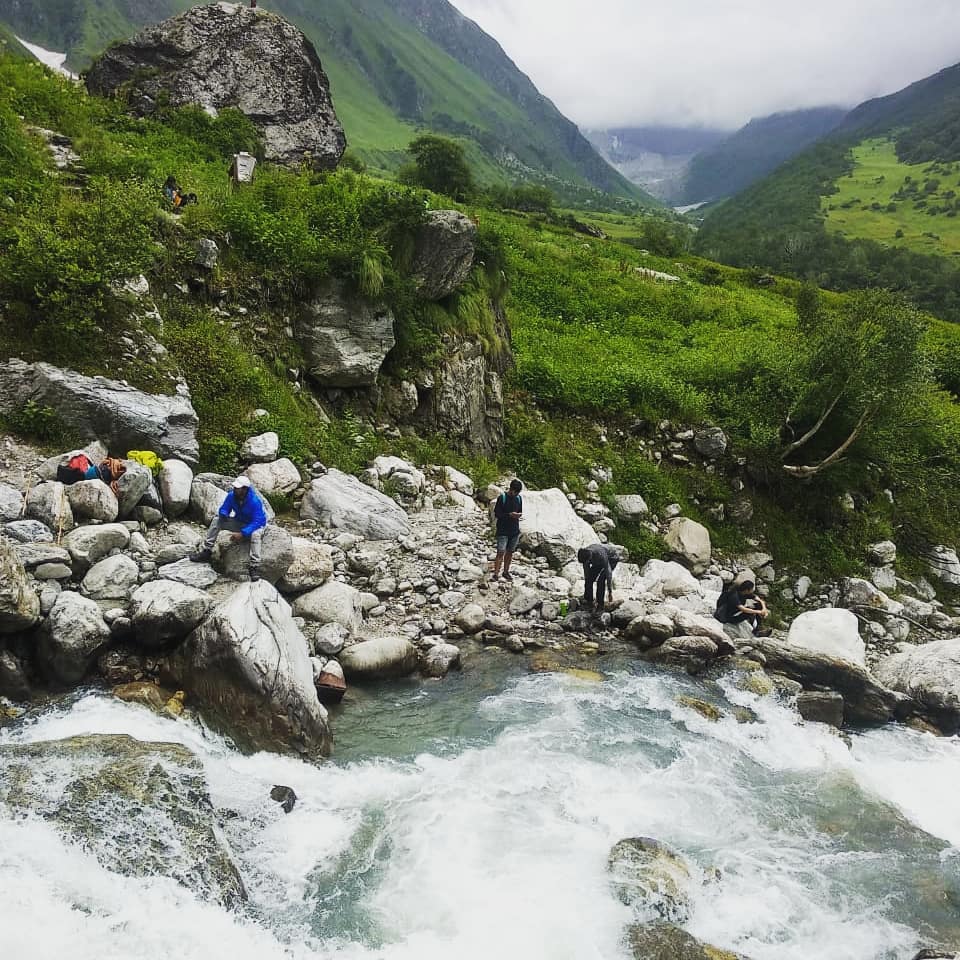 Valley of flowers is one of India's oldest known treks. And in 2002 it was recognized as a UNESCO world heritage site. Snuggled in the west Himalayan region of Uttarakhand, the valley of flower welcomes you with rare and exotic Himalayan flora. Valley of flowers is a beginner-friendly trek, the trail is an easy hike through dense forest along with beautiful Pushpawati river, glacier and waterfalls on the way.
This trek can make you fall in love with trekking. When you will stand at the entrance you will see a carpet of pink, blue and yellow flora stretching over kilometers. Walking in a narrow path between those flowers is no less than taking a walk in heaven, the deeper you will walk in, you will notice the distinct features of each flower, there shapes, colors, texture, and smell. Valley of flowers is home to millions of exotic flora like poppy, sedum, lilies, calendula, daisies, and much more.
Maximum Altitude: 12,772 ft
Duration: 3 days
Difficulty level: Easy-Moderate
Best season: June - September
Starting/ending point: Manali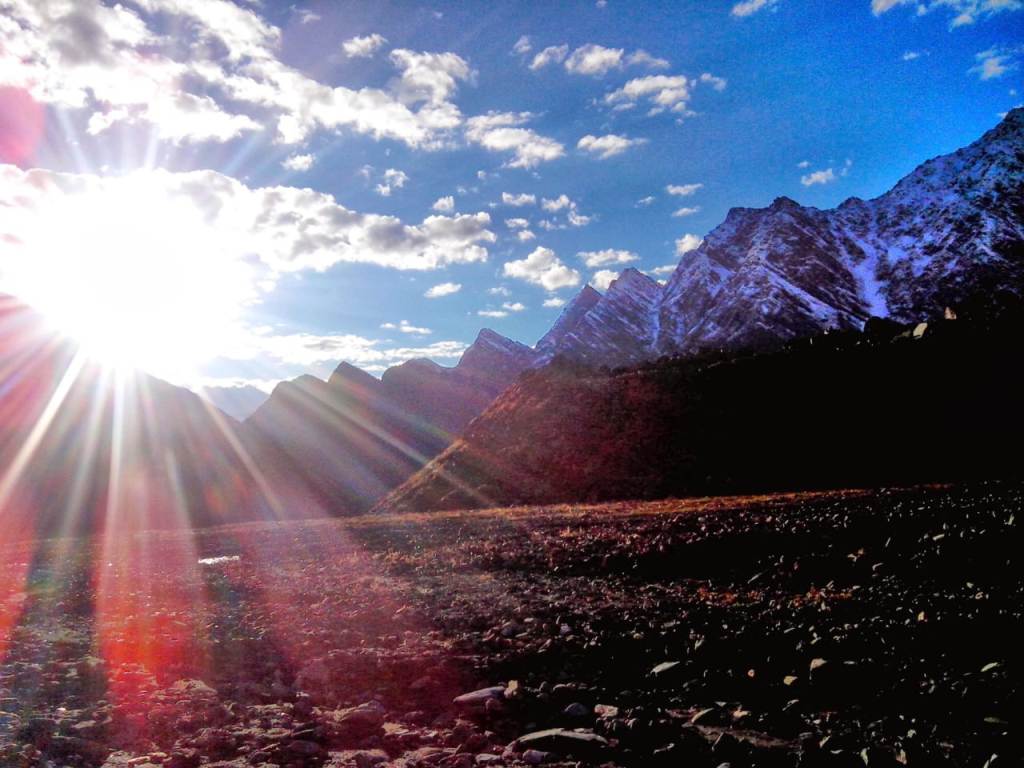 The deep blue emerald-like alpine lake nestled among jagged mountain peaks of the Pir Panjal range has always been a famous trek around Manali. The best part of this trek is its spectacular setting; lush green grasslands of Bakarthach and Dhundhi are stretched over a vast distance, Dhundi is where you will get a glimpse of Beas river which originates from Beas Kund.
This four days short trek offers a terrific base to summit views of mountains, which are usually earned by rigorous trekking on high altitude. Easy gradient, prismatic views of glaciers and alpine meadows, the mighty Himalayan ranges these key elements makes it a perfect destination for beginners who don't have prior experience in trekking.
Maximum Altitude: 12,516 ft
Duration: 6 days
Difficulty level: Moderate
Best season: March- Mat, September- December
Starting/ending point: Haridwar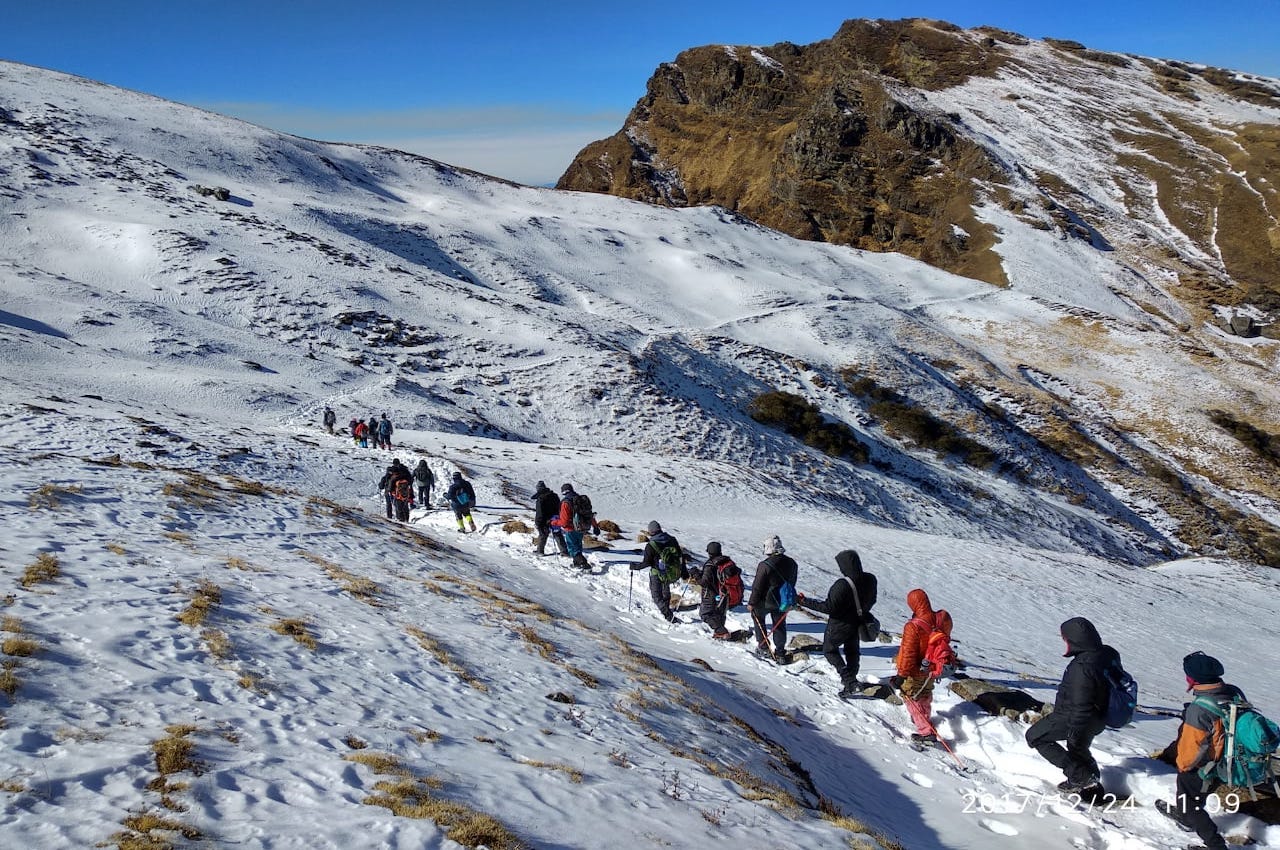 Kuari pass means the doorway. This trek was discovered by Lord Curzon given its also called Curzon trail. It is a well-crafted trek for beginners or even experienced trekkers. Since the trail of this trek is not so difficult the beginners have a chance to learn all about trekking and experience the diverse flora and fauna of this place.
The trail of Kuari pass is decorated with a beautiful forest of oak, deodar and blooming rhododendron covered in layers of snow. There is an interlude of meadows which makes forest entry beautiful every time. The trail is a series of forests and meadows which gives you a splendid view of snow-clad mountains.
Maximum Altitude: 12,150 ft
Duration: 6 days
Difficulty level: Moderate
Best season: September- April
Starting/ending point: Lohajung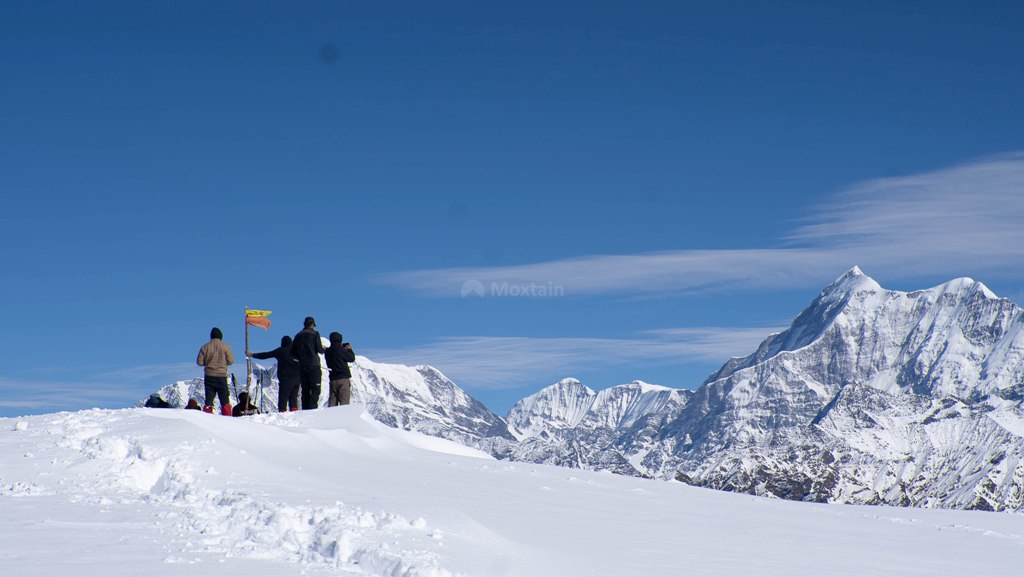 Brahamtal trek is popular for the variety of Mountain View that it offers. It is a snowy Himalayan trek with trail covered in snow along with two surprisingly beautiful glacial lakes hidden amidst of trek one is Brahamtal Lake and second is Bekaltal.
The frozen alpine Brahamtal Lake got its name from Lord Brahama who according to Hindu mythology meditated near this lake. Also, you will get a spectacular view of Nanda Devi peak, Mount Trishul, and Mount Kamet. This trek has a low gradual incline which makes it moderate in terms of difficulty.
Maximum Altitude: 14,010 ft
Duration: 4 days
Difficulty level: Moderate
Best season: July- September
Starting/ending point: Manali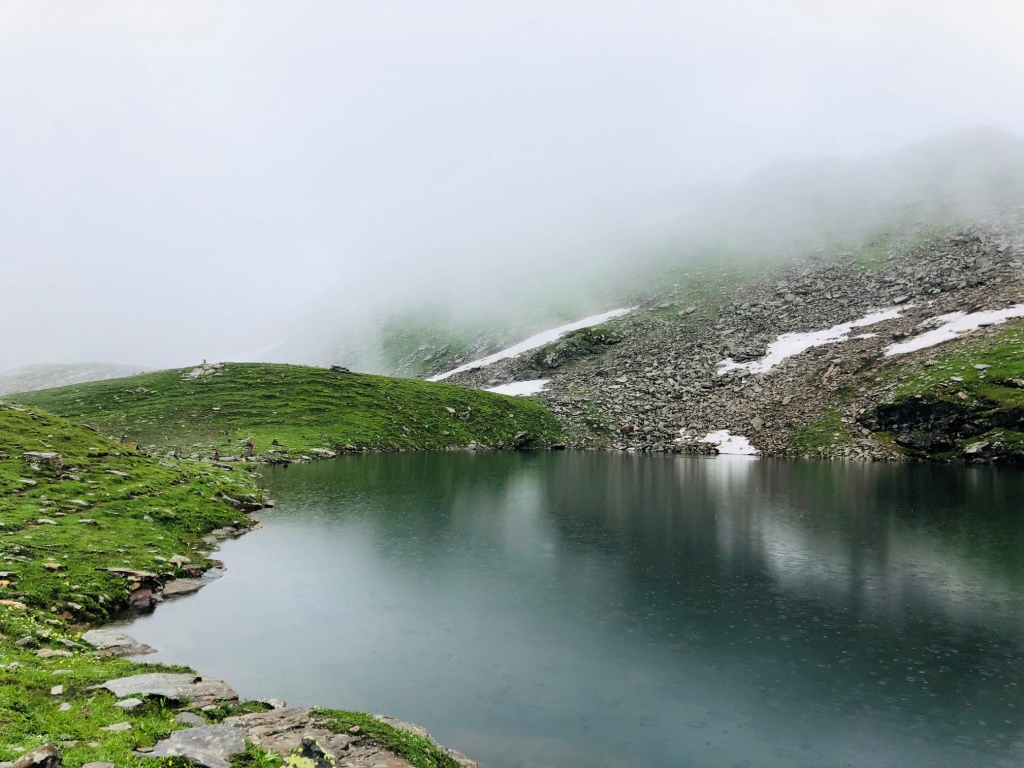 The name of this place is inspired by mythological figure Maharishi Bhirgu one of the Saptrishi(Seven Sage), who settled near the oval lake to perform meditation. The locals believe that the lake never freezes completely because Rishi Bhirgu meditated there. This high altitude alpine lake is so enticing that it allures trekkers to climb up to 14,000ft in just 4 days.
The Bhirgu Lake trek is almost always covered in snow but if you will visit in June or May you can see beautiful flowers blooming near the lake along with the splendid scenery of Pir Pranjal and Dhauladhar ranges. The trek is a little steep but it's not too difficult, which makes it beginner-friendly.
Maximum Altitude: 13,500 ft
Duration: 4 days
Difficulty level: Easy
Best season: April-July
Starting/ending point: Haridwar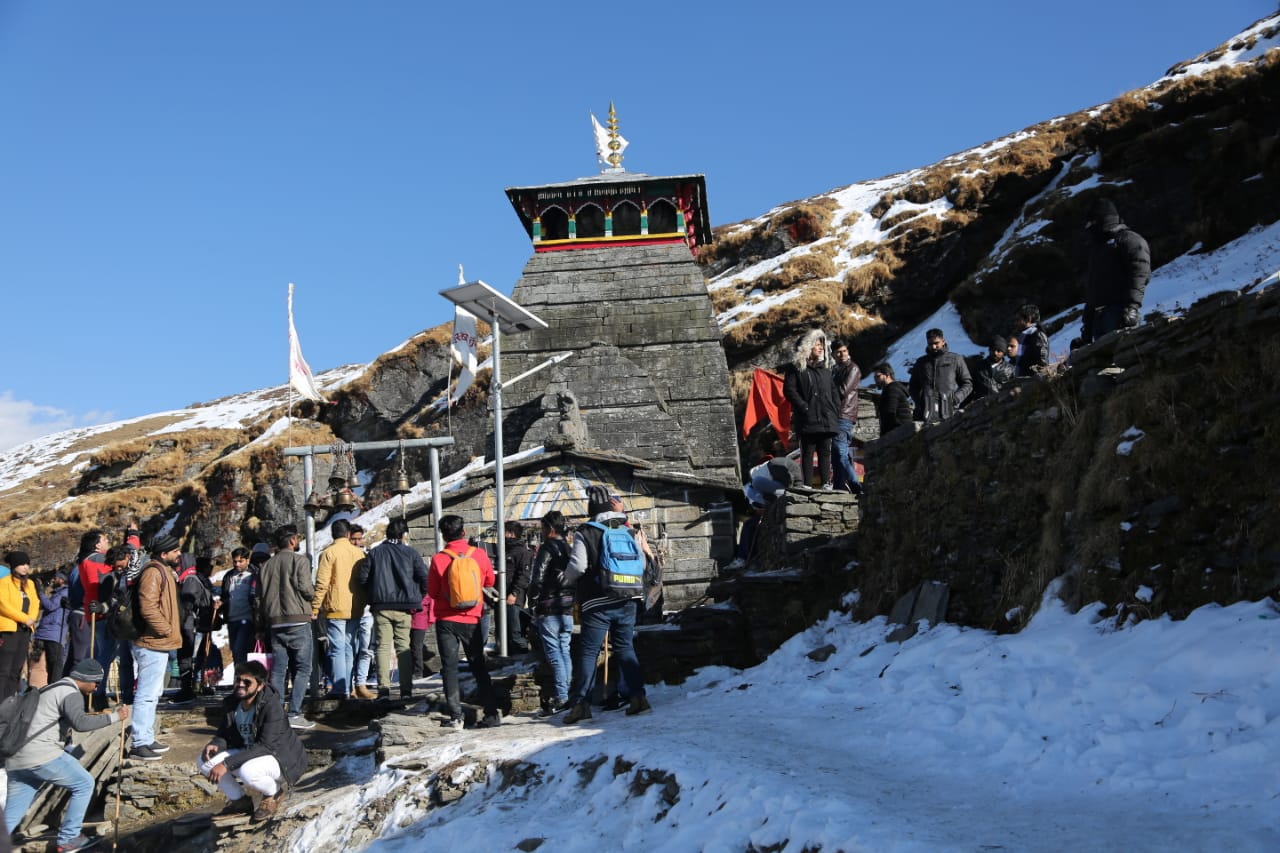 Chopta Tungnath is a gateway to the vibrant colors in the Himalayas; this trail will show you the major peaks of western and Eastern Himalayas in Uttrakhand. Chopta (2,680m.) is a small evergreen forest which is the part of Kedarnath wildlife sanctuary; here you will come across various types of birds and some rare Himalayan species like musk deer.
Chopta is also a base camp of Tunnath temple (3,680m.) which is the third temple of the Panch Kedar and is the highest and oldest Shiva temple.
Maximum Altitude: 11,929 ft
Duration: 6 days
Difficulty level: Moderate
Best season: Mid September- April
Starting/ending point: New Jalpaiguri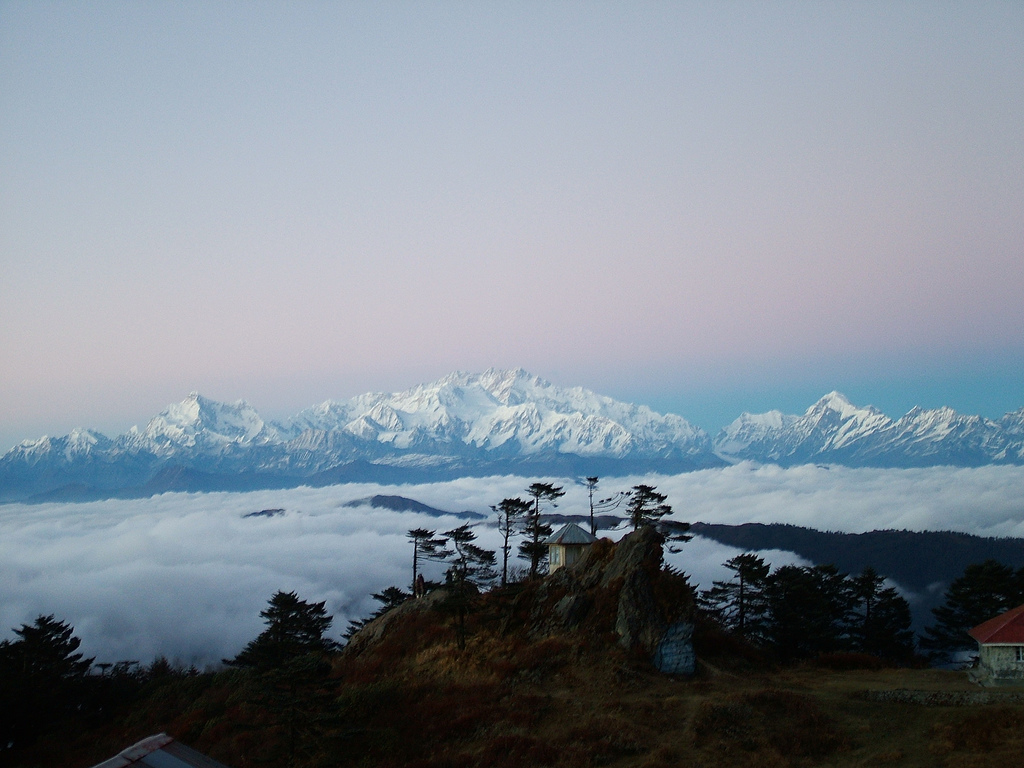 Sandakphu is the only trek in our country which offers an amazing view of the four highest mountains in the world. Sandakphu is the highest peak in the state of West-Bengal. Sandakphu means the height of the poisonous plant, which is true for the Sandakphu peak as the major part of the mountain is covered with poisonous aconite trees. This trek is located on the sanglilla range, and it takes you through sanglilla national park.
The trek is decorated with blooming red and white rhododendron, grand magnolias, primula, and silver fir tree. There are almost 600 verities of orchids in the vicinity of the glorious mountain. You will spot the exotic species of fauna such as red panda and pangolins. From the peak of Sandakphu, you will witness the surreal vista of mount Malku and Lhotse, Everest, and mount Kanchenjunga.
Maximum Altitude: 9,914 ft
Duration: 2 days
Difficulty level: Easy-Moderate
Best season: Throughout the year
Starting/ending point: Dehradun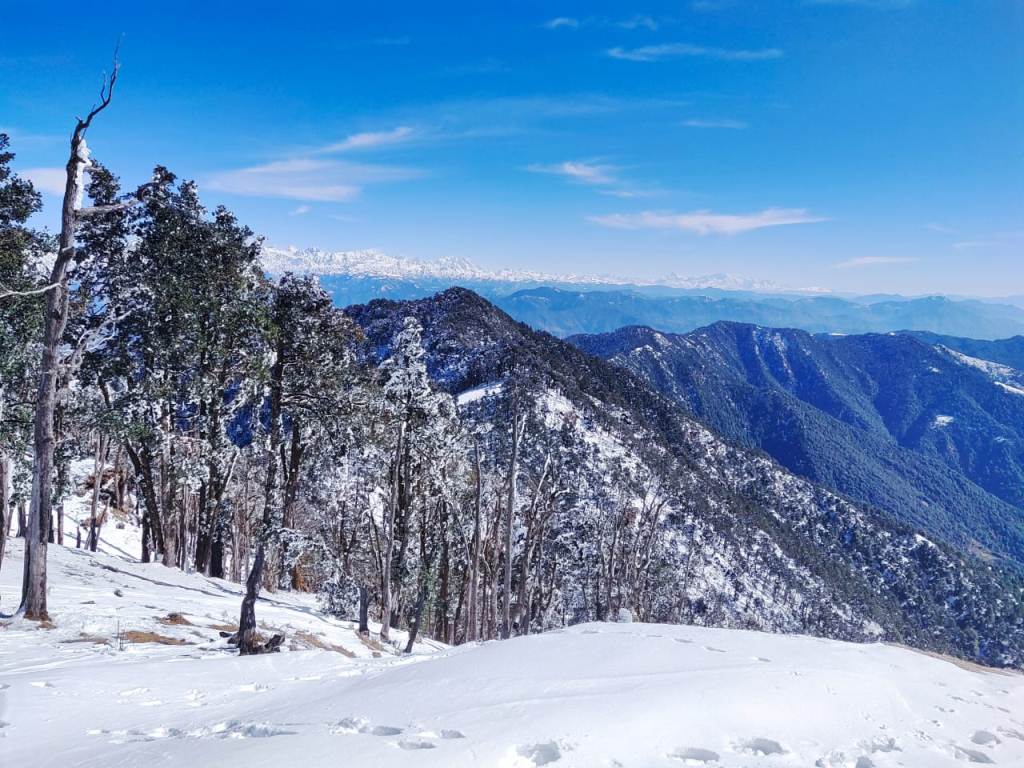 Naag Tibba or serpent's peak is the highest peak in the lower Himalayan Ranges of Uttrakhand. From Naag Tibba you can get a spectacular 100-degree view of snow-capped Himalayan ranges such as Gangotri, Kala Nag, Swargrohni, and the Kedarnath peak.
This amazing trek is located in a small village near Mussorie. This is indeed short trek but in a short amount of time, it takes you through a variety of landscapes, from refreshing deodar forest to spell bounding sunset and sunrise through mountains and picturesque small quaint villages. The literal translation of Naag Tibba is "Adobe of the Snake God". The local villagers worship serpent deity and have a beautiful temple dedicated to snake god near the summit. It is a refreshing trek for an amateur who hasn't experienced the full-fledged trek, it prepares you for the challenging treks.