Trek Overview
Coming across a high altitude lake in India is rare. Coming across one like Lake Bhrigu is even rarer. Bhrigu Lake is a high altitude glacial lake located in the Kullu district of Himachal Pradesh. The most enticing feature of the Bhrigu Lake Trek is that you get to climb up to an ambitious altitude of 14,000 ft. in just 3 days, which is usually achieved after 4-5 days of hectic climbing on a Himalayan trek. This ideal weekend hiking trip promises loads of excitement for both beginners as well as experienced hikers.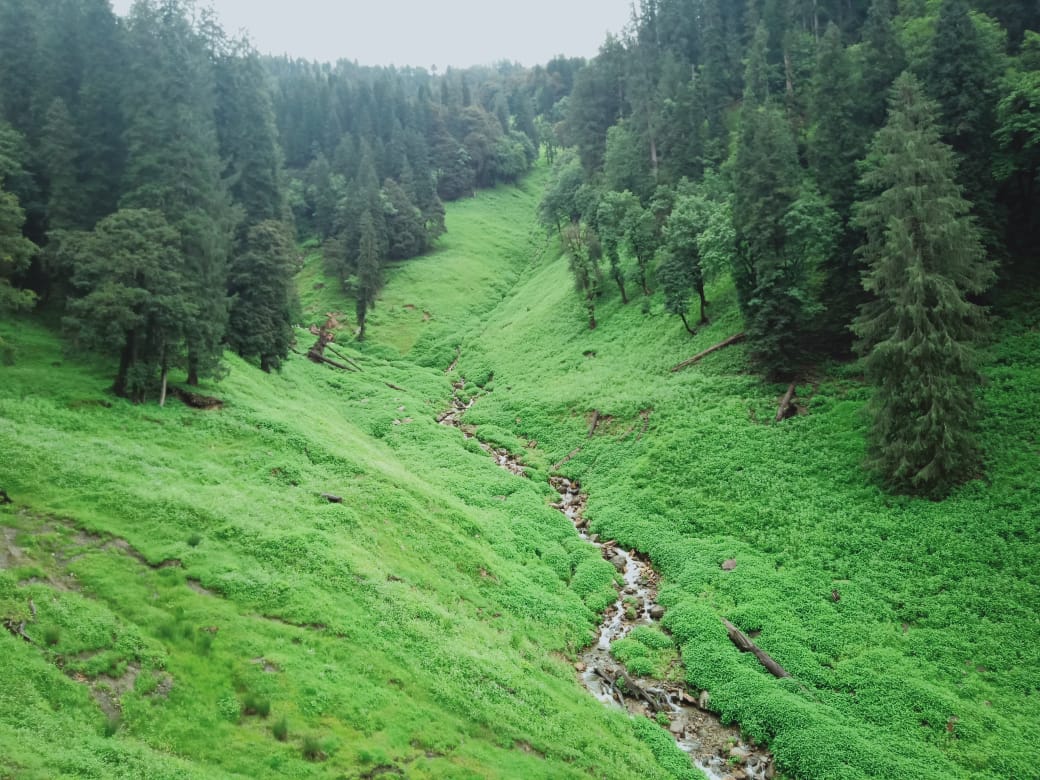 P.S. The Bhrigu Lake trek is suitable for both beginners as well as experienced trekkers. While the beginners get to cover an impressive height within a couple of days, the steep climb up to the lake can get quite rigorous for them. Therefore, it is recommended that first timers maintain good physical stamina.
About Bhrigu Lake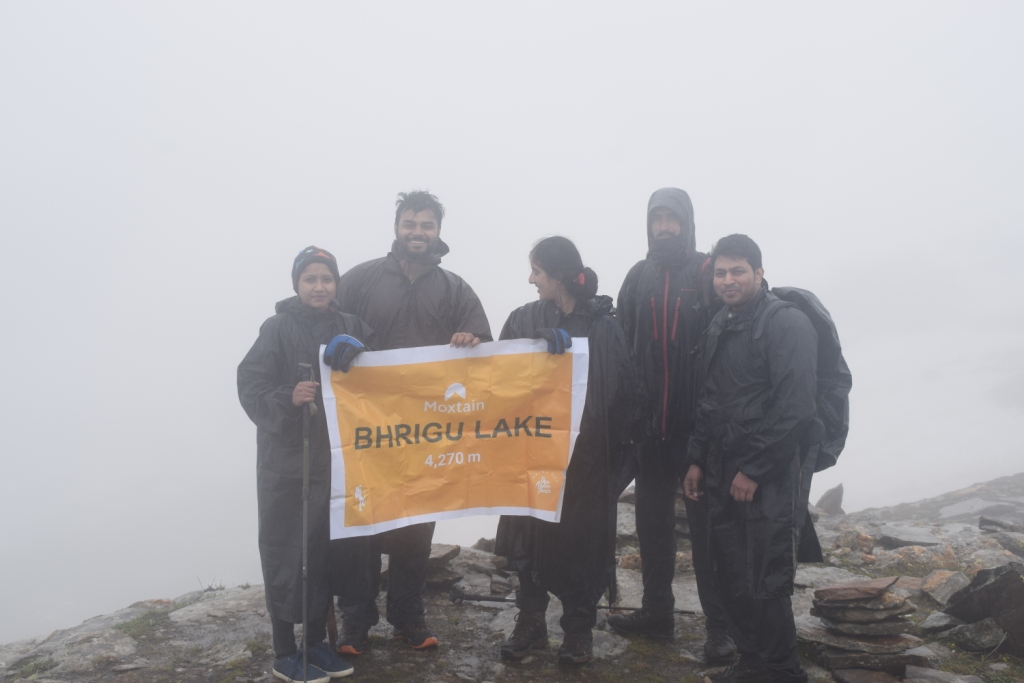 Trekkers at Bhrigu Lake Trek summit
Situated to the right of the Rohtang Pass and about 6 km from the Gulaba base Bhrigu Lake is a 'paradise on earth' especially for nature lovers. Nestled in the lap of nature and flanked by rows of snow-capped mountain peaks on all sides, Bhrigu Lake attracts a large number of visitors every year. During the early sum'mers, you can see green and blue ice rings formed around the circumference of the lake. In the late summer, it turns completely into a blue lagoon.
Getting There
The nearest airport to Manali is Bhuntar which is connected by domestic flights to Delhi and Chandigarh. You can take a pre-paid taxi from the airport to Manali which is about 50 kilometres away. If you're thinking of driving up to Manali, then you must because the views are simply breathtaking! It is 550 km from Delhi. Besides this, Manali is extremely well-connected by a network of government as well as private buses.
The Legend
Apart from its scenic, colour-changing properties, the Bhrigu lake also has significant historical and religious implications. As per local folklore, a thousand year ago Maharishi Bhrigu would meditate near this pristine lake & that is how it got its name. Apart from Sage Bhrigu, it is also believed that a lot of the Himalayan rishis and devtas bathed at this heavenly location. For this reason, it is popularly known as the 'pool of Gods'
The Trek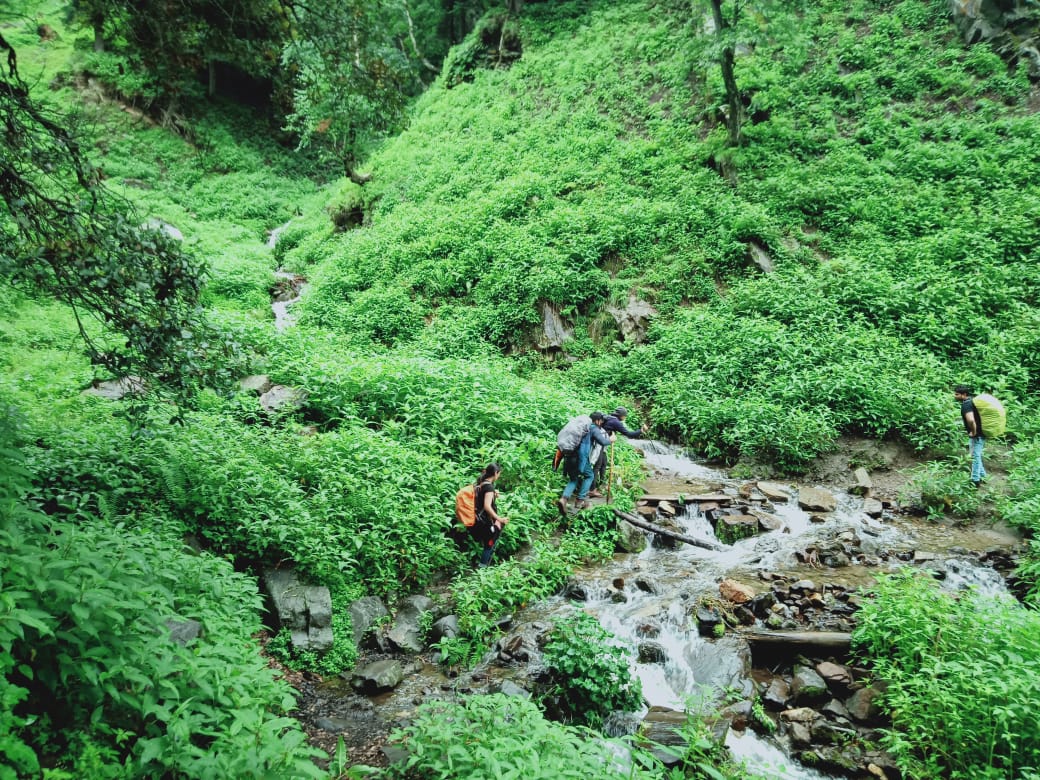 The high altitude lake, its steep ascend, the magnificent flora-fauna and the intriguing history behind it make this trek one of the most sought-after treks in India. The trek starts from Gulaba which is 4-5 hours trek to Rola Kholi situated at the base of Bhrigu Lake. Along the way, one gets to admire breathtaking vistas of snow-capped peaks, verdant oak and cedar forests and gushing streams. Depending upon the season you might even come across sheep and wild horses grazing in the meadows while the winters are a bonus for those who prefer being engulfed by white blankets of snow. If you're lucky enough, you can even catch sight of Himalayan Monals, Snow Cocks and beautiful pheasants. On the second day of the trek, you walk uphill to the oval-shaped lake nestled among the clouds. On your descent, adore picturesque views of traditional Himalayan villages littered with the sights of blooming apple orchards.
Facilities
It would be important to acquaint yourself about the basic facilities that you may need for this trek. These include hygienic food, camping, transport and porters who could carry your luggage. On our part, we would be scheduling your travel as per your budget and requirements. A team of highly trained people would be there to assist as well as guide you through your way. And before you are set on the trekking segment of this journey, they would brief you on do's and don'ts so that you may fend for yourself in case of an emergency.
What's Included
Inclusions
Mountain course certified and experienced Trek Leader.
Supporting staff.
All meals on scheduled time(Vegetarion and Delicious Only )
Quality equipments for Trekking.
Fully equipped medical kit and safety equipments.
All kind of permits and camping charges.
Exclusions
Personal expenses done by the trekkers while on the trek.
Food items purchased by trekkers during the trek at local canteens or during the drive.
Mules or porters to carry personal luggage.
Anything not mentioned in Inclusions.
Health and Safety
For any Himalayan Trek, Ideal BMI for a trekker should be 18.5 to 24.9
To keep a check of this please calculate BMI here
Below given Safety checks should be done to get prepared for any Himalayan Trek.


Balance : As well said a balanced mind and body gives out best in every condition and that too works in Himalayan treks as well.
Legs Strength : Body and Legs Strength is required to carry body weight as well as the backpack while trekking in uneven multi terrains. Generally, a good strength on legs works out good in any Trek. One can gain legs strength by doing simple Squats.
Muscle Flexibility : While trekking in Trans Himalayan region with a flexible body one can easily achieve full range of movement and this can be really helpful for trekkers as well as trek leads. A good flexible will be an advantage while walking on trails, climbing and river crossing etc. Flexibility can be achieved by simple stretching, yoga etc.
Cardiovascular Endurance : Cardiovascular endurance is defined as the ability of lungs and heart to transmit oxygen to the body muscles. All Himalayan treks are basically ascending descending the slopes and for this trekkers should be having a good cardiovascular endurance. Anyone planning for a Himalayan trek can attain this capacity by doing any cardio exercise like running, swimming, cycling etc.
Cancellation
Cancel up to 30 days before trek start date and get full refund.
Cancel up to 15 days before trek start date and get 70% refund.
Cancel up to 7 days before trek start date and get 50% refund.
Cancel within 7 days of trek start date and the cost of the full reservation is non-refundable.
Refunds will be processed within 7-10 working days from the date of cancellation.
In case of refund, 2.5% (Payment processing charges) will be applicable.
Eligible refund amount will be calculated from the total trek fee offered, in case you have made partial payment only.