Trekking in Ladakh 2023
Not all classrooms are confined to four walls ; let nature be your best teacher!
Are you a wanderer at heart seeking a tryst in the remote and most awe-inspiring laps of nature? One name that pops up unbidden in your mind is Ladakh. The thought of embracing the most impassable mountain ranges of this enchanting land casts a spell on your being.
Ladakh, the name translates to land of high passes, is a cold desert snuggled between the Karakoram and Himalayan range. Perched at an impressive altitude, it offers the most startling sights of razor-edged ridges and barren cliffs enclosing remotest monasteries. Ladakh has two capitals, Leh and Kargil. Leh opens the door to the most challenging hikes of the country Treks in Leh are categorised as some of the wildest ones.
You may also like: Trekking in Manali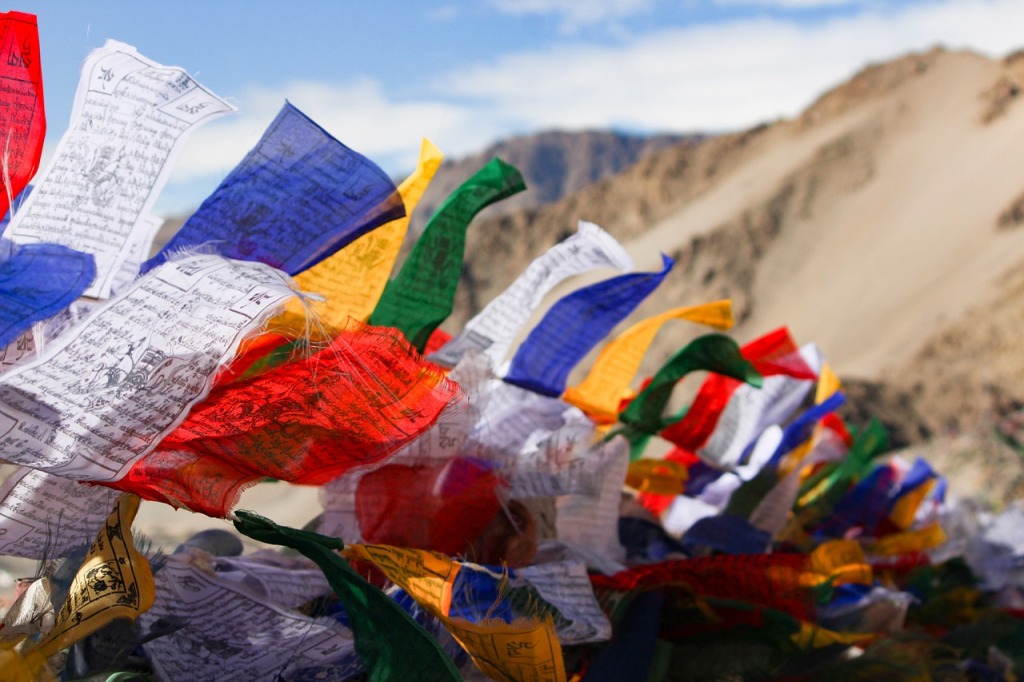 As the saying goes, the goal is to die with memories and not dreams.The best treks in Ladakh bless the trekkers with an unforgettable experience of the rugged mountains placed against the backdrop of clear open skies dotted with dense thickets. So once in your life, give wings to your dreams and explore the best treks in Ladakh. And when trekking in Ladakh, be a traveler and not a tourist. You will create indelible memories for a lifetime!
Trekking in Ladakh conjures up some vivid images in our minds. Stark landscapes of towering peaks, prismatic turquoise lakes, lush greenery, and wildflower grasslands are sparkling jewels of this far-away land. All this plus hospitable people, rich culture, and a restrained number of tourists make Ladakh one of the most mesmeric locales worldwide.
Not to forget that the classic treks of this region treat you to the age-old Buddhist culture. Ancient stupas and illustrious monasteries flanked by Buddhist flags bestow a divine solace upon the place. The beauty of the naked sun-drenched trekking peaks in Ladakh overlooking the cold desert has to be seen to be believed. Remote valleys that reverberate with the holy chants of mystical monks are surrounded by murals of the cragged desert. Such ambrosial scenes are not seen anywhere in the world!
Also known as Little Tibet, the secluded hamlet of Ladakh has developed into quite a trekking hub lately. Interspersed with very demanding terrains and high-altitude passes, trekking in Ladakh is a daring and adventurous activity.
The vast and unexplored expanse offers limitless trekking opportunities to the daredevils.
With some important points already discussed above, let's now take a quick peek at some of the most popular treks of the magical land of Ladakh. We have compiled these treks ranging from the easy-moderate to very challenging difficulty level-
Spituk to Stok Trek
Trek level- Easy
Altitude- 12,795 feet
Distance- 35 km
Duration- 6 days
Best time to visit- mid June to October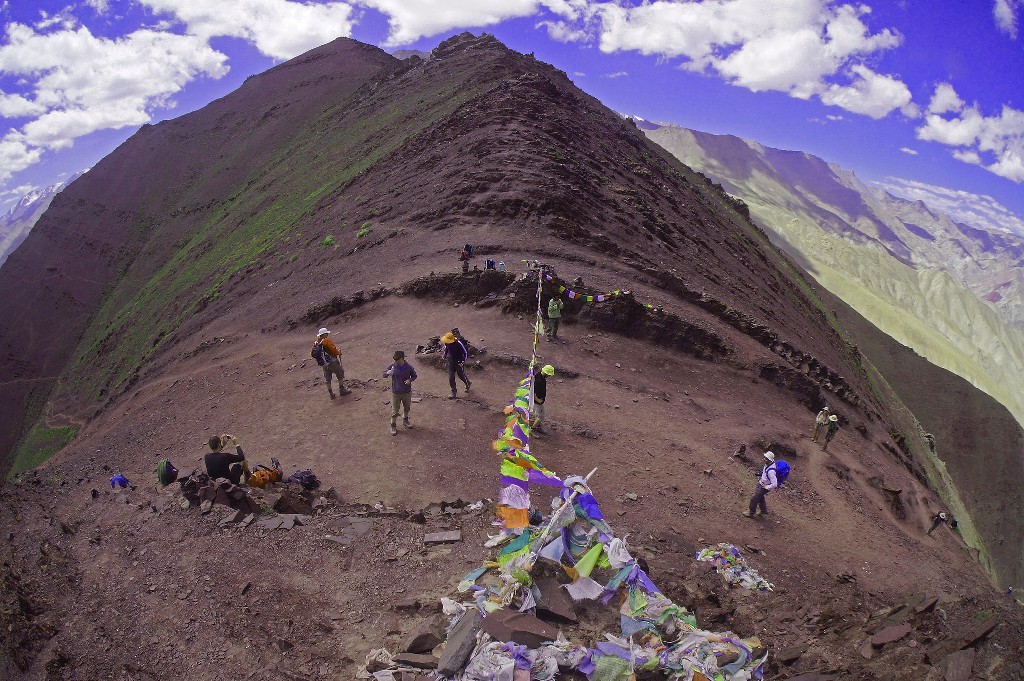 Image Source: Flickr
One of the easy trek routes of the distant Ladakhi territory, Spituk to Stok trek is a pleasurable expedition. It exposes you to the best amalgamation of stark landscapes blending with lush expanses of the Himalayan fauna.
You delve into Zingchen Valley, Hemis National park, Rumbak village, and touch across the grandiose Stok La pass. You unearth the history of the magnificent Stok Palace and the ancient Thiksey Gompa, Shey Gompa, and Hemis monastery.
Sighting Blue Sheep, Argali and if lucky, also Tibetan Wolf and Snow Leopard is a high spot of this classic trek. If you are high on bird-watching then Rumbak village offers you the best opportunity. It is the homeland of many migratory birds.
If lucky, you can spot brightly robed monks performing the popular ritual of masked dances.
You can introduce yourself to the secrets of the distant Ladakhi terrain by embarking on the Spituk to Stok trek.
Sham Valley Trek
Trek level- Easy
Altitude- 12,710 feet
Distance- 27 km
Duration- 3 days
Best time to visit- July and August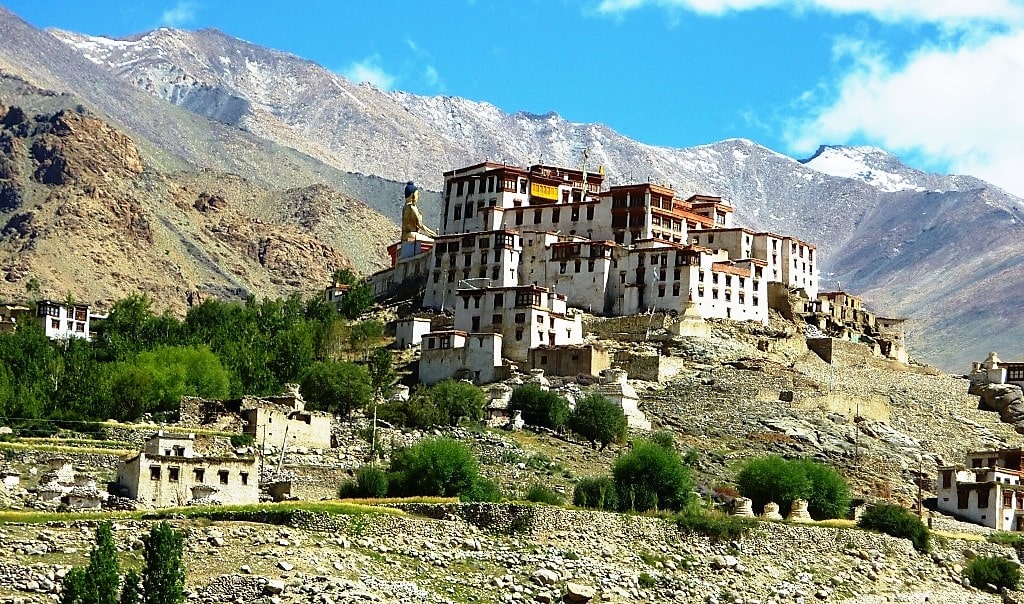 Likir Monastery enroute Sham Valley Trek
Sham Valley Trek is also called the "Baby Trek" of the Ladakh region.
It is also called the "Apricot Valley Trek" because of Apricot blossoms in the valley during the winters.
This short yet pleasant trek is the ideal training ground for future strenuous rendezvous in the rough terrains of Leh-Ladakh. This trailer trek can be undertaken solo or with families. It treats you to all ingredients of Ladakhi topography in the form of small mountain passes, rivers, leafy willows, and barley grasslands.
However, some parts of the terrain are speckled with abrupt hikes that can get challenging.
Likir Monastery, Pobe La Pass, Sarmanchan La Pass, and Temisgang Palace are the prime attractions en route that bring you closer to the unique heritage and history of the region. Of unique interest is the gold statue of Lord Buddha at Likir monastery.
A perfect sojourn for someone seeking a somewhat mellow Ladakhi adventure!
Lamayuru to Chilling Trek
Trek level- Moderate
Altitude- 16,240 feet
Distance- 63 km
Duration- 6 days
Best time to visit- mid June to September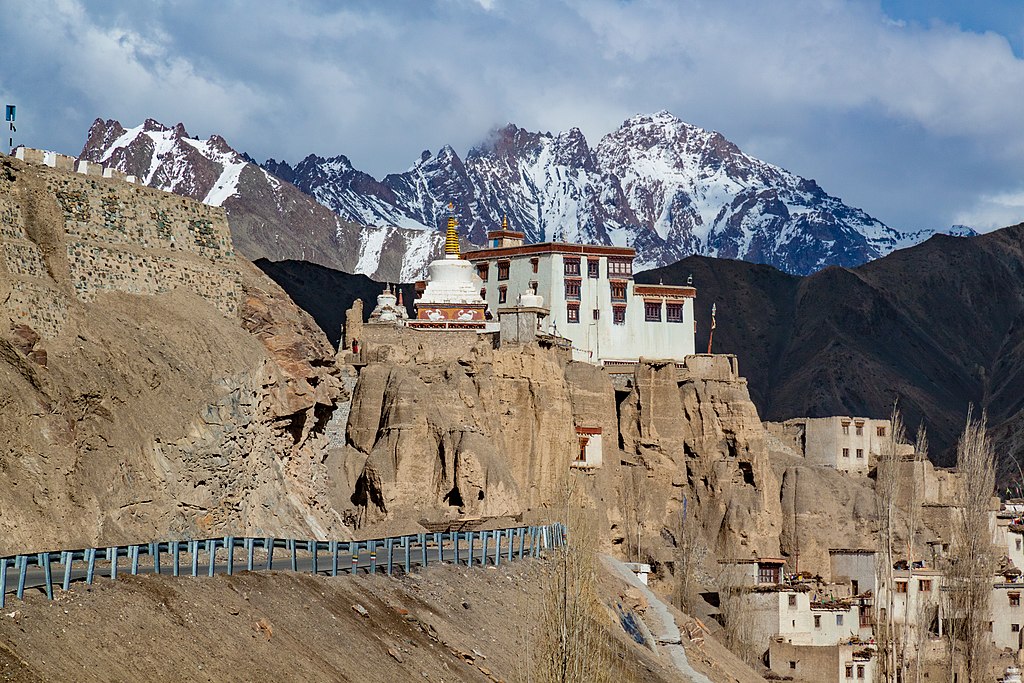 Lamayuru Monastery
Are you a Buddhist at heart seeking some spiritual wisdom? Lamayuru to Chilling Trek offers the perfect miscellany of stupas, gompas, and monasteries in the most natural spectrum of the Himalayan landscape.
Highlights of the trek are visiting the renowned Shey and Thiksey Gompa, Hemis monastery, and the ancient Lamayuru monastery. Lamayuru monastery sitting atop the rugged cliffs is the picture-postcard scene of the trek.
You cut across the glorious Dung Dung Cha La Pass, Prinkti La Pass, and Kongskil La Pass.
The route is peppered with the astounding views of Photoksar Peak, Karakoram, and Stok La ranges.
Witnessing the shades of Edelweiss and wildflowers blooming amidst the arid landscape leaves you awestruck.
A must-to-do trek for the religious minded! You will love sauntering cryptic shrines, gaping at occult artefacts, and watching monks whispering chants in the prayer hall.
Markha Valley Trek
Trek level- Moderate to difficult
Altitude- 17,100 feet
Duration- 8 days
Distance- 65 km
Best time to visit- June to September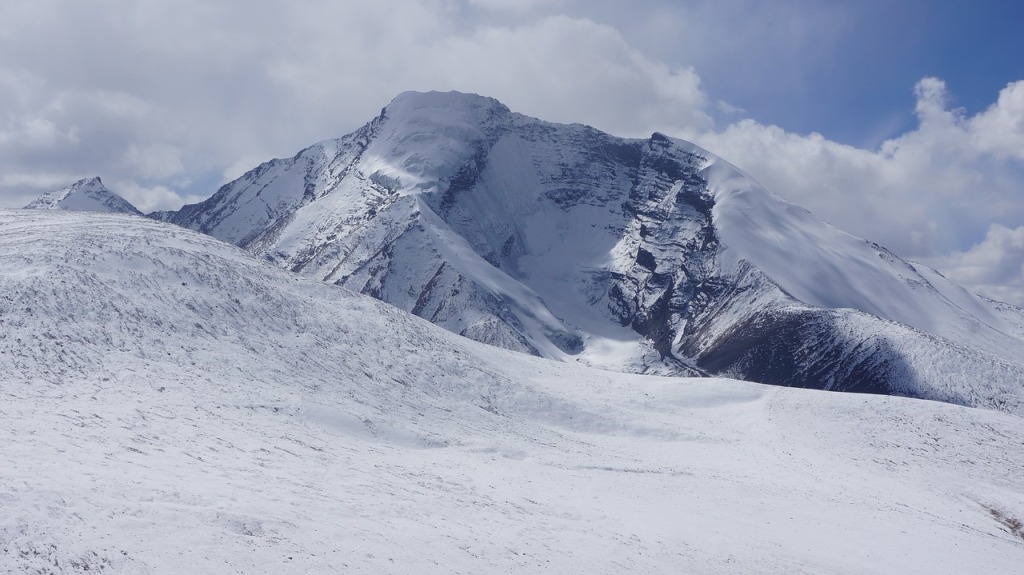 Also known as the "Teahouse Trek", for the excessive number of teahouses the trekking route offers, this trek is one of its kind. It gets its name from the celebrated Markha river which is your loyal companion during the trek. The fact that you will be delving deep into the largest valley of the region is in itself an experience to cherish.
Witnessing the virginal grandeur of this Himalayan domain is the focal point of this route. Kang Yatse and Mount K2, the two towering peaks gape at you, dazzling in their pristine glory. Enroute you also pay respect at Pathar Sahib Gurudwara, a holy shrine for the sikhs.
You wade through the mountain rivers, savor the beauty of emerald-green mountain lakes, and explore the stunning campsites and scenic hamlets.
As you journey ahead, a sudden transformation in the landscape leaves you startled. Windy plateaus ensconced at a staggering altitude throw an expanse of lush green in the otherwise dry-arid territory of Leh-Ladakh.
You also explore Spituk gompa, the 15th century Phyang Monastery, impossibly-located Tacha Monastery, and ruins of an old palace on this route.
In short, this Markha Valley trek is an amalgamation of all fruity elements that one can fancy.
Chadar Trek
Trek level- Moderate to difficult
Altitude- 11,483 feet
Distance- 62 km
Duration- 9 days
Best time to visit- Winter months of mid Jan-mid Feb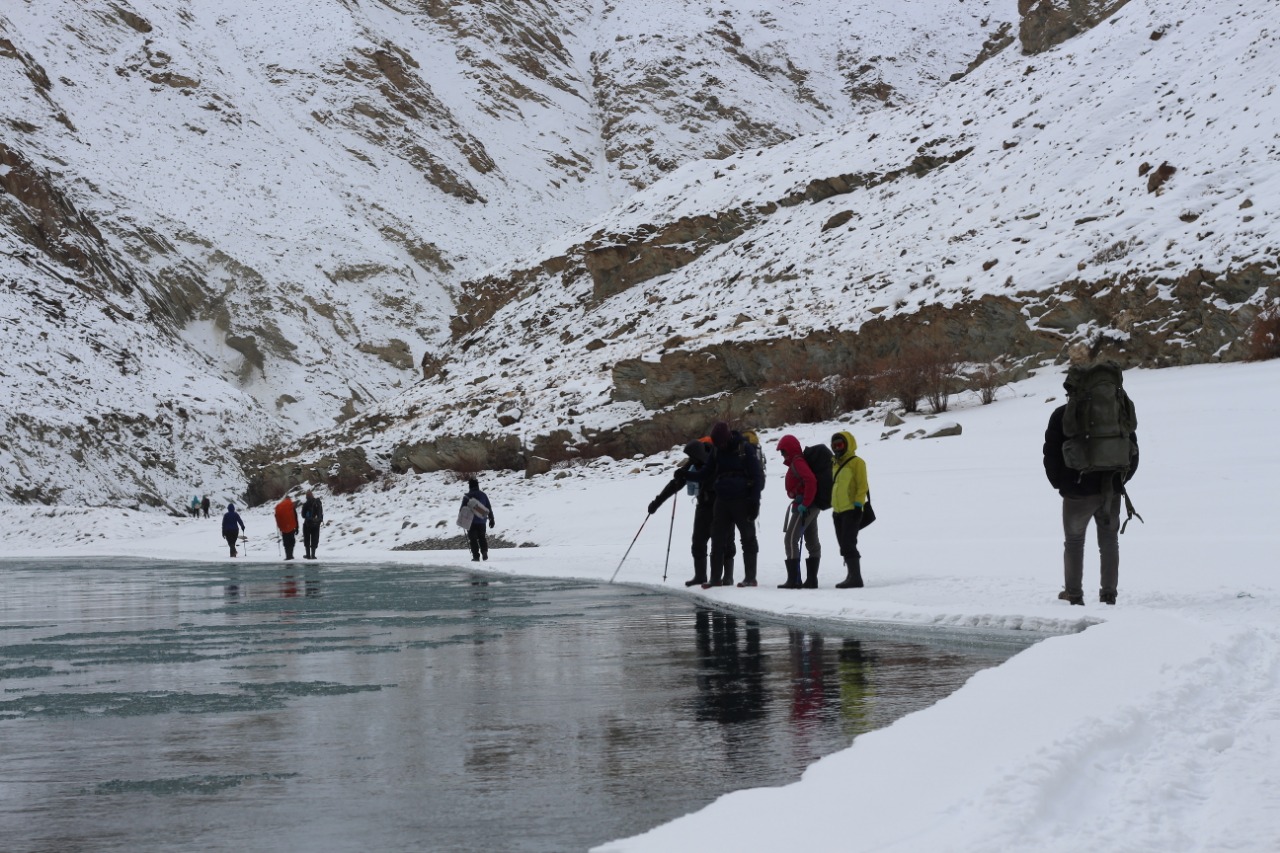 Chadar trek translates to trekking on a sheet of white (snow). It is one of the most chilling yet sought-after winter treks of the region. You are exposed to frigid cold conditions with temperatures dropping to as low as -30 degrees.
Also, the route traverses through some of the trickiest terrains and demands mental and physical endurance of a high level.
The highlights of this Frozen River Trek include crossing the frozen Zanskar river hemmed-in by spectacular cliffs. The river is covered with a solid sheet of ice in most parts but also shifts at some intervals. This causes ice to break and requires swift manoeuvers over rocks for crossing the river.
As you walk along the steep canyons flanked by frozen waterfalls, the profound beauty of the region leaves you awe-struck.
The trek also offers the bone-chilling experience of venturing into remote mountain caves.
No doubt, the trek is a sensational unforgettable experience of a lifetime.
Highly recommended for adventure junkies who are game for exploring nature in frosty weather conditions!
Stok Kangri Trek
Trek level- Moderate to difficult
Altitude- 20,187 feet
Distance- 40 km
Duration- 8 days
Best time to visit- May to mid October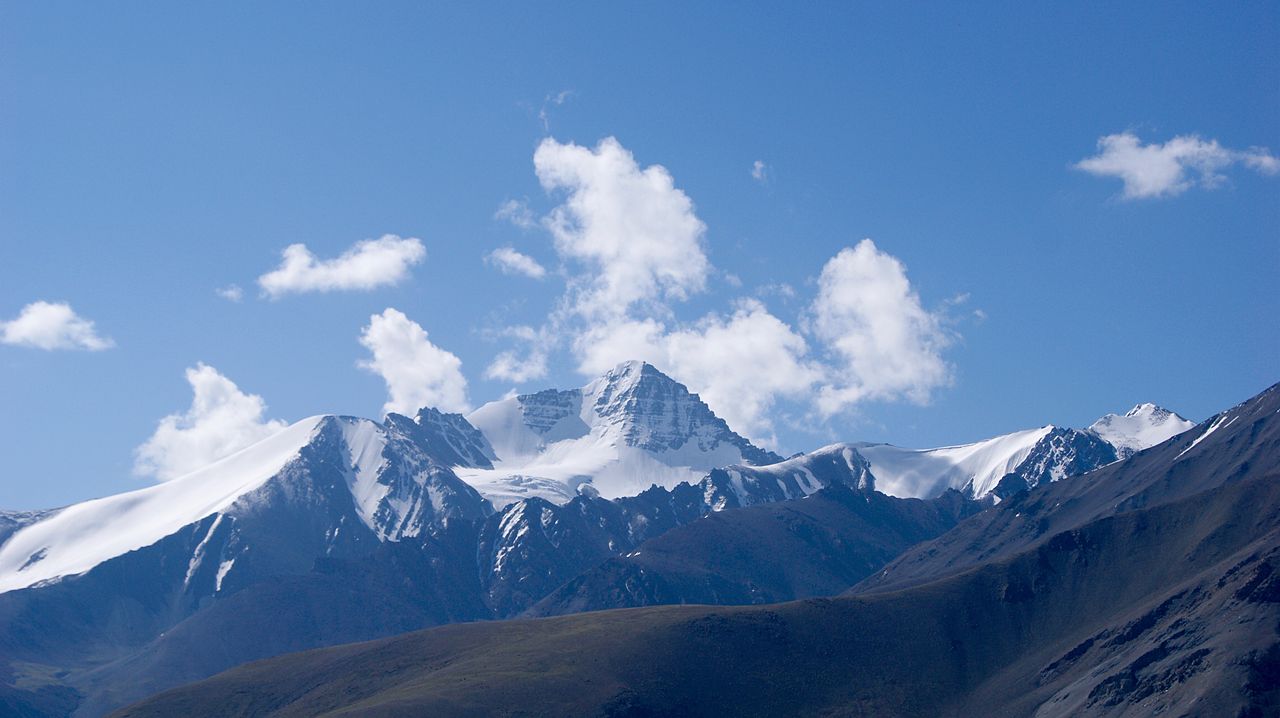 Are you upbeat about venturing into the most treacherous and daring territories? Stok Kangri trek is just that. Yet the trek is equally irresistible if you are in for some adrenaline rush.
Stok Kangri Trek exhibits extravagant transformations in the landscape that leave you spellbound. On one hand, you get glimpses of the cold-arid landscape of Leh-Ladakh. On the other hand, the lush green vista set amidst humongous mountains displays the most pictorial sight. In between, gushing mountain streams and silver waterfalls offer instant gratification after an arduous journey.
Scaling the last lap of the route to reach Stok Kangri Peak is the focal attraction of this trek. You brave lashing winds, cross glaciers and negotiate precarious slopes to reach the top. The view from the summit is worth every penny and ounce of sweat. Karakoram range, Saser Kangri Peak, and Zanskar ranges beckon you beseechingly into the horizon.
Viewing the eloquent contour of the razor-edged Stok Kangri peak resting above undulating mountains is the eureka moment of the trek.
In short, Stok Kangri trek is a great mountain escapade if you are a madcap thrill-seeker!
Nubra Valley Trek
Trek level- Moderate to difficult
Altitude- 15,000 feet
Distance- 59 km
Duration- 5 days
Best time to visit- July and August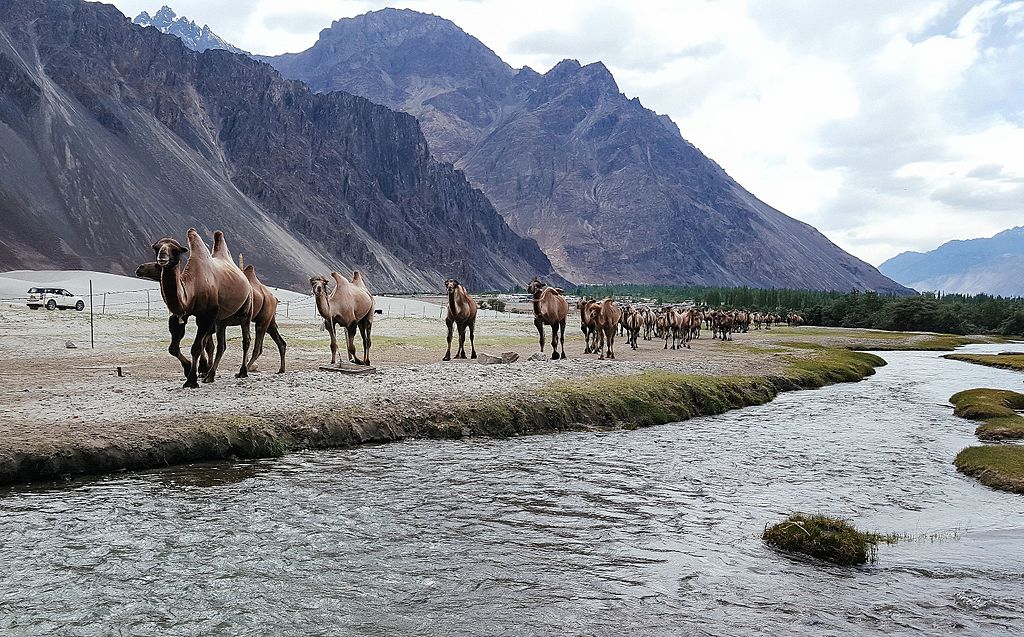 The trek journeys through not one but two high altitude mountain passes, Khardung La and Lasermo La. Khardung La is the highest motorable pass in the whole world. The best features of Nubra Valley trek are riding the two-humped Bactrian Camel and witnessing the rugged beauty of the region.
You also visit Diskit monastery, the oldest and the largest Buddhist monastery in the Nubra Valley. It is unbelievable that you witness the high-altitude sand dunes at an elevation of 9,843 feet.
Purple mountains, white sand dunes, splendid meadows leading to high-altitude passes-this picturesque trek are straight from the storybook.
This sojourn is ideal for someone seeking to explore the unknown and mysterious valleys of the world!
Snow Leopard Trek
Trek level- Challenging
Altitude- 9,642 feet
Distance- 80 km
Duration- 13 days
Best time to visit- mid November to March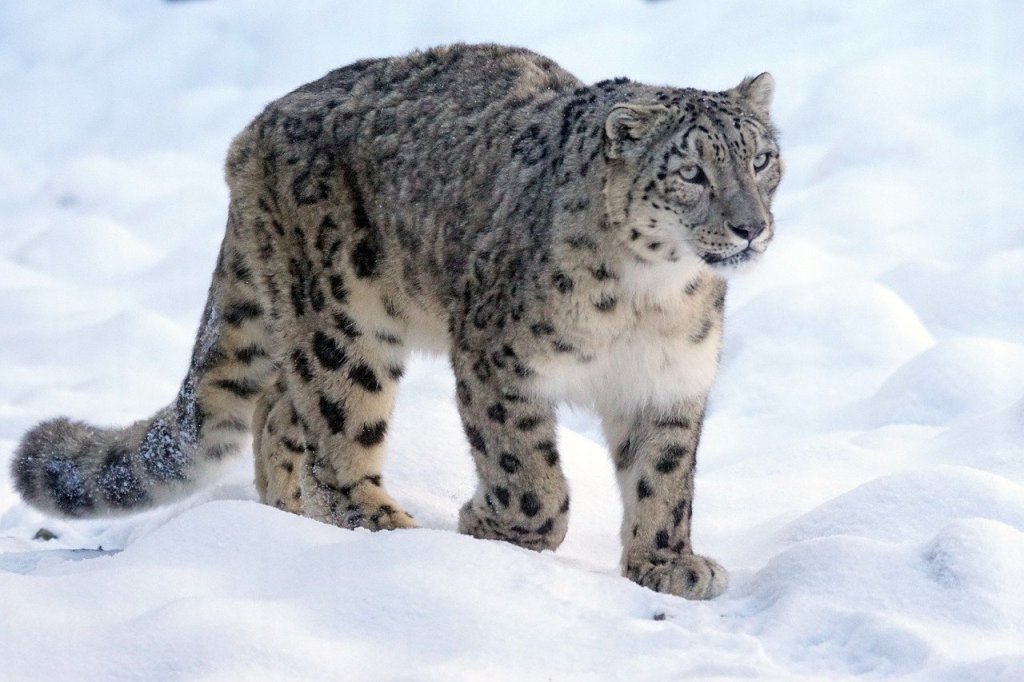 Snow Leopard Trek is one of the most popular winter treks of this region. Exploring the rich and rare Himalayan biodiversity is the pivotal point of this expedition. Bitter cold forces these rare species to descend from the high altitudes and take respite in the Hemis National Park. This national park spreads along 600 sq.kms. in the Rumbak Valley and Markha Valley. It is a natural habitat so rare and the most precious Himalayan fauna.
As you trek in the national park, you spot the enticing animals, birds, and attractive insect species. You witness the rare sightings of some of the most uncommon Himalayan animals.
Argali Sheep, Tibetan Hare, antelope, Shapo, Ibex, and marmot along with the dignified Snow Leopard inhabit the park.
Exotic avian species like the Snow Cock, Horned Lark, Golden Eagle, Red Billed Chough, and Snow Patridge are commonly sighted.
You witness the confluence of the Zanskar-Indus river, and pay obeisance at Spituk Gompa.
Snow Leopard trek Ladakh should be top on your must-visits if you are a wildlife enthusiast. You will be stupefied to watch animals in their most natural habitat, far from human intervention.
Padum to Darcha Trek
Trek level- Challenging
Altitude- 16,700 feet
Duration- 12 days
Best time to visit- July to September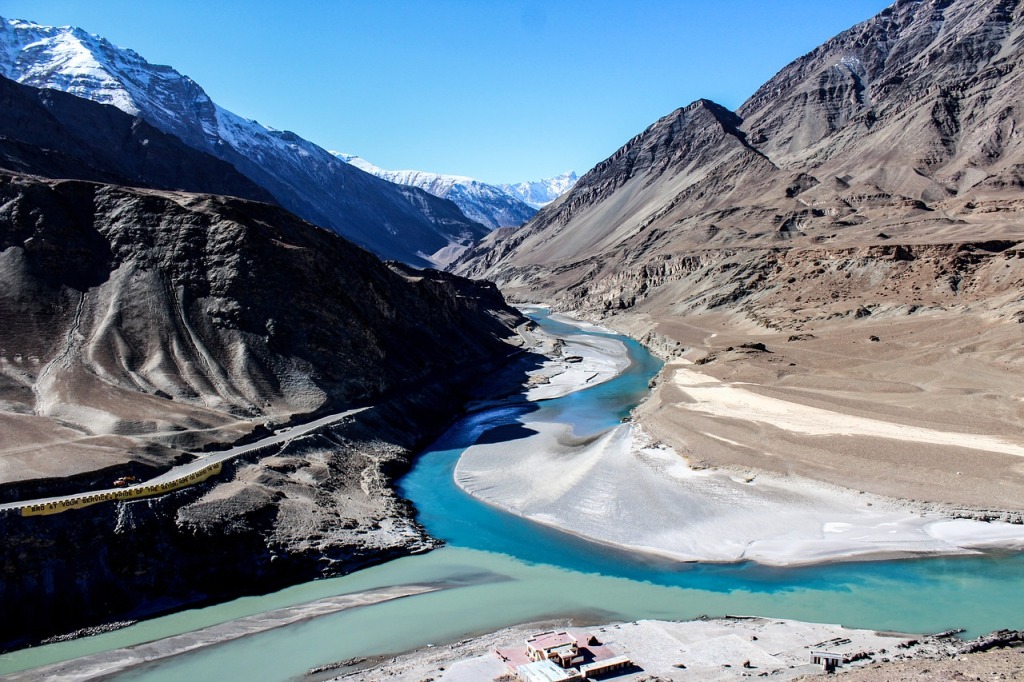 An expedition high on challenge and adventure, this trek begins at Darcha in Himachal Pradesh and infiltrates into Padum, in the Zanskar Valley.
The trekking route of Padam Darcha trek traverses through remote villages and illustrious monasteries. You pass through a territory that was once part of the Kingdom of Western Tibet.
You cross river gorges, touch along canyons and spires of 'Bear Valley' to come to the Kingdom of Zangla, in the upper part of Zanskar.
Moving along the Tsarap River and Lakong river, you cross the Shingo La Pass at an altitude of 16,700 feet.
The Padam Darchan trek is a unique experience where you witness Tibetan lamas, dangerously-hanging monasteries, grazing yaks, and traditional villages from another part of the world.
Embark on this trek to savor the outlying Lahaul-Spiti Valley and off-the-beaten-track Himachali hideaways. You will have the most fulfilling experience along the way as the route diverges into breathtaking variations.
Parang La Trek
Trek level- Challenging
Altitude- 18,600 feet
Duration- 9 days
Best time to visit- mid July to September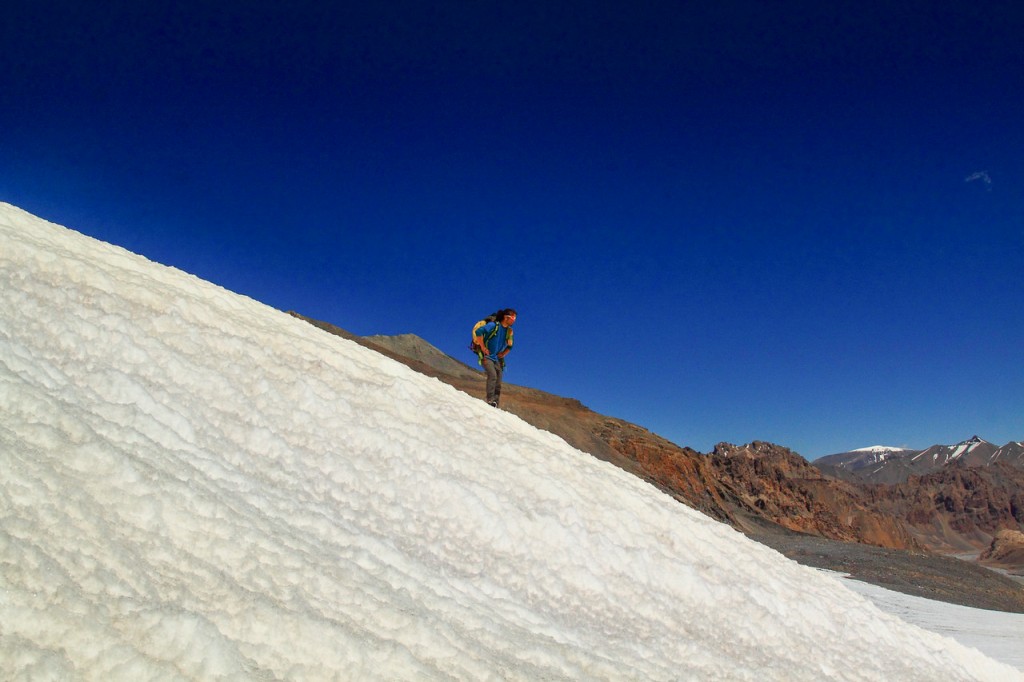 Image Source: Travel With Neelima

Are you high on adventure and seeking to explore one of the most far-flung regions of the country? Set your foot on Parang La!

One of the most ancient and challenging treks that connects Spiti to Ladakh, Parang La trek is incredibly enticing. The trek follows the traditional route that was traversed by the locals of Spiti, Changtang, and Tibet.

The undeniably imposing and alluring titillating trek floors you with remote mountain scenery encapsulating high-altitude meadows, deep gorges, and the barren panorama of Spiti. It is truly a paradisiacal expedition for photography buffs.

Khibber, the high altitude meadow that is home to Chumur (the famous Spiti horses) is one of the attractions. You explore the natural habitats of Snow Leopard and Kiangs (Tibetan Wild Ass). The region is also home to Snow Leopard, Bharal, and marmot.

You cruise along the remote trail that connects Kunzum La Pass, Parang La Pass, and Rupshu plains of Changthang Plateau. Para Chu river, and Tso Moriri lake, the most beautiful water bodies of the world. They are the prime attractions of the route.

Among other points of interest, you can visit ancient monasteries and get glimpses of Bara Shigri Glacier, and remote mountain peaks.

One should remember Parang La Pass trek requires a good deal of mental and physical toughness and necessitates a very high fitness level.
Following tips will help you prepare well before embarking on these treks-
High altitude- At an altitude of 9,800 feet, Ladakh is one of the remotest regions on the northern tip of India. For this reason, the oxygen levels are low here. The treks to this region are not for someone who suffers from respiratory ailments. You need to be extremely fit to be able to embark on the best treks in Ladakh.
Acclimatization- You scale imposing altitudes in these treks that necessitate proper acclimatization. Changing altitude,fluctuating weather, and lack of oxygen may lead to Acute Mountain Sickness AMS and other disorders. Therefore, one needs acclimatization of 1-2 days at Leh before the onset of the mountain expedition. Most of these treks have a day or two for acclimatization in between the trekking journey.

This allows the body to adapt to the changing oxygen levels. One should also remember that most of these treks take you to isolated regions. These places lie obscured in the deep Himalayan pockets and are devoid of civilization. You should be well-prepared for this change.

Fitness- Ladakh is popular for its tricky topography which demands a good level of physical fitness, agility, and mental endurance. Even the so-called easy treks have rough patches that require vigor and strength. You must prepare yourself well to enjoy your journey.
Best time to visit Ladakh- Weather plays an important role in how easy the trekking trails in Ladakh can be. Ladakh is best visited from April through October. April to mid May is the peak season when the place is bustling with tourists. June is the best month if you are a bike enthusiast. Mid September to October is the best season for revelling in the beauty of Ladakh landscape. Azure skies and a crystal clear atmosphere are a photographer's delight during these months. The region also offers some winter treks but the temperatures are frigid cold, and the trails bejeweled with snow. Also, one may find that most places are closed for the travellers during this time. Hence, one should plan accordingly.
Homestays- While planning a trip to Leh-Ladakh, remember that you will stay at home with the locals. The trekking route is dotted with these Homestays, also called tea houses. Please note that most of these are very basic and provide only for your lodging and meals. But these homestays welcome you into the unique Himalayan culture wrapped in the warm hospitality of locals. Some of the other places to stay in Ladakh are heritage buildings and religious establishments.

There are a few remote hotels as well, but remember while visiting Ladakh, you are as close to nature as possible. Do not expect much luxury here!

Activities- Ladakh is a land of riveting adventures. You will engage in activities that no other trek offers. It takes you along the most heavenly route in the world which is steeped in Buddhist culture. You get a chance to participate in Buddhist festivals, do water rafting on the River Indus; meditate with the monks, or indulge in horse riding in the most spectacular valleys.
Ladakh Permits- Till May 2014, it was mandatory for Indian and foreign nationals to obtain an Inner Line Permit (ILP) and a Protected Area Permit (PAP) respectively to trek to most of the famous spots of the region. After May 2014, many of these places have become easily accessible to trekkers as they no longer require special permits. Post May 2014, any valid ID proof like driving license, Aadhar card, Indian passport, PAN card etc. will act as a permit for Indian nationals visiting Ladakh.

At various checkpoints, you will be asked to submit a copy of your ID proof and fill up a form before you can carry on with your travel. We advise that you carry several photocopies of your ID proof for hassle-free travel. With an ID proof, you will be able to travel to Pangong Tso lake, Khardung-la, Tso Moriri, some remote villages, and Nubra valley.

However, there are still some places where Indian nationals require an Inner Line Permit. These are: Batalik sector, Chumur, Hanle, Tsaga, Chushul, beyond Loma Bend and Marsimik La. One should remember that an ILP is only valid for three weeks from the date of issue. One can reapply after expiration.

Foreign nationals, persons of Indian Origin (PIO), and Non-Resident Indians (NRI) require a Protected Area Permit (PAP) issued by the Government of India to visit Pangong Tso, Tso Moriri, Nubra Valley, Dha–Hanu villages.

One can apply for a PAP through a registered travel agent in Ladakh. The permit is applied for to a minimum group size of 4 foreign nationals/ OCI/ PIO/ NRIs. For groups smaller than 4, travel agents mostly club people together, form a group of four or more and get their PAP.

PAP holds good for seven days from the date of issue. One can reapply after expiration. If your travel plans are beyond seven days, inform your travel agent.
How to reach Ladakh?
By Road

Leh is connected to the rest of India by two highways: Srinagar-Leh Highway and Manali-Leh Highway. The Srinagar-Leh Highway passes through Kargil and Zoji-La Pass (11,500 feet), whereas Leh-Manali Highway passes through the famed Rohtang Pass and Tanglang La (17,470 feet). Ladakh is well connected to Jammu by road.

One can reach Jammu from Delhi and other major cities of India by state transport buses or Volvo buses.

You can also hire a cab or drive your own car. The distance between Delhi and Leh via Manali is 1101 km. and it takes 24 hours to cover this distance. The distance between Delhi and Leh via Srinagar is 1034 km. and it takes about 24 hours to cover this distance.

The road trip to Leh, whether by bus or cab/car is very bumpy and tiring.

By Air

Leh Airport which is called Kushok Bakula Rimpochee Airport connects Leh with a few major cities of India. Delhi, Jammu, and Srinagar are directly connected with Leh by air. The airport is 5 km away from the main city of Leh. You can take local cabs from Leh airport to reach Leh city.

Traveling by air is the most convenient way to reach Leh.