Trekking In India - Best Treks In India
India is world-renowned for its sheer diversity. Each state or even city practices different cultures, languages, traditions, and religions. Known for its gorgeous beaches, charming plain lands, and dizzying mountains, there is no at least no dearth of beauty in India.
It is, however, the adventure enthusiasts and thrill-seekers that get to experience the best of our country. The attraction of trekking in India lures tourists from across the globe to the Himalayas' lap every year. After all, which adventure lover can deny themselves the thrill of hiking the Himalayan Mountains while traversing through grand flower valleys, dark dense forests, welcoming hot springs, and perilous snow-laden tracks?
Trekking in India is an experience like no other, and anyone fortunate to conquer any one of the innumerable trails that the country has to offer, will find themselves returning for many more such adventures time and again.
Trekking in India has a long history and so is trekking in the Himalayas. The Himalayas have a range of terrain levels - some are real high while some are not that high but yet the weather at these places is always a challenge hard to cope with. We can start with the easiest trails which are the foothills because they are generally easy and do not have much elevation. However, on ascending higher, the paths become tougher and more challenging. As time has passed there have been very discoveries related to new paths for trekking. But trekking in India for beginners can be tough without any perfect guidance and necessary equipment.
Why should you opt for trekking in India?
Why ever should you not? No two hiking trail in India is the same; there will always be some new spectacle or challenge to greet you when you embark on a new trek.
Some trails take you to valleys where you can catch the most beautiful sunsets and witness numerous famed mountains cloaked in powder white snow while others lead you to frozen waterfalls, some trails have beautiful lakes and rivers guiding you while others take you to quaint temples on top of mountains that lay buried under heaps of snow.
India is vast and varied and its beauty is apparent to just about anyone but only a trekker will know just how much of its beauty remains hidden. Only the truly fortunate and adventurous have been privy to its untold beauties.
Essential items for trekking in India
Contrary to popular belief you need more than an eye for beauty, an adventurous soul, and a fit physique to ensure the smooth-sailing of your trek. Adventure trekking in India can quickly turn into the stuff of nightmares if you do not embark on your journey equipped with some essentials. To guarantee you never fall prey to any mishap or discomfort in the mountains, we have compiled a list of basic essential items and safety gear that must accompany you on every trek.
A sturdy, waterproof rucksack
A raincoat/ Poncho
The right trekking shoes and a pair of sandals or floaters
Two t-shirts, two sweatshirts, two-track pants, and one jacket or wind-cheater. Pack your clothing in layers. It is always helpful to pack in layers while hiking since you can easily shed or don clothing items as per the weather requirement
Two pairs of woolen socks
A beanie, a pair of woolen gloves, and sunglasses
A water bottle preferably a thermal one
Snacks such as dry fruits, energy bars, nuts, cookies, etc.
Electrolytes like ORS to ensure hydration
Flashlight with extra batteries
Your bag of toiletries. Sunblock and lip balms are an absolute must.
Med-kit consisting of all medicines you take regularly. Also, ensure the kit comprises cotton, bandages, antiseptics, paracetamol, anti-fungal creams, and the like.
Treks in North India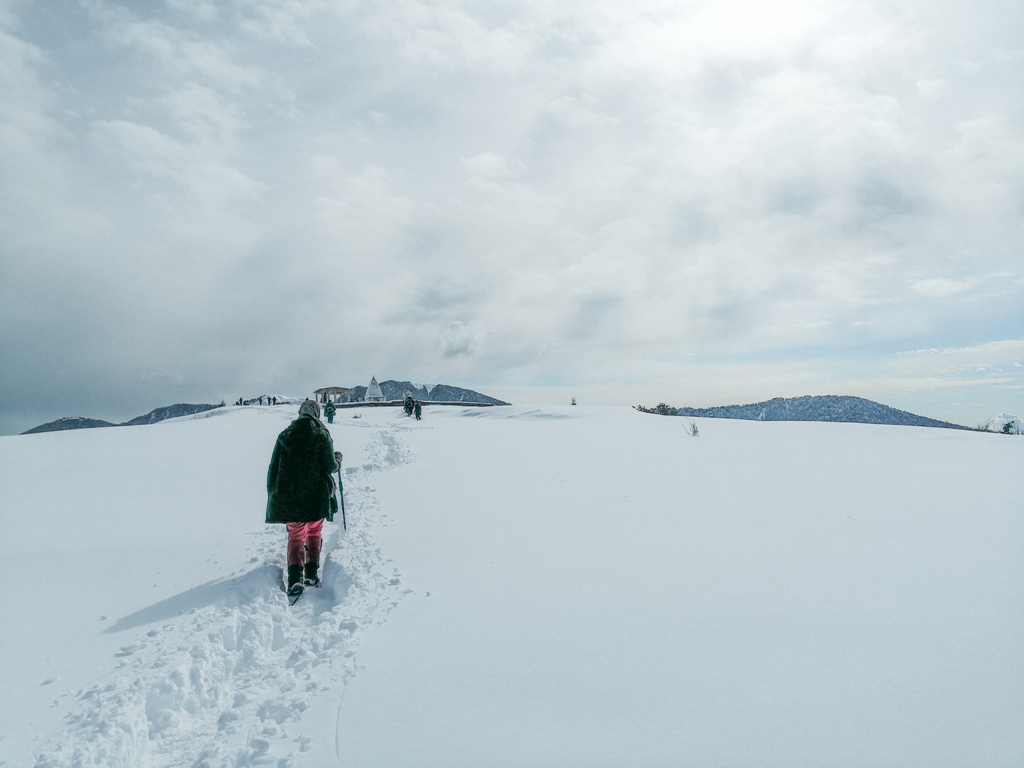 Let us begin with one of the easiest yet most fascinating and extraordinary treks in India. Different from others, this trek is open from December to march. The Brahmatal weather at this time is usually very pleasant. The difficulty level can be said as 'Moderate'. This is the place where Lord Brahma meditated and some of the main attractions are the peaks of Nanda Ghunti, Chaukhamba, Mandir, Neelkanth, Mana, Trishul, Hathi, Ghoda, etc. The journey begins from Kathgodam and from there you can drive to Lohajung which is a 225 km drive and would take you approximately 8-9 hours. From there you would start your trek to Brahmatal which is situated at a height of 3,400 m.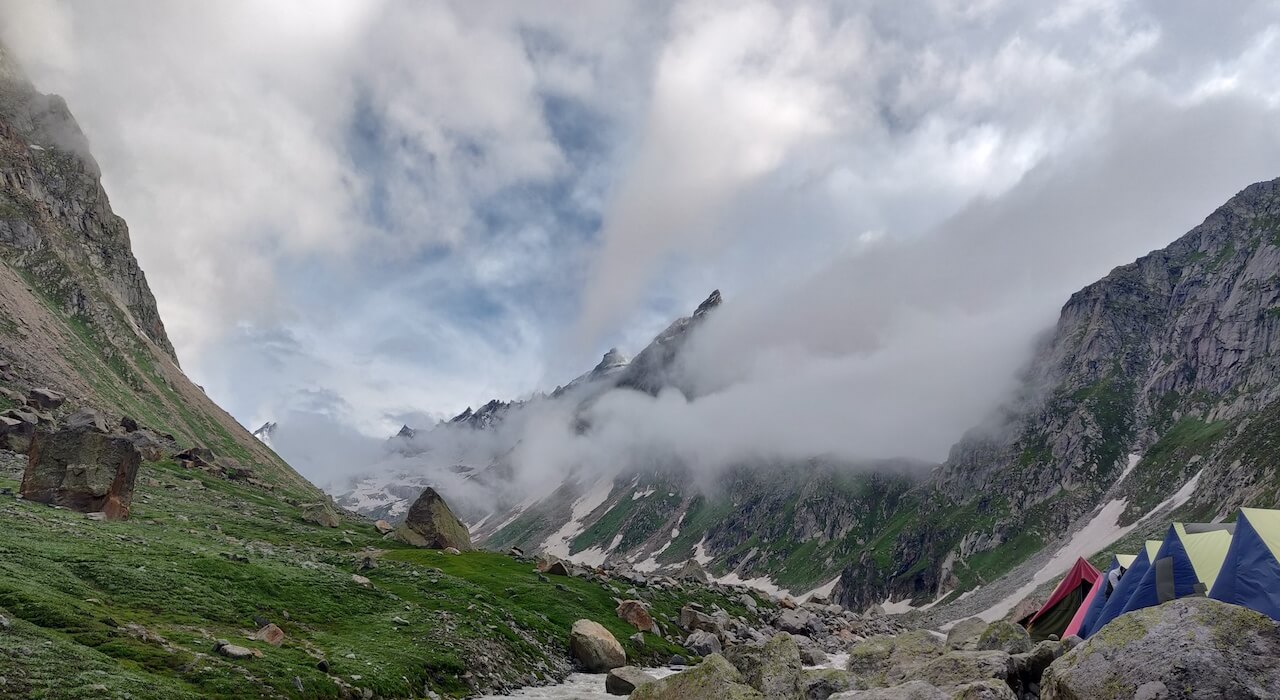 Manali is one of the best trekking places in Himachal Pradesh as it has one of the highest altitude and mountainous terrain. Trekking in Manali would be an experience of a lifetime because Manali is the house to the most adventurous and best treks in India like the Hampta Pass trek, Beas Kund Trek, Pin Parvati Trek, and Bhrigu Lake Trek. The Hampta Pass Trek is one of the most visited treks ever because of its drop-dead gorgeous views. The Hampta Pass trek starts from Manali then Jobra and then it would take you to Chika which is located at a height of about 10,100 feet. While trekking you would encounter a lush green stretch on your side. One can see Dhauladhar Ranges at Chika. The temperature usually in the day is 13 degrees Celsius to 18 degrees Celsius while at night it ranges from 0 degrees Celsius to -7 degrees Celsius. The ideal duration is 5 days and the trekking difficulty level is regarded as 'Moderate'.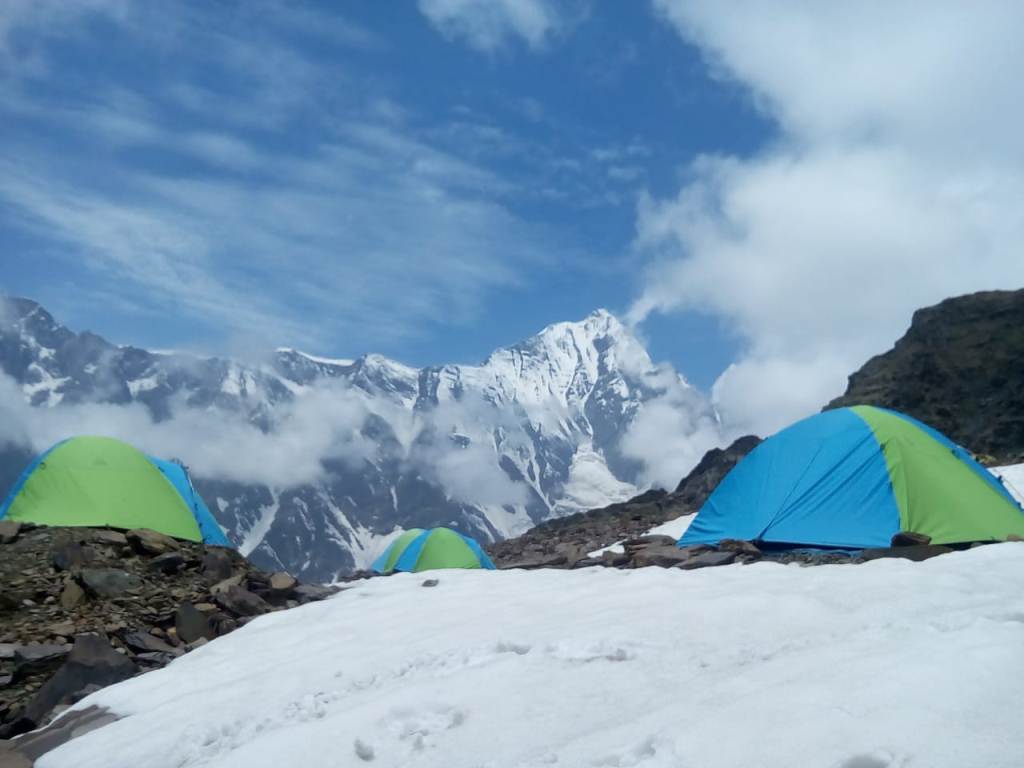 This is another trek which has its roots from Manali. This place is sacred as Beas river is the water body where Sage Vyas used to bath while he meditated. The trek for Beas Kund begins from Solang Nallah which is a popular destination for skiing and paragliding in Manali. The trek would then pass through Mesmerizing meadows of Dhundi and Bakarthach taking you to your ultimate destination of Beas Kund that has some majestic peaks like Hanuman Tibba, Friendship Peak, Shitidhar, and Seven Sisters. You would reach Beas Kund glacier which is the birthplace of Beas river. The best time for this trek would be May-June and September-November. The difficulty level of this trek is mostly graded as 'Easy' by fellow travellers.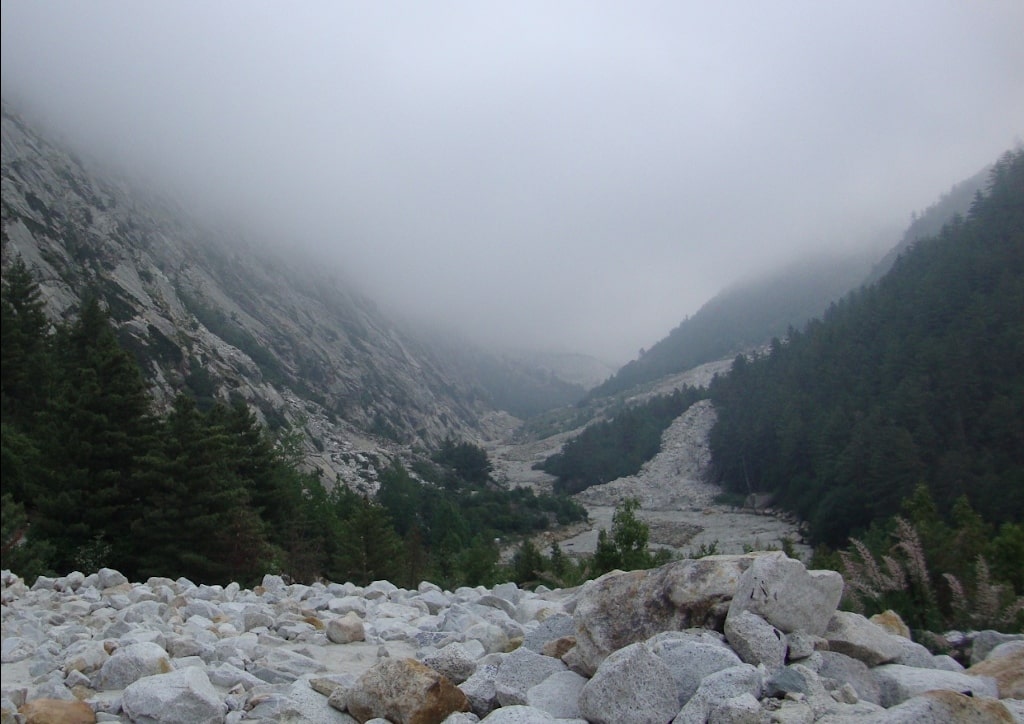 Located in Uttarakhand at a height of 14,600ft, Gomukh is the second-largest glacier of India and is also known to be the origin of the holy river Ganges. The trek allows you to cross the icy glacier, visit the Gangotri temple, the barren land of Bhojwassa and catch glimpses of magnificent Himalayan peaks namely Meru, Shivling, Kharchkund, and the Bhagirathi sisters. Beginning from Rishikesh the 8-day Gomukh trek may very well be revered among Hindus as an eminent pilgrimage site but it is the journey via verdant valleys, rusty caves, and curious villages that stays with most long after the hike has reached its conclusion.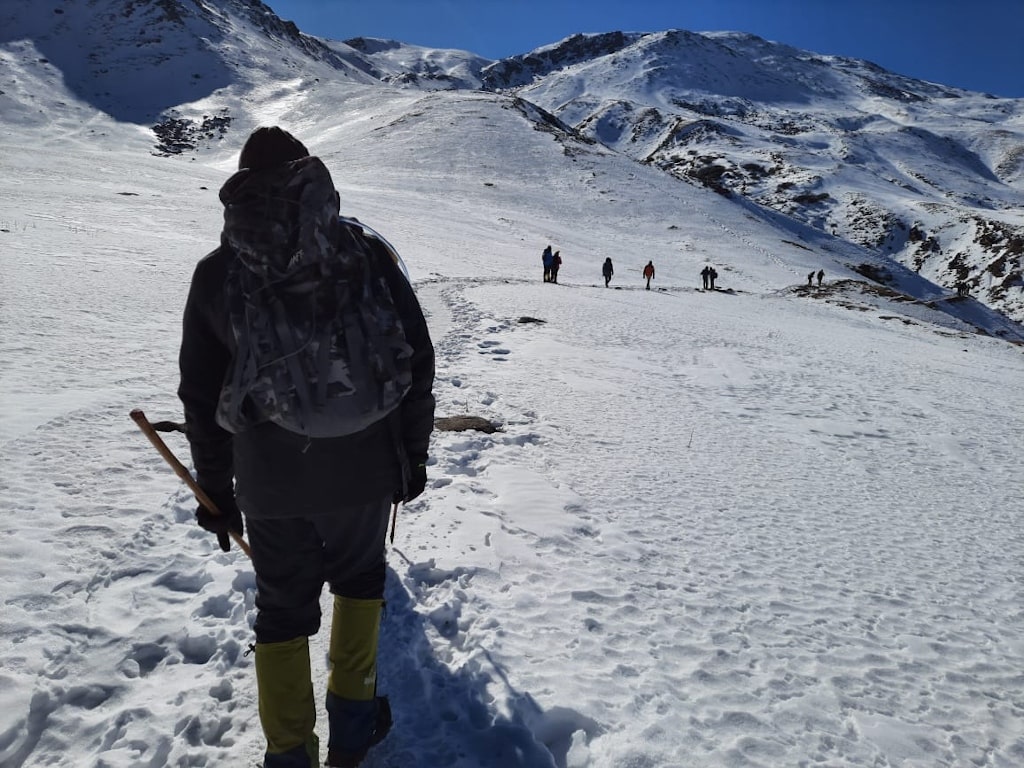 Trekking in winter seems like a distant dream till you chance upon Kuari Pass. Easily one of the most popular trekking sites in Northern India, this 6-day trek welcomes visitors throughout the year but winter in Kuari Pass has its special charms. The concept of climbing through acres of knee-deep snow to enjoy the sight of Nanda Devi is luring enough but when you include the idea of snow-covered oak forests into the trek, the combination becomes simply too irresistible to turn down. Perched at an altitude of 12,516ft the Kuari Pass trek is labeled as an easy-moderate trek making it the ideal trek for both beginner and veteran trekkers.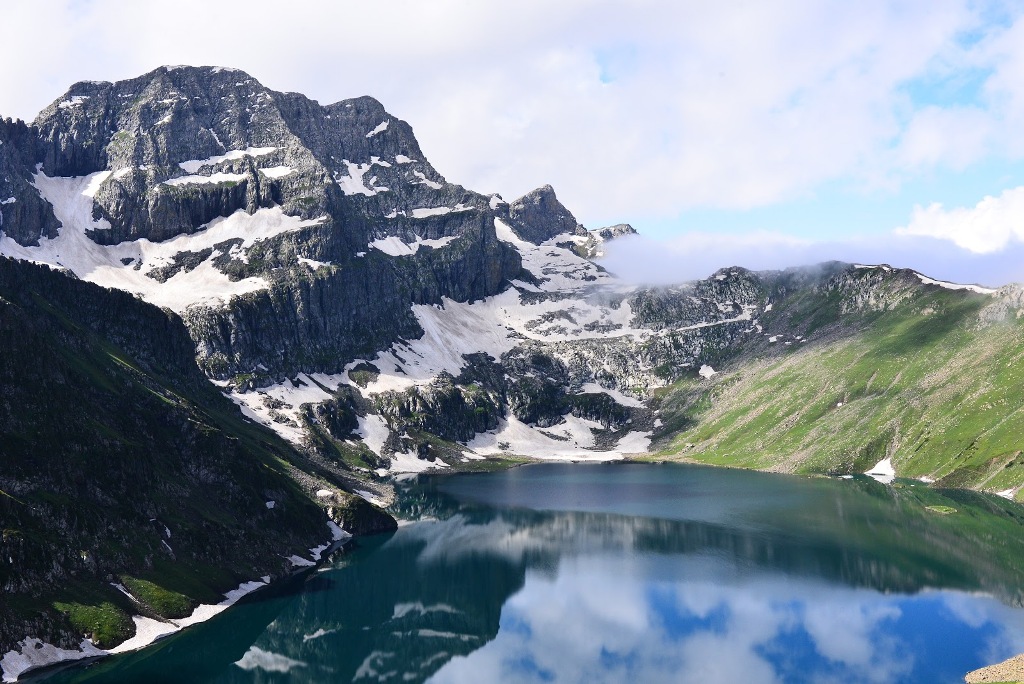 Can a trek be anything less than extraordinary if it is located in Kashmir? The 7-day Tarsar Marsar twin lake trek takes you on a journey that feels more like a daydream than a living reality. The trail meanders through Kashmir's very heart and gives you the golden opportunity to revel the majestic lakes from different vantage points and astonishingly yet they seem just as mystifying as they did the very first time around. The beauty of the lakes and encompassing valleys are so addictive that you will want nothing more than to sit down and bask in the glory of it all. Tarsar Marsar's beauty can never truly be justified with words or even pictures, one has to be there in person to truly realize and appreciate its hypnotizing beauty.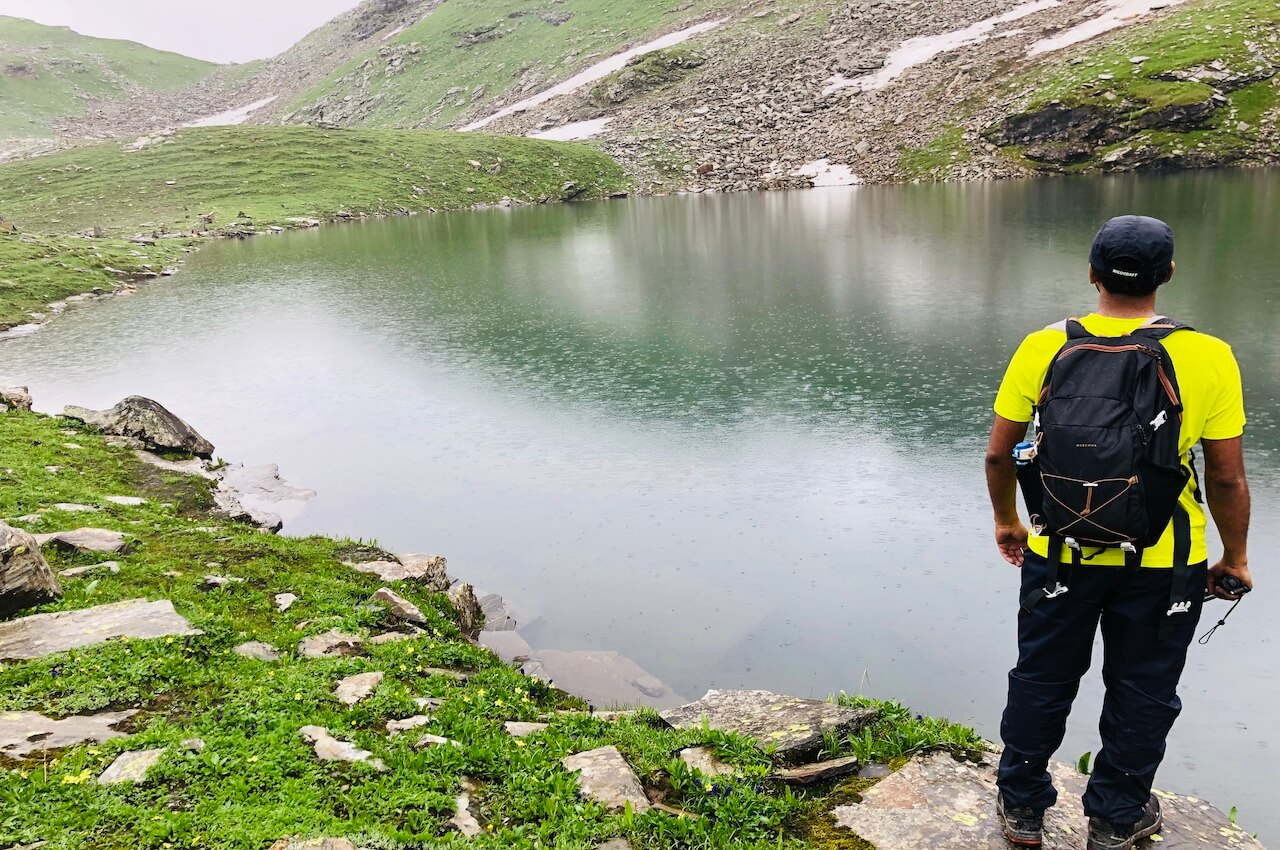 Straight out of a scene from those old Bollywood romances we love so much, the Bhrigu Lake Trek, located a little ways from Manali, offers you seemingly endless grassland. Sitting pretty at the daunting altitude of 14,000ft, walking through the alpine meadows that ultimately lead away to the placid, turquoise blue waters of the lake seems nothing short of a fantasy. Wild horses galloping by, plump timid sheep grazing idly, wildflowers of vivid colors scattered throughout the valley, towering peaks in the distance and a lovely little lake to tie it all together – no wonder Bhrigu Lake is one of the best trekking places in India.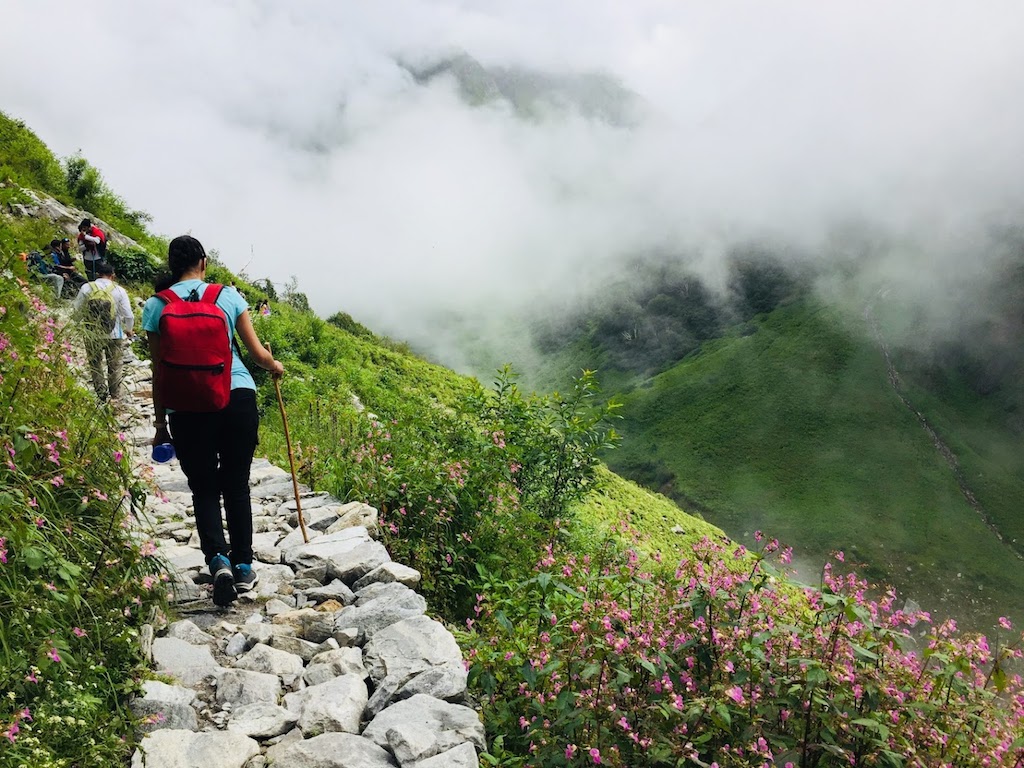 Situated in Uttarakhand, the Valley of Flowers trek is inarguably one of the best trekking places in India. A beginner-friendly trek, many veteran trekkers began their love affair with trekking after having witnessed the valley's otherworldly beauty. Small green hills carpeted in moss green grass, a meadow decorated with flowers of pink, red and blue that meet at a stream, a deep-blue sky scattered with puffy clouds, birds singing melodious tunes as if to announce your arrival – this UNESCO World Heritage site is a sliver of heaven on earth. But the trail doesn't conclude at the valley, there is much left to explore as you make your ascent to the equally grand Hemkund Sahib Lake.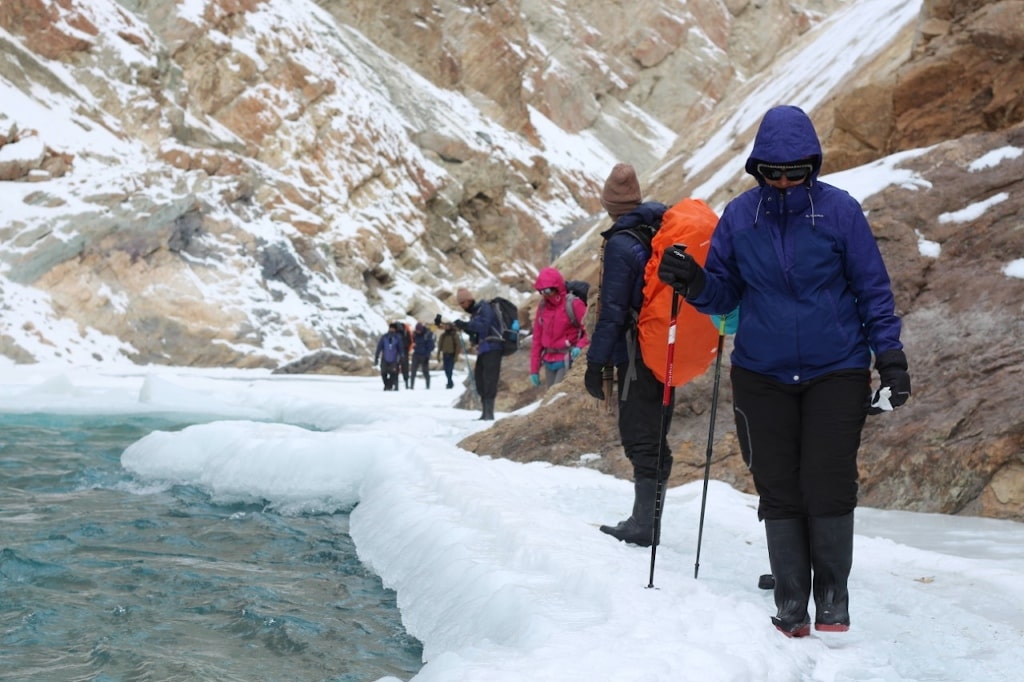 The dream trek for adventure seekers, the Chadar Trek that has its inception from the city of Leh, is fairly demanding. The road is risky and exhausting and weather conditions are extreme, to say the least. But who can turn down an opportunity to walk over a frozen Zanskar River, explore the mysterious rust-colored Tibb cave, and encounter one of Mother Nature's greatest masterstrokes – the mammoth Naerak waterfall that lies frozen in time.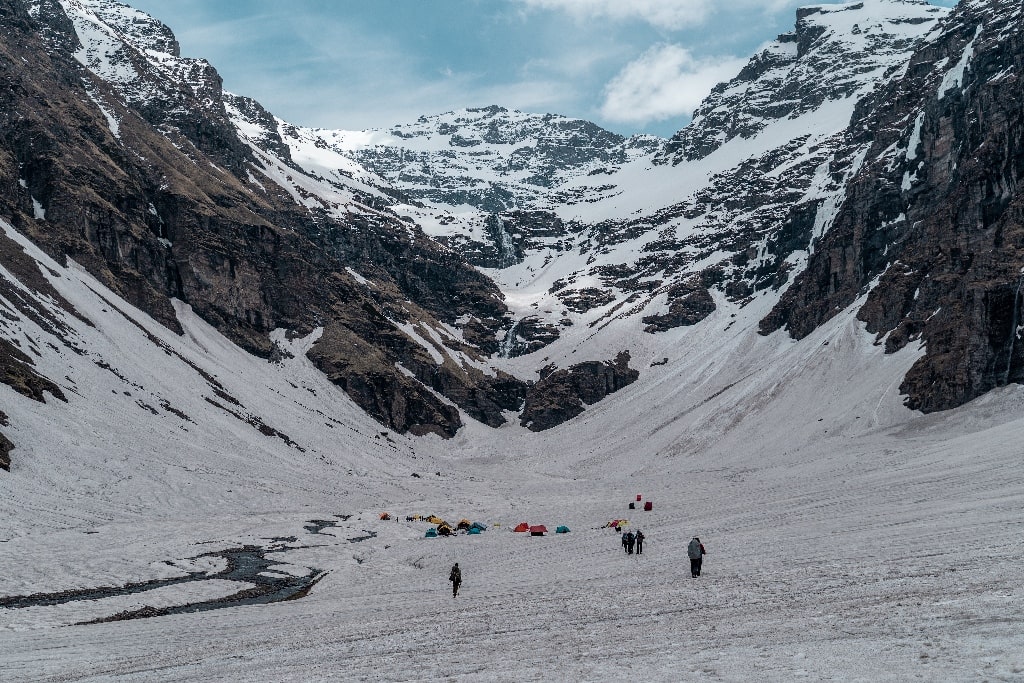 If there is a trek that is versatility personified – it is the classic Rupin Pass Trek. One of India's most popular trekking routes, the pass lies at a staggering altitude of 15,279ft - a journey from the 5,500ftDhaula base camp. The steep ascent may have been a little too hectic if not for the surprises the trail throws your away at every turn. The trail is a fusion of every gorgeous mountain scenery you can imagine – waterfalls cascading down steep mountains, ancient hanging villages with unique architecture, lush grasslands, and of course mountains cloaked in snow. No wonder this place is on top of every thrill-seekers bucket list.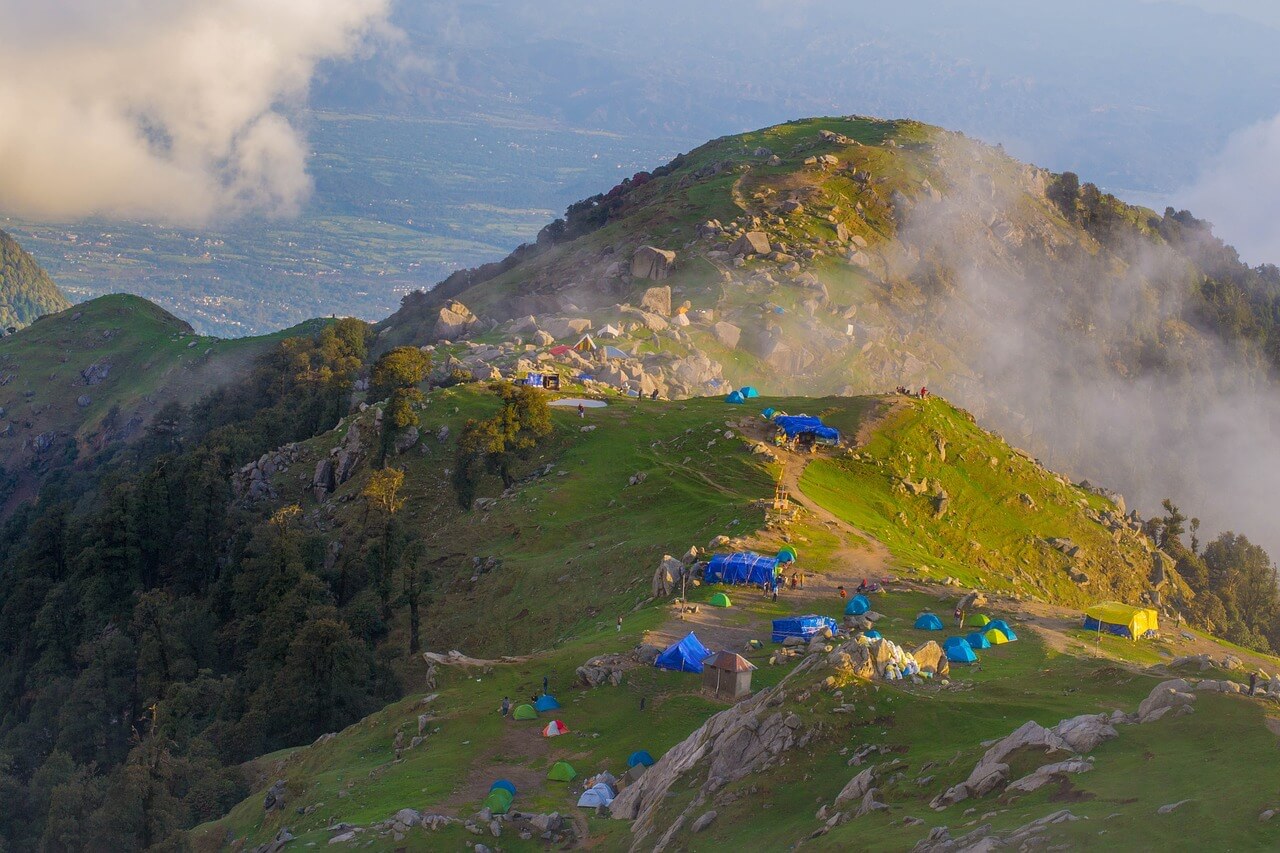 This trek has its own charms, the beauty of those Dhauladhar Range that you witness from the top are breathtaking. It is situated a few kilometres from Dharamshala at an altitude of 2828 m. The trek to Triund can either be started from McLeodganj or Galu Temple (Dharamkot). You can take a taxi from McLeodganj to Galu Temple that is approximately 9-10 kms. After that, you can start with the trek from Galu Temple to Triund top that is 7-8 kms. The first half of the trek is a gradually inclined walk but the last 2 km from Snowline Café has a vertical climb all the way till Triund. The sunset at Triund top makes all of your effort worthy. Since June 2019 camping at Triund top has been banned due to environmental issues. Though if you are tougher than others you can even opt for another trek route which goes via Bhagsu Fall and Shiva Cafe and is much more challenging.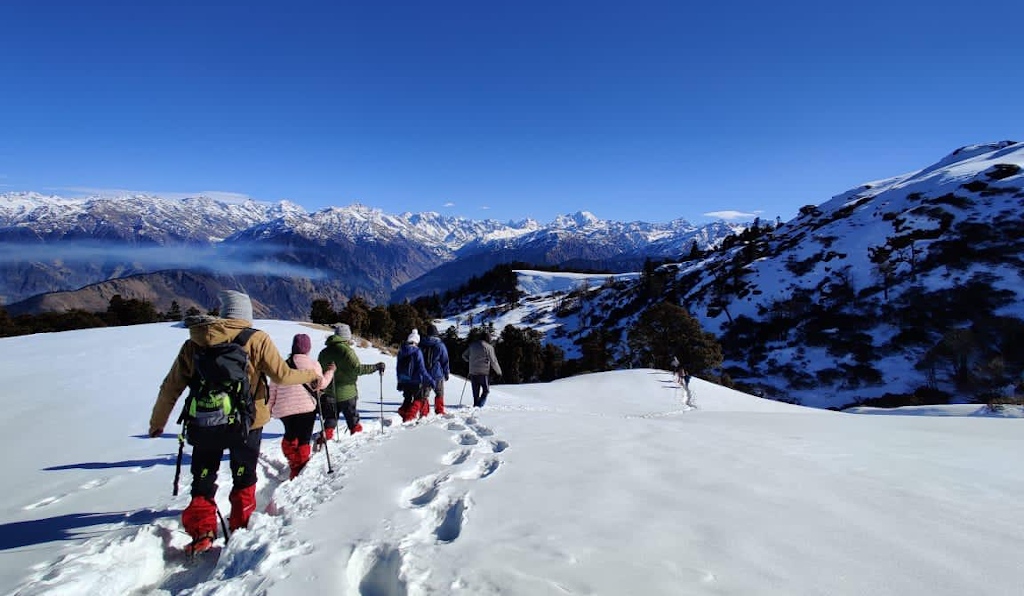 This trek place is based in the west district of Uttarkashi in Uttarakhand and so is known for being one of the easiest and best treks in India and thus receives a lot of tourists in a year. The most fun fact about this place is that it's covered in the snow till the end of April so you can have your Summer Holidays getaway here perfectly as it would be a heat escape from the hot metropolitan cities that we live in. Kedarkantha temperature is usually very pleasant and ranges from 20 degrees Celsius -28 degrees Celsius in the daytime. You get a golden opportunity to explore the exotic flora and fauna of the protected area of Govind National Park. The difficulty level of this trek is usually determined to be 'Moderate' yet it would take 6 days as the trekking distance is around 20 kms. The trek starts from Sankri in Uttarakhand which has beautiful campsites, snow-covered pine forests, 360-degree view of the Himalayas. This trek would help you witness some Godly peaks like Swargarohini, Black Peak, and Bandarpoonch. The best time to visit this marvelous place is when the snow is on fleek i.e, December to February.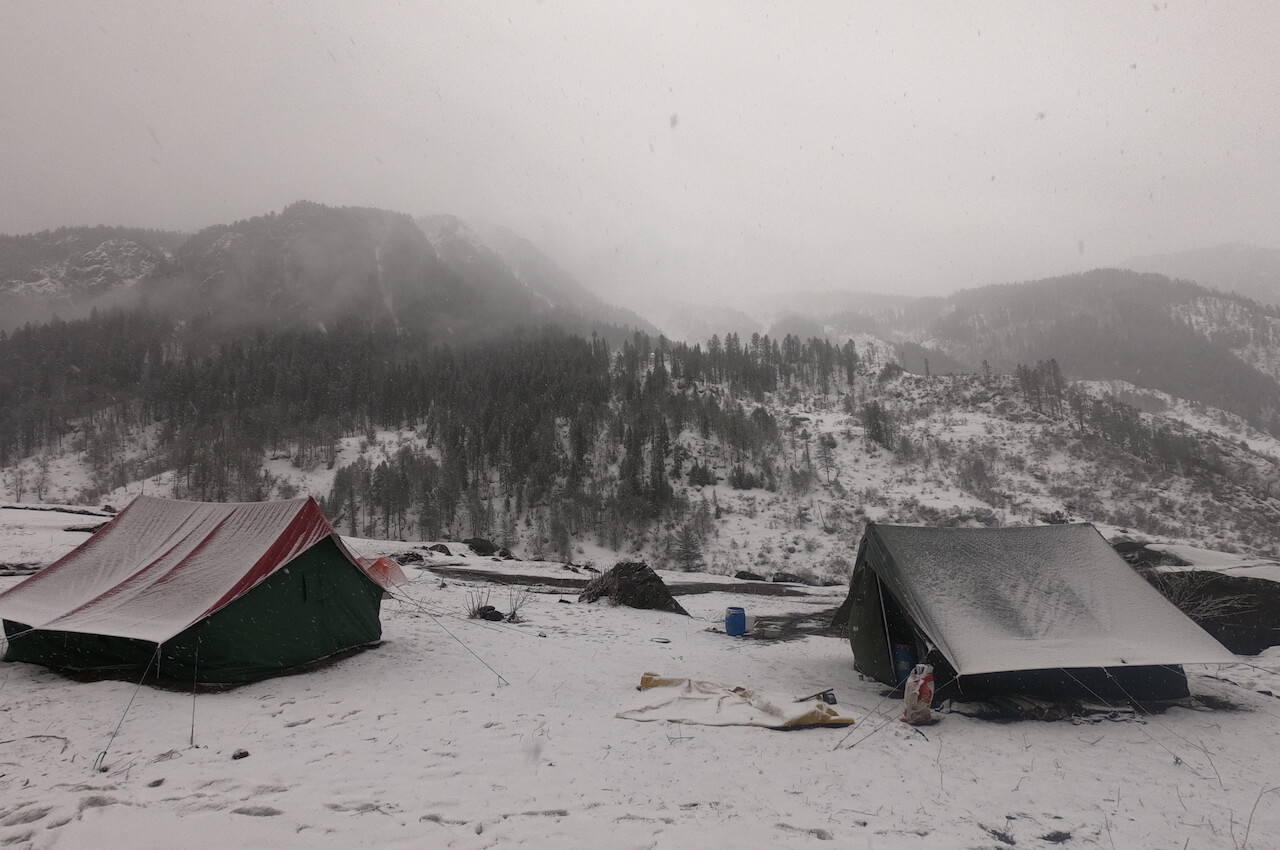 Have you ever seen an Indian version of Wonderland? It is a stairway to heaven as it is a cradle shaped beautiful green valley which is mostly abandoned. It is 3,556m above sea level and mostly referred to as "Valley of Gods". This trek has the views of some of the most mesmerizing glaciers like Jaundhar glacier and Swargarohini group of peaks. Also, Har ki Dun is the main source of the Yamuna River System. This trek is a bit more difficult than the other ones as the total trekking distance to be covered is 44 kms. The best time to visit this place is between September to December. Har ki Dun temperature at this time ranges from 2 degrees Celsius - 19 degrees Celsius.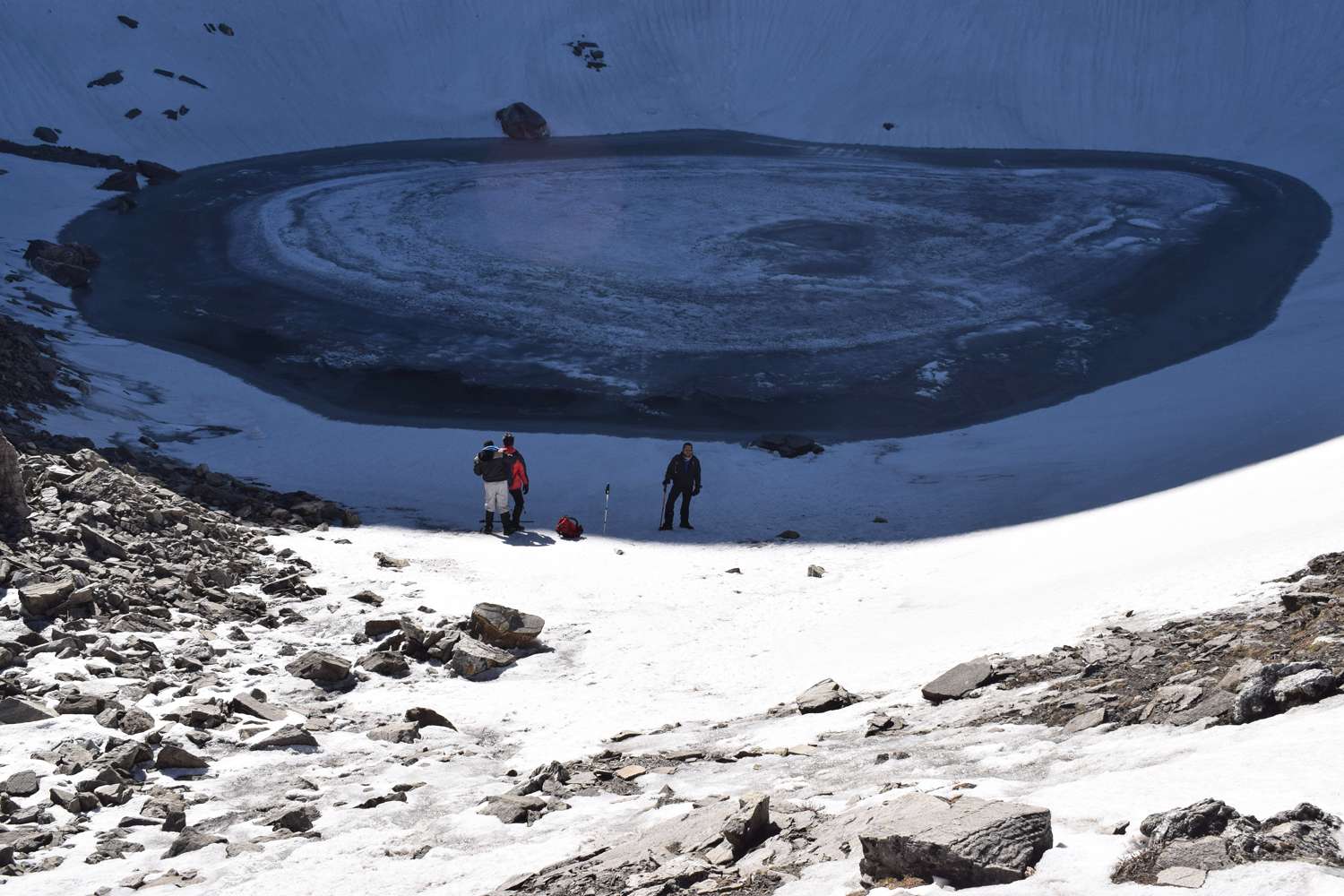 This is one of the most popular treks of all as it is a popular glacier lake. The popularity of this lake has a dark secret behind it of the existence of 500 human skeletons that were found at the edge of the lake. This trek gives you one of life experience as it has the culmination of meadows, mountains, dense forests and brooks. It exists at a distance of 217km from the most famous honeymoon destination of Uttarakhand which is Nainital. This is more difficult than any other trek mentioned above as it is at the height of 15,755ft. This place is amazing because you get views of peaks like Kedarnath, Chaukhamba, Neelkantha, Trishul & Nanda Ghunti. This trek would take you approximately 9-10 days. You would start the trek from Lohajung to Roopkud Lake. And if you still have some energy left you can further trek for half an hour to the highest peak point of Roopkund Lake trek Junar Gali. The best time to visit is from May to June and also from September to October.
Chopta Chandrashila Trek gives you a window into Himalaya's spring color vibrancy. This Trek is very much loved and appreciated by all the goers. Chopta Valley is at height of 7,800ft and surrounded with a dense oak trees forest. You will be surrounded by huge Himalayan peaks like Nanda Devi, Trishul, Kedarnath, Bandarpunch, etc from all sides. The Chandrashila trek is open year-round and you can visit it whenever you want through autumn and winter treks are most popular. This trek would take approximately 5 days and would make you see nature's hidden beauty. The base point of this trek is Haridwar and the journey starts from here. You would experience some beautiful sites of mountains in Garhwal and Kumaon like the Nanda Devi, Nandaghunti, Kamet, Dronagiri, Trishul, Chaukhamba, Kedar dome, Thalaysagar, Gangotri ranges, Jahanukut, etc. After reaching Chopta you would get a view of the Chandrashila awaits on the other side of the forest margin. If you are lucky enough you can also spot red fox and other small wild things. You will experience a crystal clear lake at Deoriatal and murmuring Waterfalls, lush green meadows, and mountain goats. If you get fortunate enough you can also get a glimpse of an ancient culture of local people.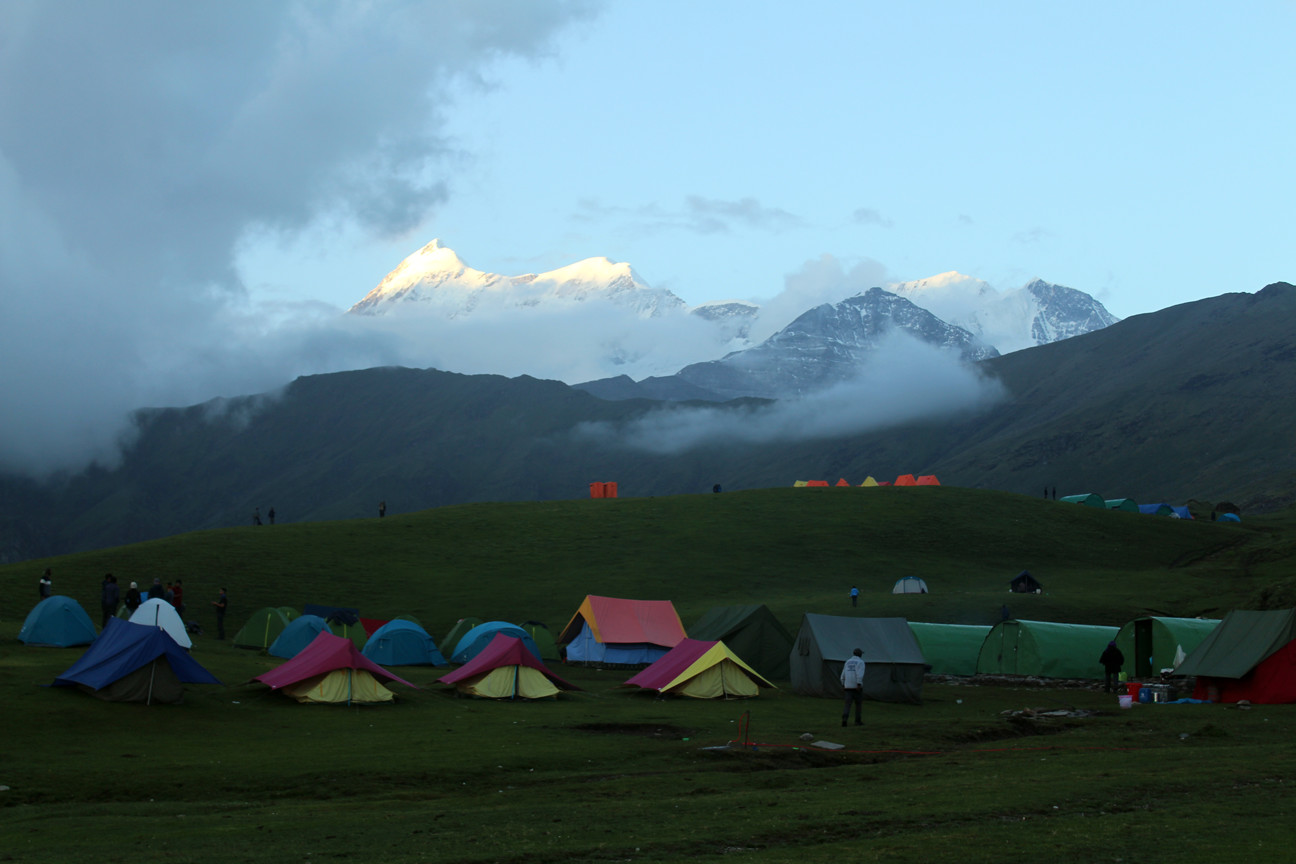 This trek is one of a kind as it is known for being the most beautiful and easiest for the beginners. It is located in Uttarakhand at a height of 12,100ft. You would get to experience the beautiful meadows and uplands. Bugyals are actually the grassy uplands that are made in mountain laps where shepherds take their herds in summer days before the winter snow covers the whole place white. On the other hand, Dayara is lesser-known Bugyal as it is accessible from Uttarkashi by just a short and crisp trek but it is one that pays off magnificent rewards. This trek can be visited round the year except for monsoon. The winter months experience a lot of snow lasting from December till April. The base point of the trek is Dehradun. This whole trek would take you approximately 6 days.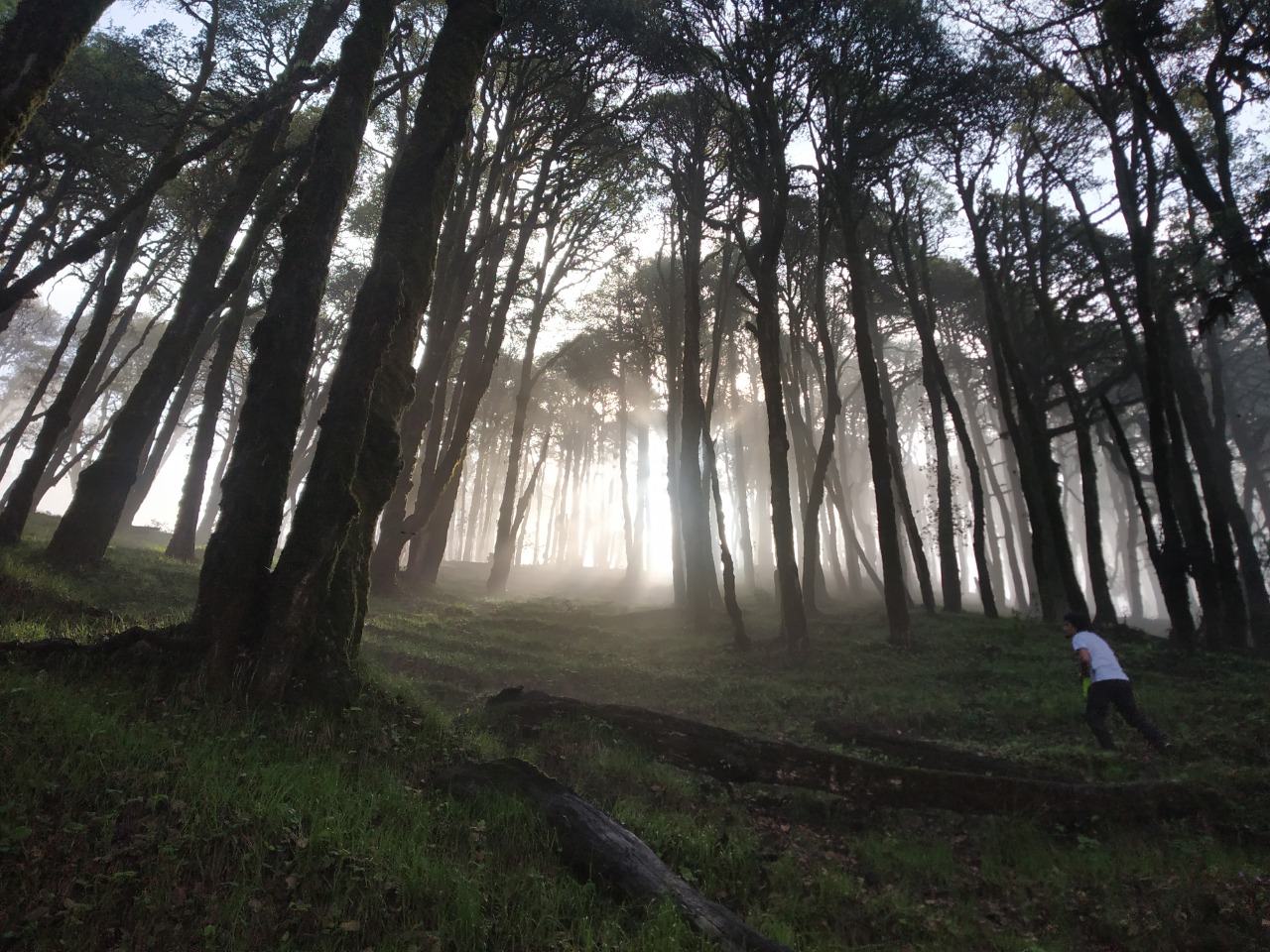 This trek is one of the most sought out treks for the Delhites as it is one of a kind and the best weekend treks from Delhi. This trek is not very difficult as it is not very far away from Mussoorie, Uttarakhand. This trek leads you to the Serpent's Peak which is a very beautiful place because it takes you from thick jungles and meadows which is a unique experience due to the serene and peaceful atmosphere experienced. This place is flushed with rich flora and fauna along with some beautiful high peaks like Swargrohini peak, Srikantha peak, Bandarpoonch peak, the Gangotri group of peaks, Kedarnath peak, Doon valley and the snow peaks of Changabang. While the trekking length is approximate 16kms you come up to the altitude level of 9,915 feet above sea level which is really high. Now, apart from views of the Himalayan range peaks, one can also experience an amazing sunset view. The trek starts from Pantwari village which is approximately at a distance of 85kms from Dehradun which can be covered by a taxi in 5-6 hours. This trek is perfect in all weathers so you need not worry. Just pack your bags and head to Nag Tibba when you are bored seeing the skyscrapers in your city and want some fresh and scenic sunsets.
Treks in South India
Chembra Trek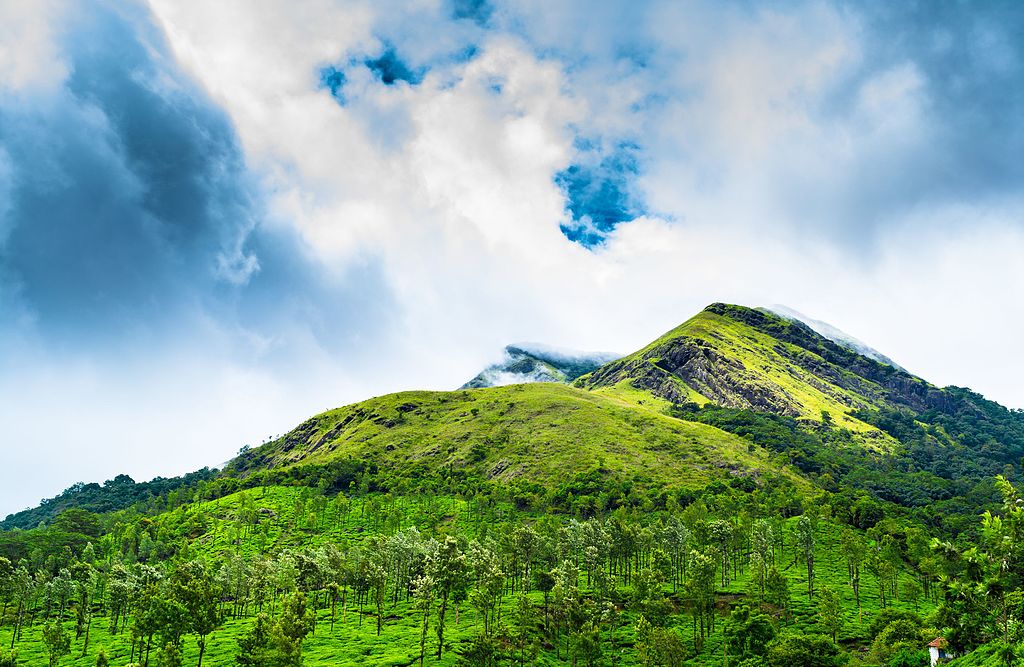 If you're looking to opt for a short and simple trek in South India, the Chembra trek is unmissable. At 6889ft the Chembra peak is the tallest peak of Wayanad, Kerala, and makes for a lovely little hike that lasts about 2 hours. Despite being a short trail, the trip comes with its fair share of beauty in the form of verdant valleys, sombre forests, and quaint lakes. Also an ideal picnic spot, the Chembra Trek is the perfect opportunity to explore the hidden beauty of Kerala.
Kudremukh Trek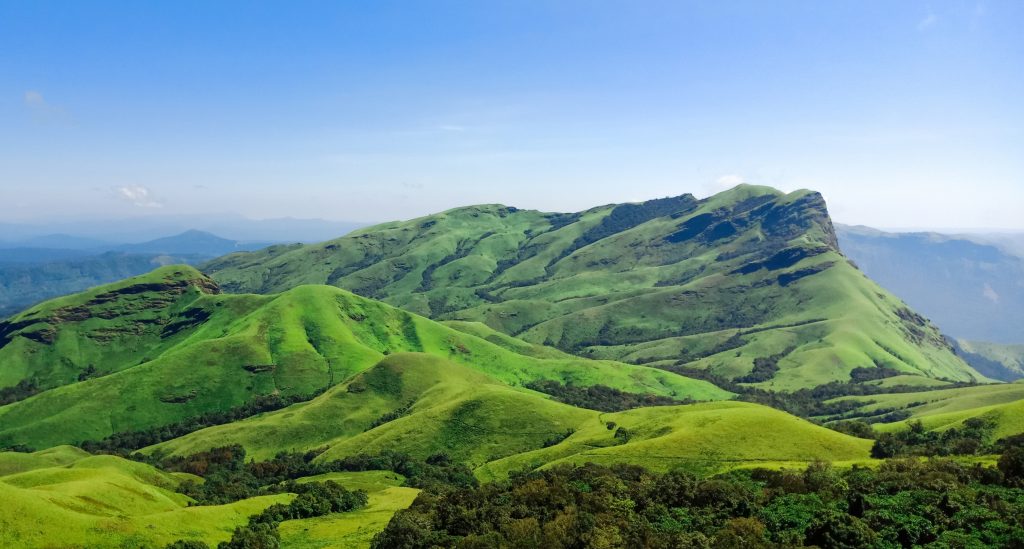 Popularly known as the most beautiful trek in Karnataka, in Kannda Kudremekh directly translates to "horse's face" owing to the peak's unique and distinctive shape. The 5km journey on foot to the 6,207ft Kudremukh peak takes approximately 2 hours to conquer and takes you via the mossy green Shola forest and expansive meadows. The trek is especially renowned for its wildlife sanctuary - where you may spot animals of diverse species. The sweeping grasslands overlooking the rolling hills and the final ridge walk that leads you to the peak happens to be the cherry on top.
Perumal Trek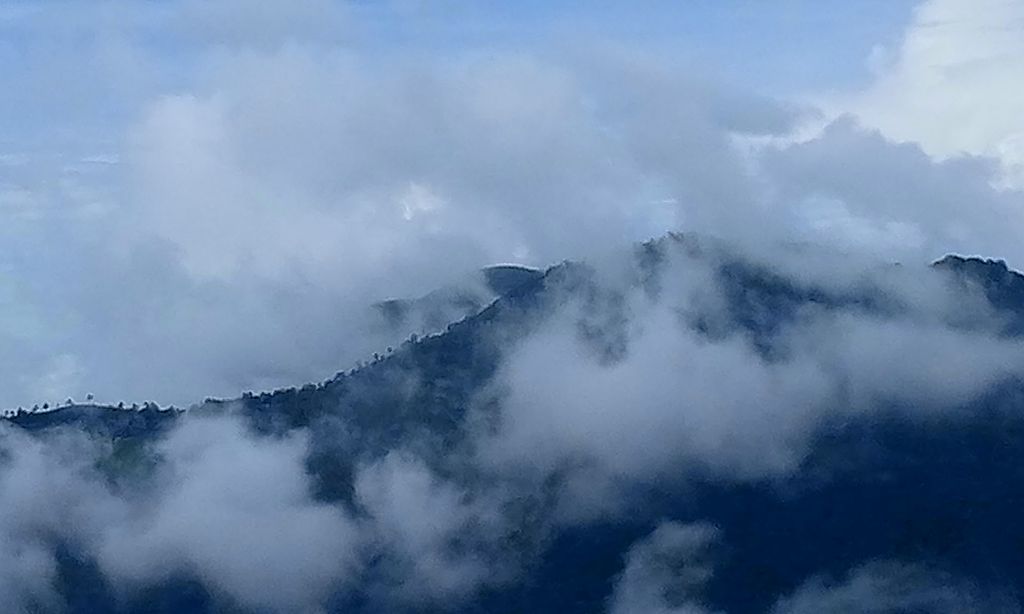 Located 18 km from the tiny hill station, Kodaikanal, Tamil Nadu, the 7 km Perumal Trek is ideal for trekking in India for beginners as it takes only 3-4 to reach the top. A relatively easy hike, the trail is widely famous among photographers for its unearthly beauty. Standing tall at an elevation of 8005ft, the summit gives you a view of the awe-inspiring Nilgiri Hills and is quite thrillingly also believed to have been a volcano in the olden times.
Nagalapuram Trek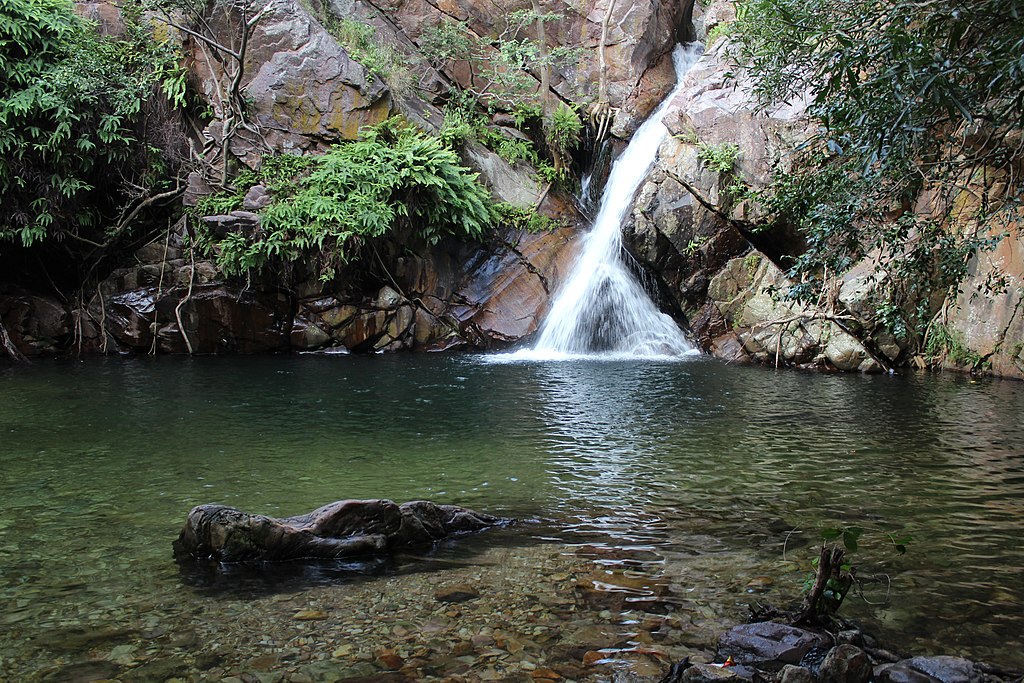 Situated in the Chittoor District of Andhra Pradesh, the trek to 2952ft Nagalapuram Hills is unlike any other. Sure, the 12km hike has all the obvious beauties one looks for in a trek - lush forests, crystal-clear streams, curious pathways, and vibrant flora and fauna. But what sets this trek apart is the three waterfalls you encounter on your way, one of which happens to be the Nagalapuram Falls where you can go for a rejuvenating swim. And whatever could be better than to take a dip in a naturally formed mountain pool?
Some Additional Trekking Destination in India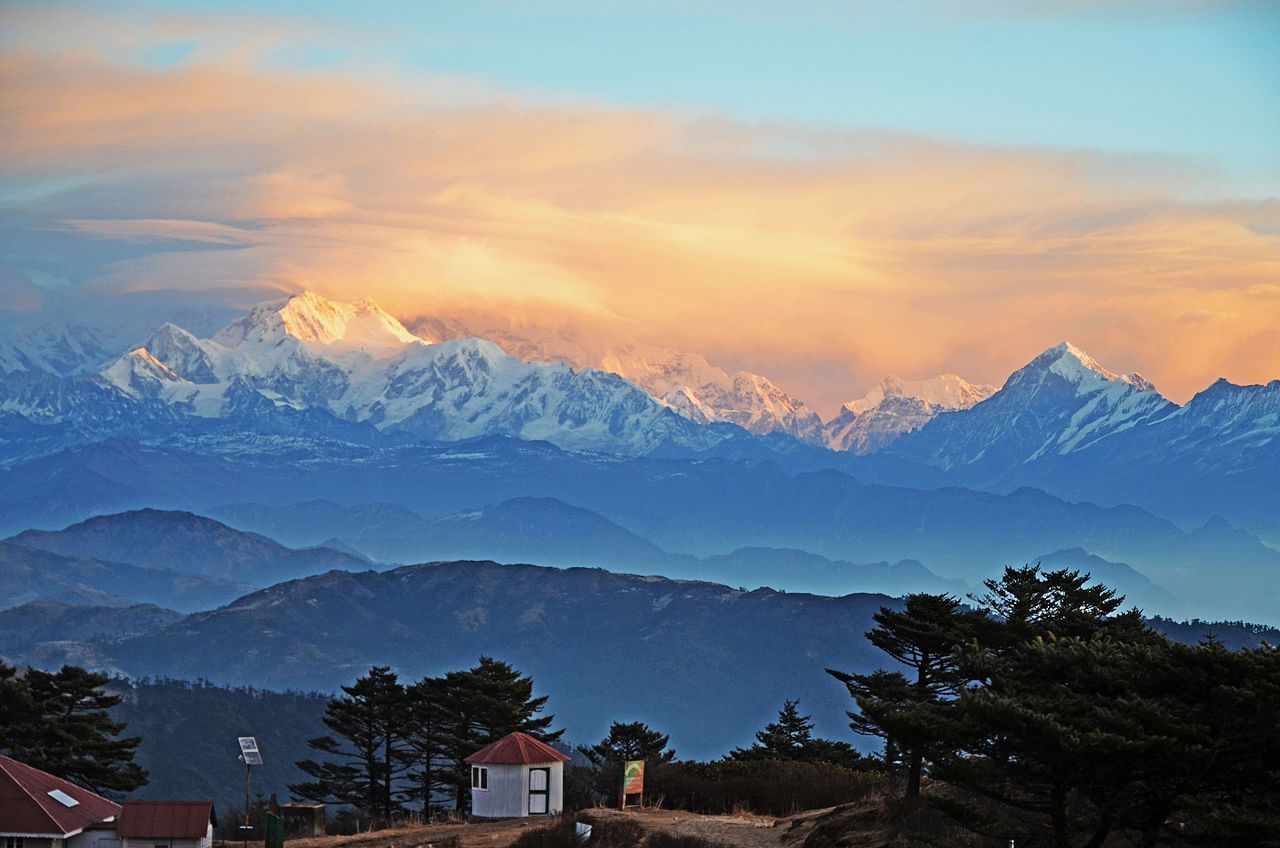 Sandakphu is regarded as the highest peak in West Bengal and apart from that, it offers extravagant views of other high peaks of Nepal to Bhutan and farther east to Tibet. This trek covers a total altitude of 11,929 ft and is located in the Darjeeling district. This is usually known as Trekkers Wonderland. Though it's not that easy yet it would give you a glimpse of Everest, Kanchenjunga, Lhotse, and Makalu along with a diverse range of flora and fauna. The total trek is 46kms and can be covered in 6 days. While on this trek you go across the Singalila range and can also cover the Singalila National Park. Here you can also see peaks like Makalu, Lhotse, Everest, Nuptse, Baruntse, Chamling, Chomolonzo, Machapucchare, extending to the Annapurna family of peaks broadening out to the West. With a magnificent sunrise the other day you can start your trek to Sepi which is a small secluded village. You would pass through dense forests while trekking which is the house to Red Pandas and Bears. You would cover a distance of around 15 km and it would take you 6-7 hours. If you want to get a view of blooming Rhododendrons and Magnolia you should visit this place in the spring season.
Matheran Trek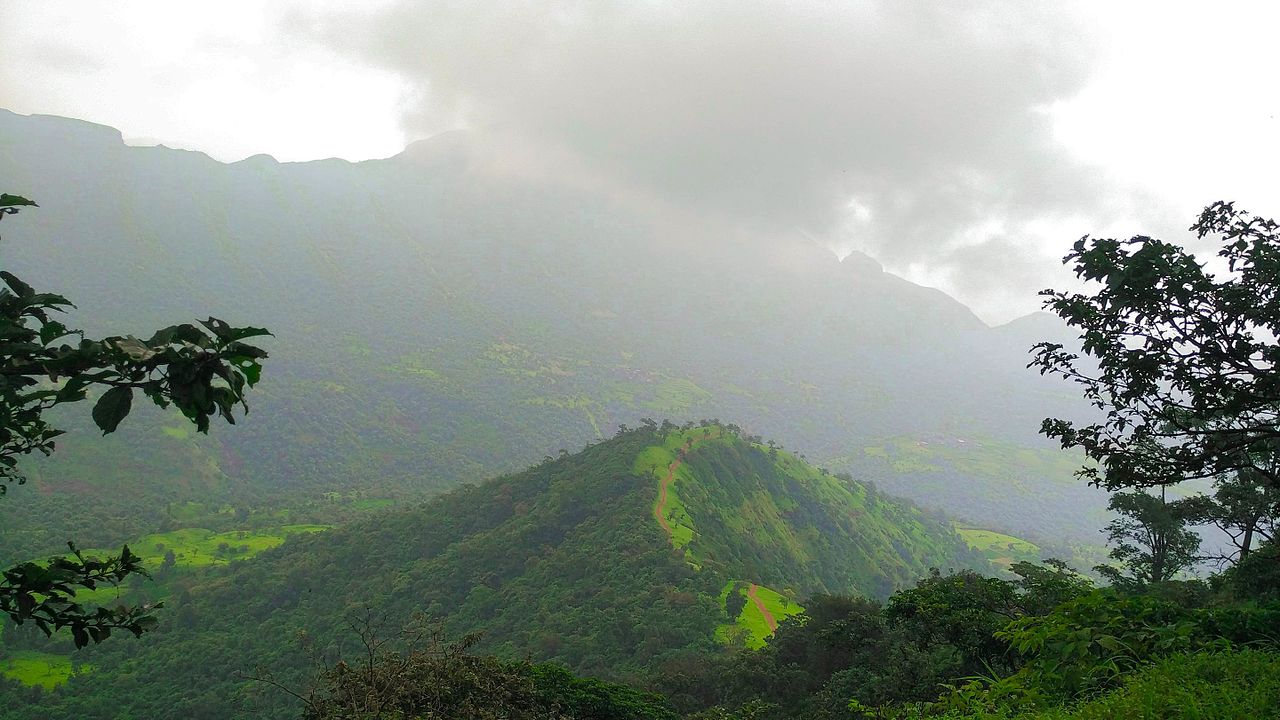 It is one of the most hyped yet most liked treks by trekkers. Though it is at an average height of approximately 2,506ft so it just takes 1 day to complete and thus it is the best trek for weekends. Matheran is famous for its amicable climate and various trekking trails as there are almost 28 view-points scattered all around the place. The most unforgettable thing about Matheran is the dense forest and the cold waterfalls nearby, especially in the rainy season. The beauty of this hill station gets doubled in monsoon with gushing waterfalls and more greenery. Matheran has been regarded as truly The Best Hill Station in Maharashtra. It covers an area of 8 square kilometers in Sahyadris. Garbett's point is located on the South-west side of Matheran with a grand view of the plateau. The base camp of this trek is Bhivpuri Railway station. On reaching Matheran you would get to experience the divine beauty of flora and fauna with a stunning waterfall and get ready to be astonished by the scenic appeal and the tranquility of this entire place.
Sela Pass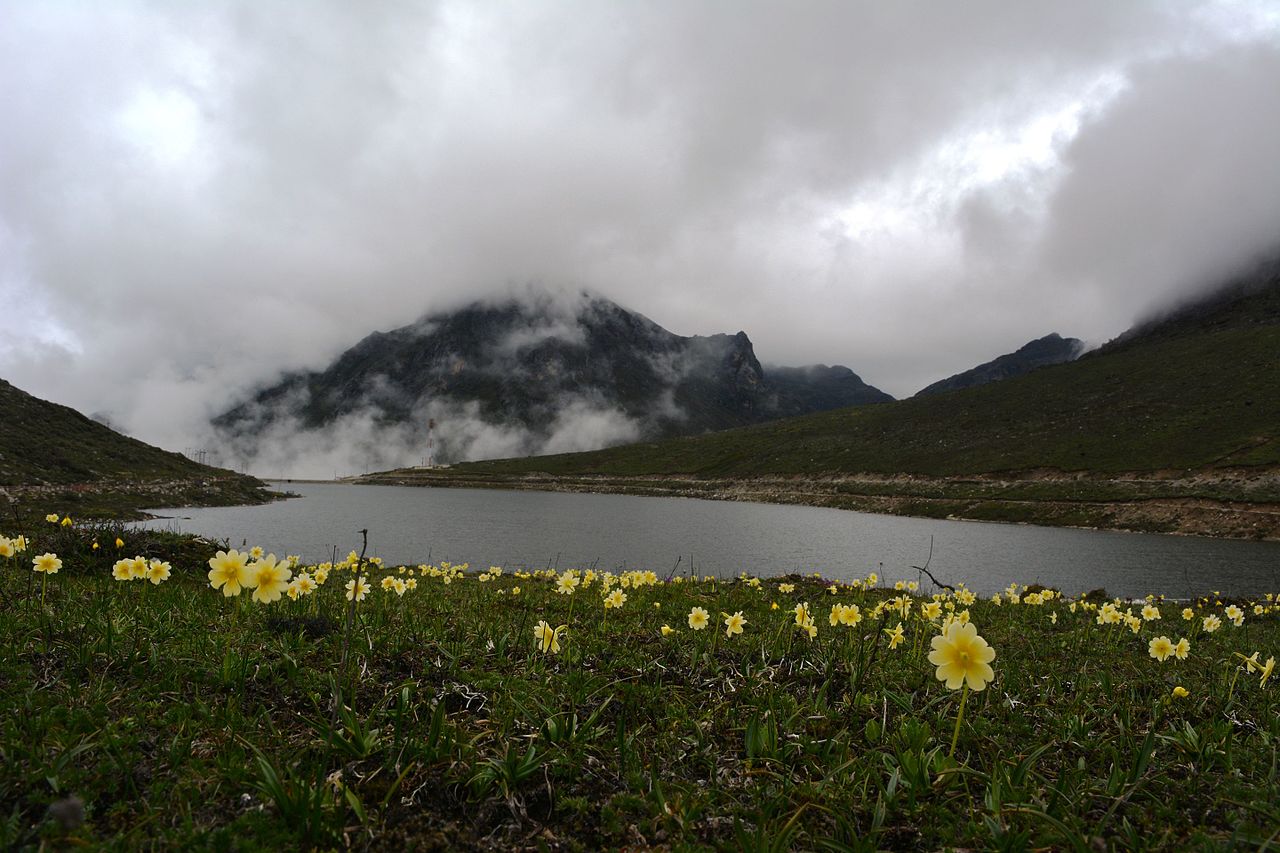 A breathtaking place in Arunachal Pradesh elevated at a height of more than 13,000 ft. Out of all the high mountain passes that Arunachal Pradesh has, Sela Pass stands out as one of the tallest. Though the pass is open all through the year yet it is advised not to visit in the winter season due to heavy snowing which ultimately leads to its shutdown. It is located in the Tawang district of Arunachal Pradesh and thus it connects Tawang to the rest of Arunachal. Once you reach Sela pass you can visit the Sela Lake and experience a breathtaking view of the snow-clad mountains. Apart from that, you can also experience the famous silk route on your way to the pass. You can pass through traditional Monpa villages where you can interact with villagers and get insights into their social set up. You can also visit the local monastery, school, etc and at the same time get a gorgeous view of Gorichen's peak which is the Highest in Arunachal Pradesh. The base camp of the trek is Tezpur which can be reached either by train or flight. You would get to experience an astounding view of Mt Gorichen - the highest peak in Arunachal Pradesh. From Dhirang drive to Sela Pass from where you can get majestic views of the Gorichen peak and also descend to the Sela Lake where there is a war memorial dedicated to army man Jaswant Singh. This whole trek of Sela Pass would take approximately 4-5 days yet would be successful to give you a once in a lifetime experience that you would forever miss.
Trekking in India is immensely gratifying. There is much to see and many miles to tread. Each trek you undertake and ultimately conquer becomes a part of you and you relive them oftentimes via pictures, stories, and memories. Once you have experienced adventure trekking in India, there's no going back. Every so often you will find yourself desperate to get back to the twisting Himalayan pathways – it is a compulsion and addiction of the most delightful kind.