Brahmatal - Best Winter Trek
The lake and the mountains have become my true calling.
Uttarakhand, well known as the "Land of Gods" or "Dev Bhoomi" is a true haven for trekking enthusiasts. Embellished with ethereal beauty and adventure opportunities, this beautiful mountain state treats you to a delectable palate that leaves you asking for more. Located in the foothills of the Himalayas, Uttarakhand is bedecked with lush hamlets, famous temples, placid lakes, bubbling waterfalls, effervescent rivers and some of the largest glaciers of the country, all nestled in the lap of the grandiose Himalayan Ranges.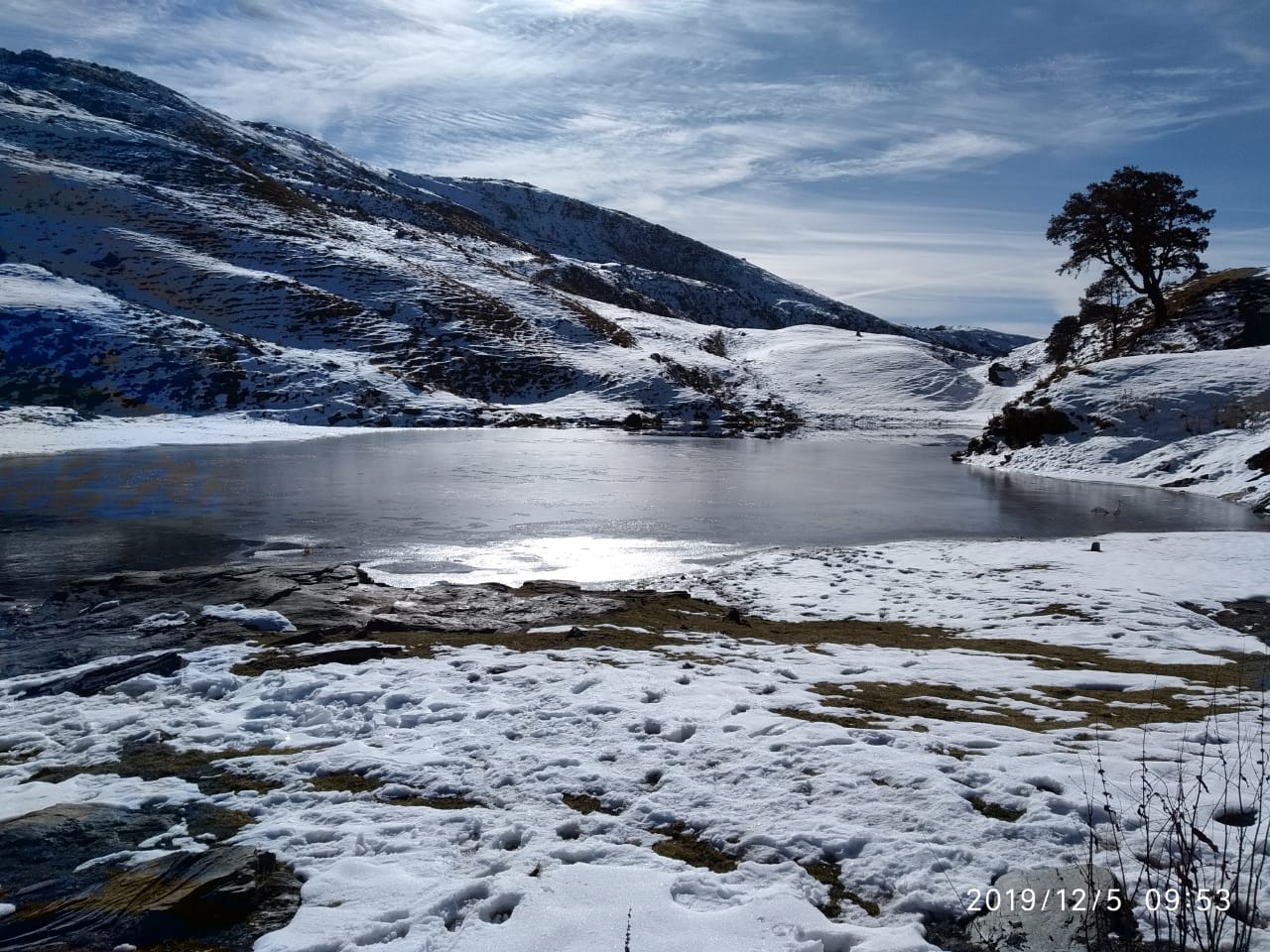 Brahmatal trek is one such enchanting trek that offers the dual attraction of camping beside two glacial lakes, Bekaltal and Brahmatal. The trek starts at Lohajung and covers a 30 km trekking distance within a span of 6 days. Loaded with amazing trails that journey along a spectrum of changing landscapes, tall mountains, and sacred lakes, Brahmatal trek is a perfect amalgamation of an adventurous sojourn with a streak of spirituality.
A quick glance to some facts of Brahmatal
Region- Uttarakhand Himalayas
Trek Level- Easy during summers and moderate during winters
Altitude- 12,250 feet
Trekking Distance- 30 km
Duration- 6 days
Start Point- Kathgodam
End Point- Kathgodam
Base Camp- Lohajung
Brahmatal Trek Best Time- December to January
Brahmatal Temperature-

September to October- plus 1 Degree to minus 1 Degree Celsius
November to December- minus 1 to minus 5 degree Celsius
January to February- minus 5 to minus 15 degree Celsius
March to April- minus 1 to minus 5 degree Celsius
May to June- plus 5 to minus 1 Degree Celsius
A short itinerary of Brahmatal trek
Day 1: Drive from Kathgodam to Lohajung(7600 ft)
Day 2: Lohaung to Bekaltal (9885 ft) which is a 6km trek
Day 3: A 7 kms trek from Bekaltal to Brahmatal (10440 ft)
Day 4: Brahmatal to Brahmatal Top or the Brahmatal Summit (12250 ft) and easy descent to Khorurai (9160 ft). The total trek distance on this day is 8kms.
Day 5: Khorurai to Lohajung, it is a 3 kms trek.
Day 6: Lohajung to Kathgodam, 8-10 hours long drive
A grand winter trek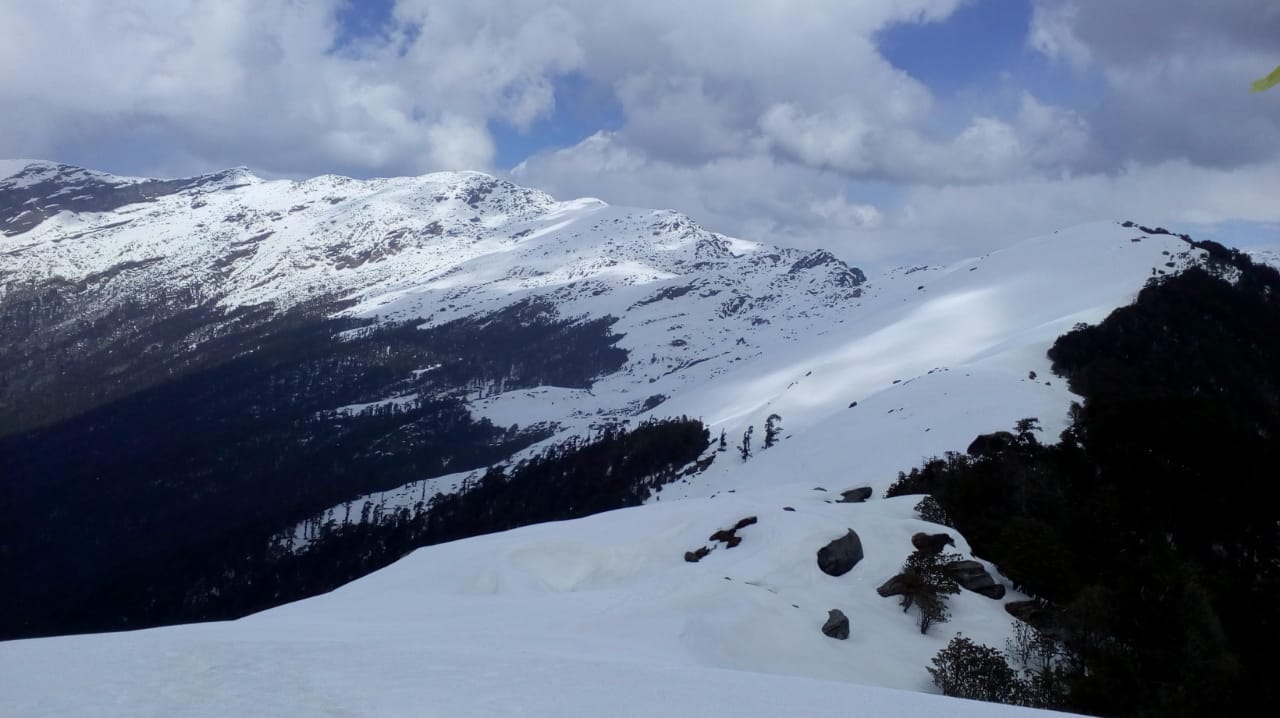 Welcome to a classic winter trek that floors you with the grandeur of beautiful glacial lakes cradled in the lap of mighty Himalayan peaks. Ample of snow, glittering mountains slopes and camping alongside the frozen Bekaltal and Brahmatal lakes give you an excellent opportunity to undertake this trek even in the winter months of December, January and February. It is one of the favoured destinations in the winters when the whole landscape transforms into a Winter Wonderland under a huge sheath of snow.
The beauty of two lakes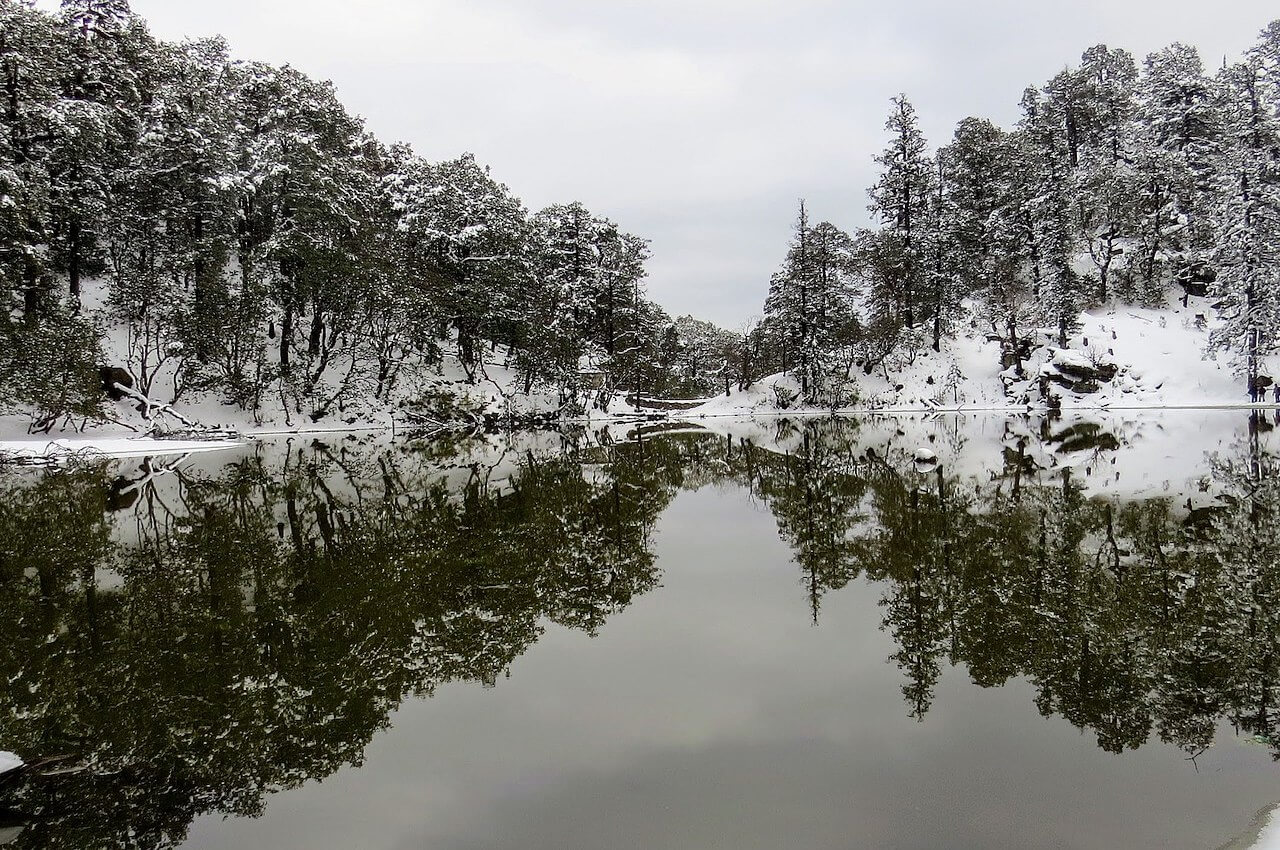 Bekaltal
Brahmatal Trek is one of the few Himalayan treks that charms you with 2 epic lakes on its trail: Bekaltal and Brahmatal. Bekaltal lake is located in the middle of a forest, the peace and tranquillity of the magnificent lake makes a soothing impression on you. A small temple dedicated to Lord Brahma sits by the side of the lake adding a spiritual bliss to the place. Brahmatal or the Lake of Lord Brahma flatters you with its distinct beauty in every season. While winter accentuates the serenity of the frozen Brahmatal lake with a lone oak tree hanging by its side, summer adds a green flavour to the mesmerizing beauty of the lake. It's crystal clear waters shimmer in the sunlight while reflecting the beautiful colours of the sky. Mythology has it that Lord Brahma meditated on the banks of Brahmatal, hence the name.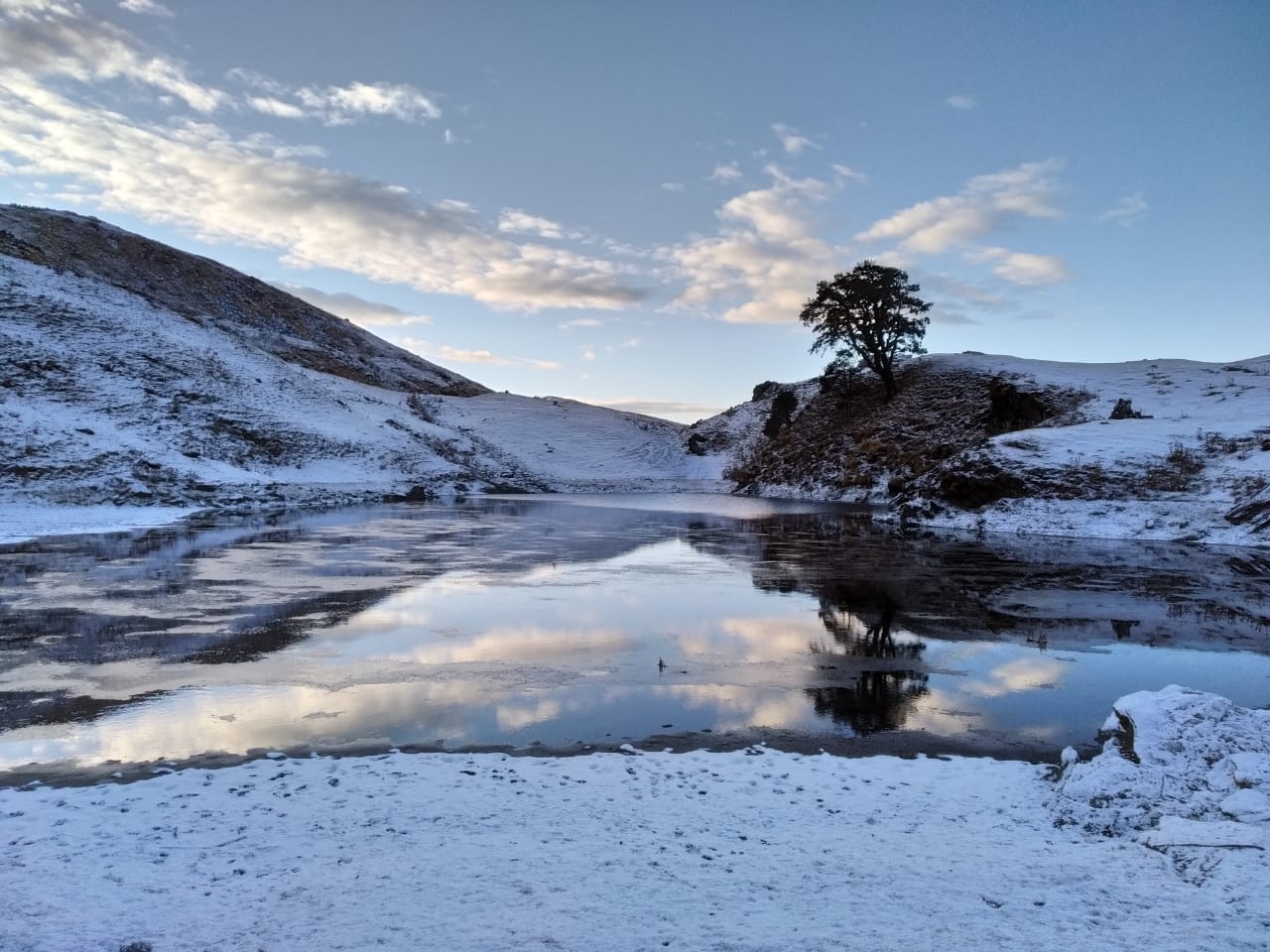 Brahmatal
Stunning campsites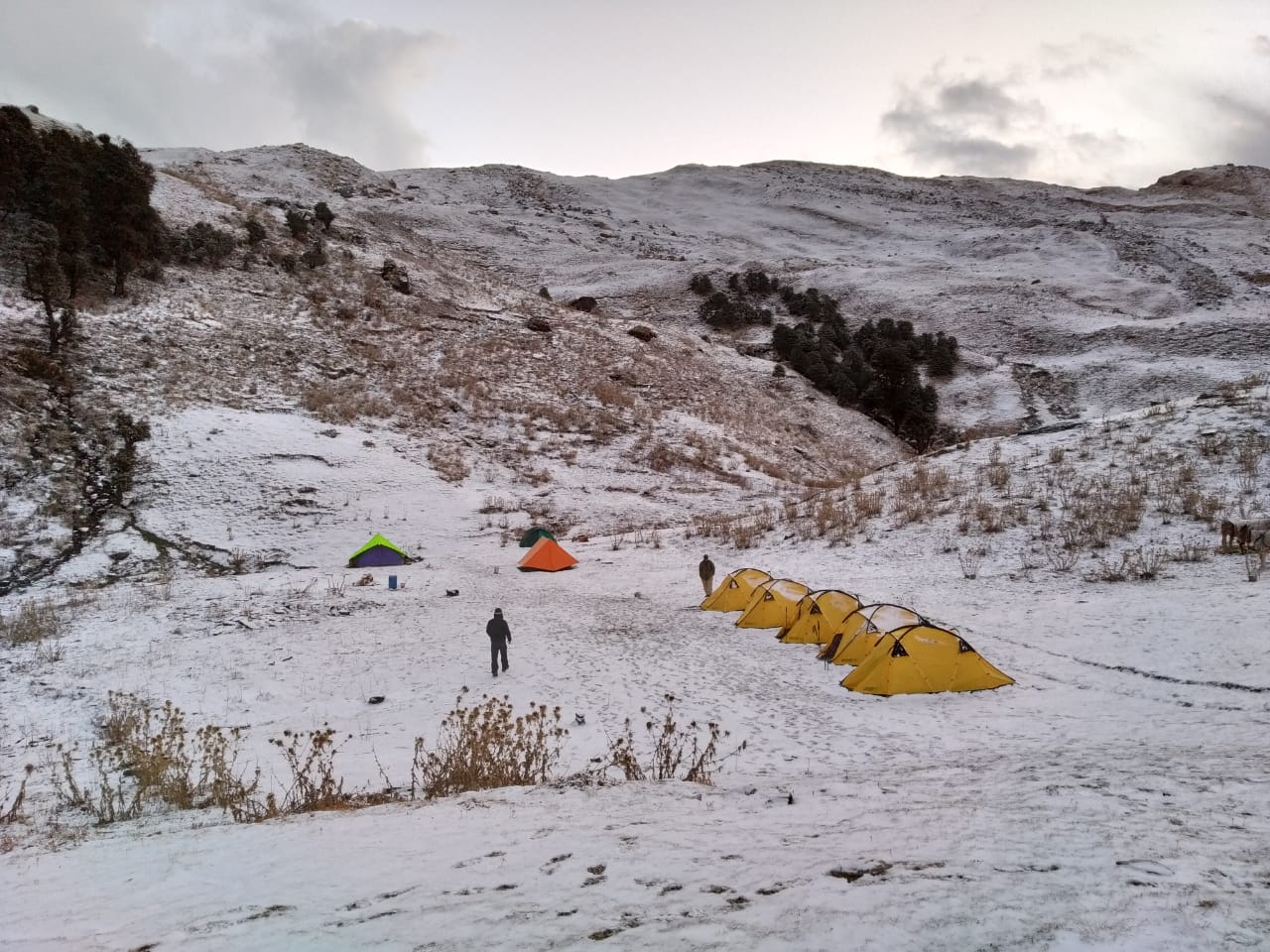 The campsites beside Bekaltal and Brahmatal lakes are the crowning glories of the trek. Lakeside camping at Bekaltal in the middle of the forest flanked by thick oak trees is an amazing experience. With colossal mountain peaks shimmering against a star-studded sky, the campsite near Brahmatal Lake offers excellent stargazing opportunities.
The mesmerizing trail in each season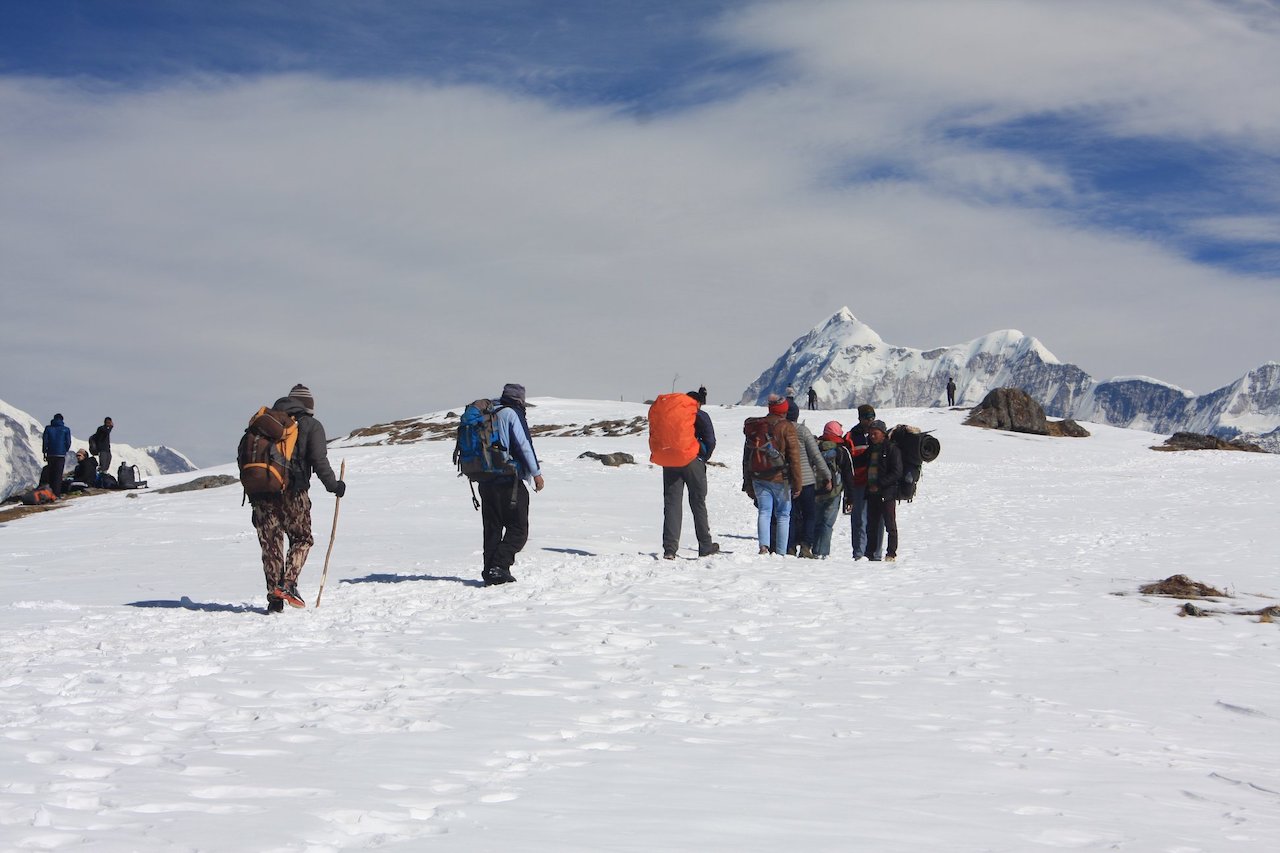 The entire trek to Brahmatal journeys through thick oak and beautiful rhododendron forests which glow with a charm unique to every season. Lovely rhododendrons form a beautiful pink canopy over your head during March and April. The sunlight streaming through the thicket of trees displays a spectrum of attractive patterns on the thick grassy ground during summers. The snow drifted trees glow with mysticism and serenity in the winter months. As you trek along the snowy trail, the solitude of the place encompasses you delicately into its embrace.
Panoramic view of the grand Himalayan peaks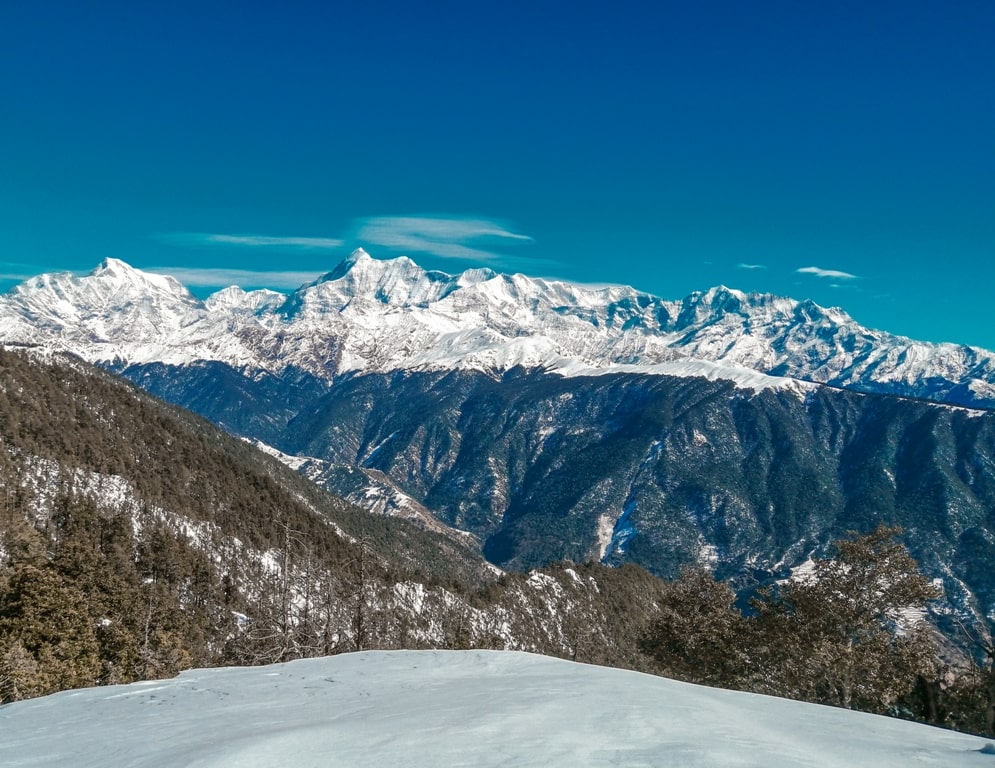 Brahmatal summit treats you to spectacular views of massive Mount Trishul, sacred Mount Nanda Ghunti, Mount Chaukhamba, Mount Neelkanth, Mount Kamet and Mount Hathi Ghoda. The grandiose peaks of Mount Trishul and Mount Nanda Ghunti are your constant companions throughout the trek. This plus the beautiful views of the Roopkund trek trail including a panorama of Ali Bugyal, Bedni Bughyal, and Junargali make Brahmatal one of the best trekking places in India that offers the best mountain views.
The distinct geography of the trek
The unique setting of Brahmatal trek is its ultra selling point. It offers a varied landscape that ranges from thick treeline to open meadows that look like a stage with a grand view, to layers of gigantic mountain ranges and trails of the mystic Roopkund trek.
Brahmatal weather
Blessed with salubrious weather, Brahmatal is a top-notch trek for winter, summer, spring and fall seasons. It is the first choice for trekkers when it comes to a winter trek.
Is Brahmatal Trek safe?
Touted as one of the best winter treks in India, Brahmatal is a sight to behold in the winter months of December to February. It is an ideal trek for all seasons except in the monsoon months of end-June, July, August and early-September.
Is Brahmatal Trek recommended for beginners?
With a terrain of moderate difficulty, Brahmatal offers a suitable trekking option for beginners. Stretched within a trek distance of 30 kilometres, the Brahmatal trekking route traverses through easy trails, beautiful meadows, slightly steep ascents and gradual descents that are easy to maneuver.
How to reach-
By road- Kathgodam is well connected to all major cities through road.
By train- Kathgodam railway station is well connected with major cities like Delhi, Lucknow Kolkata, etc.
By air- Pantnagar Airport which is around 34 kilometres from Kathgodam, offers daily flights from New Delhi.