How to reach Meghalaya and best time to Visit Meghalaya
Meghalaya in Sanskrit means "Abode of Clouds," and it stands true to its name. Located in the northeast region of India, being one of the seven sisters, it is the perfect combination of serenity and tranquillity. It provides you with an escape to luxurious green valleys and allows you to get lost in its thick, dense forests. Being wrapped in hills with clouds, heavy with water floating around it, is nothing but an absolute charm with magical effects.
It has one of the wealthiest biodiversity and the water gushing down from its landscape packed with rebellious terrain gives you the adrenaline rush and calmness at the same time.
Meghalaya is known for its majestic waterfalls like the Nohkalikai Falls located in the East Khasi Hills, is the highest plunge waterfall in India. Cherrapunji, one of the wettest towns, attracts tourists not just four its Mawsmai cave, double-decker living root bridges but also for its Dain Then, Kynrem and Wakaba waterfalls.
The double-decker root bridge is made up of the Indian Rubber tree roots and is one of the scenic places with water flowing down from beneath it. Meghalaya is blessed with rich wildlife, and Balpakram National Park is an example of this. It is a traveler's paradise and a "land of spirit," it is a heaven on earth for wildlife. Tura municipal district has the most serene environment and is home to a variety of species like the wild cat, leopard, wild buffalo, etc.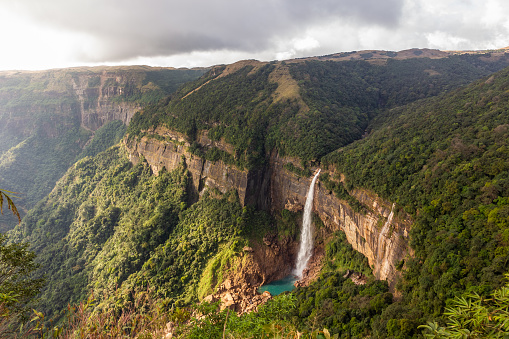 Shillong, the capital of Meghalaya, is a Scotland in India with its pleasing climate and forested hills; it provides much-needed relief from city life. The famous tourist spots are royal Elephant Falls, Lady Hydari Park, Ward's Lake, and Don Bosco Museum. Other towns worth exploring are Jowai, a fusion of culture and heritage and is famed for its pristine waterfalls. Nangpoh is a small town with lavish greenery and gushing rivers. Williamnagar undoubtedly is another beautiful town with flora, fauna, attractive mountains, and rivers.
Mawsynram, a rainiest town, is a must-visit for its stratus (low flying) clouds, hazy weather, and rejuvenating waterfalls. To take you home, take the country roads of Mawlynnong, the cleanest village in Asia is adorned with a beautiful waterfall and root bridges. Latlium Canyon is less famous but is the dreamiest place with remarkable views and is nothing less of a paradisaical dwelling.
Also Check: Must do Himalayan lake treks In India
Also Check: Best time to Visit Hampta pass trek
Also Check: Why Brahmatal trek is perfect winter trek
How to reach Meghalaya?
How to reach Meghalaya by air?
The only airport in Meghalaya is located in Umroi, which is approximately 35 km from Shillong. From here, tourists catch a bus or taxi to their preferred destinations. Apart from this, another way to reach Meghalaya is to land at Gopinath Bordoloi Airport, stationed in Guwahati and is 128 km from Shillong. From here, people go to Meghalaya by booking shared cabs, STPS Airport Shuttle, or Tata Sumos. Helicopter service is also available here, which is much more affordable and convenient, taking only 20 minutes to reach Shillong. This service is not available on Sundays. This airport is well linked to international cities like Bangkok and Indian cities like Mumbai, Delhi, Kolkata, and Chennai.
How to reach Meghalaya from Delhi? To reach Umroi from Delhi by air takes approximately 2 hours 30 minutes and covers a distance of 1491 km. And, from Delhi to Guwahati, it takes 2 hours 15 minutes and covers a total length of 1459 km.
How to reach Meghalaya from Mumbai? The distance covered from Mumbai to Umroi is 2779 km and mostly has layover flights at Kolkata and Guwahati. But when taken a flight from Mumbai to Guwahati, it covers 2737 km in 3 hours. Another way to reach Meghalaya is to take a flight from Kolkata to Umroi, which takes 1 hour 45 minutes for 490 km, and to Guwahati, it takes 1 hour 15 minutes for 519 km.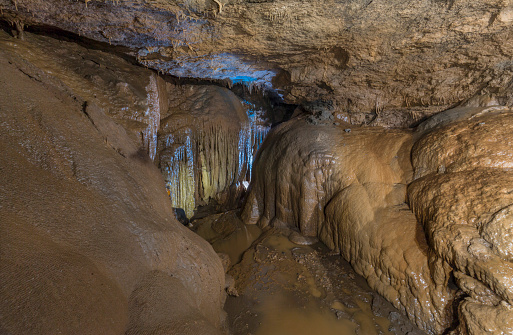 How to reach Meghalaya by train?
If you plan to go by train, then the nearest railway station is located in Guwahati, Assam, which is 105 km away from Shillong. This railway junction is well connected with all the other key cities of the country. From there, travellers either take buses or cabs to reach Meghalaya. From a taxi, it takes 2 hours 40 minutes. To reach Guwahati by train from Mumbai, it takes nearly two days. By train from Delhi, it covers 1850 km, and the fastest train that arrives at the Guwahati railway station takes 27 hours 40 minutes. If you decide to catch a train from Kolkata, it will cover 973 km in 17 hours 50 minutes.
How to reach Meghalaya by road?
The road is one means of conveyance within the state and the capital of the state, Shillong is relatively well connected with other cities. The distance between Guwahati and Shillong is 191 km and takes approximately 5 hours to reach, and is connected by National Highway (NH) 40. You can choose to take tourist taxis, Meghalaya Transport Corporation (MTC), which is connected to other cities, Tata Sumo taxis, or drive by yourself. If you decide on self-drive, you have to begin your journey from Bara Bazar in Guwahati, which is also named Assam Trunk Road. Continue on the highway till you reach GS Road and enter Kamrup District. Continue to NH 40 and drive for around 65 km until you reach Nongpoh, Meghalaya. You have to continue traveling for another 59 km till you reach Mawlai, where you will enter East Khasi Hills. To go to Shillong, you'll have to pass via Nongmynsong.
Best time to visit Meghalaya
Meghalaya during Summer (April to June)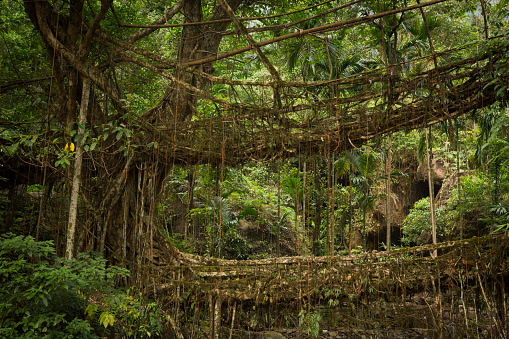 The best season to visit Meghalaya is between April and June, the temperature during these months in daytime ranges to 20°C and in night time falls to 11°C. While many pockets of the country suffer from the scorching heat, Meghalaya welcomes you into a pleasant summer with a cool breeze. The weather of Meghalaya during summer is cloudy in the day and can be humid in the afternoon. It gives you the luxury to explore and try out all the adventurous activities from trek to sightseeing, from sneaking into living root bridge in the dense tropical forest to cooling under the waterfalls like the Majestic Elephant waterfall in Shillong or the ones in Cherrapunjee. You can go from enjoying the cleanest village of Asia, Mawlnngong, to the cleanest river Dawki, 35km from Mawlnnong, but the Umngot River will steal the show. Umiam Lake, Tura, Kullang Rock Laitlum Canyon, and Mawsynramwith their pristine waterfalls and misty weather, are the other major attractions. It is Meghalaya's best tourist time to visit being the peak season.
To know the place, know its people and to know people, get acquainted with their culture, and hence, this is the best time to visit Meghalaya to enjoy its rich heritage. April-June is full of vibrant colors, dance, symbolic rituals as people celebrate Shad Shu Mynsiem. It is one of the most significant 3-day community events, translated as the dance of peaceful hearts. It marks the spirit of the Khasi tribe, offers thanks to nature, and hopes for a good harvest in the coming year. Dressed in their traditional attires, they dance on the rhythms of drums and pipes named tangmuri, the queen of musical instruments.
Meghalaya during Monsoon (July to September)
The wet season in one of the wettest places on the earth is drenched heavily with rain. This weather is perfect for staying in bed with a cup of hot beverage, as exploring is not recommended during this weather. The weather is usually dominated by foggy morning and moist and luxurious meadows. The temperature ranges from 24°C to 33°C. July is the wettest season in Shillong.
During this season, the beauty and mystical element of Meghalaya bloom as the state adorns in its natural component. It will offer you peace in its majestic hills, and with the crowd being less, it opens the choice of affordable hotels. The scenic beauty of Seven Sister falls, and Nohkalikai falls come to its full terms. Elephant falls are the major attraction in the monsoon. It is the best time to visit Meghalaya's waterfalls.
In terms of culture, you can bear witness to the Behdienkhlam festival, also translated into chasing away the demon of Cholera. It is celebrated among Pnars in the month of July, which is a sowing period. It is an important dance festival of Jaintia tribes. Through this festival, the locals call God and seek their blessing for a plentiful harvest. The event kicks in with dance, music, food, and sports.
Meghalaya during winters (October to February)
Rainfall reaches its end in October, and the cool weather begins to set in from November. The temperature can fall to as low as 2°, and the average day temperature is 15°C, seemingly pleasant weather. December is not as cold as in January and February. The weather during the winters more or less stays clear. It is the season of foggy mornings and agreeable weather.
Winters become the best time to visit Meghalaya as the obstruction of rain is cleared, and there is relief from the scorching heat. You can do anything, be it sightseeing, adventure, trekking, or simply snuggling in your blanket. You come with family, or alone, as a couple or as a bachelor, there is an endless list of things to explore and experience in Meghalaya.
It is the best time to visit Meghalaya Shillong, and not just that but also Tura, Nongpoh, Jowai, Cheerapunjee, and East Garo, etc. The magnetic points of these locations are the Balpakram National Park, Baghmara-the house of exotic wildlife, Umian Lake, lalong park, the Laitlum Canyon, and Williamnagar-a beautiful town with rich flora and fauna.
From October, various programs like the Music festival, wine and food festival, flower show, beauty pageants, fishing competition, kite flying competitions are organized in Shillong, making it the best time to visit Shillong. Nongkrem festival is also held in October or November. It is 5-day festivities celebrated among Khasis by dancing and wearing expensive silk and gold.
December is a month to visit because it sees the beginning of the celebration of Christmas and New year. But with the year-end, the festivities do not end as February has in store with it the Strawberry festival on the eve of Valentine's Day. It is not just to have a memorable evening with loved ones eating sweet strawberries but also to contribute to the growth of local farmers. Ranikor is another festival organized in the same month, and tourists come across the borders to partake in the activities. This festival shows the rich cultural diversity and is packed with music, dance, adventurous sports like volleyball, beach soccer, archery competition, boat rides and is complemented with ethnic cuisines.
A philosopher named Lao Tzu once said, "A journey of a thousand miles begins with a single step," and from your one step in Meghalaya, you will experience the journey of miles. In that single step, you will experience the rain, crystal clear waters, the cleanest village, the hills, the forests, the uneven terrains, and the diversities. Meghalaya is one place that should be on every traveler's bucket list.