15 Places to Visit in Meghalaya: Best time to Visit
ABOUT MEGHALAYA AS A TOURIST DESTINATION
Meghalaya, a mountainous territory in north-eastern India, is among the seven North-eastern Indian states. Meghalaya, which means "abode of clouds" in Sanskrit, lives up to its name. The "abode of the clouds" is a natural lover's paradise, with glittering cascades, lush woods, exquisite herbs and berries, fascinating tunnels and caverns, and placid bodies of water. Meghalaya is bordered by Assam to the north and Bangladesh to the south. There are innumerable best places to visit in Meghalaya that are famed throughout the globe, which include some of the most remarkable waterfalls such as Nohkalikai Falls, Elephant Falls; the rainiest locations on the planet such as Cherrapunji and Mawsynram and the lengthiest and oldest caves such as KremLiatPrah and Mawsmai Caves.
Meghalaya will captivate your soul the minute you set your sights on it, regardless of whether you appreciate recreational vacations, daring hikes, exhilarating pursuits, or hours spent in doing landscape photography. It is also well-known as a favoured monsoon tourism location for folks who like romancing with the rain. When you dig a bit deeper, you'll find a complete universe engulfed in the lap of brilliant lush greenery with small creeks twisting and turning. Shillong, the capital of Meghalaya, is located in the East Khasi highlands and was fondly alluded to as the "Scotland of the East" by the English.
The best time to visit Shillong is from March to September. The best time to do Shillong sightseeing is during the months between May and September. If you are searching for paradise on Earth, then Meghalaya is it.
The bewitching beauty of Meghalaya as well as the grandeur of this region essentially enchants tourists. Scroll down to garner the best details about the best places to visit in Meghalaya. The tourist attractions in Meghalaya will transport you to another universe altogether.
TOP 15 PLACES TO VISIT IN MEGHALAYA DOUBLE-DECKER LIVING ROOT BRIDGE
A double-decker living root bridge situated in Cherrapunji, Meghalaya, is known all over because of its bridge being shaped by the roots and branches of an Indian rubber tree. The viaduct is 3 kilometres lengthy and 2400 feet tall. The most picturesque encounter is strolling across the Umshiang River, which runs underneath the overpass. It is the earliest surviving bridge, built roughly 200 years ago, and it'll only hold 50 people at one time. You may combine a visit to the double-decker living root bridge with a walk to the beautiful Rainbow fall. It's tucked away in the woods. The waterfall gets its name from the formation of a rainbow caused by the sunrays.
Visitors undertake a 7-hour journey through the Cherrapunji forests to visit the location of this famous bridge. This bridge is an amazing illustration of how miracles come to be when people as well as nature function together, and it is one of the most popular Meghalaya tourist spots. A walk across this one-of-a-kind bridge is an unforgettable sensation.
ELEPHANT FALLS
Meghalaya's fame stems partly from the state's abundance of breathtaking cascades. Elephant Falls, Meghalaya's wonder, features an elephant-like stone at its base. The magnificent Elephant Falls were referred to as 'KaKshaid Lai Patang Khohsiew' by the local Khasi people of the town.When literally translated, it means 'The Three Step Waterfalls,' since they consist of three magnificent falls in sequence. The sounds of sparkling pure water crashing on sturdy boulders, however paradoxical that may seem, are calming and comforting. The scene of this waterfall is worthy of being photographed. These falls, located just a few kilometres from Shillong's main city, are one of the beautiful places in Shillong.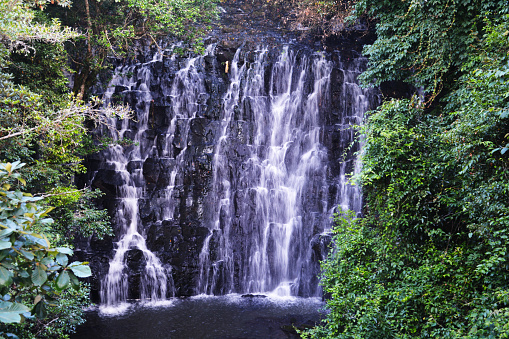 This breath-taking waterfall is composed of three cascades. The very first fall is expansive and obscured by trees, while the second is feeble. The third one, however, strikes one's attention with egg white water gleefully tumbling down fern-covered stones. Elephant Falls may be reached by cautiously climbing down along slick and rocky slopes with heavy foliage on each side. Elephant Falls is an excellent place to halt before continuing on your adventure across Meghalaya.
BALPAKRAM NATIONAL PARK
Balpakram National Park, whether you are an animal researcher or a landscape admirer, will create an everlasting effect on your mind with its diverse vegetation and animals and stunning scenery. This wildlife park, situated close to Garo Hills in Meghalaya, is at a height of 3000 feet and spans a green landmass of 200 square kilometres. Many travellers who come here to see the abundant wildlife variety of Balpakram National Park identify this area as the "Land of Spirits." There are numerous species in this park such as the Red Panda, Wild Buffalo, Elephant, Tiger, Deer, Leopards, Wild Cows and Marbled Cat.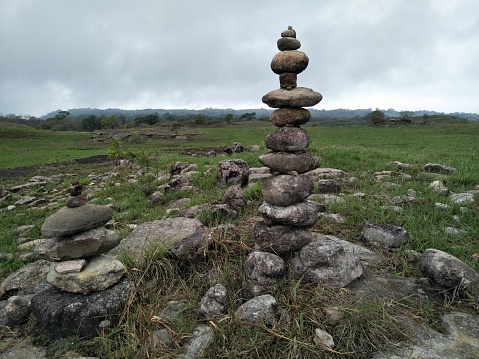 The lush foliage is predominantly tropical deciduous and subtropical, and several beautiful and chirping birds can be spotted here. You will also come across carnivorous plants, the Pitcher plants. This park is not only wonderful for trekking, but it also offers beguiling vistas of vast gorges, rugged cliffs, and cascades.
NOHKALIKAI WATERFALLS
Nohkalikai Falls, the world's fourth most prominent cascade, provides the impression of an incredible heavenliness. The falls are indeed one of the most mesmerizing places of tourist interest in Meghalayaand among the most amazing and fantastic falls in the country. It's one of the best places in Meghalaya.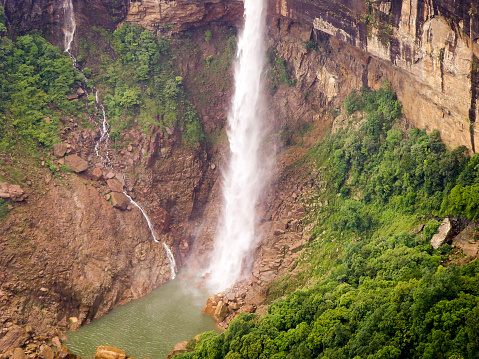 One cannot afford to pass up the opportunity to walk beneath India's largest cascade, Nohkalikai Waterfall. This majestic waterfall, which stands 1115 feet in height, is a hidden gem in itself. It is snuggled in the verdant cradle of the East Khasi Hills, falls from a hilltop and is nourished by rain. At the bottom, it produces a beautiful green pool that may be accessed through a set of steps. This waterfall is a beauty to marvel at, and it's one of those spots where you can't help but go on a shooting spree!
MAWSMAI CAVES
Mawsmai Cave is without a question the most wonderful of the area's caverns. The cave's length runs for about 150 metres, which isn't the largest in comparison to other caves in the vicinity, but it most certainly provides you a look into life deep inside. Mawsmai Cave, located approximately 6 kilometres from the heart of Cherrapunjee, is an outstanding grotto in Meghalaya's East Khasi Hills. This limestone cavern is fascinating in its own distinct way and draws a large number of tourists. This offers a great experience for any photographer or history geek.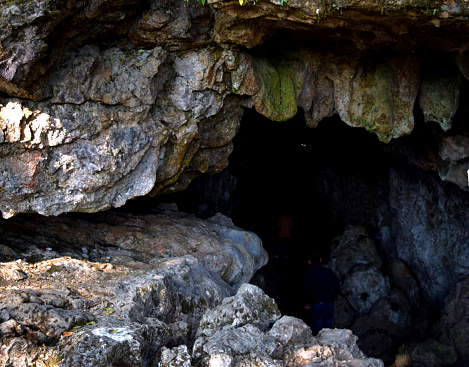 Mawsmai Cave is among the most intriguing Meghalaya tourist spots to experience if you really want to see anything other than majestic falls and woodlands during your vacation in Meghalaya.
With its unusual contours, spirals, fissures, this cave will undoubtedly make your spine tingle. During the day, there is enough direct sunlight to navigate about without using flashlights. While visitors can wander up to 150 metres into the caverns, the remaining portion of the cave is kept beyond any visitor's reach for safety purposes. The distinctive shapes of the stalactites and stalagmites within the caverns catch the attention of visitors. Bats and a variety of insects have taken up residence here, adding natural charm to the place.
SEVEN SISTERS FALLS OR NOHSNGITHIANG FALLS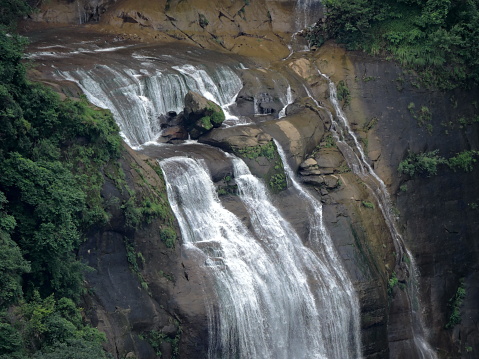 These majestic seven-tier waterfalls, positioned 1 km south of Mawsmai Village, are one of the best places in Meghalaya. This is also referred to as Mawsmai Falls since it is located in the Mawsmai hamlet of the East Khasi Hills District of Meghalaya. It's one of the country's tallest cascades. The Nohsngithiang Falls, also known as the Seven Sister Falls, represent the seven sister states of India's North East, namely Assam, Arunachal Pradesh, Manipur, Nagaland, Tripura, Mizoram, and Meghalaya. The water torrents emerge from the forested area and trickle down the hill from an elevation of 315 metres, producing a magnificent spectacle worthy of being treasured in the cockles of heart and etched in soul. You cannot afford to overlook such falls when in Meghalaya!
The greatest time to view this gorgeous waterfall is during the wet season. It comprises seven parts, as the name implies, that are nourished by precipitation, and pour fiercely over rocky limestone cliffs in the East Khasi Hills. The elegance of Nohsngithiang Falls is ineffable at sundown, when the beams of sun's rays strike on it, generating an everlasting rainbow, which has been one of the place's key characteristics. The luscious green backdrops, along with the effect of sunshine on the falling water, creates a wonderful vision.
LADY HYDARI PARK
This park, titled after the wife of the first governor of Assam since Shillong was once under the Assamese authority, is a must-see in the town. Lady Hydari Park, with its Japanese-style garden and ponds, is one such site. You may spend a bit of time here observing the colourful fish and adorable ducks in the pond.
The Lady Hydari Park is a mini-zoo in itself, harbouring dozens of species such as Jackal, Himalayan black bear, porcupine Leopard, Serow, and Deer, as well as birdlife like Hornbill, Kite, and Mynah. You will also find a museum here where you can take notes on Meghalaya's biodiversity. This is a one-of-a-kind encounter that should not be missed.
DAVID SCOTT TRAIL
This famed horse cart pathway was established during the periods of British Administrator David Scott's tenure in the Khasi highlands. This trekking track is one of Meghalaya's probably the most and the oldest popular hiking trails. This is one of the best trekking places in Meghalaya. The 16-kilometer journey commences in Cherrapunji and end in Bangladesh, culminating in a fight between the Khasi tribe and the British earlier.
The route presently connects the settlements of Mawphlang and Ladmawphlang. Many river streams, woodlands, pastures, and rocky constructions that are central to Khasi culture may be seen, making this an exciting and dynamic journey.
NOKREK NATIONAL PARK
There is no shortage of spots in Meghalaya to captivate biodiversity and environment enthusiasts. Nokrek National Park, which is on the UNESCO Biosphere Reserves List, is one of the greatestplaces of tourist interest in Meghalaya for exploring wildlife. The park attracts thousands of people on a regular level due to its wealth of vegetation and animals. The park is nestled on the Western Garo Hills, about 2 kilometres from Tura Peak.
The huge park which covers 47.48 square kilometers and is adjacent to Tura Peak, is a place of residence for red pandas, Asian elephants, marbled cats, tigers, macaques, and various bird species. The diversity of species that may be seen here will please any birdwatcher.
KYNREM FALLS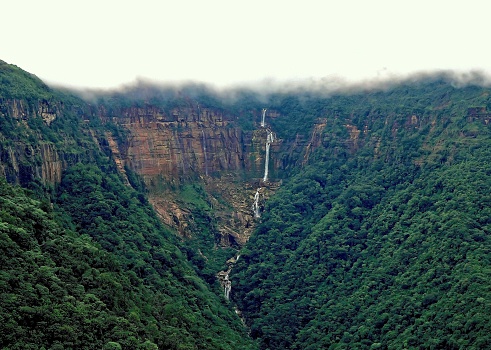 Kynrem Falls, set in the verdant surrounds of Thangkharang Park in the East Khasi Hills, is an iconic tourist destination in Meghalaya. This cascade is the seventh highest in the country, with a falling height of roughly 305 metres, and the spectacle is separated into three phases. It's extremely dangerous during the monsoon season.
The falls, which expand to enormous proportions during the monsoon season, provides superbly different perspectives when viewed from various viewpoints within the nature reserve. When the air is foggy, the cascade appears even more inviting. There is an observation platform from which you may take some wonderful photos and then rest in the garden area.
SIJU CAVE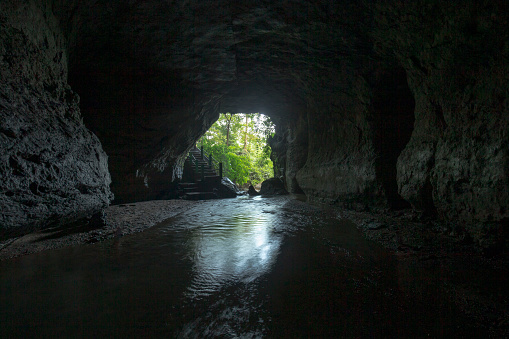 Siju Cave, the third longest cave system in India, is placed close to Naphak Lane and the Simsang River and is a real tourist attraction in Meghalaya. It has one of the world's most beautiful water sections. This cave, often called as 'Bat Cave,' features amazing limestone layers of rock that astound visitors and it is inhabited by numerous species of bats.
The cave is black and dark because sunshine doesn't really penetrate within. Princess Di's Chamber is yet another highlight why you should never miss out on a visit to Meghalaya. The cave's distinctiveness renders it a renowned destination for shooters as well.
KYLLANG ROCK
Kyllang Rock, a remarkable gigantic rock constructed of reddish granite positioned 78 kilometres from Shillong, is a large dome in the West Khasi Hills of Meghalaya. The Rock is a giant square of granite stone that is replete with Khasi legends and its exquisite shape is an unforgettable sight. It is situated at a staggering height of 5400ft above sea level and has a width of roughly 1000ft.
Climbing to the top of Kyllang Rock allows you to take in the bewitching view of the surrounding area. This Kyllang is a normal hike and can be attempted by trekkers of all capabilities. Kyllang Rock is believed to have an unusually gorgeous meadow, which is surrounded by fiery red rhododendrons. The southern half of the huge dome is sealed off, while the northern side is filled with rhododendrons and other plants.
UMIAM LAKE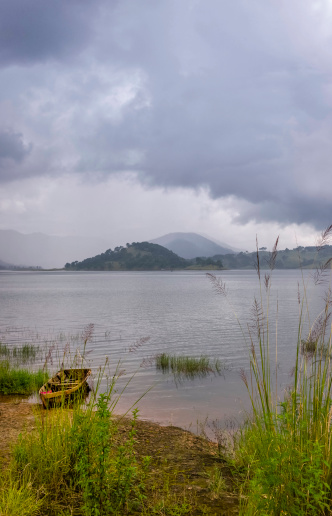 A stunning man-made reservoir, Umiam Lake, is located 15 kilometres north of Shillong. The lake was formed as a result of the construction of a dam to generate hydroelectric power. The beautiful Umiam Lake is surrounded by lush green East Khasi hills, providing an all-encompassing view for nature enthusiasts. The beauty of sunsets here is so phenomenal that you'll want to savour every bit of it till all the colours fade out of the sky.
This lake, which is flanked by verdant hills and lush valleys, is one of most famous tourist attractions in Meghalaya. The coastlines are ornamented by lovely Gulmohar trees in summer time, while the water level ebbs and flows, changing colour in the process particularly in winter. Tourists might enjoy a leisurely boat trip on the lake, while adrenaline seekers can engage in drifting and other water activities.
JOWAI WATERFALLS
Jowai, lying in the Jaintia Hills area and 66 kilometres from Shillong, is known for its idyllic environment and beautiful vistas, as well as a unique blend of tradition and art. The lakes in this town make for one of the best places to visit in Meghalaya. Spend a couple of hours pondering on this seemingly utopian existence while gazing at the calm vistas at Thadlaskein Lake.
Every year, festivals such as Behdeinkhlam, Chad Sukra and Laho Dance draw thousands of visitors from all over India. Non-vegetarians may sample a range of traditional meat dishes made from local fish and pig. Two popular pork recipes here are Jadoh and DohKhleh.
MAWPHLANG SCARED FOREST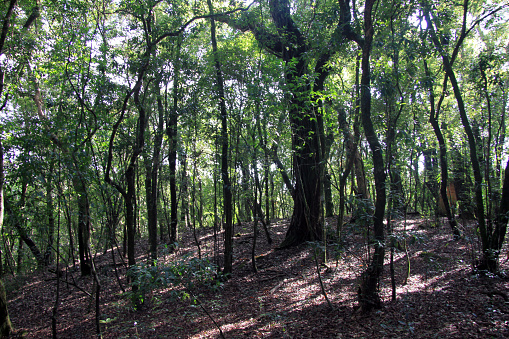 Mawphlang Sacred Forest is tropical woodland in Meghalaya's Nongrum district that is home to plants and wildlife of diverse nature. This forest is home to an incredible ecosystem of vegetation, many of that are over 1,000 years old. This forest's arresting foliage shows Meghalaya's inherent natural grandeur. The woodland is also regarded hallowed by the local population because of its legendary importance.
The forest is known as sacrosanct because the people think it is inhabited by a god identified as Labasa, who takes the appearance of a tiger or leopard and safeguards the village. The forest, without a question, provides an amazing retreat for wildlife enthusiasts and is among the most travelled hotspots in Meghalaya.