MUNSIYARI - 'PLACE WITH SNOW'. Just the sound of this name is exciting enough to imagine what kind of a heaven it would be to visit.
Munsiyari is a hill station that reclines at a high Himalayan mountain range in Pithoragarh district of Uttarakhand, India. It is approximately 140km away from Pithoragarh. It is quite elevated enough with an elevation of 7,200 ft. It is situated on the banks of Gori Ganga River at Milam glacier through which Johar valley makes its entrance via adjoining route of Tibet. And if we talk about peaks and hills surrounding Munsiyari that would be kumaon and Panchachuli peaks.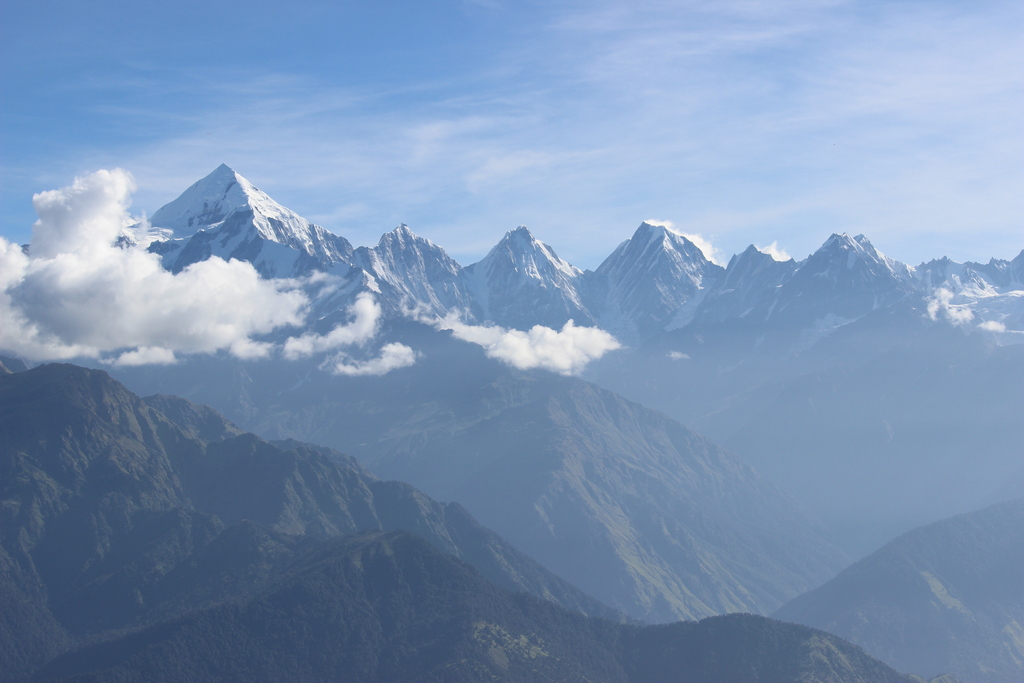 It is a great spot for Mountaineering, River rafting and high altitude trekking, that's why it is quite popular among trekkers.
It is also a great tourist destination as it offers splendid views of nature, waterfalls, and for glacier enthusiasts, it is a base of three beautiful glaciers i.e. Namik, Milam and Ralam.
It is a medley of various revenue villages, inhabited by people with different backgrounds, and tribes such as Shauka tribes. How beautiful is a place like Munsiyari where so many people from different backgrounds live altogether. It is kind of witnessing cultural diversity.
HOW TO REACH MUNSIYARI?
FROM DELHI (BY ROAD):
It is easy to travel to Munsiyari from Delhi as the transportation is easily available. If you are from eastern India, western India, southern India, or any of the place around the world, it is advisable that you should come to Delhi first. Delhi acts as the Central point to travel to Munsiyari.
The distance from Delhi to Munsiyari is 625km. You can go either by public transport or personal vehicles. It is a very long journey of riding almost of fifteen or sixteen hours.
If you are planning to go by bus then it is advisable to take the bus from Anand Vihar ISBT or Kashmere gate ISBT.
From Anand Vihar ISBT, en route would be:
Hapur
Garg Mukteshwar
Moradabad
Rampur
Sitarganj
Khatima
Tanakpur
Lohaghat
From Lohaghat, you have to change the bus, as there is no direct bus from Anand Vihar ISBT to Munsiyari.From Lohaghat, layover would be at Pithoragarh and Birthi.
From Kashmere gate ISBT, en route would be:
Ghaziabad
Hapur
Garg Mukteshwar
Moradabad
Choti Haldwani
Nainital
Almora
Bageshwar
It is quite convenient and safe to travel from Delhi to Munsiyari.
By Rail:
There are two nearest railway stations to Munsiyari-Kathgodam and Tanakpur. The distance from Kathgodam railway station to Munsiyari is 276km and from Tanakpur railway station to Munsiyari is 285Km.
Three direct trains are available from Delhi to Kathgodam which runs daily:
Shatabdi Express - Departs at 06:20AM from Delhi and arrives destination at 11:40AM.
Uttar Sampark Kranti Express - Departs from Delhi at 4:00PM and reaches destination at 10:40PM. Route of this train is longer than Shatabdi.
Ranikhet Express - You can take this train from Gurgaon, Delhi Cantt, Delhi Sarai Rohilla and Old Delhi. The timings are 07:35PM, 07:58PM, 08:20PM and 09:10PM respective to the stations.
There is only one train available from Delhi to Tanakpur which runs daily:
Delhi Tanakpur Express - Departs at 06:20AM and arrives at 05:00PM.
From Kathgodam or Tanakpur you can hire taxis, personal vehicles or public transport to Munsiyari.
BY AIR
There is one nearest Airport to Munsiyari i.e. Pantnagar Airport. From Pantnagar Airport Munsiyari is 370km away. You can take flight either from IGI Delhi Airport or any domestic Airport in India. And, if you are coming from any other part outside India, you can directly take flight from your respective domestic airport to Pantnagar Airport.
From Pantnagar Airport it is advisable to take taxi, personal vehicles or public transport to Munsiyari.
BEST TIME TO VISIT MUNSIYARI
You can visit Munsiyari anytime of the year except of monsoon (July-Aug), Because in monsoons, the area is prone to heavy rain falls, landslides and inhospitable roads. The trek routes and tourist spots are also inaccessible during these months.
March to June and October to February months are usually preferred by the tourists.
Here is what to expect in each of the season:
Summer season (March - June)
Summer in Munsiyari is somehow elegant and peaceful. The peaks and views are clearly visible. That's why it's the best time considered for trekkers who want to witness clean and clear peaks, glaciers and skies. There are ample amount of lush greenery and flowers are found.
The weather remains quite sunny and serene. Munsiyari temperature also remains between 13°C to 22°C in day, and it drops down to 2°C to 11°C at night. Moreover, what makes this time period best is that all the trekking routes and trails are fully accessible. The roads are also opened for tourists.
So if you are a summer person and want to witness clean and clear picturesque views then time your visit in summer.
Winter Season (Mid Sept-Feb)
Winter offers snow like you have never witnessed before. It is like a small paradise of snow. This is the ideal time for ardent snow lovers and for newly weds who are planning to do honeymoon trips. Winter sports such as Skiing is also accessible.
The weather in Munsiyari in winter season remains a bit cold and windy. The temperature remains between 19°C to 8°C in day and it drops down to 8°C to -1°C at night. Make sure to carry enough warm layers with you.
If you want to witness snow then time your visit between the last weeks of December to early weeks of February. Munsiyari in December is not less than a heaven in disguise.
11 BEST PLACES TO VISIT IN AND NEAR MUNSIYARI
1. MADKOT HOT WATER SPRING
Madkot is a small and beautiful village in Pithoragarh district. It is 21 km away from Munsiyari, and it hardly takes one hour to reach there. The village is surrounded by Dharchula on east, Kapkote on the west, Didihat Tehsil on south and Berinag on south. The altitude would be 2200m.
Madkot hot water spring is worth a visit. It is located on the banks of Gori Ganga River Enroute Jaulijibi to Dharchula. There is saying that Madkot hot water spring cure diseases such as joint pain, muscle pain, skin eruptions, fibrous tissues and most particularly Rheumatoid Arthritis, and it has healing properties. So, why wouldn't you want to have few springs of Madkot hot water if you are in Munsiyari.
Apart from Hot water spring it is also famous for its natural beauty, snowfall, lush and green vegetation, beautiful culture of local Bhotiya Tribes.
2. BIRTHI FALLS
You may come across various waterfalls near Munsiyari but the most magnificent and easily approachable water fall near Munsiyari is Birthi Falls that you must visit.Now when I say easily approachable what I mean is that it can be visited by commencing a short trek from Kalamuni Pass. It is 14km away from Tejam and 35km prior to Munsiyari-Thal road in Pithoragarh district.
Birthi fall height in itself is alluring. It surges from 126m. It is surrounded by beautiful Himalayas, picturesque views and lush green forest. Many national and international tourists are tempted by this splendid sight. Those who are photogenic, Birthi falls offers the best views that you would like to capture.
3. DHARCHULA
I don't think there would be any city in the world that comes under two nations. Dharchula is one such city or town in Bijou that comes under the borders of two nations i.e. India and Nepal. It is 95km away from Munsiyari. It is situated on the banks of river Kali in Pithoragarh district, en route of Kailash Mansarovar and Chhota Kailash Yatra. River Kali is also known as Sharda River or Kali Ganga in Uttarakhand. Having an elevation of 940m above sea level, it offers beautiful panoramic views of peaks like, Panchachuli peak in west that surround it. Dharchula is known for its vivid culture and traditions and also it is a home for many ethnic groups like Kumaoni and Shauna also known as Bhotiyas. In person they are very shy and kind you must have a visit in order to enjoy cultural differences.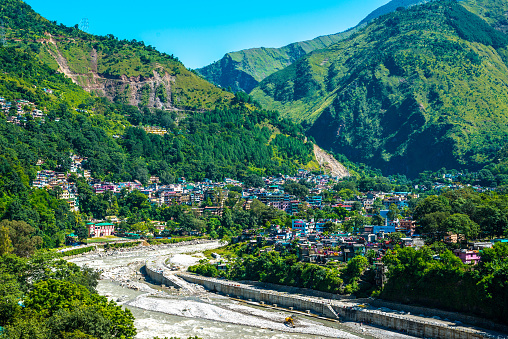 There are ample amount of flora and fauna are found here, especially dry fruits trees. You can easily spot wild animals such as leopards, foxes, deer, bears and most notably Askot Musk Deer Sanctuary. The major attractions in Dharchula are Om parvat, Chirkila Dam, Narayan Ashram, Jauljibi.
Dharchula is known for its vivid culture and traditions and also it is a home for many ethnic groups like Kumaoni and Shauna also known as Bhotiyas. In person they are very shy and kind you must have a visit in order to enjoy cultural differences.
There are ample amount of flora and fauna are found here, especially dry fruits trees. You can easily spot wild animals such as leopards, foxes, deer, bears and most notably Askot Musk Deer Sanctuary. The major attractions in Dharchula are Om parvat, Chirkila Dam, Narayan Ashram, Jauljibi.
You will come across Tanakpur hydro-electric project, Chameliya hydro-electric project and Sharda Barrage on the banks of Kali River. You will also encounter beautiful handicrafts made by the locals that you must buy in order to have a souvenir of Dharchula.Overall, Dharchula en route Munsiyari is highly recommended.
4. NANDA DEVI TEMPLE
Nanda Devi temple is the most magnificent temple which is a sacred home of many pilgrimages and for those who would like to seek the blessings. It is an ancient temple of almost 1000 years old, dedicated to Ma Nanda Devi. Nanda Devi is considered as the 'Destroyer of Evil'. There is saying that is quite famous that Nanda Devi is a Goddess of Chand Dynasty and Chand Dynasty is quite popular for ruling kumaon region for several years.
It is located in Dharanaula, Almora city of Uttarakhand. It is only 3km away from Munsiyari, and can easily be approached through a short trek. It has an elevation of 7,500 ft. Panchachuli peaks are directly visible from the entrance of the temple, which makes it pretty scenic.
The architecture of Nanda Devi temple is quite bewitching with a conical shape walls, stone carvings, wooden roof and life-like figures. Nanda Devi fair is also organized every year in the month of late September which you can definitely enjoy, because a large number of people gather here with whom you can interact with.
Apart from Nanda Devi Temple, you can also visit Simtola, Kasar Devi, kalimat Almora, Jageshwar, Kasar Devi temple, Chitai Golu Devta Temple, Bright end corner in Almora city. All in all, Almora is pretty famous for historical temples and scenic places that you must visit.
5. MILAM GLACIER
Milam Glacier is one of the most beautiful and accessible glacier trek in Uttarakhand. It offers great opportunity for Glacier enthusiasts and trekkers. It is 60km away from Munsiyari. The altitude gain would be 3,870 metres to 5,500 metres. The Gori Ganga River originates from Milam Glacier and subsides into Kali River. The core of Mount Trishuli is also located here. It is a moderate to difficult type of trek, covering almost of 120km that will take 8 hours to cover.
Peaks like Deo Damla(6,640m), Sakram(6,255m), Mangraon(6,570m) and Hardeol(7,150m) can be visible straight from Milam Glacier. The views are so spectacular and ravishing in itself that will leave you dumbstruck.
There are two valleys that surround Milam Glacier - Ralam and Johar Valley. The route to Milam Glacier goes through dense forests, villages, snow facades, wooden Bridges, rugged terrains, stony paths, waterfalls, streams, green and lush grasslands, snow laden mountains, vivid landscapes, people of surrounding hamlets and what not.
Although the trek is quite tiring, still you shouldn't miss it owing to the easily accessible factor.
6. TRIBAL MUSEUM
Tribal Heritage Museum was established in 2000. It is located in Nanasen Village on Surender Singh Pangtey Road. Surender Singh Pangtey is the owner and creator of the Tribal heritage museum. It is 2 km away from the main market of Munsiyari. One can visit the museum by doing a short trek. There are no charges to visit this museum.
As the name itself suggests, the museum consists of the history of tribal and ethno linguistic Bhotia people who live in the upper Himalayan valleys of the Garhwal and Kumaon regions of Uttarakhand.
The Tribal Heritage Museum is famous for its beautiful artifacts such as utensils made of wood, brass hookah, shady bags that are made of Yak's skin, spoons, bowls, kettles, cooking pots, saucers, dispensers, The famous Tibetan Brick tea and Himalayan Flowers. Ornaments and jewellery made of animal's skin are also kept there like, Jewellery made of Bear's nails, and Designs made of Tiger's skin and handmade brushes and soaps. The staff is also very helpful there.
You should definitely visit Tribal Museum to get a sneak peek of the tribal culture.
7. KHALIYA TOP
The Khaliya Bugyal is what you are looking for, a picture perfect place with Alpine Meadows covered with thick blanket of snow. It sits at an altitude of 3300 m in Kumaon Ranges of the Himalayas. It is located in the heart of the Munsiyari Village in Pithoragarh district. It is just 15 km away from Munsiyari. It is yet another beautiful and easy trek in Uttarakhand, accomplished in four days. Best time to visit Khaliya Top is between December and February.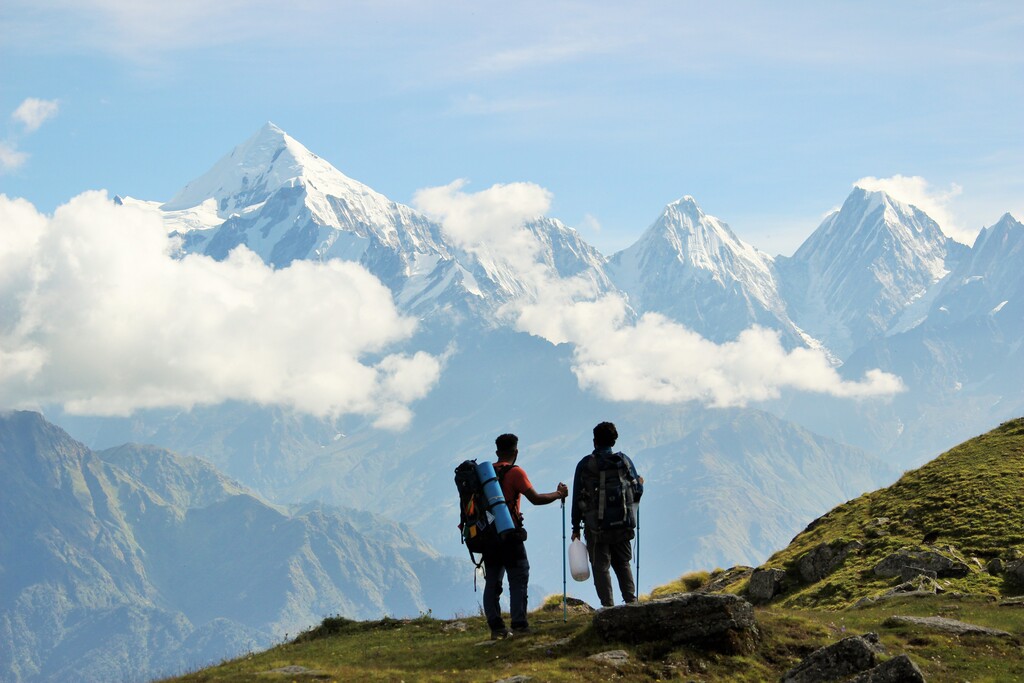 Khaliya top is famous for its dazzling hiking and trekking destination, stunning panoramic views of valleys and peaks such as, Nanda Devi, Hardeol, Panchachuli, Nandakot and Rajrambha that surround it, wildflowers, variety of birds, dense and scenic forests, 360 degree views of the snow laden mountains visible from the Zero Point of an altitude of 4000m, sounds of Langoors, glorious sunsets, Exotic Himalayan Animals like, Himalayan Blue sheep, also known as Bharal and the barking deer. Well, you haven't heard of a deer barking, have you? Khaliya top offers such a rare delight to the ears, that you in any case shouldn't miss.
Why Khaliya top is considered as the great tourist destination is also because of its adventurous things like Paragliding and Skiing. And, who wouldn't like to experience such daring things in life?
8. DHANA DHAR RIDGE
The less popular place in Munsiyari is Dhana Dhar Ridge that is located at the top of the Munsiyari Town. It can be approached via short trek. From Dhana Dhar Ridge you can have a 360 degree panoramic views of Gori Ganga River, snow clad mountains and stunning valleys, beautiful landscapes. There is also a small temple located at the top of the Dhana Dhar Ridge, which offers scenic views.
Chirpings of birds and imperturbable tranquility bestows the ridge that one surely must visit.
9. CHAUKORI
Chaukori is situated with an elevation of 2010m in the Kumaon Region of Pithoragarh District of Uttarakhand, India. It is 97 km away from Munsiyari. It is a perfect place for ardent nature lovers. Chaukori offers alluring views of Himalayan peaks like Nanda Devi and Panchachuli Peaks.
Major attractions are Kapileshwar Mahadev Temple, Nag Mandir of Berinag, Gangolihat's Mahakali Temple, Ghunsera Devi Temple, Arjuneshwar Temple and Chineshwar Waterfall. Chaukori is also the home of the Tea Estate you will come across various tea gardens of Chaukori.
It also offers splendid views of sunsets and sunrise. If you are in Munsiyari, then do visit to Chaukori.
10. DARMA VALLEY
Darma Valley also known as Darma Ganga Valley lies between two beautiful valleys i.e. Kuthi Yangti Valley in the east and Lassar Yangti Valley in the west. Having an altitude of 3,470m, it offers direct views of Panchachuli Peaks.
The base of the Darma Valley is a Village named as Dawe, located on the Sino-Indian Border. The village has meager population of less than 1000 people, who are mainly engaged in rearing, trading and farming. Owing to the less population, you can experience rural diversity much better. The valley is surrounded by rich biodiversity, ample amount of flora and fauna, vividness of flowers and different orchids.
It is quite famous for short trekking that takes you through scenic landscapes and vibrant meadows. The place is also quite famous for camping sites many hikers choose to camp here. Make your trip memorable by visiting Darma Valley.
11. THAMRI KUND
Thamri kund also known as Thamri Taal is a small lake or pond entrusted in the dense forests of Munsiyari region. It is approximately 10 km away from Munsiyari and can easily be accessible through a short trek or hike.
The amount of serenity Thamri kund offers hands down is one of the best serene place to rejuvenate your spirits. It takes you through lush green vegetation and forests to snow clad mountains and peaks, especially Panchachuli Peaks.
There are popular beliefs and myths that surround this Munsiyari Lake, one such is that, the lake blesses with rain, locals come here to pray to bless the region with rain in case of insufficient rain or draught.
One special thing about this lake is that it is surrounded all over by paper trees, which probably you wouldn't have seen before. The noteworthy number of Musk deer is also found here. It is also notable for one of the most fresh water lake in the entire region of Munsiyari.
Conclusion
Munsiyari in Uttarakhand in itself is a great paradise which is also known as "Chhota Kashmir". If you are adventure seeker then this is the best tourist place to venture. Not only is it highly accommodative and accessible but also a great tourist attraction. It is one such place in Uttarakhand that shows you the kind, genuine and helpful people, who will always stand by you if you face any difficulty during a visit.
The aforementioned 11 places are the best and easily accessible Munsiyari places to visit, if you are planning to hit a strike on, that you definitely should.