Trekking through the high mountains is a great idea for adventure lovers to admire the beauty of nature and disconnect from the technological world. People who trek around the world as a hobby need to take a lot of care with their hygiene. In the wilderness, there is no access to water, soap, and other personal hygiene products. However, there are still ways you can maintain personal hygiene while on a trekking journey.
A few camping hygiene hacks will make your trek easier and more enjoyable when hiking through the mountainous terrain in summer or winter. Maintaining personal hygiene while camping is as essential as hydrating your body. It keeps away the diseases and helps trekkers to feel refreshed and clean. When trekkers are out for multiple days it is hard to keep them clean. All the clothes and body parts become contaminated with accumulated dirt and sweat.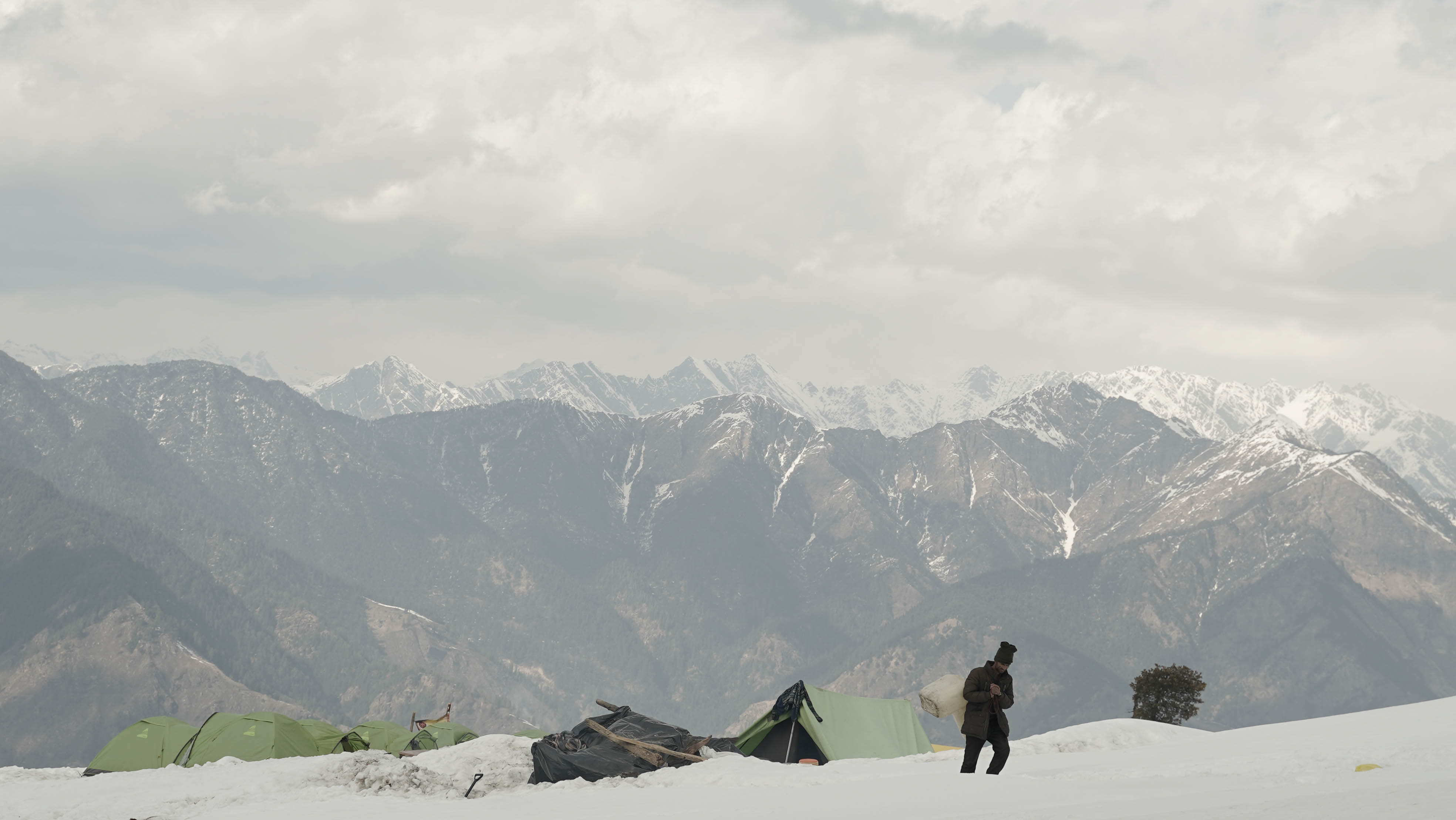 However, all this negativity can affect the sense of well-being and hygiene for the trekking journey. By maintaining proper health and hygiene, you can enjoy wilderness and cleanliness at the same time. Keeping in mind all the non-negotiable things in the trek, here are some backpacking hygiene tips to stay clean and fresh.
1. Bathing while on a trek
It is quite impossible to expose your body to cold water in high altitudes of snow-capped mountains. It can lead to hypothermia and sickness due to sudden changes in temperatures. Do not take regular baths in trekking journeys due to fatal results. In tents, hot bathing water is not possible due to lack of electricity and carrying LPG or cooking gas makes only drinking water available regularly. If everyone starts to bath up in trek then the campsite will become wet and lead to accumulation of water.
Sponge bath
Carry a small towel made of pure cotton or natural fiber for treks. First, dip the towel in hot water and wipe your body using it. Apply some aloe vera gel and baking powder on the towel that acts as a substitute for soap and wipe your hands and legs. Perform this sponge bath whenever you reach the campsite every day. After that wear warm woolen clothes. Sponge baths in trekking as backpacking hygiene tips have become extremely popular and useful for unsuitable surroundings and lack of clean water.
Dry bath/ Dry Shower
Dry baths include wet wipes as camping hygiene hacks to clean your body. Trekkers avoid wet wipes in most cases because it is non-biodegradable in nature and does not get decomposed when buried in soil. If you are using wet wipes then collect them inside a trash bag. Do not throw them on open valleys or from cliffs. Take some alcohol-content sanitizers to wipe underarms, inner thighs, groin, and other private areas with wet wipes. Do not apply deodorant because it attracts the smelling sense of wildlife and may cause irritation to other people due to the presence of aerosols. Change your clothes regularly after cleaning your body.
Also Check: Acute Mountain sickness while trekking
How to wash hair while on a multi-day trek?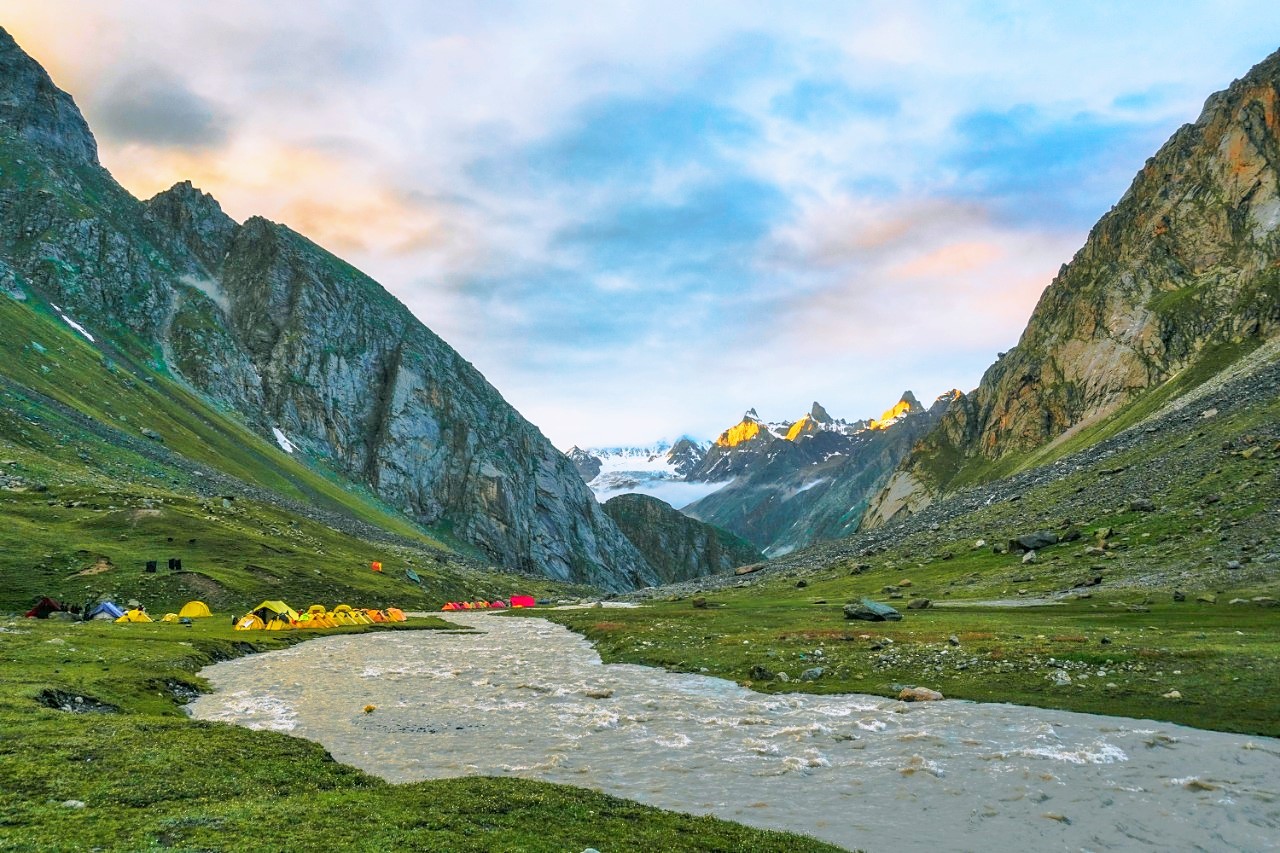 Use unscented dry shampoo, hiking shampoo, and cornstarch to wash your hair in the trek. Do not scrub your hair with water because it damages the quality of your hair. To protect the hair quality leave gaps of more than two days in between washes. Rinse the hair with fresh water if you get any water supply or use baby powder to remove the greasy substance. These are the camping hygiene hacks for going on a multi-day trek.
2. Oral hygiene: Take care of those teeth and gums
Maintaining adequate oral hygiene is an essential part of trekking. As temperature remains extremely low on a trek, go for dry brushing. It means using a toothbrush without any toothpaste. If you get access to hot water in campsite then use that for brushing as camping hygiene hacks. Try to rinse your mouth after having meals to take out all the accumulated food particles in the gap of teeth.
This can be form plaque on the top surface of your teeth if not cleaned every day. Make sure to carry a small towel and pocket toothbrush on a trek. Do not gulp the dirty water after cleaning your teeth and spit it out. It is essential to dispose of the waste particles from your mouth. Carry mouthwashes for temporary cleaning your teeth where there is lack of water for brushing.
3. Foot hygiene
Make sure to remove the shoes and socks at least once a day to prevent a foul smell. It allows your feet to breathe and expose you to fresh air. Apply some powder before wearing shoes to reduce sweat quantity.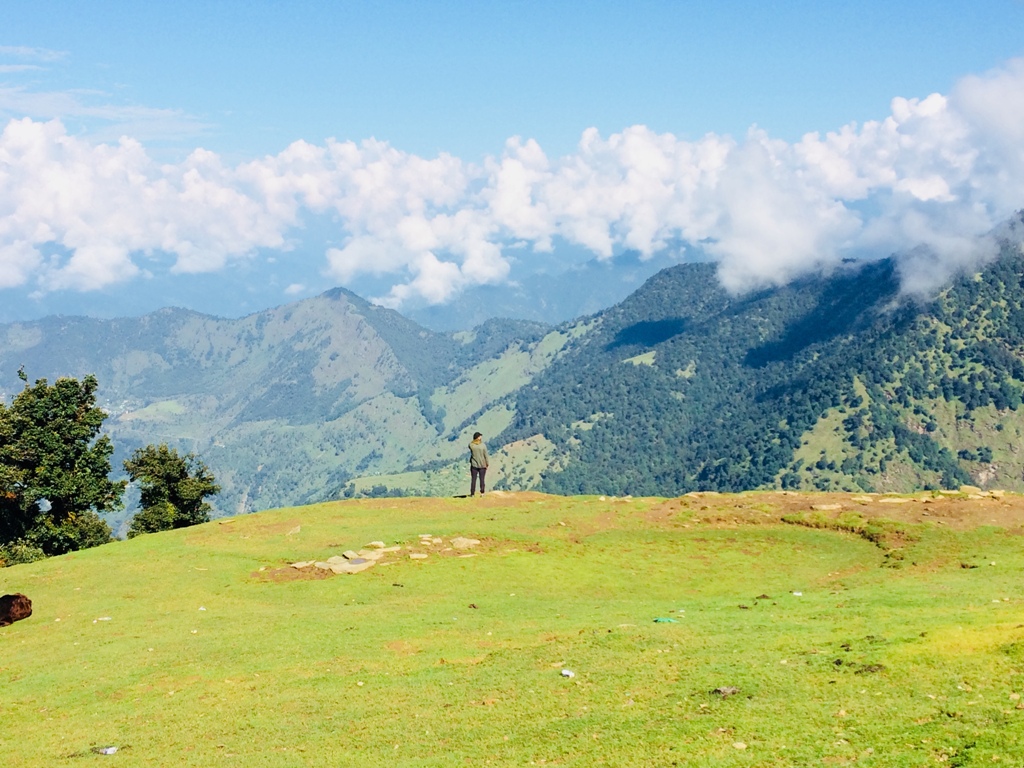 Aloe Vera gel, talcum powders and anti-fungal powder are great substances to wipe your feet as a cleansing process to remove dirt particles and existing odor. The boots used for trekking purposes are completely covered that do not let any air pass. This mechanism becomes too much sophisticated for your feet to breathe. Do not forget to change your socks before going out on a new day to maintain backpacking hygiene tips.
Also Check: How to avoid knee injury while trekking
4. How frequently should one change clothes?
While going on a trek pack two sets of attire for alternative days. Make sure to change inner layers every day to prevent body odor and sweat consumption. Do not forget to carry extra pairs of inner layers for prevention against infections and diseases. You can change them whenever necessary.
Thermals are not a good choice to wear on a trek because of thick fiber that becomes smelly and sweaty. Hang the thermals in an open space in the campsite to air out every night outside the tent.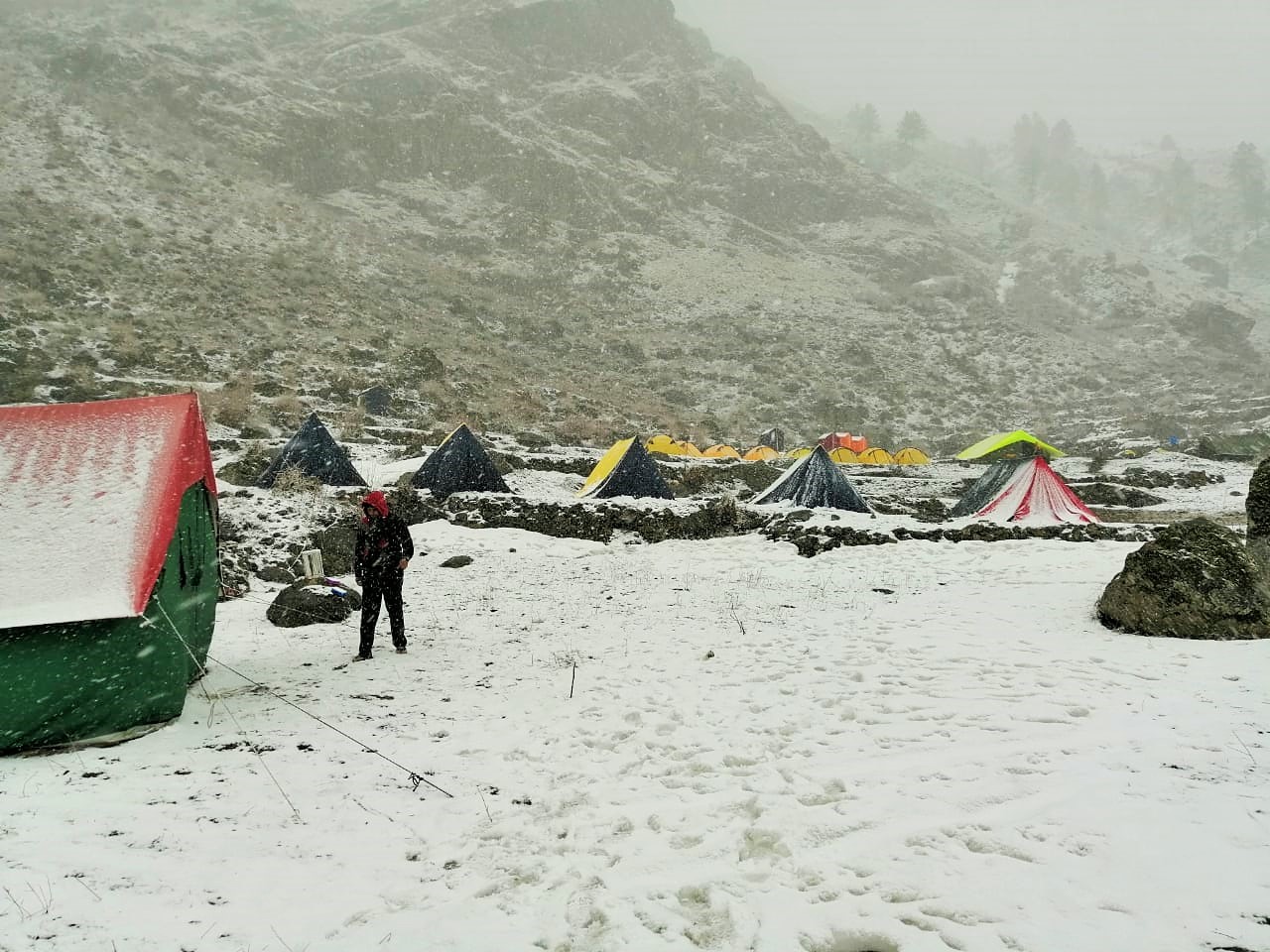 Special quality wool alternative to thermals is Marino wool known for absorbing sweat. Cotton should be avoided as a cloth in trek because it makes you feel cold. Rapid-dry inner layers are essential for a multi-day trekking journey. These materials are easy to wash and dry in cold temperatures. Rapid-dry clothing is lightweight which reduces the load of your baggage and keeps you warm at the same time.
You can wear the same clothes for 2-3 days made of synthetic that prevents moisture. Try to spend the night wearing fresh clothes other than trek clothes. Replace all the sweaty pants and sweatshirts when you arrive at the campsite every day as camping hygiene hacks.
Also Check: How to dress up for an Himalayan Trek
5. Cleaning up after your nature's call in the morning
Trekking comes with using environment-friendly products without any toxic chemicals. Biodegradable toilet papers are a life savior in the trekking journey to clean up after nature's call every morning. Refrain from using wild leaves or materials as they spread infections and diseases.
These toilet papers are buried after every use to keep the odor away. Usage of water is not permissible because it slows down the process of decomposition of fecal matter. Use of water is not recommended as it also becomes sticky and messy.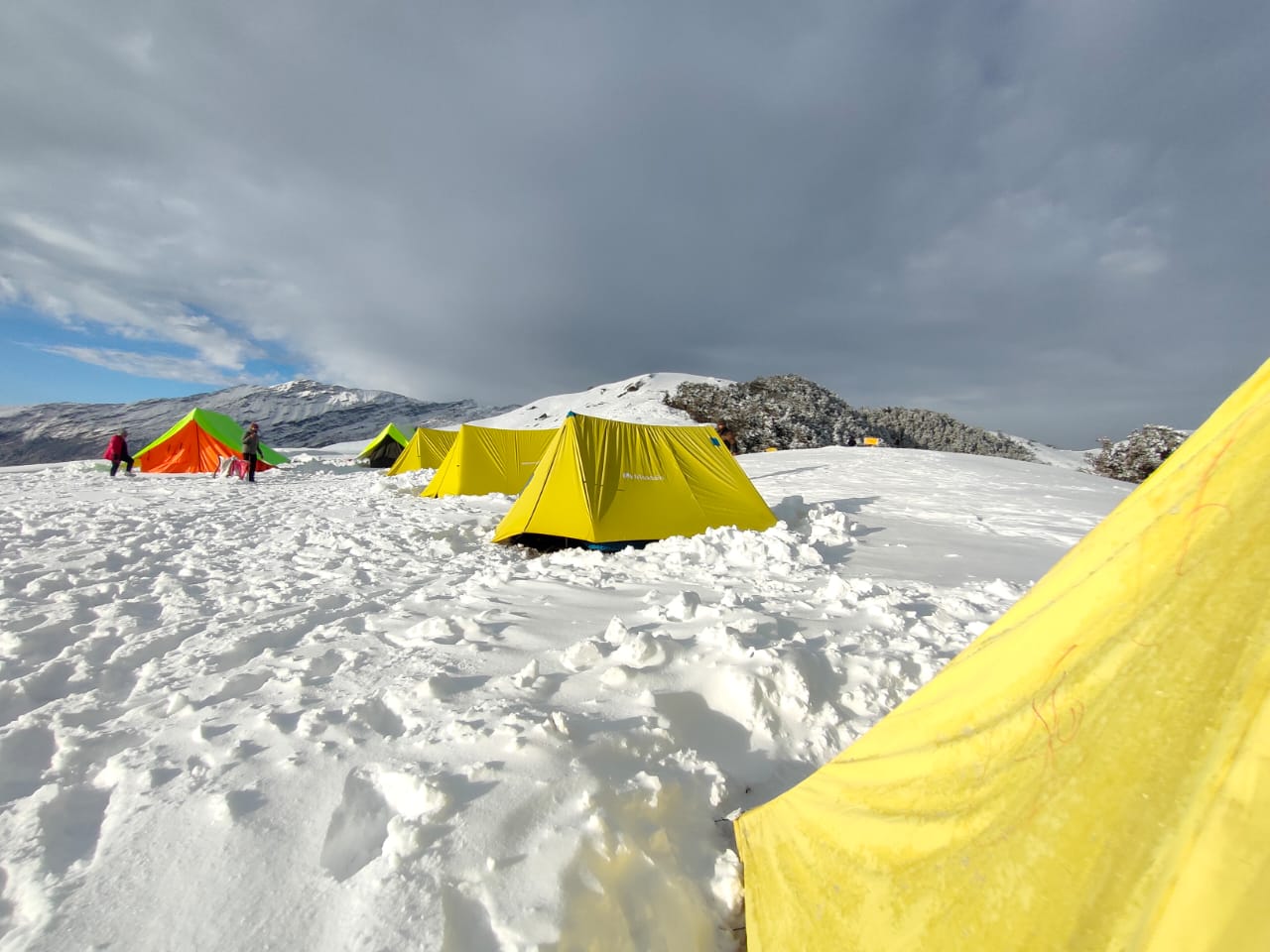 Attend the nature call every morning away from the campsite and food area as camping hygiene hacks. The defecation area should be 50 meters away from the campsite to keep the area clean. Dig at least a 6-inches hole for speeding up the process of decomposition. Cover the dump with soil and dry leaves. Do not use chemical wet wipes because they cannot be decomposed under the soil. Some of the wipes also consist of fragrance, which is dangerous for the trekkers as they attract wild animals.
Also Check: Toilet facility at Campsites
6. Female hygiene hacks if trekking during periods and how do you manage your period while trekking?
Many people believe in the misconception that trekking during periods can increase stomach pains and lower back pains. On the other hand, trekking is a type of exercise, which reduces pain. If you experience more pain then adhere to pain-relieving medications to alleviate the pain.
Also Check: Tips for trekking during Periods
Carry a sufficient amount of sanitary napkins or tampons or menstrual cups for those days. Make sure to carry cotton tampons because it is lightweight and takes reduces baggage loads. It is more effective in the case of trekking because sanitary napkins are difficult to dispose of. During the rainy season or in wet temperatures tampons are not harmed easily. Menstrual cups are more convenient than napkins as it is environmentally friendly. It is easy to wash them whenever you feel like it without the fear of dirty disposal. Try to read all guidelines for using cups a few months before trekking to avoid any kind of difficulty.
Do not forget to carry underwear, panty liners, and extra-thick pants for those days. Try not to get any stain in your sweat pants because it is impossible to wash during the trekking journey.
For disposing of the napkins carry leak-proof zipper bags or aluminum foils to prevent mess around the campsite. It keeps away the foul smell of blood from the napkins and tampons. Keep the foil in a separate chain of your bag or plastic bag to throw them away at appropriate places as female hygiene while backpacking. Do not throw used pads/tampons in the mountains where you will be camping in tents. Hence, carry it back until you reach the trek base or a lodge where the solid waste management is in place and dump the waste in the dustbin.
Use petroleum jelly to get relief from rashes and chafing in inner thighs. Hot water bag can be carried to the trek to reduce the pain at night. Nowadays, sprays are also available to get rid of discomfort during periods.
Make sure to hydrate your body with electrolytes during these days in scorching sun. Consume adequate amount of sodium and potassium through food. Do not be afraid to trek while on your periods. It will help you to gain courage to succeed in life and maintain trail hygiene.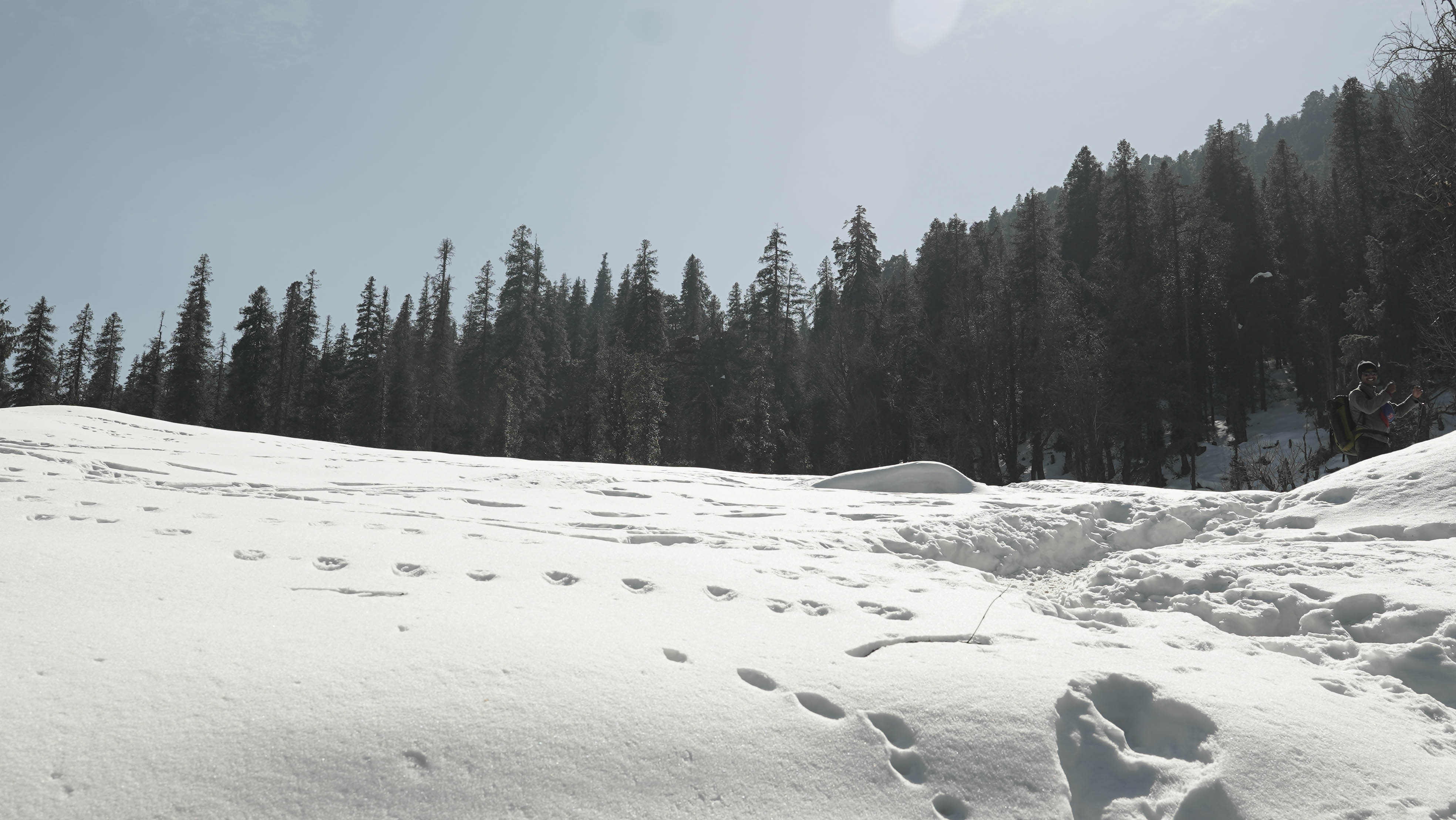 7. Food hygiene (cutlery and nutritious food)
Backpacking hygiene tips include the usage of spoons and forks instead of hands. This reduces the usage of water for cleaning purposes and prevents diseases to go inside your mouth. Chapattis are difficult to consume using spoons while make sure to use spoons for other dry items and liquid substances. Do not forget to carry necessary cutleries from home to prevent dirt and infections. It makes the whole eating process hygienic and clean. Wash the entire cutlery from a nearby water body before eating to rinse dirt particles and soil.
Follow the habit of washing hands before and after the completion of your meals for trail hygiene. Do not eat improper food with lots of spices and cream because it is unhealthy for the trek. Avoid eating too much throughout the day as it makes you fatigued. Consume food containing protein and carbohydrates that help in giving you energy for walking to cover large areas.
Essential items to pack while trekking
Essential
Identity cards
Raincoats and bag covers
Water bottle
Sandals and trekking shoes
LED torch with extra batteries/Headlamps
Hiking pole
Camera
Clothing essentials
Dry tees and track pants
Cotton socks or woolen socks
Thermal wear
Scarf and cap
Plastic bags
Feather jacket
Essential eatables
Glucose and chocolate biscuits with energy bars;i>
Toffees and dry fruits
Personal kit
Biodegradable toilet papers and toiletries
Sunscreen lotions and lip balms
First-aid kits and essential medicine like
Paracetamol
Medicines for vomiting
Band-aid
Digene
Cotton
Electoral
Crepe bandage
Volini spray
Also Check: Reason for Insomnia on a high altitude trek and how to avoid it
How to maintain personal hygiene for a winter trek vs hygiene for a summer trek
| Point of Difference | Summer Trek | Winter Trek |
| --- | --- | --- |
| Clothing | For ease of washing, carry adequate clothes in summer treks. Avoid cotton underwear because it absorbs sweat and dampness. Change of underwear is essential to prevent infections in private parts from excess sweats in hot regions. | Carry extra sufficient clothing because of lack of water supply near the campsite. It is not possible to wash clothes regularly in cold temperatures. Keep your private parts clean using toilet paper and changing synthetic underwear's frequently as female hygiene while backpacking. |
| Bathing | Wash your body using clean water and a handkerchief for bathing while camping. Do not use soap near water bodies or lakes because it contaminates the area. You can wash your hair with clean water in a warmer region as it dries up quickly. | It is essential to use wet wipes and sponge baths at cold temperatures to keep underarms, face, and hands clean using warm water. Wash your hands every time you visit the bathroom to get rid of dirt and sweat. |
| Oral Hygiene | Brush your teeth after every meal to take out all food particles stuck inside for trail hygiene. Inflamed gums come from a dehydrated body and irregular brushing. | Use mouth washers and dry brushing i.e. without using any toothpaste due to lack of water. |
| Foot Hygiene | Change the socks every day before going out and after returning to the camps site. You can wash them near any water body. | Carry at least six pairs of socks to avoid the foul smell from feet and shoes. |
| Cleaning private parts | Make sure to use biodegradable and non-fragrant substances throughout the trekking journey to clean your private parts. | Pee clothes are useful for wiping the area without the use of a huge roll of toilet paper. These are more efficient in working without the worry of cleaning as camping hygiene hacks. |
| Food Consumption | Consume electrolytes and liquid nutritional food throughout the trekking. It helps in fulfilling water requirement of the day. | Do not forget to consume solid nutritional food to energize your body during breaks. |
| Hygiene before sleep | Wash your face and hands using clean water to remove sweat and dirt. It helps in improving the sleep at night. | Wash your face before going to sleep at night using wet wipes or sponge towels to maintain backpacking hygiene tips. This process helps in the regeneration of fat on the top surface of your skin. |
| Example | Har Ki Dun Trek In Garhwal, Rupin Pass Trek In Himachal Pradesh | Kedarkantha Trek In Garhwal, Snow Leopard Trek In Ladakh |
Treks whether in cold or hot weather possess many threats in terms of trail hygiene and cleanliness. Due to the lack of water and sufficient clothing, it is a challenge for every trekker to stay clean and avoid infections all these days.
For all those days, every other people live in close contact with each other from where communicable diseases can spread. Treks are meant to be adventurous yet full of challenges and hardships. To remain safe and secure follow the guidelines laid out by trekking companies or seniors. Ensure that you enjoy the trekking journey with your fellow mates without any regrets.