The majestic valley of Kashmir is truly a traveler's paradise. The beauty of Kashmir's landscape lined by the legendary Himalayan peaks, expansive valleys, gorgeous lakes, bubbly rivers, and abundant scenery is just unparalleled.
Tourists from all across the globe visit the idyllic place to explore the valley and revel in nature's bounty. Today, in this blog, we will virtually tour one of the best hill stations of Kashmir, Pahalgam.
Location of Pahalgam
Pahalgam, also known as the "Valley of Shepherds", is located in the Anantnag territory of Jammu and Kashmir, at an elevation of 7200 feet.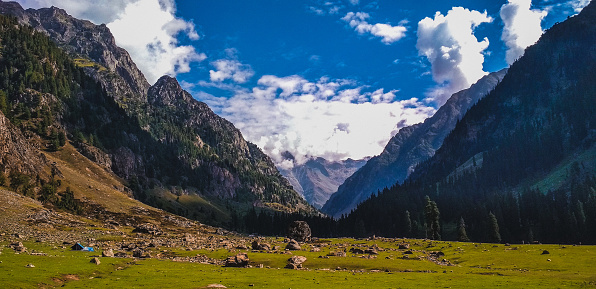 Pahalgam is truly the jewel of the picturesque Liddar valley cuddled high in the Himalayan Mountains.
Pahalgam as a destination offers wholesome opportunities to tourists. The town provides an ideal setting for activities like hiking, trekking, golfing, mountain biking, zorbing, paragliding, angling, and fishing. Tourists also love to do white water rafting in the ever-effervescent Lidder River while snaking through thick woods and mountains. Rafting in Lidder River is ideal both for amateurs as well as children. However, if seeking an adrenaline rush, then head to the challenging waters of Zanskar River. The rafting courses through spectacular yet adventurousgorges of the Zanskar Mountains. The popular two-day Snow Festival held in Pahalgam is another focal attraction, especially for winter sports enthusiasts. Tourists can enjoy participating in skiing, snow-sledding, and many other snow activities.
Other best places to visit in Pahalgam include various religious travels. Pahalgamis the start point of the revered Amarnath Yatra, an annual pilgrimage for Hindus.
Also Check: Tarsar Marsar Lake Trek, Kashmir
Also Check: Markha Valley Trek, Ladakh
Also Check: Top 5 winter trekking tips
Another spiritual destination that many tourists undertake from Pahalgam is the Vaishno Devi Temple. The base point for the Vaishno Devi Temple trek is Katra. It is 270 km away from Pahalgam and takes 7 hours to drive. Among the best places to visit in Pahalgam, one can explore Aru Valley, Aru Wildlife Sanctuary, Betaab Valley, Chandanwari, Baisaran, and the glacial Tulian Lake. The mesmeric lake is flanked by tall mountains and remains frozen during most of the year.
Aru Valley
Aru valley is among the must visit places in Pahalgam. Located on the peripheryof mountain villages of Overa and Aru, the breathtakingly Aru valley is at a distance of 12 km from Pahalgam. Aru valley is an expansive grassy meadow encapsulated by mammoth snowy peaks and tall pines.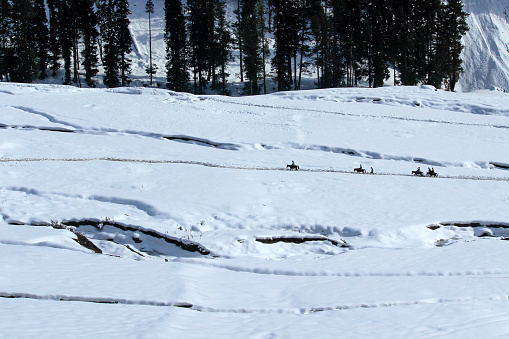 Aru Valley also offers a rafting point of Level 2 and Level 3 rapids in Lidder River; it is perfect for beginners with good fitness levels. In winters, the mammoth valley attracts skiers to its mammoth grounds. The thick blanket of snow on its slopes is a ideal for skiing. One of the prime attractions of Aru valley is the house of the iconic actor Dilip Kumar in the movie Karma.
Aru Valley Pahalgam is a popular spot for adventure seekers when trekking from Kolahoi Glacier to Sonmarg. Aru Valley is the base camp for the Kolahoi Glacier trek and Tarsar Lake trek. Aru Wildlife Sanctuary is a protected biodiversity hotspot in Aru Valley that inhabits exotic Himalayan flora. The sanctuary expands over an area of over 511 square kilometers. It is an absolute visit for ecologists and tourists who want to unwind in the laps of nature.
Betaab Valley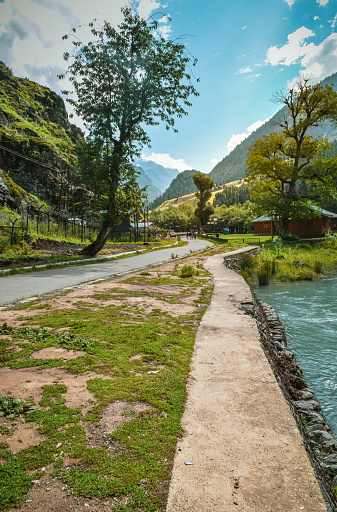 Are you intrigued by the peculiar name of Betaab valley? There is a reason for it, the blockbuster movie "Betaab" starring Sunny Deol was shot here. This idyllic camping site and lush valley is located at a distance of 15 Km from Pahalgam. The valley abounds in natural beauty with lofty mountains, pine forests, and the gurgling Lidder River.
Chandanwari
The famous Amarnath Yatra is on the wish list of tourists who are spiritual as well as high on adventure. The Amarnath Yatra commences annually from Pahalgam in the months of July and August. The yatra takes pilgrims to the holy cave of Lord Shiva, believed to be the abode of the mighty God. Chandanwari, located around 16km from Pahalgam is popular as one of the start points of Amarnath Yatra. Chandanwari is perched at an altitude of 9,498 feet and approachable through a motorable road.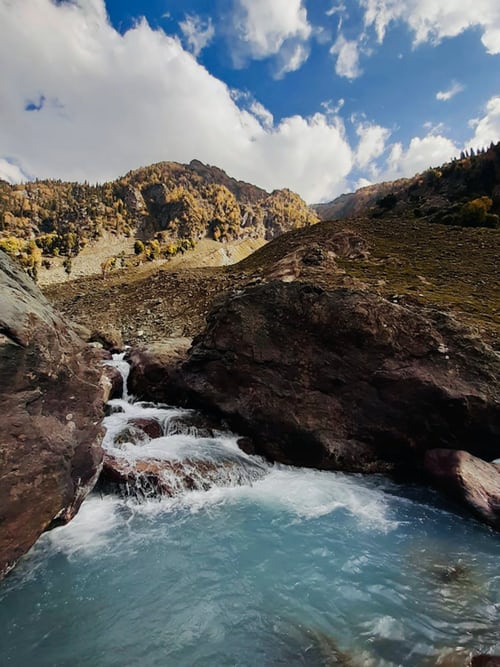 Chandanwari Pahalgam also boasts an excellent hiking destination, Snow Bridge. Among other attractions, there are Panchtarni and Sheshnag Lake, the two picturesque spots en route Amarnath temple.These are located at a distance of 12 km and 23 km respectively from Chandanwari.
Baisaran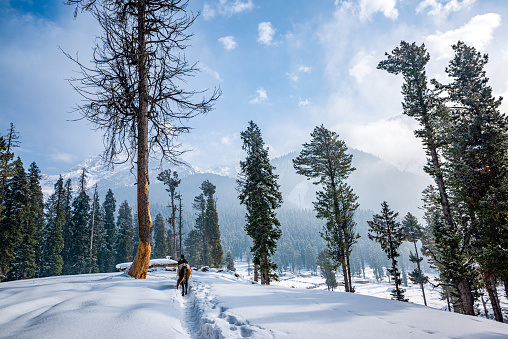 How about exploring the "Mini Switzerland'' of India? Welcome to Baisaran, India's replica for the European tourist mecca called Switzerland. Located 5 Km from Pahalgam, one can reach this beatific place by ponies.This undulating grassland is encapsulated amidst glossy pine trees and snow laden peaks. The dense forest cover imparts a dark green carpet like look to Baisaran. This also makes it a spectacular campsite for trekkers who want to hike up to the iconic Tulian Lake. The picturesque landscape of Baisaran also offers the perfect ground for Zorbing.
Sheshnag Lake
Sheshnag Lake, nestled at an altitude of 12,959 feet, inhabits numerous species of fish such as the brown trout and many more. Sheshnag Lake, located at a distance of 17 km from Pahalgam is one of the most beautiful attractions in the vicinity of Pahalgam. The greenish lake set amidst the snow laden mountains enamors nature lovers with a jaw-dropping grandeur. The legend associated with the water body says that the lake belongs to the King of Snakes, Sheshnag. Hence, the name Sheshnag Lake.
Tulian Lake
Tulian Lake is one of the most divine places on earth, at an elevation of 12,087 feet. This turquoise water body is sandwiched amidst the two illustrious mountain ranges of Zanskar and Pir Panjal. The lake mostly remains frozen or has large ice chunks floating on it. Tulian Lake sits prettily within16 km from Pahalgam. The trek from Pahalgam to Tulian Lake is moderate to difficult in grade levels and does not require any technical maneuvers. One can also reach Tulian Lake by a pony ride.
Apart from these famous places in Pahalgam, one can also explore the following religious places on the way to Pahalgam:
Mamaleshwar Temple:
Located on the banks of Lidder River, the ancient Mamaleshwar temple is dedicated to Lord Shiva and Lord Ganesha. It is located at a distance of 1.6 km from Pahalgam. According to mythology, at the doorstep of this temple, Lord Shiva had cut the head of Lord Ganesha and replaced it with an elephant head.
Shrine of Aishmuqam, Anantnag: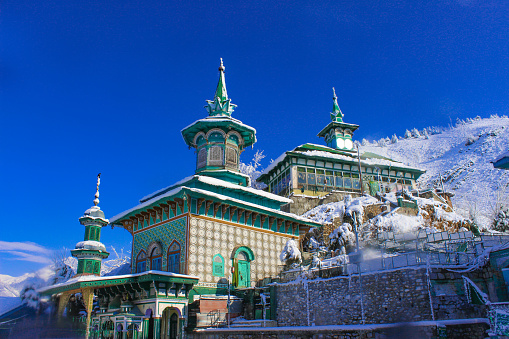 This popular shrine of Sufi Saint Baba Zaina-ud-din Wali is at a distance of 18 km from Pahalgam. The shine perched on a hilltop leads to the main sanatorium via a narrow cave.The catchy qawwali" Bhar do Jholi meri" from the Bollywood blockbuster "Bajrangi Bhaijaan" was shot at this Shrine.
Martand Temple:
Martand temple, located at a distance of 34 km from Pahalgam, is dedicated to Martand Rishi.It is one among the Pahalgam famous places that invite hordes of Hindu devotees to its doorsteps. The temple houses the idols of various Hindu Gods like Lord Shiva, Lord Vishnu, Lord Hanuman, and Surya. A crystal clear sparkling pond inside the temple premises inhabits numerous spring water fishes.
Frequently asked questions
Is Pahalgam safe for tourists?
There is no doubt that Kashmir faces insurgency at times. However, tourist places like Pahalgam, Gulmarg, Sonmarg etc. rarely face any violence. It is absolutely safe to visit Pahalgam.
What is the best time to visit Pahalgam?
The months from March to November are the best months to explore Pahalgam. In March, there is still a slight nip in the air. April from June is the summer season and Pahalgam temperature fluctuates between 25°C to 11°. The best season to visit Pahalgam is the summer season. During these months, Pahalgam weather is pleasant enough to participate in hiking, trekking, and outdoor activities. The place blooms with a kaleidoscope of colorful blossoms.
The monsoon months from July to September receive scanty rainfall. The skies are azure clear but the weather is a bit humid. However, a fair number of tourists flock to the town during monsoon to embark on the Amarnath Yatra.
Winter season sets in Pahalgam in the month of October. In the months of October and November, the temperature dips down significantly with chilly winds. Do you know that Pahalgam is the only place where saffron is grown in Asia? During the month of November, the whole valley blooms with the saffron blossoms. However, if you wish to indulge in snow activities and are game to experience the Pahalgam winter, then plan your trip in December and January. In these peaks winter months, Pahalgam transforms itself into a winter wonderland. The temperatures touch the sub zero levels- the entire region is layered under the thick carpet of snow.
How to reach Pahalgam?
Tourists can reach Pahalgam by air, rail, or road.
By Air
The closest airport to Pahalgam is at Srinagar. All major airlines like Air India, Indigo, SpiceJet, and Go Air operate flights between Srinagar and major cities like New Delhi, Chandigarh, Mumbai, Jammu, and Leh. Srinagar to Pahalgam distance is 95 km and easy to reach. Many state run buses and luxurious coaches' ply between Srinagar and Pahalgam. Or, tourists can also hire shared taxis or cabs from Srinagar to reach Pahalgam.
By Train
The nearest train station to Pahalgam is at Jammu Tawi, located approximately 157 kilometers from Pahalgam. Again, the railhead is well-linked to all major cities of India. Uttar Sampark Rajdhani, Jammu Rajdhani and Jhelum Express run regularly from Jammu station. From Jammu, one can either drive or hire a cab/shared taxi to Pahalgam via Srinagar.
By Bus
Many bus services ply between Pahalgam and neighbouring cities of Srinagar and Jammu regularly. One can opt for state buses or private luxurious coaches.
Conclusion
According to a popular saying, "Travel is the only thing you buy that makes you richer". Same for your odyssey to Pahalgam. It's better to see something once than to hear about it 1000 times. Just visit this exquisite jewel of Kashmir valley- you will no longer be the same after witnessing the grandeur of Pahalgam.