Does the name Kashmir ring in mystifying images in your mind? You are not the only one! Most of us in India have heard the adage that Kashmir is the paradise on earth. It undoubtedly is! The idyllic Dal lake, indomitable Char Chinar, Chashme Shahi and the never ending waters of Wular lake conjure classic images reminiscent of an old-world poetic charm. All this has inspired diehard romantics to pen down amorous notes to their sweethearts.
And to top it all, Kashmir is also swanked with some unbeatable trekking routes. Before we explore further, let us gain a quick insight into the location of this mesmerizing place. Kashmir lies in the north of the northernmost state of India, Jammu and Kashmir. The beauty of the place is just ethereal, No wonder, the place is a quintessential tourist hotspot for worldwide tourists and trekkers.
Trekking in Jammu Kashmir
Trekking places in Jammu and Kashmir are a hypnotic sojourn- one one hand they infuse you with the tranquility of nature and on the other, you also accomplish your adventure goals.The kaleidoscope of luscious valleys, chromatic meadows, and shimmering mountain lakes cuddled amidst magnanimous Himalayan summits is just too overpowering!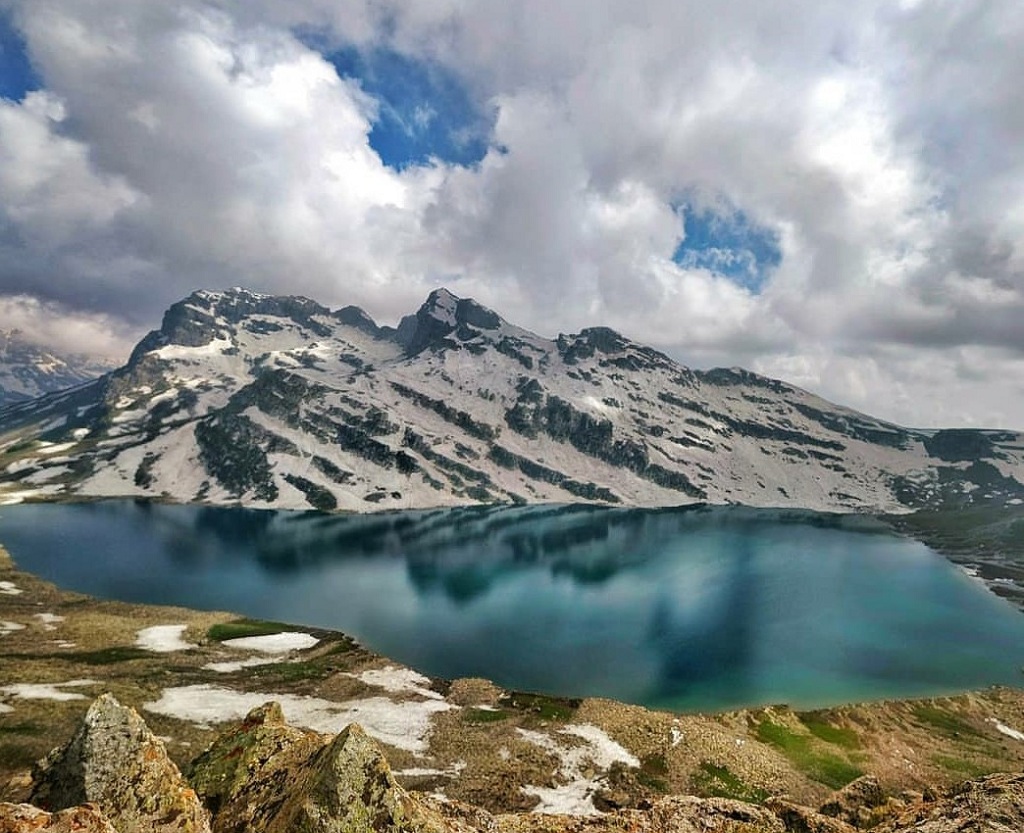 Source: Instagram account @adyantha_venkat
In this blog, we will cover eight best treks in Kashmir that are on the bucket list of adventure enthusiasts all over the world. As always, we have arranged these treks in the order of ascending difficulty levels for the convenience of our readers.
The first three Kashmir trekking places are the short treks in the low altitude valleys, also called Margs in the local dialect.
While setting out on these low-hanging treks, the month of May and June are the ideal bet for snow aficionados. These months promise an ebullient spectacle of rolling grasslands carpeted under a blanket of snow. The second perfect season is the fall season of September and October. The mountains and valleys blaze in the hues of brown, red, yellow, and orange! The whole panorama is like a painted canvas, a visual treat for photographers and your Instagram handle. So, let's begin exploring!
Khilanmarg Trek
Location: Gulmarg, near Srinagar
Highest Altitude: 2000 feet
Duration: 1 day
Distance: 5 Kms
Difficulty Level: Easy to Moderate
Atractions: Gulmarg, Khilanmarg meadow, Adventure activities, Gondola ride, Alpather Lake, Ningle Nallah, and Ferozepur Nallah.
Khilanmarg is one of the short treks in Kashmir that offers sightseeing to high spots such as Gulmarg, Alpather Lake, Ningle Nallah, and Ferozepur Nallah. One can also savor the breathtaking views of the surrounding vista by riding the Gondola Cable Car.
Khilanmarg, perched at 9843 feet, is a lush meadow perched amidst the thick pine forests. It is located at a distance of 5 kilometres from Gulmarg and makes for a popular one day trek in Kashmir.
The frozen Alpather lake, located 8 km from Khilanmarg is the star attraction of this trek. The lake remains frozen for most months of the year.
One can also visit Ningle Nallah and Ferozepur Nallah, the panoramic mountain brooks bubbling through the nearby verdant valleys. These are tourist hotspots for angling and trout fishing. Khilanmarg also has ample activities like mountain biking, rock climbing, horse riding, jeep safaris, and Gondola rides for adventure junkies. This short one-day mountain excursion is of easy to moderate difficulty. The high elevation and steep hike can be a bit challenging for amateur trekkers.
Sanasar Trek
Location: Jammu province
Highest Altitude: 6,730 feet
Duration: 8 hours (one way)
Distance: 20 kms
Difficulty Level: Easy to Moderate
Best time to visit: May and June, September and October

Source: Unsplash.com

Atractions: Naag temple, Shankpal temple, many adventure sports, Sanasar golf course, extended views, and numerous treks.
The beautiful Sanasar valley is the hub of adventure sports in the Jammu region. The best way to view the splendor of this valley is through paragliding; you can take a low flying glide over its landscapes that cover picturesque meadows and a pretty lake. Among other adventure sports, you can also participate in abseiling or Rappelling.
Sanasar trek journeys along the most idyllic settings of snow-laden hilltops and glossy meadows infused with the salubrious mountain air. The trek is a blend of well paved trails, ridges, and a steep hike, but scintillating nevertheless.
The highlight of the trek is Shankpal temple, the 400 year old ancient temple. This unique stone temple built without mortar is at a five hour trek from Sanasar. Another focal point is the 600 year old wood temple sitting amidst the picture book settings of a dense forest. It is the Naag Temple (cobra temple) near Patnitop.
Sanasar is also the starting point of numerous trekking trails. Ladoo Ladi is a humble 4 km walk from Madhatop. One can also trek to Shanta Gala Pass located on the Shanta ridge. From the Pass, the trekkers can enjoy the expansive views of the Panchari valley. If you have spirits for a little weighty trek of 7 hours, then embark on a 2 km trail from Shankpal temple to reach Surni Kund. It is a small pond located on the elevated Shankpal ridge.
Sansara trek is easy to moderate on the difficulty spectrum and can easily be undertaken by trekkers with decent fitness levels.
Patnitop Trek
Location: Udhampur district in Jammu and Kashmir
Highest Altitude: 6,640 feet
Duration: 6 days
Distance: 16 Kms
Difficulty Level: Moderate
Best time to visit: May and June, September and October
Atractions: Patnitop, Shiva Grah, Billoo ki Powri, Kud Park, Sport activities like skiing, Paragliding, and trekking to nearby places.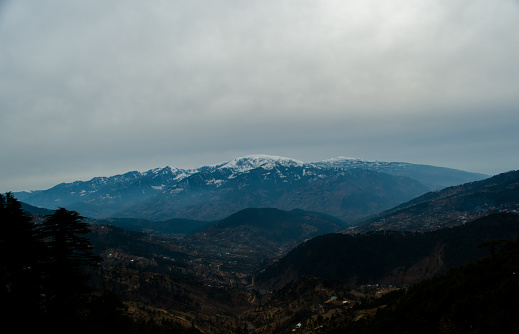 Source: Unsplash.com
Patnitop is a picture book-like hill station with enchanting views of unending meadows and mountain scenery! Additionally, Patnitop and its vicinity also abound in adventure activities to keep the tourists engaged.
Sanasar and Nathatop, popular spots with trekkers and tourists, are located within 18 kms of Patnitop. Billoo ki Powri is another spot close to Patnitop, where 270 steps are carved out of a mountain. Kud Park, located near Patnitop, is famous for its myriad hued flowers. The place is also famous for Patisa, the delectable sweet.
Shiva Grah, approximately 11 kms away is a spiritual place dedicated to Lord Shiva. The trekking trail to Shiva Grah snakes through thickets of pine trees followed by a steep uphill trek. But, this trek is worth the labour because of the exhilarating views it offers. The trek is moderate in terms of difficulty gradient and necessitates a decent amount of fitness on the part of trekkers.
Tarsar Marsar Trek
Location: Jammu and Kashmir
Highest Altitude: 13,500 feet
Duration: 7 days
Distance: 33 Kms
Difficulty Level: Easy to Moderate
Best time to visit: July to mid September
Atractions: Srinagar, Pahalgam, TarsarLake, Marsar Lake, and Aru Valley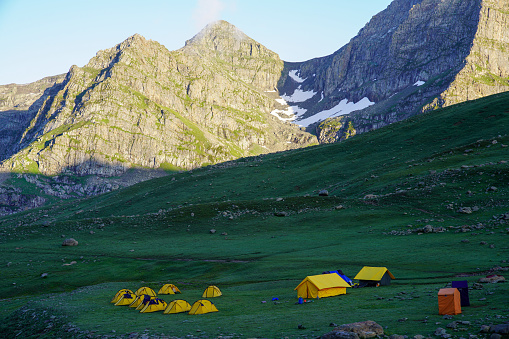 Source: Unsplash.com
How about beholding the grandiosity of dual lakes snuggled in the Kashmir Himalayas? The description itself is so inviting. Well, this is the beauty of Tarsar Marsar Trek that beguiles tourists/trekkers with Tarsar Lake and Marsar Lake, the 2 glacial lakes at an altitude of 12,500 and 13,000 feet respectively. To camp by the pristine waters of Tarsar Lake is a soulful affair; it simply revitalizes you for the next lap of rigorous trek to Marsar Lake.
Among other attractions of Tarsar Marsar Kashmir trek, you witness the elegance of Srinagar, Pahalgam, Gujjar settlements at Aru Valley, Lidderwat, and Sundersar valleys.
Tarsar Marsar is one of the easy treks in Kashmir; it is ideal both for novice and big time trekkers seeking a soulful mountain sojourn.
Narang Mahlish Trek
Location: Kashmir
Highest Altitude: 12,467 feet
Duration: 6 days
Distance: 33 Kms
Difficulty Level: Easy to Moderate
Best time to visit: May to October
Atractions: Twin alpine lakes of Gangabal and Nundkol, diverse views.
Here is a trek that takes you down to the velvety valleys, rambling foothills, and the twin alpine lakes, Gangabal and Nundkol. These mountain lakes are nestled beautifully on the foothills of Harmukh mountain.
Narang Mahlish is one of those few trekking places in Kashmir that offer a captivating trail throughout the year. Another focal point of this trekking route is its altogether different return route. This promises diverse scenic views and allows trekkers to explore the new facet of the topography. The Narang Mahlish trail is moderately easy and suited both for amateurs and experienced trekkers.
Kolahoi Glacier Trek
Location: Kashmir
Highest Altitude: 12,600 feet
Duration: 5 days
Distance: 50 Kms
Difficulty Level: Moderate
Best time to visit: March to October
Atractions: The 5km long Kolahoi Glacier, magnificent alpine views.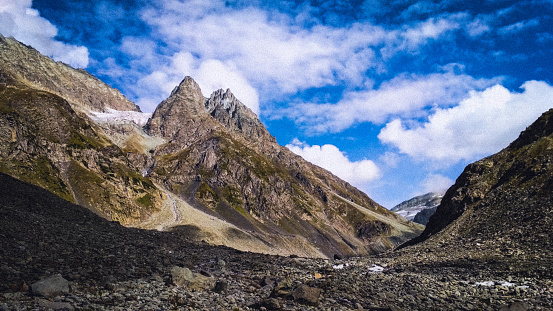 Source: Unsplash.com
Would you like to trek to the origin of the mighty rivers of Kashmir? Whoa, isn't the thought itself so magical?
Kolahoi Glacier, popular as "Goddess of Light", is the source point of Jhelum and Lidder, the two major rivers of the region. The hanging glacier is perched right below the Kolahoi Mountain, hence the name. It is thehighest glacier of Kashmir.
The Kolahoi Glacier Trek runs through panoramic riverbanks beside the tall pines and lofty mountains. The guzzling riverbanks gradually pave the way to sprawling Himalayan valleys that brim with astounding natural beauty.
Soon the valleys move up to the glacier flanked by rocky boulders. The scenic description is bound to send goosebumps down the spine of nature lovers but one must note that Kolahoi Glacier Trek is fairly arduous. It is not for the chicken-hearted but meant only for thrill-seekers with a prior trekking experience. The trek also requires robust fitness levels as one has to navigate exciting trails at whopping altitudes.
Kashmir Great Lakes Trek
Location: Kashmir
Highest Altitude: 13,700 feet
Duration: 8 days
Distance: 72 Kms
Difficulty Level:Moderate to difficult
Best time to visit:July and August
Atractions: Dal lake, Gadsarlake, Yamsar lake, Satsar lakes, Vishansar lake, Gangabal and Nundkol lake.
The majestic Kashmir Great Lakes trek, also called kgl trek, is a sublime adventure that takes you along rocky terrains, soft lush grasslands, giant mountains lined by colorful blooms. All this vista is set amidst the paradisiacal mountain lakes. You witness the sheer magnificence of Dal Lake, Gadsar lake, Yamsar lake, Satsar lakes, Vishansar lake, Gangabal, and Nundkol lake. The oval-shaped Satsar lakes are a group of seven lakes, for this reason this trek is also called the seven lakes trek in Kashmir.
Wow! That's too much to savour!
The trekking trail of the Great Lakes trek passes through the ancient trade route taken by shepherds of the region. Kashmir Great Lakes Trek is ideal for trekkers with good fitness levels as it entails a lot of walking distance and changing gradients.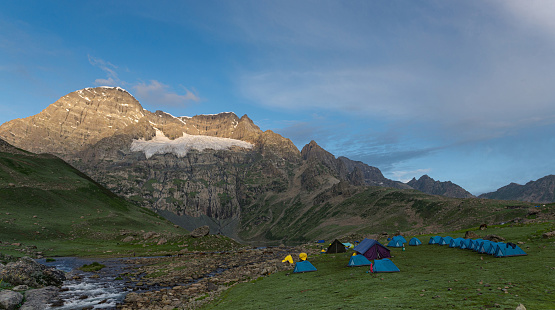 Source: Unsplash.com
Sonmarg Vishansar Trek
Location: Kashmir
Highest Altitude: 13,000 feet
Duration: 8 days
Distance: 82 Kms
Difficulty Level:Challenging
Best time to visit:June to September
Atractions:Vishansar Valley, Naranag, azure Krishansar Lake, Vishansar Lake, and Nichnai Pass.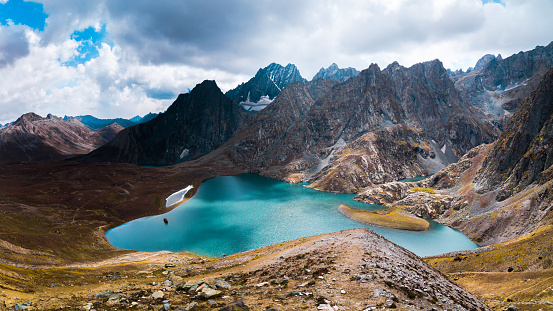 Source: Unsplash.com
So, finally we have on our list the most spectacular mountain journey to the higher echelons of Himalayan summits! Sonmarg Vishansar Trek is an awe inspiring high-altitude jaunt that courses along the imposing Nichnai Pass and the exquisite Krishnasar and Vishansar Lake. Enroute, you explore the bewitching Vishansar Valley, popular as "The Valley of Medicinal Plants"and spend time by the azure lakes. These lakes are natural habitat to rare species of trout and migratory birds from as far as Siberia.
The Sonmarg Vishansar trekking route traverses along daunting Himalayan passes and entails great stamina and proper acclimatization.
The Bottom Line
The picturesque valley of Jammu and Kashmir is just so obsessive. Whether you admire it's natural grandeur or go trekking in Kashmir on its off-beat trails, the experience is just surreal.
There is no doubt that Jammu Kashmir treks are life-altering expeditions that stir your senses for a lifetime! You have to embark on the soulful journey to witness the absolute elegance of the place.