You probably have heard from the trekkers that Kedarkantha trek is one of the first choice they prefer. Have you wondered why? Let's head on further to know about this amazing trek. Having an elevated altitude of 12,500 ft, Kedarkantha is located within the Govind Wildlife Sanctuary in Uttarkashi district of Uttarakhand, India. It uncurls the bewitching scenic views that will make anyone drop his/her jaw. And if you're wondering why Kedarkantha trek is favorite of every trekker, here are the reasons below:
KEDARKANTHA TREK ROUTE AND MAJOR ATTRACTIONS:
Kedarkantha trek is a six day long and steep trek.
The journey starts from (as pretty as a picture) place Dehradun.
Also Check: Kedarkantha Trek
Day one: Dehradun ---> Sankri.
Day one unfurls the ride from Dehradun to Sankri. The distance from Dehradun to Sankri is approximately 200km. Sankri is a remote village in Uttarkashi district and a famous base camp for the trekkers. You can either go via local buses and that too early in the morning or can hire your own personal vehicles like Bolero, Innova or Tempo Traveller. The biggest advantages of hiring your own personal vehicles are
(1) you can reach the spot at earliest.
(2) you can explore the major attractions on the way.
The places that you can explore includes, the beautiful Kempty fall, it's worth a visit. The rush of the water brings a dreamy deafness, which seems to heighten the peacefulness of the scene.
The famous Lakhamandal temple, it is known for its elegant architecture and of the belief that thousands of Shiva Linga appears and kept here, also, you wouldn't mind to seek blessings before starting your trek anyway.
Another exploration you can have: Nainbagh, Purola, and Mori. Nainbagh offers the beautiful view of scenic hilly town, while Mori, the midpoint of Purola, located on the banks of Tons river offers panoramic views of dense forests and villages which compel travelers to stop and stare. And at last when you reach sankri, you can explore the village at evening and can also have Sankri Zip line Ride. After that you can take rest at the base camp to avoid high altitude sickness.
Also Check: Kedarkantha Trek Map
Day two: Sankri ---> Juda ka talab
The day two covers a four hour trek from Sankri to Juda ka talab. Juda ka talab is a high altitude of 2,700 metres above Sea Level Lake between Sankri and Kedarkantha trek Summit. It is also known as frozen lake. It also acts as a camping ground for trekkers. There are many myths and beliefs surrounding Juda Lake. One such is that the water dropped from Lord Shiva's hair and formed this lake. Probably you have wondered why Kedarkantha sounds similar to Kedarnath, its maybe because of the beliefs that surround it.
The four hour of this trek is full of Countless and lovely Pine and Oak forests and of fresh snow wrapping the ground. The skull of a Yak like skeletons will also come on the way to Juda ka talab that will make you to wonder and explore. Masala Chai and Maggie made by the locals will keep you enlighten all the way. Har ki dun valley and many more ranges are visible here, shutting one out from the world beyond.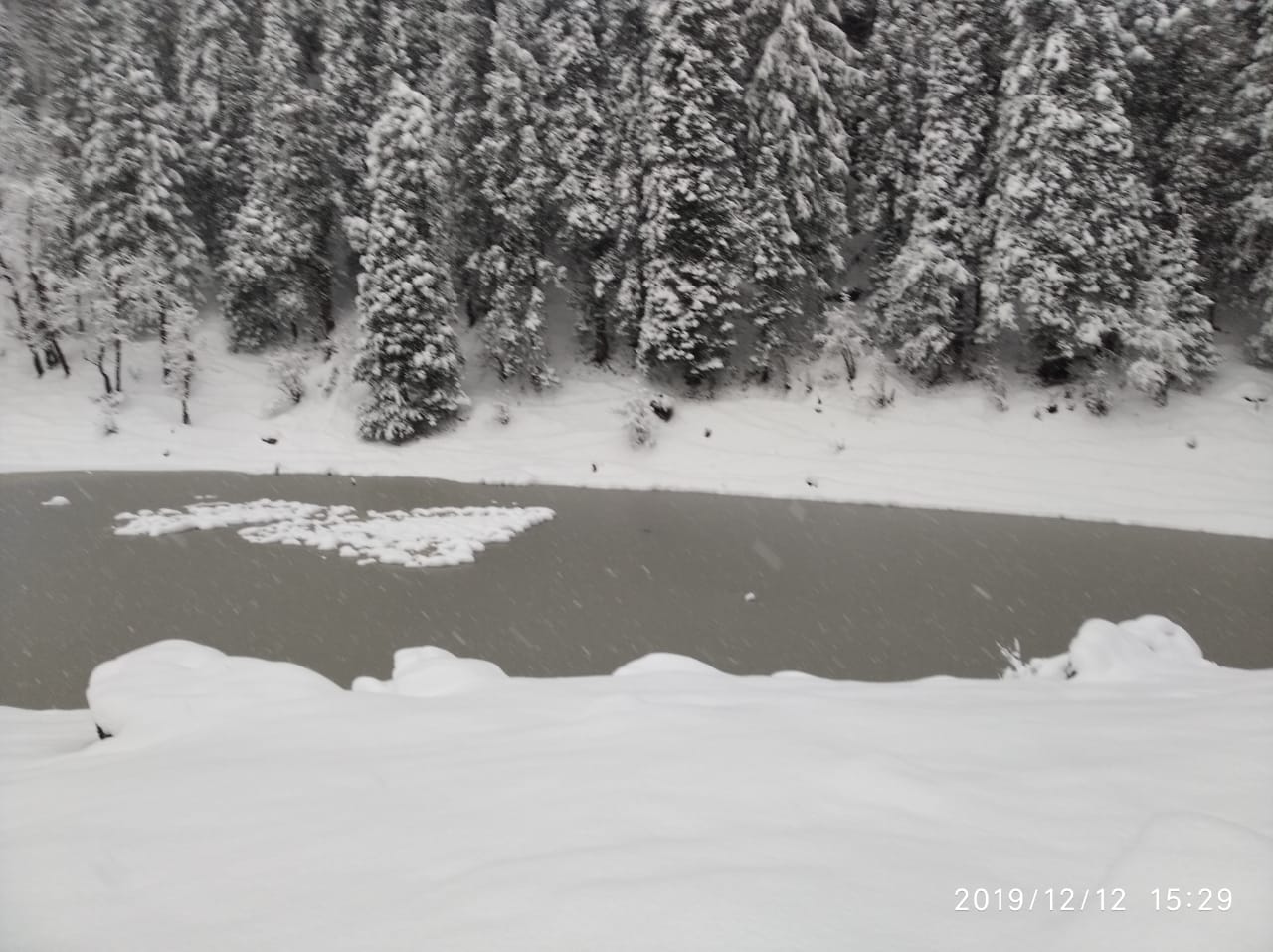 And when you finally reach Juda ka talab, you will witness mesmerizing scenic views and Himalayan landscapes that you wouldn't resist to capture and to send it your friends. Another factor that adds charm to this already beautiful place is that so many of people come here, that you can have interactions with, and what's more beautiful than having interactions with people from all of the places around?
The night will bring you to the ravishing view of the night sky that will force you to do the Astrophotography. Bonfire and other activities can add to your amusement list.
Day three: Juda ka talab ---> Kedarkantha trek base
After spending night at Juda Lake's base camp, the third day will lead you to Kedarkantha trek base and Hargaon. The distance from Juda ka talab to Kedarkantha trek base is approximately 2.5km. Having an altitude of 11,250 ft, it will feel elevated enough. Here you will see the enthralling panoramic views of snow all around you that will leave you dumbstruck.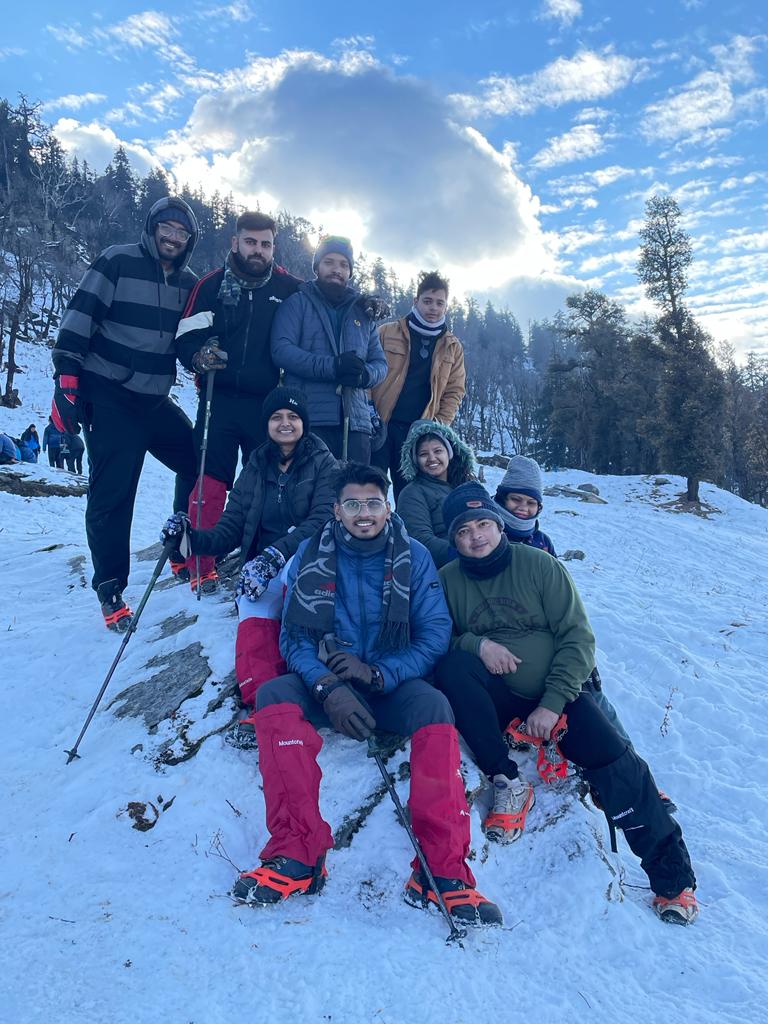 It also offers spectacular views of Bandarpoonch, Swargarohini, KalaNag and Ranglana peaks. Another exploration about here is that it will take you through the dense blue pine forests and alpine meadows, all covered with dense snow. Just imagine that you are standing midst of the snow, where sky and ground won't make the difference. It would surely compel you to think that you are a character of some fictional movie. And nothing but the chirpings of birds and rattling of sparse leaves in a breeze would be heard.
Kedarkantha Skiing is one of another surreal experience you can have. If you already know how to ski it would be an easy game for you, and you can directly register your name for Kedarkantha ski trek. However, if you don't know how to, then don't worry, basic skiing course is taught by the guides, and the process is very simple, you only have to enroll your name for introductory classes and for other basic briefs. From teaching how to hold the poles to keeping your core stable, they would be of great help.
The best thing about staying here for the night is the curiosity to watch the breathtaking sunrise from the peak of Kedarkantha base i.e Kedarkantha Summit.
Day four: Kedarkantha trek base ---> Kedarkantha Summit; descend to Hargaon
Probably the curiosity of watching the eye-catching sunrise from Kedarkantha Summit will hardly lead you to get to sleep. Day four is the day that you are desperately waiting for. It is a steep trek of almost six hours.
You really need to start your trek at around three hours past midnight if you don't want to miss the bewitching sunrise. Also, do not forget to carry your head lamps and quechua shoes with crampons for solid grip.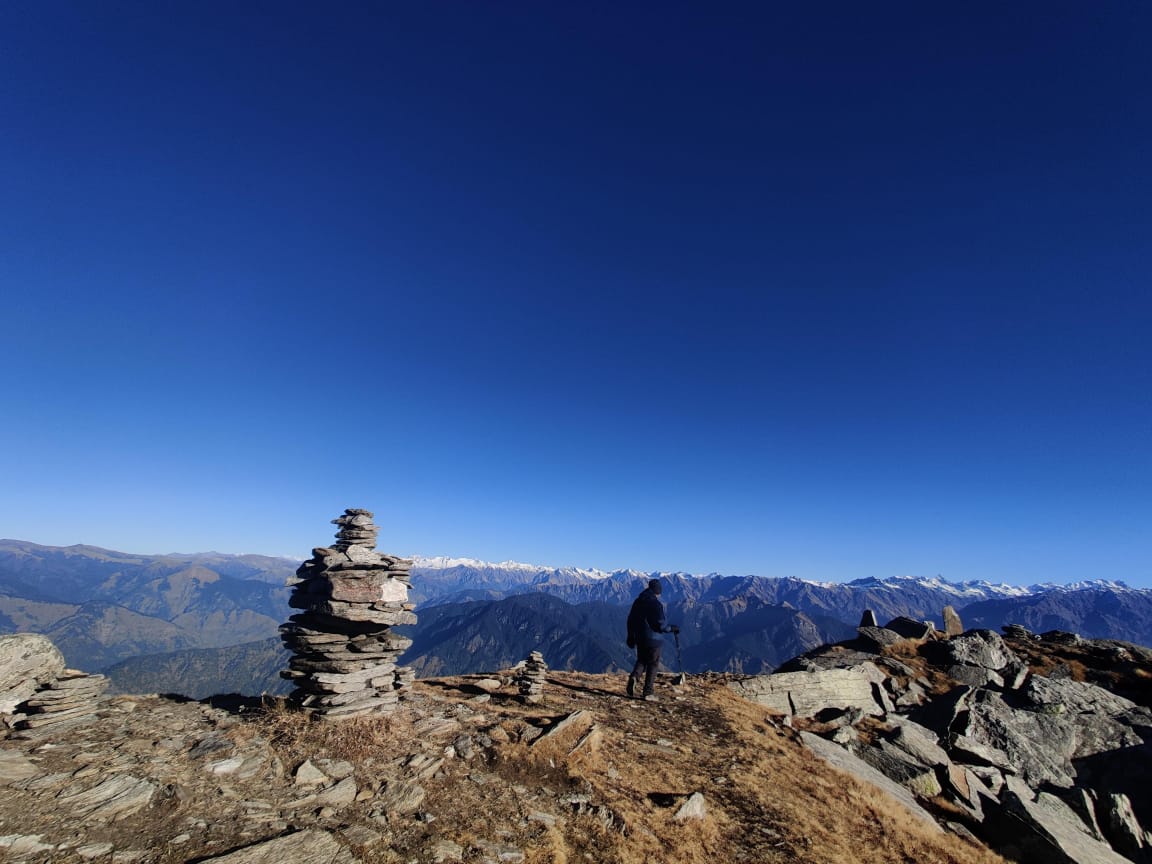 When you will reach at the final destination of the trek i.e. Kedarkantha Summit, i can bet that you wouldn't want to come back. You can experience the most beautiful Sunrise ever. Located at a height of 12,500 ft, it offers a 360-degree view of Kedarkantha base, Juda ka talab, Sankri altogether. It acts as a reminisce of your journey altogether.
From the Summit you can watch Yamunotri range, Jaonti, Jorkanden, Gangotri, Draupadi ka Danda, Nanda Ghunti, Swargarohini, Kalanag peak, Bandarpunch mountains along with Har ki Dun valley and Rupin valley. It will feel like that you are in paradise. The air will feel like fresh, calm, like the flap of a wave; the kiss of a wave; chill and sharp and yet solemn.
You wouldn't want to come back but with a heavy heart you have to descend to Kedarkantha trek base/Hargaon. After almost 12 hours of trekking, the much needed rest is must. You can explore the beautiful scenic views at the base camp.
Day five: Hargaon ---> Sankri
As the Summit is done, celebrate, have fun and jump into the snow. Making snowmans would be of great delight. The trek for the fifth day would head back towards Sankri. You will come across beautiful campsites as if every camp base is competing with each other. Pleasing views will enough to please you all the way around.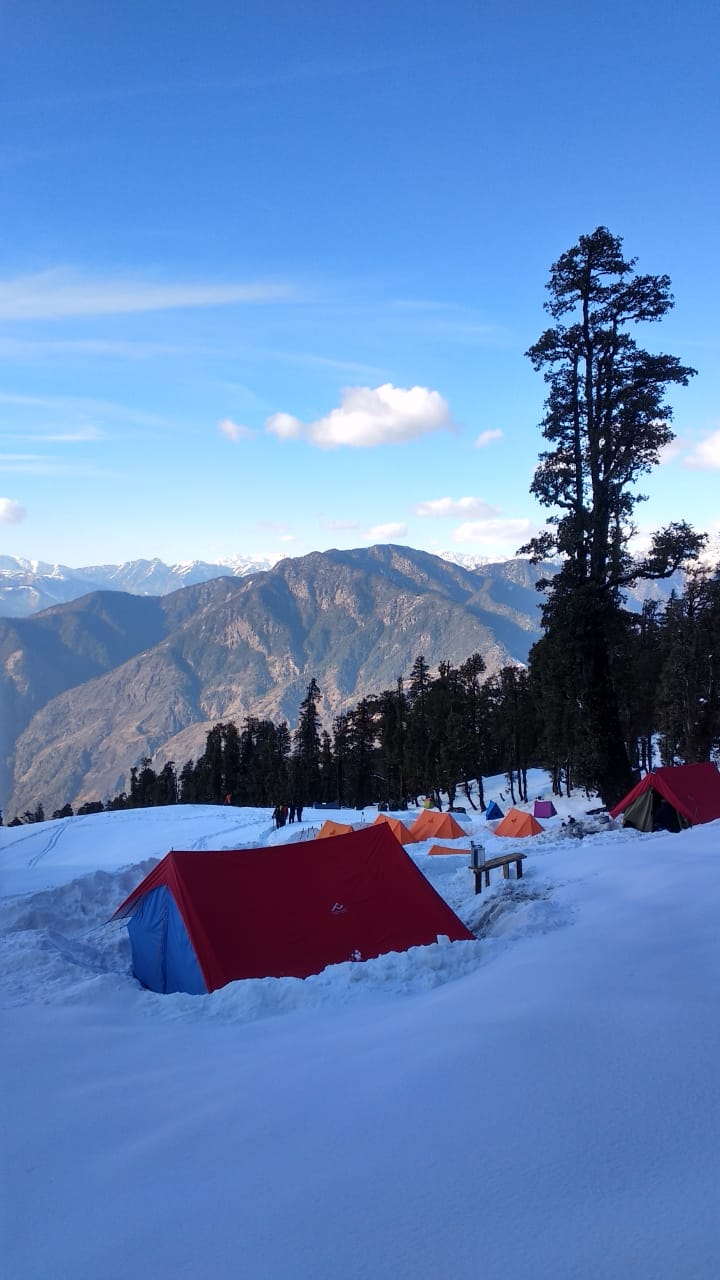 Enjoy the last night at Sankri with all the picturesque views of Heavy snow laden forests, Snow dappled ground and human diversity.
Day six: Sankri --- Dehradun
Bingo! You have made it. Pat yourself for the feat. You would be nostalgic here and wouldn't resist admitting that Kedarkantha trek is the best. Prepare photologues and script to amaze your friends.
The sixth and last day is the departure day. The ride as aforementioned would be of almost 8-9 hours. Until then enjoy the last beautiful views of mountains and forests all around.
The attractions are exciting and thrilling enough that you wouldn't agree enough that why this trek is favorite of every trekker.
IS KEDARKANTHA TREK DIFFICULT?
As the trek starts and ends at Sankri, making it a round type of trail is an easy graded trek, which makes it suitable for the beginners. Despite its elevation the trek can easily be accomplished either by the amateurs or experienced trekkers. No prior trek experience is required. I mean who wouldn't like to do a trek that is easiest to do?
This is one of another reason why trekkers admit it to be as their favorite trek ever.
IS KEDARKANTHA TREK SAFE?
Kedarkantha trek is convenient and safe to such extent that one can do it solo too. However, it may or may not be of fun for many.
Every year solo trekkers both male and female trek with utmost safety, it becomes like a congregation of solo trekkers. Also, Kedarkantha trek has the legacy to remain crowded throughout the year. So, it's pretty safe.
A local Guide has also made mandatory with you to avoid any adversity or danger that might or might not be there. So, you can see that you won't have to worry about 'what if you lose the way', kind of things.
Although, you have to work on your fitness. You also need to prepare yourself mentally for anything. If you are in great spirits, no wonder you can do this trek on your own.
BEST TIME TO VISIT KEDARKANTHA TREK AND WHY?
Probably you have heard that Kedarkantha is purely a winter trek. But it's a huge misconception. Kedarkantha trek can be done throughout the year except for the Monsoon months (July-Aug )The reasons are as follows:
1. The Trail becomes wet and slippery, making it a tough task to do.
2. Frequent rains can hamper your speed and dampen your spirit.
Kedarkantha trek is accessible for almost nine months in a year. You can see something different every month of the year, which is why trekkers opt this as their first choice. What to expect in each of these seasons are as following:
1. Winter season(December-April)
Kedarkantha is one of the first winter treks of our country. It is very popular as a winter trek. Those who love being around snow should do the trek in this season. You will see snow on the very first day of your trek on the way to Juda ka talab, Kedarkantha base and Kedarkantha Summit. The entire trek is covered in a hefty blanket of solid white snow. This time period is considered best for ardent lovers of snow and those who love to take up the challenges.
Keep in mind that in winter temperatures would be extremely low, especially at night, it could drop to -5 or even -8 degree. Make sure you carry at least five warm layers.
2. Summer season (May-June)
During summers, lush greenery and ample amount of flora and fauna will fascinate you. This is when Kedarkantha is at its greenest. If you are a nature lover and can't keep well in winters, this is the best time to do the trek. Another reason why this time is considered best is that you can take your children, friends and family with you, as it becomes quite a lot easier to do.
And it's worth mentioning that Kedarkantha is located within Govind Wildlife Sanctuary, so be prepared to witness variety of flowers, exotic plants and birds.
3. Autumn Season (Mid September-Novovember)
This is the time when Kedarkantha trek trail is covered in the leaves that starts to shed, and throughout the trail you can hear the sound of crunchy leaves when you walk on them.
The grasslands start turning from green to yellow to orange. The best part is the view from Summit. Because all the monsoon clouds are gone, the sky becomes quickly clean; it offers the clearest photogenic view. In other seasons it is quite haze and dizzy. But, autumn offers clean blue skies and all the Garhwal Mountains aligned up around you.
If you are photogenic and want to have clearest weather, time your trek in autumn. And about temperature conditions, it remains up to 10 or 15 degree, which makes this time period best to trek as the trek becomes quite easy and comfortable. It's like doing different treks at different time.
Conclusion
From the above points it has been proved that if it's about trekking, none of the treks would ever replace the serenity and vibes of Kedarkantha trek. No wonder why this trek is favorite of every trekker, from having an easy and safe moderate route to magnificent views it tops the list of all of the treks around.