Everyone gets tired of the hustle and bustle of city life. If you want to enjoy some moments in the lap of nature then Himachal Pradesh is a great destination. The offbeat place of Jibhi in Himachal is full of lush greeneries and landscapes that can erase away all your stress.
The village of Jibhi is one of the unexplored places in the state of Himachal Pradesh located in Tirthan valley. It is located at an elevation of 1600m, 51250 ft and 70 km from Mandi. Tourists can enjoy this place away from the crowd, and commercial attributes.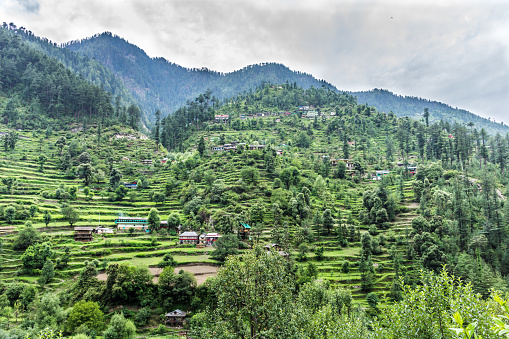 Jibhi is surrounded by bunches of pine and deodar trees where you can enjoy a quiet soothing night in the foothills of the Himalayas. In the winters, the temperature drops down below normal level that making the place look like heaven.
Tourists experience snowfall almost every day in the valleys with amazing shots on camera. The Tirthan River flows between the villages that give an ancient touch to it. The majority of homestays and hotels are constructed with wood so that the rooms remain warm.
Malta trees are present in the backyard of every locale's house. Some of the terrains in this village are meant for trekking. Now, it is considered as one of the hills stations with its fascinating nature. You will remain forever grateful to Himachal Pradesh after visiting this place. Jibhi valley is appealing with ancient temples, dense forests and tranquil valleys.
9 places to visit in Jibhi are:
Jibhi Waterfall
Jibhi waterfall is one of the immaculate places to spend time in Jibhi, Himachal. Tourists enjoy a peaceful walk to reach this waterfall. Your heart will skip a beat by listening to the sound of the waterfall hitting the hard rocks.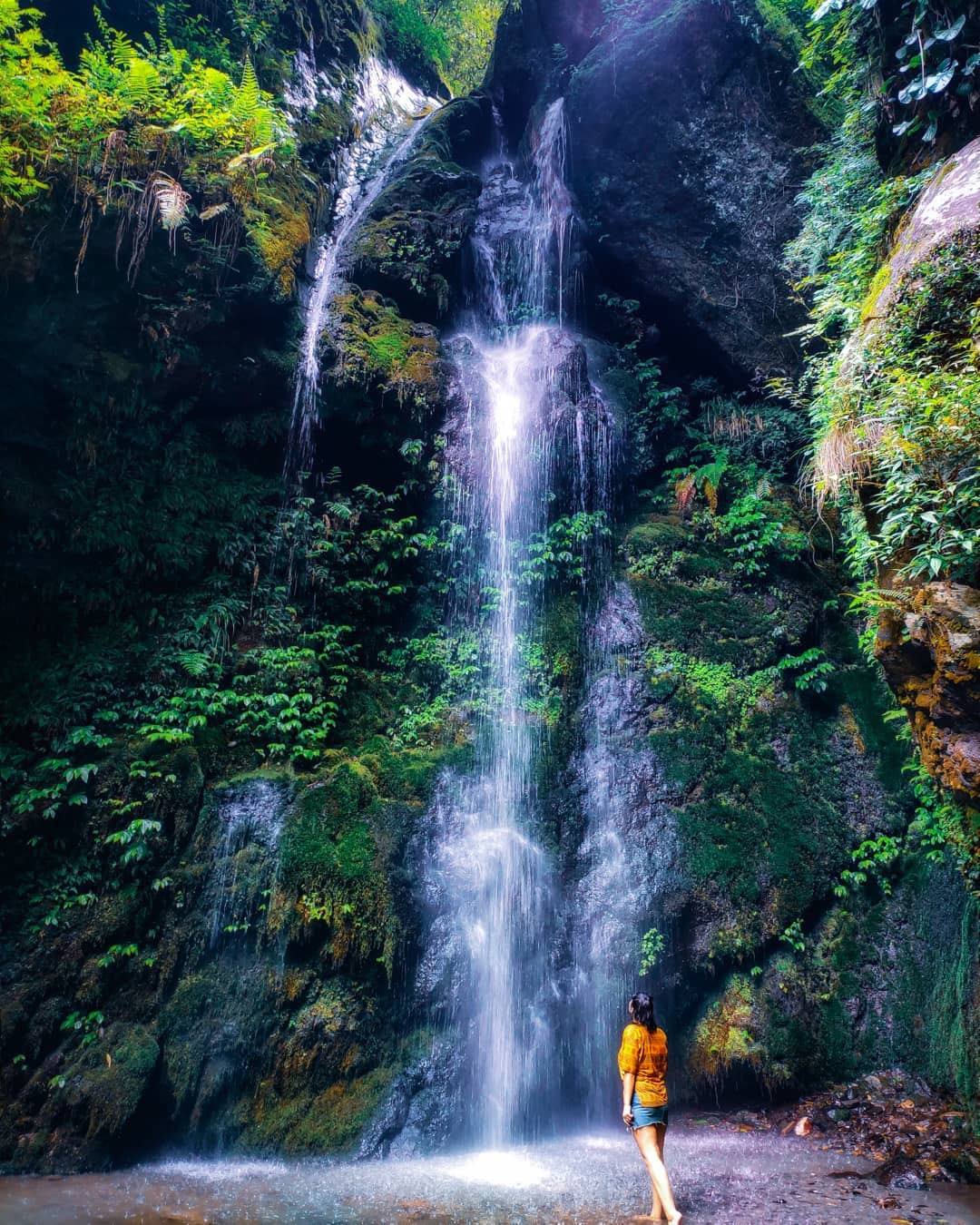 Photo Credit- Rash_mi_Ranjan
This waterfall remains unseen to most of the visitors because of less popularity. However, once you visit the place, the entire conception will change. Often, tour guides address the tourists to reach up to the waterfall in exchange for minimal fees.
Jibhi waterfall is located among the dense forest of Tirthan valley so it is kept unexplored. The small waterfall with green trees makes the entire place photogenic.
This place is perfect for couples to spend some time together and enjoy the pacifying view. You can also take a dip in the freezing water of mountains.
Jibhi waterfall is famous as a picnic spot for the residents. Impenetrable forest all around the waterfall delivers a beautiful view. The gushing flow of water from Jibhi valley himachal imparts a charming connection to nature.
Best time to visit- March to November
Timing - 24 hours
You May also Like Jogini waterfall
Chehni Kothi
Chehni Kothi is an amazing tower constructed with wood and stone in the middle of the Chehni village in Jibhi valley in Himachal Pradesh.
Tourists can visit this place easily from Tirthan valley in short timing. You can walk up to the tower because driveways are not present; the high terrain of valleys makes the place delightful from the top.
Shringra Rishi gate is the starting point from where visitors start walking. The walking journey is not so pleasant as the entire walkways are concentrated with mud and dirt. You can visit a temple on top of the tower known as the Shringra Rishi temple. Lush green dense forest all around the tower makes it pleasant.
In Jibhi, Chehni village is a must location visit. If you are a nature lover then you must visit this place. It is impossible to take your eyes off the endearing green forests.
Best time to visit: November to February
Great Himalayan National Park
Jibhi is incomplete without the collection of wide varieties of flora and fauna in the Himalayan national park. You will not find anything artificial in this place because everything is natural. A vast array of fish is also present here.
It requires special permission for the visitors to enter the park. Flowers bloom best in the spring season from March to mid-September. More than 90 species of plants are found here.
The national park is the habitat of a large number of Himalayan animals of Jibhi in Himachal. Essential dry fruits like chestnut, almonds also grow inside the park. Encounter the endangered species of the northwestern Himalayas inside the park of Jibhi valley himachal.
The most reliable way to visit the great Himalayan national park is with a tour guide because trekking is the only option here. There are no roadways to reach the national park; trekking is fun because of the pleasant views of mountains and valleys.
Best time: April to October
Entry fee- Rs 100 per day for Indian tourists and Rs 400 for foreigners.
You May also Like Nanda Devi National Park
Raghupur Fort
The Raghupur fort is a popular historic place in the state of Himachal Pradesh that served as a hiding spot from intrusions. Tourists enjoy the thrilling walk to reach this forest amid the dense forest for about 3 km, sumptuous oak trees encompass the trekking route from Jalori pass.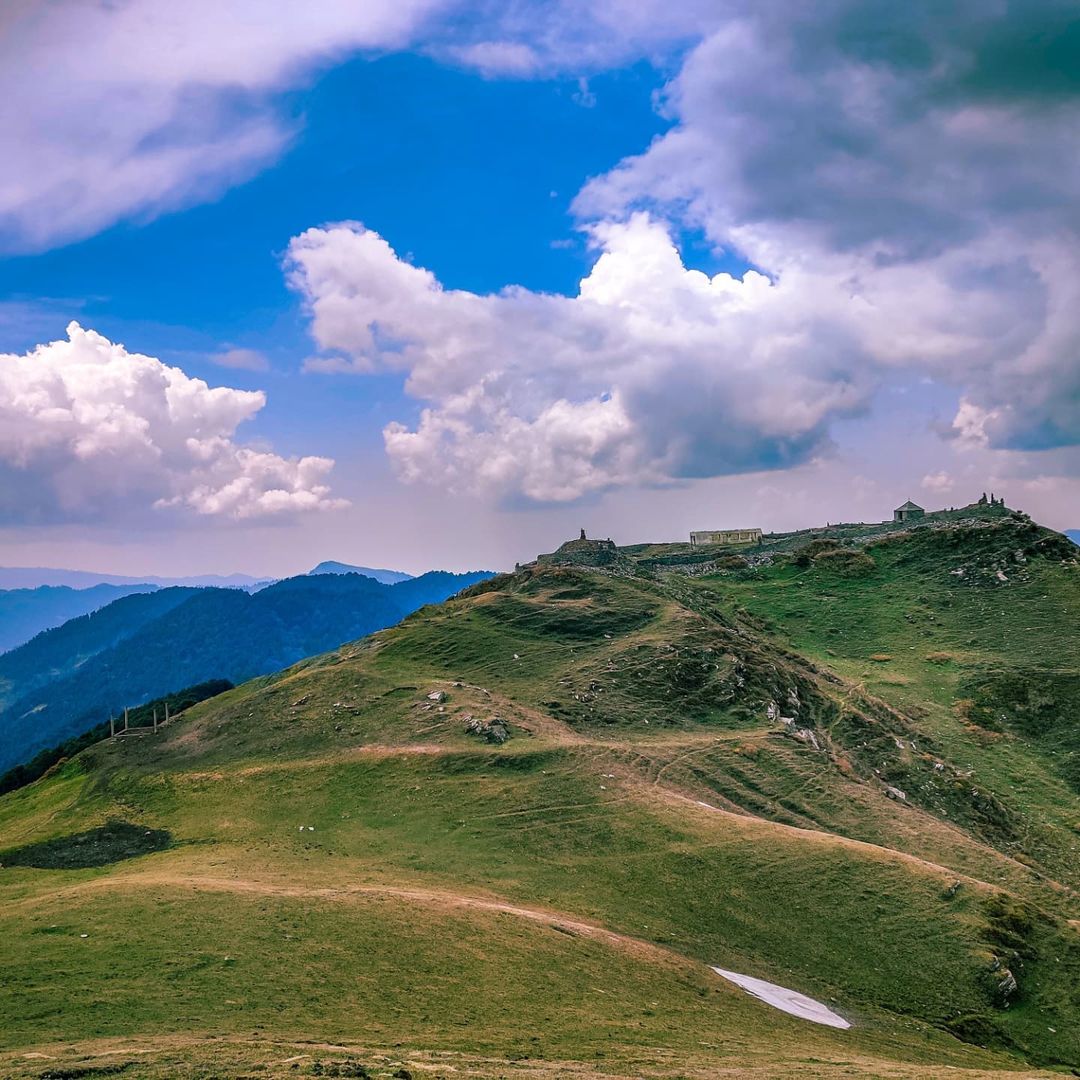 Photo Credit- anindiantraveler
This oak tree encircles the Himalayan ranges with extraordinary views. There is a small lake inside the fort, which looks amazing during sunsets.
Raghupur fort is full of creative handwork curated many years ago. All these architects make the place attractive for young tourists. Make sure to hire a tour guide through the journey of uneven terrains.
Do not forget to capture the historical attire in your camera. You are bound to forget the worries of a hectic life by the 360-degree view of snow-capped mountains of Jibhi Valley. The top of the fort is an enchanting place for pending natural time. Do not forget to carry water bottles and personal items on this trek.
Best time to visit: April, May and June.
Jalori Pass And Serolsar Lake Trek
The Jalori pass trek is a famous trekking route in Jibhi. The route of trekking connects the way to Raghupur fort. It takes you to the beautiful serolsar lake on top of the pass.
Jalori pass trekking is accompanied by enthusiastic forest road, breathtaking waterfalls and mesmerizing valleys. Make sure to take a tour guide with you because they have experience with the rich culture of the trekking route.
There is an enchanting Budhinaagin temple on the way of trekking. Jalori pass is one of the best places to be at peace from the hustles of the city in Jibhi Tirthan valley.
Be a witness of the moment of Jalori Mata temple where hundreds of local people visit every day. Apart from the uneven terrains, top-notch restaurants situated on the trekking route are a blessing for the tourists. This journey is pacifying yet challenging. Everything will fall into place when you live the moment of snow-capped mountains from the top of the pass.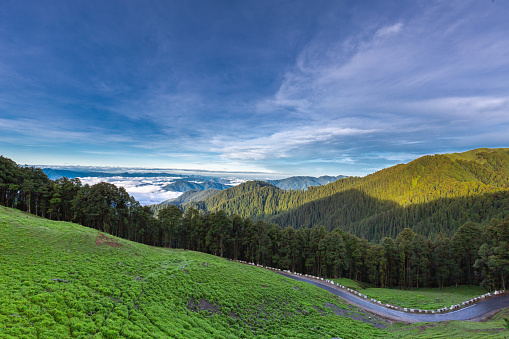 Starting point: Jalori pass
Starting time: 10 AM
End time: 4 PM
Best time to visit: summer months of May to October
Serolsar Lake is located 6 km away from Jalori pass that is famous for its hidden location amid a forest of pine trees. The lake does not lose its charm because of clear water and a soothing environment.
Tourists always carry proper shoes because of high and narrow terrain in Jibhi Tirthan valley. Serolsar lake is known for having medicinal properties in its water as believed by local people.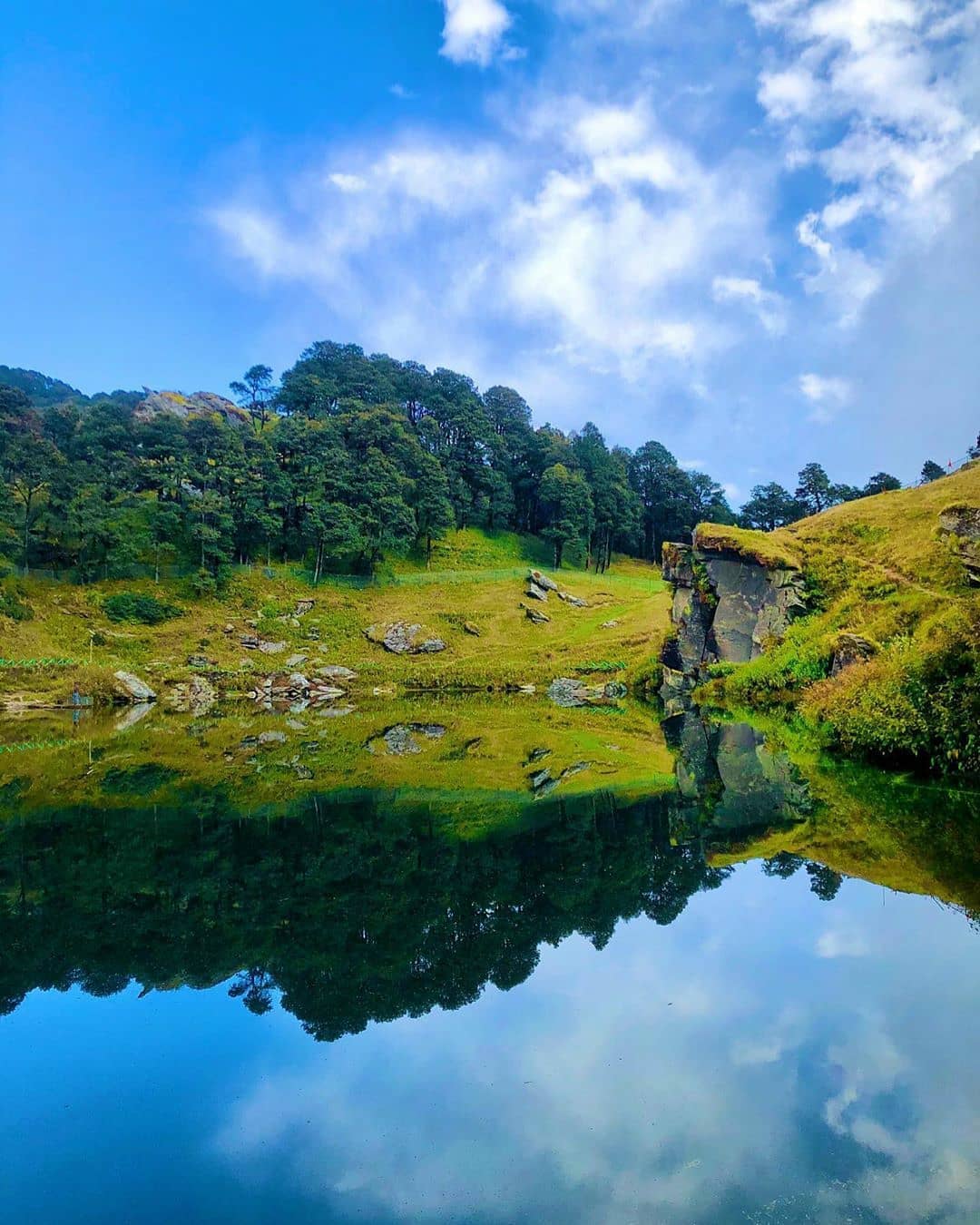 Photo Credit- liveinhimachal
If you are a trek lover then never miss the opportunity to visit this place. Blue sky and shadows of oak trees reflect through the water of the lake. Do not forget to capture this amazing moment. Himalayan ranges look spectacular from here. The lake will make you fall in love with the cool climate. Follow the instructions of the guide because there can be danger in the trekking route.
Starting time: 8 AM
End time: 3 PM
Best time to visit: Summer months of April to September
You May also Like Short Treks In Himachal
Shringra Rishi Temple
Shringra Rishi temple is a popular tourist attraction in Jibhi, visited by thousands of people. The temple is situated in the middle of a forest surrounded by oak trees. This brings out the glorious view of the temple amid the flowers of the forest.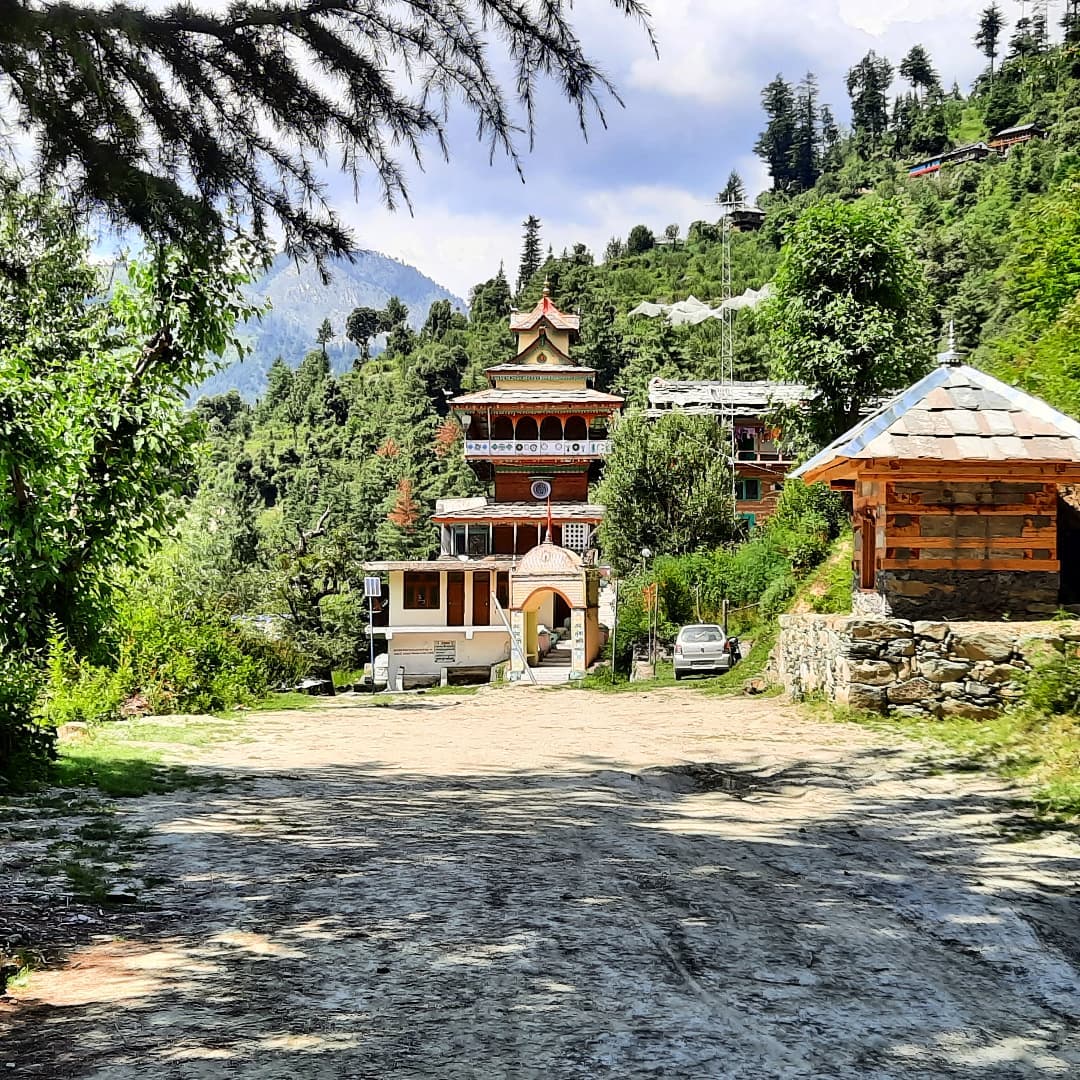 Photo Credit- yaminiratrachawla
You will have a telescopic view on reaching the top of the temple.
Local village people worship this temple, as it is sacred in terms of religion. The splendid temple takes you to historical moments of vibhandak Rishi.
During the winter, months it remains completely closed due to heavy snow. Do not forget to capture the majestic piece in your camera. Shringra Rishi temple imparts lots of spiritual energy that may bring positivity in life.
Best time to visit: Month of May
Trip duration: 3to 4 hours
Time: 6 AM to 8 PM
Budhi Naagin Temple
Budhi Naagin temple is a famous spot on the trekking route of Serolsar Lake that is worshipped by thousands of local people and tourists in Jibhi Himachal. The temple is believed to be home to all nag deities who saves people.
The lake looks glorious amid the Stony Mountains in Jibhi Tirthan valley. Make sure not to stand on the frozen lake or dip into it. Mata Budhi Naagin gets offended as narrated by local people.
The lake is quite mysterious and is loved by adventurous people. The trekking route of Serolsar Lake includes visiting this place for the glorious views and thrilling stories. You can see the top view of the lake from the temple. There are no hotels except homestays in Budhi Naagin of Jibhi district.
Best time to visit: May to October
Gushaini Village
Gushaini village has so much started from trout fishing to living in tents. The village is a pretty location in the district of Kullu with grazing cattle's and lush grasslands in Jibhi Valley. Tourists enjoy living in the tent beside the river and enjoy fishing.
Homestays in this location are constructed with deodar wood for protection against freezing temperature. The place gets magical with a lovely breeze and pretty birds. The mountaintops are accompanied by clouds that look spectacular in the morning of Jibhi in Himachal.
Enjoy yourself in the garden of apricot or pomegranate in this village. The bunch of pine trees make the sunlight flicker through the branches. It makes the path of the village appealing.
There is ample source of electricity throughout the village. Sometimes it can rain and after that, the weather looks mesmerizing. With a whole combination of natural light, fairy tales, village foods and glorious weather Gushaini village in Jibhi Valley is filled with love.
Best time to visit: winter season of October to March.
Lambhri Crystal Cave And Top
The Lambhri cave is another hidden spot in Jibhi Himachal that every adventure lover should visit. The way to the cave is through Serolsar Lake.
The magnificent look of beautiful Himalayan ranges amazes tourists. You will get panoramic views of the entire Himalayan range from the top of the caves. Pine forests and a crystal mine accompany it.
Visitors collect their personal choices of crystal as a token of memory. The place does not have many descendants because of its remote location but has glory in its charm. Get caught with a Great Himalayan national park from the top.
The trekking journey to the cave starts where the route ends at Serolsar Lake. Immerse yourself in the camping at Sarthi Thatch on the gorgeous meadows. People also enjoy watching birds in the mountain ranges of Jibhi Valley. Jibhi in December is absolutely heaven for nature lovers.
Best time to visit:-April-June and August-Oct
FAQ's Regarding Jibhi, Himachal Prades
What is Jibhi famous for?
Jibhi is famous for the lush green landscapes and spectacular waterfalls amid pine forests. The place also has best trekking routes with glorious view of Great Himalayan ranges. It has some of the magnificent tourist's spots like Jalori pass, Kullu, Raghupur fort, Jibhi waterfalls, Jibhi Valley and Serolsar Lake.
Is it safe to go to Jibhi?
Yes, Jibhi is safe and secure to visit in all seasons with friends or families. It is full of homestays, hotels and government tourism centres. Couples can also spend quality time beside the waterfall or sunset at the crystal caves. Generally, the best time to visit Jibhi is April to June. However, for persons who loves snow November to January is the best season. Trekkers avoid the monsoon and winter season due to bad weather conditions. Spring and summer months are safe for them. You can also find solo trekkers in the fields of Jibhi. Jalori pass is the famous trekking spot in summer months.
Kasol or Jibhi, which is better?
Both Kasol and Jibhi are excellent destination for travelling terms of peace and tranquility. Decent homestays in Jibhi Tirthan valley and hotels are surrounded all over the place. Expenses are high in Kasol with range of cafes compared to Jibhi. The distance of Kasol is more than Jibhi from Chandigarh. Tirthan valley has wide range of landscape that is wide than Parvati valley. You cannot choose when it comes to mountains. Himalayan rages makes you fall in love anywhere you go. Major attractions of Kasol include Manikaran sahib, kheer ganga peak, tosh village, nature park. Some of the best places of Jibhi are Serolsar Lake, great Himalayan nature park, crystal cave and many more.
How to reach Jibhi?
Jibhi can be reached Shimla or through Manali. It is best to reach Jibhi via Delhi because all modes of transportations are available there.
Bus- The simplest way to reach Jibhi Himachal from Delhi is by a bus via Manali. It takes 12 hours for 490 km to reach Jibhi from Delhi via Mandi. From Delhi to Jibhi it is 510km via Shimla and Jalori pass.
Rail- The nearest railway station is Shimla that is 150km away from Jibhi India. Taxis are available at Shimla or Banjar valley. From Chandigarh it takes 250km to reach Jibhi. Book any taxi to reach Jibhi from Chandigarh.
Air- Nearest airport is Bhuntar located in Kullu district. After that take taxis from Kullu to Jibhi. You can also fly and take car from Chandigarh to Jibhi.