Snow-clad mountains and picturesque landscape surround Kashmir, the land of heaven. This state of Kashmir has been beautifully divided into Jammu, Kashmir and Ladakh where three of them are covered with great Himalayan and Pir Panjal ranges. Due to the high demand of tourists throughout the year, Kashmir is regarded as the Switzerland of India. The scenic beauty of Kashmir amazes tourists from all over the world. It will reflect a beautiful image into the traveller's heart. Kashmir is worth a visit for its amazing nature and flowing rivers.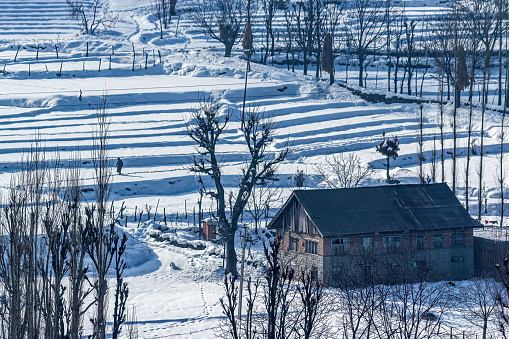 From trekking in the mountains to experiencing peace, Kashmir will want you to visit more. Eco-friendly homestays and architectural places here will draw your attention. There are several religious places where people can recite their prayers. The whole state of Kashmir with its popular tourist places are the epitome of beauty. People enjoy paragliding through the gorgeous valleys of Gulmarg. Lakes and hill stations together will give you an enclosed journey of nature and beauty with happy memories. The famous sanctuary in offbeat places near Srinagar is filled with wildlife that lucky visitors can see. Beautiful valleys and diverse topography surround it. Dance, music and celebrations are close to the heart of every Kashmiri's. Tourists can catch hold of them with delicious cuisines.
Also Check: Best Winter Treks In India
Read more to know about the offbeat places to visit in Kashmir that tourists must visit.
Awantipora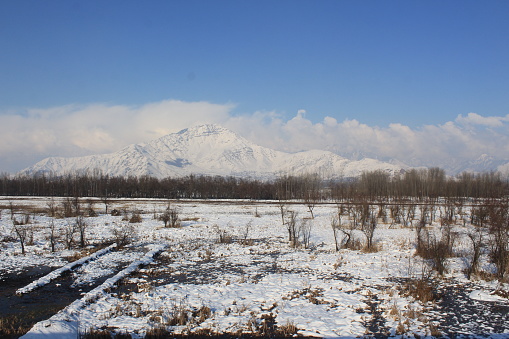 It is a great place to visit for its amazing scenic beauty in places to visit in Kashmir in winters. Tourists visit this place as a weekend gateway for historical amusements. It is 30 kilometres away from Kashmir. It is surrounded by Hindu temples constructed by King Verman and Lalitaditya. You cannot miss this place in Kashmir while travelling. Awantipora is famous for its secluded beauty of ancient temples and tales. You will be intrigued by the off-track from the hustle and bustle of the main city. The lord Shiva statue is situated near the Jhelum River in Kashmir sightseeing. The sanctuaries present beautiful places in Kashmir will draw your attention fully towards the antique statues.
Best time for visiting is May, October and November.
The entry fee is completely free for this place.
It is 24 hours open with high rating restaurants.
Char Chinar
Char Chinar is situated in the famous Dal Lake among Jammu and Kashmir famous places. There are a total of 3 groups of islands present here. Among them, tourists can observe 2 Chinar trees in these islands. You can easily identify the island with its beautiful 4 Chinar trees on 4 sides of the island. Aurangzeb's brother discovered the Rupa Lank where the eastern Himalayan range met the long trees. Tourists visiting this place will never forget the long trees standing tall amid freezing temperatures. You will feel peace in this place away from the noise of city life. Most of these trees have immense medicinal properties that can serve your purpose.
It is best to visit in the evening by the colourful Shikaras in Dal Lake.
Timings: 6 AM to 6 PM on all days of the week.
Entry fee: INR 50 for adults and Rs 25 for children.
Chasme Shahi
This garden is a part of the Mughal garden and is famous for the natural spring in Kashmir tourist stop. In the whole of Kashmir, this natural spring is famous for its tourist's attractions. You can visit this place to drink fresh water from the spring having medicinal properties for a healthy body. Even in the summer season, the water of this spring remains cold. Chasme Shahi is surrounded by a beautiful garden where you will get to see the different floras of Kashmir. The top terrace of the garden is known to be the source of spring. It consists of works of ancient history architecture and influences of kings in Kashmir famous places. For the facility of the tourists, many hotels and restaurants have been inaugurated in these places. You can see the blooming of flowers in May and June.
Best time to visit: Between May to October.
Time: 10 am to 6 pm.
Location: 9 km from Lalchowk Srinagar.
Dal Lake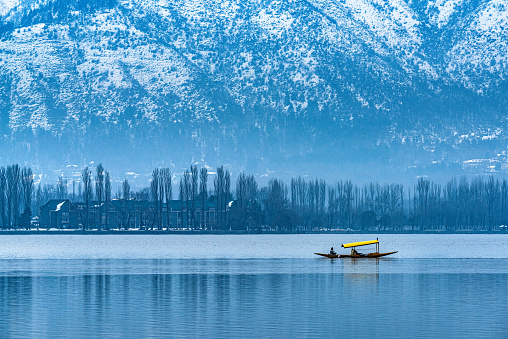 Everyone has heard of Dal Lake in the heart of Jammu and Kashmir famous places. Your eyes are bound to get stuck in the lake water surrounded by amazing colourful Shikaras. Many stories are circulating regarding the origin of Dal Lake. Tourists enjoy living in the houseboats, as they are the major attractions here. The entire landscape of the lake is covered by bloomed lotus in august. The shooting of movies takes place here because of awestruck natural beauty. There are breathtaking luxury hotels around Dal Lake with delicious Kashmiri dishes. The place is perfect for couples to enjoy their honeymoon among offbeat places near Srinagar. People globally with snow-capped mountains and rolling hills besides love floating flower markets on the lake water.
Best month to visit Kashmir: June to November. The entire lake water gets frozen during winters.
Indira Gandhi Tulip garden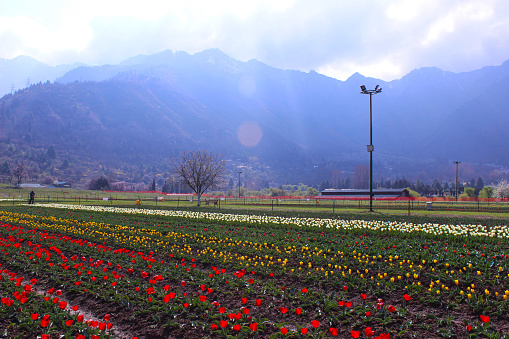 This flower garden is famous among the major instagrammable places in Kashmir. The vast landscape of this garden is covered with a plethora of tulip flowers. Apart from the Tulip flowers, there are many other mountainous flowers present. Flower terraces are consisting of constant water channels and varieties of tulip flowers. Tourists visit this place especially during the spring season as Kashmir arranges a tulip festival. This festival takes place when the flowers bloom best. A flower garden is a popular place among couples. Do not forget to carry your camera for some amazing clicks.
Major attractions of this place include: Kashmiri handicrafts, delicious cuisines, spring festival.
Distance: 8 km from Lal Chowk Srinagar.
Best time to visit: March-end to April.
Yusmarg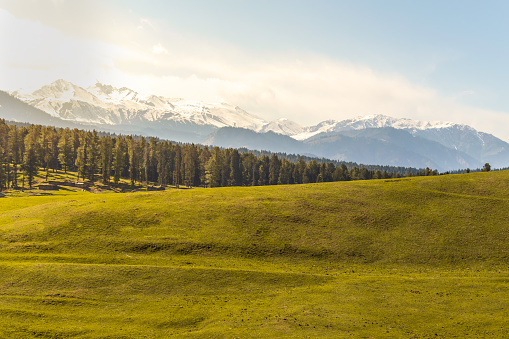 If you are a nature lover then visit Yusmarg as a weekend gateway among offbeat places to visit in Kashmir. The major attractions of this place are the alpine lakes and green meadows. Dudhganga River will not let your eyes take off from the high altitude. Adventure seekers can start trekking from Kashmir tourist stop. The major activity of this place is trout fishing. The main trekking route of Kashmir tourist stop includes Doodhpatri and Tosa.
Best time for visiting: March and September.
Sinthan top
The mountain pass is bound to become one of your favourite places amidst the Pir Panjal range in places to visit in Kashmir in August. Tourists love to trek to this route through the snow-laden hilltops and amazing views of meadows. A large number of people visit for trekking and skiing adventures among places to visit in Kashmir in winters. During the winter skiing is practised here with full of snows around. You will not find any luxury hotels or homestays because it is not so populated. This mountaintop is the place for camping and living in tents among Kashmir famous places. You will experience the best nights of your life under a sky full of stars and a cold breeze around in hidden places in Srinagar.
Major attractions: Vailoo- Singhpora tunnel is yet to be constructed.
Best time to visit: May to September.
Temperature: 2 degrees Celsius.
Chatpal
People now fear visiting Jammu and Kashmir famous places because of increased violence and extreme noises. Chatpal is such a place located 90 km away from the city where you will get back to peace and calmness around nature once again. It is surrounded by beautiful valleys with a limited population. The presence of this nature is hard to find around the city in Kashmir famous places. This place is quite untouched by tourists so you will not find big hotels or restaurants here among Kashmir famous places. Come back from the place with amazing photographs of serene nature. Chatpal has green valleys covered with dry fruits. It would be a splendid experience to walk through natural sceneries with amazing smells of walnuts in offbeat places near Srinagar.
Major attractions: apple and walnut orchards, varieties of cuisines.
Best time to visit: April to June. It gets extremely cold during the winter seasons.
Doodhpathari
This place remained one of the unexplored Jammu and Kashmir famous places. Due to the extreme temperature and remote locations, there are no permanent houses here. Shepherds come here with their cattle's for feeding in the green valleys. The place except for the winters remains accessible for six months only. You will be awestruck by the beauty of green meadows and pristine rivers. It will take an hour from the main city of Srinagar to visit this place. Do not forget to click amazing photographs with horses, buffaloes and grazing cattle's in the grassland. The place is amazing for couples to spend some romantic time together. You can visit with your friends for getting amazing clicks. It is a great hidden place in Srinagar for camping.
Best time for visiting: May to September.
Verinag
This is another natural spring on the way to Jammu consisting of blue water and pristine beauty. An amazing house and snow-clad mountains accompany it on top. This was founded in the ancient ages of history. No one has found such a splendid place in the whole tourism history among offbeat places to visit in Kashmir. The bungalow is perfect for taking some rest with some rest houses as well. You can visit this place by car from Srinagar. The main attraction of this place is the Verinag garden with beautiful floras. The atmosphere in this place stays calm at all points of the day, which attracts nature lovers most among Kashmir famous places.
Best time for visiting: August to October.
Dachigam national park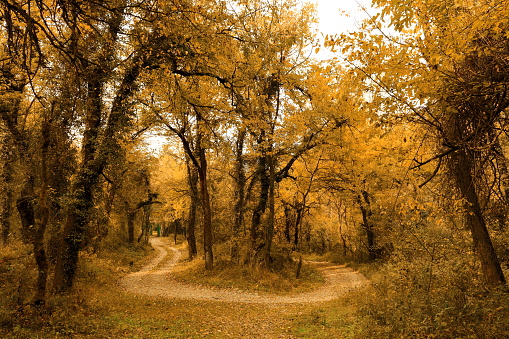 This national park is a one-stop favourite destination for wildlife in Kashmir sightseeing. It is the house of large varieties of animals like red panda, bears, Himalayan Langur, owlets and many more. Kids do not only love the park but adults also love the place surrounded by beautiful flowers. It will never fail to impress you with the delightful beauty in hidden places in Srinagar. The national park is a natural place to enjoy your afternoons among Kashmir famous places.
Best time to visit: April to October.
Weather: -5 degrees Celsius.
Kokernag
This place is famous among the places to visit in Kashmir for the charming beauty that it adds to nature. Kokernag with its botanical garden and waterfalls has become famous among the whole offbeat places to visit in Kashmir. There is a natural spring situated at this place that serves many medicinal properties. The water of the spring has sulphur components that are known for healing purposes. Tourists visit the botanical garden among places to visit in Kashmir in July during afternoons to spend time under the soft sun of Kashmir. It has pleasant weather with green trees and alpine forests. Lucky visitors find some rare animals in this place.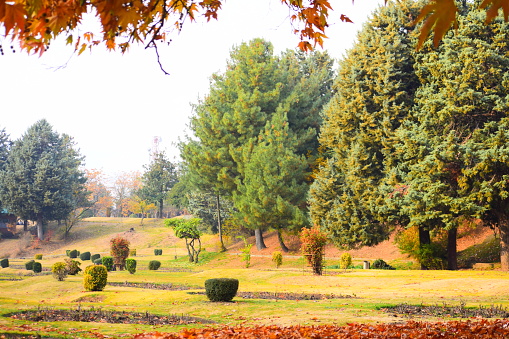 Best time for visiting: July to end September.
Kishtwar national park
This national park is located at a distinctive position in the Kashmir tourist stop. Due to its high altitude tourists loves to visit this place. The natural habit of this place draws the attention of people to the birds, animals and exotic trees from Kashmir sightseeing. The entire region of the national park has small tributaries of Mariv Sudhir running through it. This national park has uneven terrains and the rocky Himalayas. You may find uncommon stones and gems here. Forest houses are available for tourists and Kashmir sightseeing. It will be a splendid journey to spend a night in offbeat places to visit in Kashmir.
Best time to visit: March to May or September to March.
Distance: 40 km from Kishtwar town.