Trek Overview
The mighty Himalayas are concealed with some of the most amazing high altitude lakes around the world. Crystal clear water flowing down the valley formed by melting of the glaciers surrounded by luxuriantly growing grass fields, small villages, dense forests playing their songs adds charm to these beautiful hidden gems of Himalayas whose captivating beauty can only be experienced by their own, no words or picture describe it. The trek to Kareri Lake is one such experience, heavenly walk through scenic pathways with tranquilizing weather which can sometime change its mood suddenly takes to a different space and time.
About Kareri Lake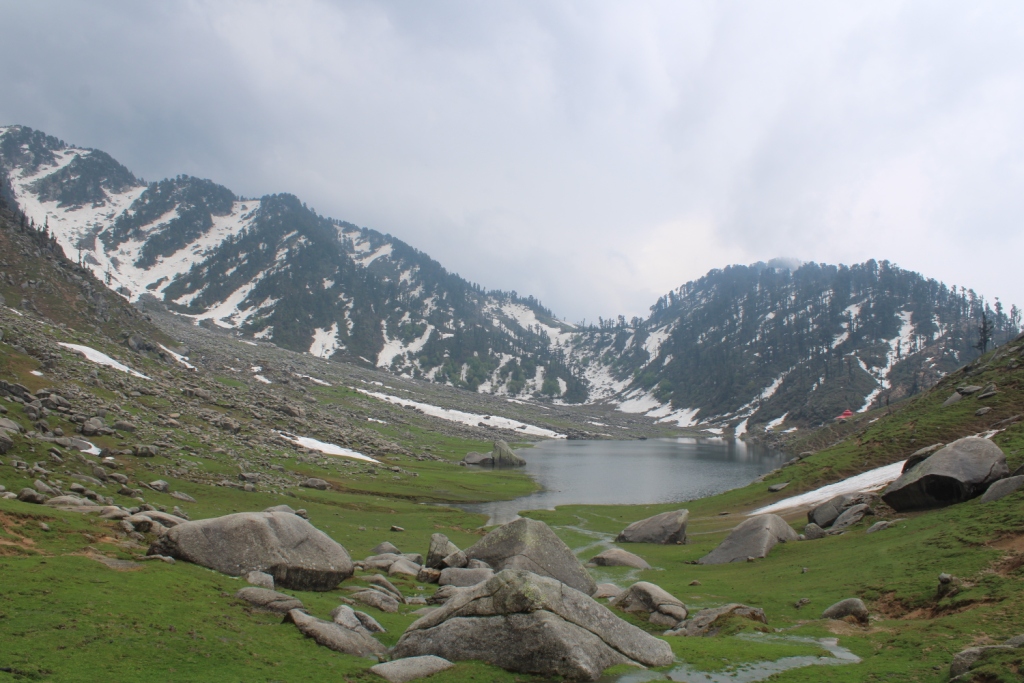 Kareri Lake is an high altitude fresh water lake, it is a shallow lake located south of Dhauladhar mountain range in Kangra district of Himanchal Pradesh. It is situated at an altitude of 2900 mtrs above sea level and the lake is mostly frozen during winters. The lake is fed by the melting of ice from surrounding Dhauladhar range due to which its water is crystal clear with very high visibility; one can see lake bed very easily most of the time. The trek to Kareri Lake passes through beautiful valley; lush green meadows with babbling stream water make it one of the best trek alpine style trek in Himanchal Pradesh and a perfect weekend getaway. Elegant shepard villages en route have its own way of defining life. Due to surrounding forest with lake in its centre makes it perfect place for migration of several rare species birds every year. Abundance of flora and fauna together at Kareri Lake creates a mesmerizing scenic background view for a picture which is worth capturing for lifetime with beautiful smile on face. Shiva temple looking over the lake located on top of the peak adjacent to lake is a place to visit before spending night looking over the beautiful night sky with billions of stars and a lonely moon.
How to reach Kareri Lake
Getting there by Road and Train
The trek to Kareri lake starts from Dharamshala which is a 10-12 hours journey from New Delhi measuring a distance of 450 -475km depending on the route taken. Chandigarh is a major city en route to Dharamshala. The best way to reach Chandigarh from Delhi is by taking a deluxe bus or train from Delhi which is approximately 200 km , from Chandigarh hiring a private vehicle or taking for Dharamshala which is approximately 275 km. One can reach Dharamshala by taking direct overnight bus from Delhi to Dharamshala. Buses are easily available for Chandigarh from Kashmiri Gate Bus Station, New Delhi. This journey passes through several lovely hill stations of Himanchal Pradesh catching the eye and sleep of visitor. At Dharamshala is big hill town with all the necessary things are available, decent to good staying options can also be found easily.
Getting there by Air
Reaching Dharamshala can be done in two ways, first is by booking a flight from New Delhi to Gaggal airport, situated at a distance of 13km from Dharamshala and other is by booking a flight to Chandigarh and travelling by road for their onward journey.
From there a private traveller vehicle will pick up and take you Kareri Village which is 9 km from Dharamshala.
About Kareri Lake Trek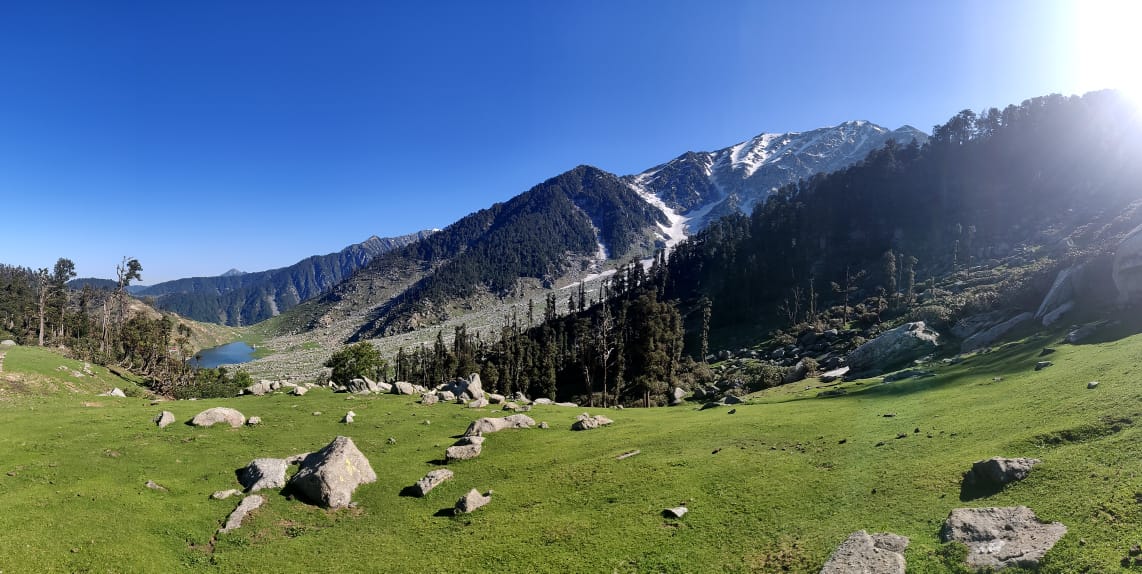 The trek to Kareri Lake is an easy level trek which involves no mountaineering skills except walking with ease and can be done easily by a healthy person of any age group. The trek is accompanied by lake fed Nuyund nallah covering a total distance of 15-17 km on one side with . This trek to Kareri Lake starts from Kareri Village which is 2 hrs by road from Dharamshala from Kareri Village next stop is Liyoti which is a 6 km uphill climb passing through forest and grasslands filled with wide variety of vegetation and flowers capturing imagination and vitalizing up for trek ahead. Next day is from Liyoti to Kareri Lake which is a 4-5 hours trek with stretch of steep climbs passing through dense forests and spending night at Lake side camps. During April to May snow is present from Liyoti To Kareri Lake. Last day is back from Kareri Lake to Kareri Village.
Views
The trek to Kareri Lake comprises of mesmerizing views peaks and snow-capped landscape to behold by visitor. A majestic mountains of Dhauladhar ranges with reflection on crystal clear water of lake creates a splendid view. The beautiful night sky with milky way galaxy is once in a while view worth watching.
What's Included
Inclusions
Certified Trek Leaders
High-quality trekking gears (Tents, Sleeping Bags, Gaiters, Crampons, Liners, Cutlery).
Experienced Staff (Guides, Cooking Staff, Helpers, Porters).
Delicious, Hygienic & Nutritious Meals on scheduled time (Morning Tea, Breakfast, Lunch, Evening Snacks & Dinner).
Adventure gears for team (Ice axe, walkie talkies, oximeter).
Fully equipped medial kit, oxygen and safety equipment.
All forest permits and camping charges.
Exclusions
Food items purchased by individuals at local canteens on the trek or during the drive.
Any early return travel costs or accommodation except for the days as per the itinerary.
Any expenses for medical treatment of injury or accident before, during or after the trek.
Health and Safety
For any Himalayan Trek, Ideal BMI for a trekker should be 18.5 to 24.9
To keep a check of this please calculate BMI here
Below given Safety checks should be done to get prepared for any Himalayan Trek.


Balance : As well said a balanced mind and body gives out best in every condition and that too works in Himalayan treks as well.
Legs Strength : Body and Legs Strength is required to carry body weight as well as the backpack while trekking in uneven multi terrains. Generally, a good strength on legs works out good in any Trek. One can gain legs strength by doing simple Squats.
Muscle Flexibility : While trekking in Trans Himalayan region with a flexible body one can easily achieve full range of movement and this can be really helpful for trekkers as well as trek leads. A good flexible will be an advantage while walking on trails, climbing and river crossing etc. Flexibility can be achieved by simple stretching, yoga etc.
Cardiovascular Endurance : Cardiovascular endurance is defined as the ability of lungs and heart to transmit oxygen to the body muscles. All Himalayan treks are basically ascending descending the slopes and for this trekkers should be having a good cardiovascular endurance. Anyone planning for a Himalayan trek can attain this capacity by doing any cardio exercise like running, swimming, cycling etc.
Cancellation
If a trek is called off at the last moment due to a natural calamity/unforeseen circumstances (like rains, snowfall, earthquake, landslides, strike, bandh etc.), Moxtain will issue a trek voucher for the full amount. The voucher can be redeemed upto same amount for the same trek or another trek in the next one year.
In case you wish to cancel your trek please email us at cancel@moxtain.com
Cancellation charges are based on the total trek fee, and same for full and partial payment modes.
The cancellation policy is based on the original booking time and original start date of the trek.
Cancel before 30 days of trek start date and get full refund after deduction of 1.99% payment processing fee.
Cancel before 15 days of trek start date and get refund after deduction of 20% of total trek fee.
Cancel before 10 days of trek start date and get refund after deduction of 40% of total trek fee.
Cancel before 5 days of trek start date and get refund after deduction of 60% of total trek fee.
Trek fee is non-refundable if you cancel within 4 days before trek start date.