Canyoning In India
Get allured with the treacherous charm of canyoning
India is a hub for adventure enthusiasts. From interesting hiking trails to colossal mountain ranges to spectacular waterfalls, deep gorges, and tricky canyons, India has it all. Even though canyoning is a relatively new activity in India, it attracts tourists from all over the world to its unexplored gorges and canyons. From Himachal Pradesh and Uttarakhand in the North to Sikkim and Meghalaya and in the Northeast, to Goa, Maharashtra, and Karnataka in the West and the South, India offers perfect terrain for unlimited canyoning opportunities.
What is canyoning?
A canyon is a deep gorge flanked with steep sides; it mostly has a river or stream running through it.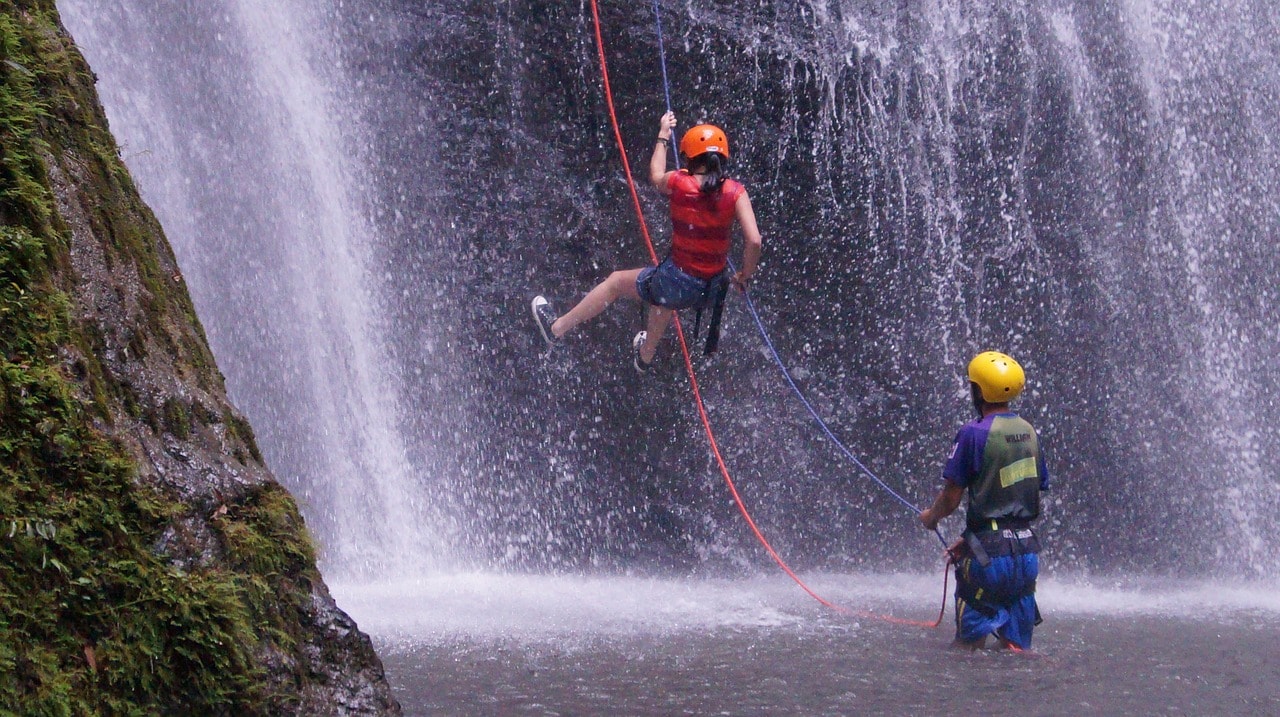 Canyoning is exploring or travelling through canyons, by means of walking, hiking, rappelling, bouldering, sliding, scrambling, jumping, climbing, abseiling or swimming. Canyoning routes can either be easy or very difficult and are usually found in rugged and remote terrains.
Canyoning is a recreational activity that is fascinating yet complex; it is actually a technical descent into a canyon. It requires navigational, route-finding and other wilderness maneuvering skills.
Canyoning is a treat for adrenaline junkies looking for a memorable fun-packed experience!
Canyoning Gear
With changing trends and advancements in canyoning, canyoning gear undergoes a lot of re-invention; it mainly includes wetsuits, helmets, climbing hardware, descenders, harness, carabiners, webbing, static and semi-static ropes, specially designed canyoning shoes, gloves, packs, and rope bags.
Canyoning Locales in the world-
Asia- Japan and Taiwan are famous locations in Asia for canyoning. Canyoning is called tracing in these countries. India is increasingly gaining popularity and offers exhilarating canyoning experiences.
Europe- Welsh, Scotland and Yorkshire in the United Kingdom, Ticino in Switzerland and Spain offer excellent canyoning opportunities.
North America- Colorado plateau in the US is a world-famous canyoning spot. San Gabriel, Sierra Nevada, Cascade, and Rocky Mountains Ranges are other famous canyoning locations in North America.
Australia- Blue Mountains National Park in Australia is popular for abseiling.
Canyoning Locales in India-
Neer Gaddu and Garud Chatti, Rishikesh- Narrow gorges of river Ganga, rocky formations near the river Ganga and rugged Himalayan terrain offer genuine adventure. Canyoning levels grade from easy to extremely difficult and you can choose the one based on your stamina and strength.
Vashisth, Manali- Manali is the canyoning paradise; diving, swimming, climbing and floating in water- etched rocks, deep forested pools and cascading waterfalls add a unique thrill to the canyoning adventure. Canyoning at Manali is a cross between abseiling and rappelling that traverses through a spectacular natural world. The grade level offered for canyoning is moderate to difficult.
Sandhan Valley Maharashtra- Also called the Valley of Shadows, Sandhan Valley offers a unique combination of rappelling and trekking in the Sahyadri mountain ranges of Maharashtra. It traverses through a deep narrow rock-floored ravine to reach the natural gorge Sandhan. Canyoning grade level is easy to moderate.
Ulhas Valley, Karjat, Maharashtra- Waterfall rappelling in the Western Ghats of Karjat is an absolutely thrilling experience which can easily be done by amateurs. The 320 feet tall waterfall is located between Lonavala and Khandala.
Upper Sauri Canyon, Goa- Walking, jumping swimming, scrambling, jumping and abseiling-you name it and Upper Sauri has it. A 40-minute jungle walk leads you to Upper Sauri which offers an easy to moderate canyoning experience amidst 6 spectacular waterfalls, sculpted rocks, and numerous drops.
Raneh Falls Canyon, Madhya Pradesh- Touted as the Grand Canyon of India, Raneh Falls Canyon treats you to raw nature, jungles and beautifully coloured igneous rocks. At a distance of 20 kilometres from Khajuraho, this is the second biggest Canyon in the world. Ken river flows through the canyon which is 5 km long and 98 feet deep. This pure crystalline granite and dolomite canyon, flanked by a natural waterfall treats you to 5 amazing hues of coloured stones.
Dandeli, Karnataka- Canyoning in jungles of Dandeli is the most sought after adventure sport. It includes rappelling, jumping, abseiling, sliding on the natural water slides and controlled descent down the rock using a rope. Canyoning levels grade from easy to advanced skill levels and you can choose the one based on your stamina and strength.
Best season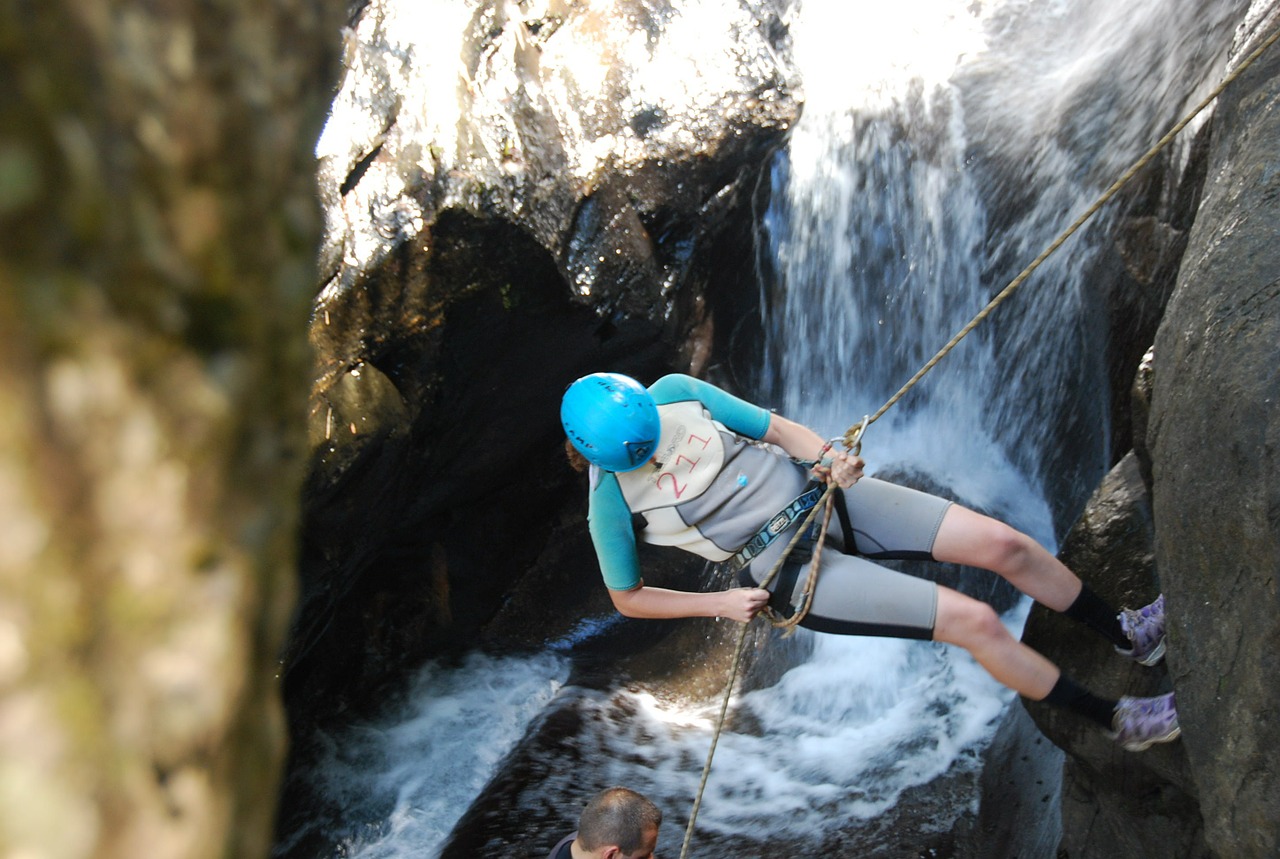 India is dotted with hordes of the canyoning locales; the best season extensively depends upon the weather conditions of the canyoning destination.
Uttarakhand and Himachal Pradesh- November to June
Maharashtra- July to October
Goa- October and May
Madhya Pradesh- February to March
Karnataka- During monsoon
Canyoning Hazards and Safety
Since canyoning is a complicated activity and involves some level of risk, always ensure that you follow the recommended tips for your safety-
Carry all necessary stuff- Canyoning requires a lot of tools, make a checklist to ensure that you carry all the equipment with you.
Use high-quality equipment- Using any substandard equipment will be a compromise on your safety.
Avoid participating in this sport alone- Canyoning is a complex activity, it is recommended that you always have a companion by your side.
Take an expert guide if you are new to the sport- An expert will guide you through the nuances of the sport. Make sure that you follow the instructions of the guide.
Pre-requisites
Canyoning entails a lot of physical activity; good physical endurance and strength are mandatory for this adventurous sport. You should have strong knee and elbow joints and good stamina to be able to participate in canyoning. It requires you to be a hundred percent physically fit. Swimming is required for moderate to difficult grade levels of canyoning.
Canyoning is not recommended if you suffer from vertigo, dizziness, hydrophobia or have a fear of heights.