About Sikkim as a Trekking Destination:
Every trekker's fantasy is to let one's hair down and explore the unknown depths of the Himalayan Range, which shines majestically with its towering snow-capped crests. This magnificent panorama entices everyone, particularly those who are interested in hiking, mountaineering, or some such adventurous activities. Sikkim, one of India's North Eastern states, nestled at a staggering height of 8586 m above sea level, holds a very special place in everyone's heart. The bewitching Kanchenjunga, the crowning feature of this paradise is ranked the third highest mountain in the world. Sikkim is enlisted as one of the best trekking spots, owing to its enchanting topography in the foothills of this breath-taking mountainous region. This charming state is famed for a diverse range of activities in addition to hiking.
From ice cold routes to blossoming alpine meadows, lush green wooded forests, and shining emerald mountain lakes, Sikkim is a utopia endowed with natural richness. The placid lakes, gushing rivers, and immaculate waterfalls showcase nature in all her glory. The hilly terrain is dotted with mystical lakes, cascading waterfalls, and pious hot water springs.
Sikkim has an exceptionally rich and diversified population structure, with a wide range of groups and faiths, as well as tightly linked ethnicities. The people residing there are very amiable and benevolent. In Sikkim, the word "Atithi Devo Bhava" takes on new significance.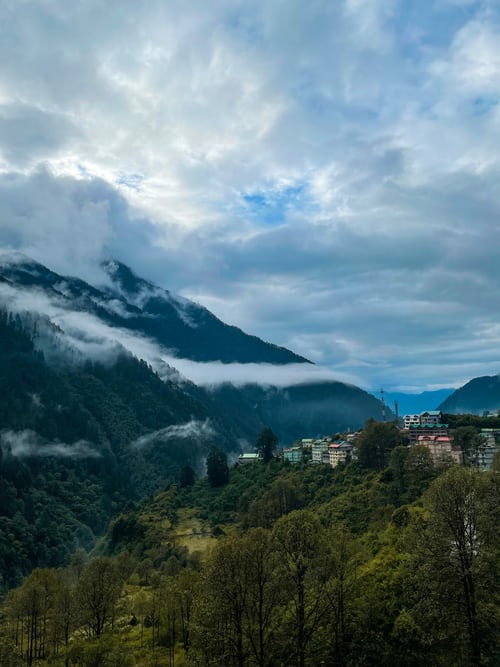 Photo Credit- Ig Pawan Khatri
Also Check: Trekking in Himalayas
5 Best Trekking Expeditions in Sikkim:
Goecha La Trek:
To explore Sikkim at its best, ascending the stunning Goecha La Trek will be a memorable experience. Tucked away at an elevation of 4939m above sea level, this renowned trek meanders through some of the most remarkable Himalayan scenery, accompanied by raw cold wind and solitude in the wilds. The trek duration of this journey is 10 days long. The surroundings in Goecha La are loaded with rare blooms, picturesque meadows and verdant landscapes. This trek is unique; worth treasuring because you not only get the chance to view the majestic Kanchenjunga but also some other 14 massive peaks like Mt. Pandim, Mt. Thingchinkhang, Mt. Jopuno, etc.
The Goecha La Trek in the Himalayan foothills of Sikkim will provide you with an unforgettable experience. This beautiful location, which is rated moderate to challenging in terms of difficulty, is home to the quiet of endless woodlands. The base camp is in picturesque and quaint town,Yuksom, which can be reached by cab or bus from Gangtok.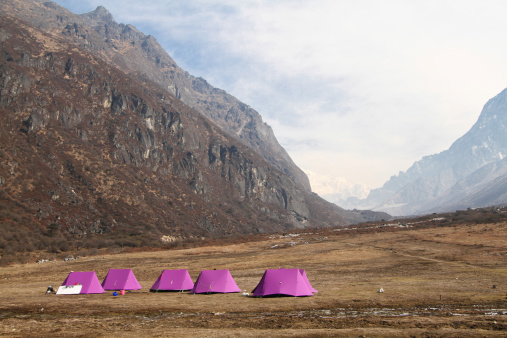 Photo Credit- Unslpash
The best time to undertake the Goechala Trek is in the spring season (March to May). In the spring months, colourful vibrant blossoms such as Rhododendrons, Orchids, and Magnolias bloom in the mountains. The Goechala Trek is one of the most challenging treks in Sikkim. However, anyone with average trekking experience will have no trouble completing this journey. Those of you who can buckle up your sleeves and take on this trek courageously will be handsomely rewarded with several of India's greatest mountain views.
Dzongri Trek:
This trip, which begins at an elevation of around 4020 metres in Sikkim, provides a close view of the majestic Kanchenjunga and Mount Pandim. This trek is 8 to 9 days long. The trekking routes of this trip will take you to some of Sikkim's most scenic locations. The verdant lowlands and expansive incredible views of the range will mesmerise you beyond limits. This path will take you through some of the most charming valleys with bright blossoms and greenery, as well as Rhododendron, magnolia pine, maple, and oak woods.
This covers some of the region's most iconic and spectacular waterfalls, as well as sunrise points such as Tiger Hill in Darjeeling, which will round off a fantastic trip. This adventurous journey traverses through the dense virgin forest of the Sikkim Himalayas, culminating at Dzongri Top at about 15000 feet, where you can soak in the grandeur of Kanchenjunga National Park.Birding is also available, as well as catching sights of Bharal, or Blue Mountain Sheep is also predictable.
Summer is the most suitable time to go hiking in this area, from mid-March to mid-June. The weather is clear and the vistas are excellent during this period. This is unquestionably the best time to visit for bird viewing.
It is usually preferable if you have prior hiking/trekking experience. This is a Moderate-level hike, not a difficult one, and amateur trekkers are welcome.
Sandakphu Trek:
As you climb up the magnificent Sandakphu paths, you'll get a sublime view of the spectacular Kanchenjunga, Mount Everest, Lhotse, and Makalu. Sandakphu literally means 'Height of the Poison Plant' which is known for its deadly aconite trees. The whole trip is bordered by Rhododendron types, which are one of the primary attractions and can be seen in plenty between March and May and mid-September to November. This trek takes about 8 to 9 days to complete. This walk begins at Mane Bhanjang, about 58 kilometres from Darjeeling, and proceeds through small villages like Meghma, Tonglu, Tumling, Garibas, and Kala Pokhari before ending in Sandakphu.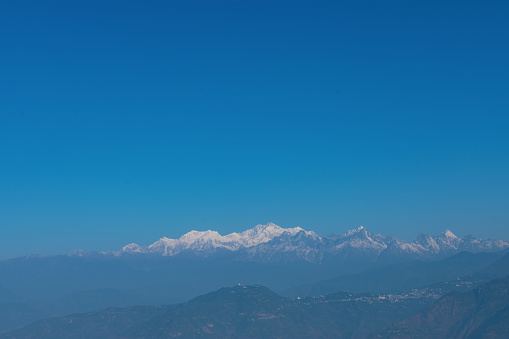 Photo Credit- Unsplash
The walk to Sandakphu takes you through Singalila National Park, which houses the endangered Red Panda.The trip begins in Mane Bhanjang, which is roughly an hour from Darjeeling and four hours from Bagdogra/ NJP. From these two places, you can get a cab or a bus, which is considerably closer and more accessible. This 8 day long Sandakphu Trek invites you to wake up on natural wetlands, amidst lush woods and verdant valleys.
The Sandakphu trek is accessible for approximately 8 months of the year, with the exception of the rain season, that is from May to August. Every season offers a unique feel to the trek, from the blossoming of Rhododendrons and Magnolias in the springtime to the brilliant golden vistas of mountains in the fall and the pleasant onset of the winter season.
This trek is rated as a moderately difficult trek. The Sandakphu trip does not feature many steep ascents and descents on a daily basis. The rapid ascent, along with the strain of the trek and proximity to the cold, can cause altitude sickness in certain cases.
Green Lake Trek:
The Green Lake Trek is a hidden treasure of the Himalayas and one of the least visited places in Sikkim. It is ringed by exquisite landscape, jagged mountains, and vibrant meadows teeming with wildlife. Visitors to this sanctuary can glimpse foggy Kanchenjunga and other Himalayan dwellings. The meandering routes reveal ethereal vistas and pastures, exotic orchids, and bright sweeping sights that will be the highlight of the entire journey.
A nature stroll is contemplative, restorative, and thrilling! Commence the 13-day long emerald lake trekking vacation in Bagdogra or New Jalpaiguri, then travel to Gangtok, the capital of Sikkim. The babbling Teesta River and the mountain peaks along the way will undoubtedly captivate you with their pristine beauty.
The journey to Green Lake, the foundation of Majestic Mt. Khangchendzonga on the Zemu icy mass in North Sikkim is truly outstanding of all journeys around here,not to forget an assortment of blossoms along the way like Rhododendrons, Primulas and Blue Poppies.
The months of April and May, as well as October and November, are ideal for trekking since wildflowers and rhododendrons are in full bloom. The Green Lake Trek is viewed as a moderate to troublesome level journey. For experienced explorers, the trip is well within reach.
Singalia trek:
Singalila Ridge Trek is one of the most appreciated and entrancing journeys in India since it gels well with the spiritual seekers. Singalila is known for its arduous courses and lastly finishes with a captivating visit to Darjeeling, the Queen of Hills. Alongside fun and frolic of traveling, this visit additionally gives a unique perspective on the great Mt Everest and Kanchenjunga tops. It offers a terrific view of the other inner and outer ranges of the Himalaya.
Singalila Ridge Trek is an exceptionally old one with a thin way going along the Indo Nepal line cutting across the path of different woods and wildflowers. The Darjeeling Hills can also offer you alongside a peek into the significant length of tea estates and religious communities on the boundaries of Tibet and India.
From October to March, the weather is clear, while April and May bring rain.It is best to avoid trekking during the monsoons (June to September) as leeches then rule the roost! The Singalila National Park is closed during that time as well, so access to the ridge is limited.
There are a few steep sections and you will be encountering uphill climb for the first three days of the trek. The high altitude makes the trek more difficult, but it is not a long hike, so it will not be that much taxing for your body.
5 best one day hike in Sikkim:
Tinjure day trek:
Embark on an exciting Tinjure walk and ascend to Tinjurey Top, from which you can experience mysterious views of Gangtok town and Teesta Valley and the massive Kunchenjungha on the northern horizon. Tinjurey is an easy short day hike that takes you into the Phambong-lho Wild Life Sanctuary in Gangtok, East Sikkim. It is the ideal one-day escape to fresh mountain vistas via woods of Magnolia, Maple, Bamboo, Pine, and Rhododendron. It is ideal for trekkers who have little time in Gangtok yet cannot return without getting imbued with the other-wordly beauty of the majestic Himalayan peaks. Also, in this short one day hike, you will be blessed with the crisp views of the tall Mt. Kachenjanga.
Damthang to Tendong:
This trip will take you from Damthang, which is almost 14 kilometres from South Sikkim's city, to Namchi, a tiny plateau at an elevation of 2600 feet flanked by lush green wooded forests known as Tendong Hill. You will relish the leisurely strolls on the rustling fallen leaves upward from Damthang to Tendong sanctuary, and you will appreciate the spiritual atmosphere since this place was traditionally a haven of refuge for buddhist lamas. Tendong provides a good perspective of the green thinly populated settlement. The region offers a voyage that is surrounded on all sides by Chola,Kachendzonga,Singalila, and Gurudongmar.
Rabangla to Maenam Hill Top:
Rabangla is located in south Sikkim at an astounding elevation of 7400 feet. It is peaceful, remote, and eventually takes you to its highest point, the Maenam Hill. Rabangla is tucked away on a ridge amidst the peaks of Maenam and Tendong. The Rabangla forest is a haven for exotic Himalayan birds, many of which are exclusively found in this forest, such as the Bluefronted Redstart, Laughing Thrush, Bubbler Green Backed Tit, among others. The journey from Rabangla to the Maenom hill top is fascinating, with several sites to stop by along the way. On a clear day, the beautiful vista of the Kangchendzonga Range will take your breath away.
Donkiala Cholamu:
Cholamu lake, also known as the TSO Lhamolake, is the highest lake in India, standing at an elevation of 5486 metres. After passing the Donkania Pass, you will arrive at the Tibetian Pass, from whence you may hike to TsoLamho Lake. The ambience here is one that is unaffected by the disturbances of everyday life elsewhere.
Gurudongmar Lake: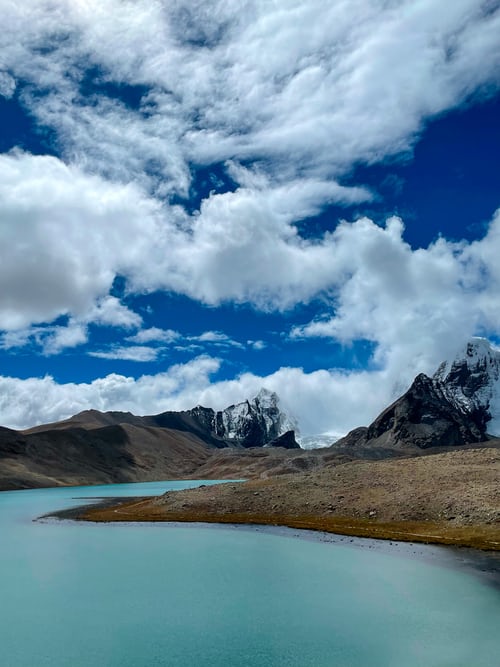 Photo Credit- Ig Pawan Khatri
Gurudongmar Lake, located at a height of 5243 metres in North Sikkim, is India's second highest lake. No matter how hot or how cold it is, or how much your ears are congealing the mist of mythology is all over the place. This lake is titled after Guru Nanak, and it is also said that the latter broke open the ice top with his staff and predicted that the top would never freeze, and therefore would always remain a water body.
Frequently Asked Questions:
What is the best time to trek in Sikkim?

The ideal time to trek in Sikkim is from the months of April to June and from October to March. In the monsoons, the trek routes in Sikkim play a spoilsport. As it receives heavy rainfall, avalanches and slushy roads pose a hindrance to trekking. In the summers, owing to the immaculate weather conditions, several popular treks are undertaken. In the winters too, many famous treks are taken up like, Tosar Lake Trek, Versay Trek, SingalilaUttaray Trek, etc.

Which is the highest peak to trek in Sikkim?

The highest peak to trek in Sikkim is Mt. Kanchenjunga.

Paragliding in Sikkim and Paragliding in Darjeeling?

Sikkim is one of the most favourable places to venture into this sport, Paragliding. The best time to do this sport is in summer and autumn months. In Sikkim, is takes off from BulbuleyDara and lands at a stadium field situated 4km away from the starting point.

Paragliding is also done in Darjeeling but only during the months of October to April, owing to the wind conditions.Paragliding in Darjeeling is most done near St. Paul's School in Jalapahar area. Sometimes, this sport also takes place in Jamuney. It takes off from Tukvar Tea Garden and lands in Jamuney ground, a total of 15 minutes flight.

Is it safe to trek in Gangtok?

Yes, it is very much safe to trek in Gangtok. This place entails some of the most mind-boggling places with challenging terrains. You will require prior trekking experiences and a gruelling, good physical training. You will have to trudge long routes and meander through some of the toughest ascents and descents. You will also have to keep a vigilant check on your health. With these few things in mind, Gangtok can gift you some of the most memorable trekking memories.