Pangarchulla Peak Trek
Pangarchulla Peak, a summit climb located in the Garhwal region, Chamoli, Uttarakhand, is a trek of difficulty and leisure strolls, snow and fresh blooms, adrenaline rush, and calmness. Pangharchulla trek location is at Nanda Devi National Park. With the chimney peak soaring, the Pangarchulla Peak height is nestled at 15,069 ft is shielded by Nanda Devi, Kamet, the second-highest and third-highest peaks, respectively, Neelkanth, Mana, and all the grandeur of Himalayan Range.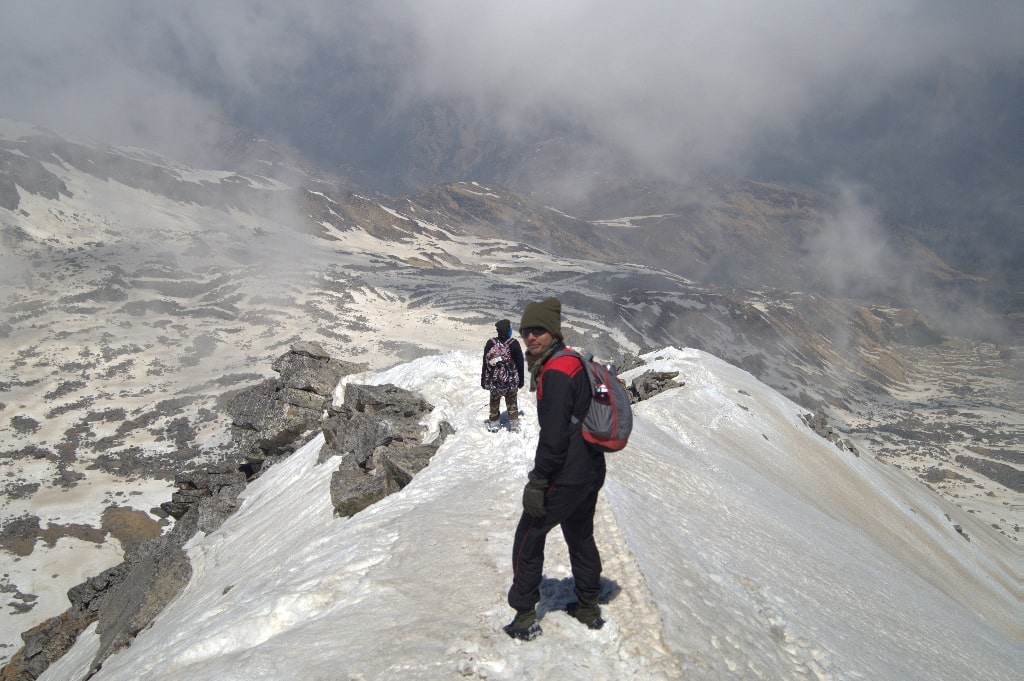 The 6-day trek provides an exhilarating experience of revered mountains, large landscapes of oak and pine forests, a range of flora and fauna, luxurious green meadows, snow-capped crests, and countless boulders. To feel it all, the best time to summit the Pangarchulla Peak is April. The spring season with an appropriate expanse of snow, with melting snow and Rhododendron blooming as the lush meadows settles in. It is an opulent time as there is outrageous snow before April, and after April, there is less or no snow making the trek accessible.
Kuari Pass Trek
Kuari pass elucidate a doorway, being true to its meaning, it is a doorway to heaven, which is said to be untouched, unexplored pass until Lord Curzon discovered it and named it as Curzon trail. As you get to Gelghad, two paths diverge into yellow mountains, one to Kuari Pass and the other to Pangarchulla Peak; you take the road most taken to Kuari Pass. The 6-day trek from Dhak, a small hamlet near Joshimath in the Uttarkhand's Garhwal region, is one of the calmest winter treks in the majesty of the Himalayas.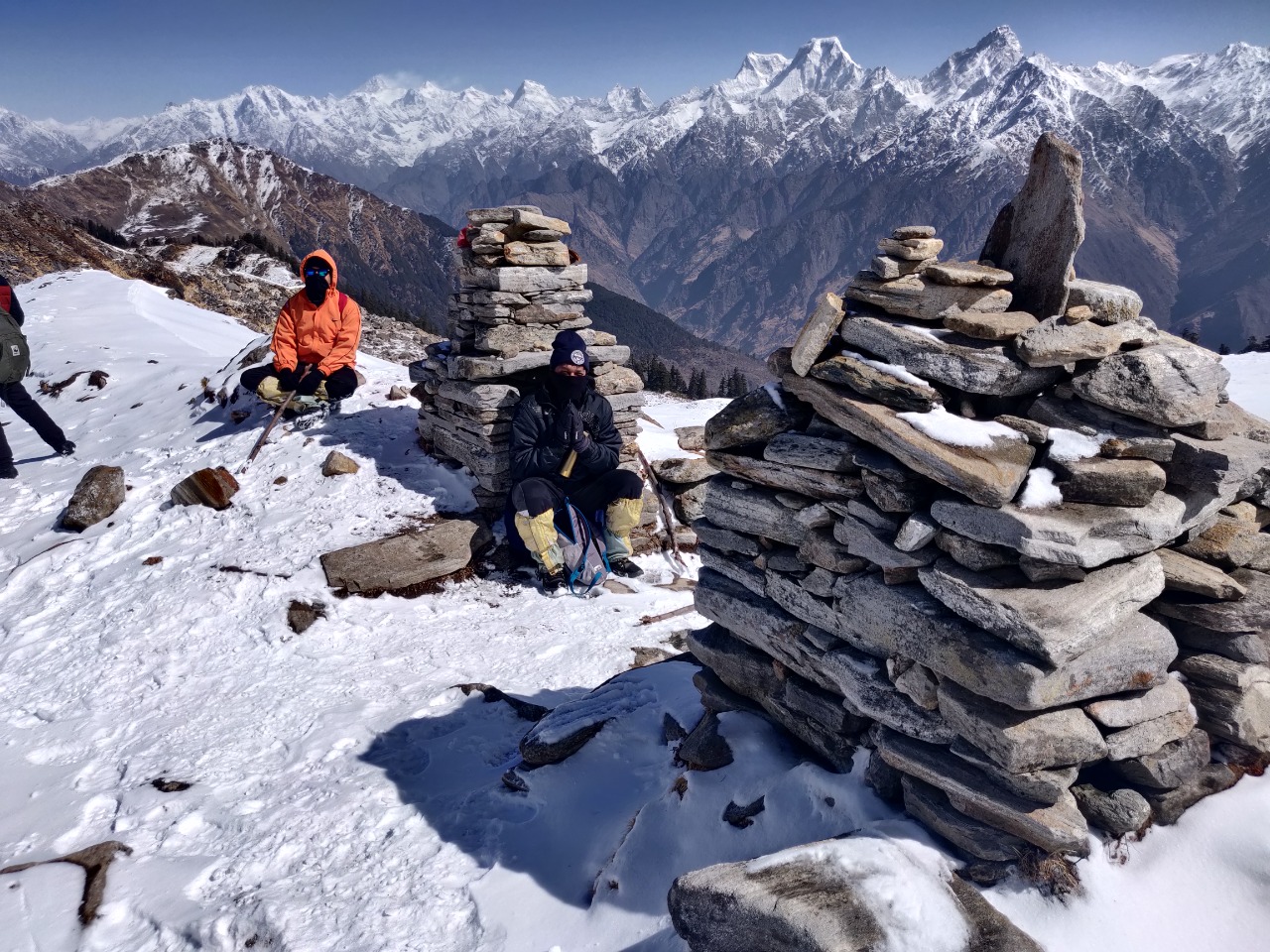 By the time you reach the altitude of 12,763 feet, you have a multitude of experiences, from enjoying a spectacular view of prominent Himalayan peaks to oak forests merging into meadows with a blend of snow and greens, from holy rivers cutting across to alpine pasture lands, you witness a dreamland. The peaks you pass by are Nanda Devi, Dronagiri, Neelkanth, and many more. The real essence of India lies in its villages, and it will unfold before you on the trek when you encounter villages like Dhak, Karachi, and Togashi.
It's hard to pick one season or month, the 33 km Kuari Pass trek is accessible for ten months, leaving July and August, and the rest of the months cover four seasons, with each offering something different. But to pin down on the best time, March-mid June and mid-September to early November is for the win.
Also Check: Trekking in Manali
Also Check: 10 Best Summer Treks in India
Comparison between Pangarchulla Peak Trek and Kuari Pass Trek
Trek Details
Pangarchulla Peak Trek
Kuari Pass Trek
Duration
6D/5N
6D/5N
Altitude
15,069 ft
12,516 ft
Base
Dhak
Dhak
Trek Distance
38 km
33 km
Start Point
Rishikesh
Haridwar/Rishikesh
End Point
Dhak to Joshimath
Auli via Gorson Bugyal to Joshimath
Best Time
April-May
Throughout the year (except monsoon)
Trek Type
Peak/ Summit Trek
Pass Trek
Scenic Spots

Khullara Campsite
Grandeur Himalayan range views- Hathi Parbat, Nanda Devi, Kamet etc.
Oak, Silver Birch, Blue pine forest trail
Pristine winter skies

Oak forest
Chain of mountains revealing from Nanda Devi to Hathi Ghoda
Tali Lake
Meadow- Auli, Gorson Bugyal
Villages- Karcchi, Dhak, Tapovan
Otherworldly camp locations like Khullara, Tali, Gulling

Difficulty Level
Moderate to difficult
Easy to Moderate
Trek Cost
8,999 INR
7,999 INR
Booking Links
Pangarchulla Peak
Kuari Pass
Pangarchulla Peak Trek vs Kuari Pass Trek
Trek Difficulty
Pangarchulla trek difficulty is moderate to difficult, considering its trails, altitude, and duration of trekking. It requires much more endurance, cardiovascular fitness, mental strength, and prior high altitude trek experience.
The melted snow leaves behind a trail of exposed boulders with massive gaps in the winter season, which is difficult and calls for patience, caution, and focus. It is one trek that exposes you to extreme snow, steep height, steep ascend, and rocky trails in less than a week.
Summit climb is the hardest of the trek; it can go up to 12 hours of ascending and descending Pangarhculla peak height of 4000 ft in one day with steep, massive snow rocks, trekking through knee-deep snow and brutal slopes. The last day of the trek also marks 8 hours of the expedition. Pangarchulla Peak trek difficulty until Khullara is moderately safe, but the stretch between Tali to Gorson Bugyal is tough. It also entails the usage of trek gears. It is a recommended trek for people who want to unlock another level of their trekking game.
Kuari Pass difficulty ranges from easy to moderate. It is the perfect trek for beginners because of various factors like the short span of the trek. Even though it falls between easy to moderate ranges, it has its own challenges of rocky terrains, fierce weather, and steep climbs.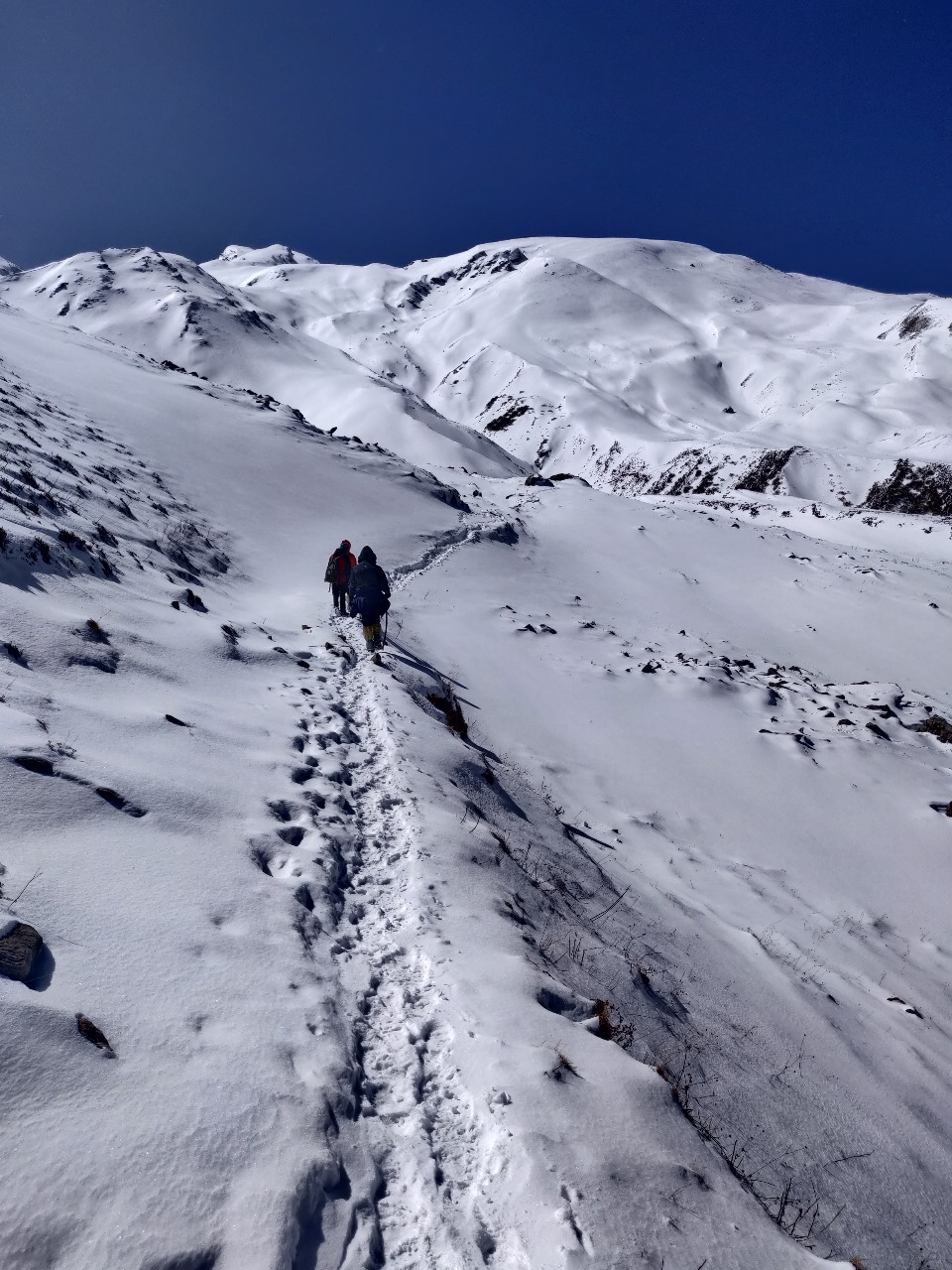 On the very first day, you climb 3000 ft in 4 hours, and the trek passing day is as long as 8 hours. The 1 km trek from Tali campsite to Gorson Bugyal falls between moderate to difficult with a pendulous narrow tracks. The hikes can get tricky and confusing on snowy, foggy, and misty days. Even though we call it an easy to moderate trek, it still requires mental and physical fitness and can call for trek gears anytime.
Safety
Pangarchulla Peak trek is safe throughout but from the Khullara campsite it becomes challenging as you enter the trail from Tali and becomes more challenging on the summit day. From the base of the peak, you start trekking on the ridge, which becomes narrow and windy.
April end is when snow becomes icy and hard, and you have to hike through it with an ice ax. You trek up to a Pangarchulla peak height of 15,069 ft, which increases the vulnerability to AMS as you climb almost 3000 ft from day one. The trek gets extremely cold on summit day and increases the stake of getting cold-related injuries.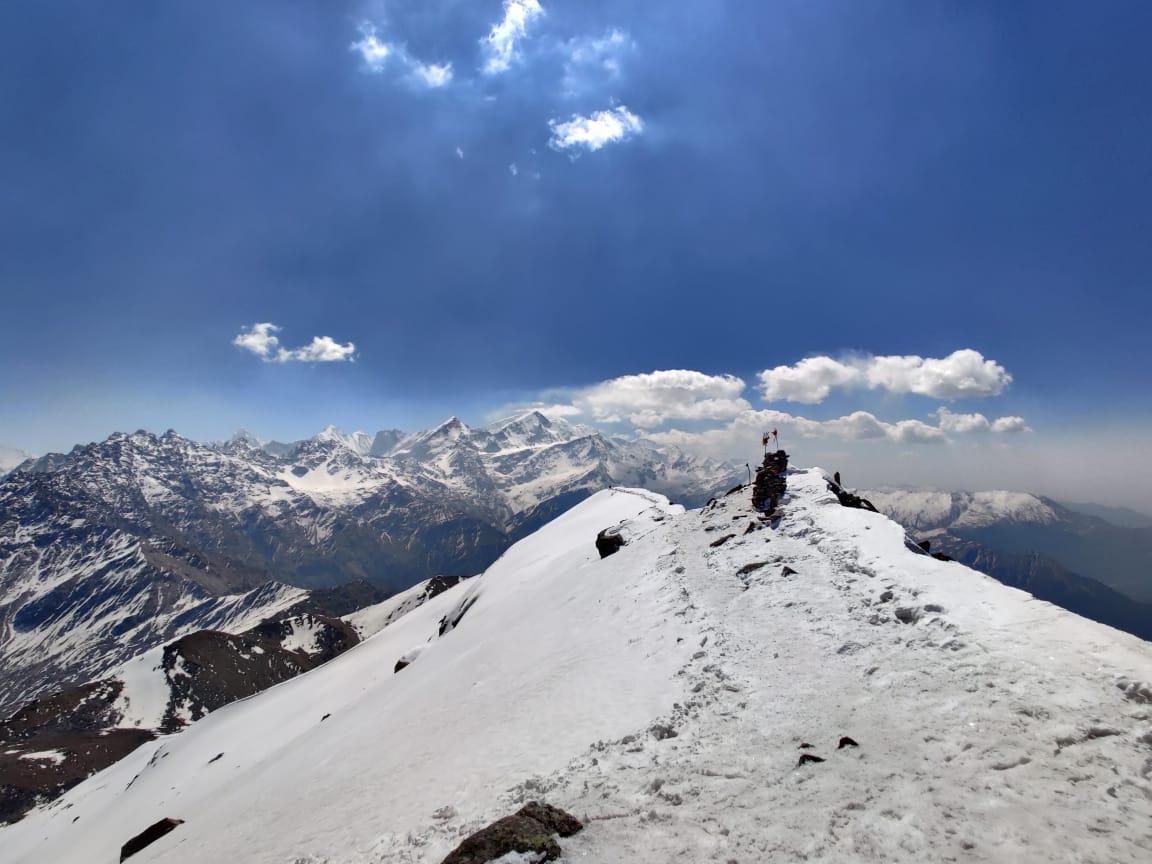 One plus point of the Pangarchulla trek is the multiple exit points; from Khulla, Chitrakanatha campsites, you can exit from Dhak, and from Gorson Bugyal, which is beyond the drooping point, you can exit from Auli. Withdrawing on the summit day is challenging and requires a good evacuation plan.
Kuari Pass Trek is a highly safe trek. It has fine marked trails, routes, and campsites. With gradual ascent, the only time the trek gets tricky is between Tali and Gorson Bugyal, especially on snowy days. Take a sound footing in each step and walk in one lane to ensure your safety.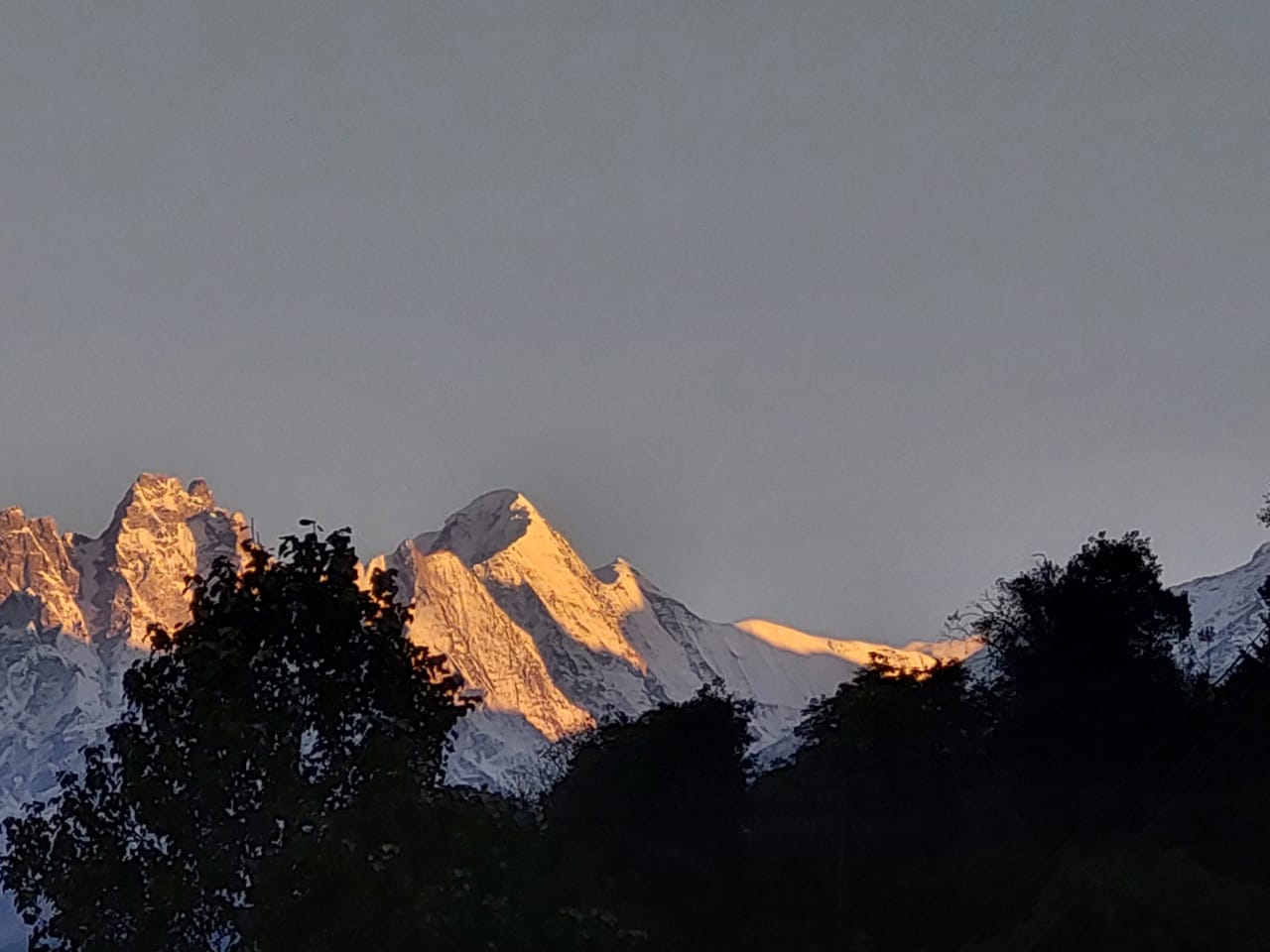 You will reach an altitude of 12,736 ft, so it's normal to get AMS, but leaving the first day, each campsite is positioned at standard altitude, and with a stable pace, the trek becomes easier. The trek is cold in winter, with a risk of cold-related injuries. The exit points of the Kuari Pass Trek are the same as the Pangarchulla trek.
Campsites
Khullara Campsite in the Pangarchulla trek is the real winner, encircled with dense forest and mountains peeping. The Hathi-Gorbat duo Parbat overlooks you as you gaze at the starlit sky. The forest blooms with Rhododendron in March and April.
Even at Gelghad campsite, in both the immaculate skies and the sun rays reflecting, the Chaukhamba Mountain, a cluster of 4 peaks, will take your breath away. Overall, you trek in coniferous trees, alpine pastures-Bugyal, fringes of jungle and experience snowfall at Tali forest campsite.
Kuari Pass Trek is famed for its campsites, whether Khulla, Chitrakantha, Tali, or Gulling. The Kuari pass trek campsites are astonishing right from the base camp at Dhak, a picturesque town. Even in Kuari Pass Trek, you camp in the snow, forests, and snow-covered forests.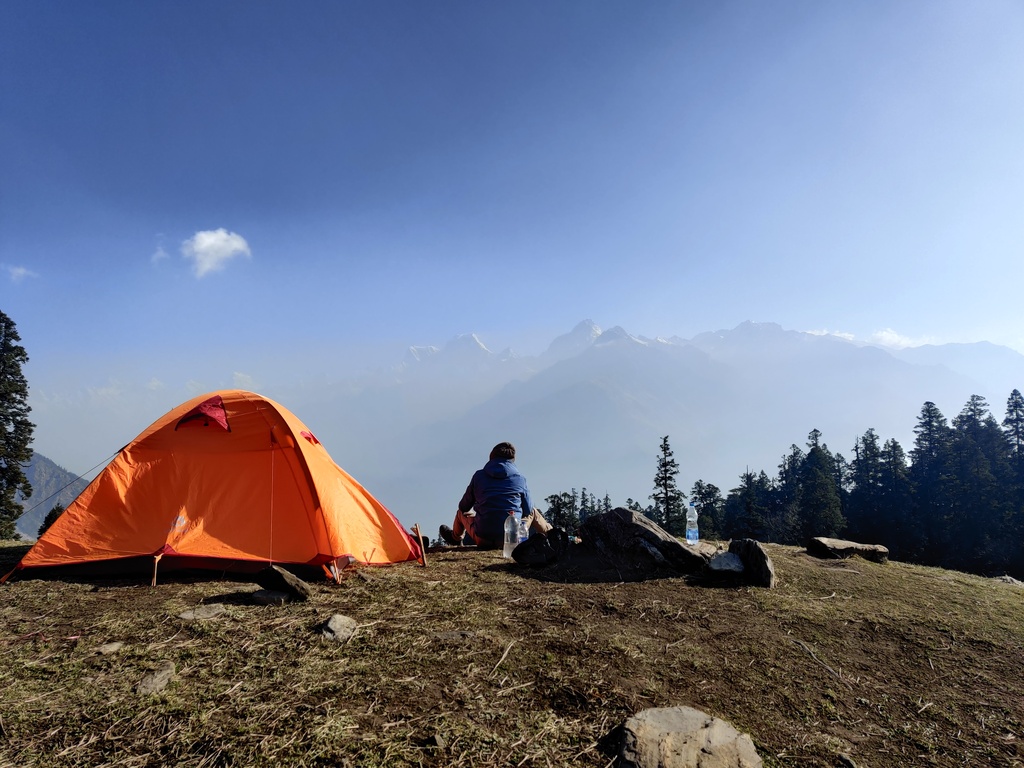 The Gulling campsite has an open ground with Dronagiri Mountain supervising and oak forests stretching till the edge. The second camp is among the snow, sun rays, and gloom of the conifer forest. Chitrakantha campsite and Tali campsite are also among the presence of forest, and if in the latter, it snows, you will witness a snowy fairy tale.
Best time to visit
The best time to Pangarchulla trek is in April and May as winter takes a back seat, sparing you from freezing to death. The weather is agreeable during the day, and the skies are clear to enjoy the peaks and landscapes.
With the right amount of snow, April covers the boulders, filling the gaps with hard snow deposited above 12,000 ft, making the trek easier. As the winter retreats, spring also sets in with blooming flowers, especially rhododendrons and turning meadows in all types of colors with trails of snow.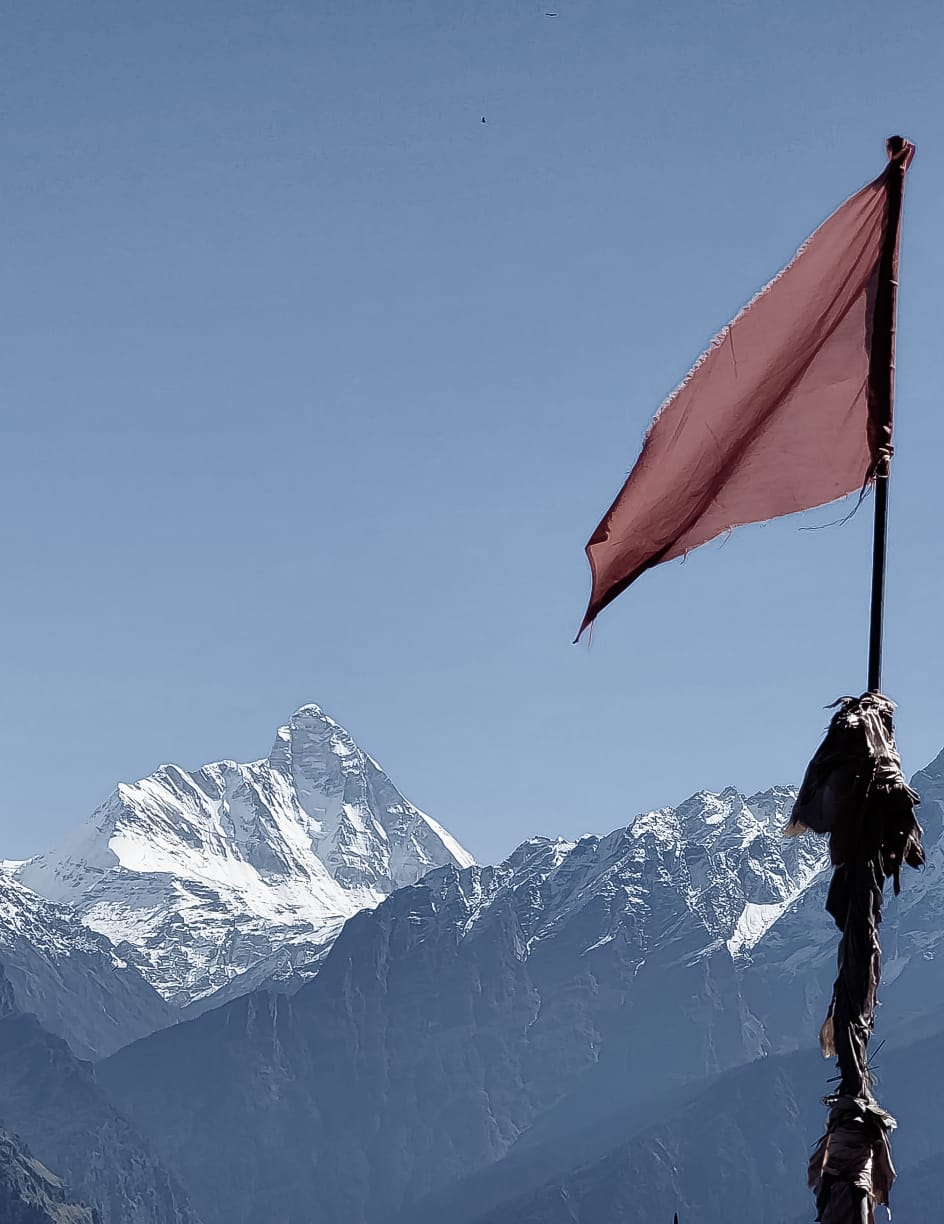 You best experience the clarity of peaks and landscapes and starlit sky during April, where the daytime temperature is around 15°C and dips to -5°C after sunset. You can also expect surprise showers.
Kuari Pass Trek is accessible all year round except for the two months, and every season offers a different feeling. Spring is the best time from the Kuari Pass trek, from mid-March to mid-April, bringing in the color of meadows, flowers, and rich green mixed with melting snow. The temperature is pleasant with a warm morning and cool evening. Kuari Pass in March and April is the best time to do the trek.
In summer, from May to June, the snow disappears into oblivion, and lighter and sunnier days make their entry, providing clear views of snow-clad mountains. The trek is less crowded, providing you peace with favorable temperature ranges between 18°C to 24°C and at night reaches 3°C.
The sun rises from the snow-capped surrounding mountains in summer, shedding a golden tint to a rich Gorson Bugyal meadow. The summer seasons lead to the full-fledged monsoon season, and trekking is not advisable during these periods because of heavy rain.
Kuari Pass rejoices with life and light in its meadows and woodlands from September to November. The weather is calm, and you enjoy crisp views of Dronagiri and Nanda Devi; autumn is the most crowded season. It is the second-best time for the Kuari Pass trek.
The winter turns the Kuari landscape into a snow carpet as the landscapes receive fresh snowfall. In the Kuari Pass trek in December, you go back with the memories of walking through snow and camping in the snow with the backdrop of Nanda Devi. The temperature during the day is between 8-10°C, and at night it drops below 0°C. Kuari Pass trek in December is a beautiful season to trek, but it comes with its own challenges.
Conclusion
Both the treks have the best of the world to offer and will give you a rewarding experience when you reach the summit with numb legs and a tired body. It will give you a serotonin boost, provide calm against the chaos, and at the same time build your confidence and self-esteem. It also presents the option of blending the two Kuari pass and Pangarchulla trek into one and can be easily aced by seasoned trekkers and help them push their limits.