KHAJJIAR LAKE DALHOUSIE
Khajjiar lake also widely known as "Mini Switzerland of India" is a beautiful hill station in Chamba district of Himachal Pradesh, India. It is situated approximately 16 km from Dalhousie. It is a part of Kalatope Khajjiar sanctuary.
Khajjiar sits on a small and vivid plateau which consists of wave-like lake in the middle, covered all over with weeds. The hill station has the legacy of having pastures, meadows and forests, all in one. Located at an altitude of 6,500 ft, above sea level it sits picturesquely in the foothills of the Dhauladhar ranges of the western Himalayas. Thus, it drives major attractions for nature lovers worldwide.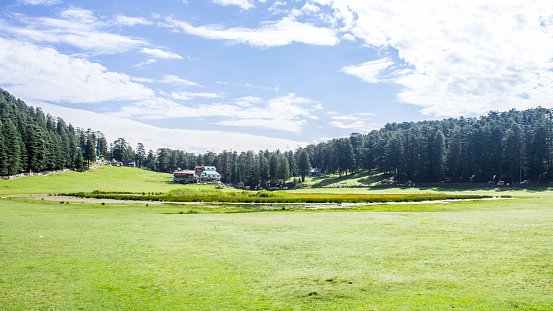 Now, you may wonder that why Khajjiar lake is called "mini Switzerland of India", it's because of the striking topographical similarity of Khajjiar with Switzerland's capital Bern. Interesting thing to note is that Switzerland's head of chancery, envoy Willy P. Blazer himself has declared India's Khajjiar as "Mini Switzerland". This shows how rich in beauty is khajjiar lake.
People also wonder that why is Khajjiar famous, the very first reason is it's resemblance to Switzerland, another one is it's picturesque beauty, and the last but not the least is the adventurous activities it offers, such as, paragliding, horse riding, trekking, zorbing and many more.
Owing to its natural beauty, the whole arena is covered with dense cedar and deodar forests with astounding scenic views. The views of "Kailash Parvat" are also visible from here. In addition, it is a popular tourist spot with a headstart of Chamba, Dalhousie and Kalatope wildlife sanctuary treks.
HISTORY OF KHAJJIAR LAKE
Khajjiar lake is considered as one of the oldest and largest natural lake in Chamba district. Khajjiar lake history revolves around the time of Mahabharata. It is often heard that this river was found at that point of time. The 'panch pandav tree' which is often believed to have a representation of five pandava brothers is still standing majestically there.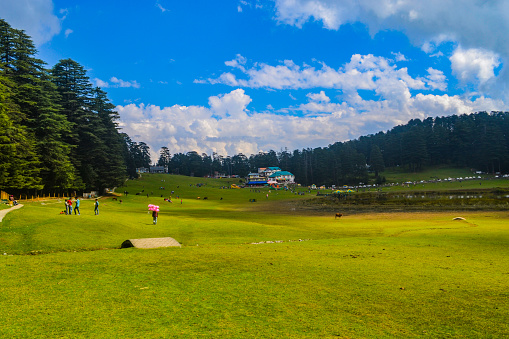 Many great kingdoms including the Rajputs and Mughals were influenced and inspired by the mesmerizing beauty of this place throughout the years.
Many explorers explore that how khajjiar lake is formed, to answer to their curiosity, Khajjiar lake is formed by the dust that has been settled down on the weeds surrounding it. The thick amount of weed also known as vacha has made the land soft and squashy there. And, thus it has been turned into a lake.
Another popular thing about Khajjiar lake is the name itself. The name "Khajjiar" has been derived from the deity in a nearby temple named "Khajji Nag", widely worshipped by the people there.That's why Khajjiar lake is also referred as a sacred place and also a home of the "God of snakes" i.e. Naag Devta. The temple has a perfect blend of Hindu style of architecture. What makes this temple unique is that it is still standing majestically since 12th century.
HOW TO REACH KHAJJIAR, DALHOUSIE
BY ROAD (FROM DELHI):
Khajjiar lake distance from Delhi is around 570 km. You can either hire your own personal vehicles or can opt for public transport. It is an eleven to twelve hours of long ride.
If you are planning to opt for bus, there are 9 buses that ply regularly from Delhi to Dalhousie. You can either take the bus from Kashmere Gate ISBT or from Rohini Depot. These buses work three times a day. One departs early at morning, then in noon and last at night.
However, there is no direct bus from Delhi to Khajjiar. There are buses that ply regularly to Dalhousie from Delhi. Dalhousie acts as a headstart of this journey. The distance from Dalhousie to Khajjiar is 22 km and can be easily covered within 1 hour. You can take buses or taxis to reach khajjiar from Dalhousie. As Khajjiar is very hospitable and motorable road, it is quite convenient to travel to Khajjiar from Delhi.
BY RAIL:
Pathankot acts as the nearest railway station to travel to Khajjiar. It is 118 km away from Khajjiar. You can hire taxis from Pathankot to Khajjiar. There are trains that regularly operate from Delhi, Ahmedabad, Bhatinda, Hatia, Udhampur to Pathankot.
Trains that ply regularly from Delhi to Pathankot are:
Jammu Mail: Departs regularly at 08:00 P.M. from Old Delhi railway station.
Uttar Sampark kranti express: Departs regulary at 09:30 P.M from New Delhi railway station.
Pooja express: Departs regularly at 9:00 P.M from New Delhi railway station.
BY AIR:
The Gaggal airport in Dharamshala is the nearest airport to Khajjiar. It is 122 km away from Khajjiar. You can either take the flights from Delhi, Chandigarh or Kullu to Gaggal airport.
BEST TIME TO VISIT KHAJJIAR LAKE:
Khajjiar can be visited anytime of the year, though some popular choices by people worldwide are:
Khajjiar Lake in Summer season (March - June)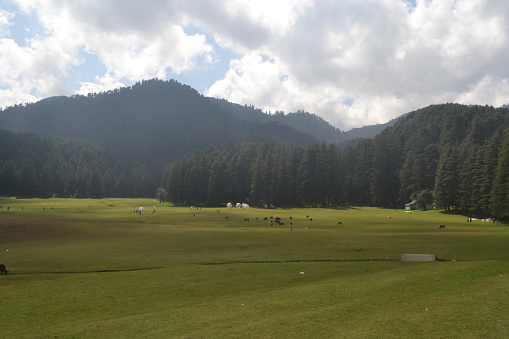 The summer season is considered as the ideal time to visit Khajjiar lake. It's quite sunny and serene in summer.
In summer, Khajjiar is picturesquely beautiful. The whole arena is covered with lush green and flowery landscapes. The scenic views become much more bright and greener. Also, the nine-hole golf course of Khajjiar, which is situated in the midst of lush greenery turns more beautiful and vivid in summer.
Another best thing about this time is that all the adventurous activities are open as comparable to other seasons. So, this is the best time for adventure seekers.
It is usually very crowded in summer as Khajjiar trek has become trekker-friendly due to its easy difficulty grade and accessiblity. So, it's quite safe to do this trek either solo or in family. The trails are easiest to walk upon with different types of birds chirping together.
So, if you too want to witness the beautiful summer in Himachal like no other, time your trek in summer.
Khajjiar Lake in Monsoon season (July - September)
Monsoon season is considered as the perfect time to visit Khajjiar. It is also labelled as 'popular tourist season'. Unlike other treks, Khajjiar is one such trek that can be visited in monsoons too.
But, what makes Khajjiar special to visit in monsoons? The fact that merely 160cm of rain would harm no one, but would be an enchanting delight for the eyes, is why you should time your trek in monsoon.
Khajjiar in monsoons is no less than heaven in disguise. It seems like the place has acquired the liveliness which surely was missing. The skies become clearer, thus, offering some spectacular views.
Weather and climate becomes friendly. The sight-seeing becomes much more captivating and the views majestic. Paragliding is the most popular activity in monsoons. You fly from a hill and get to see the stunning panoramic views. It is also a perfect time for photography lovers.
Khajjiar Lake in Winter season (October- February)
Winter season is considered perfect for ardent snow lovers. It is also labelled as 'peak season'.
However, there is usually a doubt in the hearts of people regarding whether Khajjiar is open in December, well, yes Khajjiar is open in December. In fact, khajjiar is the most beautiful in December, with snow laden trees, snow capped mountains and stunning white abode full of snow. Although snow starts to furl the grounds of Khajjiar from late October, but it is at its peak in December.
Khajjiar in Winter is also known as "Gulmarg of Kashmir", owing to its mesmerizing beauty. Khajjiar lake turns into freezing white snow, how captivating the views become when you walk alongside the white lake. You will witness massive snowfall to that extent that you won't be able to differentiate between sky and land. Surreal! Isn't it?
WEATHER AND TEMPERATURE OF KHAJJIAR LAKE
Khajjiar lake weather and temperature in summer remains quite favorable. It offers a great escape by the scorching heat penetrating in summer. The days are a bit warmer and windy and the nights are pleasant and a bit colder. One can see the cluster of stars at night. Temperature of khajjiar fluctuates between 24°C in a day to 9°C at night.
Khajjiar lake weather in monsoons remain perfect. It's neither too hot nor too cold. Few showers of rain can be witnessed. The days remain bright and windy and nights mild colder. The temperature of khajjiar fluctuates between 20°C in a day to 4°C at night.
Khajjiar lake weather in winters remain extremely cold. It is perfect time for newly weds. The days are usually covered with a think blanket of snow all around, the skies are a bit moist and hue, and nights feel like severe cold. The temperature fluctuates between 1°C in a day to -3°C at night. Make sure you carry atleast 5 warm layers with you. Although, one must be fully prepared in winters to get accustomed to the weather conditions in Khajjiar lake.
Conclusion
Khajjiar lake is a must visit place for everyone irrespective of their age coming to Dalhousie or nearby regions. With spectacular views to favorable all year around, with a religious touch to Switzerland's resemblance, with hospitable people to motorable roads, Khajjiar lake is the famous tourist spot in Himachal.