Nag Tibba: My First Himalayan Trek
'Man proposes, god disposes.'
Our entire Nag Tibba trek can be summarized in this one line.
We had actually set out to trek Kheerganga in June 2019 but due to an unfortunate bus accident that shook us, we managed to get back to Delhi and decided to stay low for the whole week.
But once we recuperated, we found ourselves craving for some adventure, albeit a small one. That's when we contacted Moxtain and they suggested we start small with a weekend trek to Nag Tibba, near Mussoorie.
Although considered a winter trek, they assured us that it was worth a shot, and I am very happy that we managed to keep our insecurities aside and set out for this weekend adventure!
Day 1: Dehradun to Pantwar drive and trek to Nag Tibba Basecamp
After a day of sightseeing in Dehradun, we were picked up on time for our base Pantwari in the early hours of the morning.
The journey itself was refreshing with Yamuna river valley on one side and flourishing Himalayan flora on the other.
We also stopped at a natural water hole and for some reason, the water did taste sweet!
We reached Pantwari and were welcomed by our friendly Moxtain guide and we were treated to a scrumptious Pahadi food- simple yet fulfilling! After resting and snacks, we started trekking for our base camp with gratitude for the unknown. All necessary gear like trekking poles were provided.
The sun was at its peak and the heat slowed us down but we carried on, stunned by the surrounding trekking route.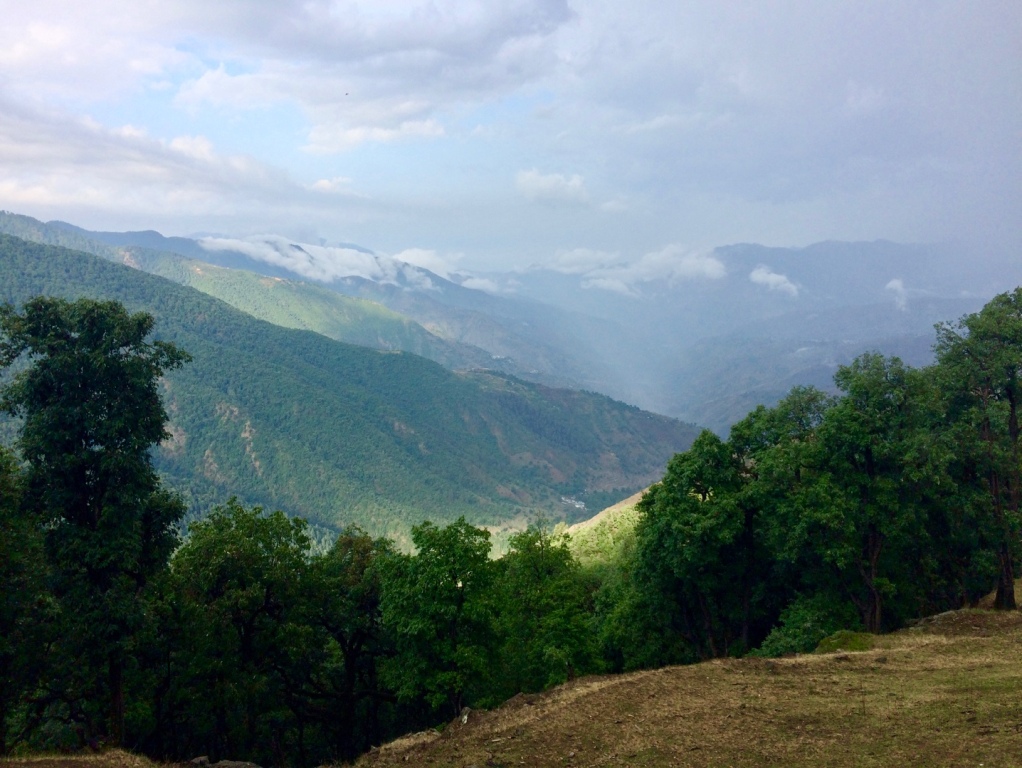 Stunning views on our way to base camp
There were enough watering holes and we stopped several times to chat with the locals and were treated with Nimboo Pani and local fruits.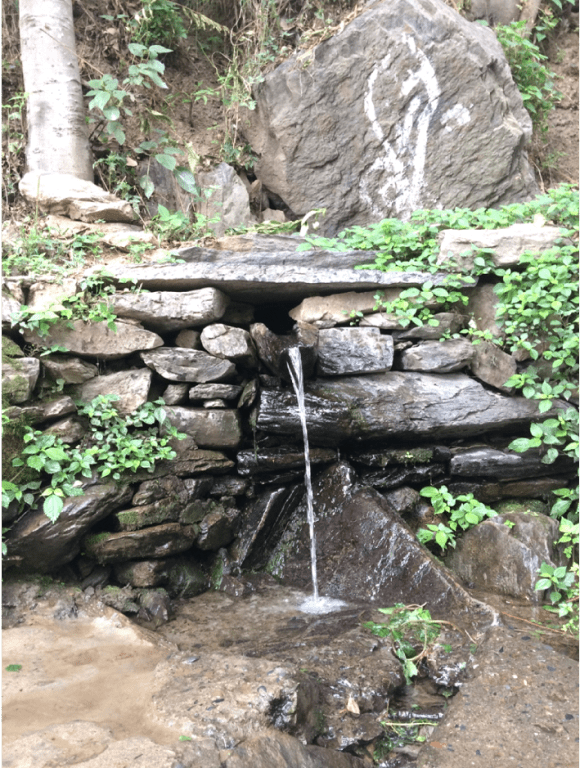 One of the natural watering holes
The trail was lined with pine, oak and rhododendron trees which gave us a much-needed respite from the scorching sun. Our guide kept our spirits high with informative tit-bits and folklore.
Lush greenery accompanying us
It was around 5.30 pm by the time we reached the base camp. And the moment we laid our eyes on the 360 view of the forest on one side and our colorful tents just at the edge of the valley, all our exhaustion faded away!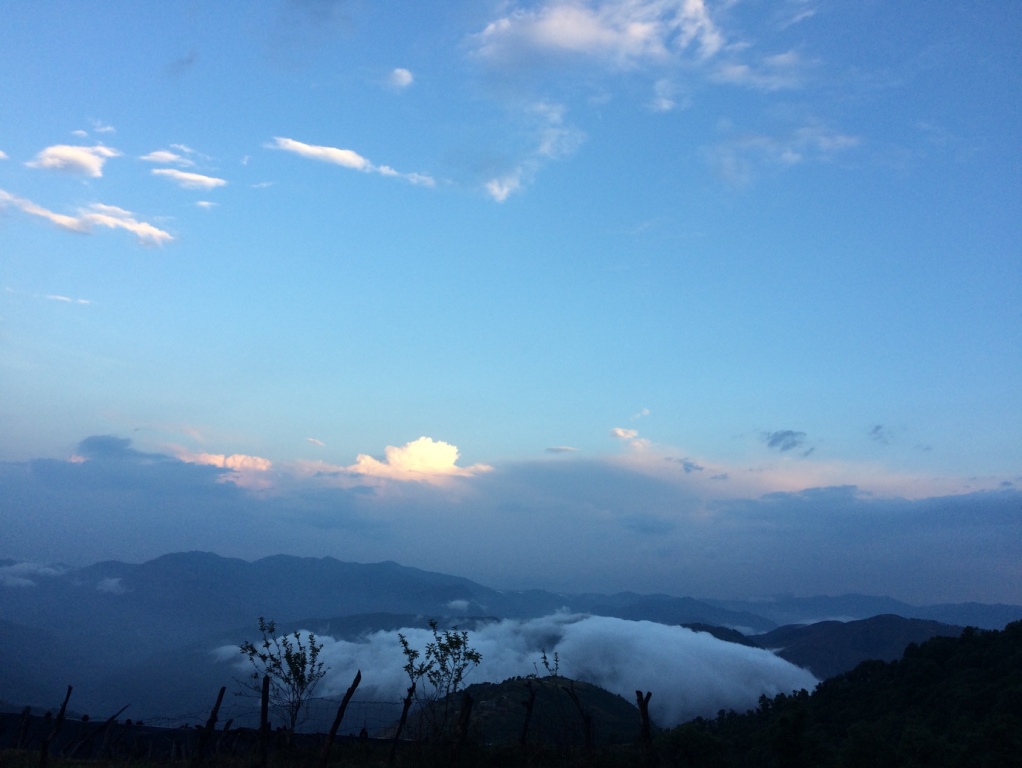 reached just in time for Spectacular sunset at Base camp.
We were immediately served hot teas and Maggi and we relaxed and just enjoyed the sight, proud that we made it this far!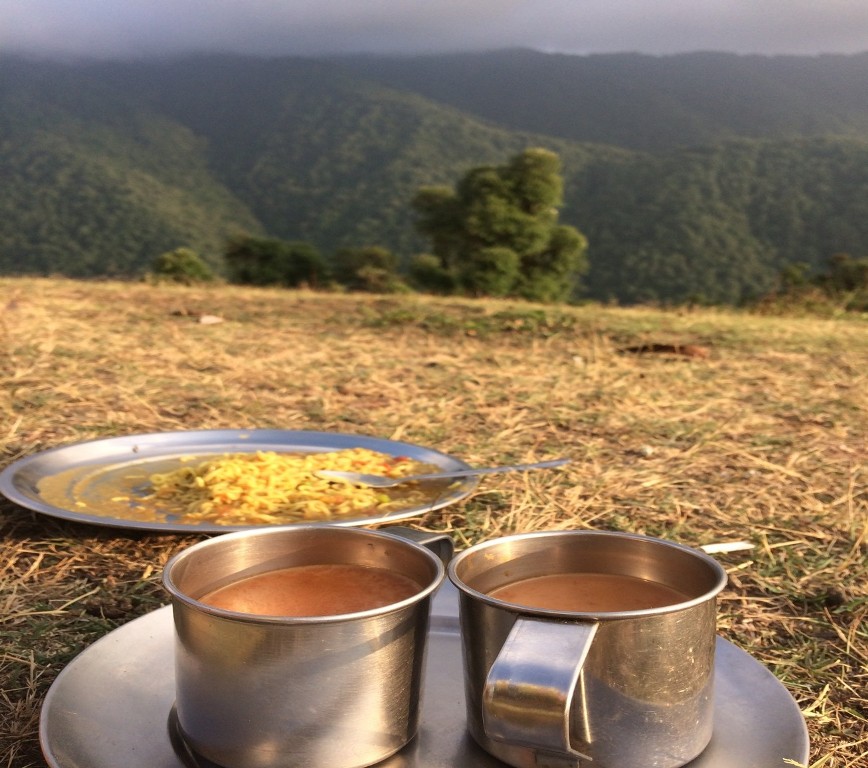 Hot tea and Maggi at this altitude is heavenly
Soon after dinner was served and the bonfire was lit! The fire crackling in the darkness, the starlit sky across the valley- it's an image we will carry with us forever.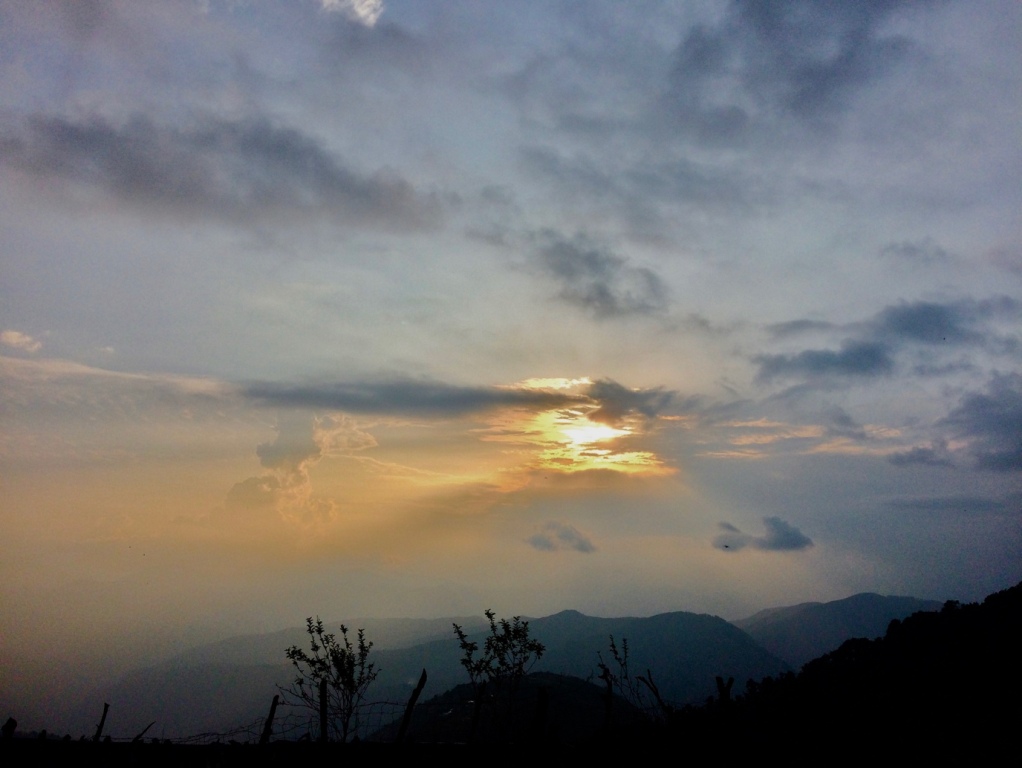 Sunrise or Sunset , stunning both ways
Day 2-Nag Tibba Basecamp to Nag Tibba and return to Pantwari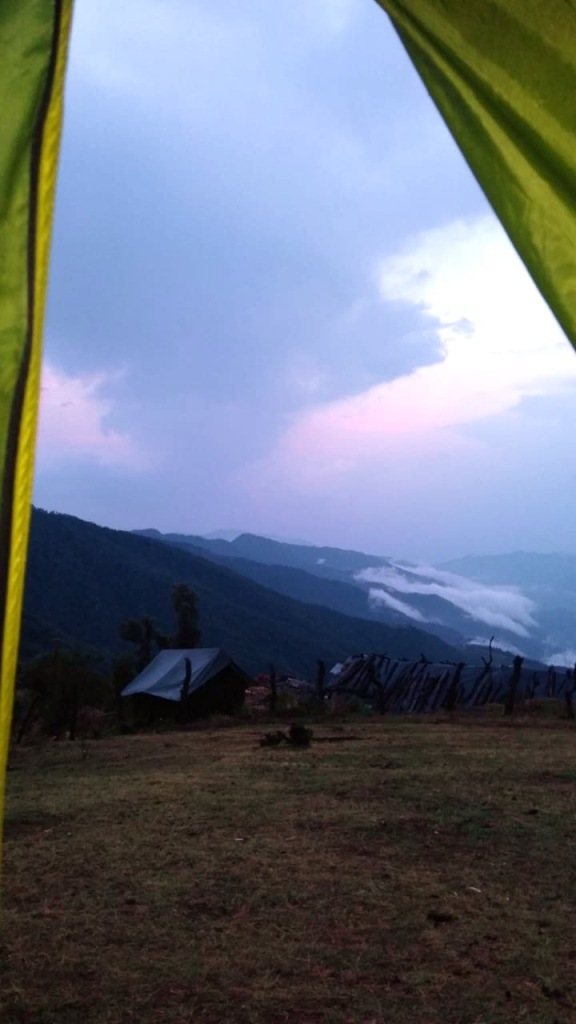 Morning view from our camp
It had rained almost the entire night and there was a slight drizzle continuing in the day.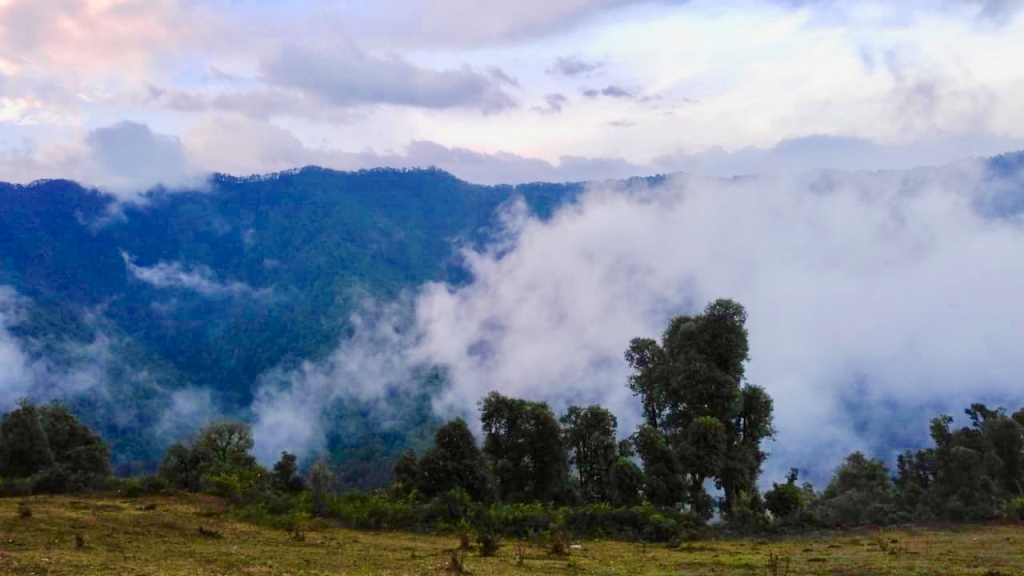 Although it made our trail a little trickier to maneuver, we braced ourselves for a difficult trek ahead. But once the trek started, we enjoyed the relief that rain bought from the sun. It definitely helped us in covering the last steep climb to the Nag Tibba summit which is marked by a Nag Tibba Jhandi (flag). Every minute of this steep climb we were panting our lungs out. Our guide was patient and still pushed us promising that the scene we were about to get would be worth it.
And it was!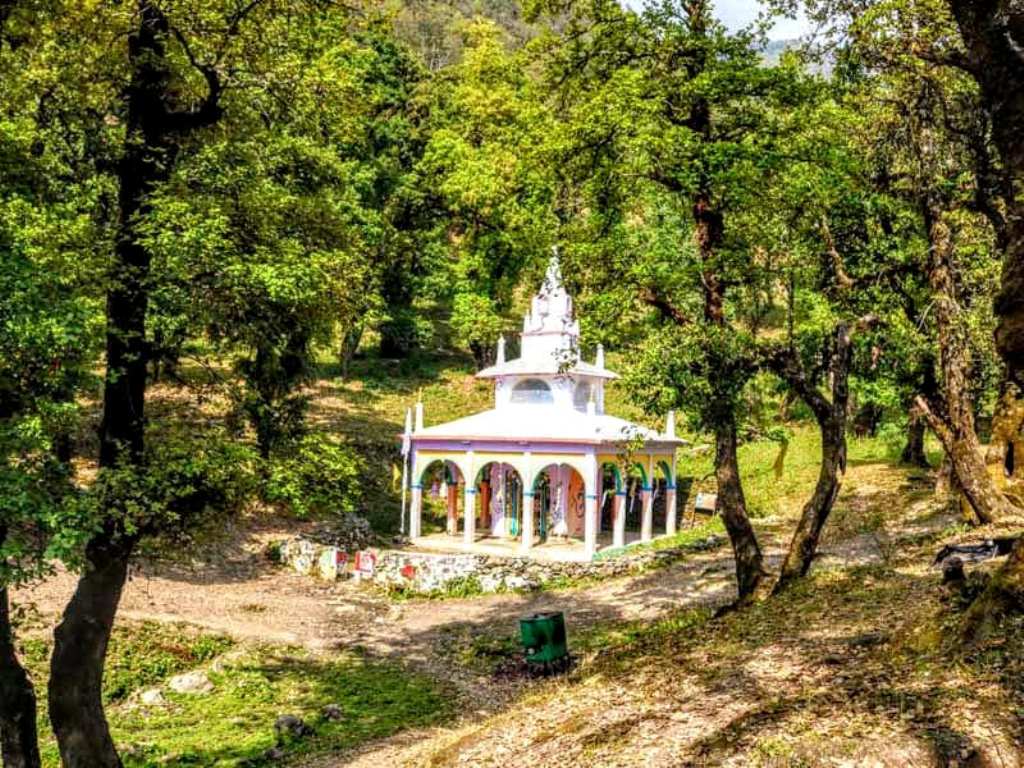 Temple near the summit
It was the first time we witnessed the Himalayas from so close. We were speechless and just collapsed on the edge of the valley soaking in the view. We witnessed the stunning views of the Himalayan peaks like Swarga-Rohini, Bandar Poonch, Kedarnath, and Gangotri.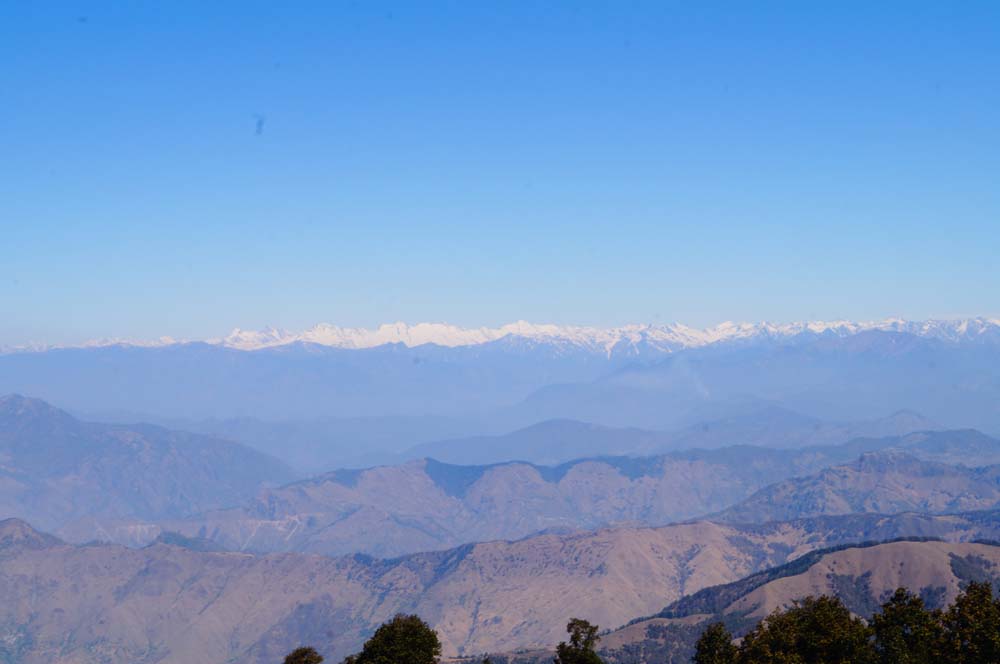 View from the summit, phew!
After taking uncountable pictures, we returned to our campsite and were cheered by our guide and cook who prepared a hearty meal for us.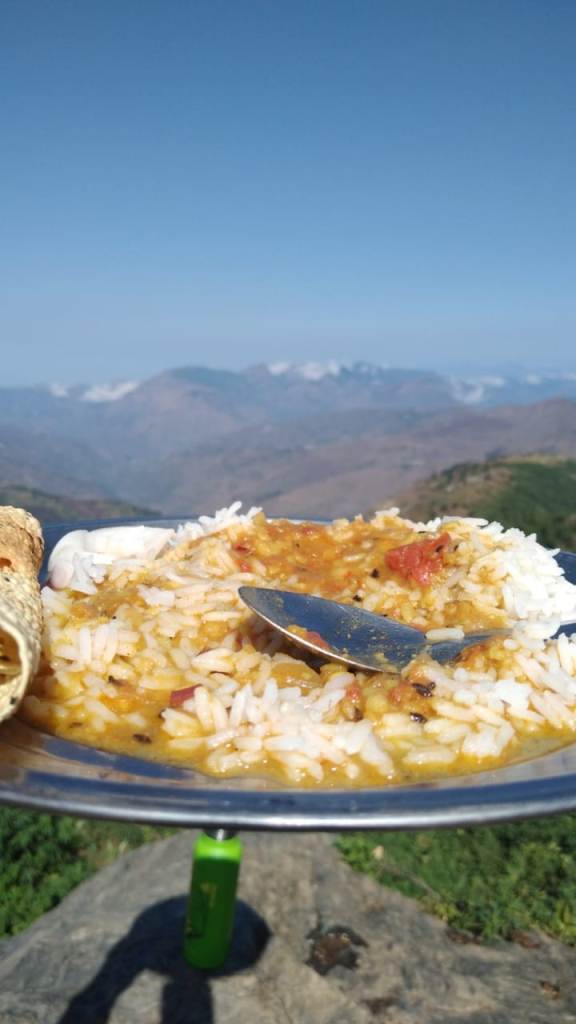 I will take this view with food everyday , please.
Once the weather got cleared, we bade goodbye to our caretaker and cook and started our descend with a heavy heart. The climb down was easier and we covered the 7 km in almost 3 hours.
This was our small trek to Nag Tibba which taught us that it's important to keep fears aside and accomplish small things.
In conclusion, Nag Tibba is a very beginner-friendly trek that offers you everything a more famous trek could offer. Also, with close proximity to Mussoorie and Dehradun, it makes a perfect weekend getaway. We were so lucky to have Moxtain take care of everything for us. we were really apprehensive about trekking for the first time, that too after an accident but it was all worth it!
My only request to all future trekkers – please don't litter during the trek and clean up after yourselves.
I can't wait for another trek to take me away from the city!