What is the right time for kids to start trekking?
"The best remedy for those who are afraid, lonely or unhappy is to go outside, somewhere where they can be quite alone with the heavens, nature, and God." - Anne Frank
As you know trekking is considered one of the most popular outdoor activities in the world. Hiking or trekking traces back to medieval times emerged and developed during the stone age, which would be 2.6 million years ago. Fascinating isn't it? But if we compare it to modern times, our bodies are no longer capable of hunting, sleeping in a dungeon, or walking for miles to cross mountains and rivers.
I would describe trekking as a taste of the primitive times, more or less. You can somewhat experience what it is actually like to sleep in the lap of nature for once and not to forget the unimaginable joy that comes along when you finally reach the summit top. I bet all the young adults have trekking in their wishlist, and why wouldn't it be? There is nothing more enriching than enjoying the fresh mountains and inhaling the air of mother earth. But today we're here to discuss children and why they should begin trekking too.
Why should children consider trekking?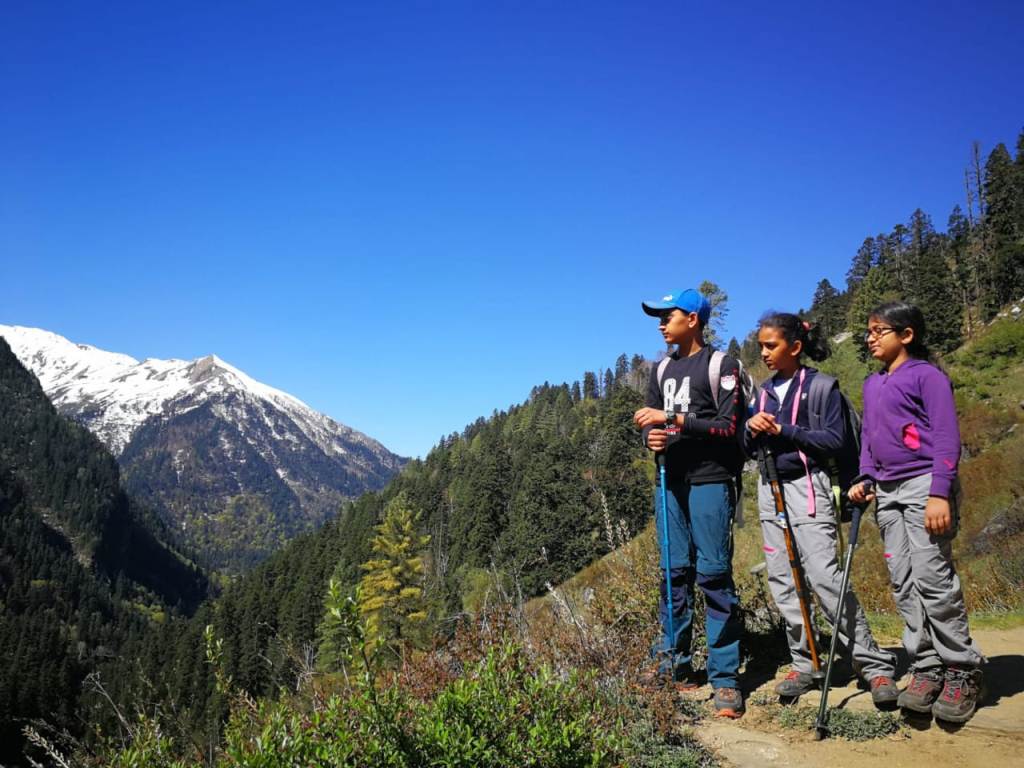 Children grow within the blink of an eye, they are so much more energetic than us and during these changing times, it is very crucial for them to adopt healthy habits and addiction. We all know how easily children can be manipulated and lured to something which can be harmful to their both physical and mental health. Nobody wants that. If you are a parent, we suggest you take your daughters and sons on a trek. These kinds of challenges are not only refreshing but are a perfect change of scenery and a quick rejuvenation from the tedious lifestyle of you and your loved ones. There is nothing more of a healthier passion your kid can develop, than the love for traveling or exploring the mountains.
When can your child begin trekking?
To begin with, trekking for children is a definite yes. we would suggest, if you are planning for a family trek, your children must be at least 8 years or older. We do not recommend attempting a trek if your child is any younger than that. That's the minimum age requirement for all mild altitude treks. You can attempt the moderate altitude treks if your kid is 12 years or older. Needless to say, some treks are simply not meant for kids because of the extremely high altitudes or risky weather conditions.
How to prepare children for trekking?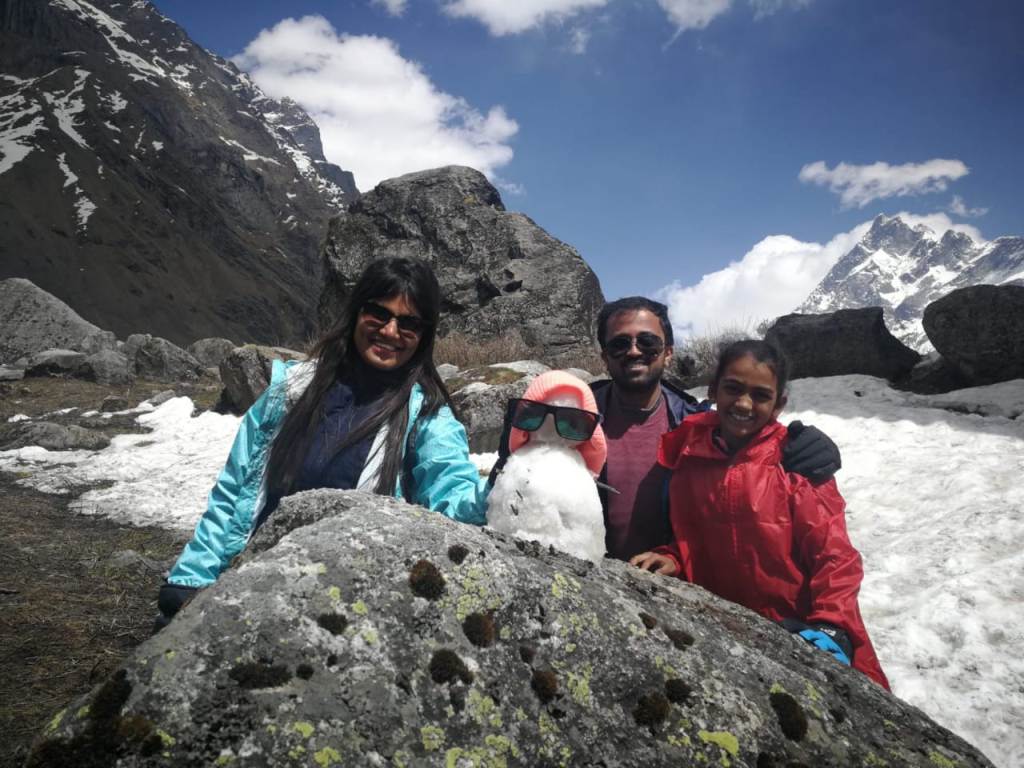 Trekking can be much feasible when the child has already been properly exposed to the outside world in his early childhood. Take them for walks around the park or short fulfilled vacations out of the city, these times are crucial for a child's growth. provide them as much information about their surroundings.
Some treks that are suitable for children and family:
Location - Uttarakhand
Minimum age- 8 years
Level - Easy
Duration - 2 days
Best Time - March - May & September - December
Altitude - 9915 ft
This trek could be done if you just have the weekends. Nag Tibba promises an enchanting thrilling summit climb with some grand views of the great Himalayas. The camping locations are awe-inspiring. You can catch glimpses of ranges such as Swargarohini, Bandarpoonch, Srikanth, Black Peak, etc.
Location - Manali
Minimum age 8 years
Level - Easy
Duration - 3 days
Best Time - June to September
Altitude - 12772 ft
A serene and heavenly place like Manali, the trek trail sees calm and mesmerizing ambience. Beas Kund is a beautiful lake in the Himachal Pradesh, Kullu valley amidst the Pir Panjal Range. It is relatively less crowded compared to other treks, which makes it an ideal escape for you and your family.
Location - Himachal Pradesh
Minimum age 12 years
Level - Easy to Moderate
Duration - 5 days
Best Time - Mid-June to Mid-October
Altitude - 14010 ft
Hampta Pass is extraordinary because of the diverse landscapes that it offers in a span of just 5 days. Just as you pass through the lush green Kullu Valley, the enormous stretches of the sterile Lahaul Valley stare at you with sheer spectacle. What sets this trek apart is Lahaul's barren wilderness and sparse vegetation along with the cold deserts of Spiti. As there is so much change in terrains this is recommended for the older children.
Location - Uttarakhand
Minimum age 12 years
Level - Moderate to Difficult
Duration - 7 days
Best Time - April - June & September to December
Altitude - 11700 ft
This place has a heart of itself as it is filled with a variety of vegetation and animals. Apart from being rich in flora and fauna, this place has the attractiveness of Swargarohini and Jaundhar Glacier in the south-east of this cradle shaped valley. Once you reach Har Ki Dun valley, you can enjoy the nearby neighbouring places like Morinda Lake, Jaundhar glacier, Borasu pass. As this trek is of a longer duration it is suitable for mature kids.
Location - Uttrakhand
Minimum age 8 years
Level - Moderate
Duration - 6 days
Best Time - March to May & September, October
Altitude - 12500 ft
This has been the most popular trek for families for a long time. It has beautiful campsites and a grand summit climb with views of ranges like Bandarpoonch, Swargarohini, Kalanag, Gangotri, Yamunotri, DhaulaDhar, and also hundreds of other untouched and untainted virgin mountains welcome you with a warm embrace. This picture-perfect scene is absolute bliss.
Location - Uttarakhand
Minimum age 8 years
Level - Moderate
Duration - 6 days
Best Time - March to May & September, October
Altitude - 12100 ft
Brahmatal trek is extraordinary in the sense that it has probably the best trek route you can experience like forest, meadows, lakes as well as summit. You get astonishing views of the sacred Nanda Devi peak, abode of Goddess Nanda Devi, Mount Trishul, and Mount Kamet. This is a fantastic trekking option for older kids none the less the young ones shouldn't face that much of a problem. It is demanding, as the days are longer and with good ascents. But the beauty of two exquisite lakes, Bekaltal and Brahmatal, and the excitement of a thrilling summit climb makes it a strong confidence-building trek.
Importance of physical strength:
Coming back to children, it must be mentioned that, above all the most important part before attending a trek is the fitness that is required. Both for the child and the parent. If your child is overweight or underweight, it might cause trouble as trekking primarily requires walking for long hours without breaks in high altitudes. Let them play outdoors as much as they prefer, it will strengthen their muscles and limbs, Keep in check their food intake, and limit the amount of processed and sugary snacks. It is never too early to introduce your kids to fun intense physical activities, like swimming, basketball, or even running. Their bodies will learn to resist and heal injuries quickly. At the end of the day, we all want to indulge in a smooth hassle-free trekking experience without casualties.
Benefits of Trekking: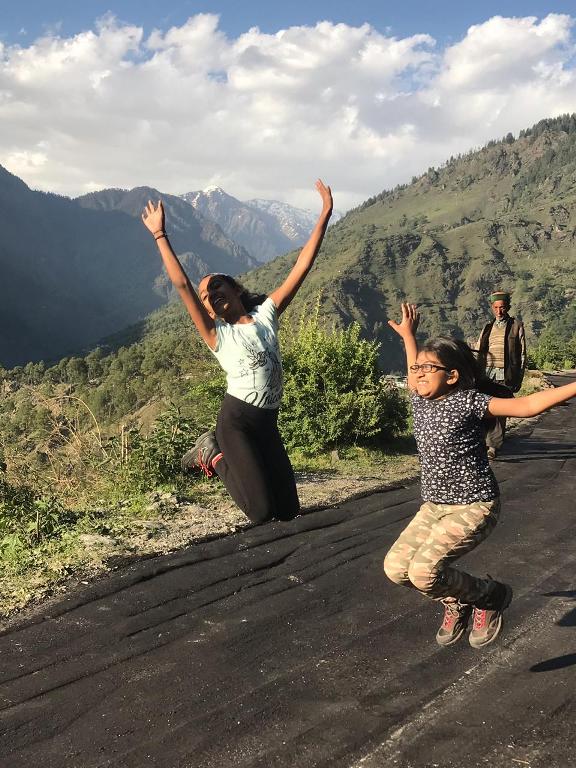 Mind and Body- Trekking can prove to be extremely beneficial for the mind as well the body, for example, you will come across exotic species of birds, diverse wildlife, and unusual plants and trees which can rarely be spotted in the overcrowded city life.
Self Discipline- Another noticeable feature of trekking is the discipline and perseverance that it teaches to a developing child. It tests the kid's patience and determination to reach the destination. At times, children can be tremendously tough to deal with, and when they are bound to abide by certain guidelines, they can automatically inherit good habits. The mountains have the benefits of their own.
Connecting with surroundings- Trekking takes you through some extreme remote villages in the hills, the cultural understanding that kids will receive through their way of life is truly unfathomable. The best of all is getting to taste the local food. Unfamiliar territories and minimum resources will also teach them survival instincts as there is no comfort of home. They can make plenty of new friends on their journey, which gives them the flexibility of socially connecting, it even connects the parent with the child on a deeper aspect.
Disconnecting- You are also aware of how gadgets can take a toll on life, not only children but adults too, the clutches of the internet are hard to escape. The freedom from these devices even for a short period of time will give the child's brain the much-needed break. Talking about gadgets, if you are packing a camera, let them take photos and improve their photography skills. Nothing beats classic nature photographs.
All-round development- Softer skills development primarily involves four major aspects, interpersonal skills, ethical aptitude, critical thinking and lastly confidence, these skills are high in demand, and trekking is going to provide your child with exactly the same benefits. The outdoor environment forces the child to come out of their shells called comfort zone, they grasp the first hand that victory can be tasted with their own struggle and efforts when they push themselves a little harder.
Zero waste- Children can deduce the importance of keeping the environments clean and pollution-free. They can also learn ways to reduce biocarbon footprint and believe in the motto of reduce reuse and recycle. They are the future of the country, and with a solid education about good and evil they can eliminate all social garbage from society.
Stronger Muscles- Trekking also measures the child's cardiovascular strength and how well the body can perform a rhythmic and dynamic activity at a moderate to the high-intensity situation over extended periods of time. It's the best way to tone the muscles, burn extra calories, and ultimately lose weight. Hence, giving invigorated heart and lungs and increased focus and productivity, everything works together in unity. It's a win-win in every situation.
Lastly, trekking can create a positive impact on lives, every hour on the trek, you see constant positive images, there is no distraction, it's just the hills and the individual. You release endorphins while you're enjoying something and that keeps your mind is a state of tranquility and happiness. There's something about the joy of solitude and silence that nothing in the world compares to. Everything is so up close and real you learn to live in the moment. From delicate designs of the minutest creatures to the ginormous expanse of the universe, nature is ought to leave you with a sense of appreciation and awe, it reminds you that the preciousness of earth is not dead. In every walk with nature, one receives far more than he seeks as over every mountain there is a path, although it may not be seen from the valley.
After reading this article, I bet you have all the reasons to consider taking your child for a trekking expedition now. Surprise them with a vacation to the hills which they will cherish for their lifetime to come.