Gomukh Glacier: Journeys Redefined
"I am not the same, having seen the moon shine on the other side of the world."
– Mary Anne Radmacher
'Travelling', I asked myself, 'Is it just an increment of experiences to the ledger of my life or far more?' Sitting on a big rock while my feet almost immersed in the river of Bhagirathi roaring at highest of its pitch, made me look back on my life. It was a Gangotri glacier trek, a trek that almost changed my perception towards life, a journey which led me to redefine my life! Someone said very well, it's not the destination that matters but what matters is the path, which is full of 'forget me not' tales that are recited again and again for the entire lifetime.
Gangotri Temple
Many a times, journeys are not just an endeavor to attain our destinations but also reflections of our deeds or even images of our own selves. The purity in surroundings was enough for me to collect some incidences of the past that were actually important but were mostly ignored by me due to my ill managed lifestyle. The element of trek from Bhojwassa to Gomukh was amazing, the essence of panoramic view of Bhagirathi group of peaks was pure enough to energize one to follow his commitment to Gomukh glacier. The Gomukh glacier is the source of Bhagirathi and is held in high esteem by the devout who do not miss the opportunity to have a holy dip in the bone chilling icy water. I felt it's not just the religious spirit that energizes one after a dip in such chilling water, but also the natural scenic beauty that is responsible for an appraisal to such a wonderful experience.
We got Company :)
Most sacred river in the Hindu religion is the river Ganga, and witnessing its birth source has always been a golden opportunity for pilgrims and the shine in their eyes while having the dip in the Gomukh is never less than a million dollars! 'Gomukh means mouth of a cow. Why is this place referred to mouth of a cow', I asked to a pilgrim who was standing next to me looking flawlessly at the people who were in water, 'The sages called it 'Gomukh', because it probably appeared like a cow's mouth in the past.', he added.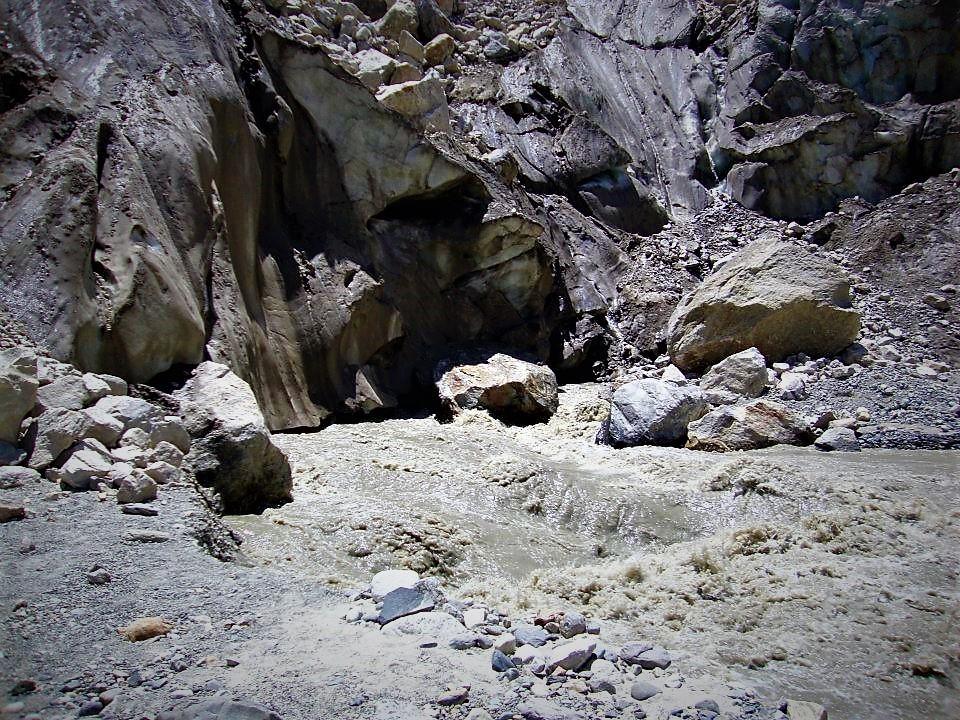 The Origin - Gomukh Glacier
Amidst of my hectic lifestyle, I finally made it to Gangotri glacier trip. Initially, I doubted whether this trip would be worth having a ten day leave from my daily routine, but now standing at Haridwar Railway station waiting to board the train for Delhi, I feel satisfied and good, this trek is not just a journey for me, it's another level. I can never forget the alpine meadows, the long deodar and pines and last but not the least the chilling water of the Gomukh. And the train drove into the platform, but I am very sure for one thing, it's not 'the end', it's a start, a start to many such journeys I will be on, soon, very soon! I could recollect off the memories during the school days, when the vacations ended and I never wanted to return from my Granny's home, I remember I used to cry like anything pleading my mom to let me stay for a day or two more, the same emotions were craving in me, but today, I couldn't cry!
Interactions with nature are always pleasant and worth remembering incidences but when I come to Himalayas, they are far more than that. Even binding such experiences into words seem so impractical. After this journey I could say, if heaven would have existed anywhere on our planet, then it would be here, here in Himalayas!