Hampta Pass or Valley of Flowers: Which one is the best monsoon trek
India is blessed with a variety of mountain ranges among which the most famous and highest mountain range is the Himalayan range. The Indian Himalayan possesses an immense variety of a flora and fauna and also offers various types of trekking trails, from easy to difficult ones, and all those treks have something special, something unique to offer its visitors. Among all those treks there are two treks which are quite different from each other but both of them are extremely beautiful and peaceful place. One is the Valley of flowers trek and another one is the Hampta pass trek.
Valley of flowers as the name suggests it is a valley consist of colorful, exotic and rare Himalayan floras. It is an Indian national park, situated at an altitude of 14,100ft. in the district of North Chamoli in the states of Uttrakhand. It takes a maximum of 6 days to complete this trek.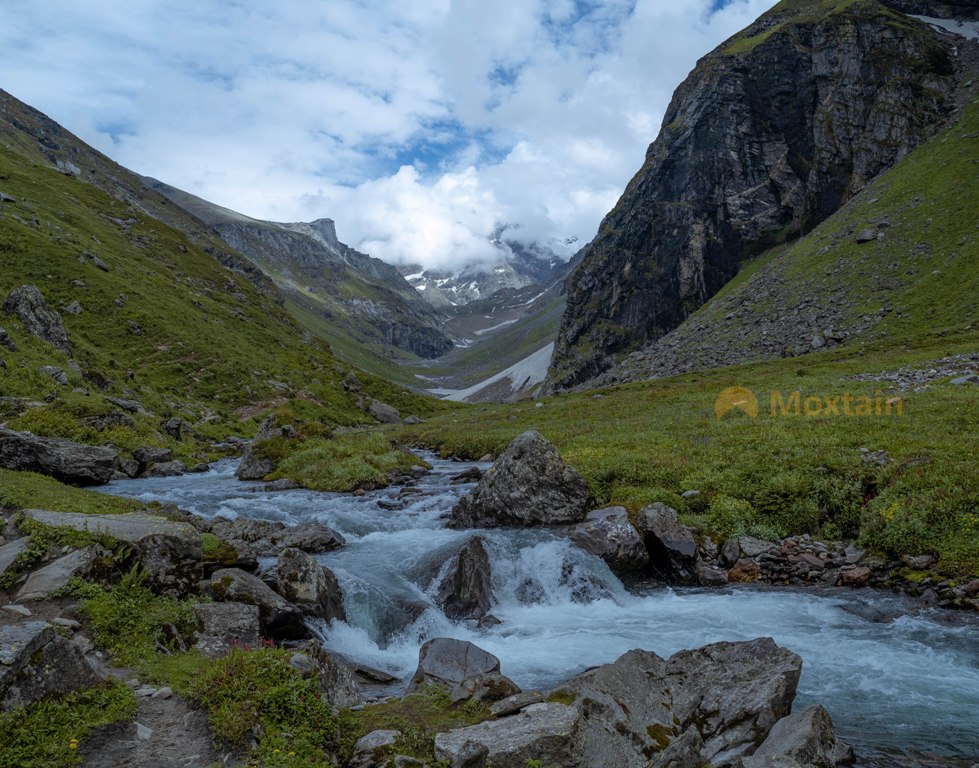 Whereas Hampta Pass is located at an altitude of over 14,380ft, in the district of Kullu in Himachal Pradesh. Hampta pass is considered one of the easiest trek for the beginner which is full of adventure. It takes 5 days to complete this trek.
Both of these treks are quite exceptional, so here we will discuss some key differences between these two treks that what makes them so distinctive and diverse.
Key difference between both treks
Starting point
Valley of flowers trek is heaven on earth, you will get awe-struck when you will find yourself surrounded by magnificent flowers of different colors and varieties. This heaven like trek begins from GovindGhat which is located at the bank of river Alaknanda, from here you will trek towards Ghangaria village, on the way, there will be beautiful sights of snow-clad mountains and you will come across high altitude Kagbhusandi lake which is quite charming and amazingly beautiful Pushpavati river. After reaching the valley of flowers you can also visit sacred Sri Hemkund sahib gurudwara and Hemkund sahib lake.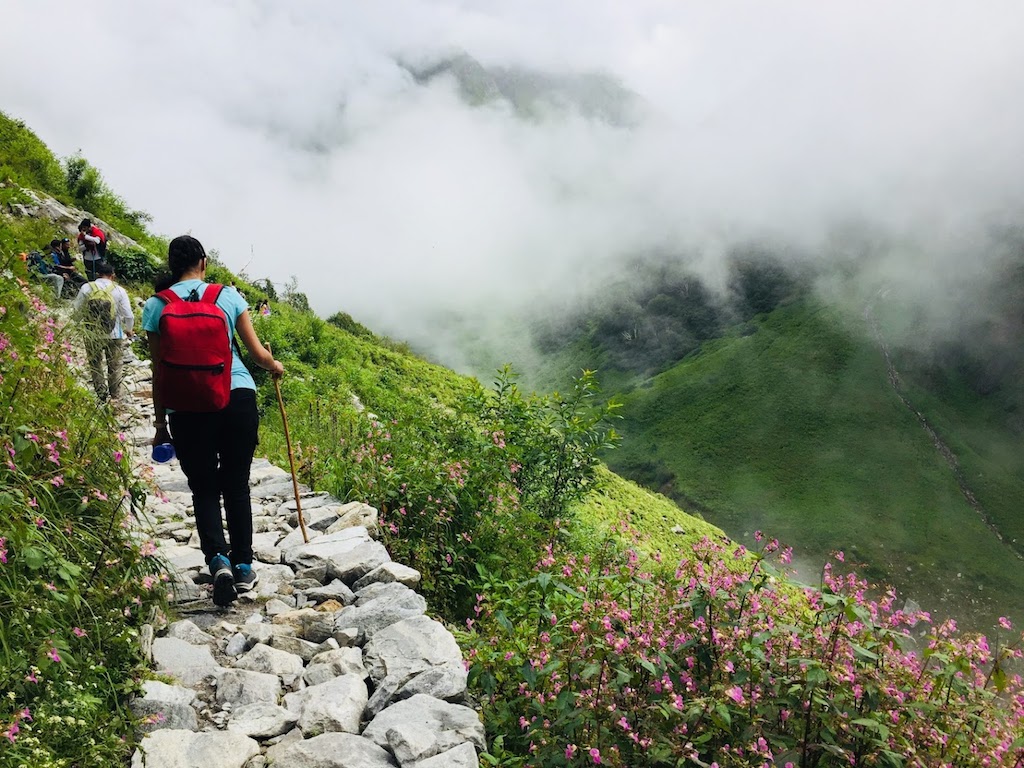 Hampta pass is one of the most splendid treks in the Kullu region. It offers the awe-inspiring view of two different sides of the Himalayas. One side is the lush green Kullu valley and another side is the desert valley of Lahaul. This trek begins from Jobra which is at the edge of the forest and also the base camp. The next campsite is Chika here you will get the glimpses of the Dhauladhar range which is also known as The white range. Then there is Balu ka Gera and the desert oasis of Shea Goru. The dramatic changes in the sceneries are what make this trek attractive among trekkers. After crossing Hampta pass, you can trek towards magnificent Chandra Tal lake which is like cheery on the top of the cake.
Altitude
Valley of Flowers is located at an altitude of 14,100ft and this park stretches over an expanse of 87.50 square km and it is about 8km long and 2km wide.
Whereas the Hampta pass is located at an altitude of 14,380ft which means Hampta pass is located at 280ft higher than the valley of flowers.
Specialties
In 1931 three British mountaineers Frank Smythe and his companions stumbled upon this valley as they astray from their path while descending the Mt. Kamet. "The most beautiful valley I had ever seen among the noblest and purest mountains on earth" this is how frank Smythe described the valley of flowers in his book.
When you will enter the valley you will be stunned by its jaw-dropping view as the whole vast expense will be covered with layers of alpine flowers of different colors, shapes, and sizes. This valley has a rich diversity of flora and fauna. This area is home to many endangered animals, flowers and herbs. The population of animals is not high in this valley but those who are found are rare and endangered species such as snow leopard, musk deer, Himalayan black beer, Asiatic black bear, red fox, blue sheep and many more. The most common flower in this valley is orchids, poppies, daisies, marigold, Himalayan bell flowers apart from these many valuable herbs also grow there. The valley of flowers national park is now UNESCO world heritage site.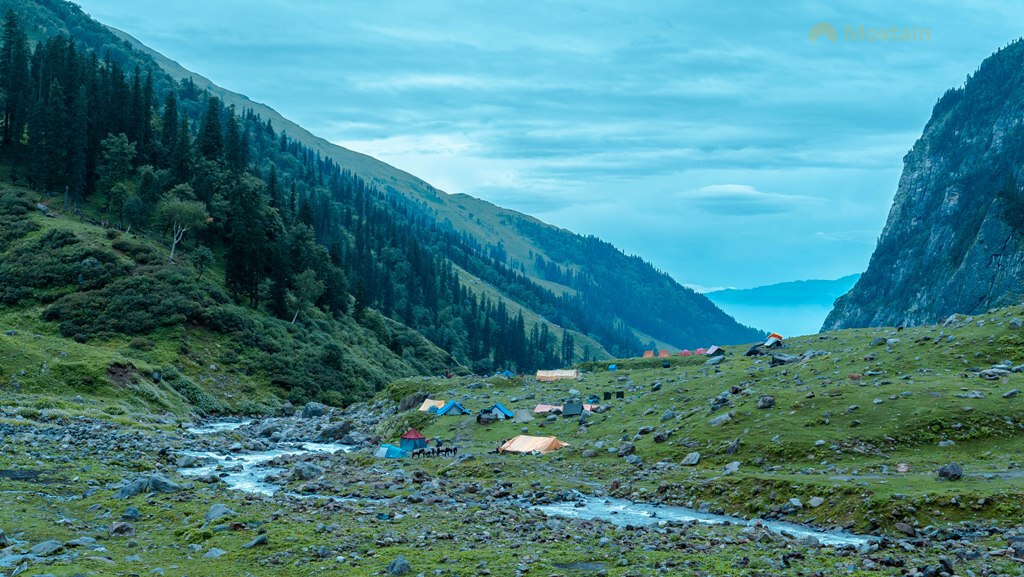 Hampta pass is a narrow valley due to which we get to witness the rapid changes in sceneries. The main characteristic of this trek is vertical rock walls, pinewoods, waterfalls, hanging glaciers, rhododendron forest, tiny lakes, and open meadow. The pass crossing is one of the best parts of the trek, from the pass you will see the panoramic view of Lahul valley and the surrounding Mountains. This is one of the incredible scenery you will ever witness.
At Chatru, you will come across another alluring scenery a confluence of three paths Hampta pass, Spiti and Rohtang Pass it is a green paradise. From Chatru you can drive to magnificent alpine Chandra Taal lake.
Place to visit
Ghangaria is a major stopover in the valley of flowers trek. This small village is nestled on the confluence of river Phushpavati and river Hemganga. This beautiful village is blessed with diverse flora and fauna. After visiting the valley of flower you can also trek to Hemkund sahib, which is 6km from Ghangaria, it is an important pilgrimage destination for Hindus and Sikhs, it is a gurudwara made up of white marble. It is located near sacred crystal clear Hemkund lake, which is one of the major attractions. This 6km is quite steep but worth it.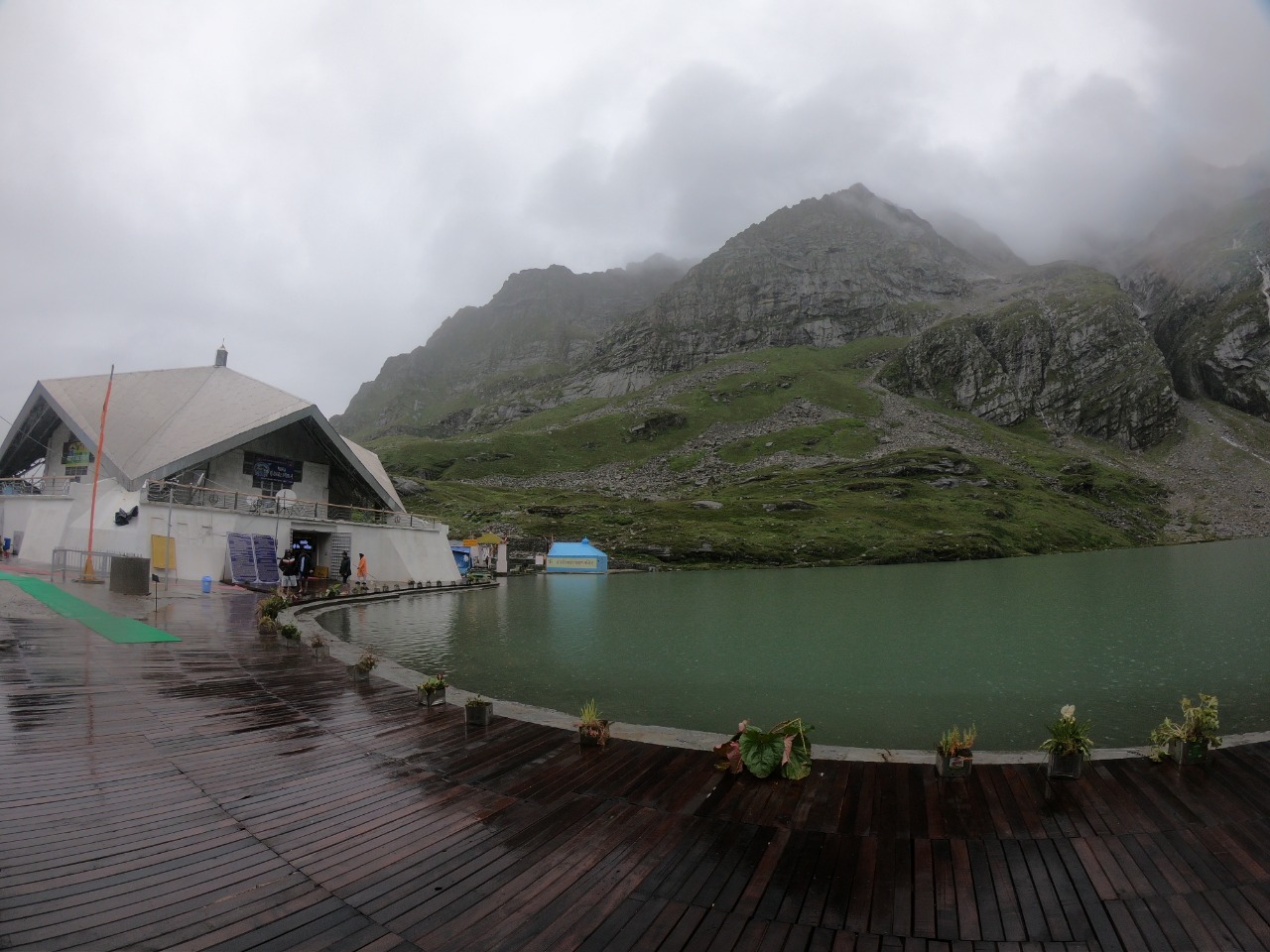 nbsp;
Hampta pass trek is the most spectacular crossover trek, it is located between Manali and Spiti valley, this trek allows you to explore a unique landscape. Balu ka Gera is one of the major campsites, it is covered with flowers and Rhododendron trees and has the enticing view of snow-clad Dhauldhar peak. The next campsite after crossing the Hampta Pass is Shea Goru which is a desert oasis. If the weather is friendly you can also visit the pristine Chandra Tal lake which is an easy trek from Chatru.
Highlights
The setting of the valley of flowers is alluring, one side the valley is decorated with flowers other side is bestowed with huge snow-clad mountains. The serene Pushpavati river flowing quietly through the middle of the valley. The alpine Hemkund sahib lake which rests on the altitude of 14,107ft, and surrounded by snow patched mountains and Himalayan flowers makes a picturesque scenery.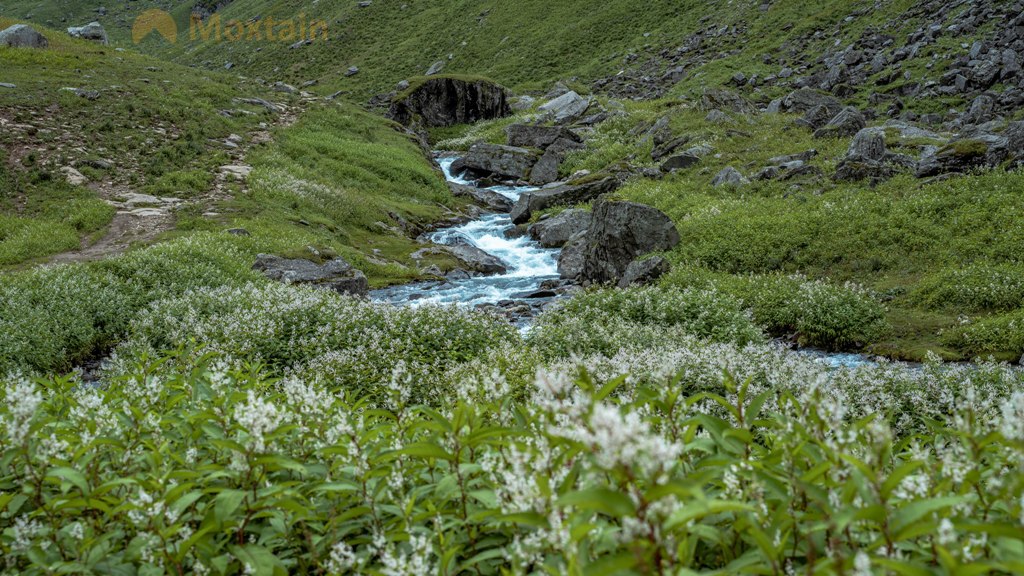 One of the coldest campsites Shea Goru is the favorite campsite of many trekkers on Hampta pass, because of its exquisite setting, it is a desert oasis located in barren Lahaul valley. Crossing the Pass is a difficult part of the trek and will also give you an adrenaline rush. The valley is surrounded by cliff-like peaks and the trail can be difficult depending on the season, it can be snowy or slippery. While crossing pass you will get the view of Indrasen and Deo Tibba than you will head towards next campsite through zig-zag descent.
Best time to visit
The valley of flowers opens on the first of June every year. The best time to visit the valley of flowers is July and August, during these months you will find the maximum amount of flowers. Moreover, all flowers are in full bloom, the valley remains open until September.
The best time to visit Hampta pass trek is from June to mid-October. During mid-June, the trek is covered with a good amount of snow, but in August, the snow melts and it fills lakes and streams, so this is the best time to witness the beauty of Chadratal Lake.
Trail of trek
The valley of flowers is a easy trek. The trail starts from steep ascent but gradually becomes easy. The trail is longer but there is no steep climbing. It is a perfect trek for beginners.
Hampta pass offers variation in trek trail, scenic landscape, glacial valley, pastures, meadows, the crossing of pass. The trail is considered moderate.