12 Best Monsoon Treks In India-2023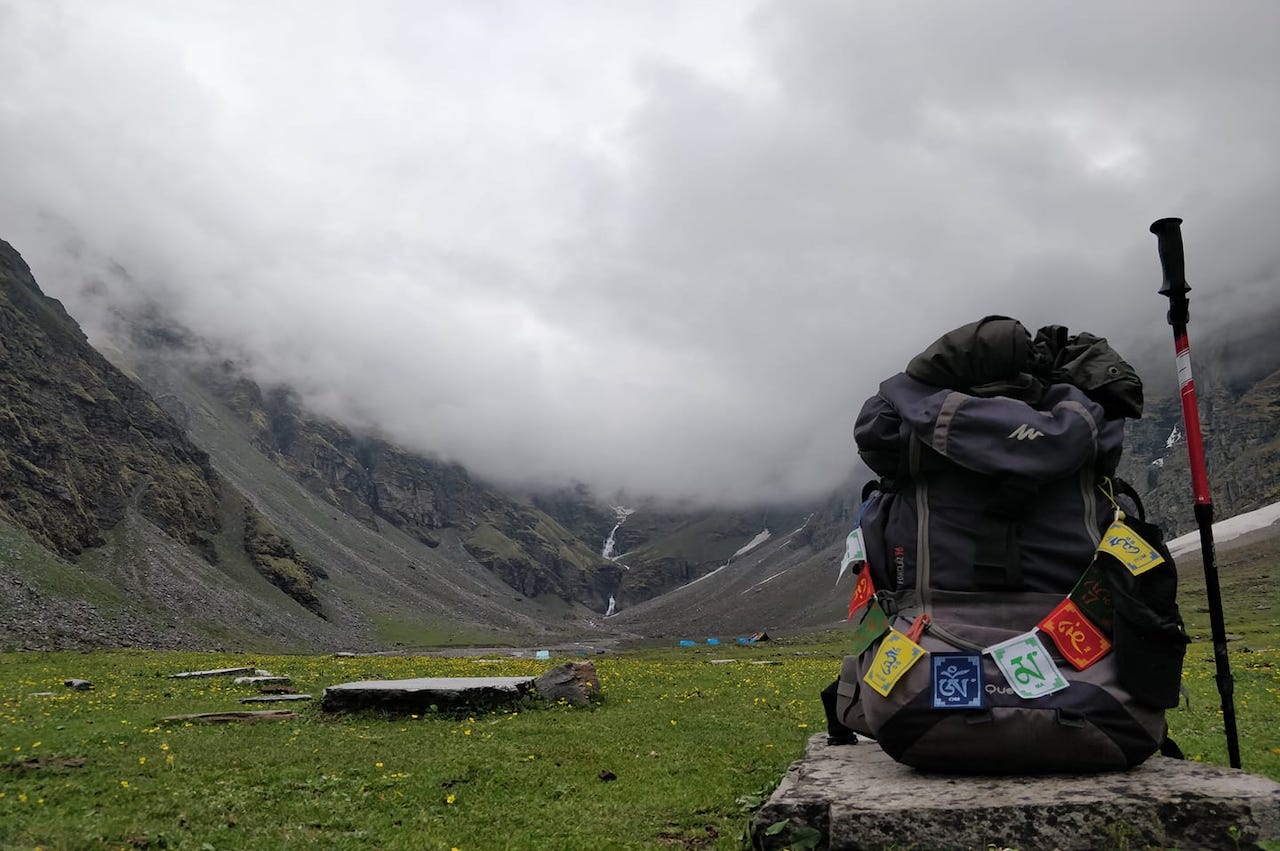 Monsoon is one of the best seasons to travel as you get to experience the true colors of nature while traveling. The sight of lush green color mixed with the earthy smell acts as a drug to your soul- whetting your appetite for more. Though there are many places where trekking in monsoon would be tough, the scenic beauty of the place would be worthy of all that sweat.
Rainstorms breathe rich flora deep into these hillsides, providing hikers with breathtaking views. The hills are at their brightest and most vivid during the rainy season, with dense vegetation and verdant grasslands. The hills are seldom as beautiful as they are during the monsoon season. You will be enraptured by the immense beauty of the picturesque monsoon Himalayan treks. You must, however, know where to visit.
Here are the top 12 best monsoon treks in India.
1. Harischandragad Trek, Maharashtra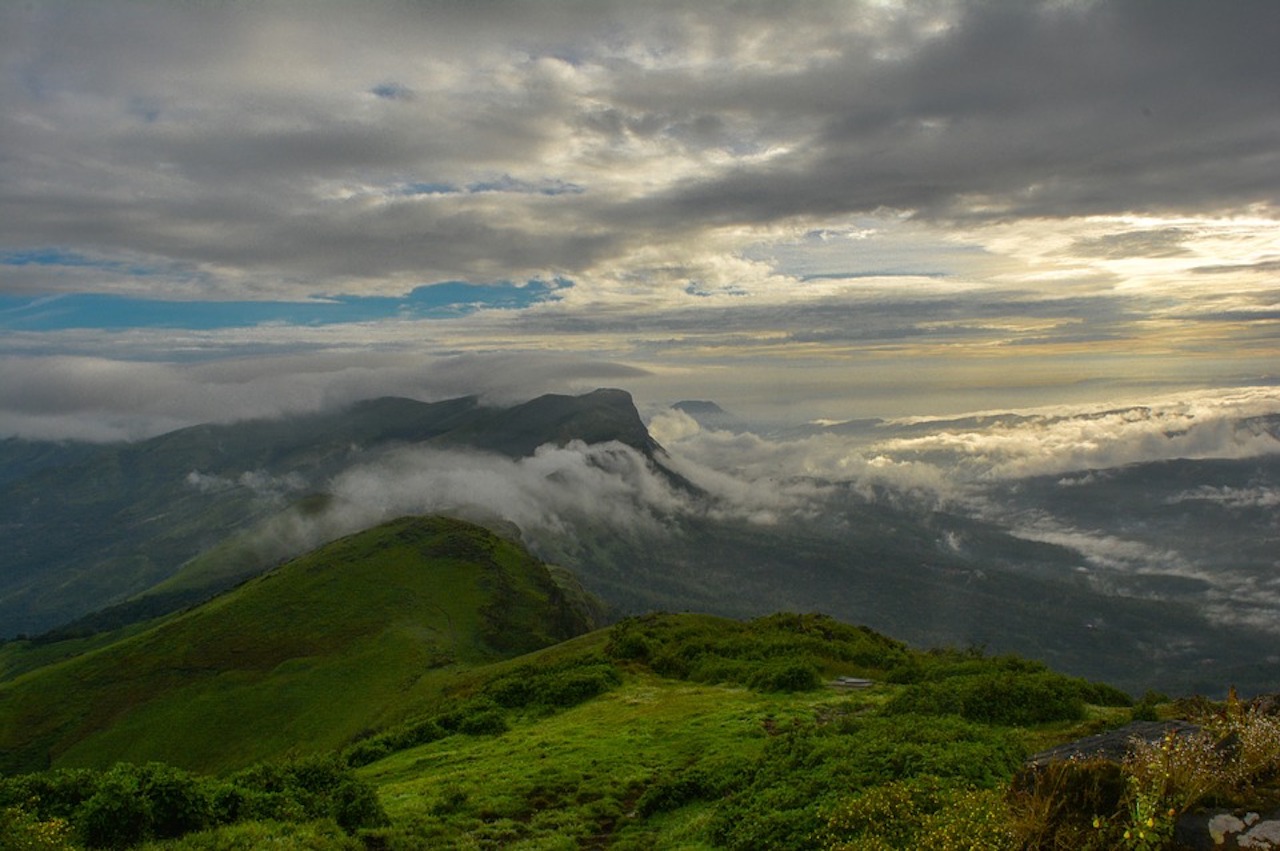 Ever wondered about visiting the beautiful Western Ghats? But you should dare not assume that trekking in the Western Ghats is a piece of cake because the stretch called 'Cobra's hood' of the Harishchandraghat trek is a tough one. This is one of the most difficult monsoon treks in India. But as they say, tough nuts when cracked give you the best flavour so this is this place. You would be mesmerized with the photographic beauty of the valley and the Konkan Khada here. You can explore the Stone Age caves (Kedareshwara caves) with its three broken pillars where the legend is that the earth would come to an end when the fourth pillar breaks. So why choose this trek in monsoon? It's because this place gives you the scenic beauty in monsoon. Exploring the caves in the rain you would feel relaxed and peaceful.
Duration- 2 Day
Difficulty- Moderate
Altitude- 4690 ft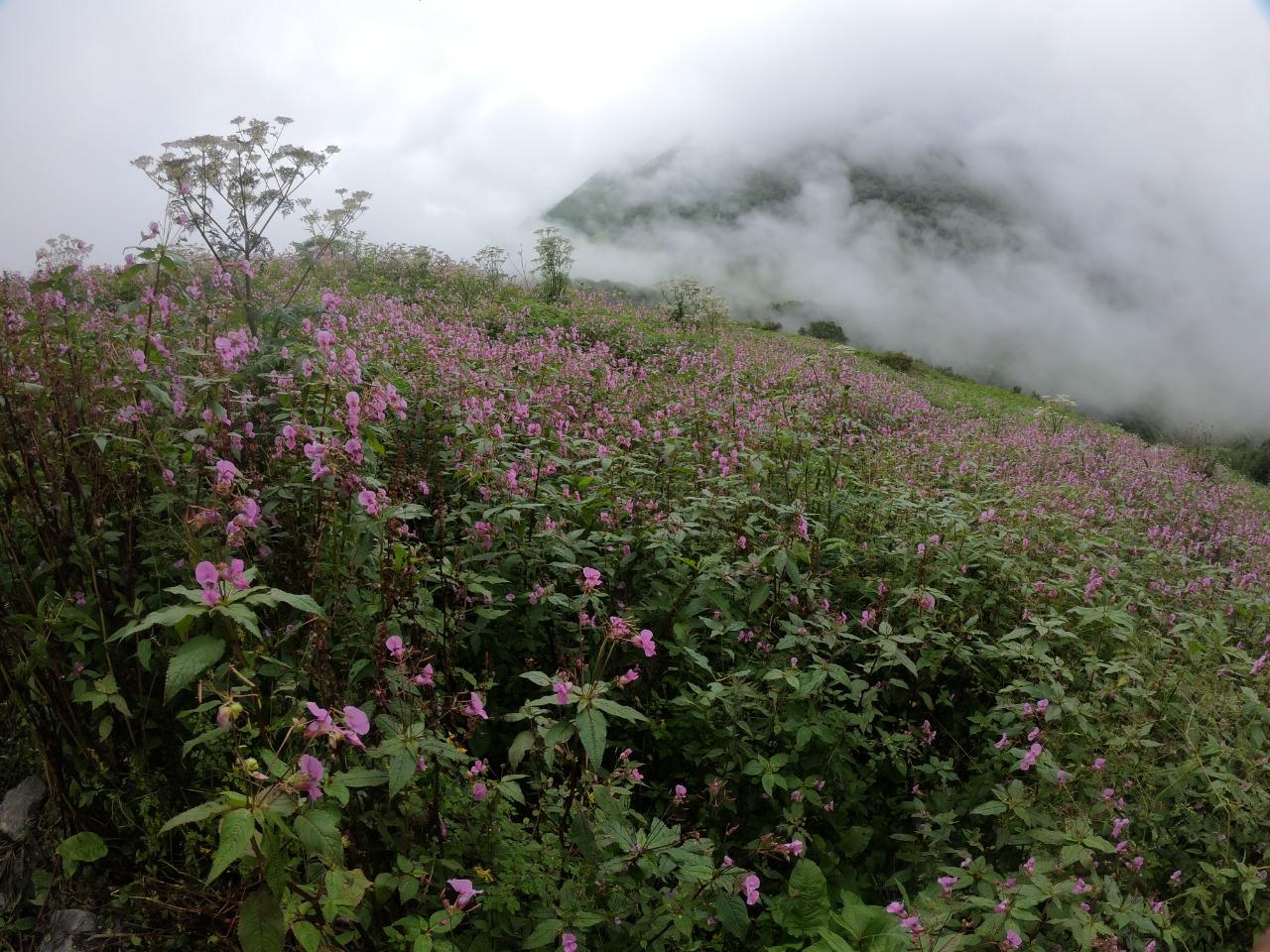 Now this place is really on the top of my list of monsoon treks because of its immense beauty for which it is listed among the UNESCO World Heritage Sites. The monsoon rains cast a spell over this valley by decorating it with a colourful bedsheet of flowers and thus makes the view mesmerizing. The amazing weather is an added bonus to the multihued scenery. You can always spot colorful butterflies,birds, and animals like Musk Deer.
Duration- 6 Days
Difficulty- Easy
Altitude- 15,200ft
3. Sinhagad Trek, Pune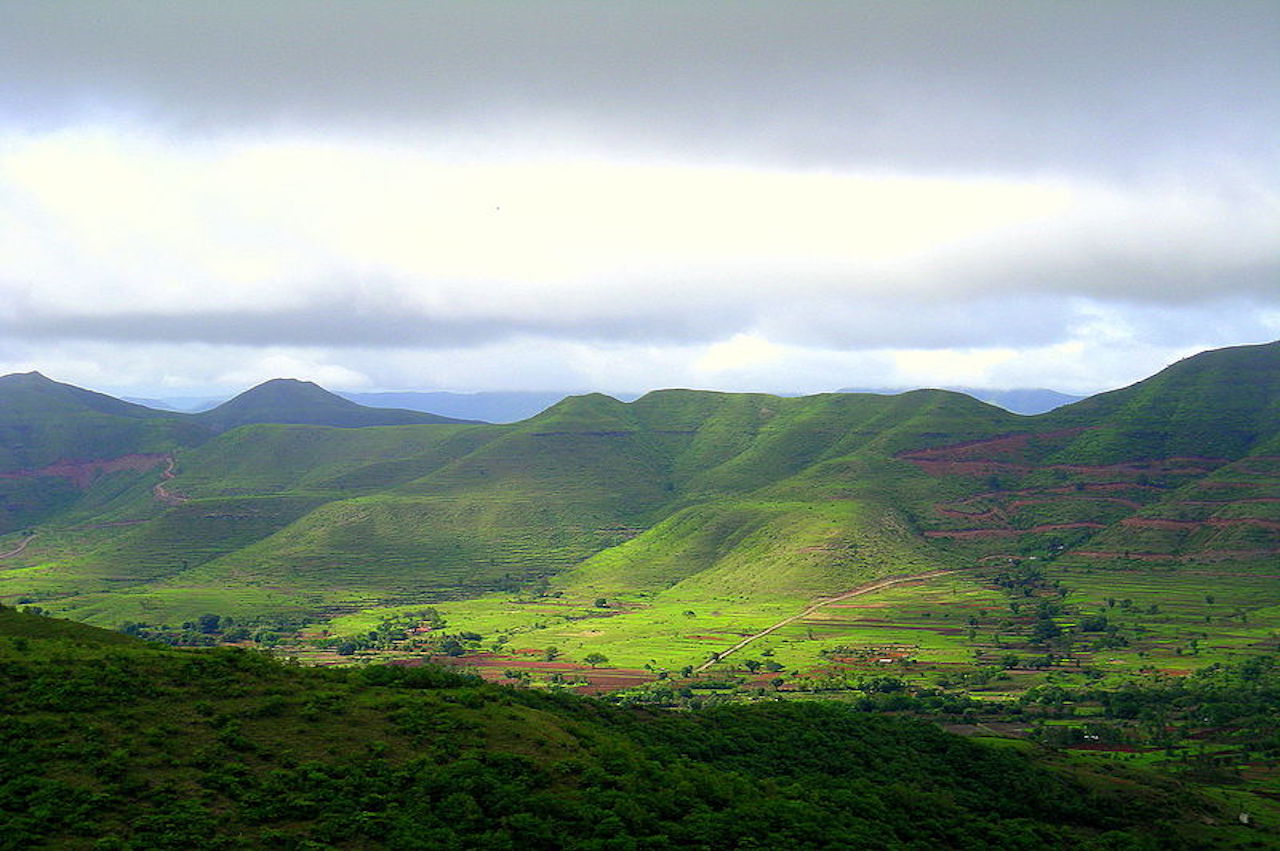 Want to trek close to Pune? Sinhagad is a hill fortress that provides you an amazing trek experience along with a perfect picnic spot. The beautiful views of sunrise and sunset from this fort are worth capturing. It also blows you off with scenic series of mountains and hills. The monsoon season would make this place much more fascinating adding to it's lush green views. The royal fortress exudes a haunted Qila experience too with its eerie thunder noises.
Duration- 2 Days
Difficulty- Moderate
Altitude- 4304ft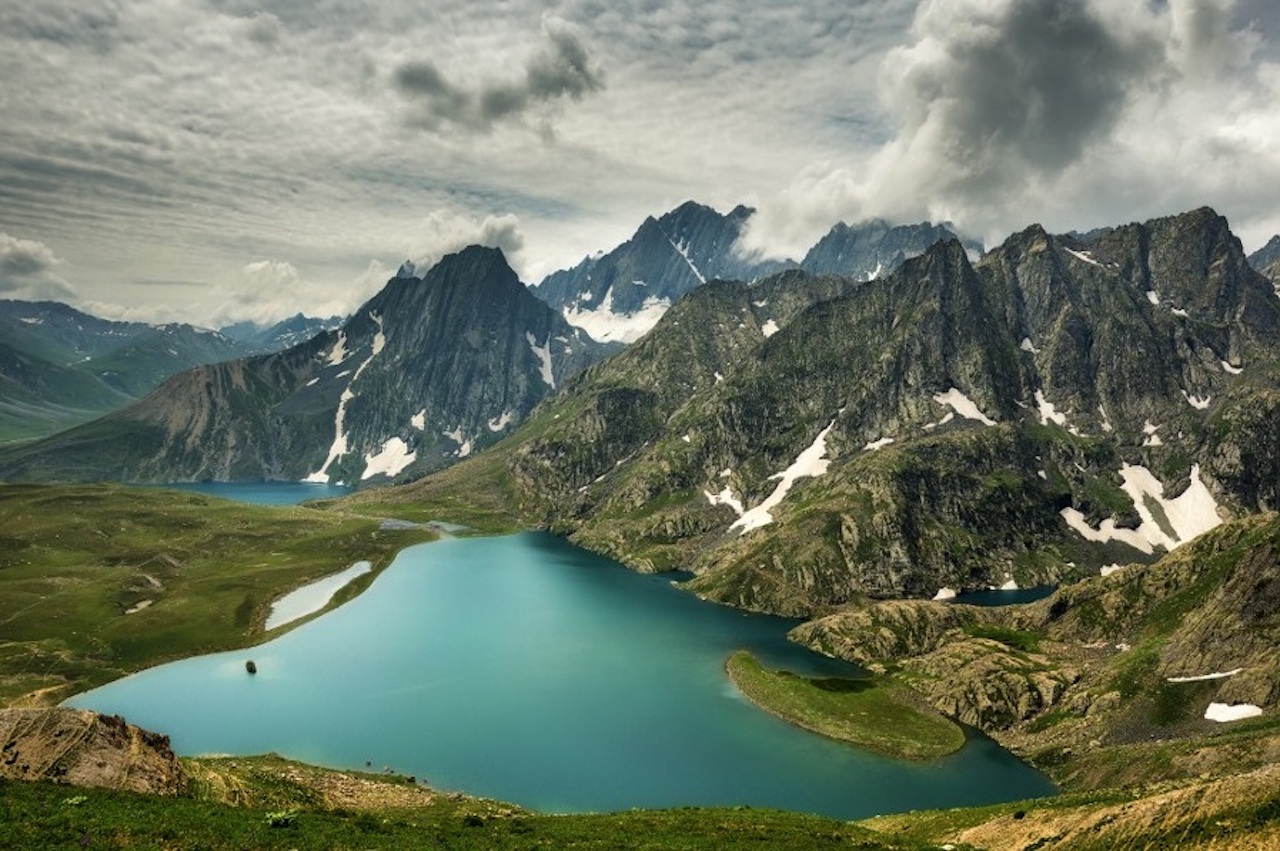 We usually think of Kashmir as a very very cold place, but it has a much more beautiful secret hidden to it. In Kashmir Great Lakes trek we can see seven alpine lakes appear , no less. The best part is that every lake is unique and boasts of its own beauty. The season of rains would make this trip much more memorable when all you see around you would be green meadows decorated with colourful flowers. The freshness of it is overwhelming.
Duration- 8 Days
Difficulty- Moderate
Altitude- 13,750ft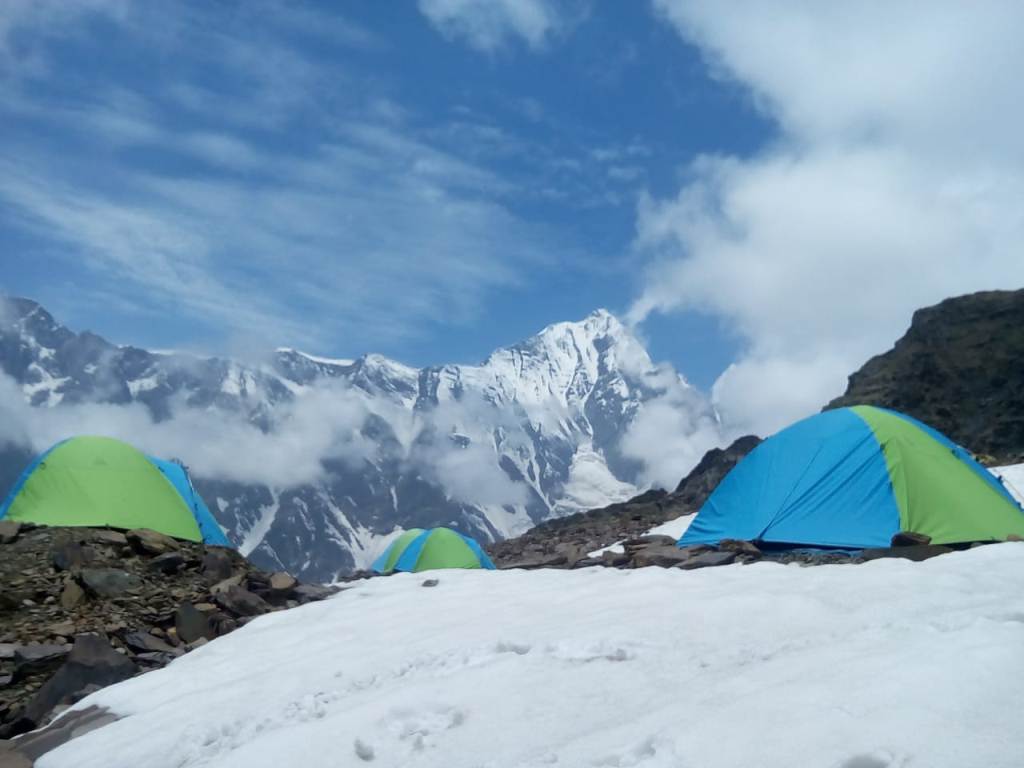 This place is quite close to Manali and also it has been a popular place to trek because during the journey you trek up close to a few of Manali's biggest mountains. You would mostly find grand peaks like, Friendship Peak, Hanuman Tibba, Shitidhar, and Seven Sisters along your side. The monsoon season might make this trek a bit tricky but you would surely enjoy the views. Moreover, it would be a short duration trek and won't be much difficult.
Duration- 4 Days
Difficulty- Moderate
Altitude- 12,770ft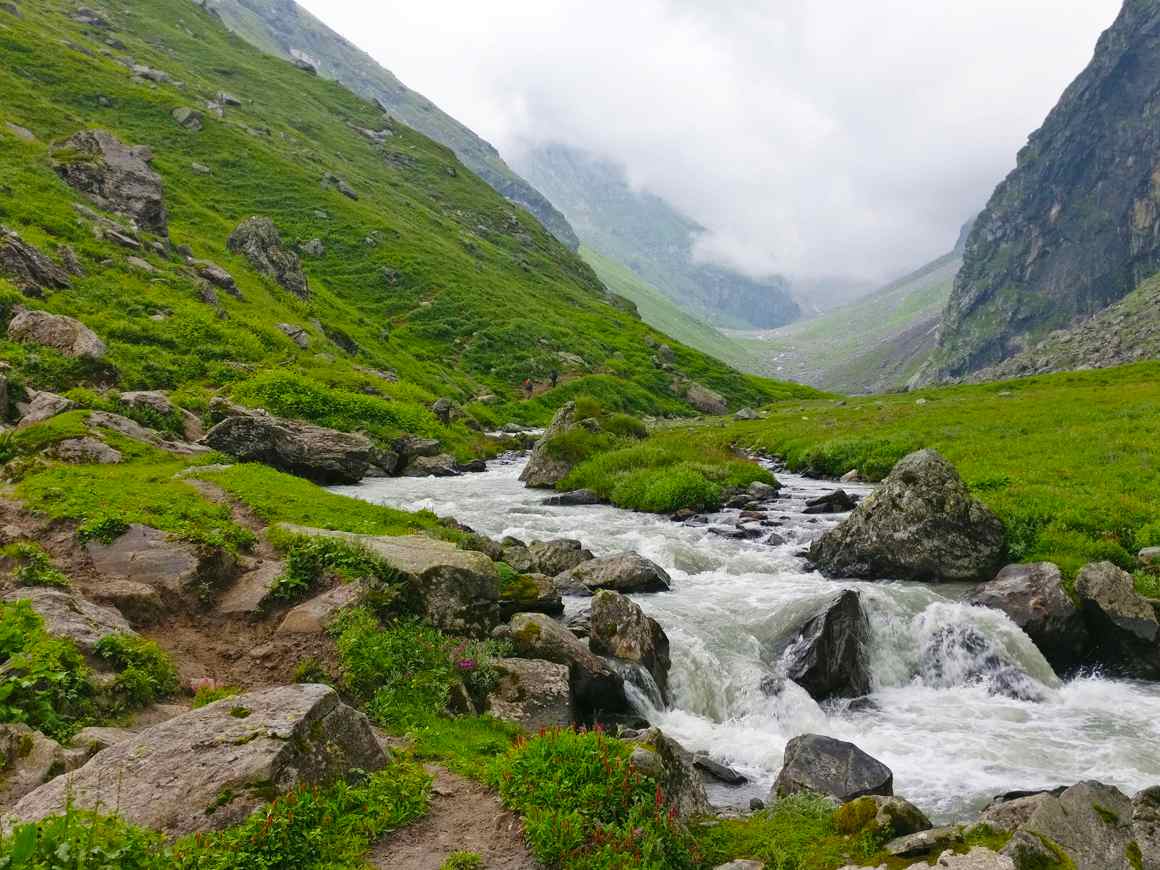 This is an ideal trek for both novice and proficient trekkers as Hampta Pass Trek is famous for the enchanting beauty of the rugged mountains during the monsoon months. This trek would make you experience both types of landscapes- lush green and barren. Kullu would be filled with pine forests and apple trees, streams and waterfalls, but as soon as you cross it, the land would become arid and coloured in stark browns and greys with barren footpaths and vertical rock walls. You would also witness the beautiful Chandratal Lake filled with blue, clear water. Though trekking would be a little tough in the season of the monsoon but you would get to experience the best colours of nature in this beautiful place.
Duration- 5 Days
Difficulty- Moderate
Altitude- 14,010ft
Adventure activities in manali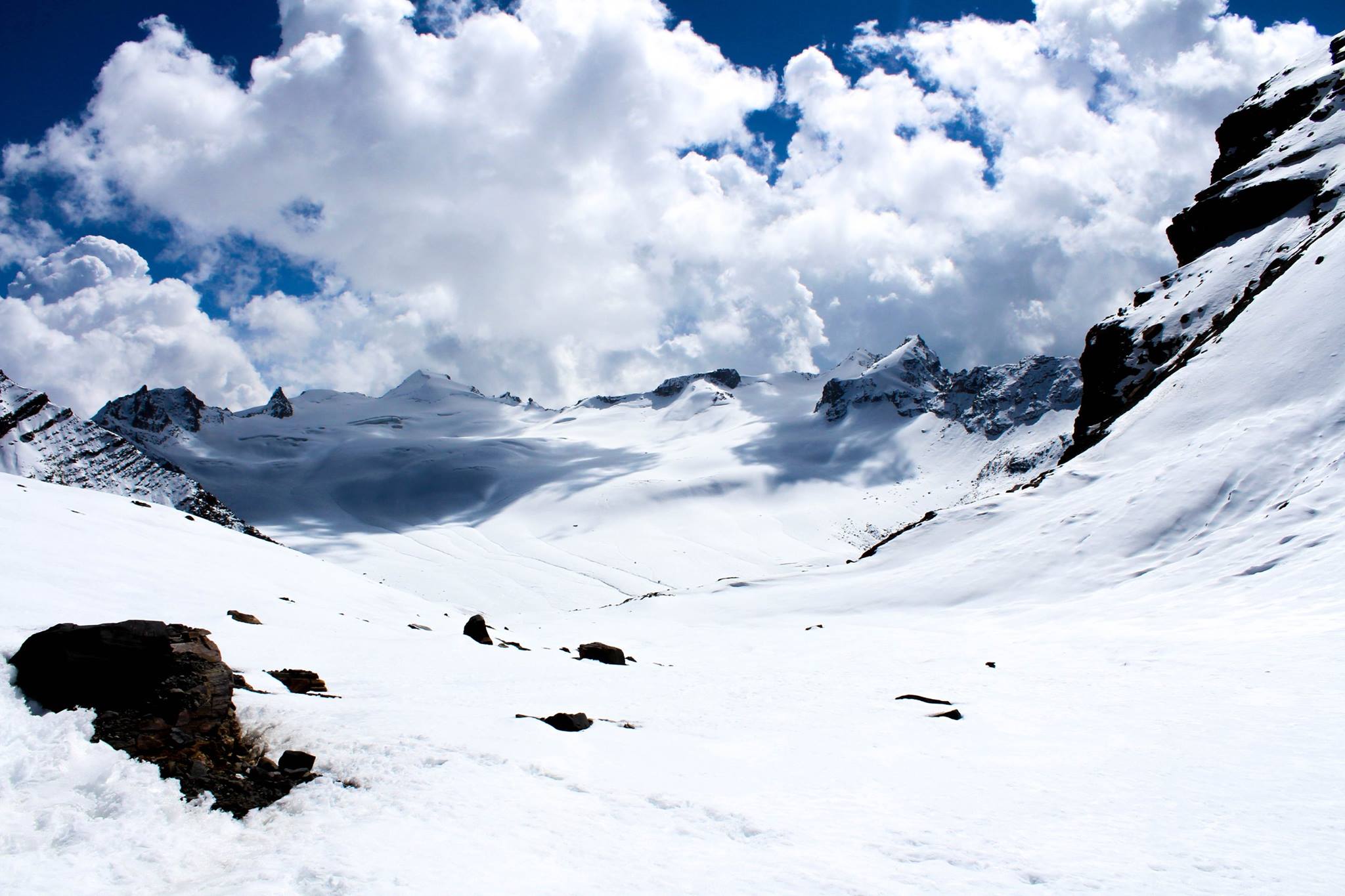 This is an alternate route to the striking Spiti Valley(Jibi). Since Pin Parvati is one of the oldest treks in the Himalayas it is also known as the 'Valley of Gods'. This valley offers mesmerizing views to the trekkers. It's perfect for seasonal trekkers, passingthrough the woods of Great Himalayan National Park. Monsoon Season is the best to visit this valley because the water would be gushing at full speed and you would get to experience the greenery around you all the time with birds chirping at their melodic best.
Duration- 11 Days
Difficulty- Difficult
Altitude- 7,500ft
5 must visit places in Spiti
8. Dzongri Trek, Sikkim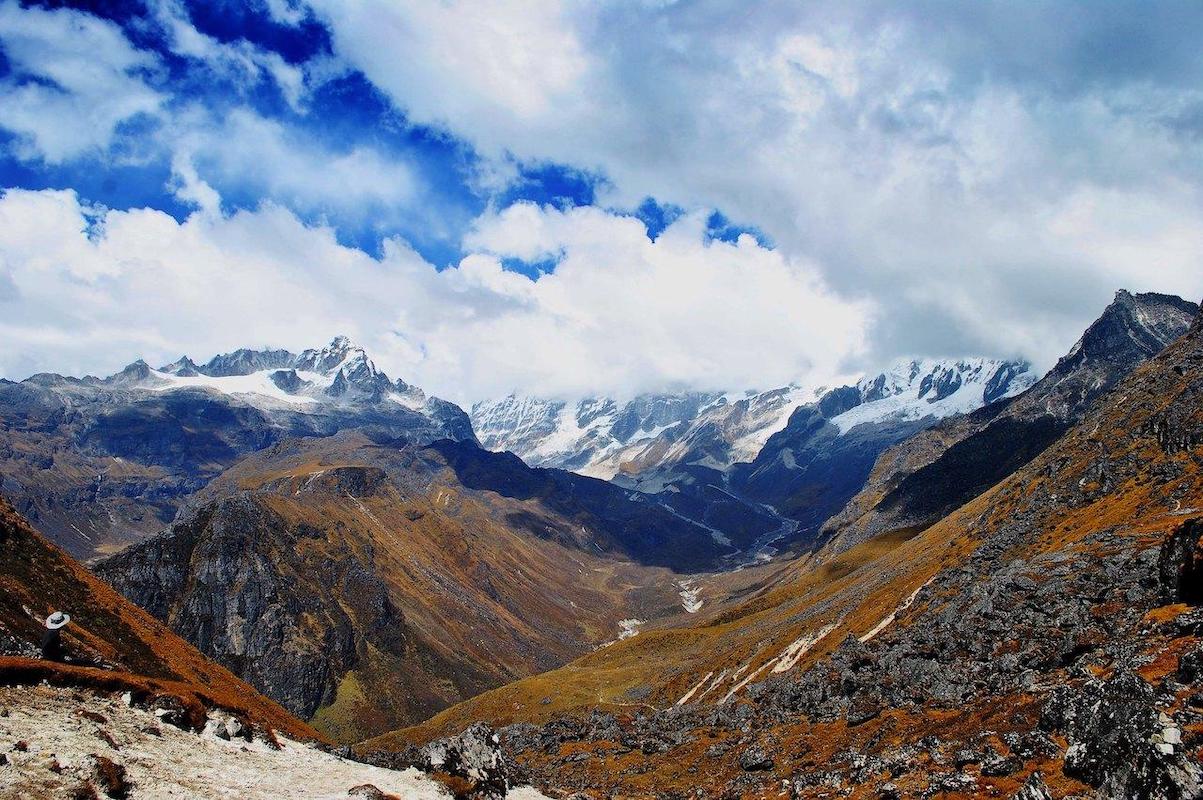 This is one of the most popular treks in Sikkim as it spans from Yuksom to Dzongri and also includes a walk on the Goecha La, while covering places like Phedang and Bakkhim. Breathtaking view of Mt. Kanchenjunga and Mt. Pandim is the highlight. Due to monsoons, there is green scenery all around you. This trek is truly a paradise for trekking enthusiasts especially in monsoon.
Duration- 9 Days
Difficulty- Moderate
Altitude- 13,780ftft
9. Torna Fort Trek, Pune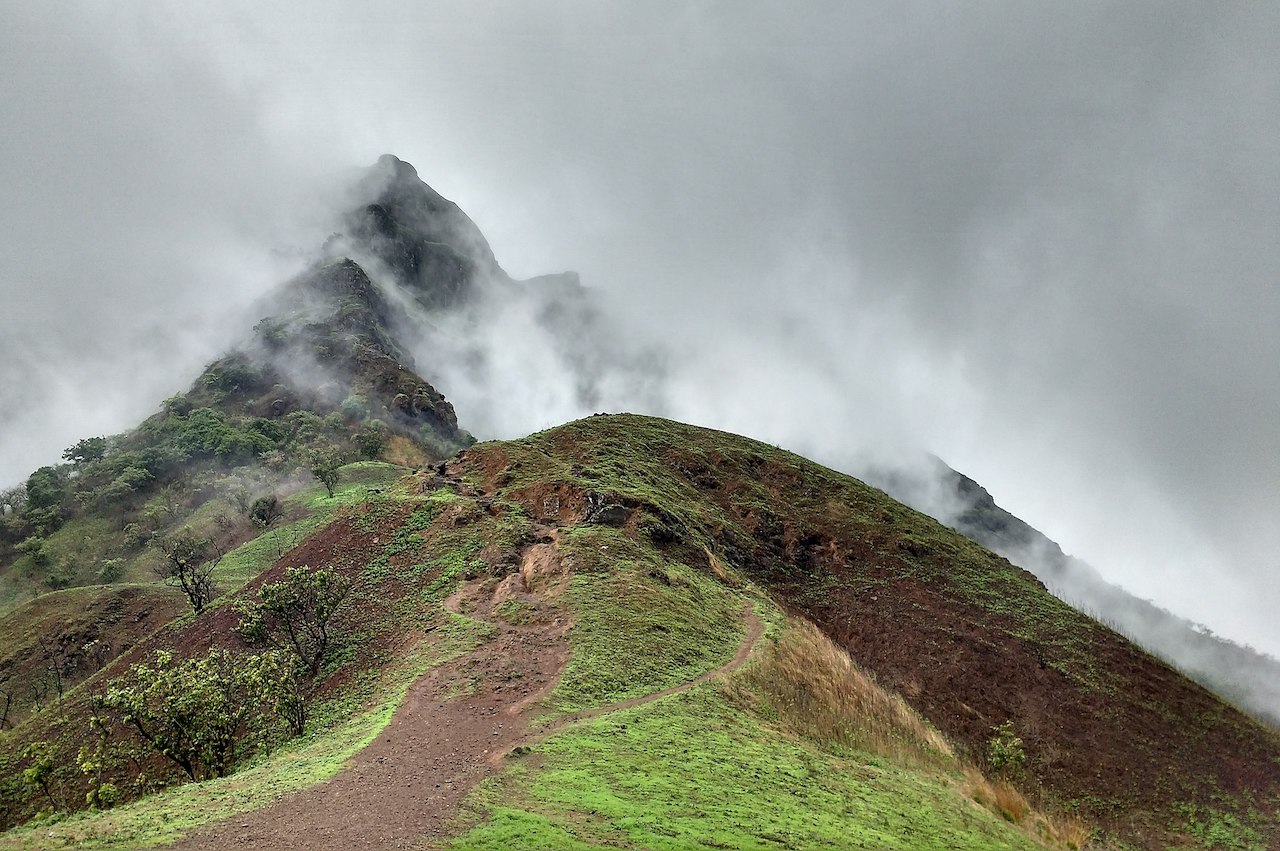 This place is a combination of heritage and beauty. It starts at Velhe village near Pune, and then it takes you across a stream to lush green plateaus dotted with gushing cascades. You would experience some desolate and abandoned buildings that would look somewhat haunted. Also, get ready for a treat as you spot two valleys separated by a ridge on which you will be walking. The fort is 1405 meters above sea level and so once you reach the top you would get an amazing view of Sahyadri Mountains.
Duration- 2 Days
Difficulty- Moderate
Altitude- 4,603ft
10. Mullayyanagiri Trek, Karnataka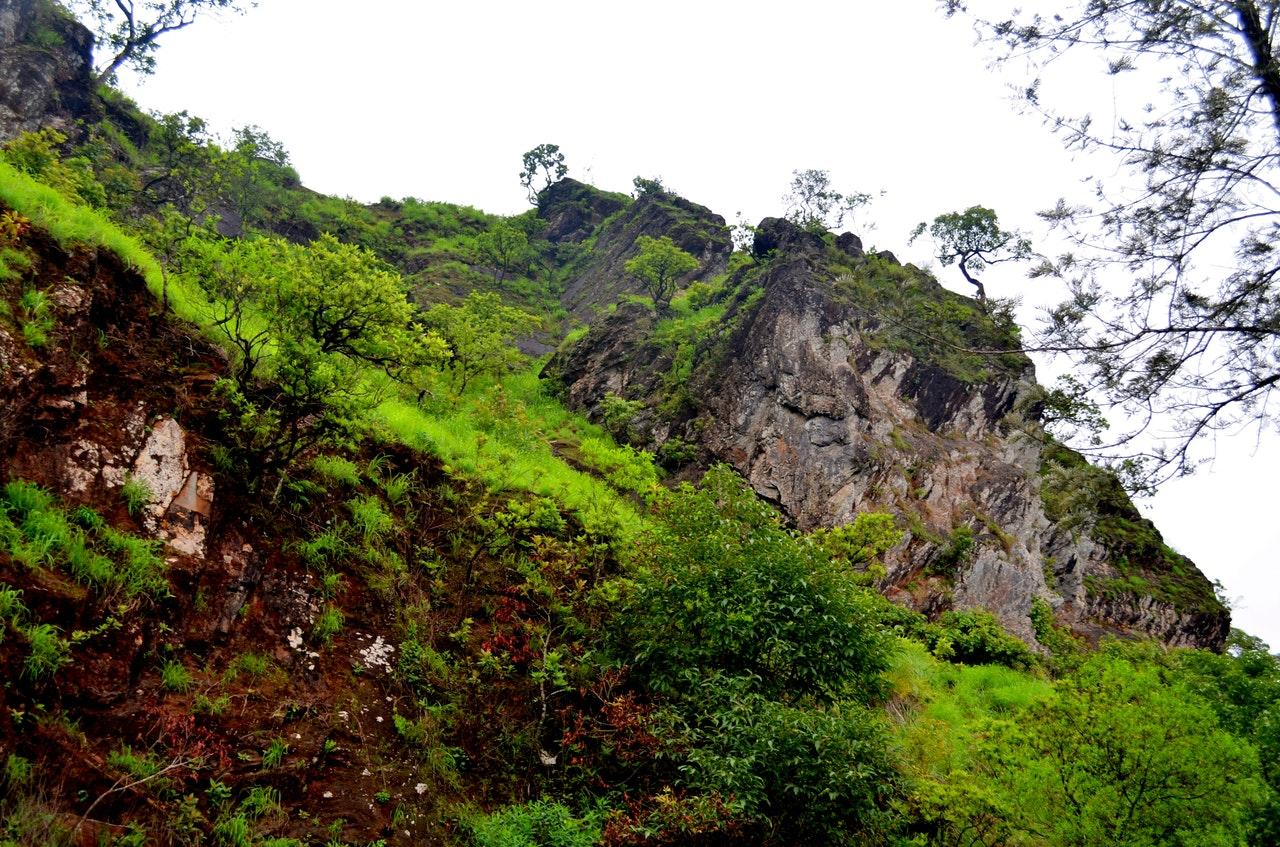 This would be another amazing trek of the Western Ghats. You would discover the highest peak in Karnataka with this trail in Chikamagalur. With the birds keeping you company, you can snake your way along the zigzag, flower-laden trail. But remember to keep an eye out for various Nandi idols along the way. Also, since it's the highest peak in Karnataka, in the monsoon season, you would experience heavy winds, clouds around you and a lot more.
Duration- 2 Days
Difficulty- Moderate
Altitude- 4,304ft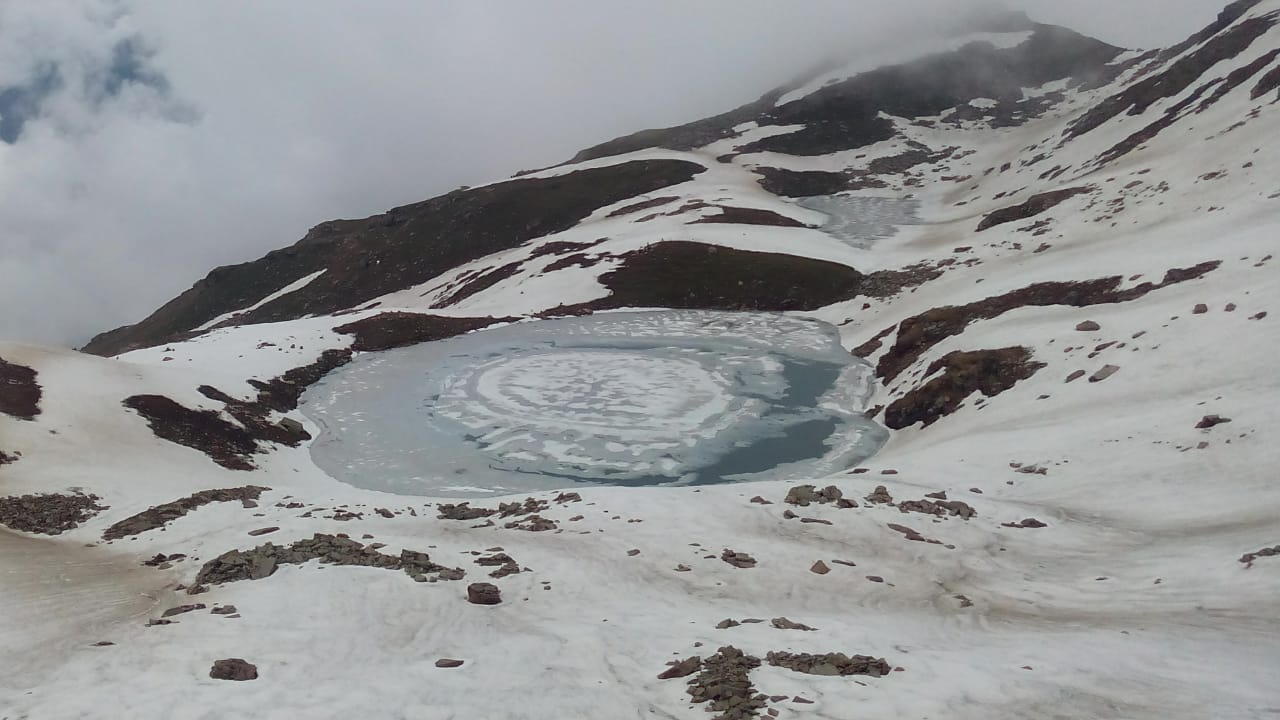 Are you looking for a quick escape from your life's realities? Then, my friend Bhrigu Lake is a great option. Bhrigu Lake Trek is situated in the upper Kullu Valley based out of the eastern side of the famous Rohtang pass and that's why it is very much untouched by human presence. This place is fresh, green and expansive, stretching as far as the eyes could see! As you climb higher to wards the lake, which remains frozen in June, you will get to see a forget-me-not blue sky in monsoon. In this monsoon season, the meadows of this place would be carpeted with green with the petrichor smell permeating the air all around you.
Duration- 3 Days
Difficulty- Easy
Altitude- 14,010ft
12. Indrahar Pass Trek, Himachal Pradesh
It starts from a fascinating region of McLeod Ganj, Indrahar Pass Trek is a trek that spellbinds the tourists with its magnificent natural beauty and serenity. This Pass lies at an enormous height of 4324 feet and it is a pass that draws the attention of every traveler across the world. It is located in the Dhauladhar Range in Himachal Pradesh. This moderate trek helps the tourists explore nature's beauty with a free hand.
Duration- 10 Days
Difficulty- Moderate
Altitude- 14,245ft
So don't miss the chance to enjoy these exotic locations during the Rains as much as you can!
TREKS TO AVOID IN THE MONSOONS
Pandavkada Waterfall, Kharghar
Kalavantin Durg Trek, Raigad District
Harihar Fort Trek
Chinchoti Waterfalls, Naigaon
Peb Fort Trek, Neral
Solanpada Dam, Jambrung Karjat
Devkund Waterfall Trek
Bhushi Dam Lonavala
Gorakhgad Fort Trek